LoR Best Decks - Domineering Privateers
As of early Friday, these are the best LoR decks and archetypes, according to Balco and Mastering Runeterra Meta Tier List:
While easy to overlook, it bears noting that there's no less than a dozen archetypes over the 52% WR threshold, making this one of our most varied Metas (even though Domination champs do account for around two thirds of the Top Dogs) – and as seen above, and like we'll detail below, quite a few new concepts, both new and old, are clawing their way to the top.
Another trend to notice is the decrease of amount of games in the three-day data sample (from 191K last Friday, to around 150K today) – while the reason(s) for why such a sharp drop is open to interpretation (and I guess one could not be faulted for, let's say, snapping to conclusions…), from the point of view of the numbers that we check it means that any deck which, by absolute numbers, has kept a roughly similar number of games played in the last few days, is actually getting traction when play rate is considered (because, if a deck saw X games played last week, and the same X games played today, while the overall amount of games played diminished, then said deck now represents a bigger % of the meta than last week).
---
Technical note – About overall archetypes and specific decklists, and what we mean by "LoR best decks"
Balco's chart above (like most data sites, including MaRu's Meta Tier List) and articles like Leer's Monday Meta Report sort LoR decks by archetype ("archetype" being the aggregate of decks with a specific champion combination) – that's also how matchup tables are shown in pretty much all data sites.
In this article, we'll sort these Legends of Runeterra decks by the best specific decklist for each archetype – since in each archetype some decks fare better than others (and sometimes the difference is quite noticeable), we'll broadly group the best LoR decks in four arbitrary categories, by amount of games played in the last three days in the data samples we check:
Juggernauts: LoR decks with more than 2100 games – these are the best tried-and-true meta decks in Legends of Runeterra.
Heavyweights: LoR decks with between 2100 and 900 games played – other excellent choices, with large enough samples to confidently say, "Yeah, this works."
Punching Up: LoR decks with between 900 and 300 games played – we're entering the Land of Small Sample Sizes here, on top of the meta being up in the air, but as far as numbers go, these decks can put up one hell of a fight.
YMMV: decks with between 300 and 150 games – risky stuff, but here's where you usually find the spice!
For this article, in all cases we'll look at decks in Platinum and above, and in the last three days, unless stated otherwise – and when talking about decks in general, or best LoR decks in particular, we'll always be referring to specific lists (while reserving "archetype" to denominate the aggregate of all decks with a particular champion pair). As a rule of thumb, decks with a winrate (WR) above 52% catch our eye, above 53% are eye-widening, and anything with a WR over 55% is exceptional.
On the other hand, do notice that when talking about matchup tables, it's always about archetypes – in other words, we'll recommend which are the best Legend of Runeterra decks (ie. specific decklist) you can choose to face the most popular archetypes (since you'll find all versions in the LoR ladder).
Last but not least: all stats and recommendations above are for choosing the best LoR deck for the Legends of Runeterra Ladder environment – the Best-of-Three format (found in Tournaments and Gauntlets) is a very different kettle of fish!
Sources: Balco, Legna, Mastering Runeterra Meta Tier List.
If you have any feedback on how these decks could be showcased differently, do let me know! =)
---
Juggernauts – Best LoR Meta Decks
Here we showcase LoR decks with more than 2100 games and good-to-great WR – the best tried-and-true tools for the climbing job.
---
Still the most popular archetype by a landslide, Seraphine Ezreal's best deck has added an Ambitious Cultist
to the mix, and reduced Sputtering Songspinner
to a single copy (while sticking to triple Drum Solo
), allowing SerEz to still punch at the 54% WR mark.
SerEz keeps preying on Rumble Vayne, Zed Vayne and Pantheon Varus, with Pantheon Vayne, Vayne Jax and Seraphine Viktor Shadows being strong SerEz counters. By the way: the hottest trend in town, Miss Fortune Swain, is neither predator nor prey here: thus far, Privateers and Songspinners are on even ground when they go toe to toe.
Further reading: Card Gamer's extensive Seraphine and The Clash at Noxus – A Seraphine Ezreal LoR Deck Guide
---
Not a single card changed since last week, and trending slightly upwards when compared with last Tuesday: the best Rumble Vayne deck smashes now at above 55% (up from 54%) in around 4,000 games.
SerEz, Vayne Jax, and Zed Vayne: bad news. Miss Fortune Swain's increased popularity: really bad news.
Zed Hecarim, Viktor Seraphine blends, Pantheon Vayne and the return of Tryndamere Trundle: great news.
Further reading: Card Gamer's Tumble on the Rumble – A Vayne Rumble LoR Deck Guide.
---
🔥🔥Blazing Hot: Privateers, aka Miss Fortune Swain
Meet our new Juggernauts Leviathans!
Now with more than 3,000 games under their Captains' belts (doubling their play rate from three days ago) and smacking at well above 56%+, there's little doubt that Miss Fortune Swain is one of the main ladder factors now.
(Also, and although this is just conjecture so take it with a grain of salt: by what we know of Riot's inner workings, the Devs should have already locked the Worlds' balance patch that we'll get in about two weeks – while we'll have to wait to find out the exact nerfs and buffs, it's a reasonable bet to assume that Miss Fortune Swain won't be targeted with nerfs, since it only now gets traction. In other words, it's likely that it will remain a powerhouse after said balance patch, and until the next expansion).
Privateers punch every popular face that is not the Jax or Pantheon flavors of Vayne (and they are only slightly disfavored in those matchups) – their only counters right now seem to be the ascending Elise Nocturne and Leona Diana SI, and Swain TF.
Further reading: PakiInPyjamas' By Her Guns Shall Noxus Rise – A Miss Fortune Swain LoR Deck Guide
---
The Immutable Object: Annie Jhin
It's not that their decklist does not change – even their numbers are almost an exact match as last Tuesday: 55% in around 2,500 games. Annie Jhin is as close as LoR gets as having a constant!
They do get brutally farmed by Miss Fortune Swain, though – but have made up for it by ruthlessly killing Zed Hecarim.
---
Sticking to their great performance, Zed Vayne matches Miss Fortune Swain as the highest-WR Juggernauts – in Zayne's case, with around 2,200 games played.
Like Privateers and Jhinnie, Zed Vayne's performance is being pushed upwards by how ruthlessly they farm Zed Hecarim.
Further reading: Leer's Return of Rally Elusives – A Vayne Zed LoR Deck Guide
---
Other Considerations: Zed Hecarim, Pantheon Varus and Aphelios Seraphine
Hecarim Zed does have a Juggernaut decklist by play rate, but its poor WR (nearly 48%) means we won't recommend it in this section – we'll find a playable variant in the Heavyweight category below.
Pantheon Varus has deflated a lot – Parus the only Juggernaut that loses to Zed Hecarim, but above all gets wrecked by Privateers (on top of its already horribly matchup with Jhinnie). It remains playable, but not recommended.
Sera Aphelios Zoe has also lost a lot of steam, and falls in the same category as Parus: playable, but not recommended.
---
Heavyweights – Strong LoR Meta Decks
These LoR decks have between 900 and 2100 games in the last three days – now that the Domination dust is settling, it's very likely all these are the real deal!
---
Pantheon Vayne
As they say, no payne no gain – while stable on the WR department (hovering at a great 54%), Payne is another deck that increased its play rate, with nearly 1,700 games with its best decklist.
And there's good news in the matchup department: Payne has a slight edge on the new Privateers Leviathan, while Pantheon Varus (which is is an awful matchup for Payne) has deflated quite a bit.
Payne also remains a great Seraphine showstopper, and with good odds against Gwayne and Vax – its main headaches are Jhinnie, Zayne and Rayne.
Further reading: GeneralSchwartz's No More Demons – A Pantheon Vayne LoR Deck Guide.
---
⭐Rising Star: Precious Elise Nocturne
Now, this is interesting!
Nocturne was buffed in the Awakening balance patch – yet while many a pilot tried to make the Champ work, results were lukewarm both in Nocturne's staple archetype (Nightfall), and in trying to rejuvenate the ancient Mistwraith
archetype, in which combinations of Nocturne, Elise and Kalista were tested with discouraging results.
Yet here we have it now: a nearly all-in
Shadow Isles deck (with only a
Noxus splash in Precious Pet
, to ensure the Wraithcaller
Allegiance), mixing the Spiders aggro package with Mistwraiths, a dash of Hallowed, and The Harrowing
as top end.
The result? An impressive 54%+ WR in nearly 1,600 games with a very interesting matchup spread: loses to the Noxus and SI Seraphine flavors while beating the Ionia variant; beats Zed Hecarim and Jhinnie; murders Privateers, probably being its best counter; folds to Rayne, has a bad matchup into Zayne, and can hold its own (even if at a slight disadvantage) when confronting other Vayne variants.
Definitely one of the decks to keep an eye on in the next few days!
---
Viktor Seraphine Ionia, ft. Karma
Always in flux (if Jhinnie is a constant, Seraphine Viktor Ionia is as variable as it gets, with always a new card or some tweaked ratios), this deck maintains a very solid 53%+ WR in 1,400 games.
Like with several other archetypes, the rise of Privateers is bad news, but farming Zed Hecarim seem to compensate for it – the rest of the matchups remain as in previous days: Vayne decks are a problem, while other Seraphine flavors result in easy pickings.
---
Zed Hecarim
Alright, let's talk about the big Ephemeral elephant in the room.
For the first time in LoR's history, Zed Hecarim is a solid, playable archetype – and, as sometimes happens when an ancient concept that never really worked then suddenly does, pilots are flocking in droves to this Ephemeral pair.
Technically speaking, Zed Hecarim is (and has been for the last week or so) widely overplayed, in the sense that its mediocre WR does correlate with its huge play rate; on the other hand, though, having fun while climbing (and this deck can climb) is what games are about – in that sense, it looks clear that Zed Hecarim delivers.
The list below is probably the best right now when you consider both popularity and performance (reaches 51% in around 1,300 games) – there are several more popular versions, but all struggling at, or below, 50%.
As noted above, Zed Hecarim is not specially strong: it does have a small edge against Ezreal Seraphine Noxus and Jax Vayne, but loses to all other popular decks (including horrible matchups versus Jhinnie and Zed Vayne, and poor odds against Privateers) – to put it plainly, not a deck we'd normally recommend going by the numbers alone, and it's currently the reason some of the stronger decks are enjoying an uptick in performance by farming Ephemerals left and right. But, if you want an Ephemeral climb, there's never been a better time than now!
---
🔥🔥Blazing Hot: Twilight, aka Dark Leona Diana
Three days ago, these Twilight lovers punched at a solid 52% WR in around 400 games.
As of now, they smash at 55% in more than 1,200!
If you want a trendy deck with old champs, and in particular if you want to give Privateers a run for their bloody Noxus coins, this is the deck to look into. You'll have an uphill struggle with Seraphine Ezreal, and you'd rather not bump into Rumble Vayne – but you'll farm Jhinnie and Zed Hecarim, demolish Privateers and Zed Vayne, and have a field day with Jax Vayne. All in all, a great matchup spread against the current field.
Grab it while it's hot! =)
---
Seraphine's Silencer: Vayne Jax
Vax remains a very 'scattered' archetype (lots of different versions, all doing from good to great), with our recommended variant hitting at 54%.
Among the best decks to shush Seraphine, Vax also enjoys a small edge on two ascending archetypes: Privateers and Elise Nocturne. The bad news are the also ascending Leona Diana deck seen above: Vax's odds in that matchup look disastrous.
Further reading: Wekhar's Improvise, Adapt, Overwhelm – A Jax Vayne LoR Deck Guide.
---
Viktor Seraphine Shadow Isles
Viktor Seraphine Shadows has deflated a bit, striking at 53% (down from 54%), with its best deck showing a bit above 900 games played (down from a much beefier 2,000 game sample). Its matchup spread is quite good, though: positive odds against Seraphine Ezreal and Zed Hecarim, squashes Jhinnie, and seems even versus Privateers – Rumble Vayne and Viktor Seraphine Ionia are its main predators.
Further Reading: Yangzera's Quiet High Note – A Spooky Seraphine Viktor LoR Deck Guide.
---
Other Considerations:
Heimerdinger Norra and Fizz Nami Varus are playable, 50% decks.
Don't play Diana Aphelios SI – I mean, there's a great Diana Leona SI deck to play in this very same section, for crying out loud! =)
---
Punching Up – Runeterra Decks Doing Great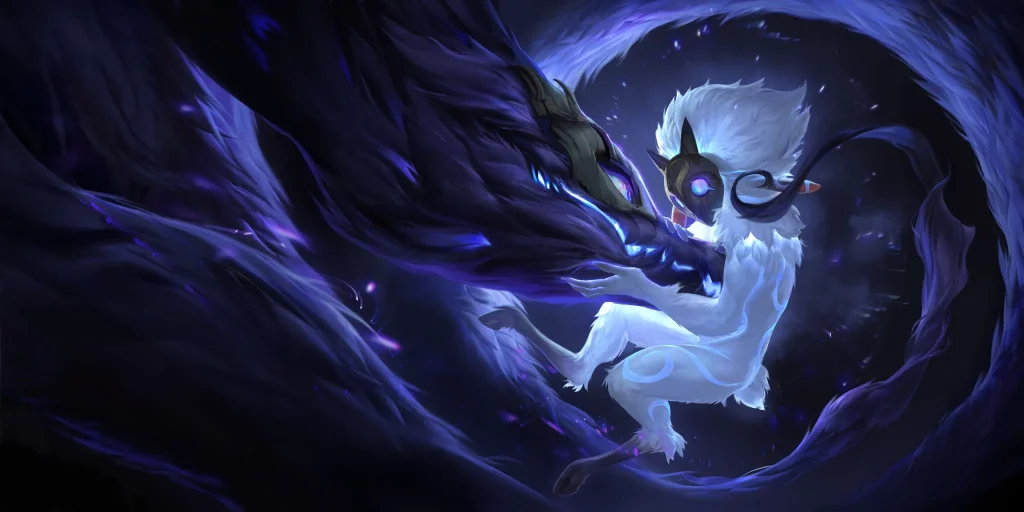 Runeterra decks with between 300 and 900 games in the last three days – solid picks if you'd rather pilot something a bit less played.
---
⭐Rising Star: Elise Kindred Sentinels, ft. Vi
A fairly old archetype, unseen in the last couple of expansions, adding Quietus
to its arsenal and returning to the spotlight with quite a blast: 52% WR, nearly 900 games played. This seems to be the only Kindred playable deck right now, by the way: Kindred Nasus is doing horrible.
Seems to be very solid against Zed Hecarim, and excellent against Jhinnie.
---
❄Cooling Off: Fiora Vayne Piltover & Zaun
Fiora Vayne remains a bit on the downswing – a stable 53% WR, but a lot less games played, dropping from our Heavyweight to the Punching Up category.
---
⭐Rising Star: Tryndamere Trundle, aka Feel The Rush
Speaking of old archetypes that, after adding Quietus
to their bag of tricks, are making quite the return: Feel The Rush
is back with a vengeance (or, well, technically two), stomping foes to reach the 54% WR threshold in around 700 games.
Matchups against the Top Dogs are a bit sketchy, though: FtR demolishes Ezreal Seraphine and Viktor Seraphine SI, but loses to pretty much all the other strong decks (including Vik Sera Ionia) and is quite the underdog to Zed Hecarim – one would suspect Tryndamere and Trundle are mostly bullying weaker decks, and may have trouble getting more traction than now.
If you are new to Legends of Runeterra (and, above all, if you enjoy big units and big spells), this may be an excellent time to try one of LoR's staples.
---
⭐Rising Star: The REAL Scouts, aka Miss Fortune Vayne, ft. Quinn
Well, here they are at last! In a Meta where Vayne is giving everybody and their poro free attacks, and where Equipment and Bloodcursed Harpy
have turned Scout into a fairly ubiquitous Keyword, it was a bit of a wonder why the REAL Scouts deck was failing to make a splash – it may be that everybody else is stealing their thunder, since this rejuvenated Scouts version gets to an okay-but-not-great 52% in 700 games, but with further refinements we may see more of them.
Real Scouts are solid into Ezreal Seraphine, and look great against Zed Hecarim, Jhinnie, and Viktor Seraphine flavors. Vayne blends, on the other hand, seem to be unfavorable matchups.
---
A Re-equipped Classic: Sivir Akshan Demacia
The modern Sivir Akshan deck is a bit hidden: its most popular version does quite badly (a lousy 45%), thus dragging the archetype down as a whole – yet the good versions, like the one seen below, pack a whopping 56% punch in around 600 games. A great deck to consider, both if you are new to Runeterra and have not yet piloted this classic, or if you are a vet and haven't checked this blend in a while: as seen below, the introduction of equipment has rejuvenated Sivir Akshan quite a bit.
---
Spider-Gwen enjoyed a bit of popularity back when Gwen was released, then faded into obscurity as Gwen found a home in Red Gwen – after making waves in the fringes a few days ago, now it's looking like the real-deal, and scarily so: Elise Gwen punches above 58% right now, in around 500 games!
Further reading: Scissorsbox's Spider-Gwen: an Elise Gwen Deck Guide
---
Finally: Kayn Vayne
An archetype that has been hovering at a nearly playable WR since Domination dawned, Kayn Vayne has dropped sharply in popularity in the last few days, but die-hard pilots have managed to push its best deck to an eye-widening 57% WR in around 400 games.
---
Gwen Vayne has lost yet more steam – now at around 52% with close to 400 games played with its best deck, it's still a solid ladder option yet seems about to exit the spotlight.
Further reading: Scissorsbox's Midnight Tumble – A Gwen Vayne LoR Deck Guide
---
⭐Rising Star: Riven Viktor
During the first half of this year, Ambush
decks with different combinations of Viktor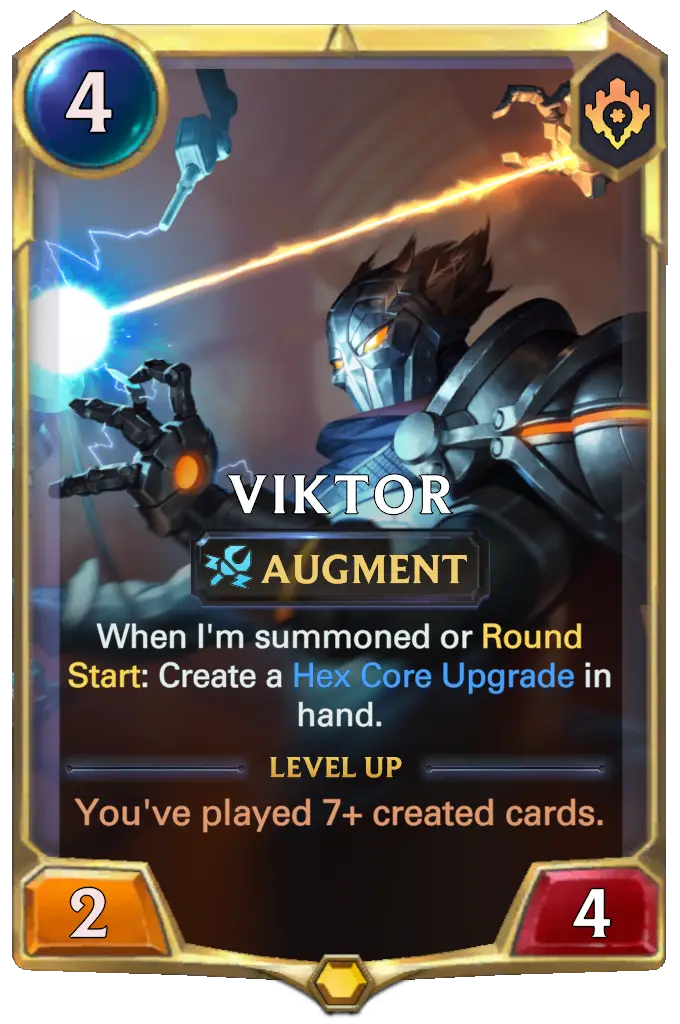 , Riven
, Vi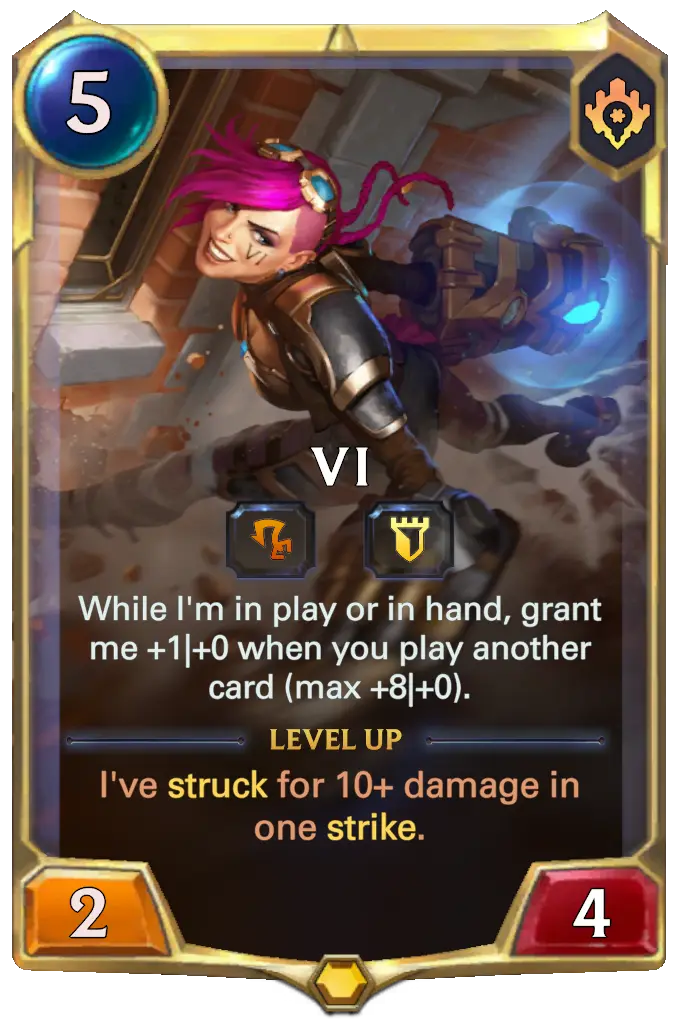 and sometimes Draven
were usually a thing in the Meta's fringe – the current incarnation has dropped the Ambush plan, going for a lot of burn plus extra Blade Fragments (via Rune Squire
) and a whiff of equipment. Very solid results thus far: 54%+ in around 350 games.
---
Pirates & TF Swain: Very Playable, but They Ain't Privateers
Pirates and TF Swain are still excellent ladder choices (and Swain TF is actually a very good Privateers counter), but overall they seem inferior, by quite a while, to Miss Fortune Swain.
Your Mileage May Vary – Fringe LoR Decks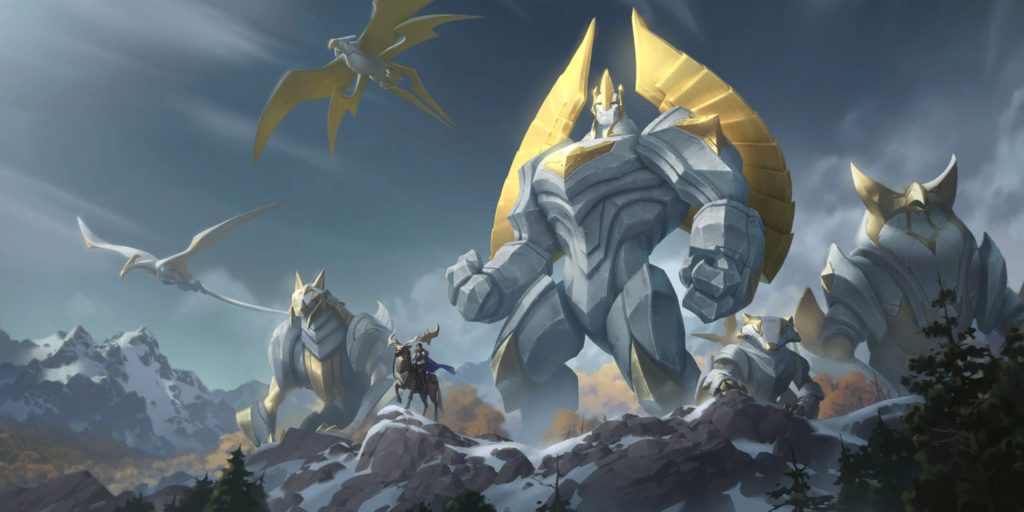 Runeterra decks with less than 300 games played in the last few days – promising, but too little data to say for sure how they currently fare.
---
Bannerman Garen Galio
A bit of a weird sight, finding a Bannerman deck with six non-Demacia cards, and Stony Suppressor
with nearly a dozen spells, yet it's doing the work: a very playable 51% WR in around 300 games.
---
Quinn Vayne Piltover & Zaun, ft. Jarvan IV, aka New Scouts
Don't sleep on this one, folks – it keeps doing amazingly well (56%+), and has innovated by leaning a bit harder into equipment, moving into Bloodcursed Harpy