Best Legends of Runeterra Decks – Rise of the Fringe Decks
As of early Friday, these are the top six most popular LoR decks according to Legna and Mastering Runeterra's Meta Tier List:
Looking at the current top decks, the trends in the Runeterra ladder do not deviate from what we witnessed last Sunday and last Friday – Rumble Vayne has shown it was no fluke and now is among the best LoR decks, and Hecarim Zed has aggressively clawed a piece of the pie, but other than that the top four decks remain nearly unchanged…
… yet, as we'll showcase today in detail, still waters run deep: there's been an explosion of successful experiments this week, and nearly a dozen fringe decks have emerged (from more "traditional" takes like Spiders and Elites, to radically new archetypes as Hecarim Gwen or Aatrox Elise), on top of several archetypes that were off-meta decks last Sunday now showing growing play rates.
---
Technical note – About overall archetypes and specific decks, and what we mean by "LoR best decks"
Most data sites (including MaRu's Meta Tier List) and articles like Leer's Monday Meta Report sort Legends of Runeterra meta decks by archetype ("Archetype" being the aggregate of all decks in LoR with a specific champion combination) – that's also how matchup tables are shown in pretty much all data sites.
In this article, we'll sort these Legends of Runeterra decks by the best specific decklist for each archetype. And, whenever we talk about LoR decks in general, or best Legends of Runeterra decks in particular, we'll always be referring to specific lists (while reserving "archetype" to denominate the aggregate of all decks with a particular champion pair).
And, since in each archetype some decks fare better than others (and sometimes the difference is quite noticeable), we'll broadly group the best LoR decks in four arbitrary categories, by the amount of games played in the data samples we check:
Juggernauts: LoR decks with more than 2100 games – these are the best tried-and-true, top meta decks in Legends of Runeterra at the time of writing.
Heavyweights: LoR decks with between 2100 and 900 games played – other excellent choices, with large enough samples to confidently say, "Yeah, this works."
Punching Up: LoR decks with between 900 and 400 games played – we're entering the Land of Small Sample Sizes here, but as far as numbers go, these decks can put up one hell of a fight into the current LoR meta.
YMMV: decks with less than 450 games in the last three days – fringe, risky stuff, but here's where you usually find the spice!
As a rule of thumb, LoR decks with a win rate (WR) above 52% catch our eye; above 53% are eye-widening, and anything with a WR over 55% is exceptional.
Last but not least, all stats are from the LoR ladder. If you're looking for Tournament lineups, you may want to check Sirturmund's latest LoR Tournament Decks article. And if Gauntlets are your jam, check Sirturmund's & Monte's LoR Gauntlet Decks: Rising Tides! article for a dozen decks and lineups you can use there.
Sources: Legna, Mastering Runeterra Meta Tier List.
---
Juggernauts – Best Legends of Runeterra Meta Decks
Here we showcase LoR decks with more than 2100 games in the last three days, and good-to-great WR. Best of the best, tried-and-true tools for climbing the Runeterra ladder!
---
Like last Sunday, Bandle Ezreal Seraphine, usually paired with Viktor (although sometimes Vi) remains the most popular specific decklist in all of Runeterra, with more than 5,000 games played in the last three days and not a single card changed in nearly two weeks:
It's suffering from wear and tear, though, with its WR dropping a bit below 54% (which is still great, but not quite the amazing 55%+ it had five days ago). It also shows, like last Sunday, some interesting differences across shards: it's more popular in APAC than the other two LoR servers, while exhibiting its best performance in EMEA (and the worst in the AM shard).
Bandle Bar has two clear predators: Jinx Lulu, and Aatrox variants (and especially Aatrox Vayne decks) – on the backswing, it beats all other strong decks: Katarina Gwen, Draven Jinx, Jhinnie, an in particular has an edge on two of today's rising stars, namely Rumble Vayne and Hecarim Zed.
Further reading: Setting the Bar – A Bandle City Ezreal Seraphine Deck Guide.
---
Well, time to slap that label; we don't always highlight a deck as the stop-reading-and-pick-this-one-if-your-main-goal-is-to-climb, but when we do…
This is it, folks: Aatrox Quinn Vayne is not unbeatable, but it is for certain the best LoR deck right now. If your only goal is to climb, stop reading and pick this one!
Overall, Aatrox Vayne Quinn has not reached "broken" status (just yet…), but when looking at performance and matchup data this is the Tier One deck in Runeterra right now:
Aatrox Vayne Quinn is the most popular archetype overall (with around 10% play rate). The only reason why it's not the most played specific deck too is that there are several minor variations (unlike Bandle Seraphine Ezreal, in which the majority of pilots have agreed on the optimal deck).
The version showcased above (the most popular overall, and in the AM shard in particular) punches above 58% in more than 2,600 games, with other versions showing similar WR in samples between 1300 and 1500 games each – the EMEA shard leans towards cutting one Ranger-Knight Defector
to add an extra Sharpsight
, whereas APAC tends to prefer this slightly different, extra-strikes list.
The only serious weak spot that Aatrox Vayne Quinn shows is Rumble Vayne, which explains (as we'll detail below) Rumble's radiant return to the ranked ladder – Ashe archetypes (like this Ashe Kindred deck) tend to have excellent odds against AVQ, but they don't do too well against the rest of the field.
On the other heavy hand, the World Ender is nearly unstoppable: it crushes Bandle Bar, tramples Hecarim Zed, chews Jhinnie and Jinx Lulu for brunch, and does a number of horrible things to weaker decks.
Katarina Gwen, Plunder, and Jinx Draven can go toe-to-toe with the Darkin army, although never more than a coinflip away from destruction.
Further reading: World Ending Birds with Weapons – An Aatrox Vayne Quinn Deck Guide.
---
Heavyweights – Strong LoR Meta Decks
These LoR decks have between 900 and 2100 games since the World Ender expansion landed – solid picks for climbing the Legends of Runeterra ladder!
---
Crimson Katarina Gwen
Katarina Gwen completes what Sirturmund considers the Tournament best decks trinity, and remains (like in past seasons) a LoR ladder powerhouse.
The best Katarina Gwen deck has improved its WR since last Sunday by two points (57% today, up from 55% five days ago – an impressive feat when considering that the Runeterra meta is more or less settled down, and Kat Gwen is even or disfavored versus our current Juggernauts), and has accrued nearly 2,000 games in the last three days.
As noted, Kat Gwen is not particularly good against the current Juggernauts: it's even versus Aatrox Vayne Quinn and disfavored against Bandle Ezreal Seraphine. And it loses quite badly against Jinx, be it with Draven or Lulu.
On the backswing, though, Crimson Gwen beats two of today's raising stars (Rumble Vayne and Hecarim Zed), has a slight edge on the Quinn-less version of Aatrox Vayne, and defeats most other strong options (like Jhinnie, Plunder, Aatrox Kindred, and Lurkers). All in all, a very flexible choice if none of the Juggernauts happen to be your cup of tea.
Further reading: Hallowed Attacks and Harrowing Combos – A Katarina Gwen Deck Guide
---
With those lazy Darkins, Zaunites, and Midnight Revelers too complacent to change a single card in their decks, leave it to a Yordle to step his game up and improve his weaponry!
Rumble Vayne's best deck has changed a lot since last Sunday: Fallen Rider
s are out; The Darkin Aegis
(and, therefore, Joraal
) are in; the top-end Spells have been trimmed down, with further tweaks for enhanced protection via Sharpsight
...
… and massively improved results: from around 200 games last Sunday, Rumble Vayne now has 1,500+ games on record in the last three days, with WR close to 55%.
One reason is clear: Rumble Vayne is the best counter for Aatrox Vayne (and Aatrox decks in general), with "best" in this case meaning "beats the deck it aims to counter, and it also performs well overall" (as opposed to "best" as in "pummels the deck it aims to counter, but gets run over by everything else").
Rumble Vayne's weak spots are Jinx decks (Draven Jinx is a horrible matchup, and Lulu Jinx is quite bad too), Lurkers, and Katarina Gwen – Bandle Bar, Plunder and Hecarim Zed are all roughly even, or just slightly disfavored for the Mecha-Yordles.
Further reading: Tumble on the Rumble – A Vayne Rumble LoR Deck Guide
---
Not the powerhouse it was pre-hotfix, and clearly not the best Aatrox variant, but still a very good deck somewhat hidden in an otherwise mediocre archetype: after some tweaks and refinements, pilots (above all in the AM shard) have agreed on the best Aatrox Kayn list, which currently strikes above 55% in about 1500 games.
It bears noting that this seems to be mostly an AM trend – EMEA and APAC are lagging in adopting this specific build, and other popular versions (in all three shards) tend to perform poorly.
In other words: this specific deck may be a bit of a hidden gem, given how the Aatrox Kayn archetype is polluted by bad builds.
Matchups are hard to parse in this case (since readily available data does not discriminate good decks from bad) – broadly speaking, Aatrox Kayn seems strong versus Bandle Bar and Jinx Lulu, while weak against Aatrox Vayne Quinn and Rumble Vayne.
---
⭐Rising Star: Aatrox Kindred
A brainchild of one of LoR's most maddoctoresque brewers, WhatAmI, Aatrox Kindred is the new kid in the block this week: pairing World Ender
s with Atrocity
, the most popular Aatrox Kindred deck closes the Heavyweight category today, with a 52%+ WR in a bit more than 900 games (and a very similar version putting a similar performance in about 750 games).
This Aatrox Kindred deck is even versus the Aatrox Vayne version, and superior to the Kayn version (although remember that the latter is polluted by bad builds) – seems an underdog to both Kat Gwen and Bandle Bar, while also weak to Draven Jinx and Rumble Vayne.
All in all, perhaps not the deck you want to pilot if you came here to end the world (there are certainly much better Aatrox decks to choose from), but if Kindred is your jam, this is the first competitive Kindred deck we've seen in Runeterra in quite some time!
---
Punching Up – Runeterra Decks Doing Great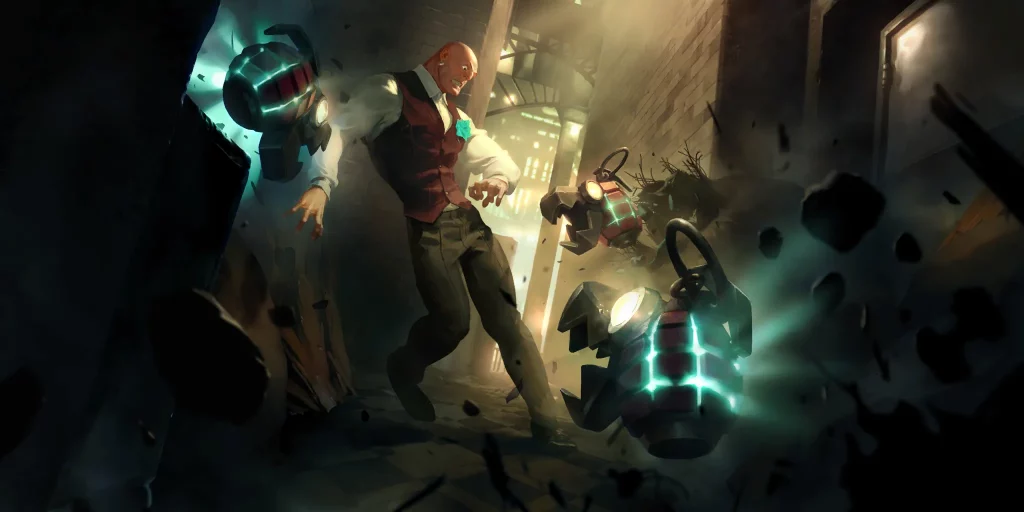 Runeterra decks with between 450 and 900 games in the last three days – we're sailing into small data samples, yet all decks here have quite a few games under their belts, and most of them are well-worn, tried-and-true archetypes.
---
Jinx's rockets and Lulu's overfed Chompers are having a great week – already a heavy-hitter last Sunday, the best Jinx Lulu deck right now cuts a copy of Zaunite Urchin
and Purpleberry Shake
to add two Scrapheap
s, and jumps to 800+ games played while smacking above 56%.
Jinx Lulu is in a great spot when looking at matchups – while a fairly serious underdog to Aatrox decks, it seems to beat pretty much every other strong deck: odds against Bandle Bar and Rumble Vayne are very good, and even better when against Katarina Gwen, Draven Jinx and Hecarim Zed.
Further reading: Lulu and Rockets – A Jinx Lulu LoR Deck Guide
---
⭐Rising Star: Hecarim Zed
After some ups and downs in the fringe, Hecarim Zed is trouncing the field pretty hard: nearly 55% WR in about 800 games. Its preys are weak decks, though – Aatrox Quinn Vayne, Ezreal Seraphine and Kat Gwen are all bad matchups, and odds are horrible against Draven Jinx and Jhinnie (while having no particularly good matchup against strong decks), implying that Hecarim Zed's good fortune may decline as the meta gets further refined.
---
⭐Rising Star: Diana Nocturne, aka Nightfall
This quite old, aggressive archetype was already causing waves last Sunday, and looks like it was no fluke: from a fringe option five days ago, Diana Nocturne has grown to punching above 57% in across 500+ games.
Data is scarce, but it seems Nightfall is even (and perhaps slightly favored) against Aatrox Vayne Quinn, while very favored against Bandle Ezreal Seraphine.
---
Crimson Draven Jinx, aka Discard Aggro
Several Draven Jinx decks coexist (and all doing very well), but pilots are progressively leaning towards the Crimson Pigeon
and Reveler's Feast
version, which has improved its WR to 56%+ (up from 55% last Sunday) in a 500-game sample.
Seraphine Ezreal and Jinx Lulu are awful matchups for Draven Jinx, but Aatrox Vayne Quinn is roughly even now (it used to be disfavored), while odds against Kat Gwen are good, and against Rumble Vayne are excellent.
Further reading: Return of the Queen – A Refresher on Draven Jinx Discard Aggro
---
After nearly going extinct, Annie Jhin's WR has jumped from below 50% to around 54% in around 450 games – with not a single card changed (and builds adding Sigil of Malice
don't look particularly promising). Hecarim Zed is a great matchup, but poor odds against nearly all other strong decks make it hard to guess if this resurrection is a fluke or a real miracle.
Further reading: Annie goes to Stack School – A Jhin Annie Aggro Guide.
---
Your Mileage May Vary – Fringe LoR Decks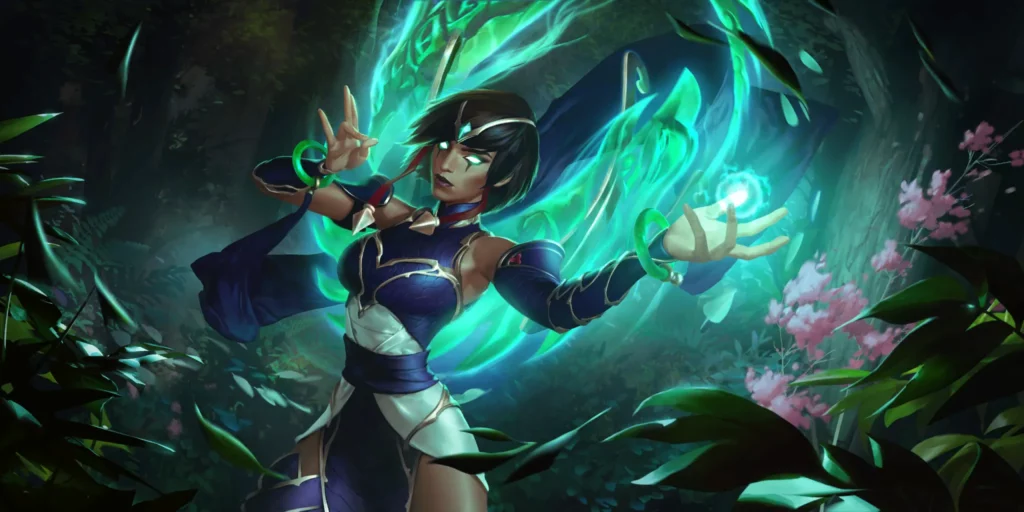 Legends of Runeterra decks with less than 450 games played in the last three days – very little data, so these may range from total flukes… to the next big thing.
As noted in today's trends, there's been an explosion of fairly successful experiments this week – Aatrox, Gwen and Seraphine may reign uncontested for now, but brewers are busily busting their behinds searching for the next meta-breaker.
---
Elise Gwen
Spider-Gwen has, for quite some time now, been a low-key success – and, today, across nearly 400 games, puts up the highest WR among all decks showcased (well over 60%). It has taken some coaching from Crimson Gwen and add Crimson Pigeon
s and Redeemed Prodigy
, and it appears to be favored into Seraphine Ezreal while unafraid of Aatrox Vayne Quinn.
---
Karma Viktor
Seraphine not your thing, but you'd like to hit the Bar anyway? Karma Viktor has been putting the numbers, and with ardent endorsement from Jasensational.
---
Garen Jarvan IV
Ah, the ancient, never-fulfilled quest for a competitive Elite deck! Garen and Jarvan are doing their best, and this time around their performance (55%+ WR in around 250 games with the deck showcased today, and with another similar list putting equally similar numbers) suggests they may be getting close.
Yes: they do lose to Aatrox Quinn Vayne; Bandle Bar seems even, though!
---
Gwen Hecarim, ft. Twisted Fate
And now, for something very different: Hallowed Mistwraiths, with quite the heavy top-end for spells (double The Ruination
plus triple The Harrowing
) and a dash of
Bilgewater providing access to Heavy Metal
, which in his Countering the Runeterra Meta article 4LW calls the best answer to early Equipped units in the whole game.
---
Kayle Leona
A competitive Kayle deck, putting the nerfed Champions' Strength
to good use to reach a 55%+ WR in about 250 games. Seems weak into the top three top dogs (Aatrox Quinn Vayne, Seraphine Ezreal and Katarina Gwen), but overall a very solid performance against the field.
---
Elise Trundle
Showcased by Seasonal Champion 4LW in his Countering the Runeterra Meta article, this Elise Trundle deck packs one hell of a punch in around 200 games – check 4LW's article for tips and insights about this brew.
---
Aatrox Elise
Departing from the Atrocity
game plan seen in other
Shadow Isles decks today, this Aatrox Elise deck goes for turbo-leveling Xolaani the Bloodweaver
and to plainly punch face the good ol' way.
---
Miss Fortune Twisted Fate, aka Pirates
Well, look who's back! Taking a couple of pages from Draven Jinx's playbook, Pirates added Crimson Pigeon
and Reveler's Feast
to skip flourishes and pleasantries and go to the point. Which is to say, face.
---
Darius Renekton Sivir
Curse of the Tomb
has never quite made an impact in the Runeterra meta – perhaps this time it will? Very solid performance in around 200 games, although too little data to dig into its matchups.
---
Gwen Irelia Zed
After a bit of time under the limelights, Gwen Irelina deflated quite harshly (it's currently at around 48% in 600+ games) – yet a more aggressive version, adding Zed
and Shark Chariot
while cutting Deny
, has surfaced, and thus far it's doing quite well: there are two slightly different lists (the only difference being trimming one Twin Disciplines
to make room for a single Syncopation
) putting nearly identical numbers: 54%+ WR in around 200 games each.
---
Frozen Fizz Yuumi
For our last deck today, we'll showcase a fringe brew that is getting traction fast: this Fizz Yuumi deck goes nearly all-in on spells (in fact, as much as a Bar deck, but with no Bar in sight) – scarily-high WR in nearly 300 games, and apparently good odds against both Juggernauts!