Throughout the first year and half of Legends of Runeterra, Draven
and Jinx
were always around, regularly headlining as the premier aggro deck of the format, ready to punish any deck out there that dared to get too greedy. But with the release of the Bandle City expansion, Jinx lost her relevance in the game: strong cards like Sion
, Fallen Rider
and Lost Soul
filled up the discard archetype.
After nearly a year of seeing little to no play, Jinx has reclaimed her spot as the Queen of Discard. This is entirely due to the massive buff Jinx received in patch 3.19.0, allowing Jinx to instantly create a Super Mega Death Rocket!
when she levels up. Gaining access to a Rocket a round earlier, making going for the Jinx level up less risky, and the nerfs to other strong decks all culminated in making Discard Aggro a meta threat again.
6
2
12
20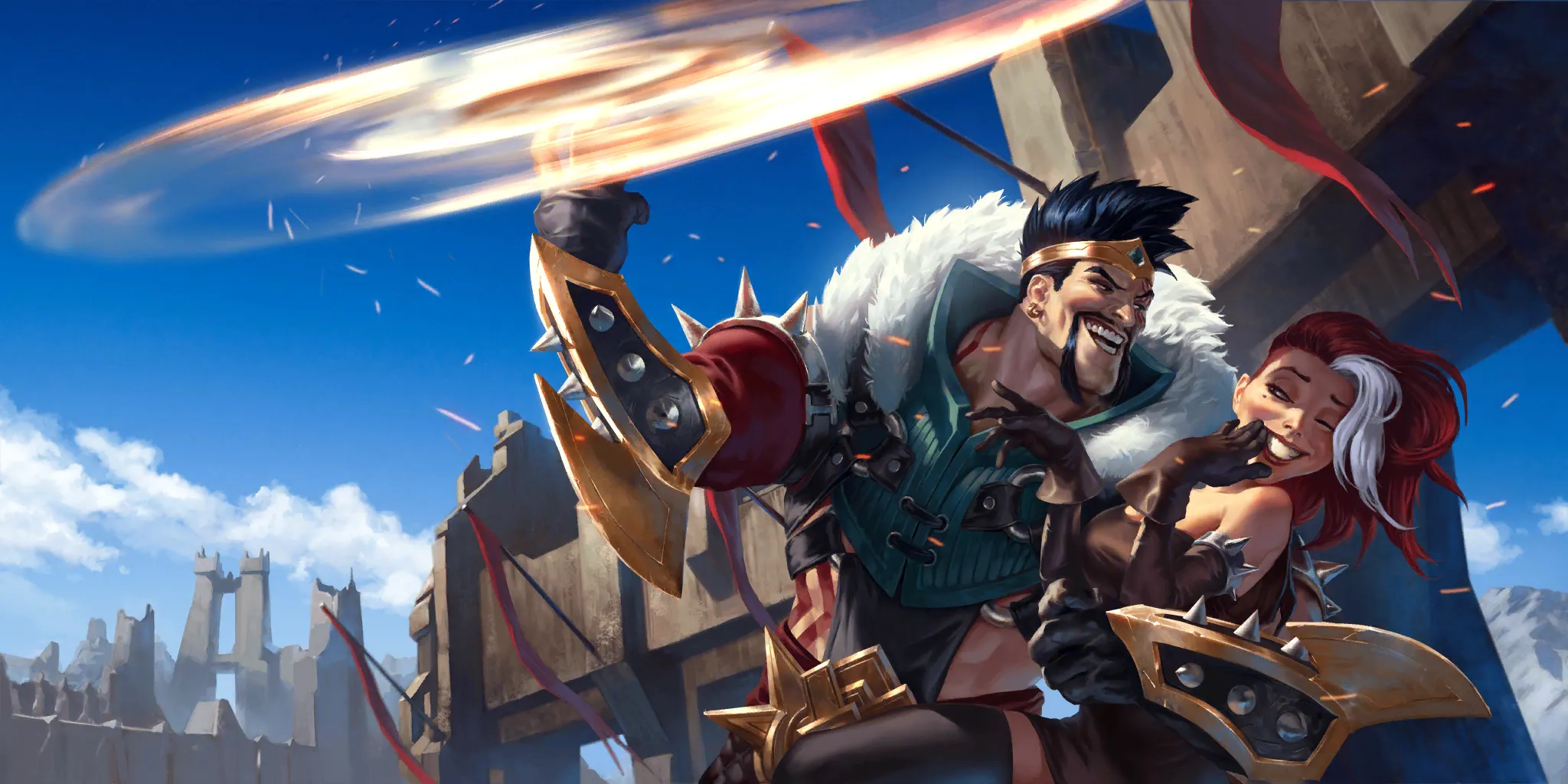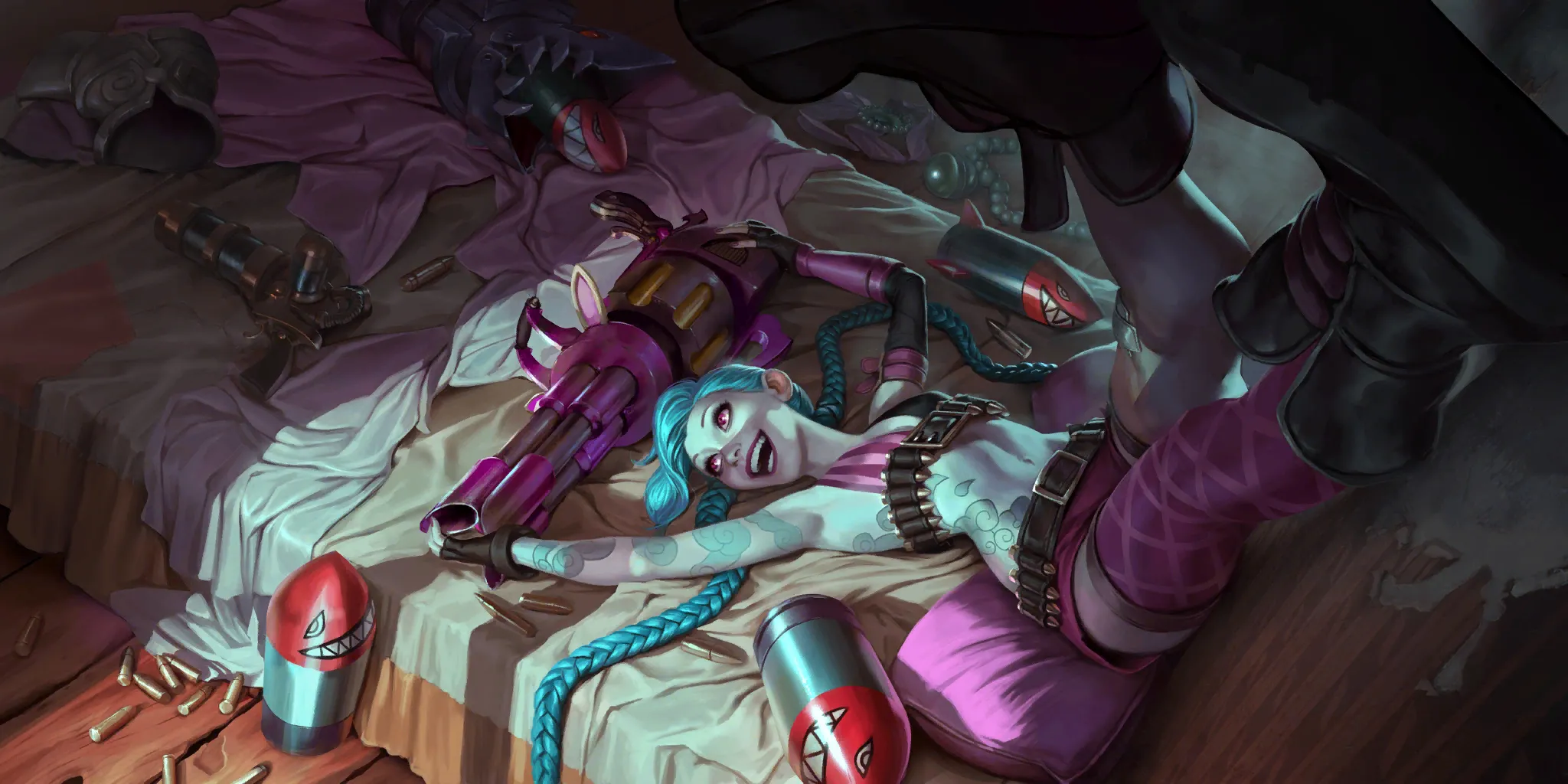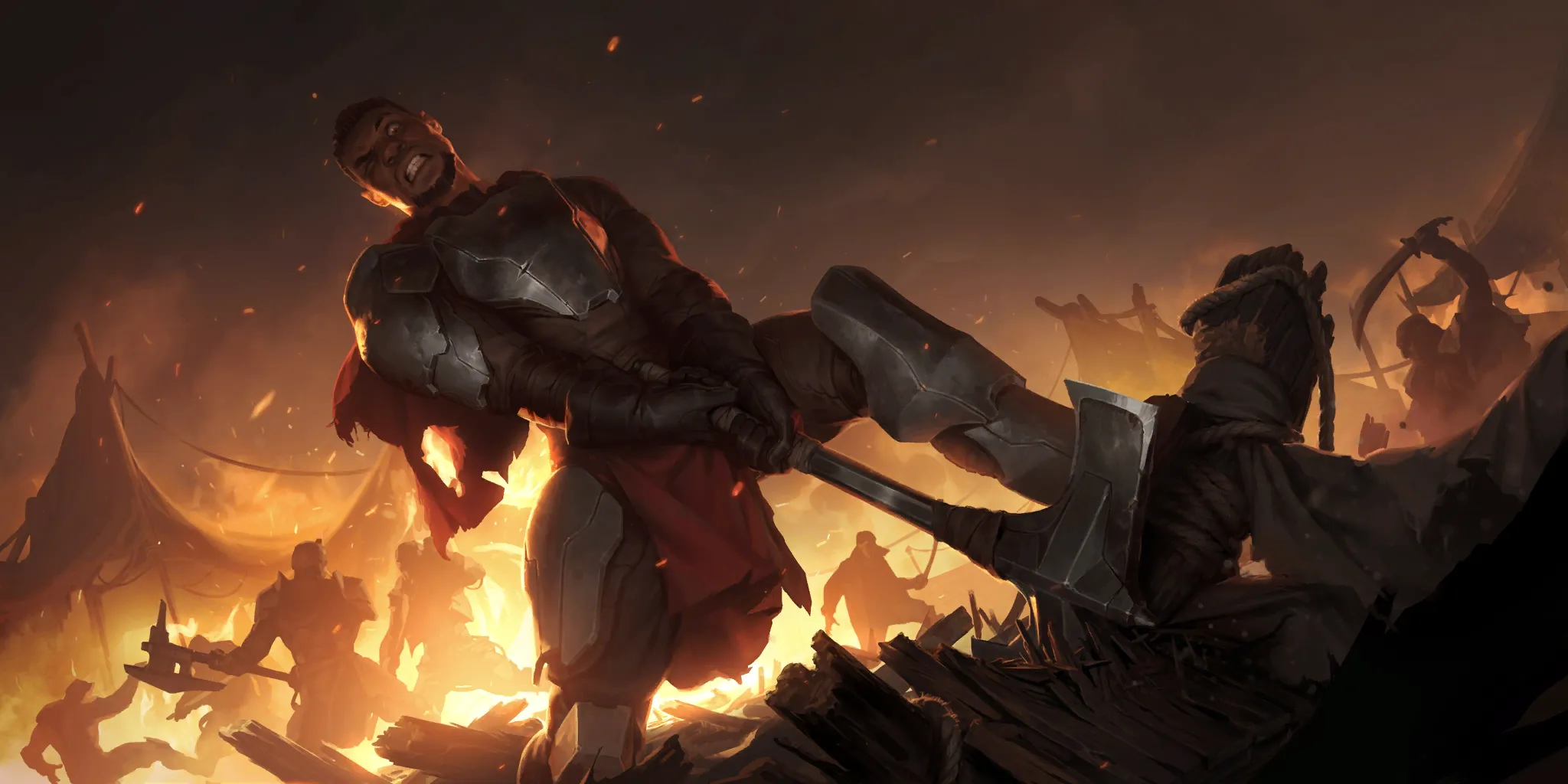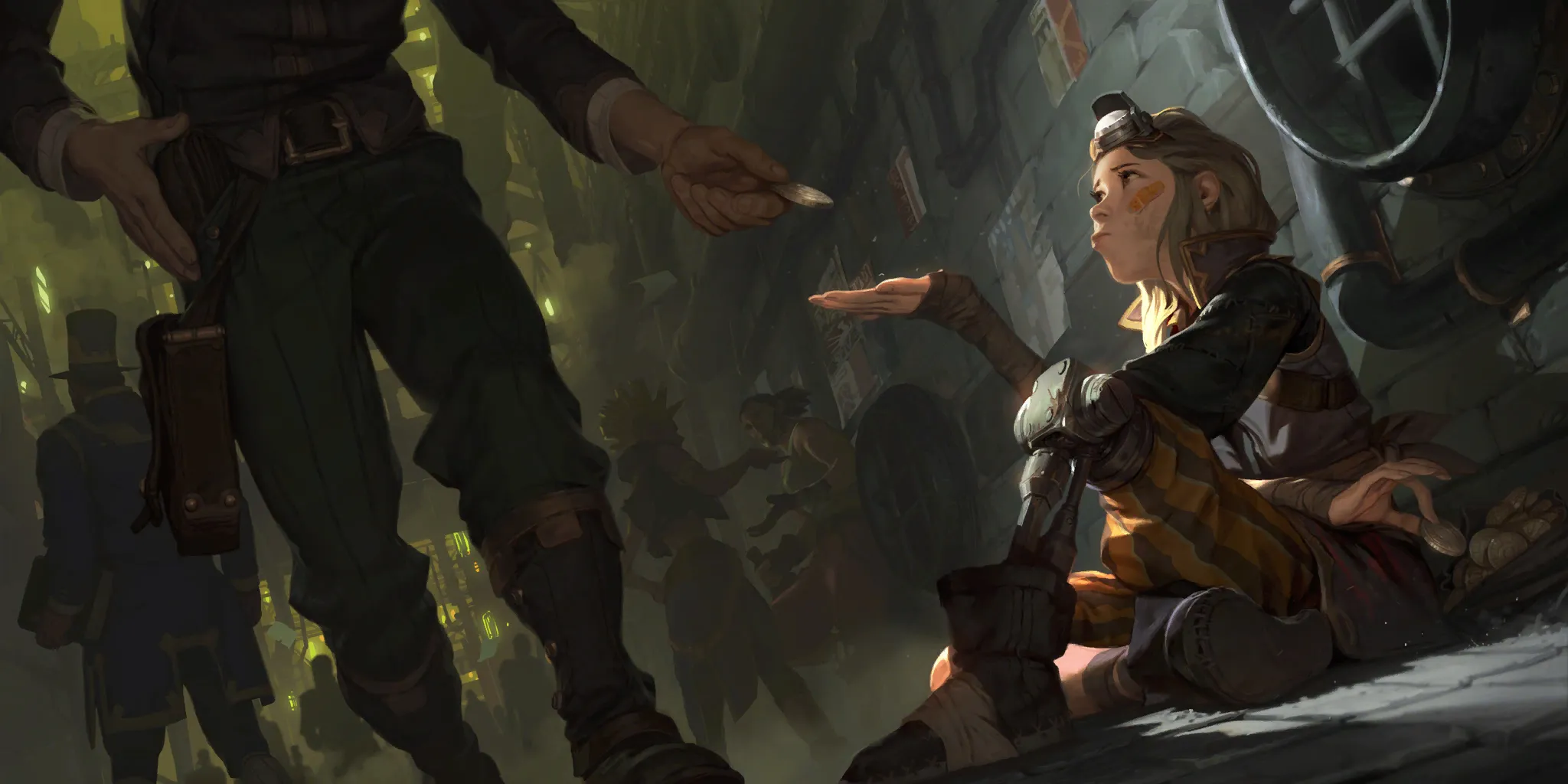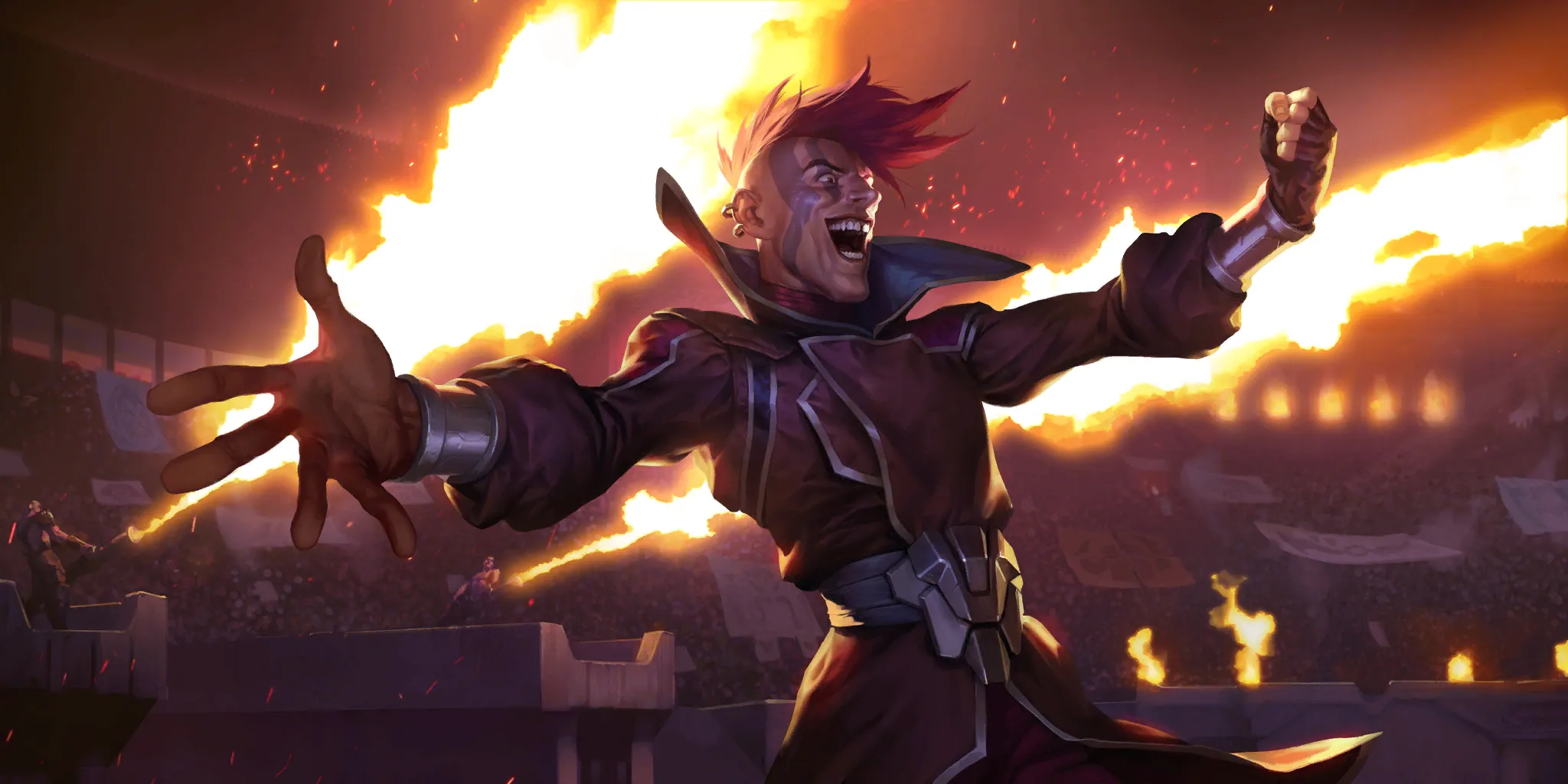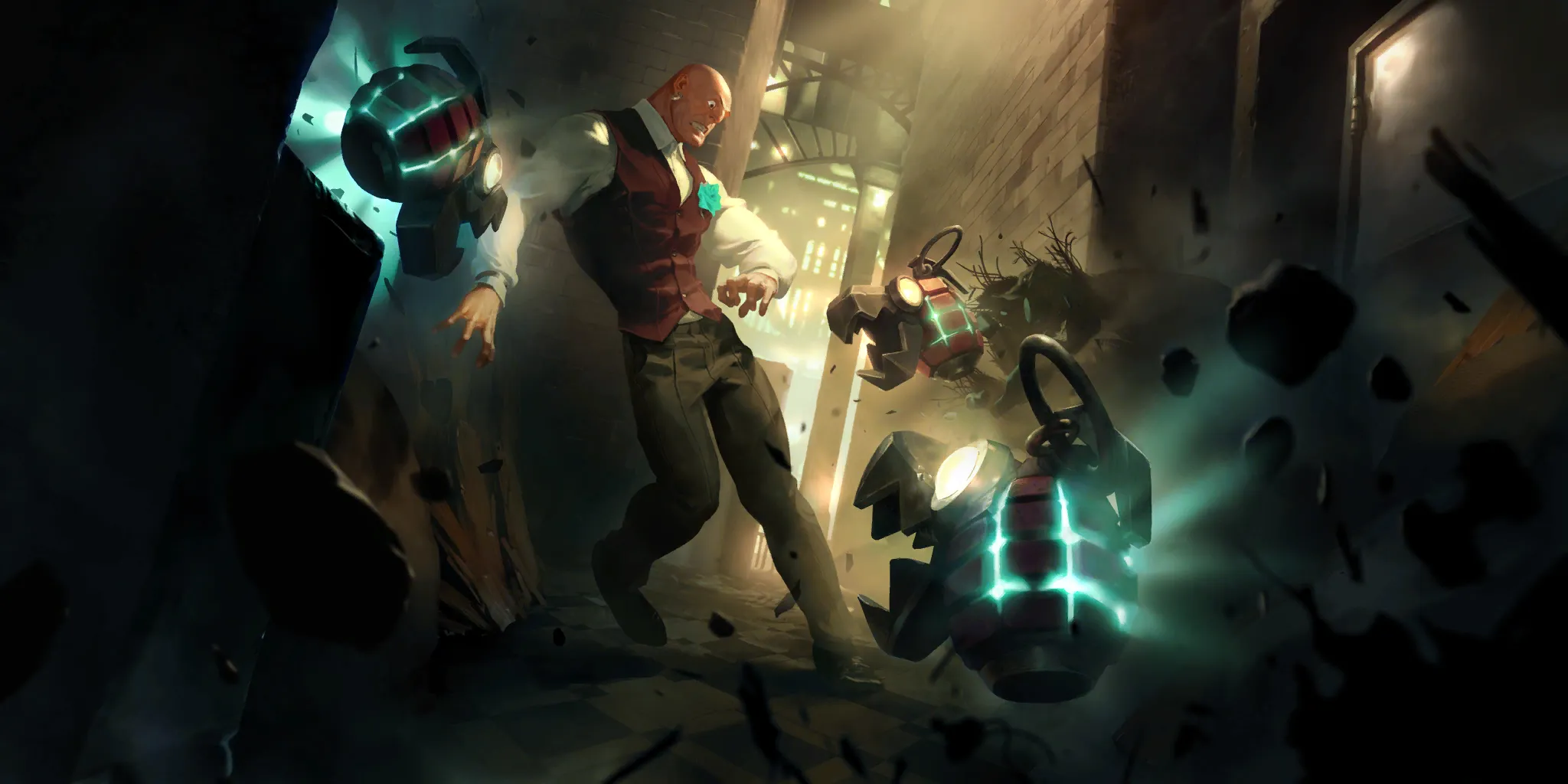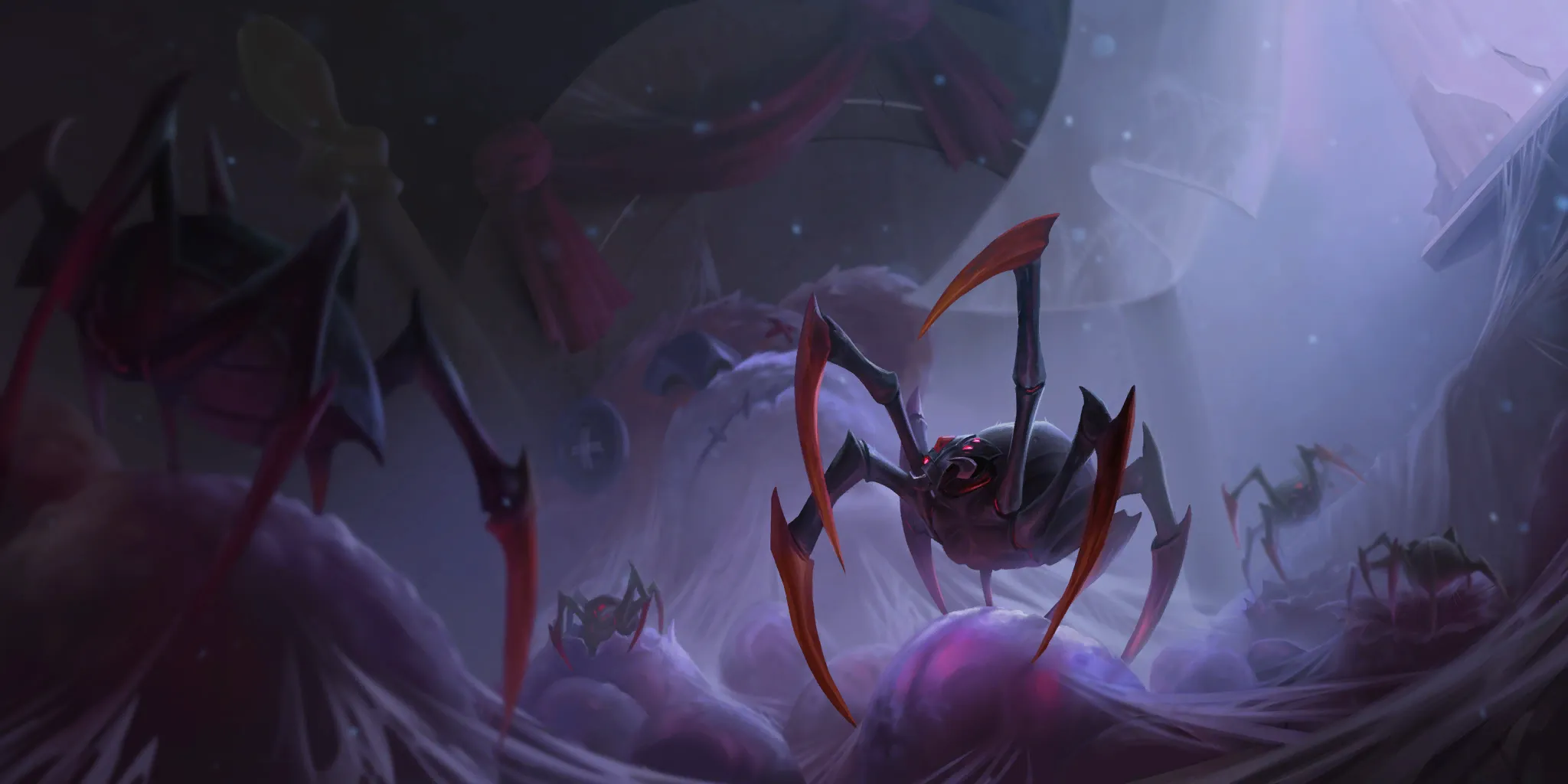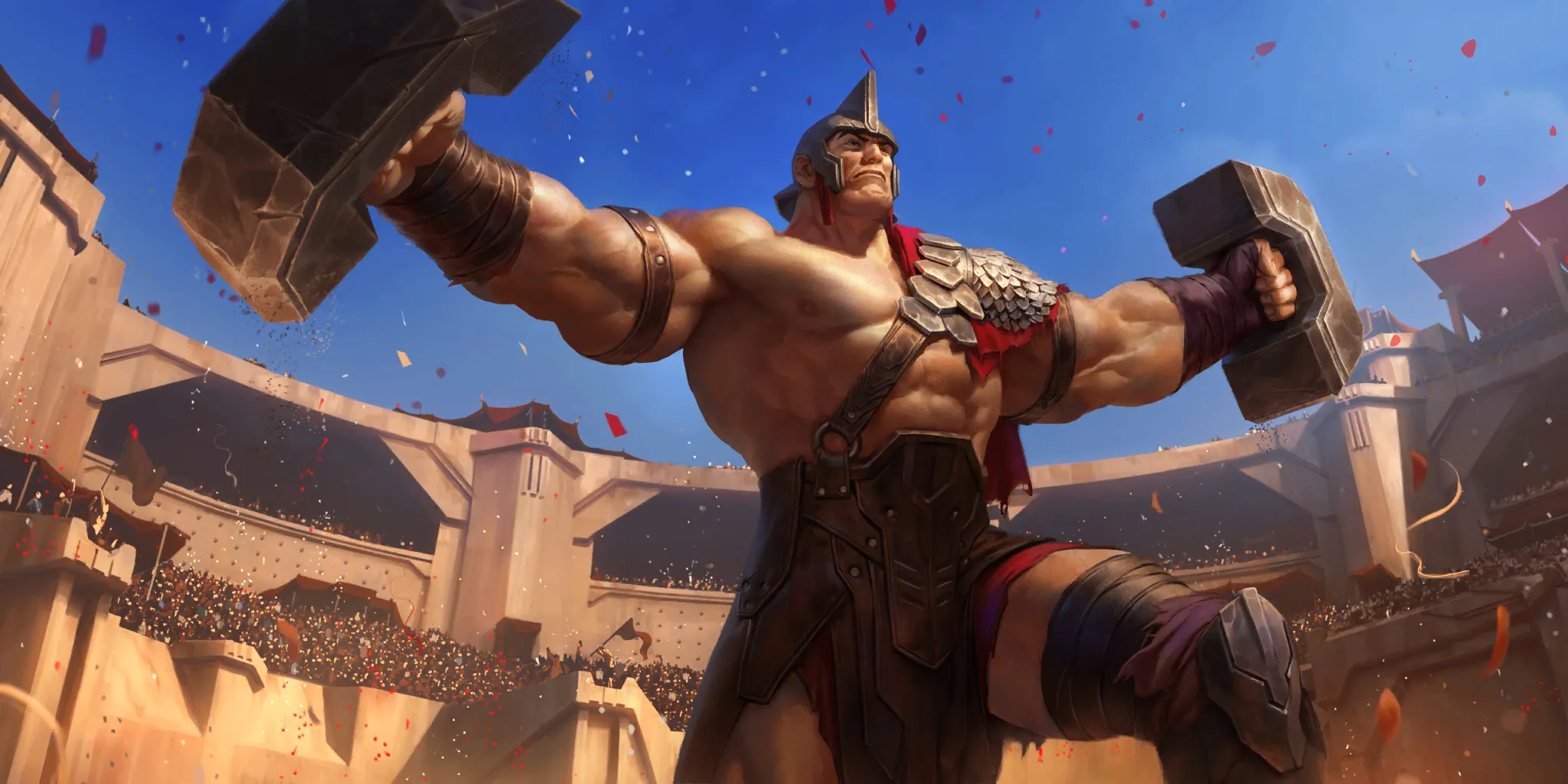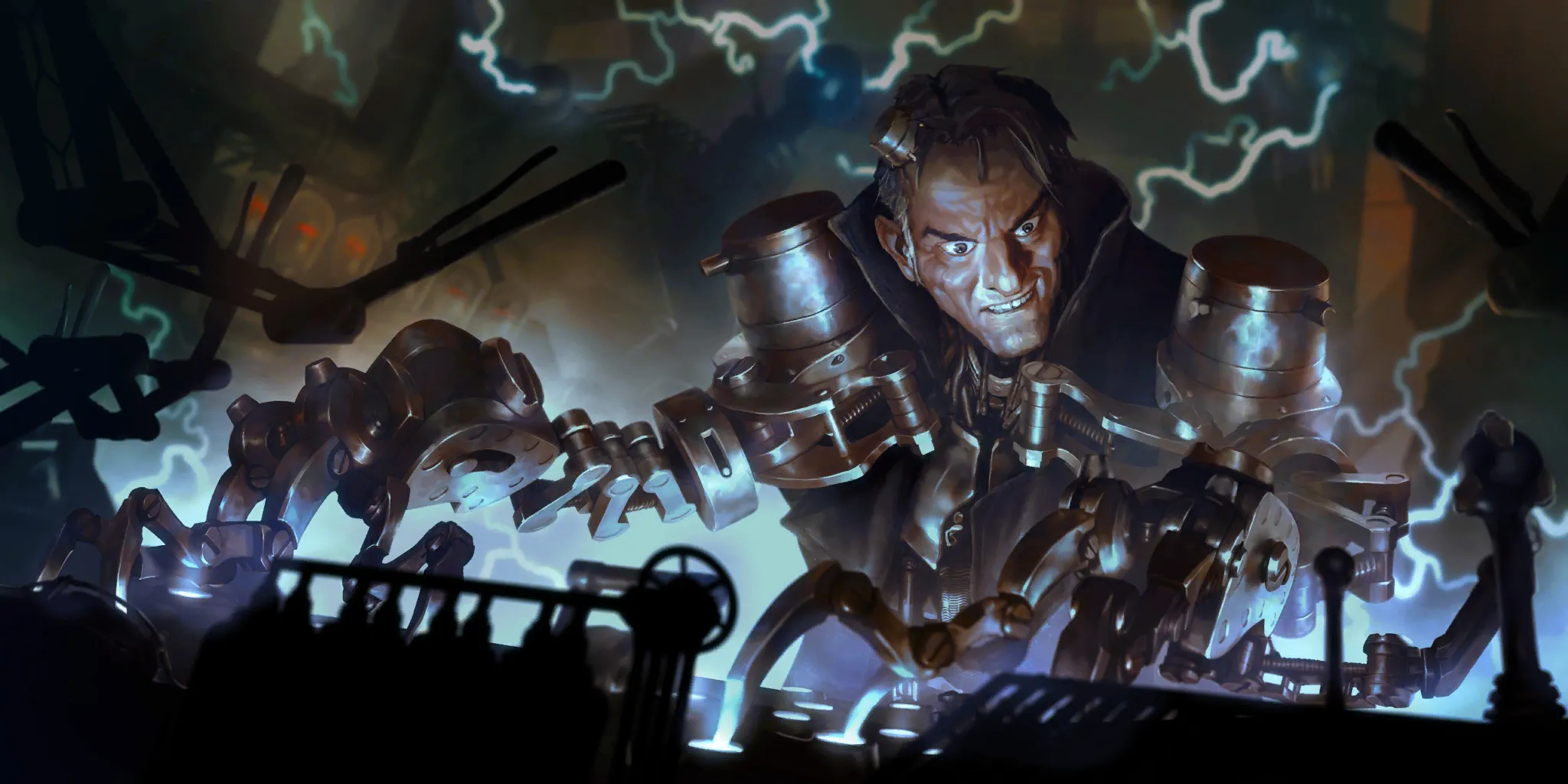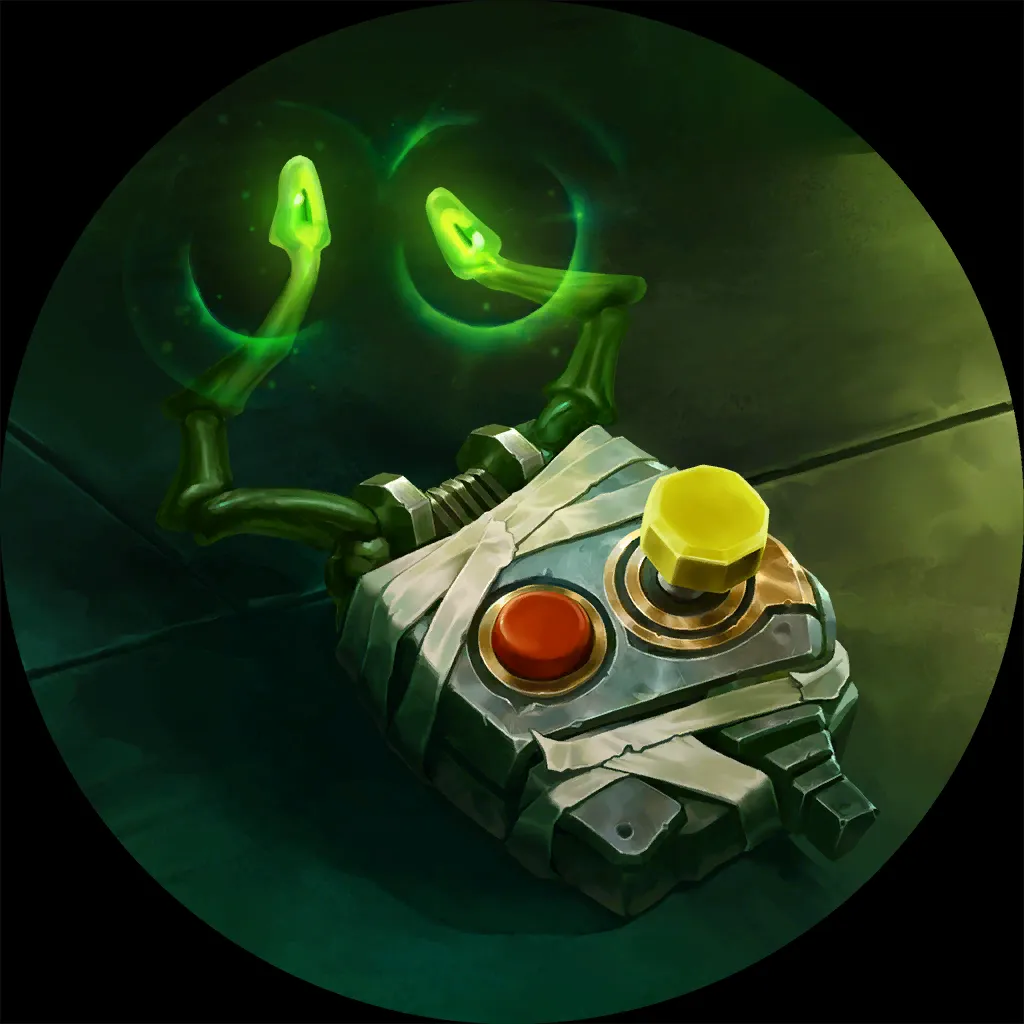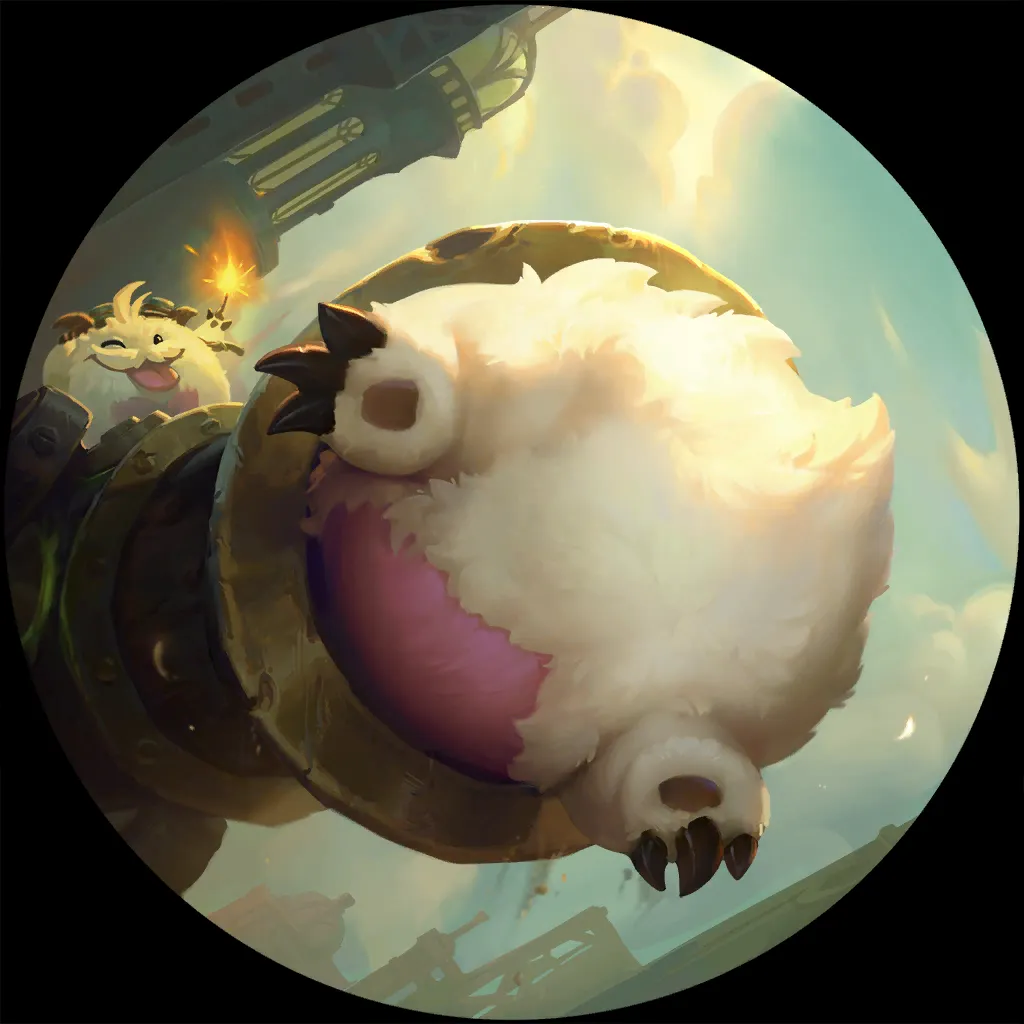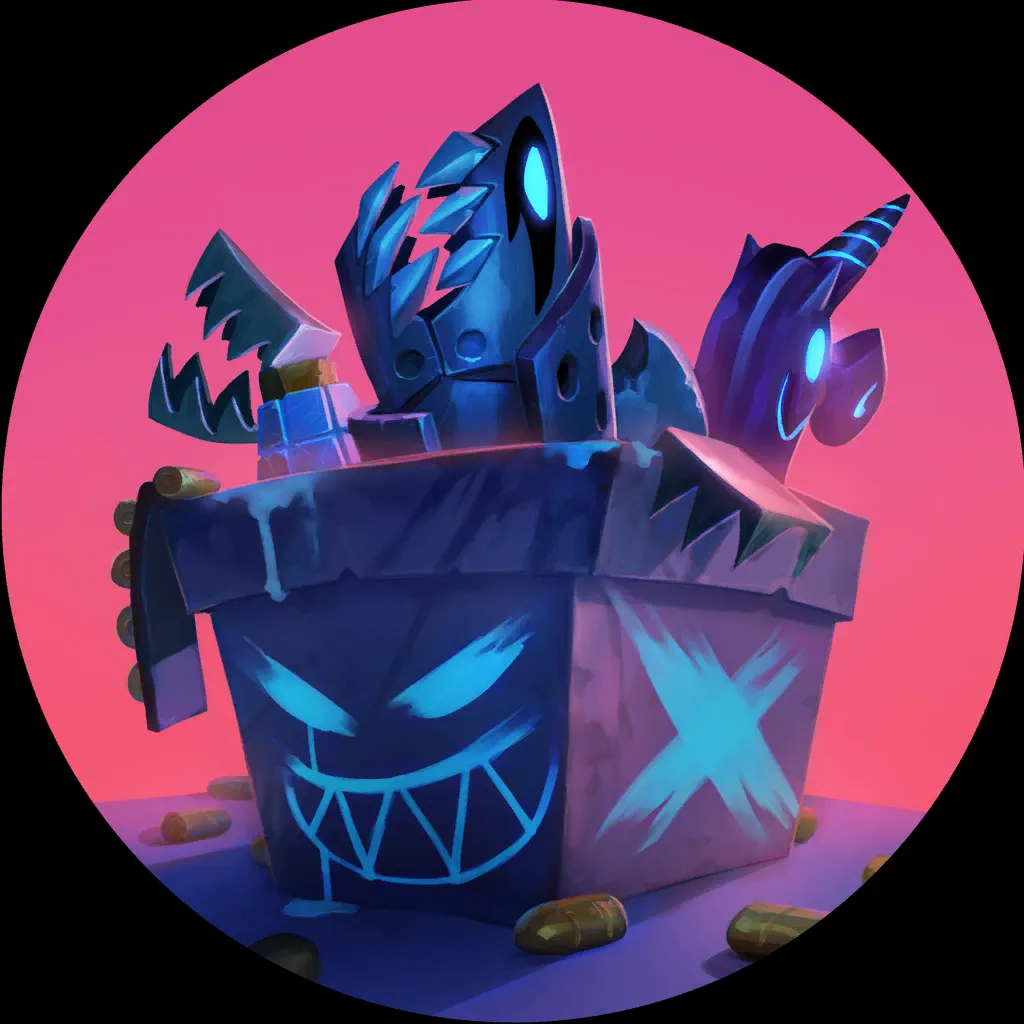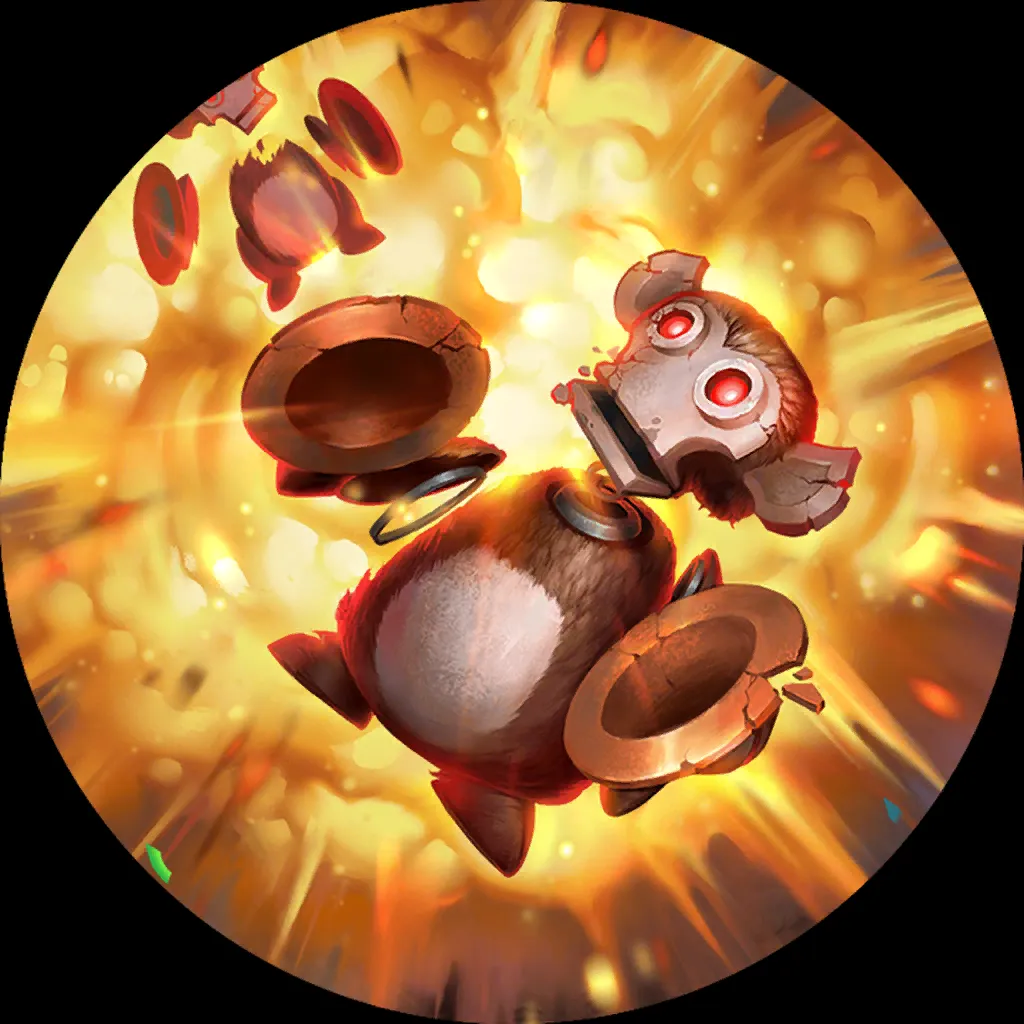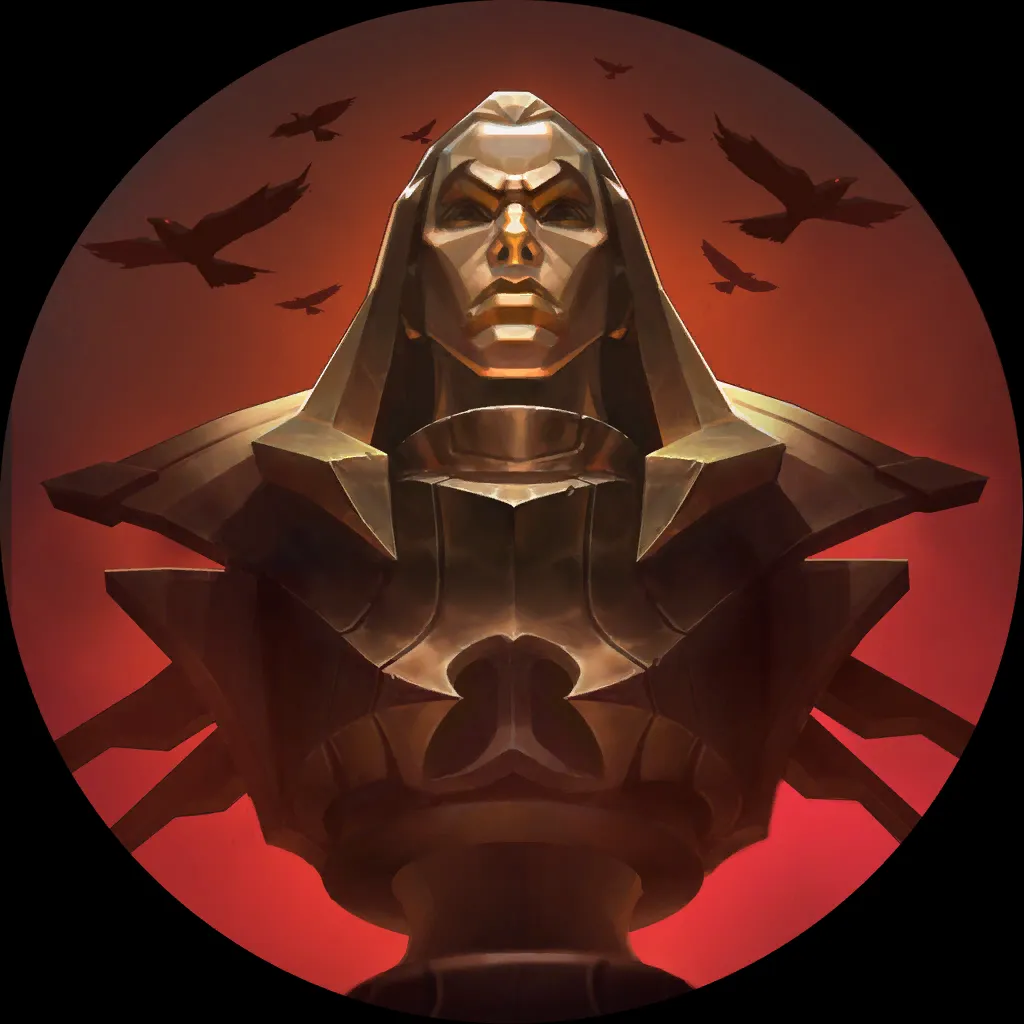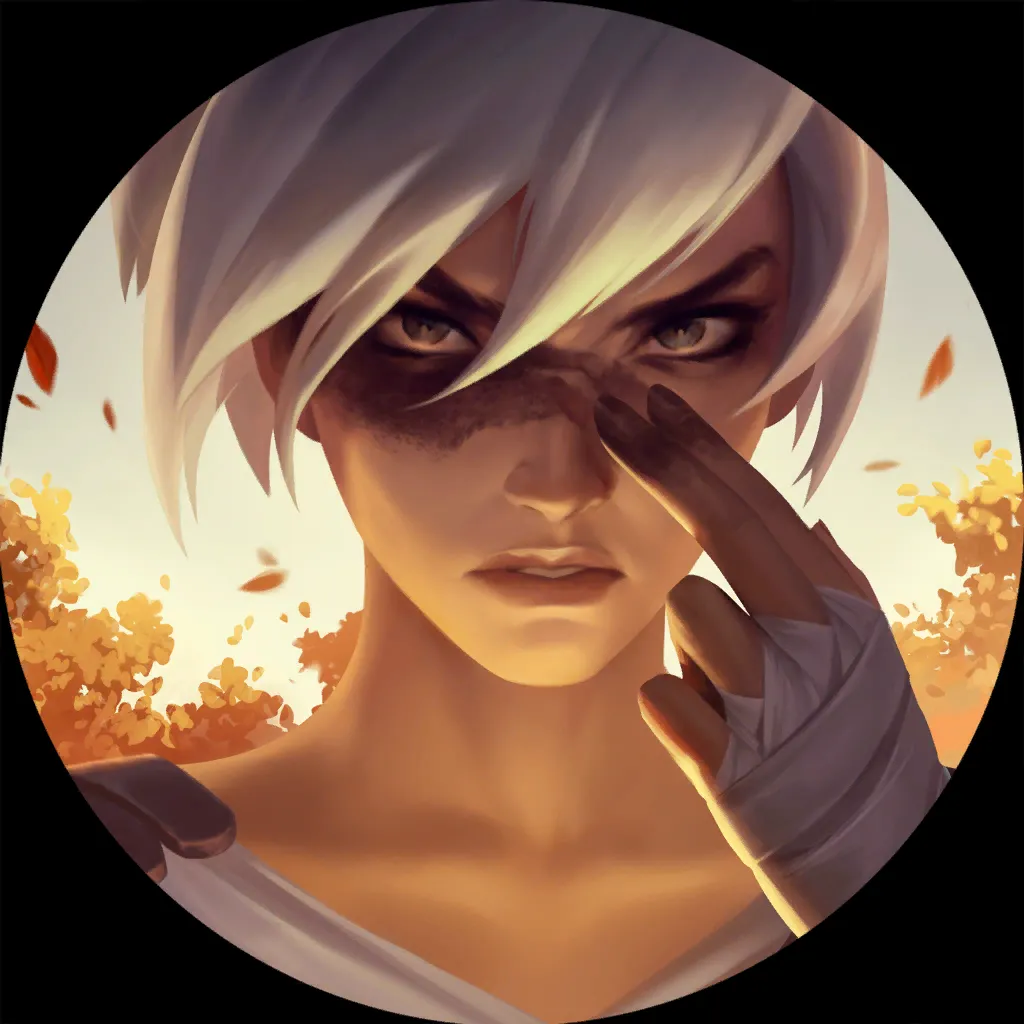 ---
Best LoR Decks: Draven Jinx, aka Discard Aggro – Card Breakdown
Jinx
is the star of the show, and her recent buff is the main reason the deck is powerful now. Super Mega Death Rocket!
is a spell that, when played once, will often swing the game – and if cast twice will often end the game. The ability to now play two Rockets by as early as round five, and rather reliably play two Rockets by round six, is extremely powerful.
Jinx is also a very menacing attacker that will force chump blocks, making it easier for your other small units to connect with the opposing Nexus.
And the extra draw that Jinx provides at level 2 is incredibly powerful and important as well.
Draven
is here to make Spinning Axe
s. Being a Quick Attack unit makes him a great pressure tool as well.
The Axes are crucial to our gameplan: by leveling Jinx
, activating Vision
or Flame Chompers!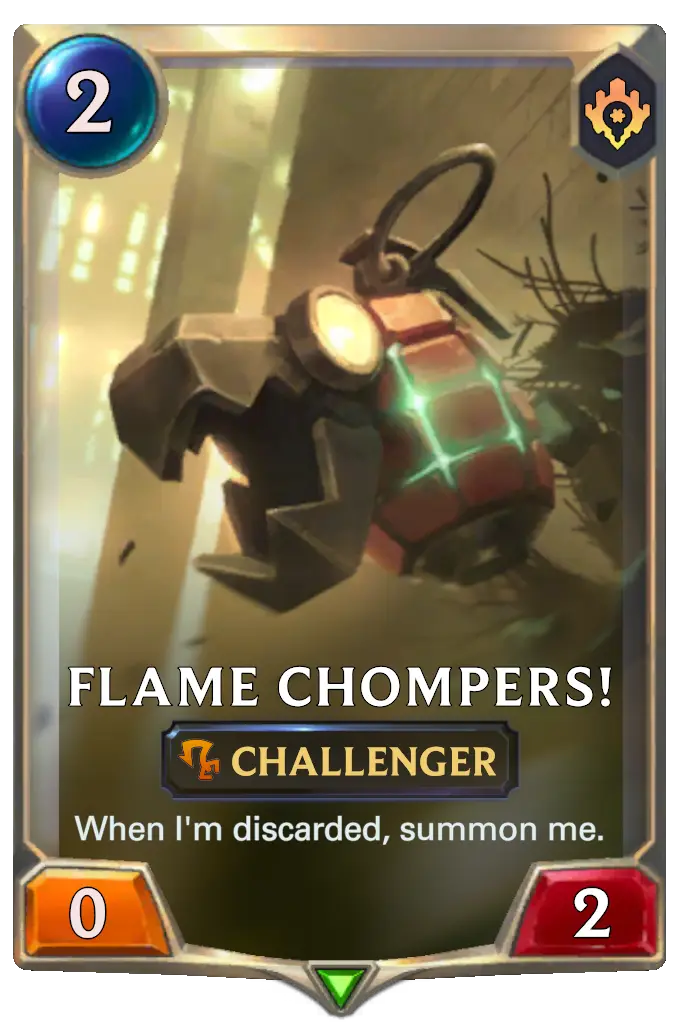 , and facilitating good trades, Axes are indispensable in this deck.
I like to play an additional set of one-drops in my Discard Aggro list besides the usual set of Zaunite Urchin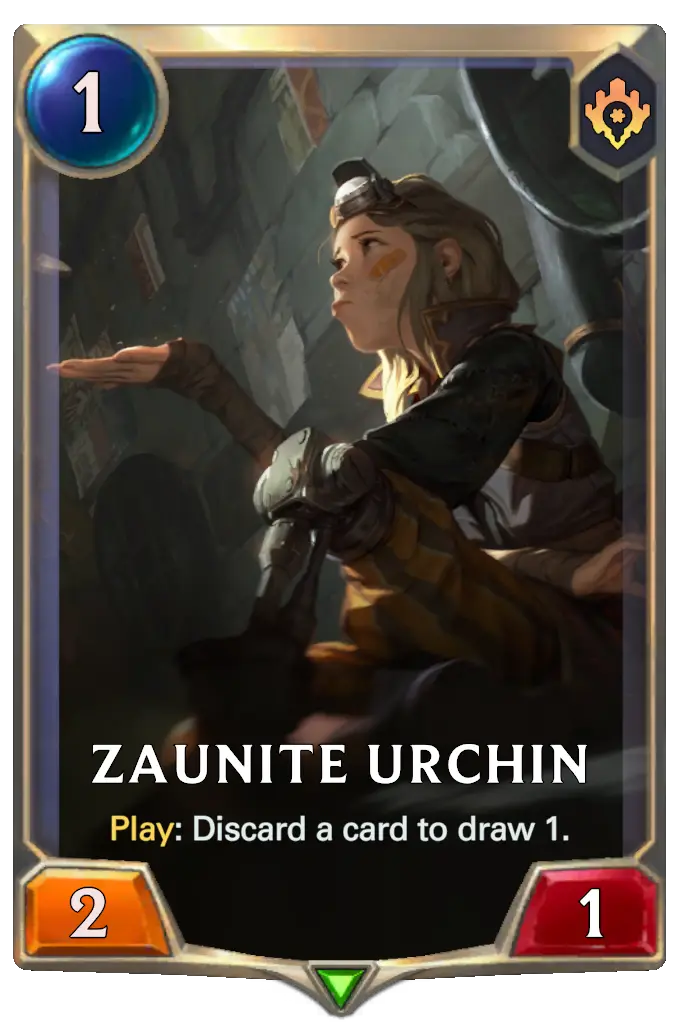 s, Poro Cannon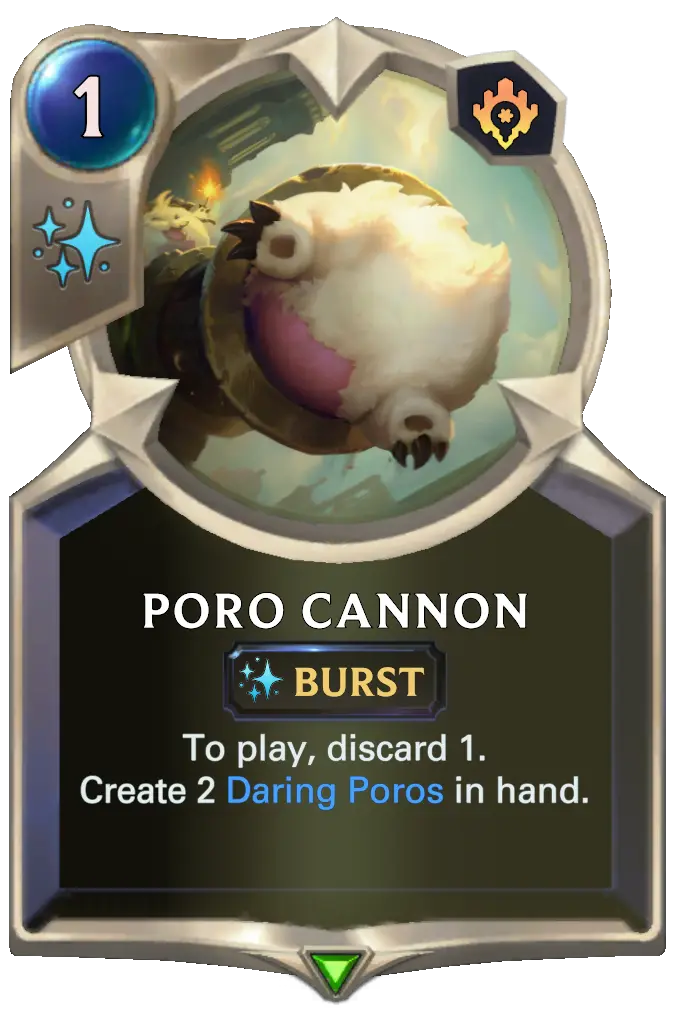 s, and Jury-Rig
s. Rearguard is my current preference for this slot; however, Forge Chief felt very good in testing and Biggest Fan can be a nice one-of.
I think it is indisputable that, by itself, Grenadier is better than Rig. That being said, I don't think it's correct to play Reborn Grenadier
in Discard Aggro: Draven Jinx is a very synergistic deck, and Jury-Rig
is important to enable the payoff of cards like Vision
, Crowd Favorite
, and Arena Battlecaster
.
Rider is another incredibly strong card that wants to be played in a Discard deck. Much like Reborn Grenadier
, though, I don't think Fallen Rider
is correct in Draven Jinx. The card is very strong and often will push meaningful damage; however, it gums up your hand and makes it much more difficult to level up Jinx
. Rider is more value-centric and plays well with Sion
decks, not Jinx.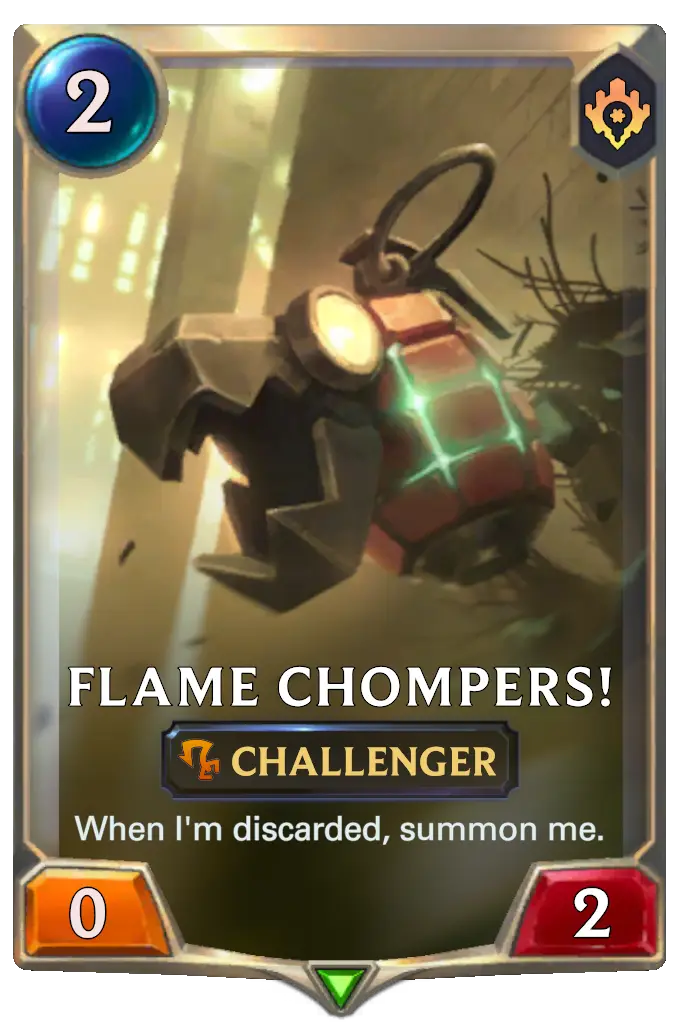 We don't  play any copies of Baboon for a similar reason to why we don't want to play copies of Fallen Rider
. Unfortunately, Boom Baboon no longer has the upside of being a good unit. 
Chompers, on the other hand, are still incredibly powerful in this deck to control combat, which is why they are included over Baboons.
This is our top-end along with Jinx
. They can often end up being a bit clunky in certain handstates, so I like to run two of each.
I try not to leave home without at least one copy of Survival Skills
in my Discard Aggro deck. This spell auto-wins certain spots, and is often a card that is impossible for the opponent  to effectively play around. 
---
Draven Jinx Discard Aggro – General Gameplan
Discard aggro aims to use efficient Discard synergies to swarm the board and pressure early, before overwhelming its opponents with under-costed threats like Jinx
and Crowd Favorite
.
Every game as Discard Aggro I will try to swarm the board in the first two-four rounds in order to push chip damage. From there I will transition into a way to end the game – the best path to victory will often change depending on the context of the board or your hand. I generally have three plans to go over the top of my opponent after pushing my initial chunk of damage, which can be broadly broken down into three categories: Swarm, Burn, and Value.
---
Swarm Them
Swarm is essentially an extension of how you tried to open the game. You will keep trying to maintain a wide board in order to push as much damage around the sides of the enemy board as possible. This gameplan wants cards like Arena Battlecaster
, Crowd Favorite
, and Vision
.
You can get greatly rewarded by recognizing early on if you are trying to close the game with Swarm, aiming to get the most value out of a well-timed Crowd Favorite or Vision by taking smart attacks and trades in the early Rounds.
---
Burn Them Down
The Burn game plan is often a Jinx
game plan. A Super Mega Death Rocket!
is four damage, which is basically a Decimate
with upside. The reach from one Rocket will go a long way, especially when combined with a Get Excited!
With Jinx
's buff you can essentially guarantee you will get a Rocket when you play Jinx, helping make your Burn game plan much more reliable.
---
Value
Despite being an aggro deck, Discard Aggro is quite good at playing for value. The draw Jinx
provides, along with Rummage
and Augmented Experimenter
, are all very good at recouping the value we lose from being a deck of very cheap cards.
Additionally, we have other ways to cheat value. Super Mega Death Rocket!
deals one damage to all units – using it to clear the enemy board and get extra units to connect with the enemy Nexus can create a lot of extra damage. Using aggression to force bad trades is another way to create value and eventually up grind the opponent. And Spinning Axe
s are fantastic for cheating value, too.
The deck functions best when you can fluidly swap between these multiple gameplans. The best Discard Aggro players are able to identify what gameplan their hands want to play towards, and remain open to switching gameplans at a moment's notice.
A good example of this is when starting with a Swarm gameplan and looking to transition to a Burn gameplan: in this scenario, you would want to make sure when you use Vision
to buff your Daring Poro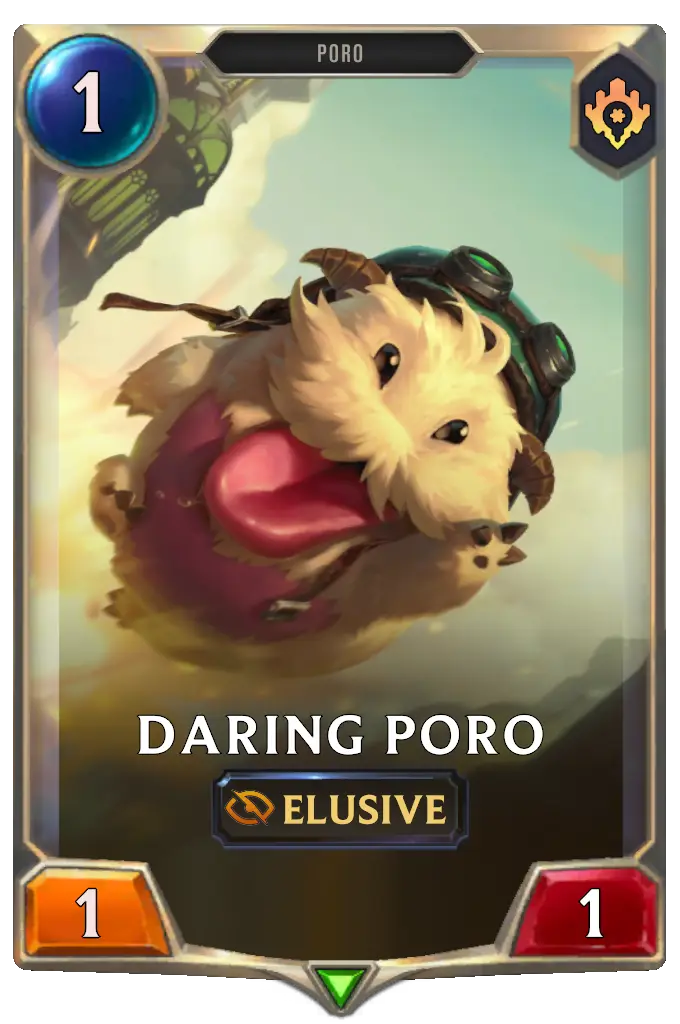 s to push extra chip damage. On the contrary, if you were to plan on transitioning into a Value game plan, it would be better to use Vision to facilitate positive trades on the board and only push a little bit of extra damage.
---
Tips, Tricks, and Other Intricacies
What to Discard?
Discard Aggro is a deceptively difficult deck due to the two questions always being asked: "Do I want to discard anything?" and, "What do I want to discard?"
When trying to answer these questions you should be planning out your future rounds and trying to figure out how you will count down your opponent's life total while best reacting to what they want to do.
For example: if you are against Demacia, you usually don't want to discard Flame Chompers!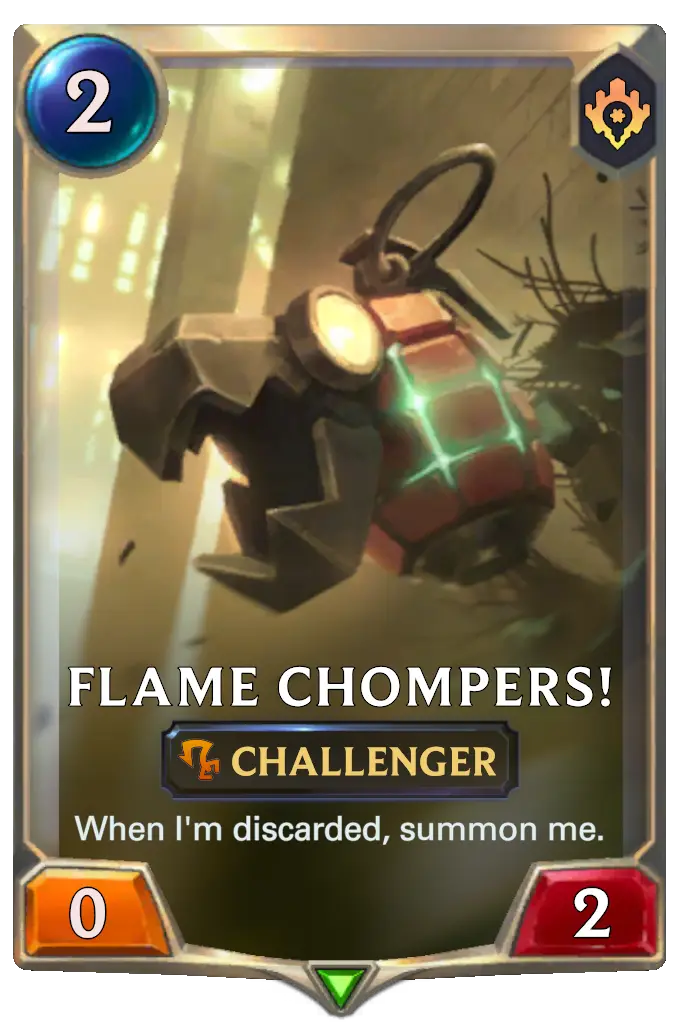 with Zaunite Urchin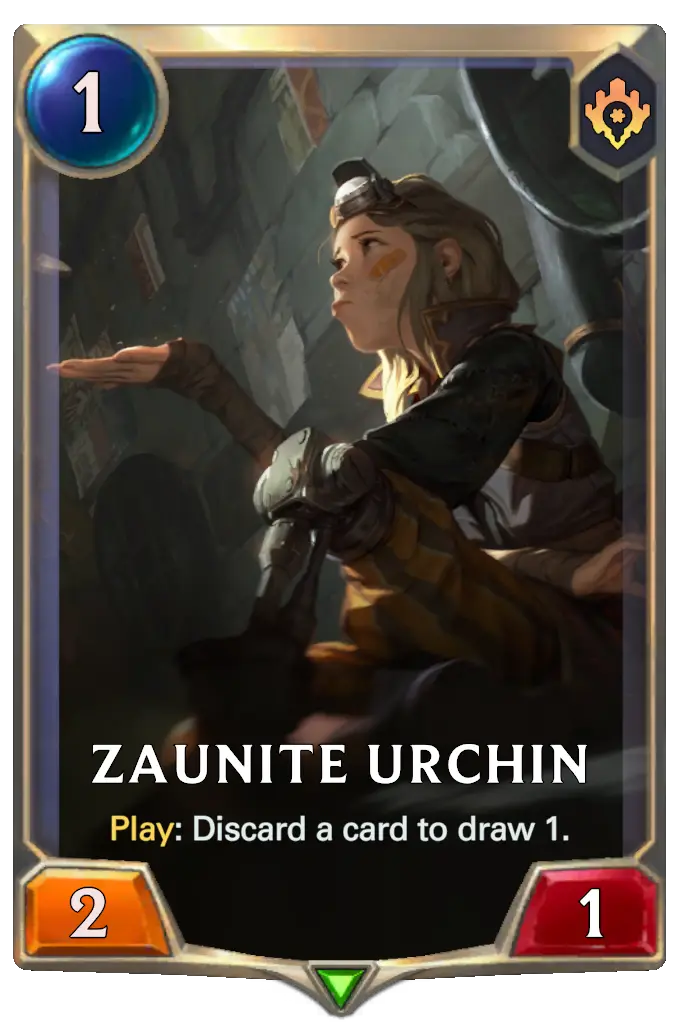 on round one, because our Chomper can often die to a Challenger before it gets value.
Another example is how when you have Jinx
in hand, it's often better to discard an Augmented Experimenter
instead of  Rummage
, since Rummage is better for flipping Jinx. When Jinx isn't in hand, though, Rummage is always a better discard fodder because Experimenter refuels more efficiently.
---
Play to Your Top Decks
When playing Discard Aggro it's extremely important to be playing with your deck rather than just your hand. That's to say: it's important to always be aware of potential cards you could draw and make sure you are setting yourself up to best use these cards.
For example, let's say this is the game state, except we only have access to one unit mana this round:
In this position, even though we have the mana to play Legion Rearguard
this round with our extra unit mana, I wouldn't play him – this is because if I draw a Poro Cannon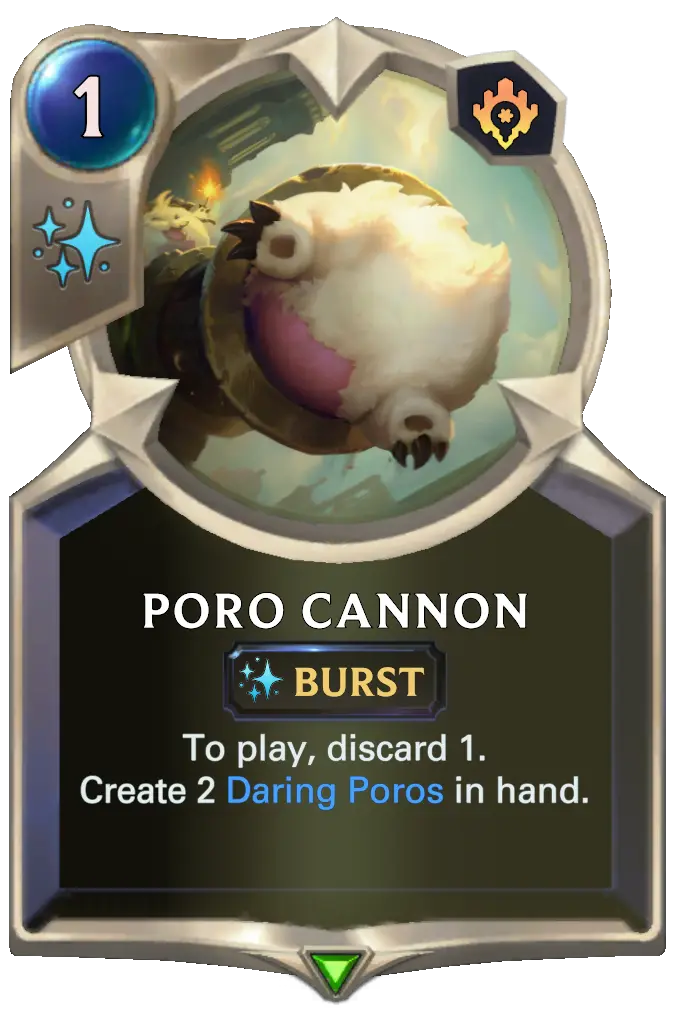 , Get Excited!
, or Rummage
, I really want a card in hand other than Jinx so I can level her the next turn.
Let's look at a different example: 
In a spot like this I would develop the Daring Poro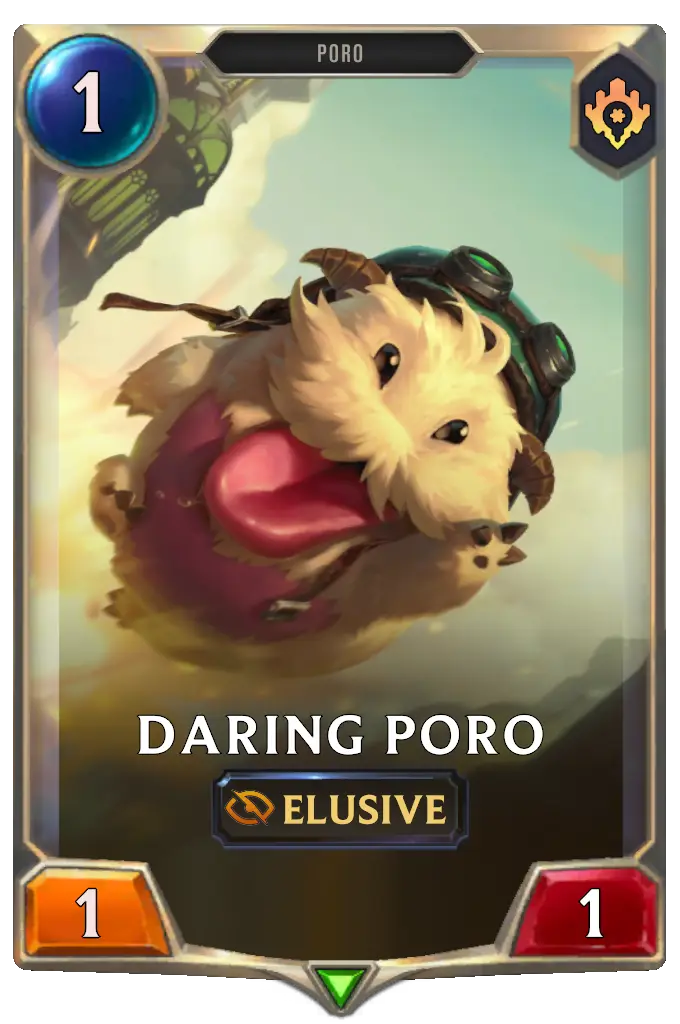 and then play the Zaunite Urchin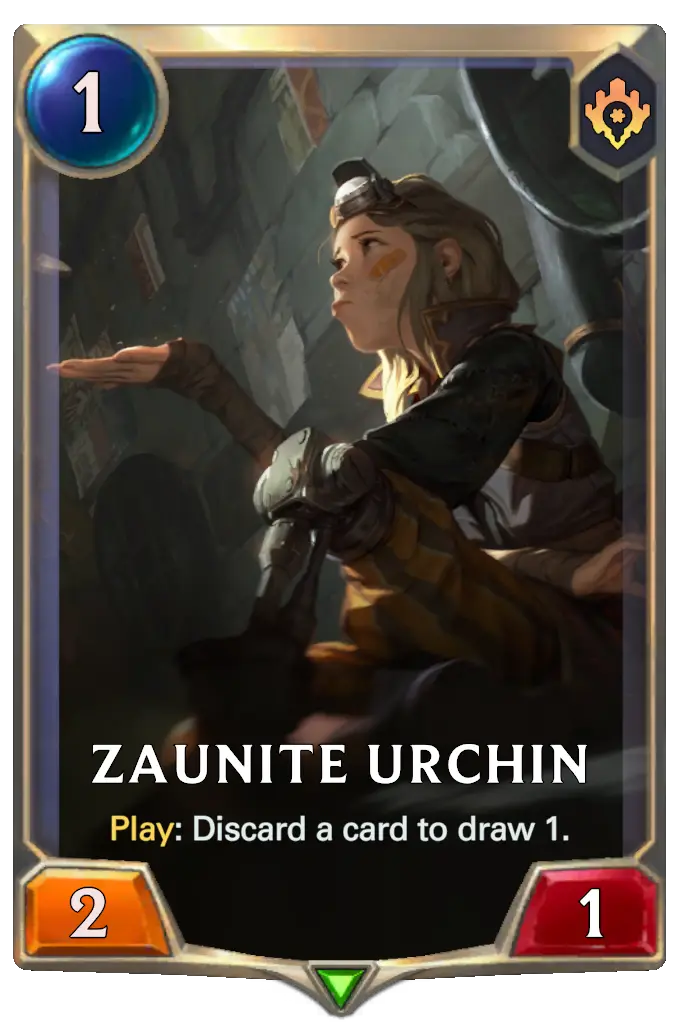 and discard the Vision
. From here I will most likely only attack with the Poros – I can't get wider than my opponent this round and my non-Elusive units can get more use later, either by making a Crowd Favorite
huge or connecting face after playing a Super Mega Death Rocket!
---
Assess Jinx's Role/Facilitate Jinx
A lot of Discard Aggro players default into one of two basic play patterns when piloting the deck. They will either try to play too much for the go-wide Vision
hands (to push absurd amounts of damage on round three or four, threatening to end the game right there), or they will be overly reliant on Jinx and use her draw and Rockets to solo-carry the game.
It's very important to recognize what you need Jinx to do for you. Does she need to come into play, or are you winning with Swarm? Do you need to get a Rocket to get an extra four damage of reach or clear a board? When do you need this Rocket? How are you emptying your hand for Jinx? What round can you get a Rocket and have mana to play it?

I'm constantly trying to answer these questions as the cards and information I have access to change. You should always be planning out your round and setting up Jinx to do what you need her to do (such as setting up your top decks, like in the previous example). This can also lead to other interesting situations, like where you may want to block with Draven
to generate a Spinning Axe
in order to empty your hand and level Jinx.
---
Whirling Death Lines
Whirling Death can be an insanely powerful spell in certain situations and should always be considered when in hand. It's especially powerful when used to level up Draven
in combat allowing Draven (level 2)
to now Overwhelm his blocker. Whirling can also be used in a similar fashion with Crowd Favorite
, or can be used to protect Jinx
from Challenger units.
---
Count Burn in Intervals of Three of Four
Discard's reach comes in the form of Get Excited!
and Super Mega Death Rocket!
. Seven, Eight, and Nine Nexus health are very different amounts of health depending on different breakpoints. However, the difference between Five and Six health is nonexistent.
This is important to keep in mind when trying to push chip damage.
---
Jinx Draven Discard Aggro – Mulligan Advice
The mulligan for Discard Aggro is very intricate and one of the main reasons why Discard Aggro can be a difficult deck. The main goal with your mulligan for Discard Aggro is to get a hand that can get on the board aggressively in order to start pushing chip damage. This can look very different depending what combinations of cards you are offered and what match up you are in; however, there are some basic rules you can follow:
I always want a one-drop (Zaunite Urchin or Legion Rearguard; Poro Cannon can be a good one-drop if you also have a Jury-Rig or a Flame Chompers!),
Rig and Chompers are good keeps with Urchin or Poro Cannon to get your gameplan going,
Two-drops can be good keeps if you have a one-drop,
When you have a one-drop, Draven is a great keep when attacking on round three. When attacking on round four, Draven is a more situational keep depending on the opponent's interaction for Draven – for example against P&Z decks with Mystic Shot, I would never keep Draven if I'm attacking on round four,
Augmented Experimenter, Jinx, Crowd Favorite, Survival Skills, Rummage, and Vision are all cards you should practically never keep. These cards are somewhat situational and want a strong opener in order to be most effective. When you keep these cards in your starting hand you are less likely to have a strong opener, and reduce the effectiveness they would ideally have.
---
Mulligan Examples
I would full-mulligan this hand, as we don't have a round-one play.
But if the Rummage
was a Zaunite Urchin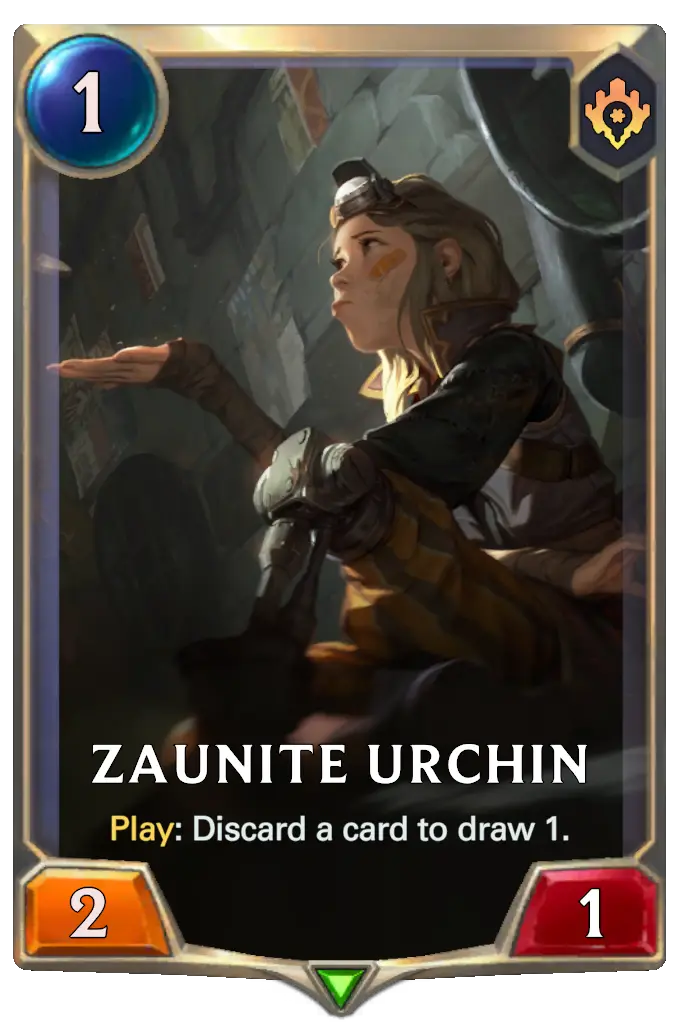 , I would only kick the Vision
as this hand gets on the board quickly and starts to cycle into our top end. 
---
This mulligan is quite interesting because we attack on round four. Because of this, we have to assess if Draven
can get enough value in this match up to be worthy of a keep if he doesn't get to attack on round three. Legion Rearguard
and House Spider
are good keeps, and Draven would be kept if we attacked on three.
---
I would only keep Draven
and Legion Rearguard
here. Arena Battlecaster
is quite low-value attacking on round three with our current hand, so I would rather find a House Spider
or more one-drops.
---
In this hand I would only keep the Zaunite Urchin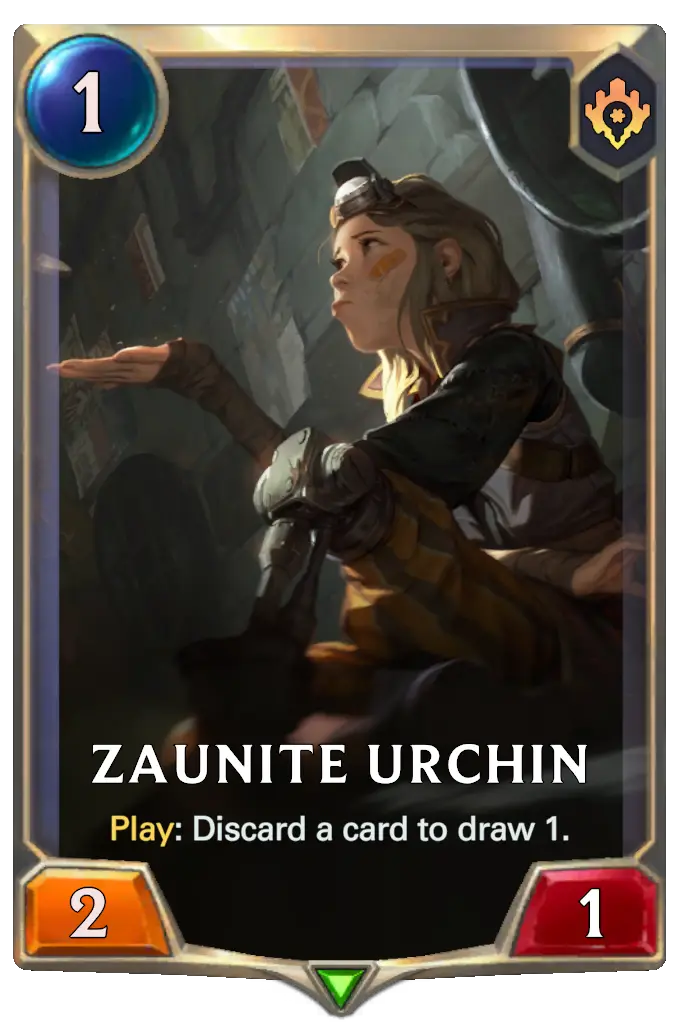 and House Spider
.
If the Zaunite Urchin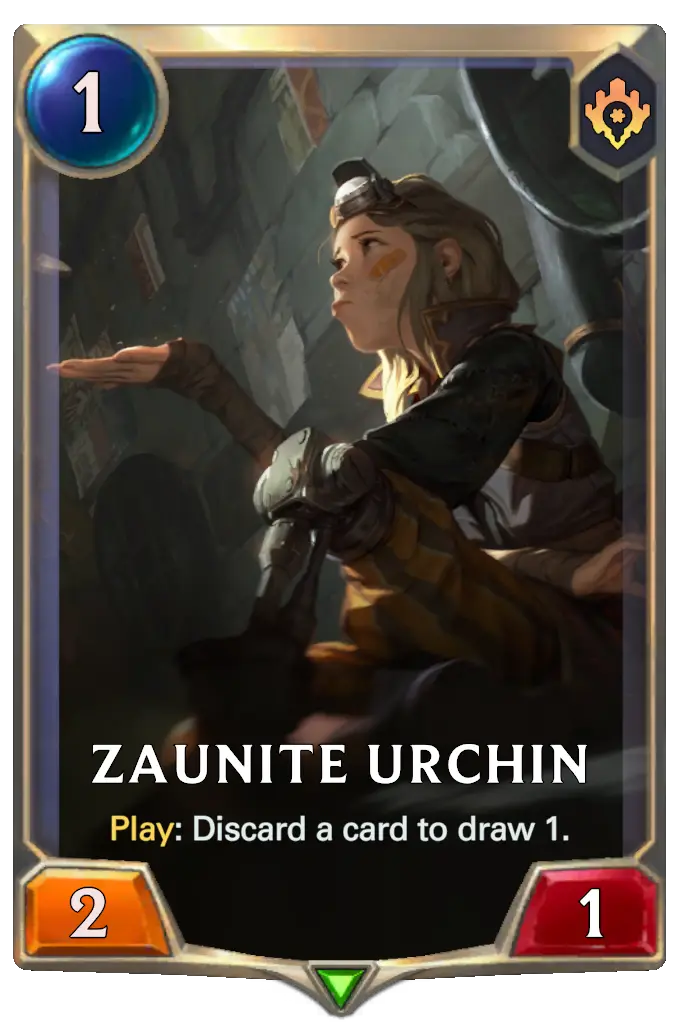 was discard fodder (like Jury-Rig
or Flame Chompers!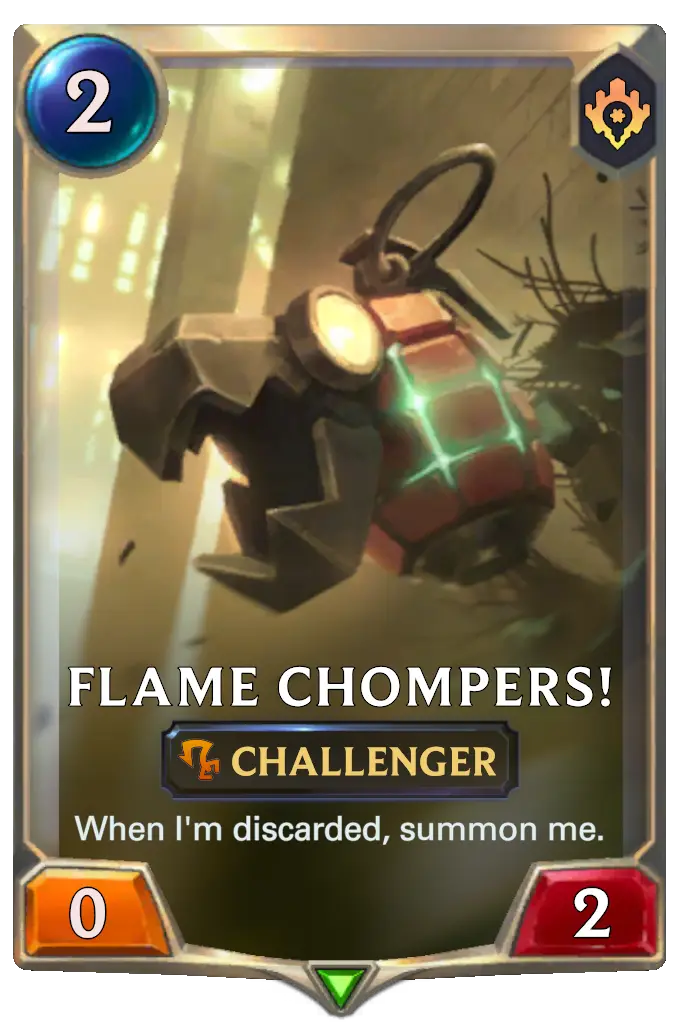 ), then I would keep this entire hand since it would use all of my mana efficiently in the first three rounds, would set up a Crowd Favorite
top-deck very well, and I would set up my Arena Battlecaster
] to get a lot of value on the round-four attack.
---
This hand is very good, and I would only kick one of the pieces of discard fodder. This decision would be based on what my opponent's deck is. Against a Demacia deck, for example, Jury-Rig
is generally a better keep so that the opposing Challenger units can't get a free trade. Whereas, against Shurima Landmark decks, keeping Flame Chompers!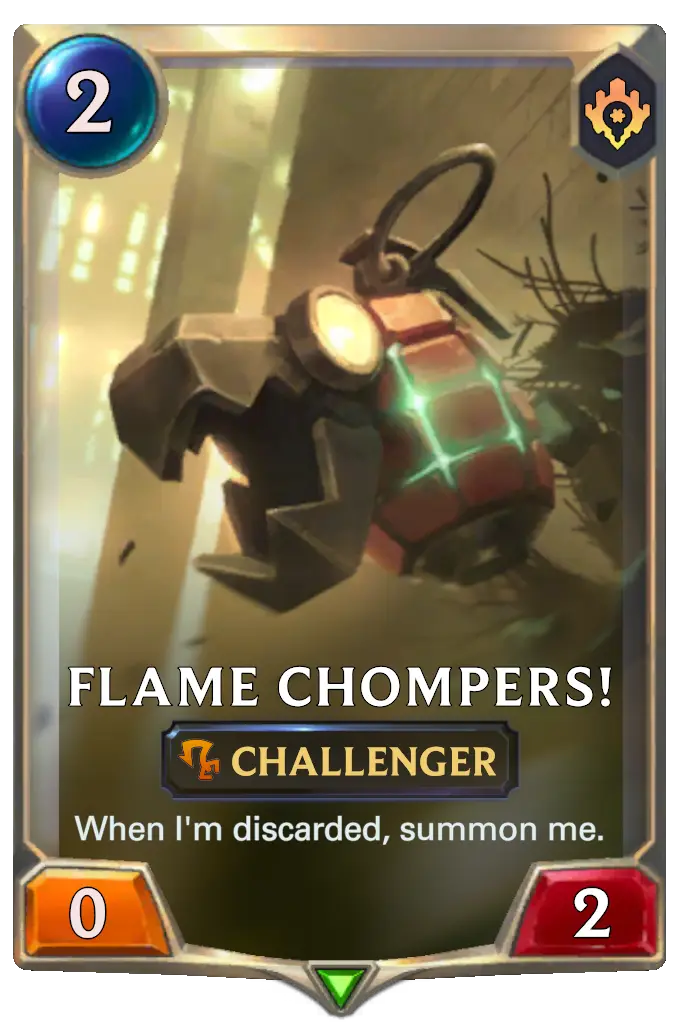 is better in order to not allow the opponent to trade off their Endless Devout
.
---
Draven Jinx Discard Aggro – Matchup Advice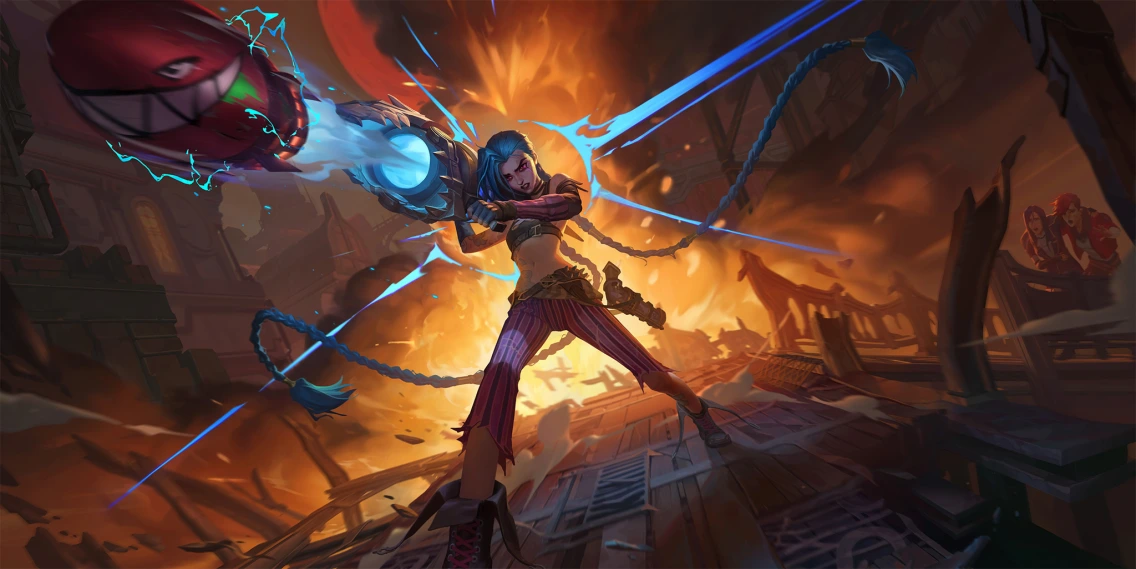 Aggro Decks
Against other aggro decks, your job is to stabilize against their aggression and out-value them. Jinx
and Augmented Experimenter
are very difficult for other Aggro decks to have a good response for, and they will do a lot to refill your hand and stabilize the board. Just make sure to stay healthy and maintain board parity to not get burned out.
---
Midrange Decks
Against midrange decks, the goal is to try to go around them and Burn them out, or to force the opponent to take bad trades to avoid dying to Burn.
The first plan is specifically effective against decks like Varus
or Taliyah
Ziggs
. These are decks that don't like to play a lot of units and are weak to wide boards. Getting chip damage in around the side and then jamming Jinx
is very effective against them.
The second plan comes up more often against Demacia decks like Vayne
Kayn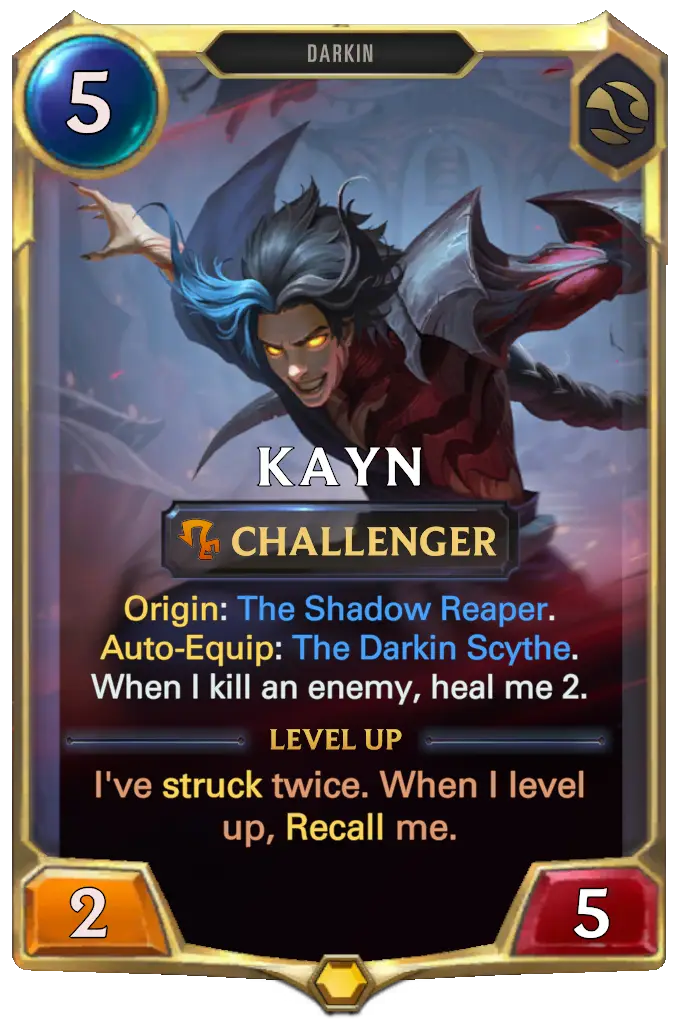 . This deck has better units than us, and weapons; on the other hand, we have access to more cards than them. We need to try and pressure them enough that they are forced to take bad trades and eventually get out-valued, or try to take value trades and then die to our burn.
---
Control Decks
Control decks, and especially Shadow Isles control, are the only truly unfavored matchups that Discard Aggro has.
To win these matchups you need high-value hands and be able to sequence your threats in an order that makes the opponent's removal awkward. This can be especially difficult against archetypes with board-sweeper effects like Feel The Rush
or Twisted Fate
decks, as it's hard to ever make your Swarm or Crowd Favorite
a real threat.
Still, even though the matchups are very difficult to win, they are very winnable. Try to think about your hand, and what cards you can actually play around while still being able to win – it's usually not correct to play around every card. You have to pick what you lose to, but do it in a thoughtful way.
In these matchups, your opponent will always try to remove Jinx
as soon as she hits the board, so plan accordingly.
---
Combo Decks
Discard Aggro is a very aggressive deck – it's one of the few decks that can kill their opponent during round four. Take advantage of the fact that combo decks (such as Ephemerals, Azir
Irelia
, or Rumble
Vayne
) don't want to interact or play defense against you early, and make sure that if you aren't killing these decks before their usual combo rounds, you are at least applying enough pressure to ensure their combo is delayed.
---
Closing Thoughts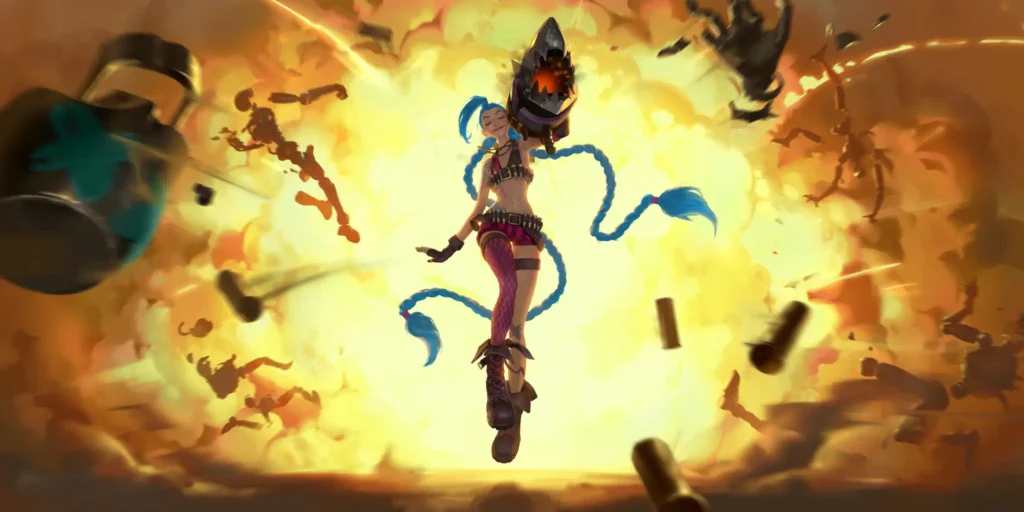 Discard Aggro is a deck that has a special spot in my heart, as I think it does for any player that has been around from the pre-Bandle days. It brings me joy that I can play Jinx
on ladder again and still expect to gain LP.
Discard Aggro has a very fair match up table, losing to removal decks and having game into pretty much everything else. The deck is much more intricate than it seems at first glance, and it will greatly reward a player's skill at both sequencing and mulliganing. If you've missed this deck as much as I have, or if you're looking for something to fill the void of five-mana Decimate
, I think Draen Jinx is a great deck to pick up.
Thank you for taking the time to read this quick refresher on a classic. If you have any questions about the deck or suggestions, feel free to reach out over Twitter (https://twitter.com/CardGamerLoR) or Discord (Card Gamer #6777).
---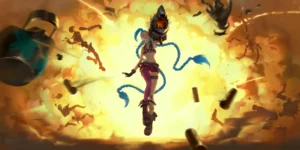 ---