Upcoming Tournaments!
$500 GGtoor x MasteringRuneterra Cup #9:
Missed MaRu's 2M Tournament last Saturday?
Worry none: you'll get another chance on Saturday 20, on the $500 GGtoor x MasteringRuneterra Cup #9 – and in this case, free entry!
If you'd like to hone your best-of-three skills until then, here are other upcoming community tournaments:
Saturday 14: Online League Series #49 (Americas shard)
Sunday 15: rLoR Season 14, Week 3 (Americas & EMEA shards)
Monday 16: Mystic Shot Weekly #38 (Americas shard)
Wednesday 18: Mystic Shot Podcast Weekly #1 (EMEA shard)
Gauntlets:
This is the last Gauntlet in which you can acquire a Prime Glory this Season, by the way – on Saturday 20 comes the Last Chance Gauntlet!
---
Sirturmund & Monte's Recommended LoR Gauntlet & Tournament Decks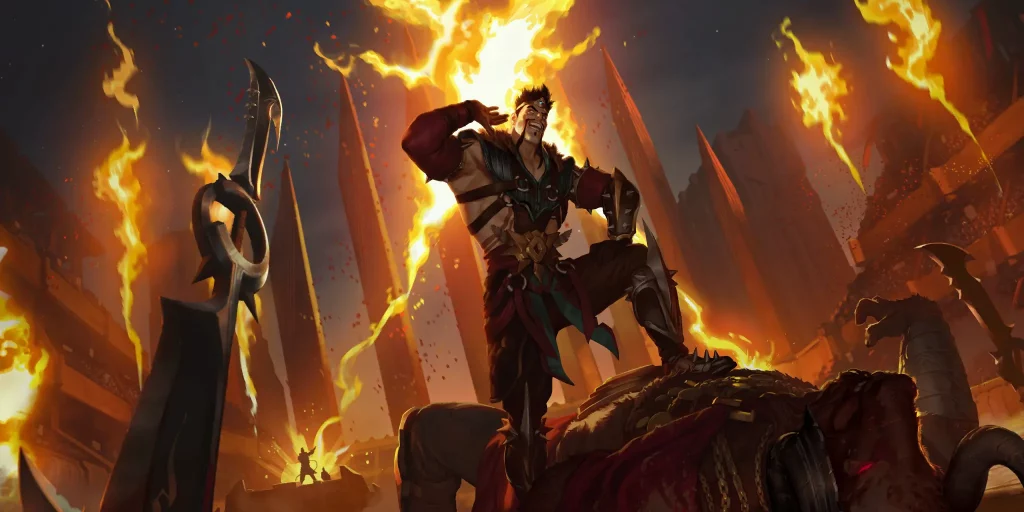 ---
Monke.dek
You know I had to include KFelt's winning lineup in this week's article. For those of you out of the loop, Mastering Runeterra had a Celebration Tournament last weekend where both KFelt and I played a triple Powder Pandemonium
lineup – I tried to play Zoe Twisted Fate and failed, whereas KFelt played his very own Gwen list to victory!
Gwen-key
Gnar-key
Teemo-key
This lineup was looking to beat up on Kai'Sa at the time of the original tournament. Since then, the Kai'Sa builds have changed and the matchup is no longer as favorable, and pilots have also learned to avoid playing Valor into pings. Now that the favorable Kai'Sa matchup is no longer a factor, Monkeys mainly look to prey on Noxus decks like Katarina Twisted Fate, Katarina Yasuo, or Pack Your Bags Noxus.
The nice thing about this lineup is that you only have a few really bad matchups, which makes your ban easy. You'll want to get rid of Thralls first and foremost; Kai'Sa can be ok to ban as well as other aggressive decks like Shurima Noxus which can race you effectively.
Let me be honest though, this is probably not the best lineup to run in today's metagame. I've included it here in this article as a fun idea and a way to record a bit of LoR history. The rise and fall of Power Pandemonium was explosive and unlike anything I've ever seen before, and I felt it deserved a spot in this article for that reason alone. IF you did want to try a triple monkey lineup today, I'd probably suggest this exact one but it's probably better to play double Pandemonium & another aggro that wants to ban Thralls, like Nightfall!
---
Kai'Sa, Bard, TF, OH MY!
The three-best-decks lineup makes its return. GrandpaRoji took this lineup to top 8 in the Mastering Runeterra Celebration Tournament last weekend. When the meta is in the weird spot it currently is, bringing the format's three best decks is never a terrible idea. You do open yourself up to both Bard and Kai'Sa targets, but those lineups aren't very real as they lose to everything else in the game.
Kai'Sa
Bard Illaoi
Katarina Twisted Fate
This lineup isn't really looking to target anything specifically. Instead, it's looking to have an above-average matchup table into the entire field. You'll have a chance at beating anything you encounter, while also making your opponent's ban awkward for them. Should you encounter someone targeting one of your decks you may be in trouble, but the only reasonable target is Katarina Twisted Fate and it's not been the best tourney deck historically, so I doubt you'll see people aggressively going after it.
Your own ban strategy gets a bit awkward. Katarina is really weak to Thralls, but your other two decks are quite good into it; you'll want to consider the ban but not necessarily fire it off. Better bans include Kai'Sa, as you have two slightly losing matchups and a mirror – not an ideal scenario. Otherwise, you'll just want to ban out whatever looks least appealing to play against.
---
Progress
This lineup was piloted to third place by SnipeCrossGG in the recent Mastering Runeterra Celebration Tournament. At the time it was looking to target the upsurge of Powder Pandemonium players, but it still remains a solid lineup option for control players.
Jayce Heimerdinger
Deep
Thralls
This lineup was good enough to shut me out of top-cut contention. It did exactly what SnipeCrossGG wanted it to: beat Monkeys. It's also got pretty good game into a lot of the rest of the field as well – boasting positive matchups into Draven Sion, Noxus Twisted Fate, and Aphelios PnZ. While the aforementioned decks aren't the most popular, they are around and make for excellent second and third deck choices for a lot of lineups right now.
Ban strategy is to take out Kai'Sa – none of our decks are properly equipped to deal with her. While the stats don't agree, SnipeCrossGG and other experienced Deep players I've spoken to claim it beats Bard Illaoi, so you can consider leaving that up, but be wary as both Thralls and Jayce can suffer into it.
This lineup is about as good as it gets for control at the moment. You could probably swap out for Feel The Rush or maybe even Darkness, but I can't really recommend it as I believe both those decks are weaker than the three listed.
But if you need more control options…
---
Is Late Game Even Real?
Here is another variation of a triple control lineup which I think it's actually well positioned in the meta. The idea is we have enough removal and healing to combat both Kai'Sa decks and Monkey decks.
Gwen Aphelios
Feel The Rush
Darkness
It has probably been a while since you've seen either Feel The Rush or Darkness in the game, and for very good reason – the decks get run over by the Spellshield-centric nature of Kai'Sa, Akshan Renekton and other such decks. However, we feel Vengeance
, The Ruination
and Withering Wail
are such good tools in the current meta that we can stabilize and make up for our weaknesses.
With this lineup we are countering several archetypes. First, it is obvious how well we do against aggro decks, and Kai'sa's best counter being aggro decks, it is likely you might run into a brave soul running triple aggro, or even just one aggro deck in their lineup. This lineup is hyper focused to beat that aggro deck twice.
Second, Monkeys. We saw how popular they were in the most recent Mastering Runeterra tournament, taking first place. Our access to Wails makes their big Powder Pandemonium
round feel really bad.
Lastly, Kai'Sa and other decks that rely on a single big finisher like Udyr. These types of decks will be at the mercy of our Vengeances and even Ruination in certain cases. Unless they draw triple champions, it tends to be hard for them to come back once we remove their finishers.
Of course, the weakness comes from other Shurima and Ionia decks in general. Shurima decks such as Thralls can ignore most of our removal and even have access to their own form of deny so they should be banned on the spot. Azir Irelia, Sun Disc, Ziggs Taliyah, and Shurima Viego are other such Shurima decks to watch out for.
On the Ionia side, it's mainly Deny
slowing down our Feel The Rush deck, so be mindful of that.
If you're looking for alternate control decks to try out, there are Heimerdinger Jayce and Nami Twisted Fate SI, although I am not a fan of those as they are more tempo decks than pure control, and lack access to tools like Withering Wail
.
---
Living On The Edge
Going on the other side of the extreme from the recommended lineup above, we wanted to showcase what we think is the best aggro lineup at the moment. Beat Kai'Sa and other slower decks with this strategy!
Annie Jhin
Gwen Elise
Darius Miss Fortune Pirates
Let us farm the masses unprepared for aggro!
The idea here is to beat the folks playing Kai'Sa
or Azir
Irelia
. All of our very aggressive decks do well into both of those decks, able to kill them faster than they can kill us. With both decks being such popular picks in the current meta, our chances of hitting one or the other are very good.
Against similar aggressive decks, such as Monkeys, the matchup can be a bit more difficult due to their access to Make it Rain
and Twisted Fate
, but can still be winnable due to their lack of good blockers. You are at the very least trading with every attack you make, unless they high-roll multiple monkeys early.
Our struggles come against control and Bard decks. Control is obvious – they will have access to healing and cards like Withering Wail
making our attacks and pressure very awkward. Bard decks, on the other hand, end up out-stating us, giving them really good blockers against our attacks. Bard Illaoi and Bard Shen in particular are problematic, the first due to its removal tools and the second due to Spirit's Refuge
, so be mindful to play around those cards.
Alternate aggro decks in the current meta include everything from Nightfall, to Ziggs Katarina, to even Azir Irelia (it is an aggro deck I swear!). All can be nicely slotted into any of the decks above. Although my preference is to stick to nine Decimate
s as a way to present lethal once the opponent starts building up their board.
---
Sirturmund's Corner
Udyr. Star Spring. Darkness. It is said that once you gather all three pieces of Sirturmund you'll summon a lineup more powerful than any ever seen in the world. Let's see if that is true.
Udyr Gwen
Tahm Kench Soraka
Darkness
Metal proved that Udyr could be a viable solution during his run last weekend in Mastering Runeterra's tournament. And it left me thinking, what would be the best way to build a lineup around him in this meta?
The idea that Metal had is that Udyr Gwen is very good versus Kai'Sa decks, and he is not wrong. Our deck has access to Vengeance
to kill Kai'Sa whens she drops on the field, and then has the potential for Udyr to get big enough to block anything else she might try to do for the rest of the game. So in building this I wanted two other decks that I think are viable against Kai'Sa, and ended up with a Siturmund Special: TK Raka and Darkness.
Tahm Kench Soraka Star Spring has the ability to lock down Kai'Sa by having TK on the field. Our access to Hush
allows us to remove Spellshield and Evolve buffs as needed, and Broadbacked Protector
plus Soraka
means we have enough health and healing to not die to the damage from multiple Void Blaster
s.
Darkness, on the other hand has access to not only Vengeance, but also Minimorph
and Aloof Travelers
, both of which can hit Kai'Sa almost every game.
The beauty is that these decks can still do well versus other popular decks like Illaoi Bard for the same reasons they do well versus Kai'Sa: they have enough answers to their big units, and An Acquired Taste
is really good on Illaoi due to her low health. Similarly, we have enough value and heals to stabilize against aggro decks, giving us a wide net versus a lot of the meta decks. Even Monkeys we can beat due to Withering Wail
, Ram Stance
and Broadbacked Protector.
Our downfall comes from Noxus midrange decks. Archetypes like Twisted Fate Katarina, Elise Annie, or other decks with access to Ravenous Flock
or Scorched Earth
makes it really difficult to keep our key units alive. So I would recommend banning said decks when possible. Other control archetypes are also very scary, as they can Vengeance
our Udyr away, so even if we think we can beat them with Star Spring it is probably safer to ban them.
If you try this lineup, let me know how it goes. It is very difficult to pilot, so I don't recommend my madness for those faint of heart. And if you are looking for other lineups, since the meta has not changed much since last week, our previous recommendations are all still valid as well: https://masteringruneterra.com/lor-gauntlet-decks-august-04-2022/
---
About the authors
Sirturmund is a long-time player of the game, having played LoR since beta. He has found competitive success in the past year with a couple of seasonal top cuts finishes, rank 1 ladder placements, and first spot in a Qualifier of Mastering Runeterra's Championship. Best known for being one of the very few to still bring Star Springs to tournaments, you can find Sirturmund lurking around all the social media sites absorbing anything he can about the game!
MonteXristo has been playing the game since closed beta and has consistently made it to masters every season he's been active. His accomplishments include having peaked in the top 20, taking first place in the "Streamer Sideboard Showdown" and LPP Riot Grand Prix. When he's not writing for Mastering Runeterra he keeps his card-slinging skills sharp by playing in the Runeterra Academy tournament, with his team The Wobbly Wombats!
---
---