Upcoming Mastering Runeterra Tournament!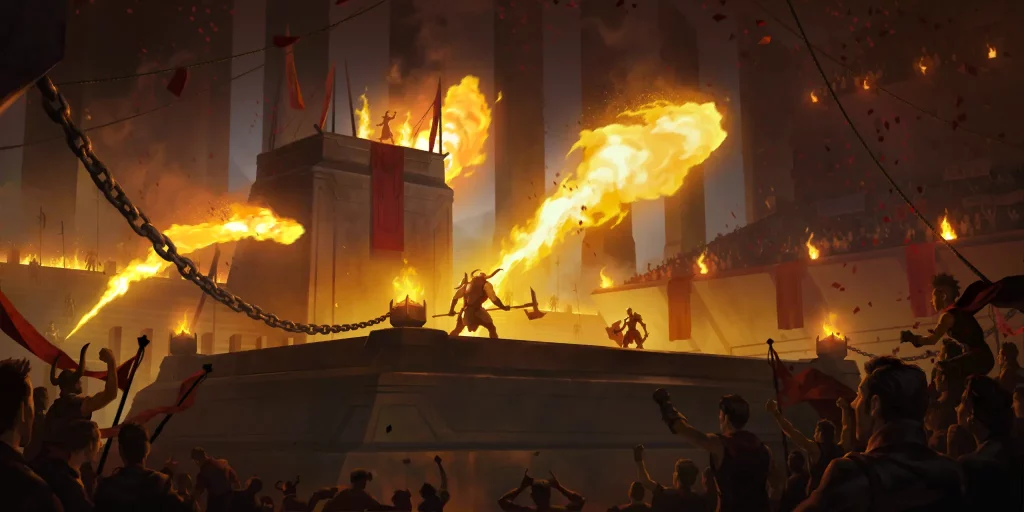 A Bit of Bounty Hunting
If you are a Mastering Runeterra Patron/Subscriber, you may want to get ready for some bounty hunting in the upcoming $500 Mastering Runeterra Tournament.
Taking place next Saturday (August 6th), our first Forces of Beyond tournament will not only feature a $500 prize pool, but bounties on members of the MaRu team!
First player to defeat either:
XxWhatAmIxX, Jasensational, Puyshpii from the Pro Team, or
Shadawx, SamAnthony, or Monte from the Squad,
… gets the bounty.
And the bragging rights, of course!
You can check the details of the $500 Mastering Runeterra Tournament here.
---
Sirturmund & Monte's Recommended LoR Gauntlet & Tournament Decks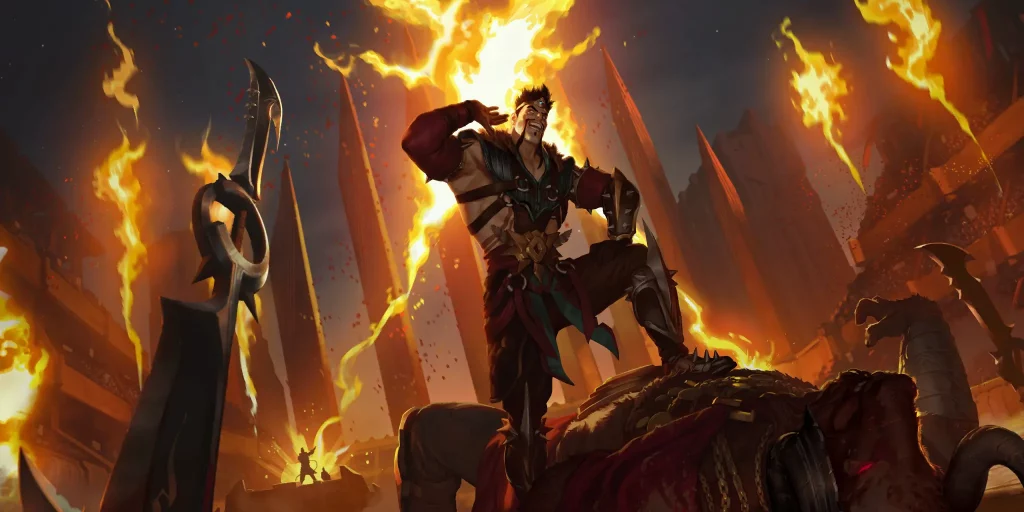 Monte's Gone Bananas
Your eyes do not deceive you, that is in fact a Powder Pandemonium
deck in this lineup. I recently discovered this deck when a viewer, underl1ght, sent it to me in my Twitch chat and I think it's a reasonable enough deck to include in an aggro lineup this week.
Bandle Bananas
Nightfall
Annie Jhin
I think Annie Jhin and Nightfall are the two best aggro decks right now and it makes sense to pair them up as a lineup core. We talked about a similar lineup last week as well and I think it's still good. The same logic applies, we're still in a relatively new meta and while Bard Illaoi & Kai'Sa are strong, it's not often they're appearing together. This means you can ban out Bard and play into Kai'Sa, where you have more game.
Bard isn't impossible for your decks either – both Bandle Bananas and Nightfall can put up a good fight into it but it won't be easy. Likely that is where you'll want to spend your ban as I don't expect much SI control.
If you do see something like Heimer Jayce, consider taking it off the table instead. You might be able to skill-gap a Thralls player, but that too can be a difficult matchup for both Nightfall and Bandle Bananas.
You can really put whatever third deck you want in this lineup. So long as it's aggressive and has a similar game plan to the other two, it'll do. Annie Ziggs, Sivir Ziggs, or a burn version of Draven Sion are just a few that come to mind. Twisted Fate Katarina could even slot in decently well, though TF Annie never did put up tournament results.
---
The Ice Cellar
I have always loved Timelines and I have it on good authority that it feels pretty solid at the moment. The list below is my personal brew, but you can definitely find a more standard list on our site. With Bard Illaoi and Kai'Sa a step above the rest of the decks, you can build your strategy around banning one and going through the other. That's what we aim to do here.
Timelines
Thralls
Azir Irelia
We're going to ban Bard Illaoi and try to get through Kai'Sa whenever we see her. Buried in Ice
, Frostbite effects and Quicksand
can pose quite the problem for Kai'Sa. Timelines and Thralls have ways to clear off any stray units they play from rounds one through three. Thralls may still struggle a bit, but the addition of Quicksand makes the matchup much more manageable.
You'll also have game into a lot of other random decks that you may encounter. Heimer Jayce and Draven Sion should both be very reasonable matchups for us.
Focus you ban on removing burn decks like Annie Jhin, as they threaten to just run you over. If you see anything with large amounts of landmark hate, that could also be an issue.
Other decks to consider are something aggressive to continue giving you a good Kai'Sa matchup – think Katarina Yasuo, Annie Jhin, etc. You can also opt to play something like Bard Illaoi yourself, but that doesn't necessarily improve your Kai'Sa matchup tables – you may wish to change you ban strategy if you do so. And of course, you could also play Kai'Sa.
---
Illaoi Bard Haters Unite
Okay, this is probably NOT a particularly good lineup, but it is funny!
Don't get me wrong, this isn't completely griefing, so long as you hit Bard Illaoi. I'm discussing this lineup more as a theory piece than an actual recommendation for this week, since I feel we have covered most of the possible lineups that are competitively viable outside of this.
Shen Bard
Ashe LeBlanc
Katarina Twisted Fate
These three decks are some of the statistically worst matchups for Bard Illaoi – you're almost guaranteed to run them over if you find them. The caveat is, you're not great into much else. While Shen Bard and Katarina Twisted Fate aren't the worst decks, Ashe LeBlanc is a bit dated. Shen and Katarina are also both newer decks, and you may not have had the time required to practice them sufficiently.
Your ban will definitely have to be Kai'Sa as none of your matchups are particularly good. Another good ban option is any burn-heavy deck, to protect Ashe. Thrall is another poor matchup across the board so remove that too.
Other decks you could try out are Aphelios PnZ, Ahri Bard, Dragons, Draven Sion, or something else of your choosing.
---
LoR Episode VI: Return Of Control
In a galaxy far, far away, LoR games do not go past round eight. Aggressive and midrange decks dominate the meta. However, in the galactic region called Brazil, there is one person who has been winning tournaments with a triple control lineup.
Aphelios Gwen
Nami Twisted Fate SI
Jayce Heimerdinger SI
Yup, you heard that right. Well-known Brazilian player 4LW just took down the Mystic Shot Weekly #36 using a triple Shadow Isles lineup running Vengeance
and The Ruination
. In their own words, "core cards to fight the meta."
Control has been getting pushed around a bit due to how quickly the meta has been recently, with both Kai'Sa and Azir Irelia decks preying on control hopefuls, while Bard Illaoi's big stats and their access to Rally also can present a problem. However, 4LW's success is proof that triple control can still perform well because, at the very core of today's meta, we have a very unit-centric strategy. Whether it's decks going really wide, or decks relying on 1-2 units going very tall, both can get punished by Vengeances and Ruinations. And that is where this lineup shines.
I will warn that this lineup is not for the inexperienced player. If you look at the stats across all three decks, they don't seem to do well into most of the meta. The idea though is that you're playing to disrupt what the opponent wants to do and slowly stabilize. All three decks have not only the standard Shadow Isles removal package, but plenty of other removal and disruption tools from their second region, as well as chump blockers.
Surprisingly enough, the strategy here is to leave Kai'Sa open. You are relying on having Vengeance
to shut her down as soon as she comes down onto the field, which is usually enough to set the deck back and allow you to win. Other decks we are looking to target include aggro decks – we are favored due to our heals and removal – and other unit-heavy decks like Bard Illaoi that we can punish with a big Ruination.
Our main bans will go against decks that are traditionally good at punishing control, namely Thralls or Ionia decks. Both of these types of decks can answer our removal and disruption tools, or have ways to protect their units, making it difficult for us to stabilize and pull off the win.
Noxus midrange decks are in a bit of a weird mix. I would ban them if you don't have to ban Thralls or Ionia, as Tybaulk can quickly be annoying to deal with and those decks don't tend to rely on a single big unit that Vengeance
can be good against.
---
Public Enemy #1
I get it, you don't care for any of the fancy dishes we have to offer in this establishment. You just want the best of the best. Doesn't matter if it makes everyone else hate you. You want to win, and there is no shame in that. So why not play the best all around lineup?
Sivir Kai'Sa Demacia
Illaoi Bard
Draven Sion Vi
Lets face it, Kai'Sa and Bard Illaoi are what most people consider the best decks in the game currently. It just so happens that they beat almost everything else currently in the meta, meaning they actually end up being a great pair together as well. To complete the full lineup we introduce Draven Sion Vi into the mix, since it shares very similar matchup tables with both of the other two decks.
When I say we beat almost everything, I really do mean that. The bad matchups for these decks are few and far between. The things that Kai'Sa might be weak against, Illaoi and Sion end up being strong against. And similarly, there are a lot of foes that we just end up being even against, such as the enemy Kai'Sa decks.
Our lineup will do well against opposing Bard Illaoi decks, as both Kai'Sa and Sion can do well against them. We just have to be comfortable winning the mirror, and that is where Cosmic Binding
can make a difference. All of our decks do well into Noxus midrange piles, although do be careful when you play Kai'Sa into them that you don't play into Disintegrate
. We also do well against Heimer Jayce SI and Nami TF SI on paper, but again, have to play around their Vengeance
. In general, our decks are very optimized and should do well versus most off-meta brews that you might run across.
Our ban strategy will be a bit more awkward. There aren't many decks that outright beat all three of our decks. The biggest offenders are probably Yasuo Katarina and Shen Bard. Their Stuns and Barriers end up being really strong against our battle-focused lineup. So I would consider banning those first. After that, it is really banning anything you don't feel comfortable going against.
Do be mindful, though: if you play this lineup you are playing two of the most popular decks, so do not be surprised if you run into a direct counter lineup focusing on beating Kai'Sa or Illaoi. In that case, just play your best to steal one game against an unfavorable matchup. That is how tournaments tend to be won, winning unfavorable matchups in key rounds.
---
Bye Bye'Sa
So the bug fix patch to Sharpsight
was not enough to quench your thirst for seeing Kai'Sa
decks suffer. You want to inflict more pain on them. And frankly, you might expect them to still be in 50+% of lineups. If that is the case, this lineup should help you remove them from existence.
Azir Irelia
Gwen Elise Noxus
Jhin Annie
This very aggressive lineup is hyperfocused on doing one thing well, and that is beating Kai'Sa decks. All three of these decks sport close to 60% WR versus Kai'Sa and should give her a lot of trouble. Just be careful of versions playing Radiant Guardian
– you'll have to play around that card by keeping tricks like Noxian Fervor
in your back pocket.
The lineup does well against some other popular decks in the meta too, which is what makes this a viable lineup. Both of our Noxus decks do well versus other Azir Irelia decks, meaning you'll just have to win the mirror to win that match up. We do well against Yasuo Katarina, due to them being a much slower deck which lacks heals. Generally, if we can rush them faster than they can stabilize and/or heal, we win versus combo decks.
Where our lineup falls apart is versus the second most popular deck in the meta, Bard Illaoi. All of our lineups do badly versus Chimes and Tentacles due to the sheer number of stats they can push out. Not even Defiant Dance
is enough to flip that matchup in our favor. Other automatic bans include Shadow Isle decks with lots of heals, like Feel The Rush or the decks from the 4LW lineup posted above. Triple SI lineups would be our biggest boogeymen, and would require a lot of luck to even take one game off them.
If you are looking for alternate aggro decks, Annie Ziggs Katarina might be an option if you don't want to play Jhin Annie. Or you can cut Annie and just run Ziggs Katarina. The deck is well-positioned as an aggro deck and stats show it doing really well in the meta. I just personally prefer the utility that Jhin Annie can provide a bit better.
---
About the authors
Sirturmund is a long-time player of the game, having played LoR since beta. He has found competitive success in the past year with a couple of seasonal top cuts finishes, rank 1 ladder placements, and first spot in a Qualifier of Mastering Runeterra's Championship. Best known for being one of the very few to still bring Star Springs to tournaments, you can find Sirturmund lurking around all the social media sites absorbing anything he can about the game!
MonteXristo has been playing the game since closed beta and has consistently made it to masters every season he's been active. His accomplishments include having peaked in the top 20, taking first place in the "Streamer Sideboard Showdown" and LPP Riot Grand Prix. When he's not writing for Mastering Runeterra he keeps his card-slinging skills sharp by playing in the Runeterra Academy tournament, with his team The Wobbly Wombats!
---
---