Hey everyone, Prodigy here with another deck guide!
This time I'll be tackling Kai'Sa
– the strongest champion of the Forces of Beyond expansion, and one of the hottest LoR decks, both for the Ranked ladder or for Tournaments & Gauntlets – and that, as we'll see below, comes in three different versions.
---
Mutations Come in Many Flavors
There are a lot of different Kai'Sa
flavors floating around out there, either as a Mono-Kai'Sa with Rite of Calling
, or paired with Sivir
or Akshan
– I'll cover all three different combinations in this article, so you can learn whatever flavor suits your playstyle.
All decks are built around Kai'Sa
, arguably the strongest champion in the game. With the right pieces around her she can win the game in Round 5. All Kai'Sa versions are built around enabling Kai'Sa
to shine, although some have alternative gameplans when this falls through.
The most powerful combination is:
Setting up Valor by casting Blinding Assault on round 4 and banking full spell mana into round 5,
Playing an evolved Kai'Sa on round five,
Follow it up with Supercharge on Valor (that's why you need to bank full spell mana going into round five),
And then use Second Skin on Valor to give Kai'Sa Scout, Challenger, Spellshield, and Overwhelm.
Combined with Kai'Sa already having Quick Attack means you can clear your opponent's board while also pushing ~10 dmg typically. Icathian Rain
does an incredible job pinging off low-HP units, or pushing massive damage to the Nexus if most units have been removed. And because of Spellshield there is very little your opponent can do.
Your opponent will typically have a single action to remove Kai'Sa
, and if they cannot, the game is often decided. This has sparked a resurgence in decks like TF Annie and Heimerdinger, who attempt to answer our powerful round five. However, even these decks struggle to answer the second Kai'Sa
or the Void Abomination that come down on later rounds.
---
+
= Consistency
I want to start off by breaking down what appears to be the most common variant in Masters (at least from my personal experience), and what I would recommend as the most consistent, Mono Kai'Sa
.
Mono Kai'Sa
uses Rite of Calling
to consistently draw its only champ by round five. The deck is the most all-in of all the Kai'Sa builds, having very little win conditions out of her three copies, and typically two copies of Void Abomination – if your threats are answered, it is very difficult to win the game. However, because of consistency from Rite of Calling
you are typically able to get two Kai'Sa
s down in a game, and follow-up with a Void Abomination. If your opponent lacks enough spot removal, or taps under removal mana, you can run away with the game very consistently. This deck plays a into the mantra of "If they have it, they have it."
Because of Second Skin
, even if your first Kai'Sa
dies you can still give all other Kai'Sa
the desired keywords (note that you don't need Kai'Sa to be on the board to cast Second Skin – even if Kai'Sa is removed right after you play her, Second Skin will give the target keywords to your remaining Kai'Sas).
Against a removal-heavy deck, you'll want to prioritize Spellshield or Tough. Against a board-based deck, most likely Scout/Challenger from Valor. You can even commit Supercharge after Kai'Sa
has been removed and, with Second Skin, give your remaining copies an abundance of keywords. Doing this will also charge your Void Abomination for future turns.
This deck relies on surviving until round five and playing a series of threats from rounds 5-9, at which point either our foe will be dead, or our deck will usually run out of gas. Various versions also include additional protection in the form of Ancient Hourglass
and Rite of Negation
. Most Kai'Sa
lists include also Sharpsight
, which you can use against damage-based removal (Tentacle Smash
, Thermogenic Beam
, etc.) and some also include Quicksand
to help in Mirrors, and as a defensive combat trick.
---
How to use Rite of Calling
This is a powerful (but conditional) card that is the key reason to run Mono Kai'Sa
over other champion pairings. The likelihood of drawing either Kai'Sa
or Rite of Calling
in just 5 cards of a 40-card deck is 57%! Combine that with a mulligan that aggressively looks for Kai'Sa
and other powerful cards like Valor, and these odds increase to 81% on only seeing 9 cards! (That's four cards from the opening hand, plus the five cards we draw by round five)
Rite of Calling
has a key cost for being such a boon in consistency: We have to sacrifice a mana gem or kill an ally. Here are a few questions you should ask and consider when playing the card.
Do I need to draw Kai'Sa
now?
Often you don't need to play Rite of Calling
until round five or six (depending on when you have the attack token). If you wait an extra turn or two you may naturally draw her. However, if you need to kill an ally to draw a Kai'Sa
for a Round 5 attack, you may want to play it earlier if your opponent has tapped under enough mana to play a removal spell to guarantee the draw (for example, against TF Annie, you may want to cast Rite on a Voidling on the very first round, since in the following rounds TF Annie has lot of pings to kill your Voidling before you cast Rite).
Do I kill an ally or destroy a mana gem?
If you have plenty of mana to spare don't be afraid of losing a mana gem! It's worth the price for guaranteeing the draw and staying on board! Our deck typically runs a lot of cheap units and spells, so by round seven we don't have much to do with the leftover mana. That is, unless we're planning on playing Abomination! And if you're playing against an aggressive deck you probably don't want to be killing your allies since you need blockers! Lastly, if you can't afford to lose a mana gem but really need to guarantee the draw, use it on a healthier unit or one with Spellshield (like Merciless Hunter
of Belvethi Elder
) instead of Voidling. This may hurt, but at least you are not losing your draw to Make it Rain
.
I already have Kai'Sa
, is this a bricked card?
Nope! Kai'Sa
's champion spell is Supercharge
, which is an incredibly powerful tool. Playing Rite of Calling
will get you an extra Kai'Sa copy, which will turn into Supercharge once your first Kai'Sa
is played. Always play the Kai'Sa
that you drew from Rite of Calling
, and keep the one you drew naturally a secret. They won't expect you to have a second one to use for Supercharge
. Or you can play the second one after they use their removal spell (like Vengeance
) and they assume the storm has passed.
Here is a list piloted by Bluegod to rank 1 (temporarily… =) in masters!
3
3
13
21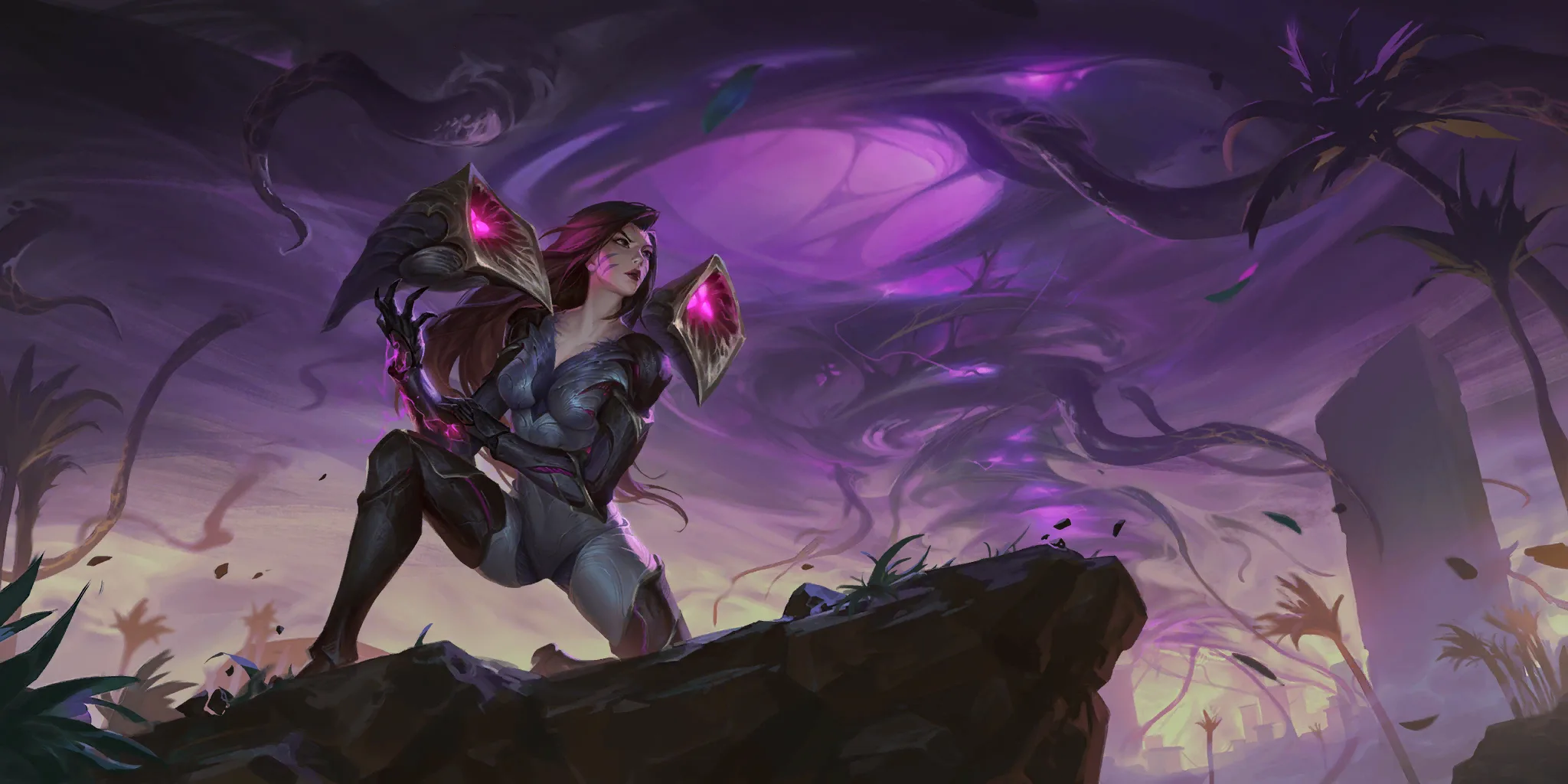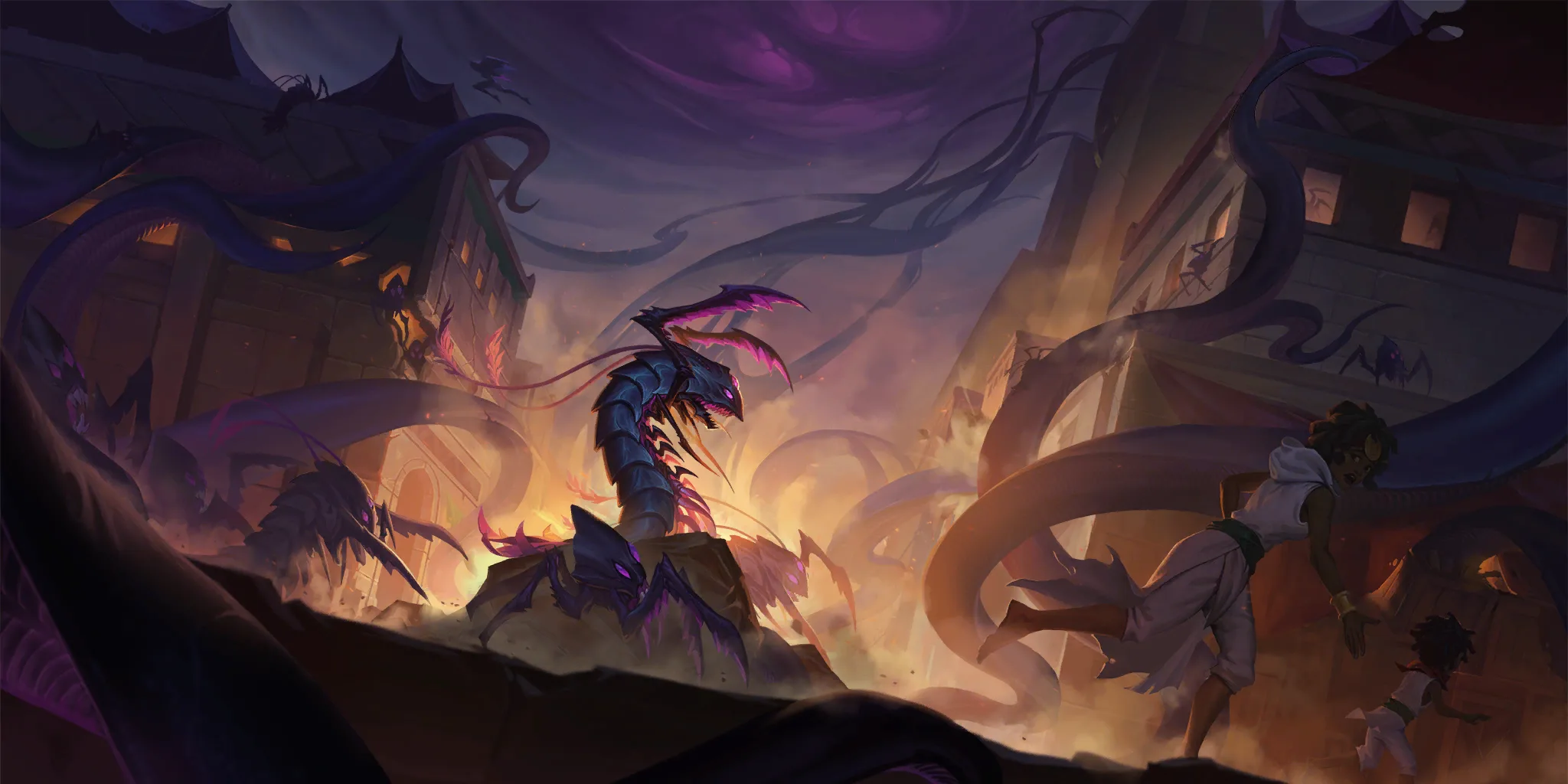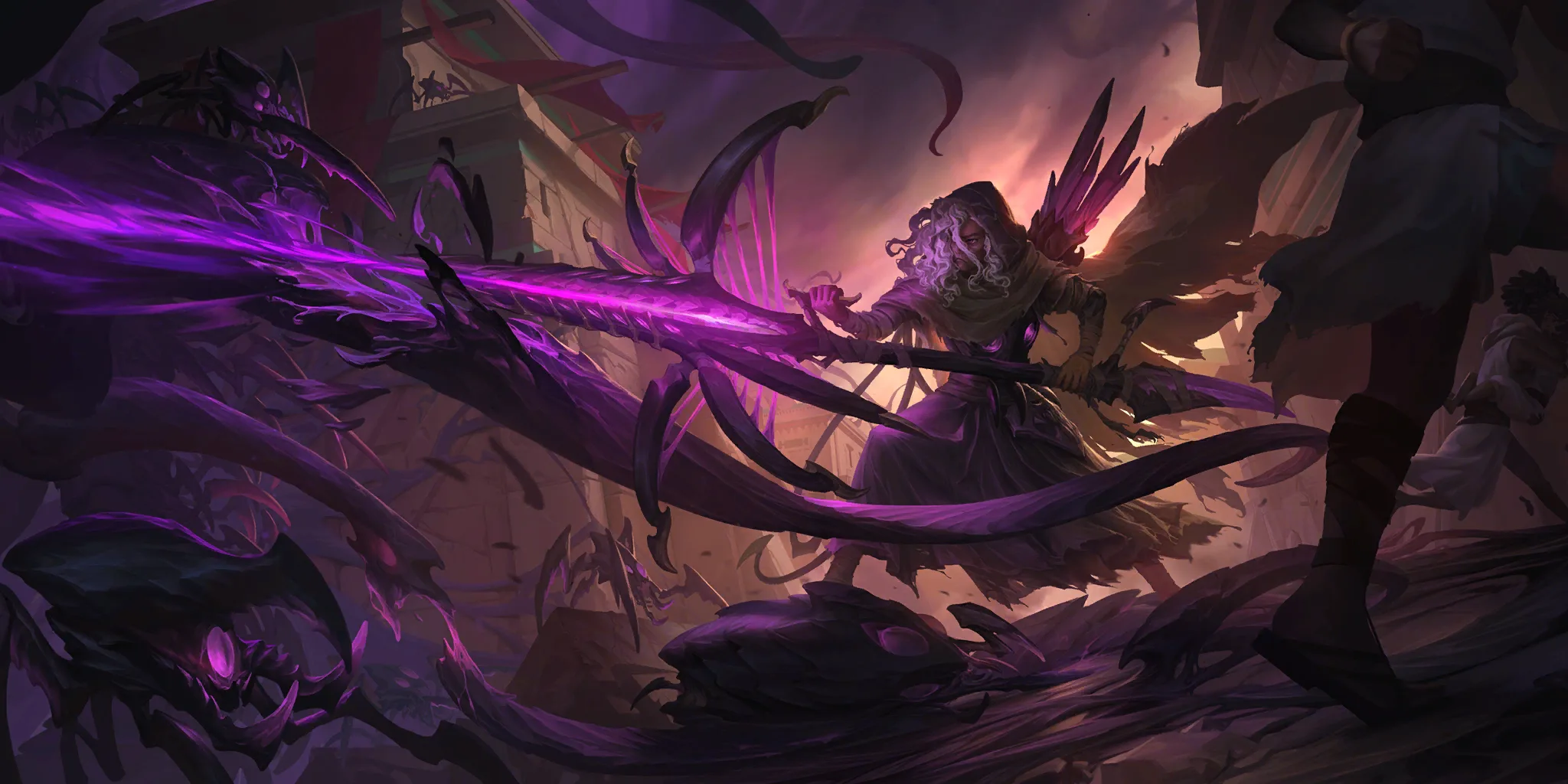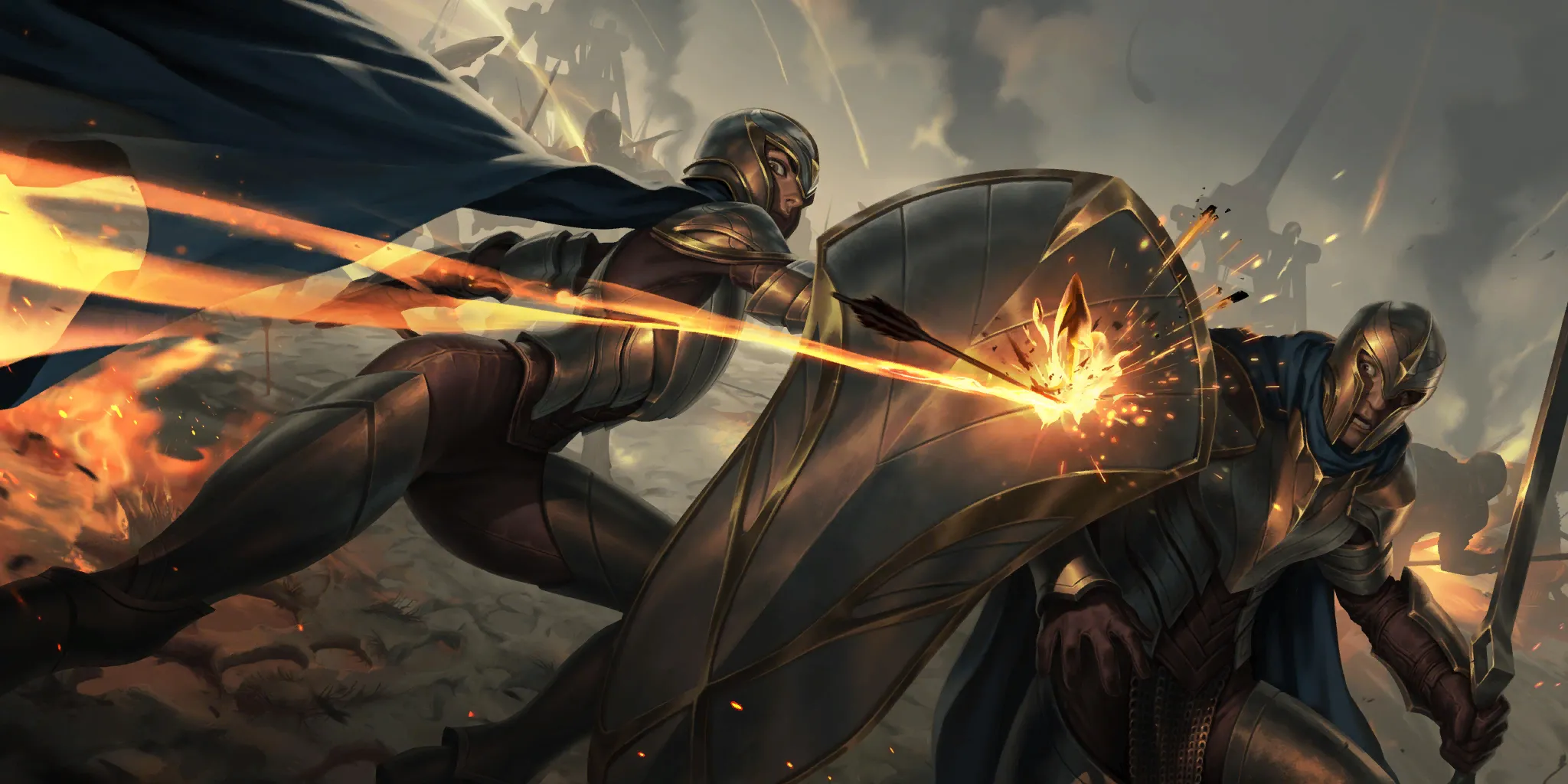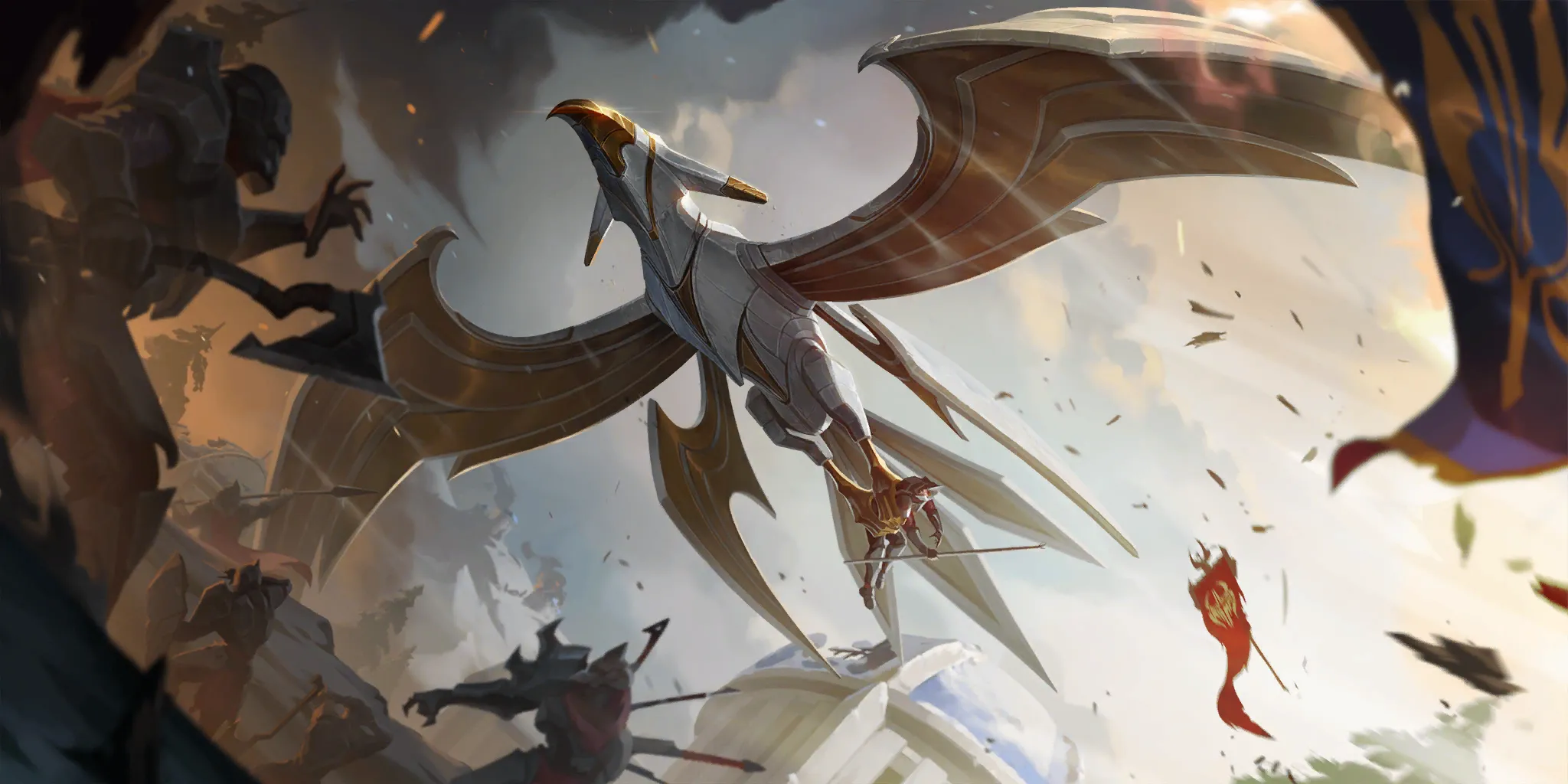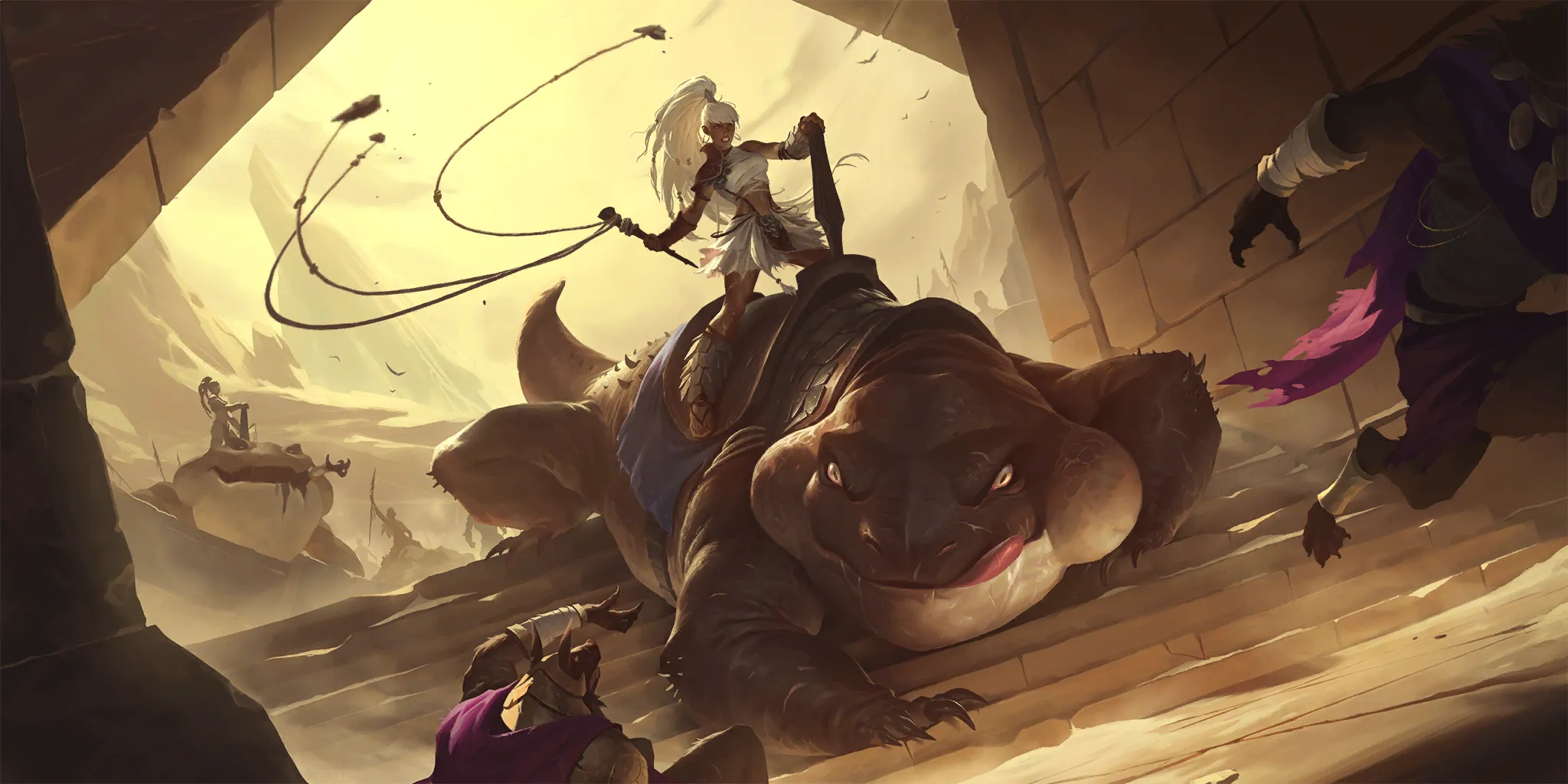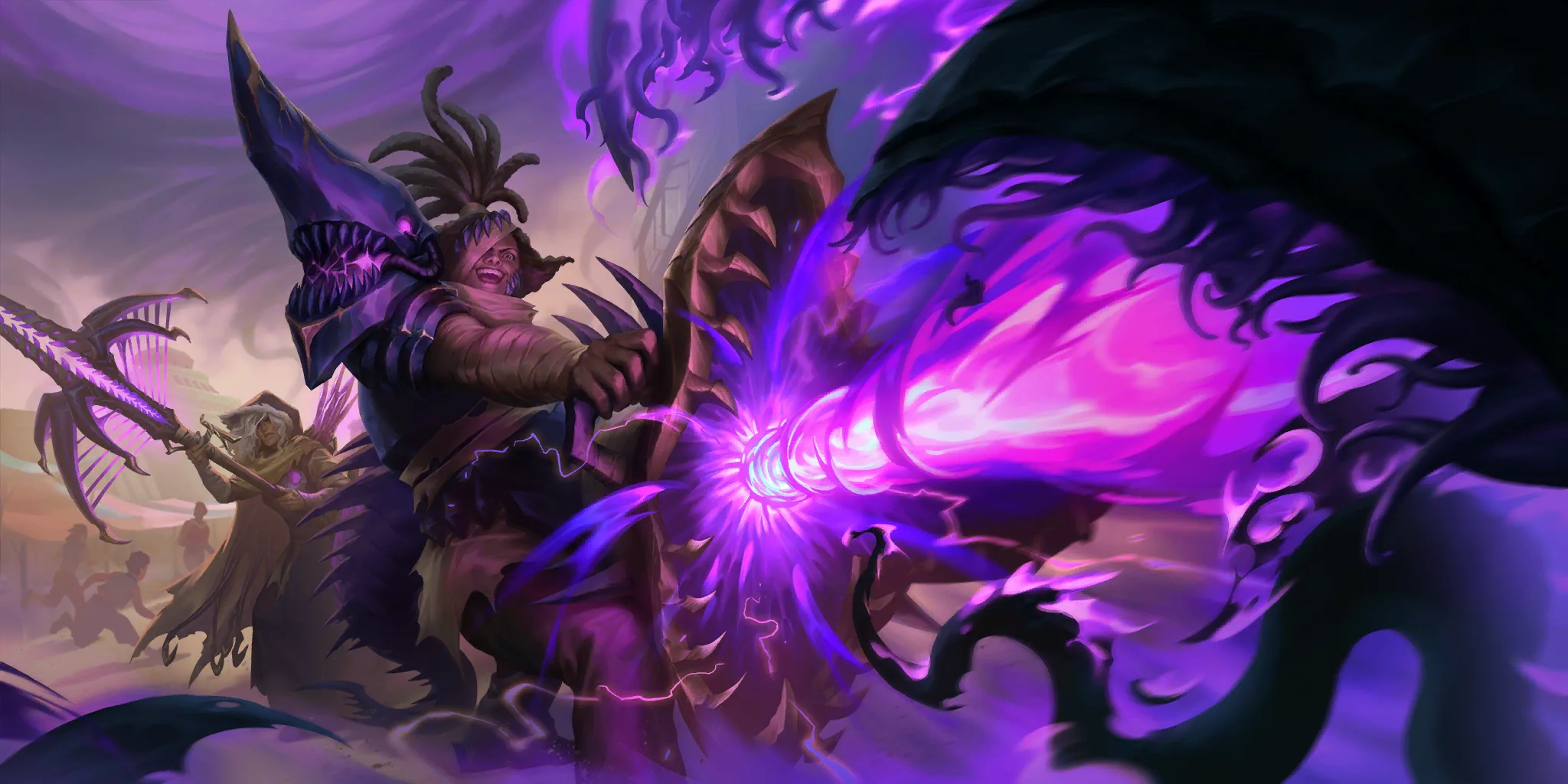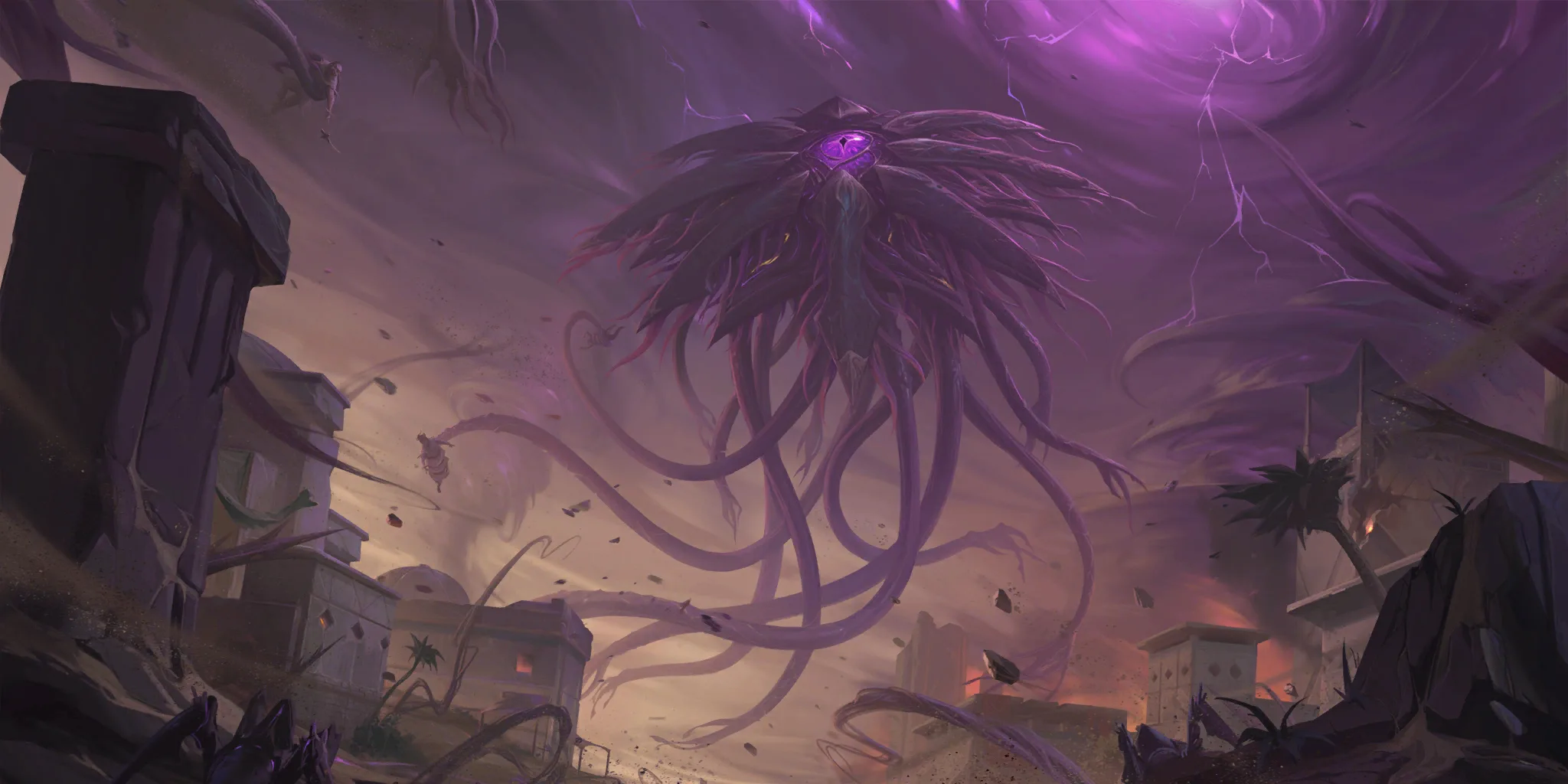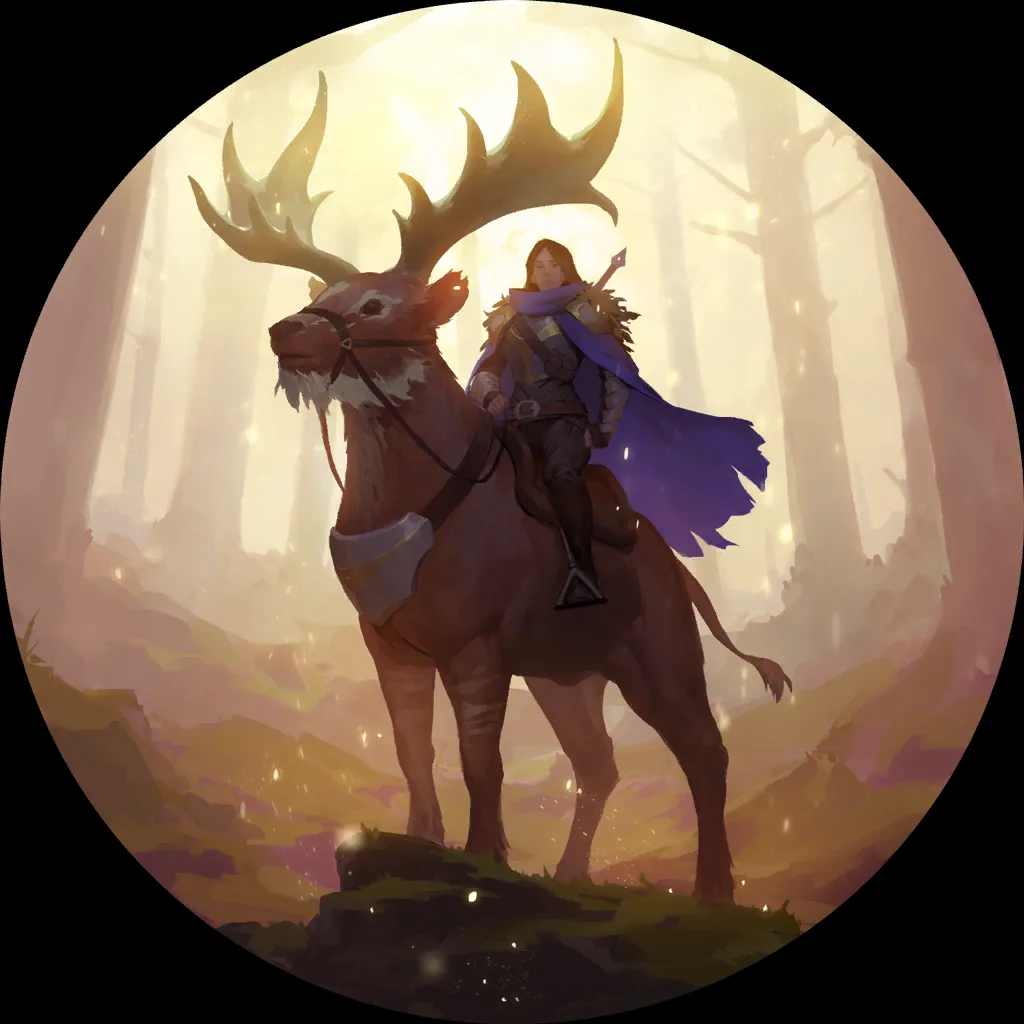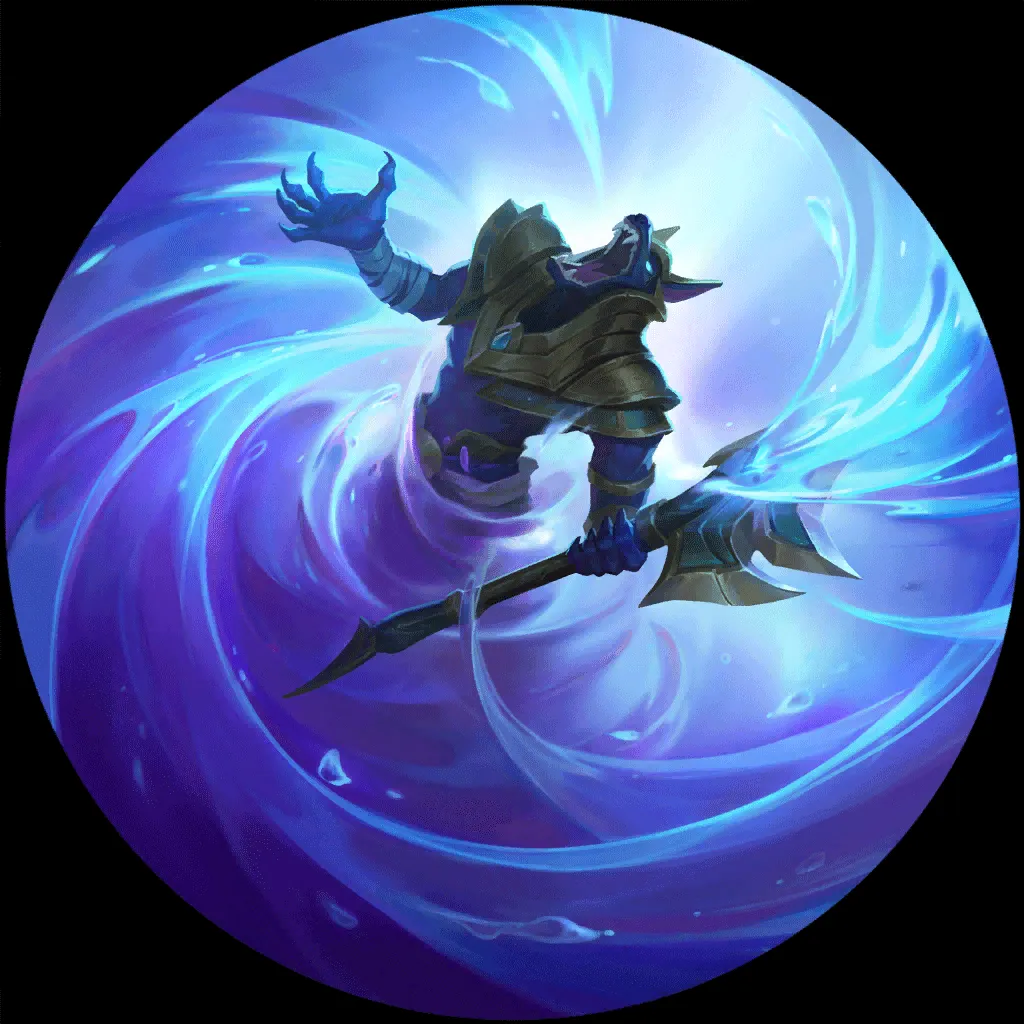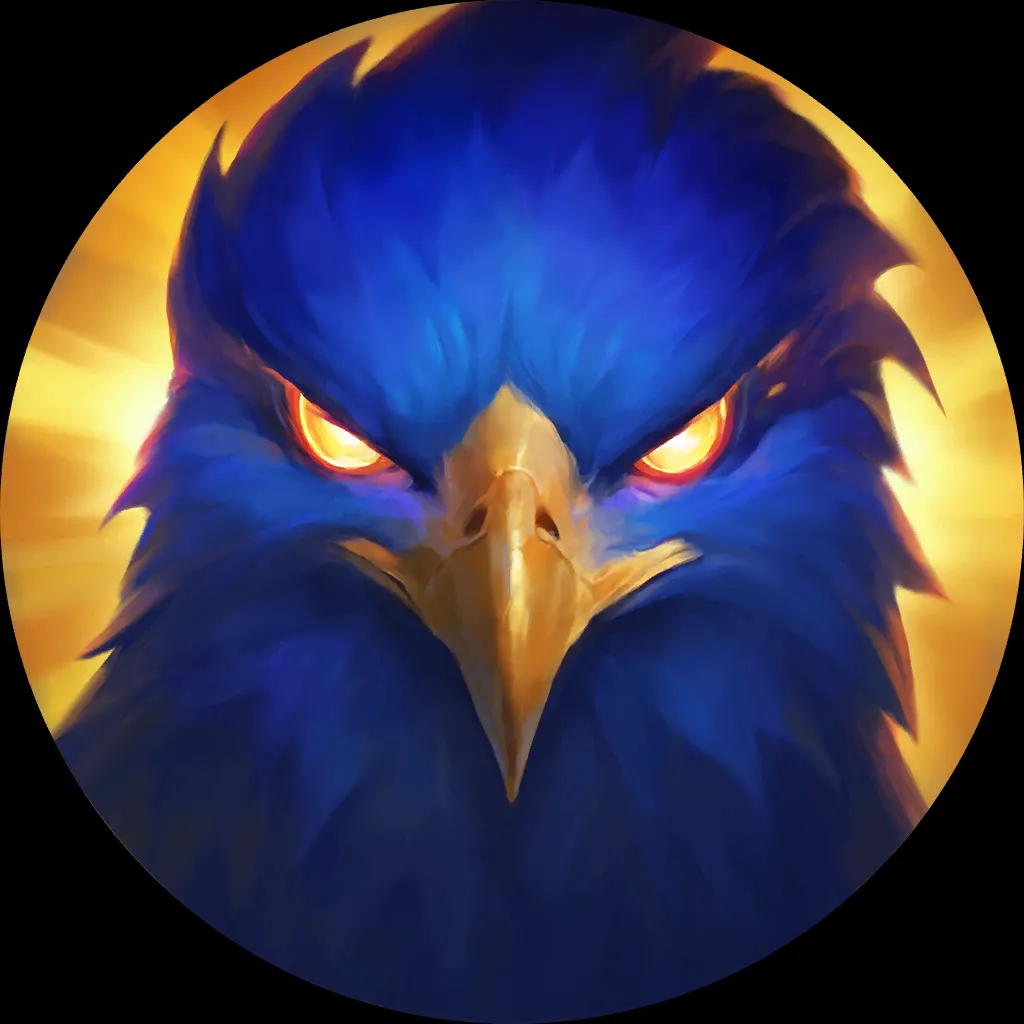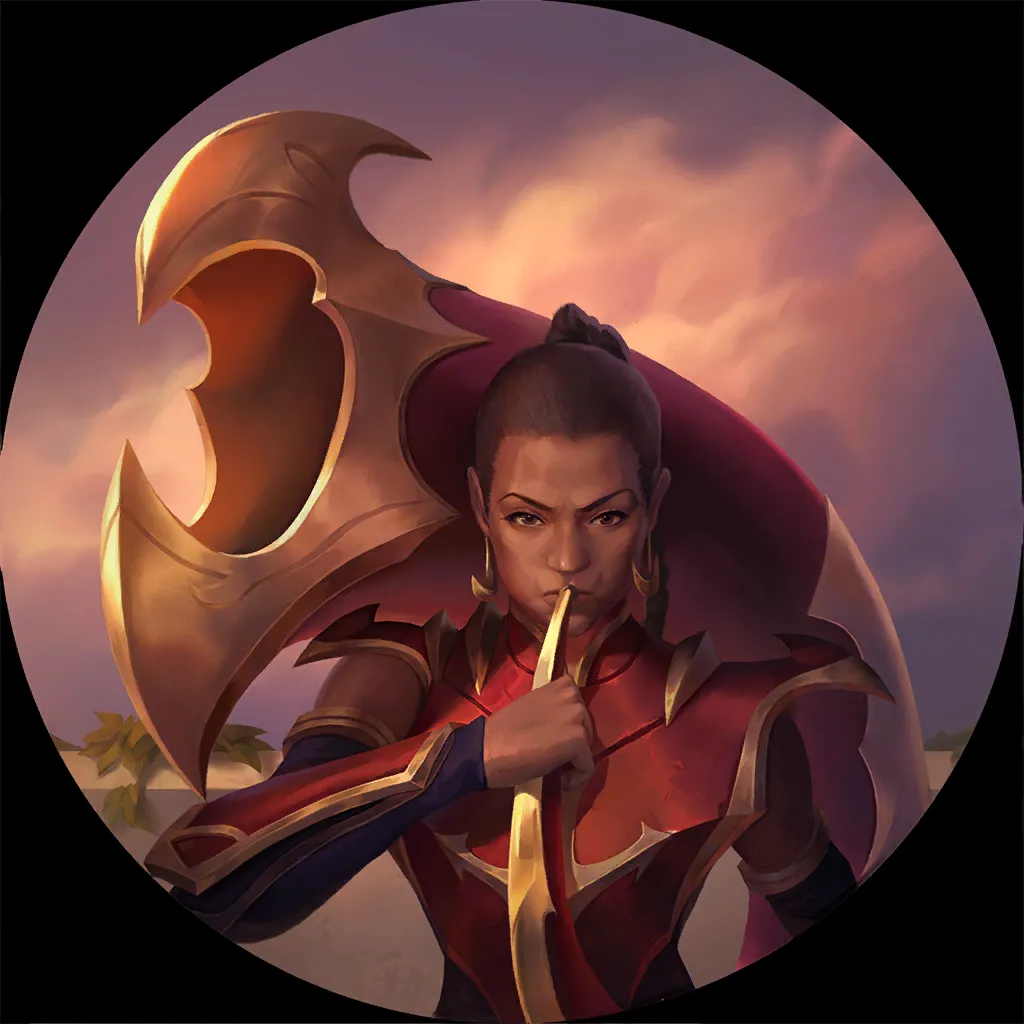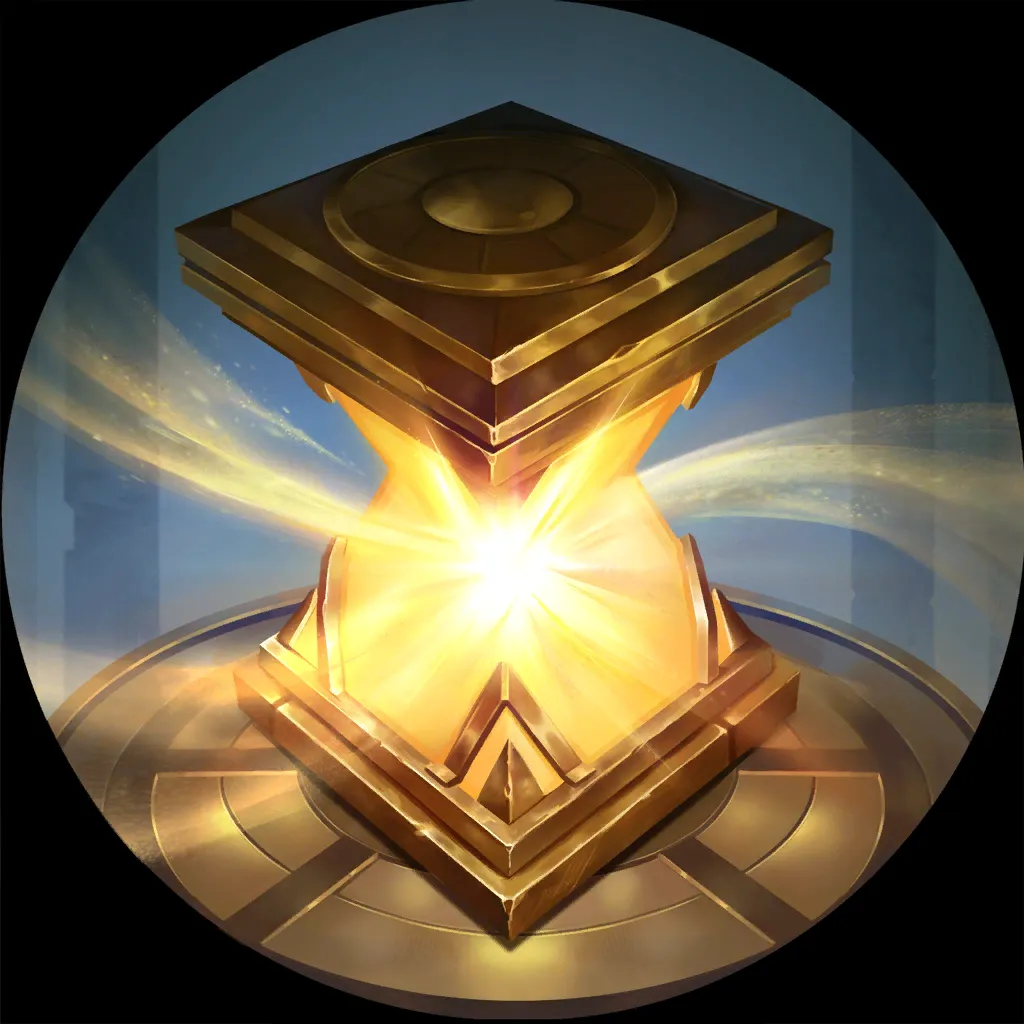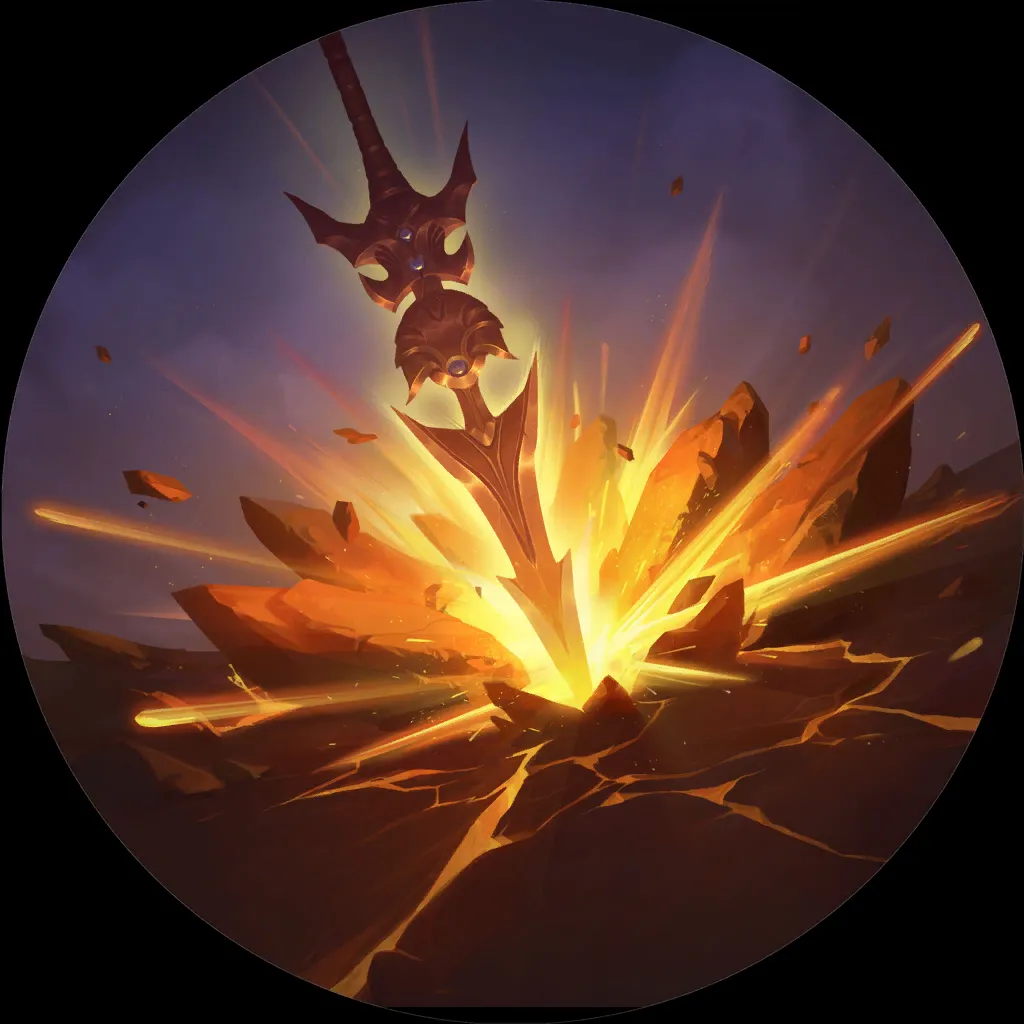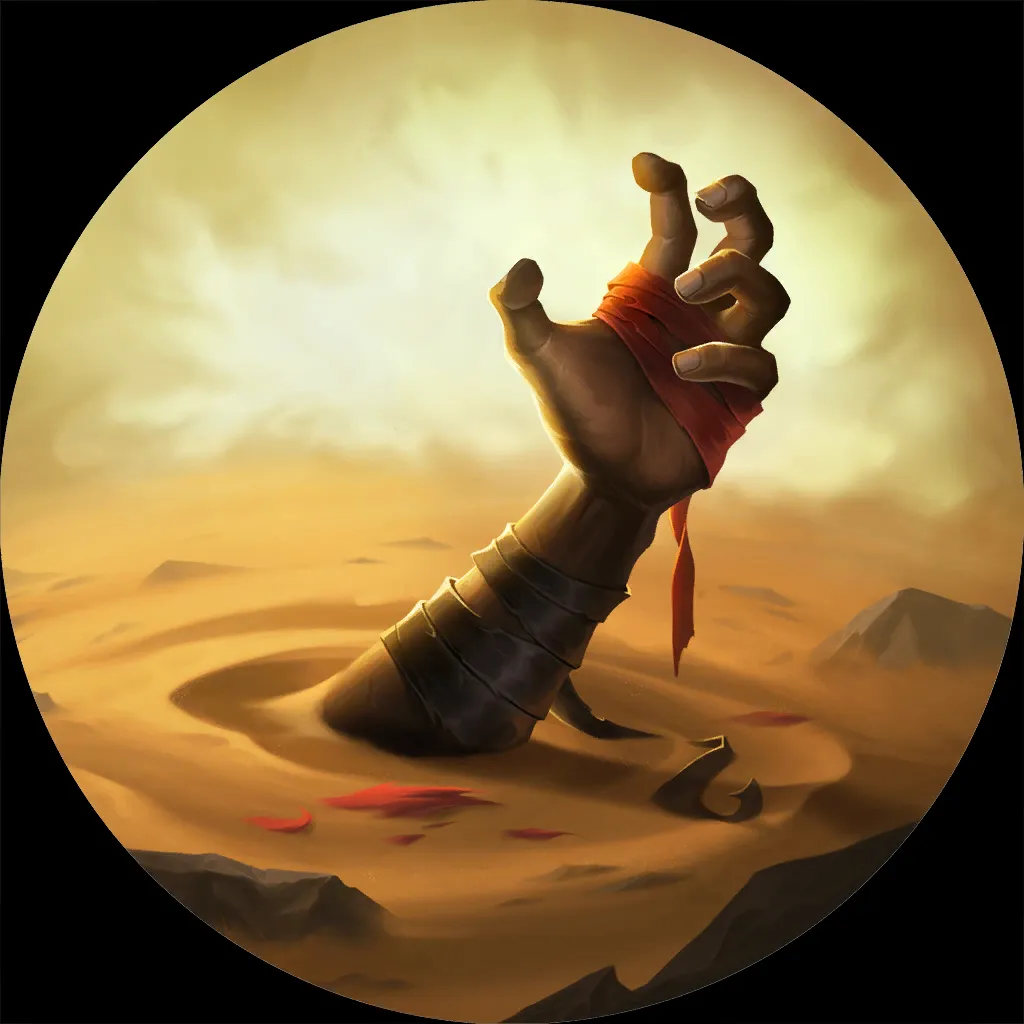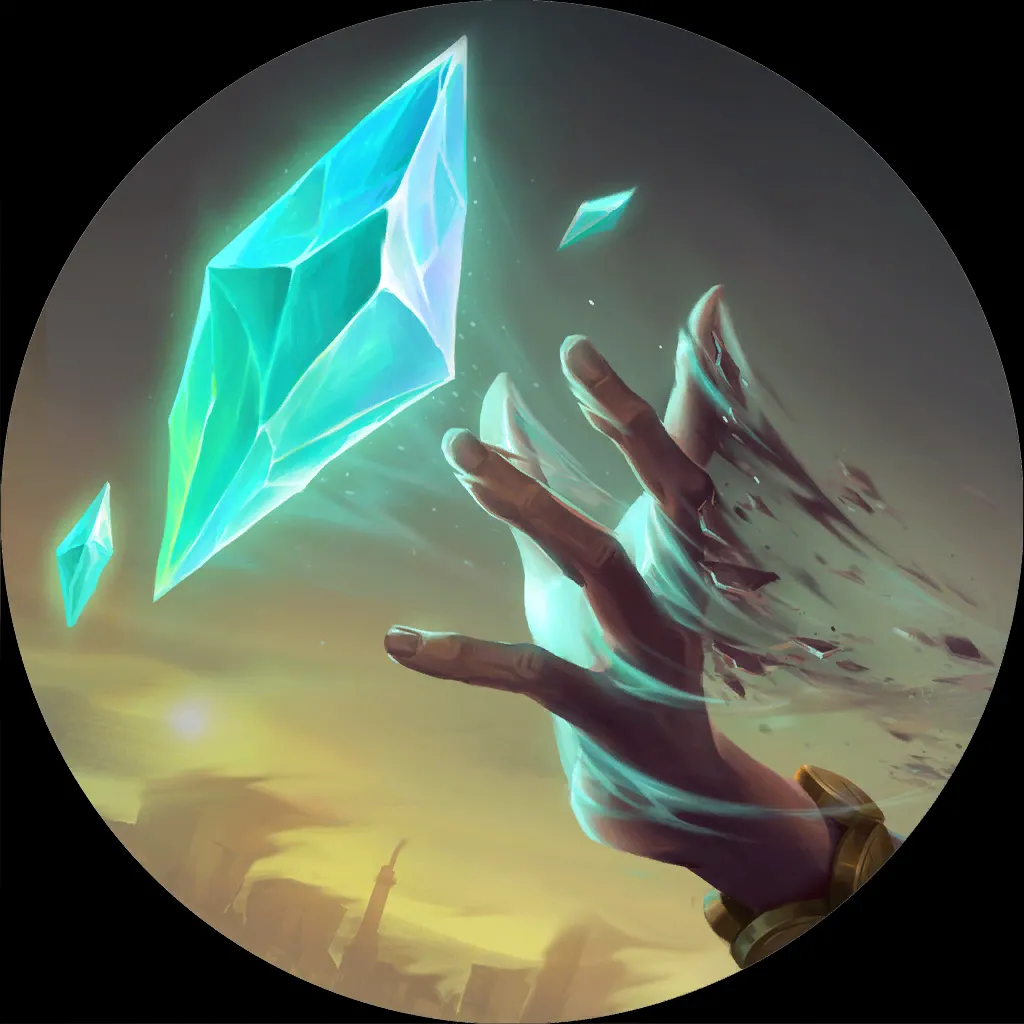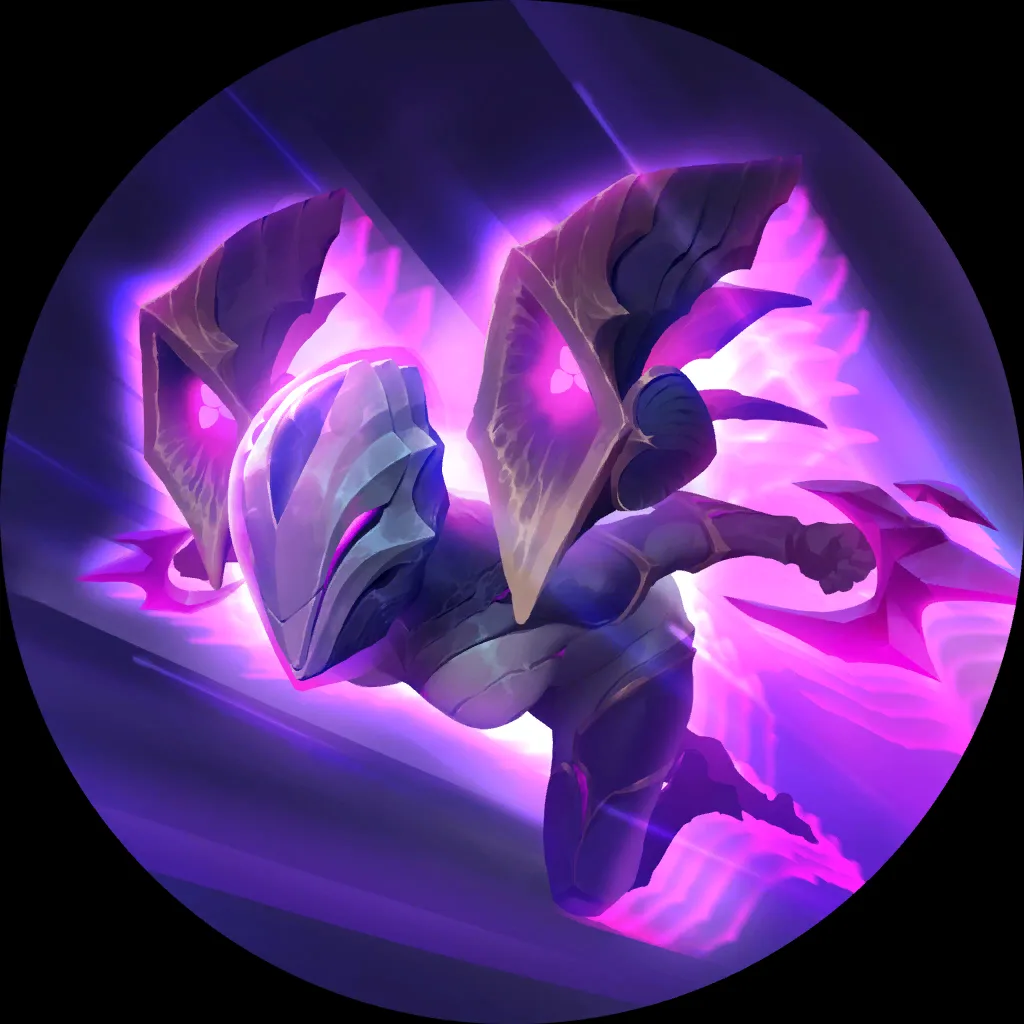 ---
Quick Mulligan Guide
Remember: this deck is a combo deck, not a tempo deck. We're playing for Exodia, that's to say assemble our win condition and kill our foe all in one turn – we are not interested in pushing chip damage on round three. If the card doesn't advance you towards your win condition (Kai'Sa
on round fiver or six, Evolve, powerful keywords (Scout/Overwhelm), staying alive (against aggro) then you probably don't want to keep it.
Auto-keep: Kai'Sa
and Valor
Generally Keep: Petricite Broadwing
Conditional Keep: Void Blaster, Merciless Hunter (with Kai'Sa
+ Challenger), one- and two-drops (against aggro, rarely otherwise), Supercharge (against control, and if Kai'Sa
already in hand).
Generally Avoid: Protection spells like Hourglass (although consider it against heavy control like FTR, Jayce Heimer, etc), Quicksand, Brightsteel Protector, Rite of Negation – These are great cards to draw later in the game but they are only good once we've established our gameplan.
Other Cards of Note: Rite of Calling
(We don't want to be keeping this card, it acts more as an insurance policy in case we don't draw Kai'Sa
).
---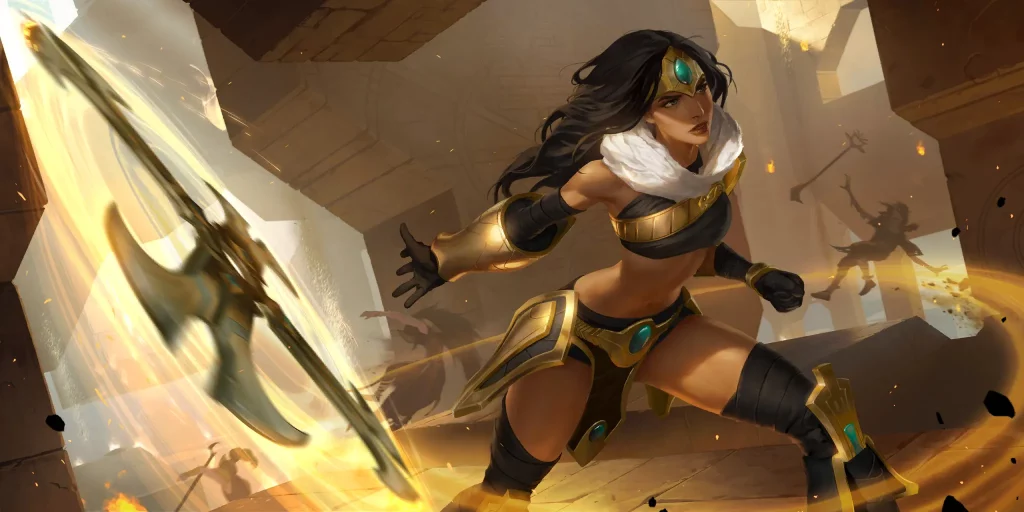 Next up I want to talk about what is the highest WR deck currently, Sivir
Kai'Sa
. This deck plays very similarly, with the same potential for power rounds as the previous Mono Kai'Sa
but plays an additional threat: Sivir
.
Sivir (level 2)
turns your entire board into a difficult-to-remove, constant barrage of damage. The downside to running her is that you miss out on the consistency of drawing Kai'Sa
every game. This is the archetype I've played the least of, but it plays similar to Sivir
Akshan
of old – your goal is to Evolve your units early, push early damage, and finish the game through Kai'Sa
and Sivir
. This is opposed to the Mono Kai'Sa
gameplan which leans into extra protection and tutored draw, and gets 20 dmg almost exclusively through Kai'Sa
.
TLDR: Sivir
Kai'Sa
is a tempo deck (that can do combo), while Mono Kai'Sa
is a consistent combo deck.
Here's a list piloted by Dudu de Nunu.
6
2
14
18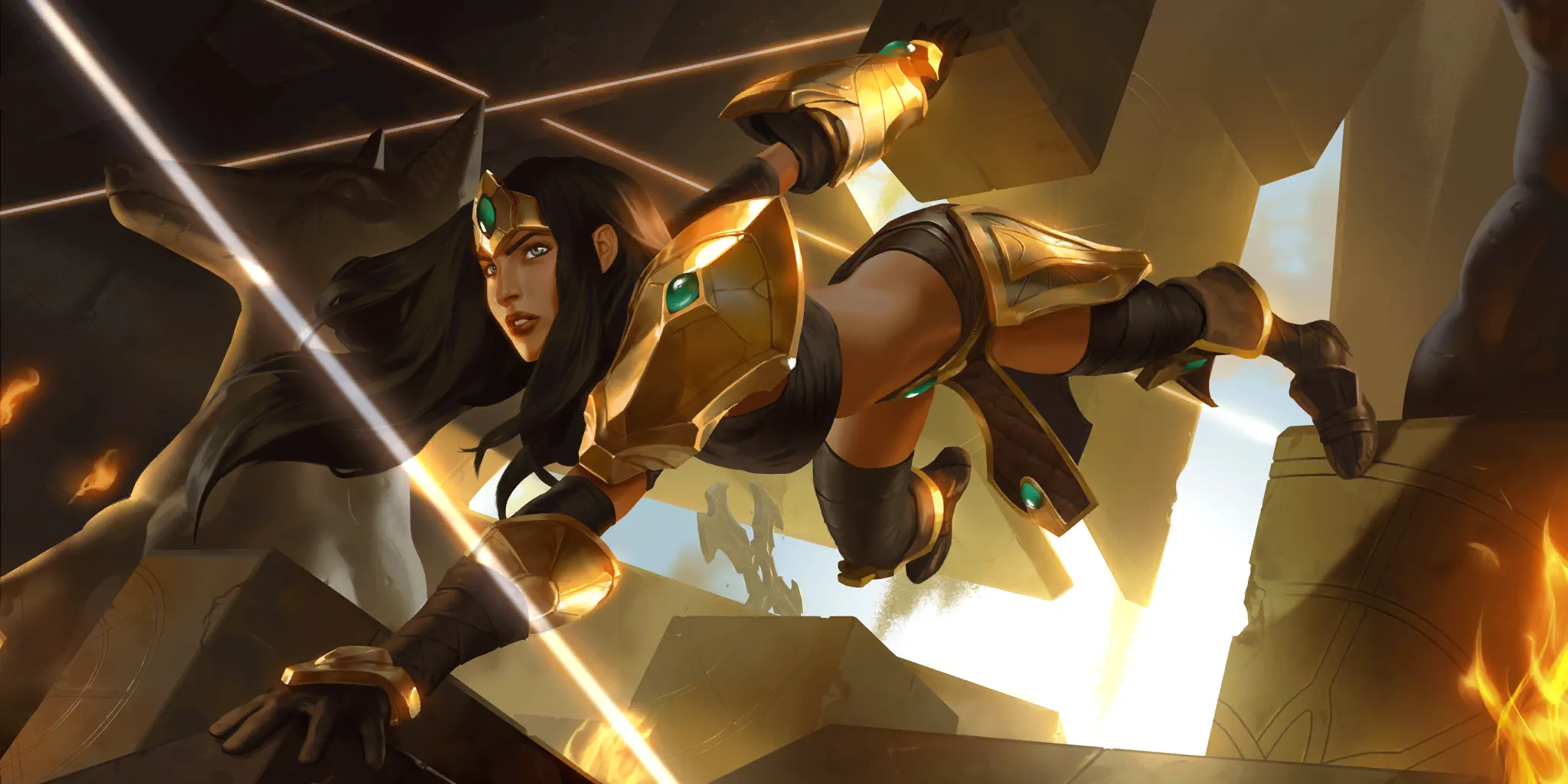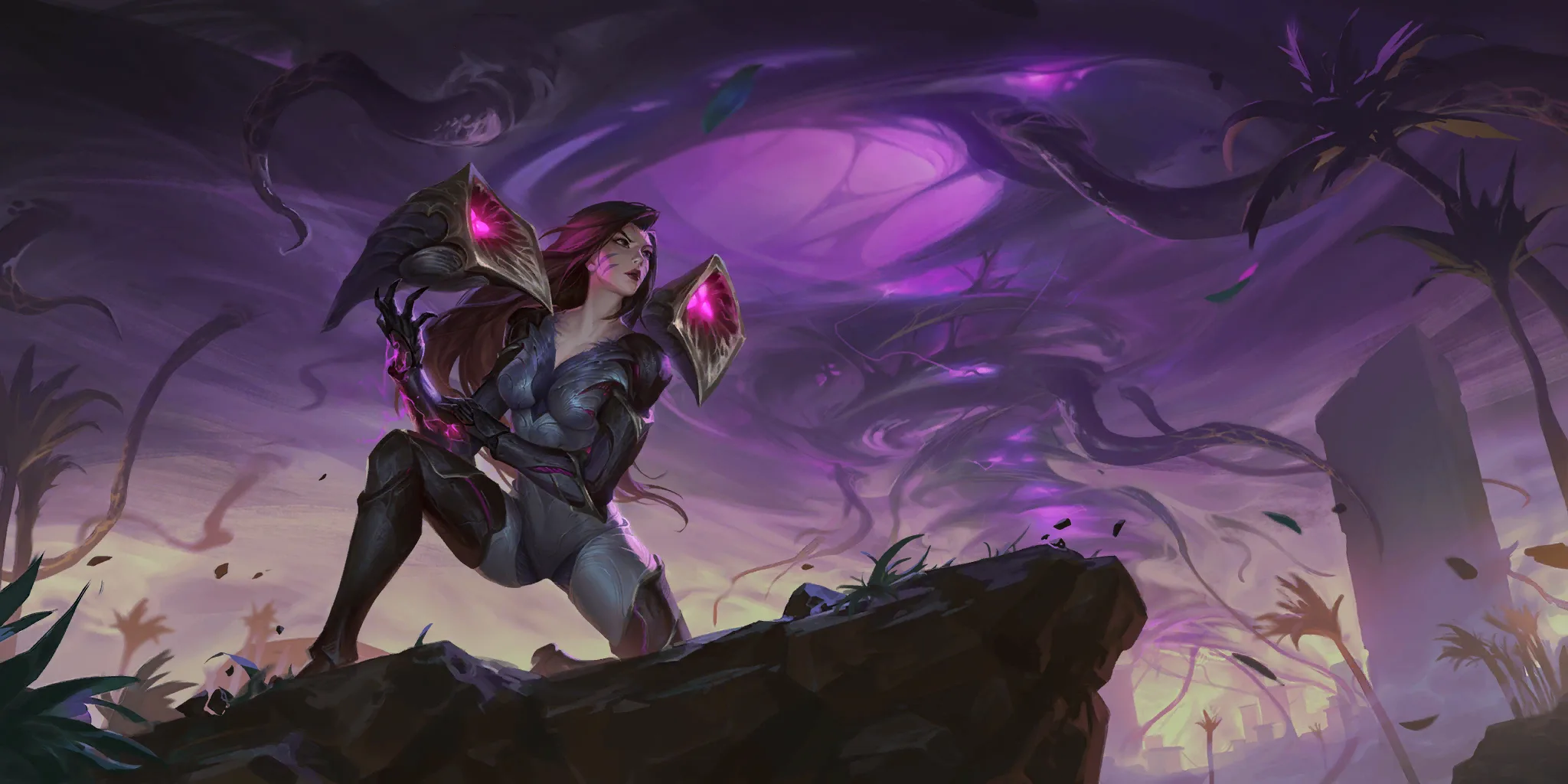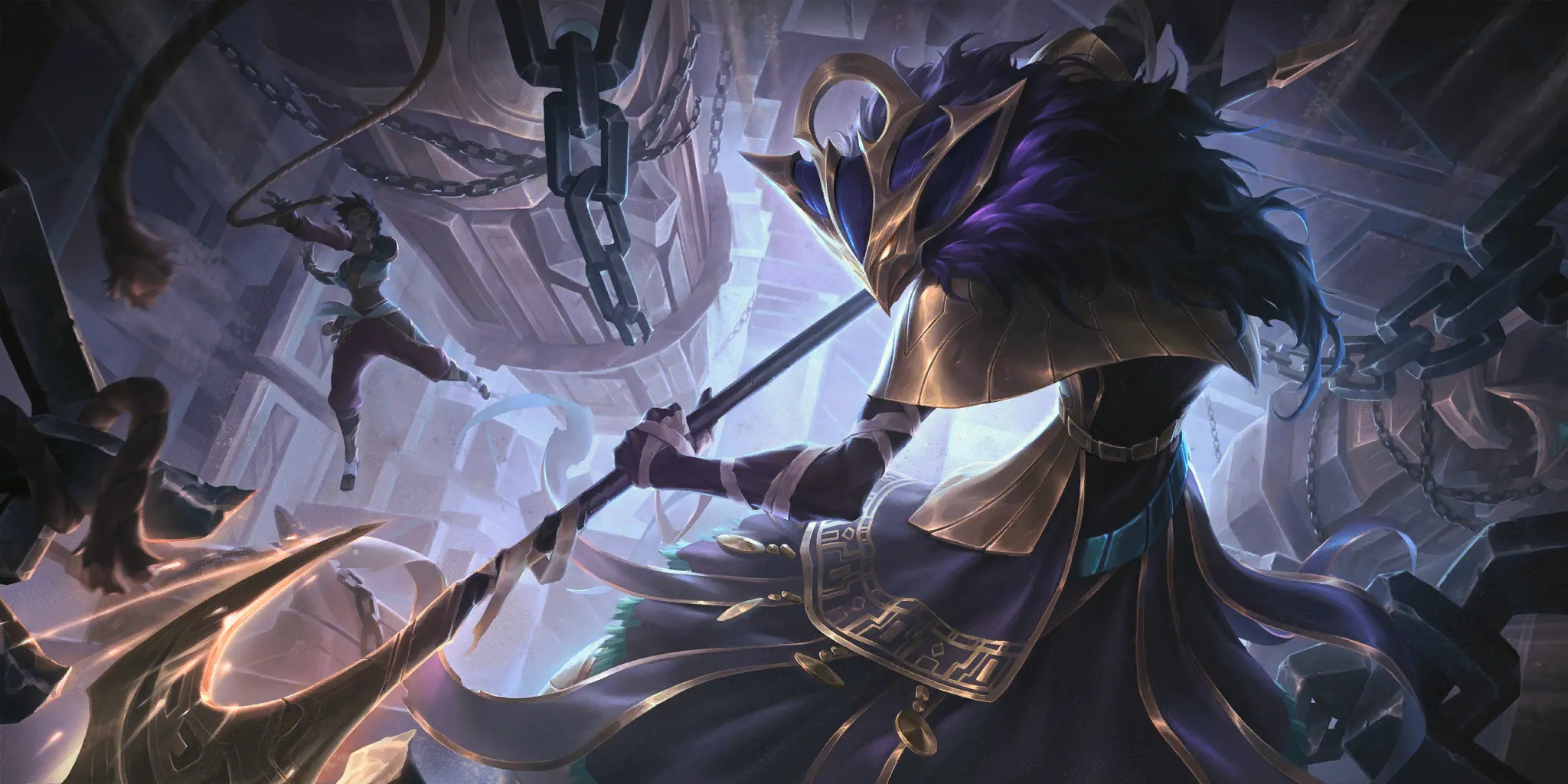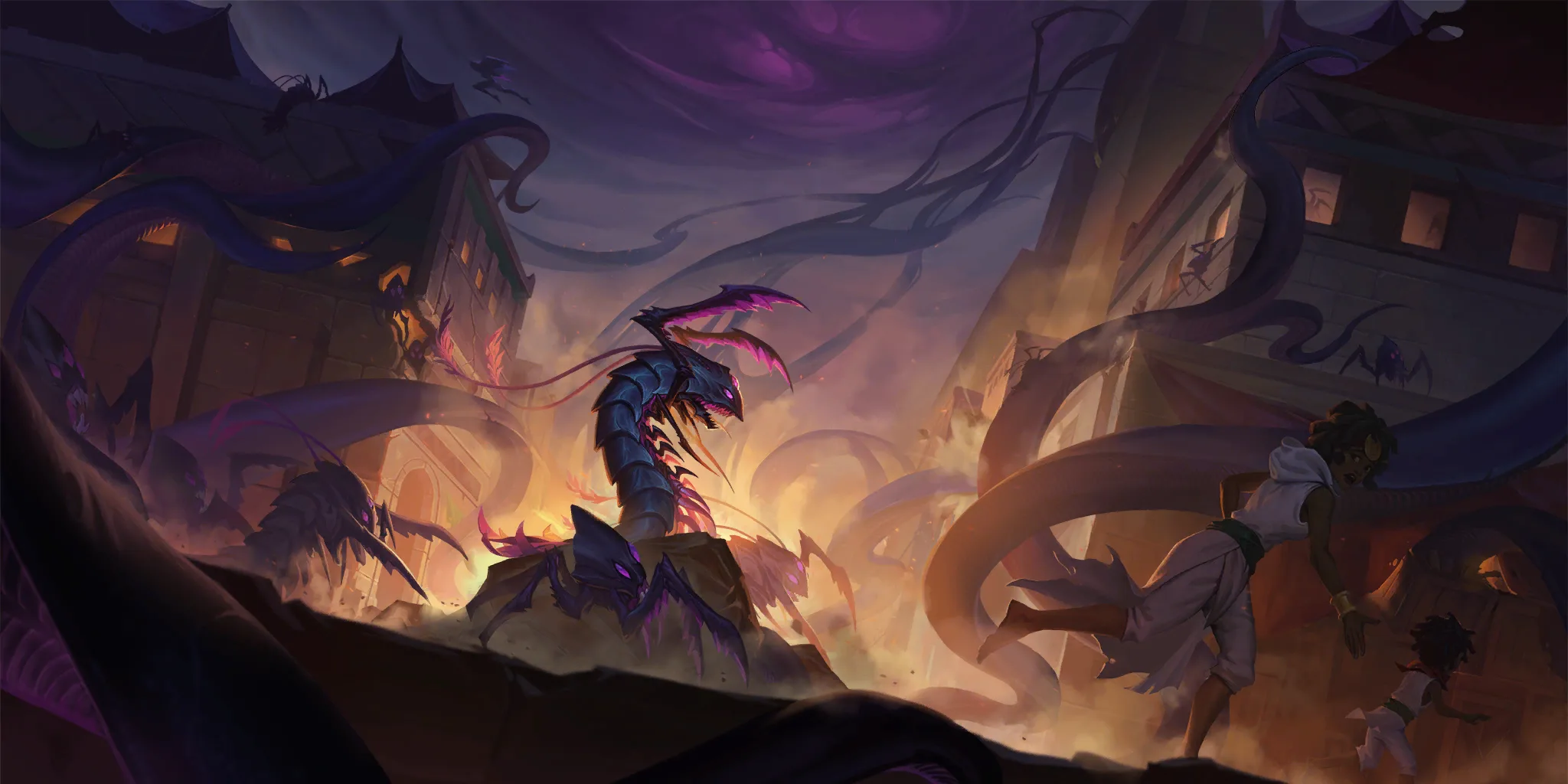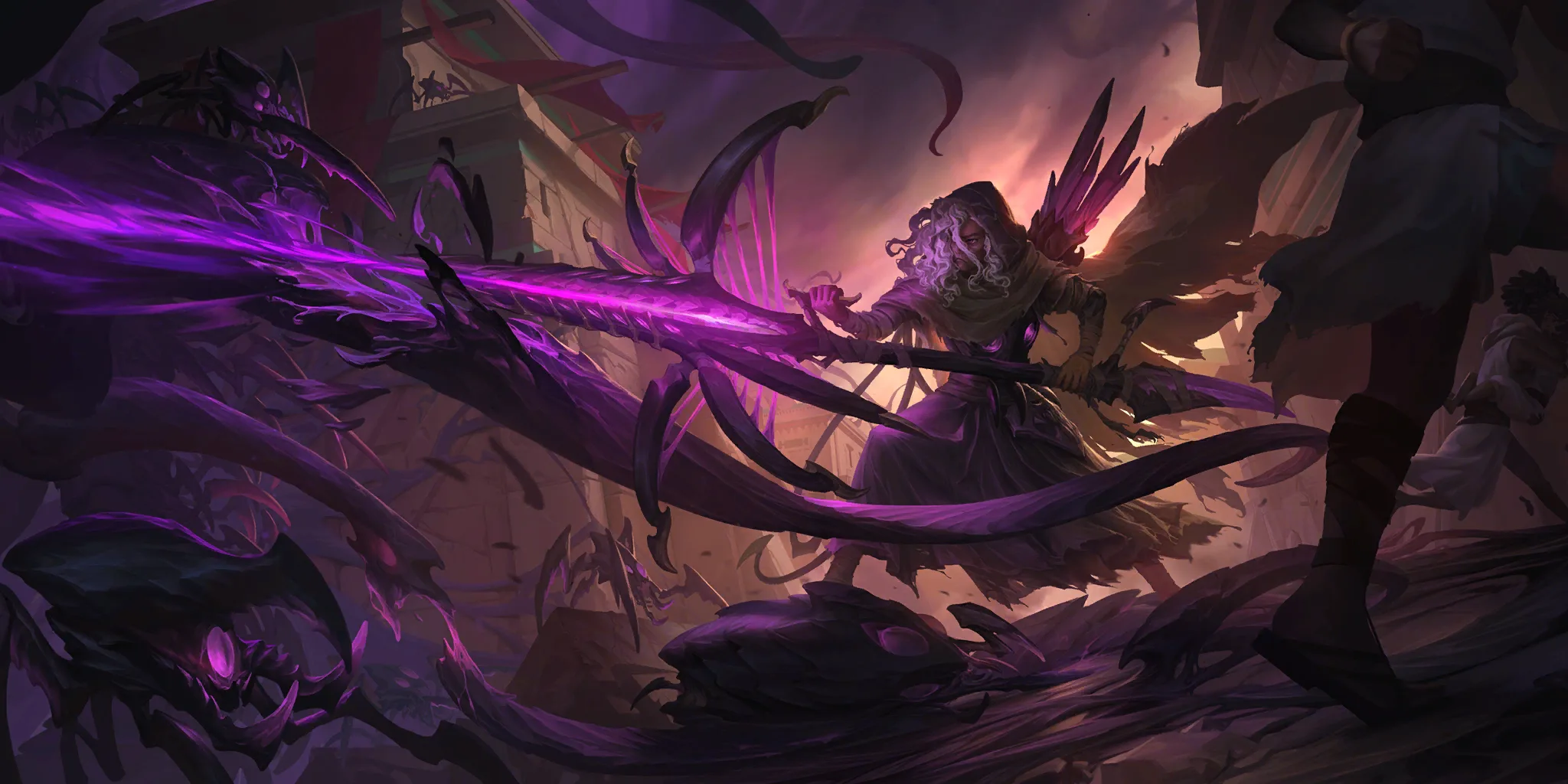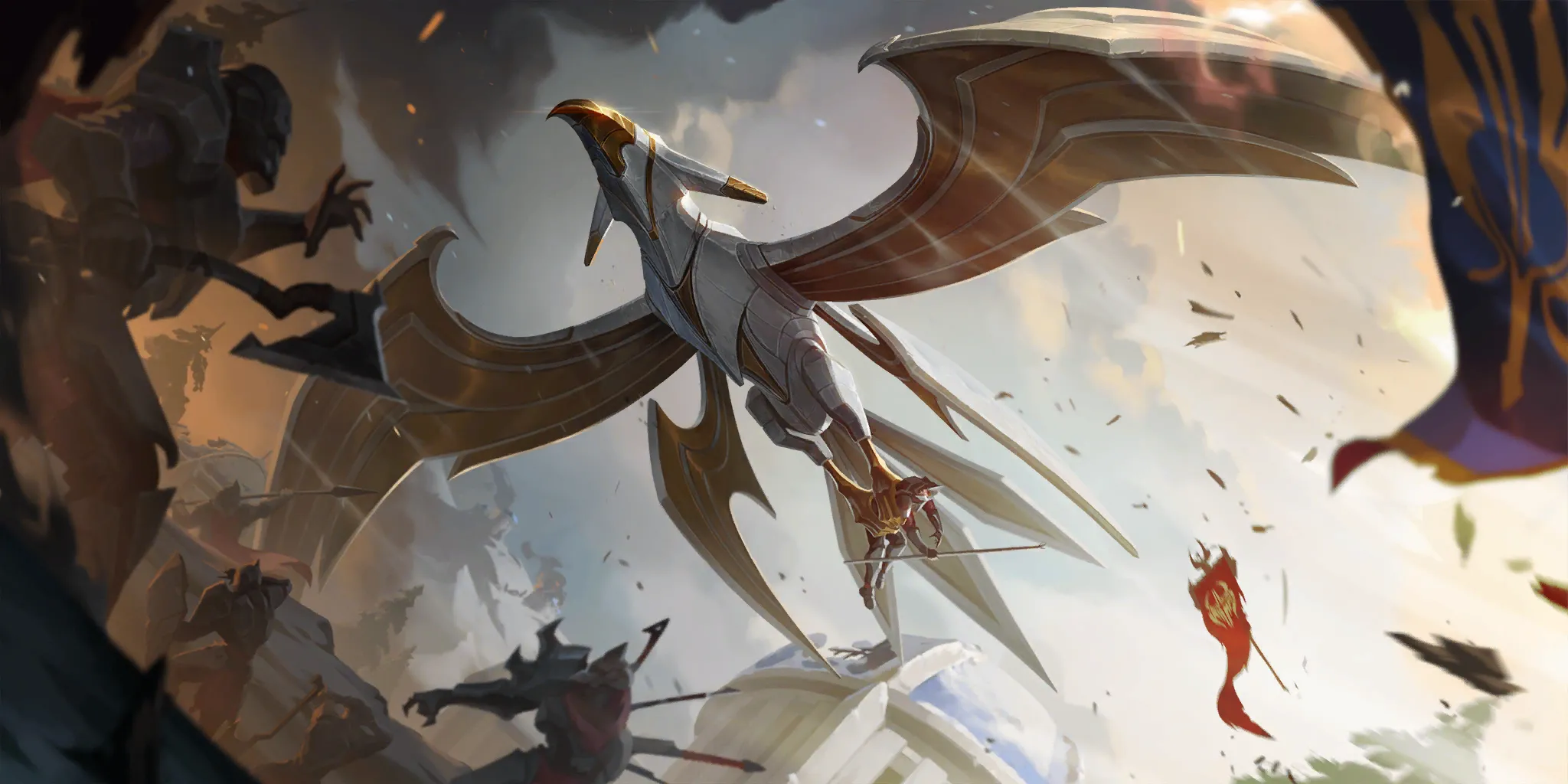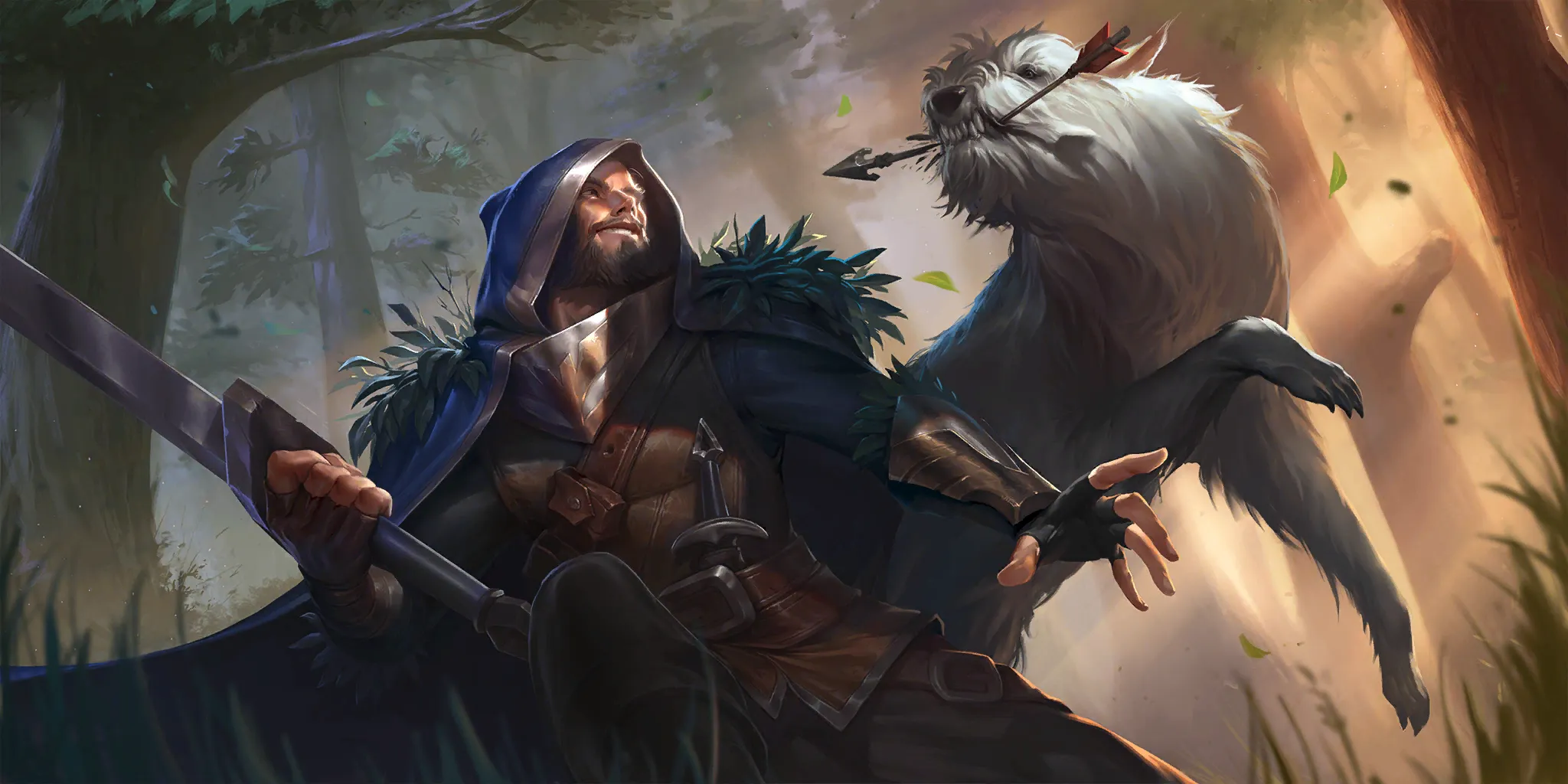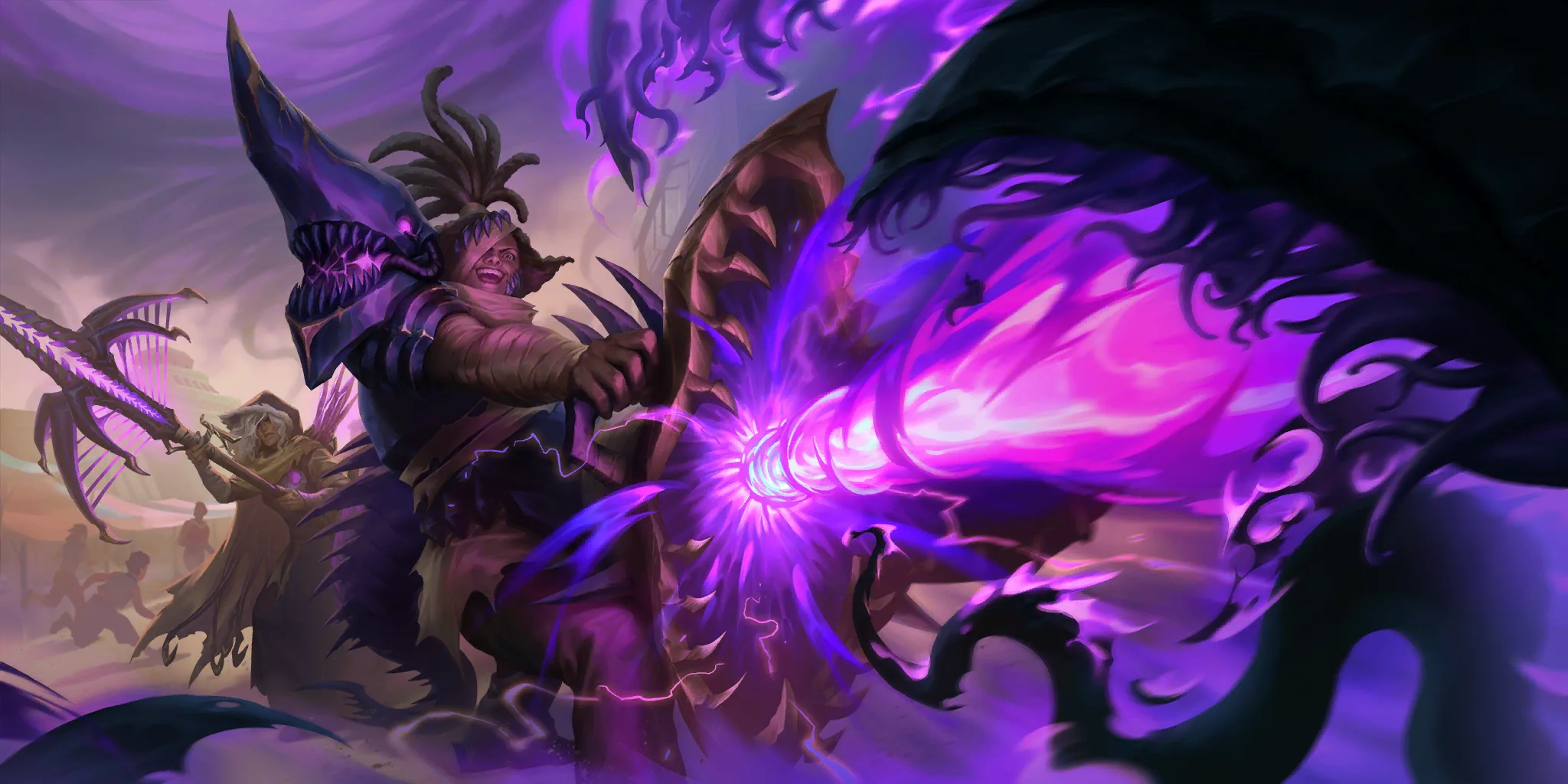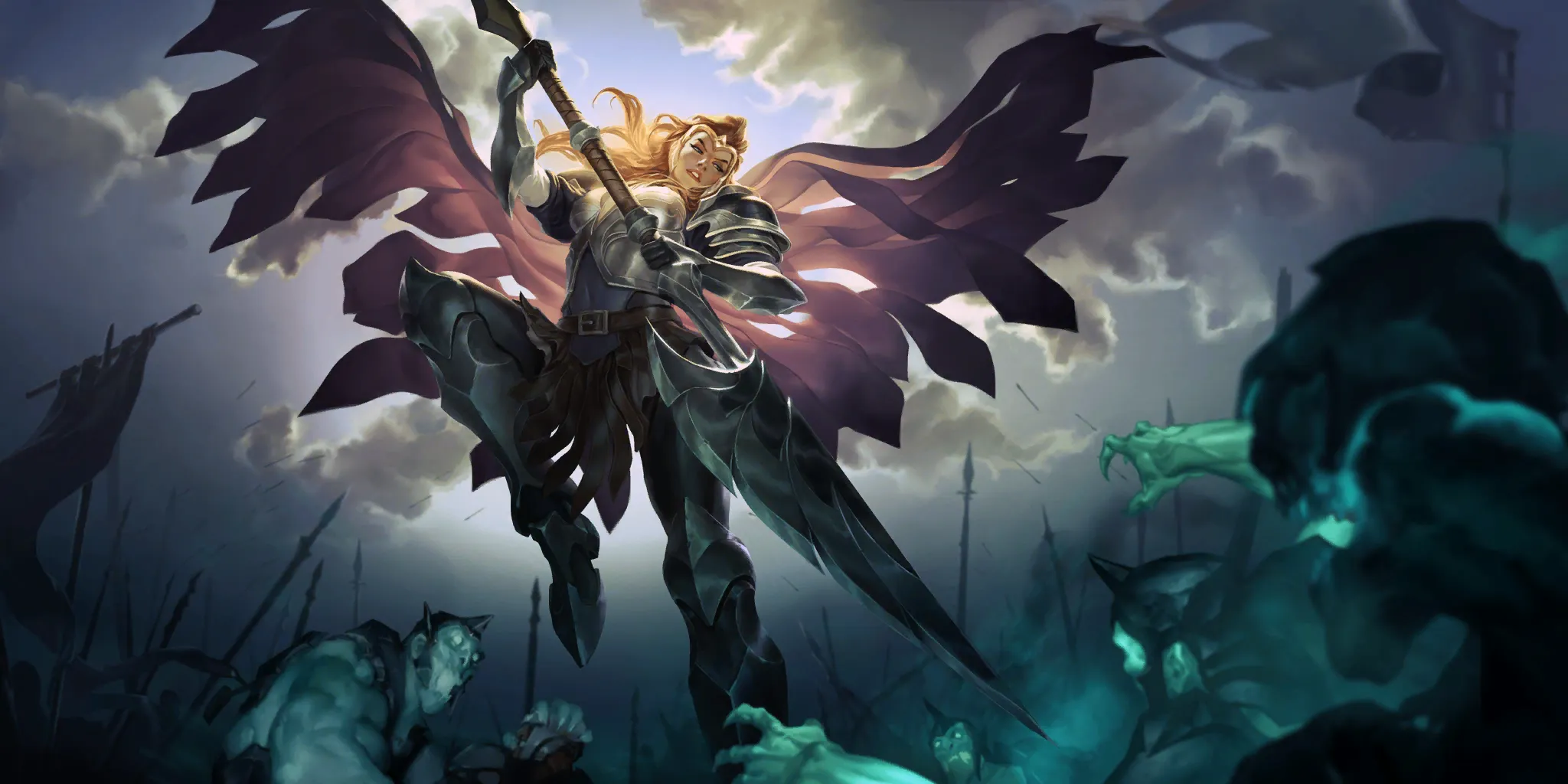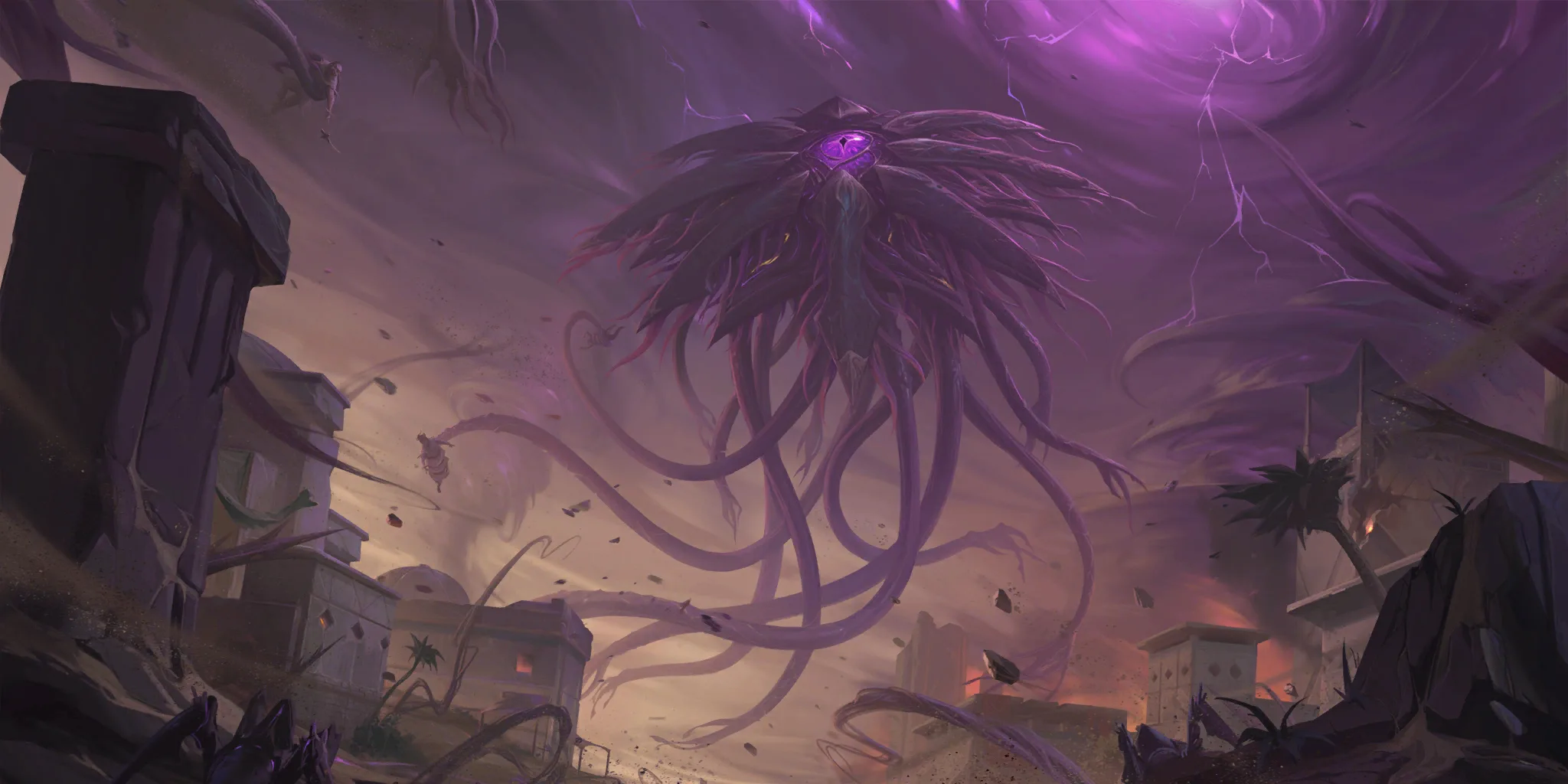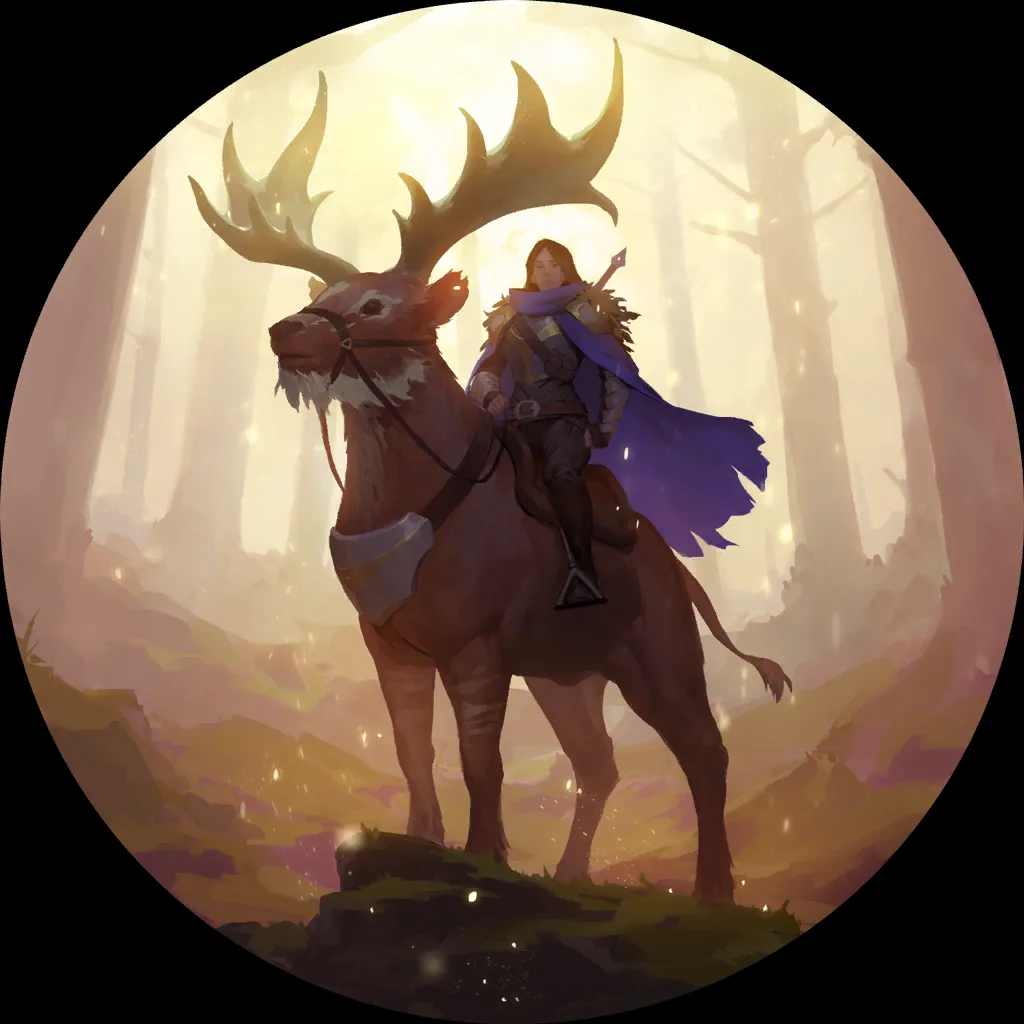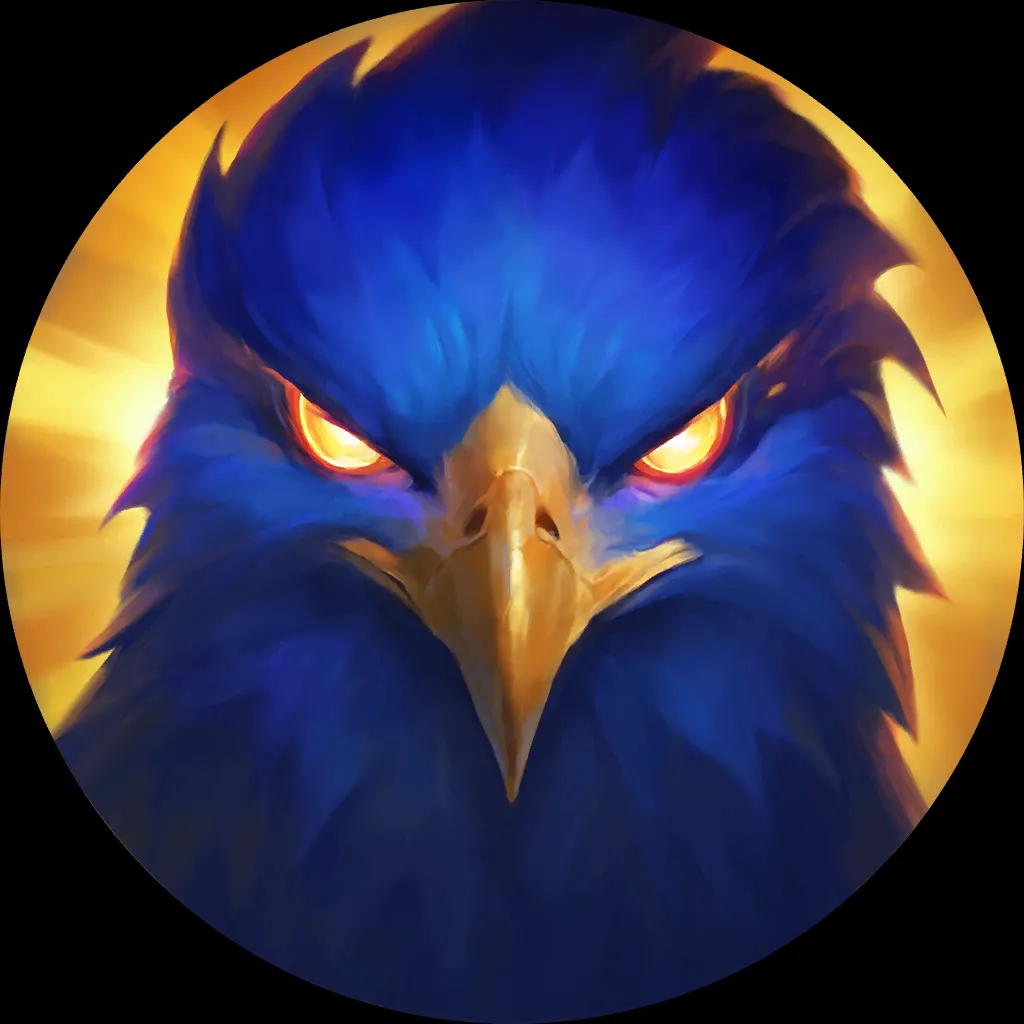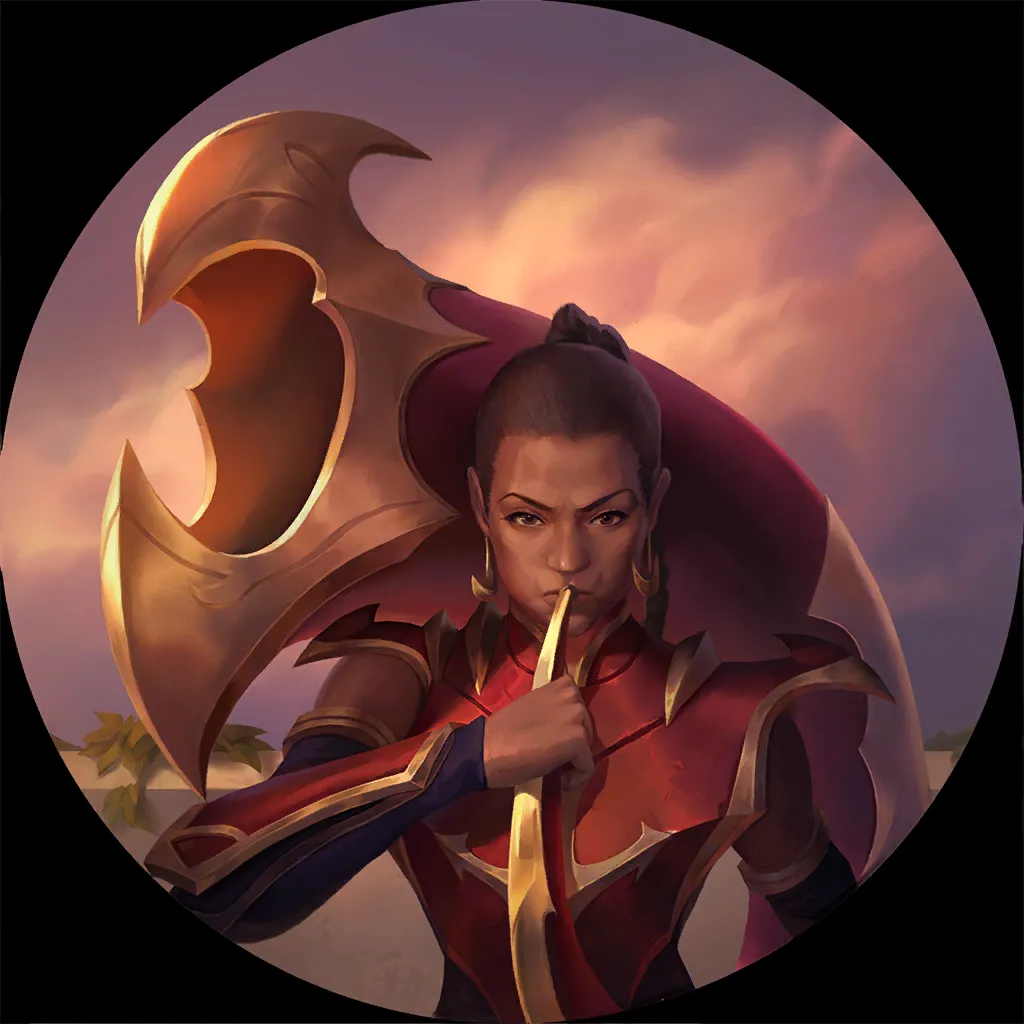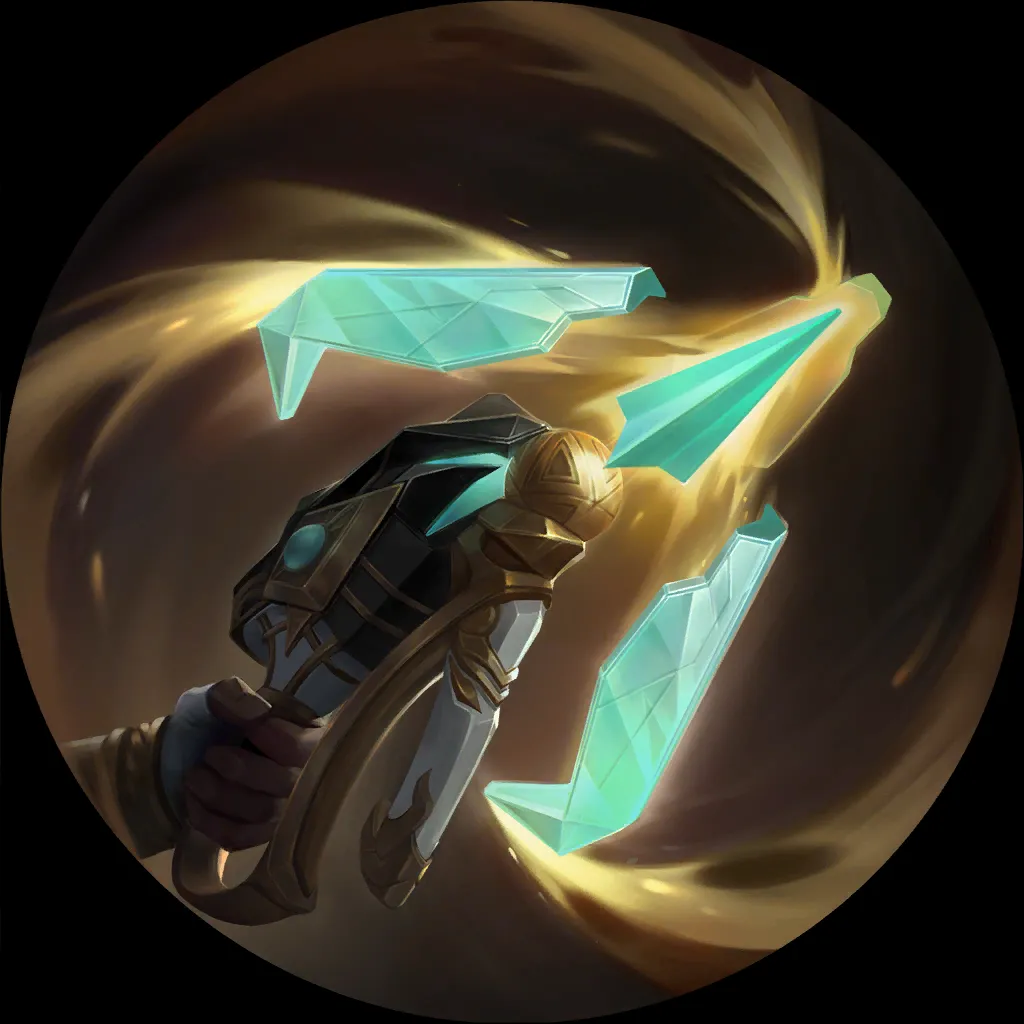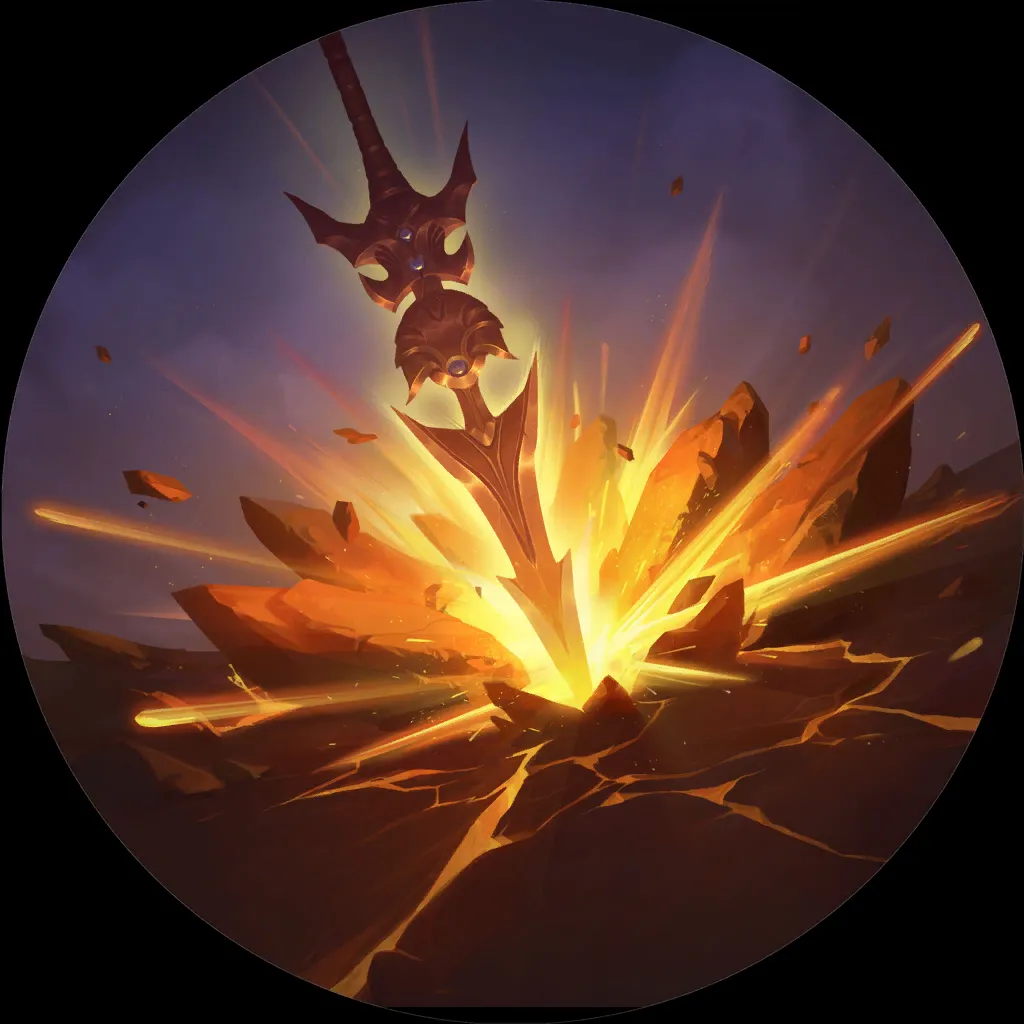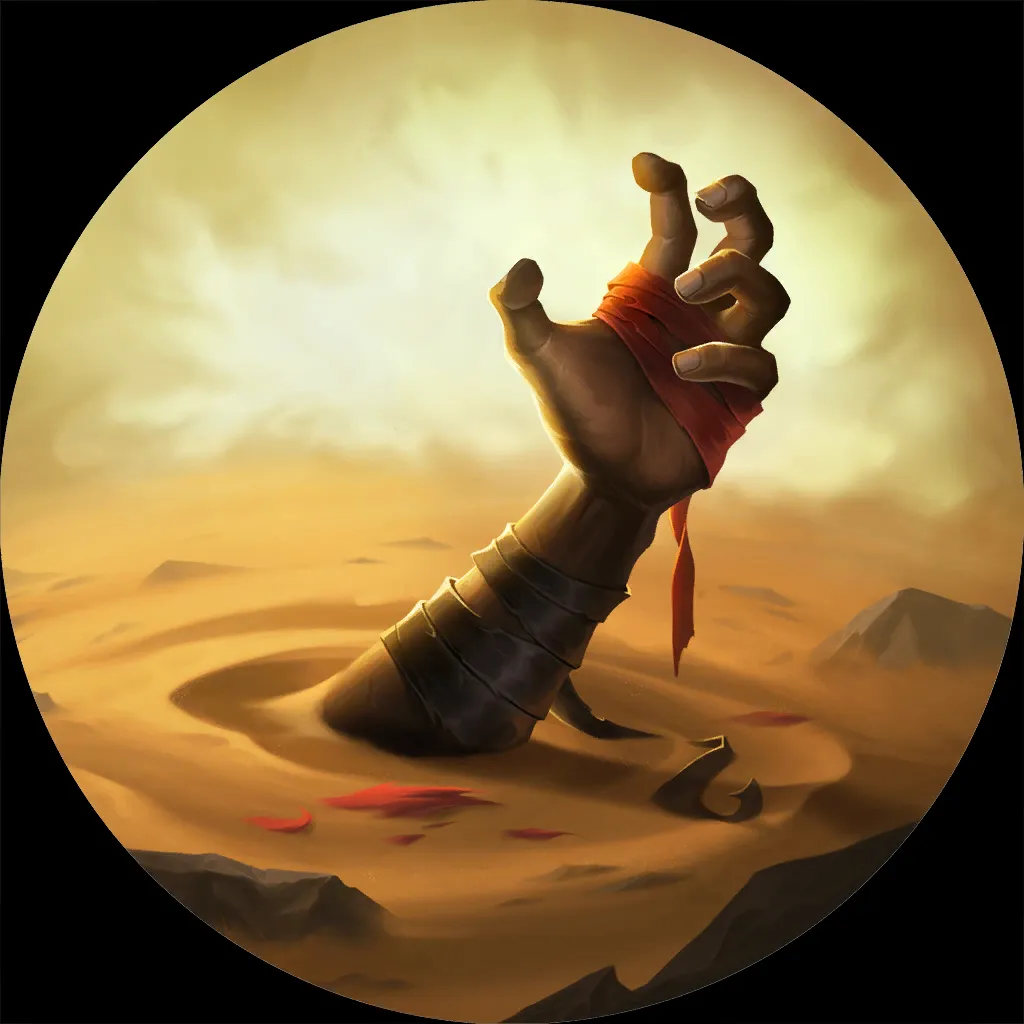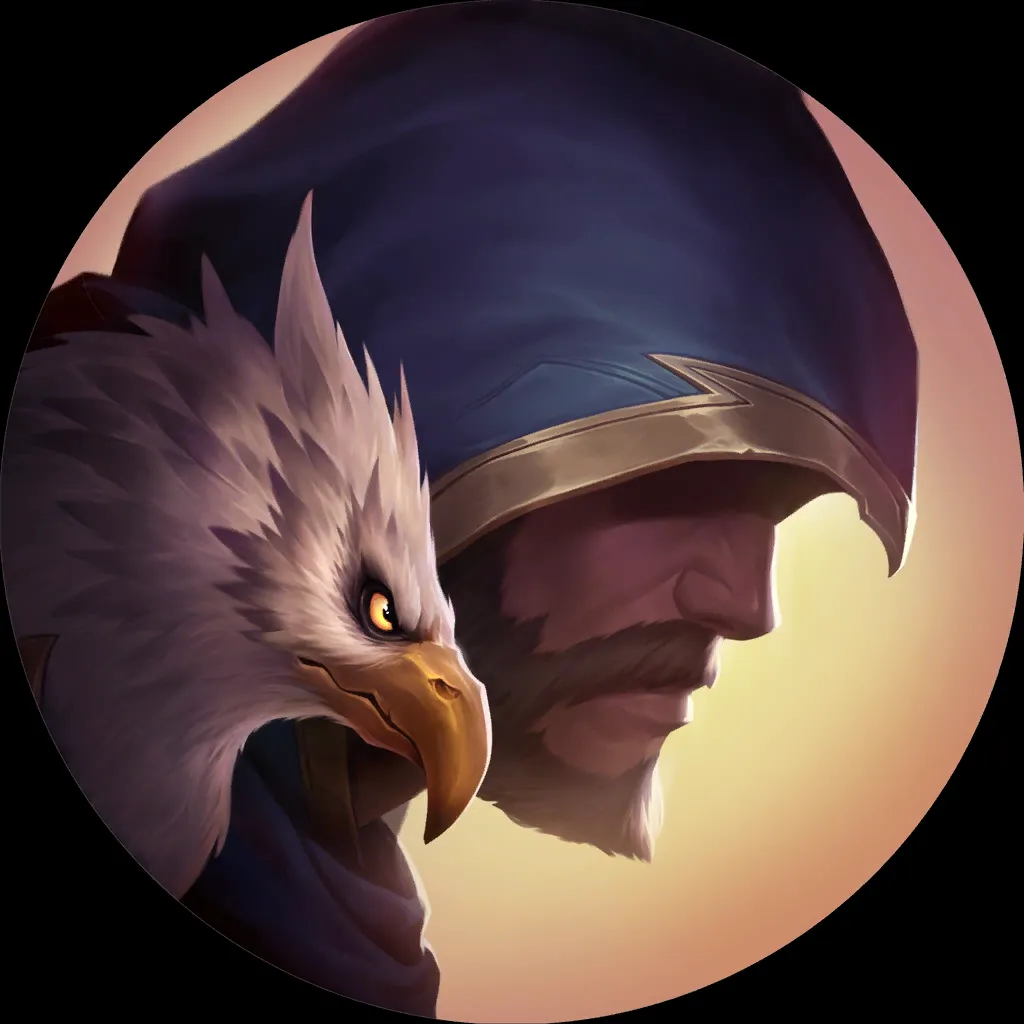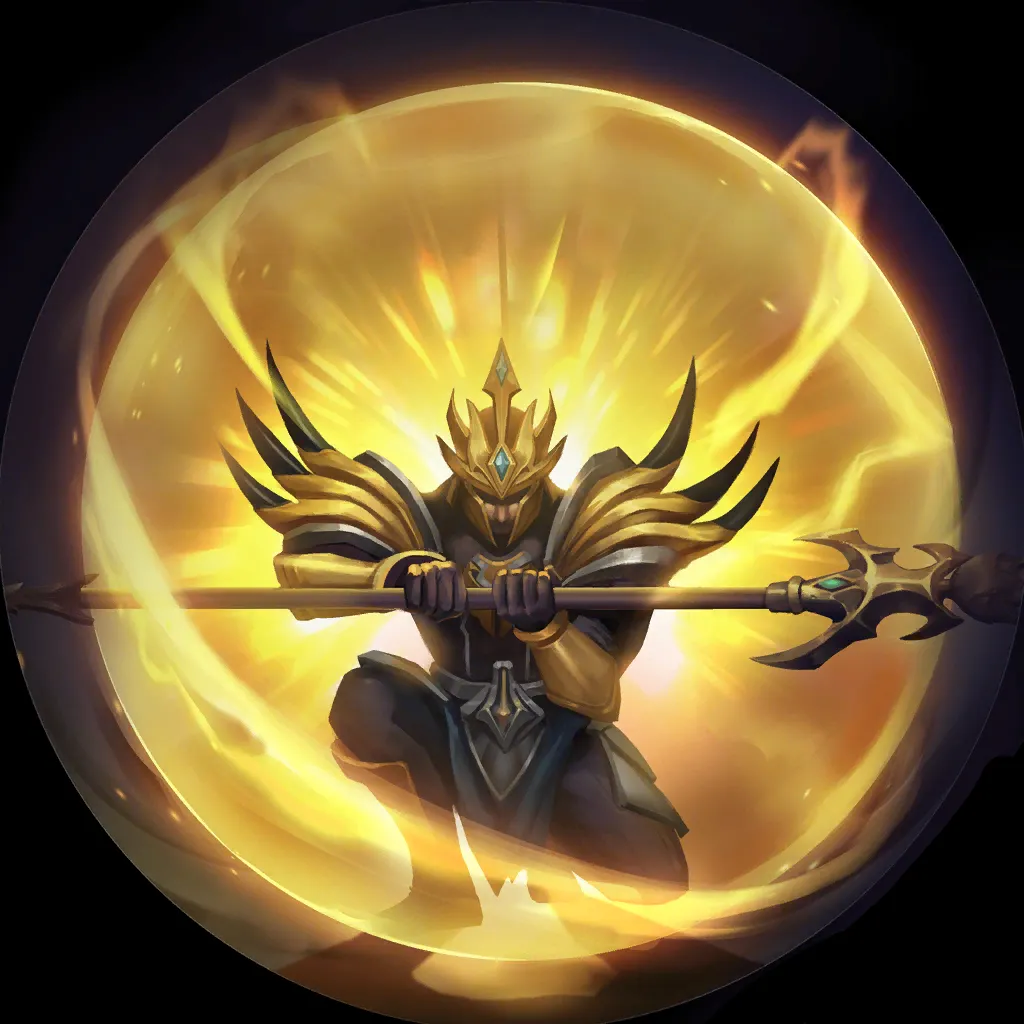 Mulligans: Similar to Mono Kai'Sa
but keep Sivir
against control and with a good curve.
---
Finally, my personal favorite: Akshan
Kai'Sa
. While I have to admit this is the weakest of the decks, this is my personal favorite in terms of play pattern.
This deck has a lot of grind and goes the latest of all three variations. Playing through Warlord's Hoard
means that you get to look for the missing combo piece with the Predict option. If the game goes late you can reload with draw, or revive a Kai'Sa
. And you are also able to consistently Predict to draw into Abomination in the late game.
So why is this deck considered the worst of all three? Because it is the least consistent deck at Evolving, and going off on round five – Akshan
's keyword is Quick Attack (the same as Kai'Sa
), and he competes with Broadwing and other cards that can turbo-trigger Evolve.
Gameplan: You are looking to stay in the game and win off a big Void Abomination
most likely. Play and Predict to get the missing keywords into the pool, to ensure your Abomination comes down with Scout, Lifesteal, Elusive, Spellshield etc. You also sometimes do the Kai'Sa
thing but a little bit slower.
Decklist from WhatAmI:
6
5
10
19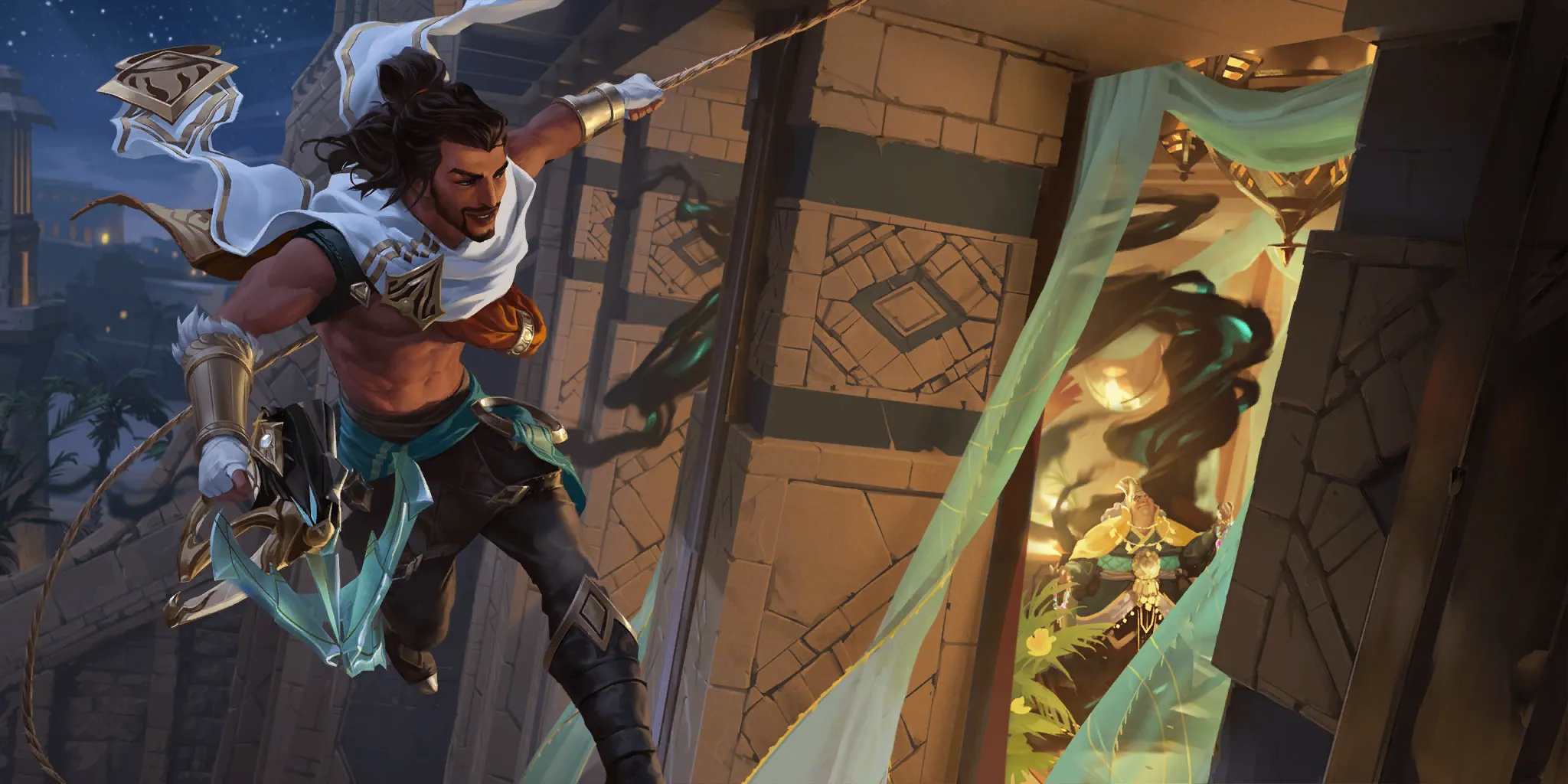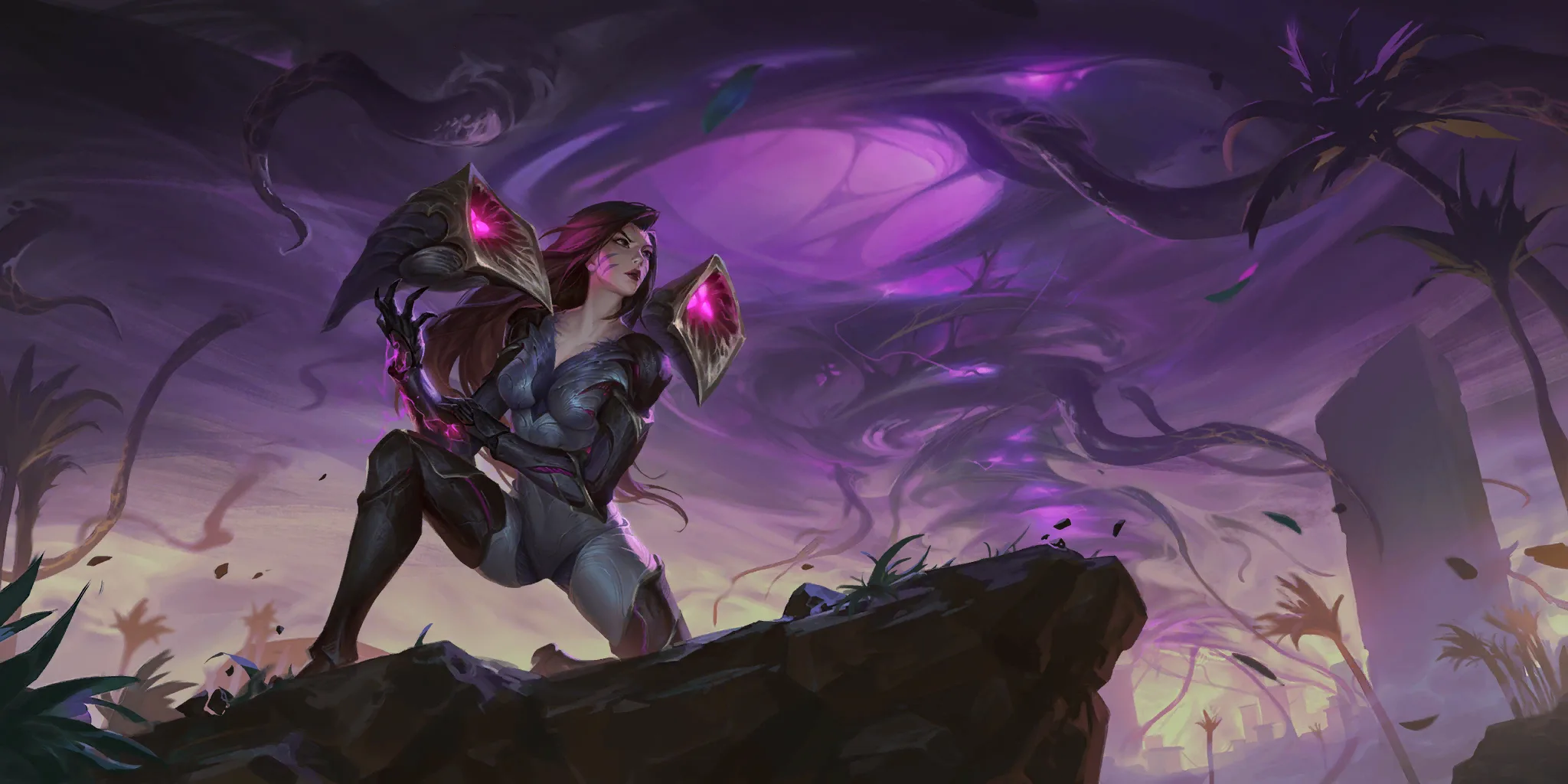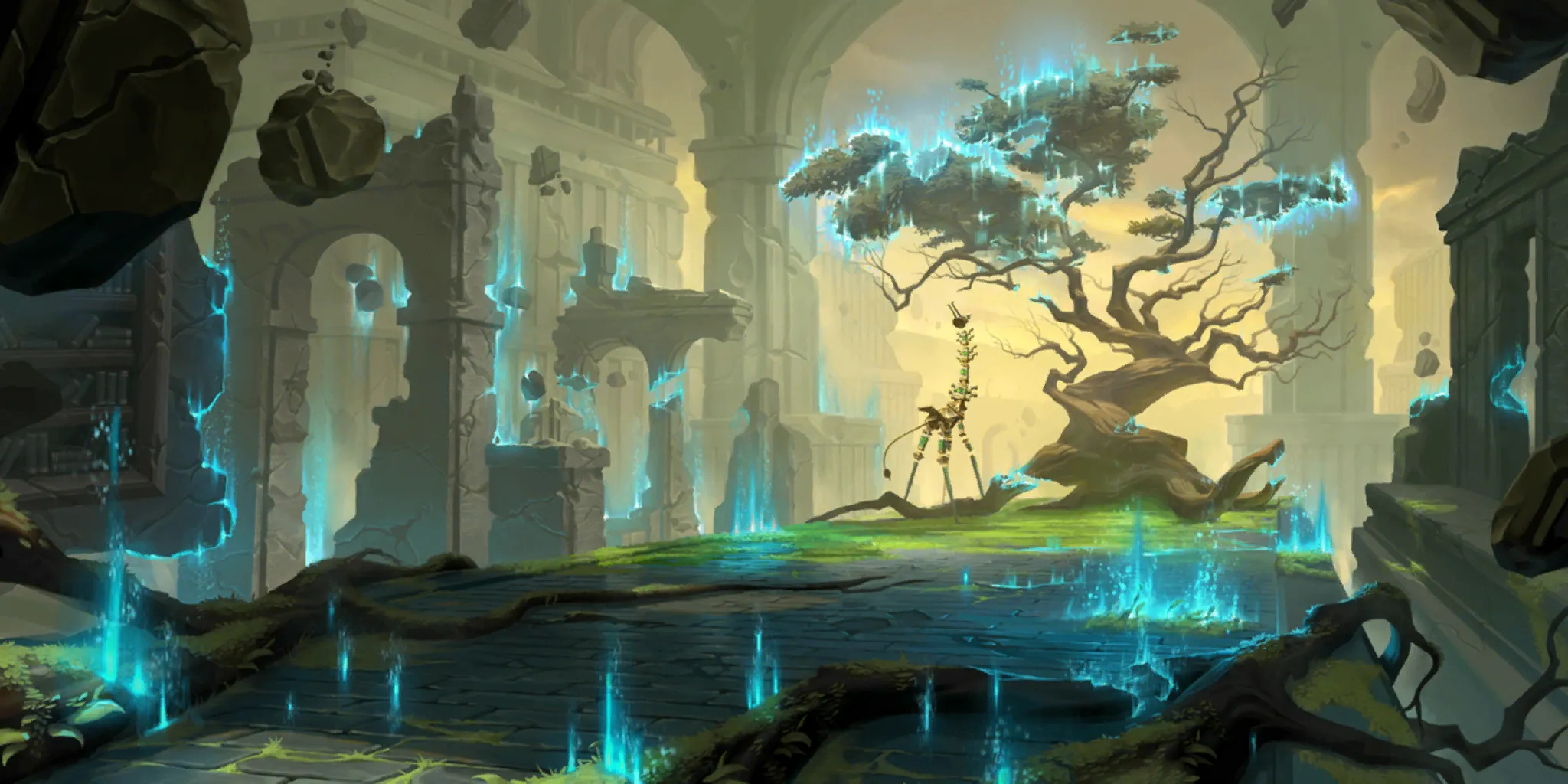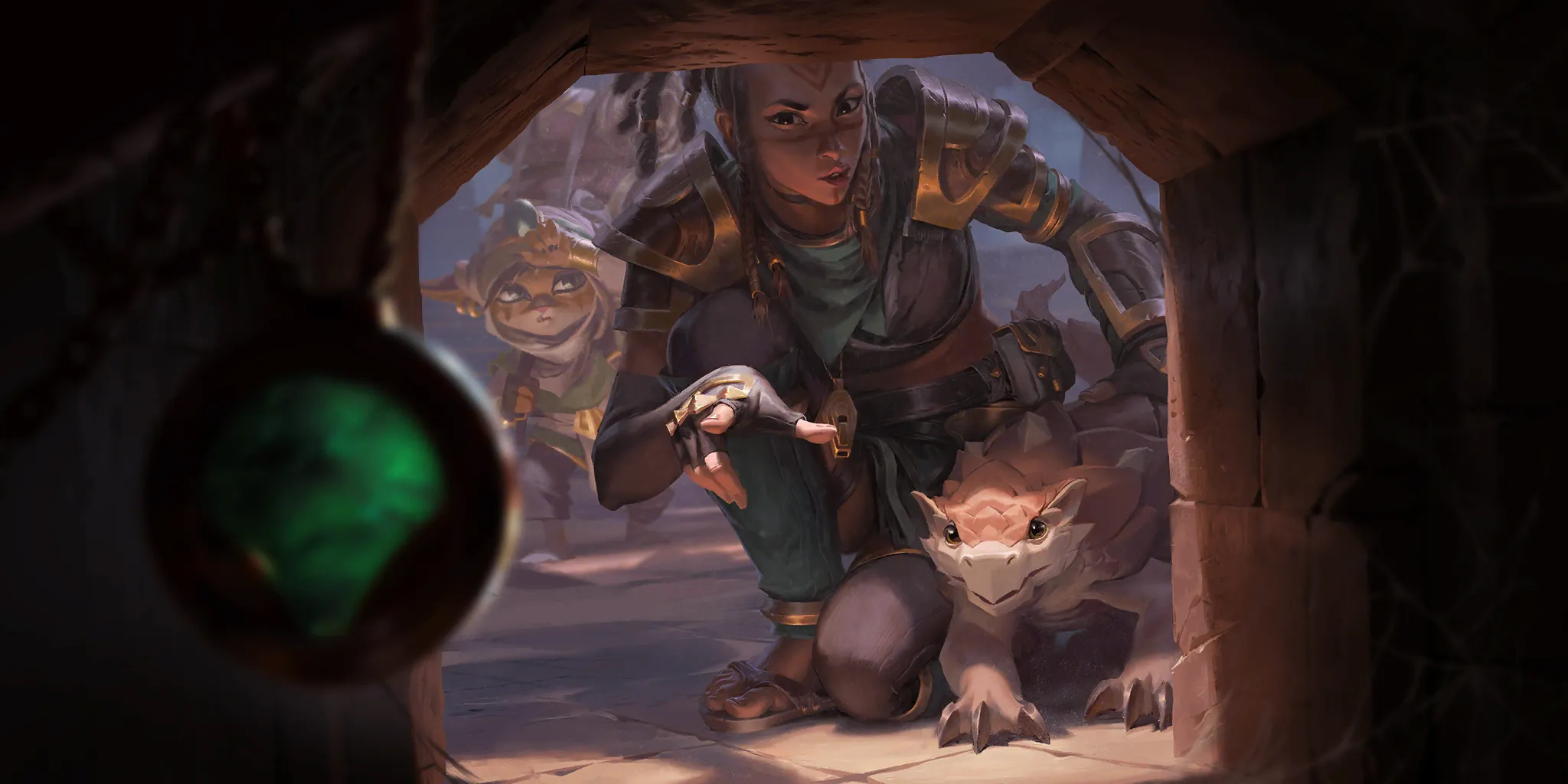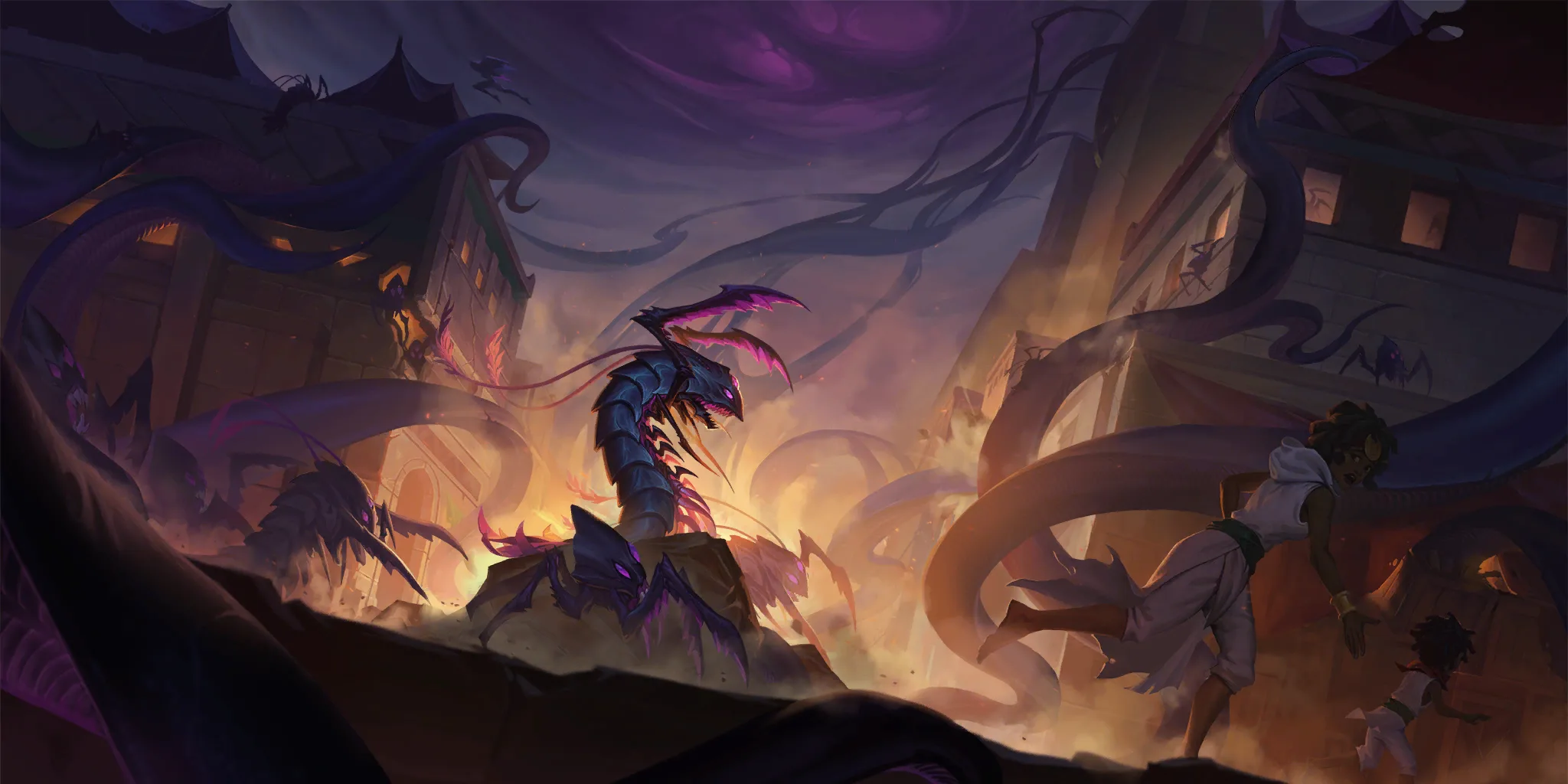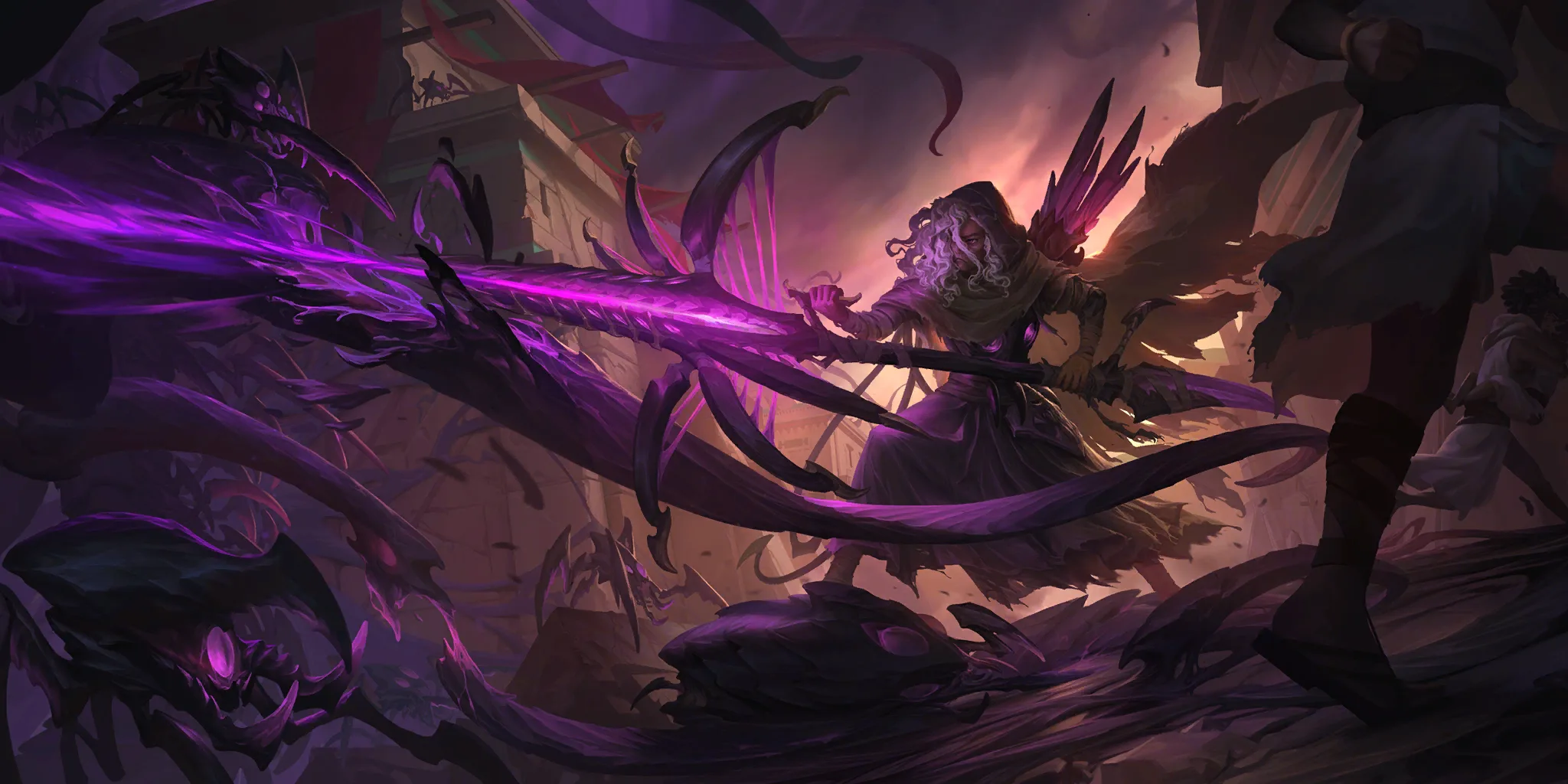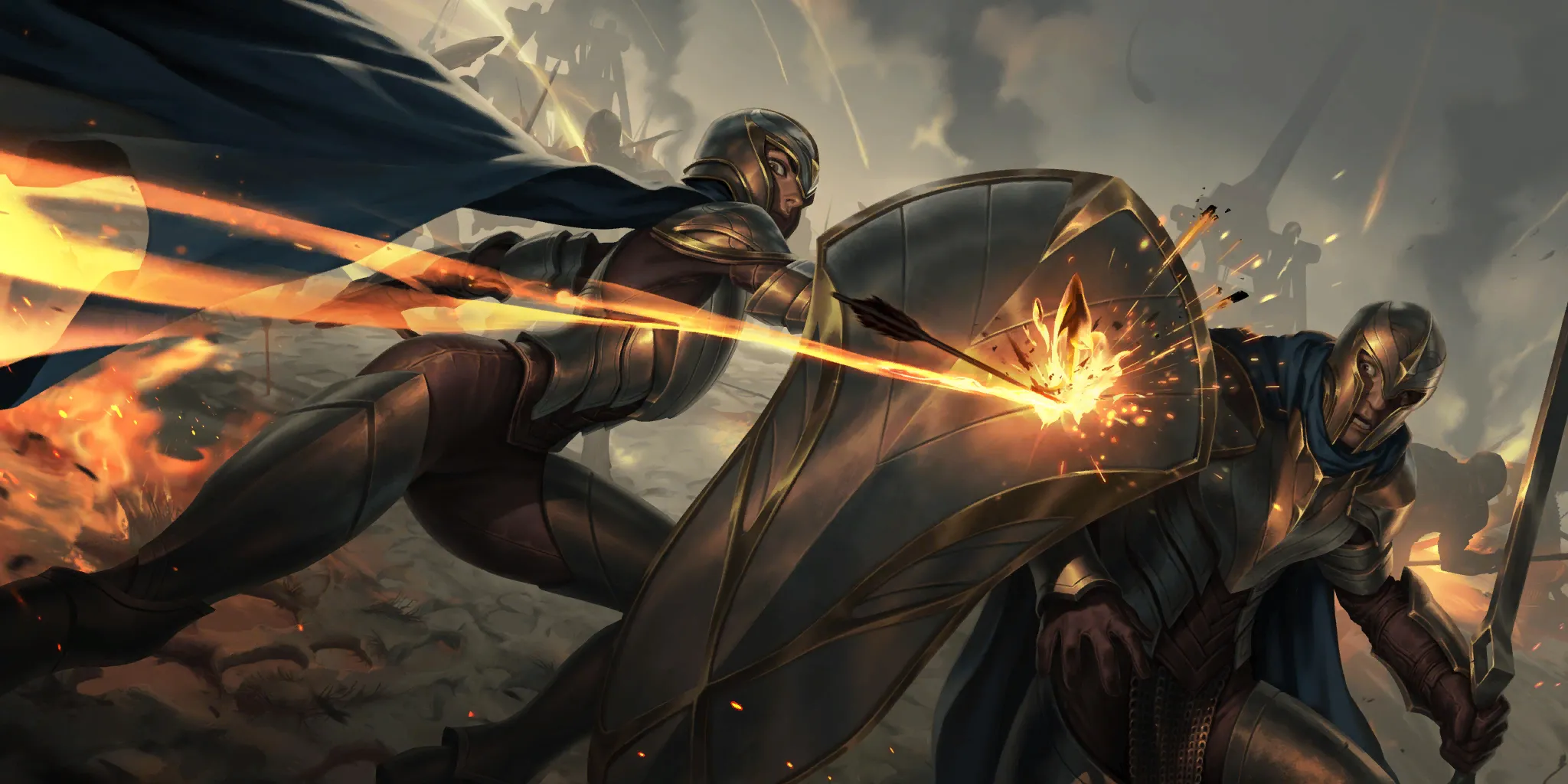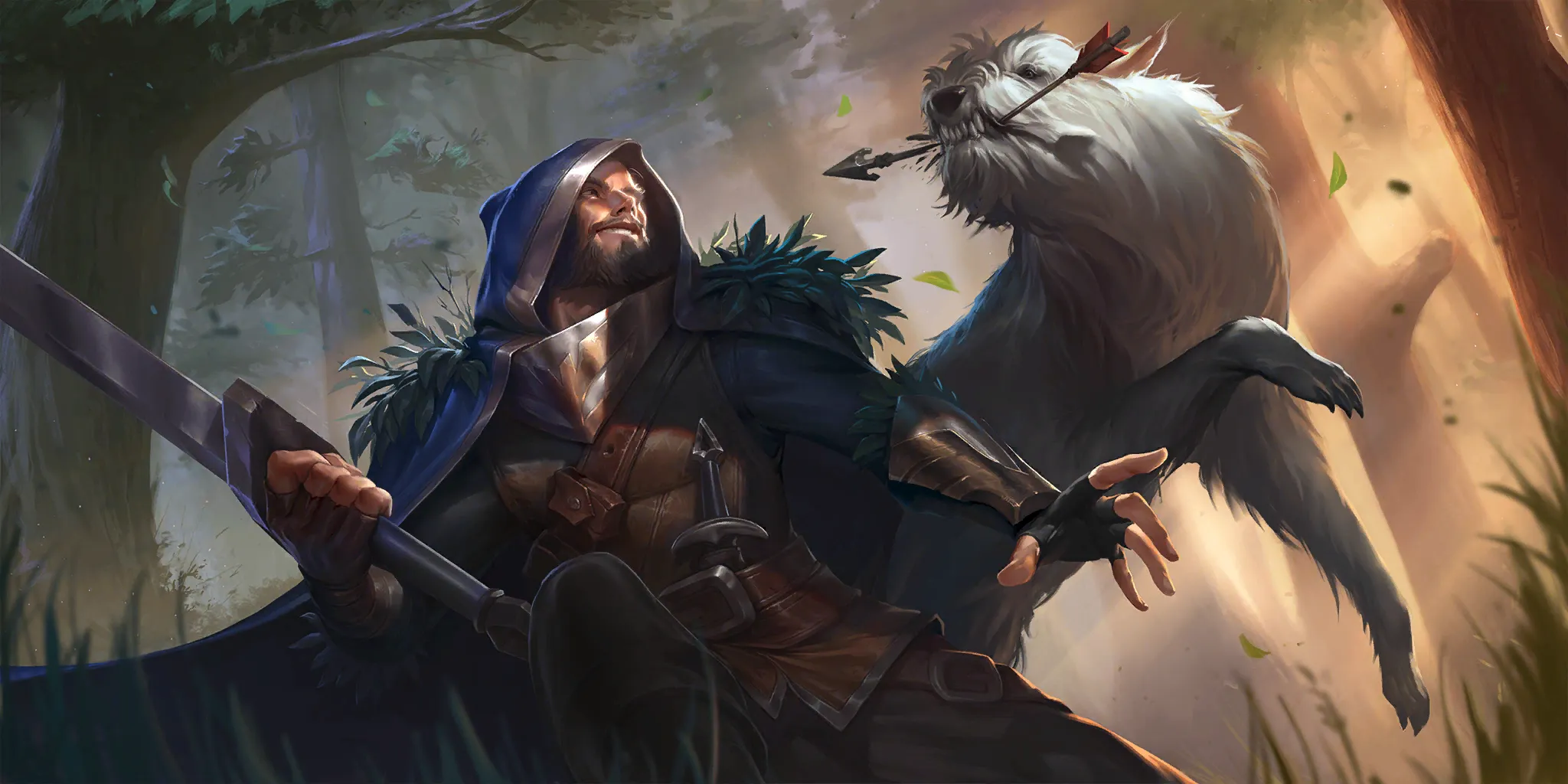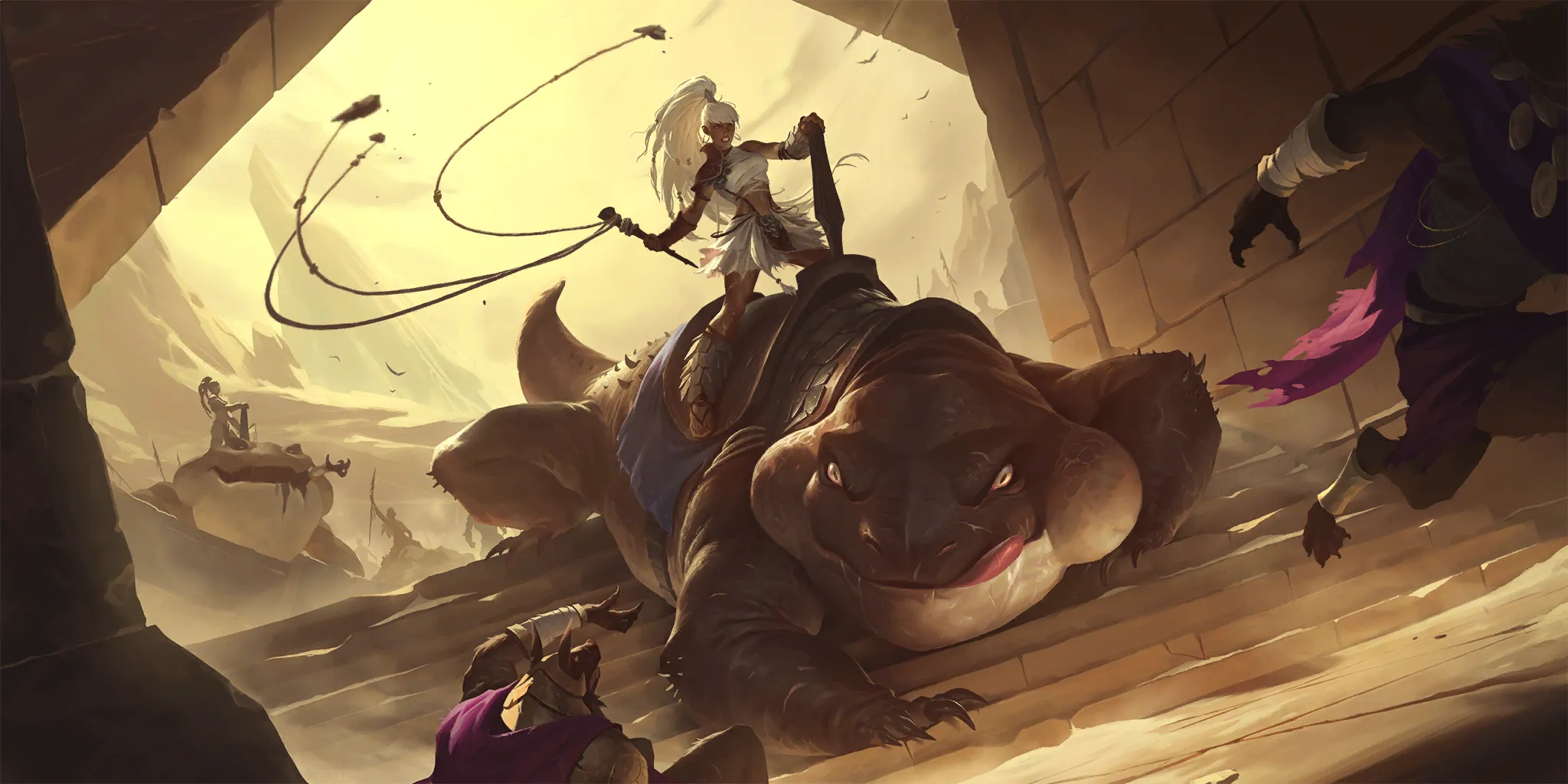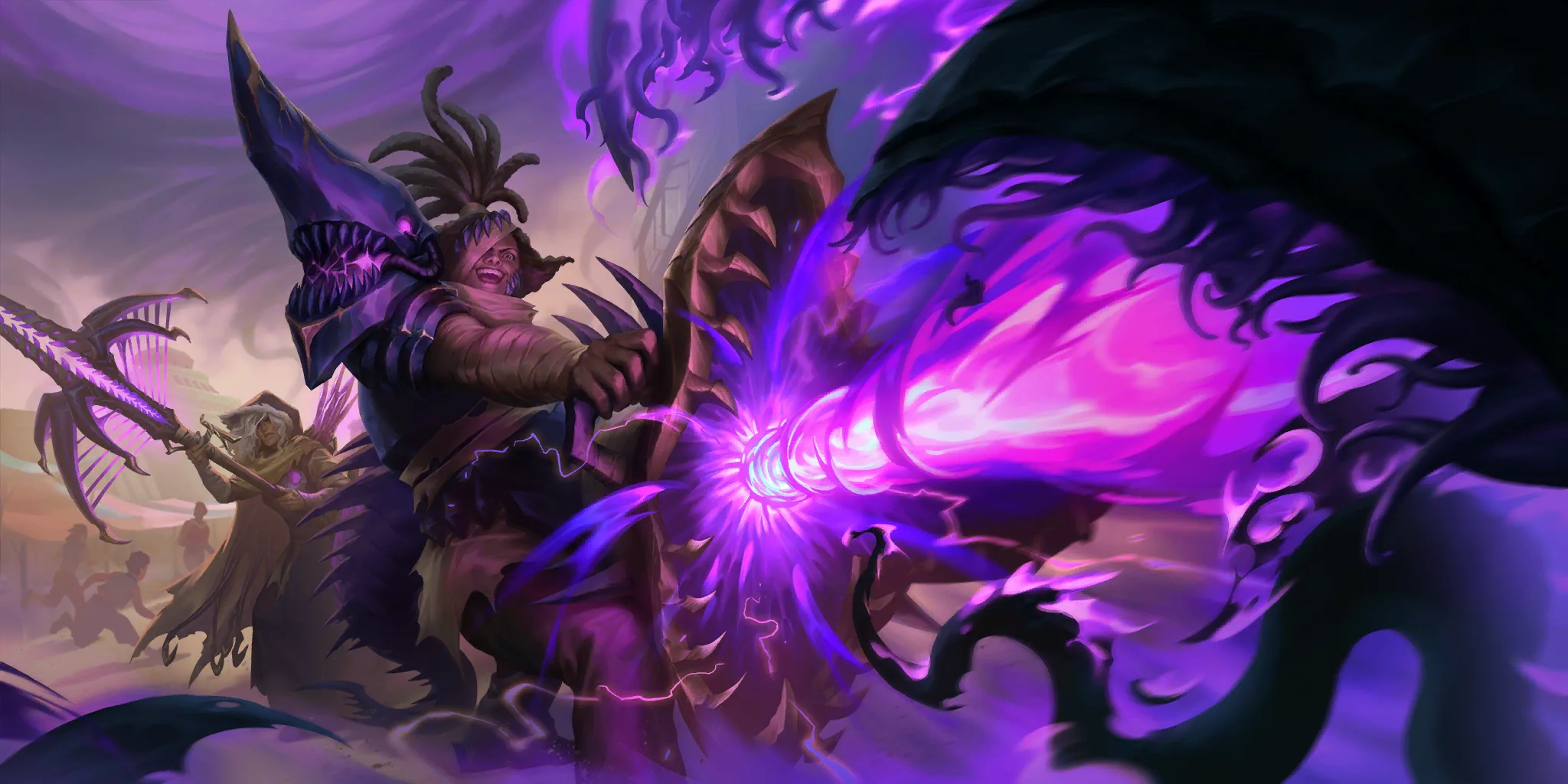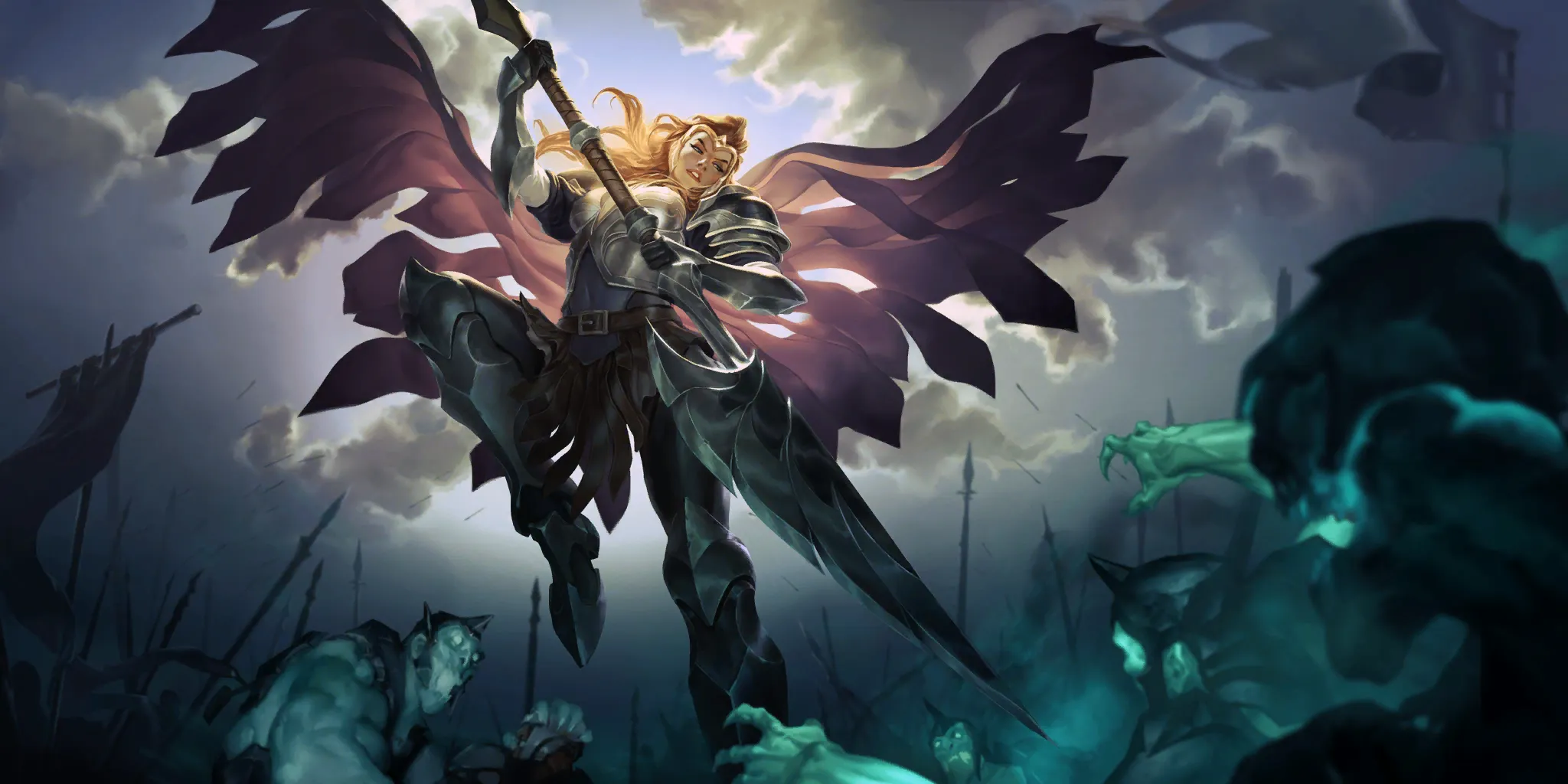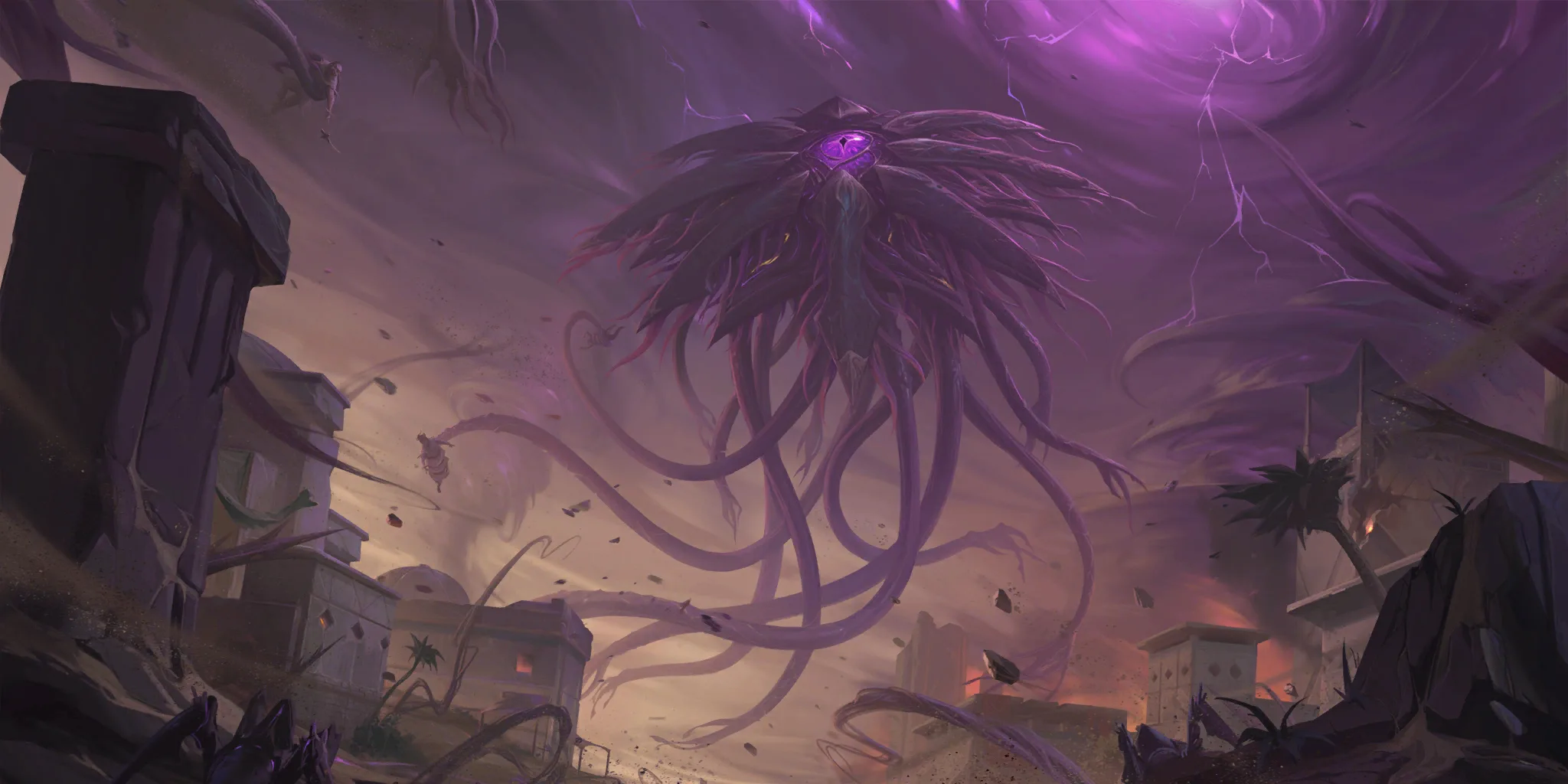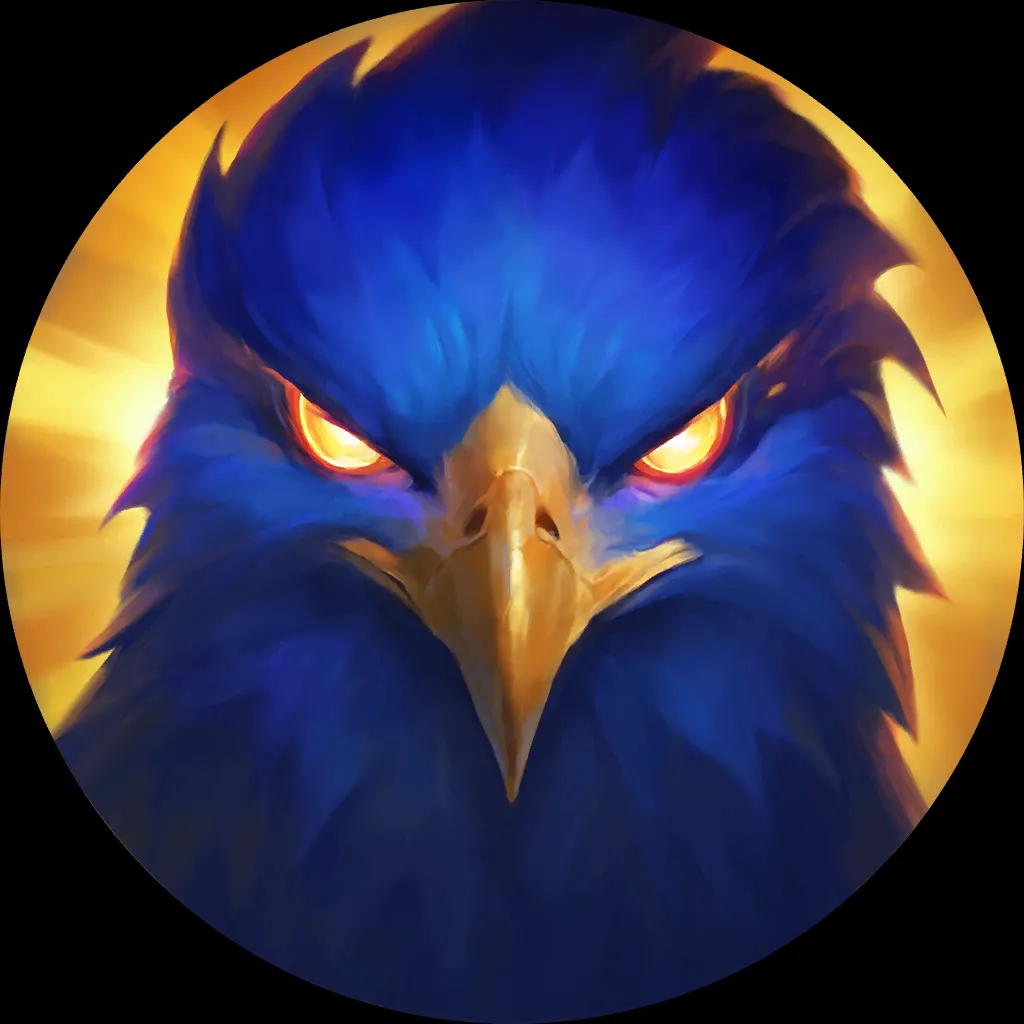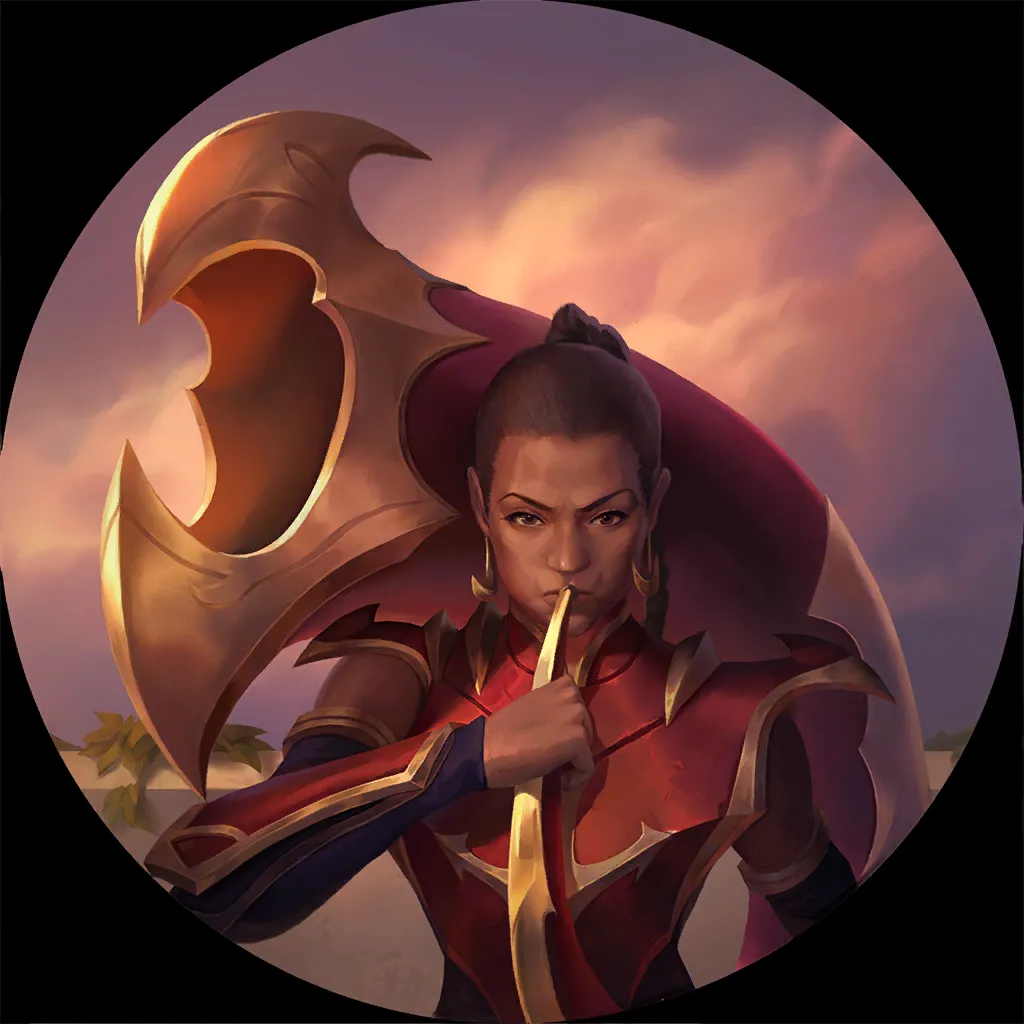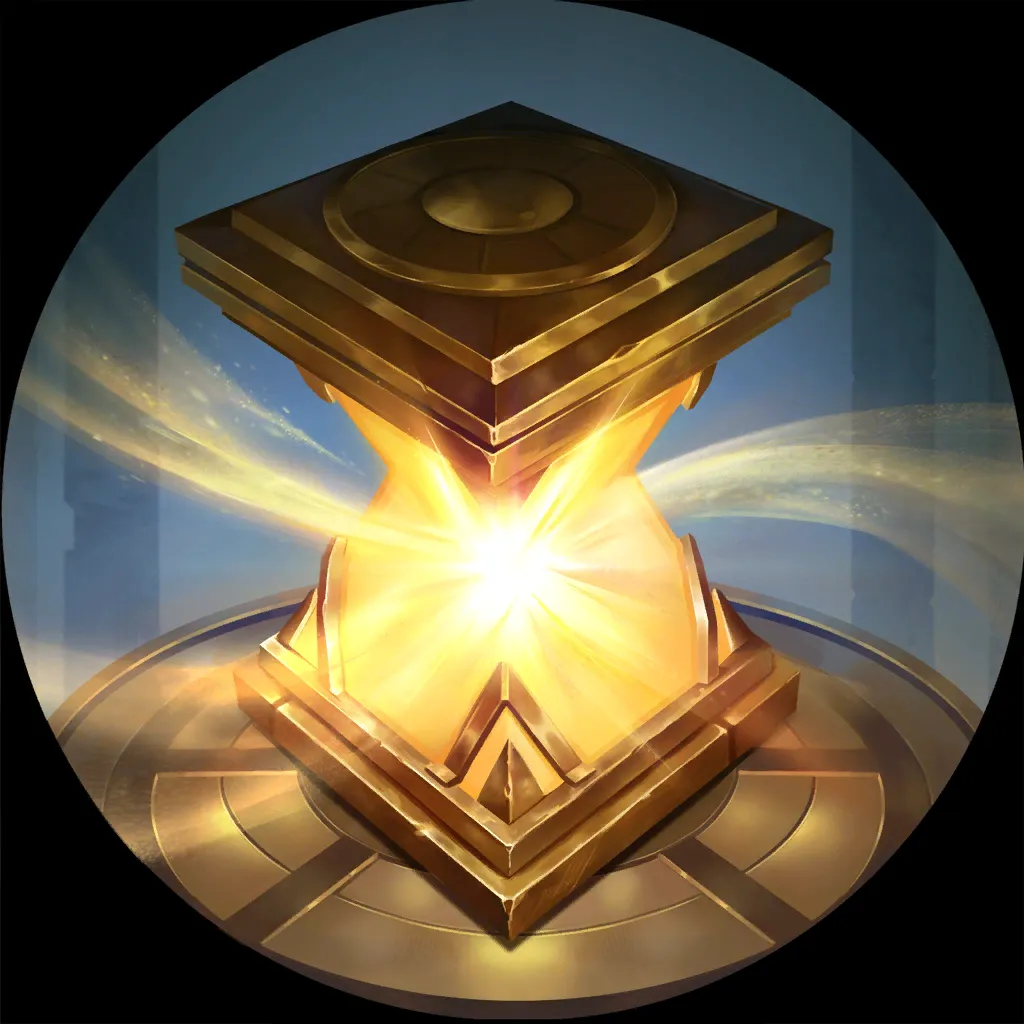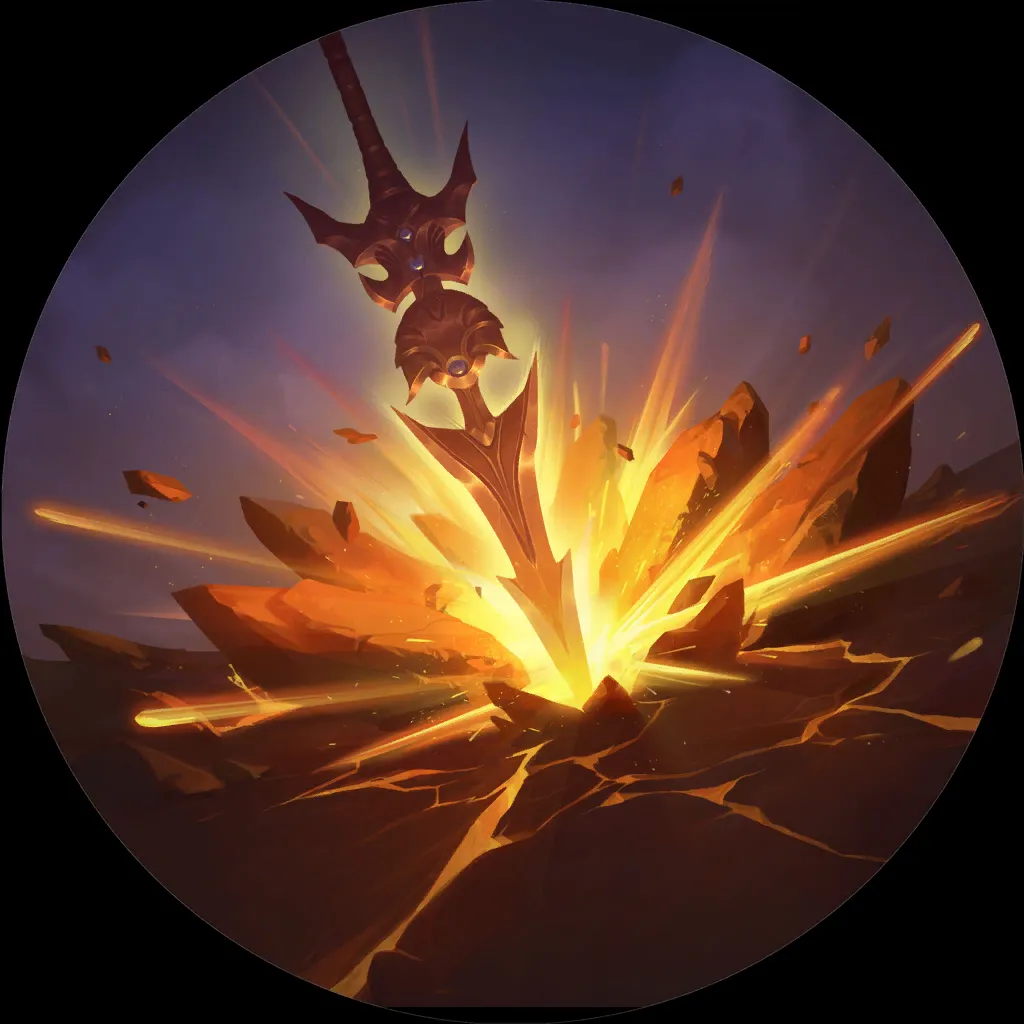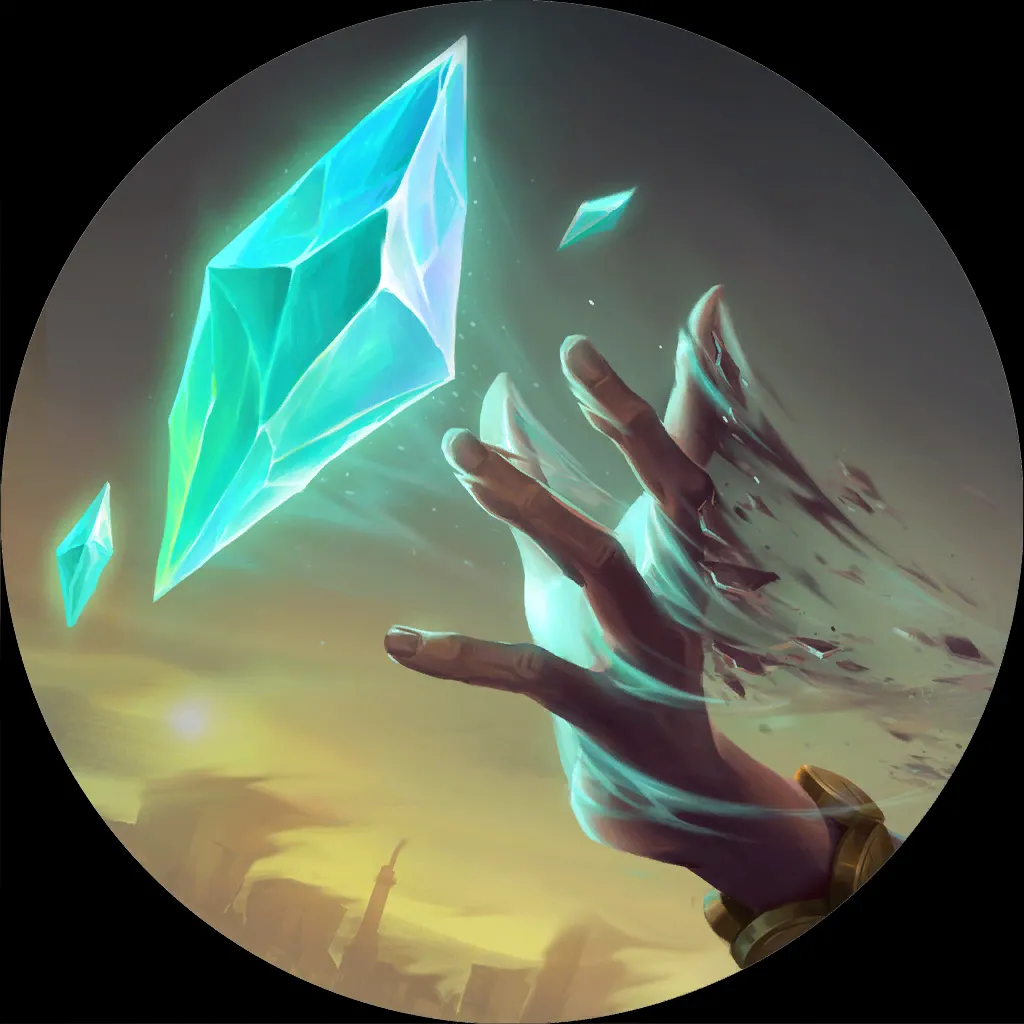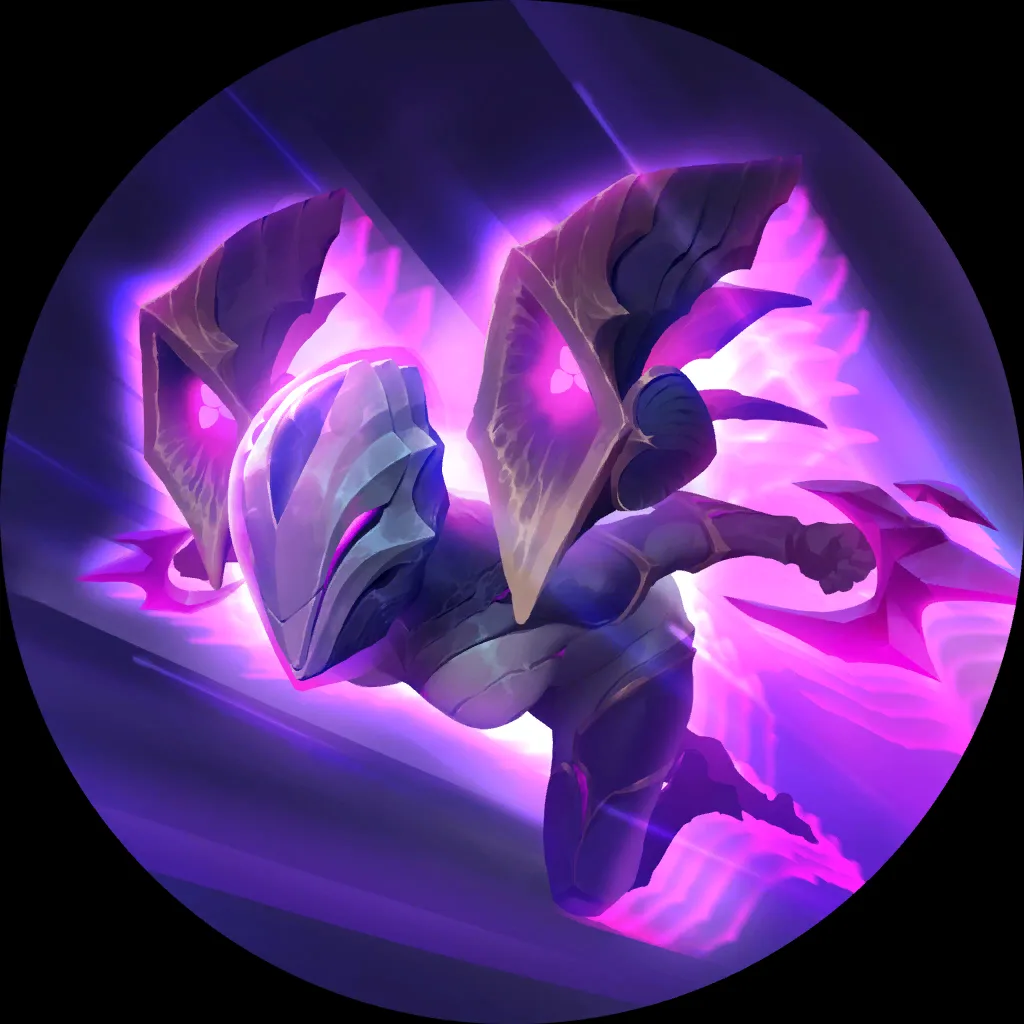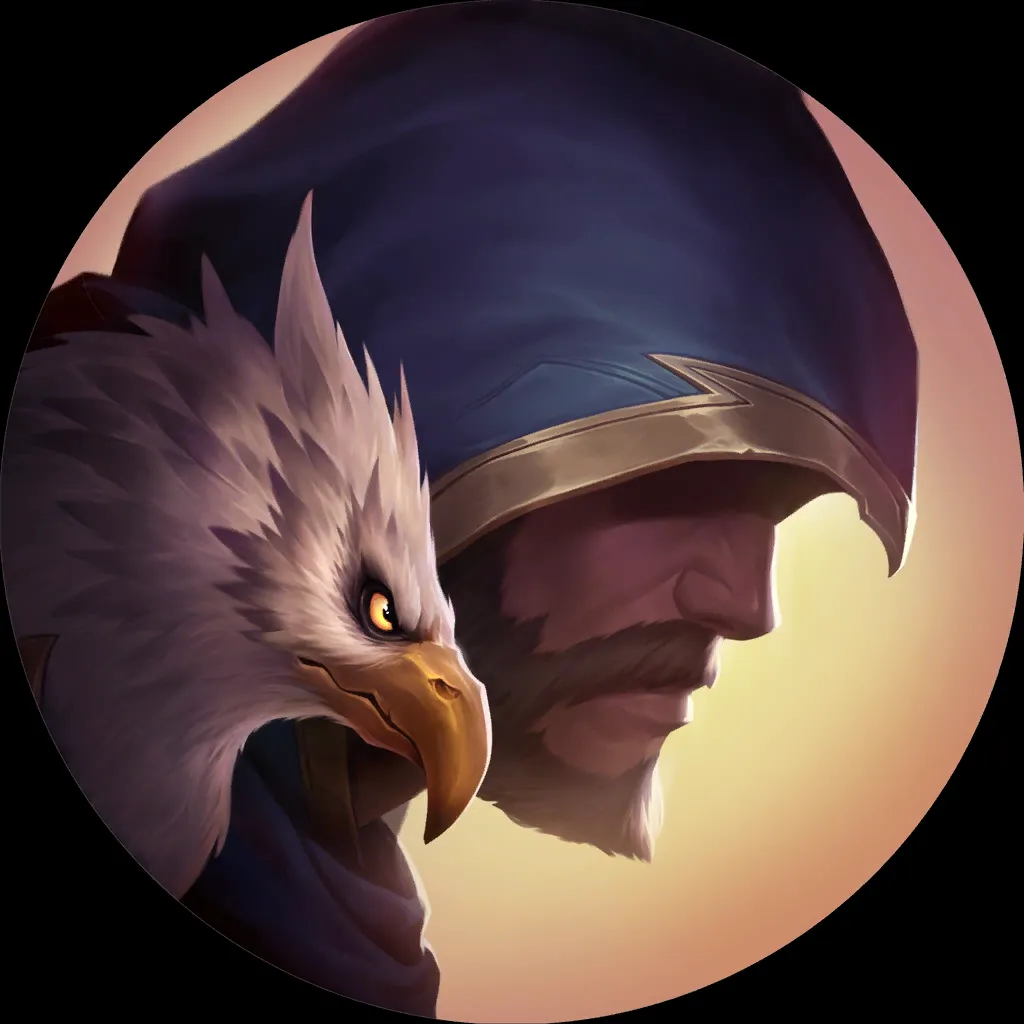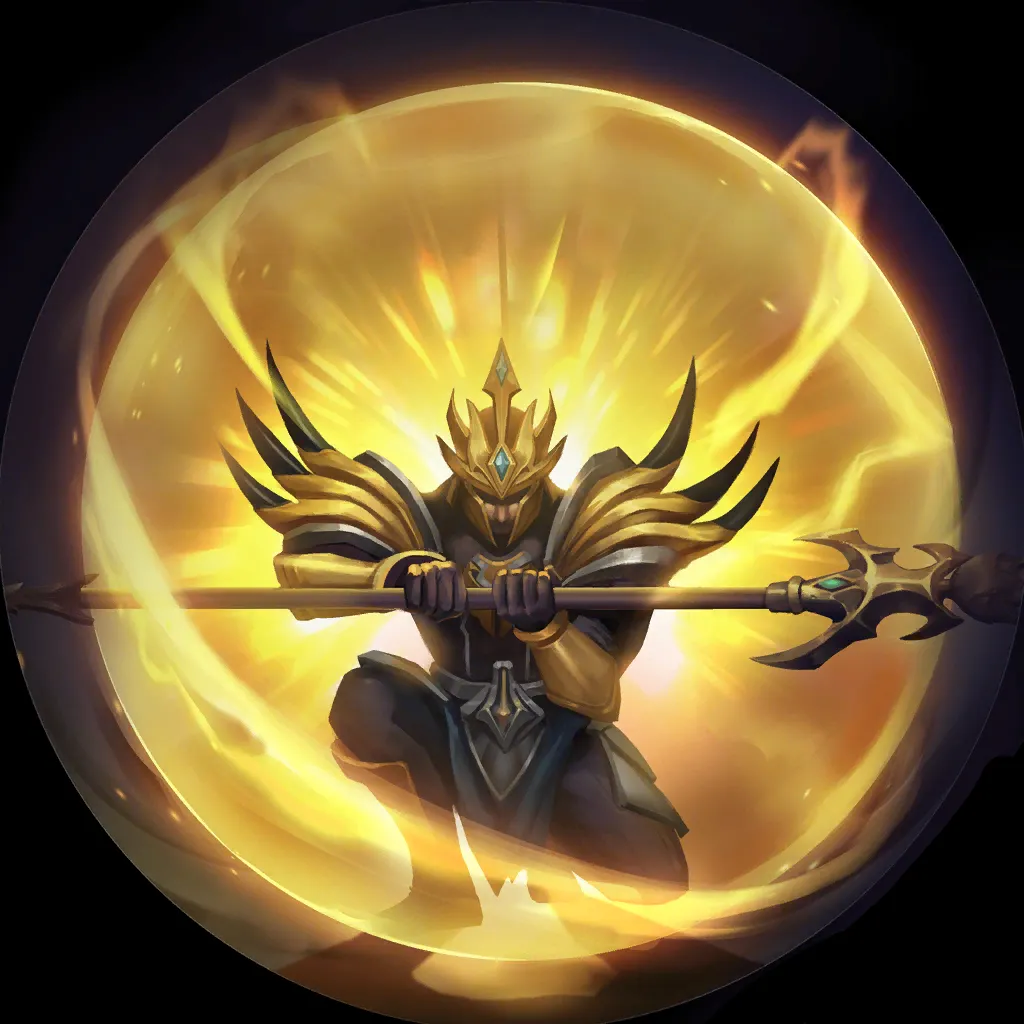 Mulligan: Similar to Mono Kai'Sa
, but auto-keep Akshan
.
---
Post-Patch Notes
Sharpsight
is being cut from most lists and Ranger's Resolve is being added instead (Most lists are running anywhere from 0-2 Sharpsights, definitely player preference). Sharpsight is still a useful protection tool, but is slightly more expensive and no longer counts as a keyword.
---
Gameplay Tips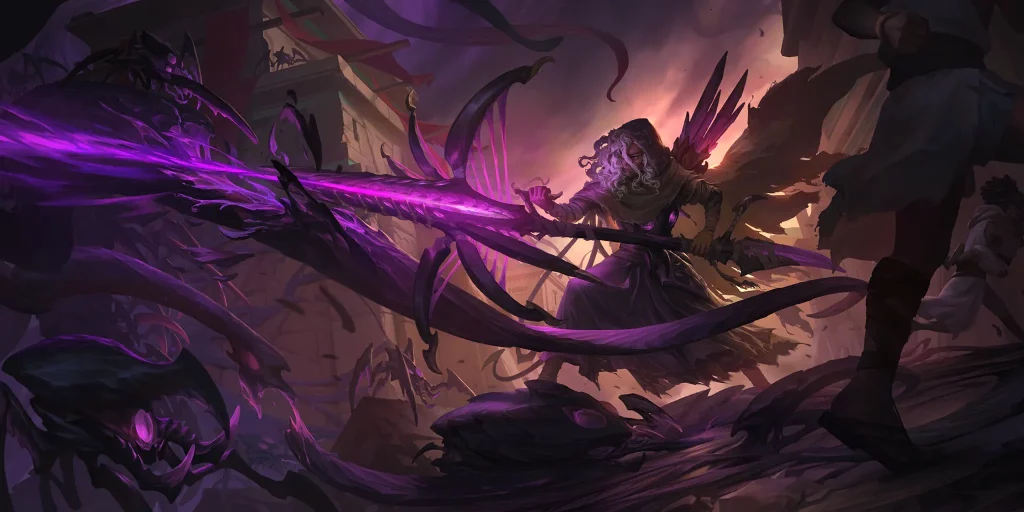 When you have the attack token on even rounds, consider waiting for your opponent to tap below their removal spells before developing Kai'Sa or Valor, so that you can cast Supercharge at Burst speed and then open-attack.
Bluffing Kai'Sa even when she is not in hand will still make things incredibly awkward for your opponent.
If you have multiple Kai'Sas don't be afraid of playing the first one into removal if you can grab Spellshield through Second Skin, so that you can develop another Kai'Sa (Spellshielded this time) on the very next round, and tax their resources.
Cataclysm is an incredibly powerful card at ending games – look for lots of opportunities to use it for lethal, or as a rally with Scout. It also provides key removal for backline units if you missed on granting Kai'Sa the Challenger keyword.
Formidable is a double-edged keyword. You typically want to try and keep this off Kai'Sa so she can still block effectively. Keep it in mind that your opponent can use spells like Mystic Shot to decrease her effective power even if it does not remove her (I once left my opponent's Formidable Kai'Sa alive at 1 power intentionally, so I could mostly ignore her and they couldn't play a new healthy one).
Pay attention to the rolls you get on your Voidling's keyword. You typically want to select a random keyword you don't get naturally (Regeneration, Augment, etc.) or a keyword that will be important in the matchup (Tough, Lifesteal) if you can easily activate Evolve.
I've found that while you do want to consider you opponent's counterplay, this is very much an "If they have… they have it" deck. Your opponent will most likely bluff their removal even if they don't have it, just to deter you from playing Kai'Sa. If you can do your best to get in a favorable board state going into Kai'Sa's round, then even if she is removed then you can still push lots of damage.
---
Deckbuilder's Corner
This deck is INCREDIBLY TECHABLE – there are lots of viable cards to run! In this section I want to give you plenty of options to add to any of the decks I listed above, so you can find the version that is most effective for you.
Ancient Hourglass
:
A great protection tool for Kai'Sa
. Mono Kai'Sa
typically runs one, but consider adding a second if you are bumping into heavy spot-removal decks (with spells like Concerted Strike
, Vengeance
, Tentacle Smash
). This is also a great card for Akshan
decks! Sivir
will benefit slightly less since she comes with Spellshield.
Greenfang Warden
:
Typically included in Mono Kai'Sa
, this card provides another consistent source of Scout to your pool for Kai'Sa
/Abomination. It also comes down with Barrier providing two keywords for one card! Consider adding this if you want consistency in hitting Scout. Consider cutting Brightsteel Protector
because of the overlapping keywords.
Rite of Negation
:
Another great protection tool! Consider using Rite if you want more consistency in protecting your Kai'Sa
during the attack. While it is more costly than Ancient Hourglass
, it does allow your attack to go through.
Concerted Strike
:
A helpful card for removing big opposing threats like Illaoi or Kai'Sa
. It helps in the mirror, and is a nice combat trick when you don't have the token!
Ranger's Resolve
:
A mirror-breaker! This card lets all your units survive the Kai'Sa
Icathian Rain barrage, and allows your Kai'Sa
to trade favorably instead of getting value-traded. All for one mana!
Quicksand
:
A great defensive tool, especially in mirrors. It removes the Evolve keyword as well, meaning Kai'Sa
returns to a 4/4 and her skill will fizzle. Great into Thralls and mirrors.
Silverwing Diver
:
An Elusive Tough threat. Another two incredible keywords to put into the pool for Kai'Sa
and Abomination. This turns Abomination into a much more insta-win threat, and is a personal favorite tech card of mine. I would only recommend running a single copy since the card is pretty weak, but it does its job.
Golden Aegis
:
While Cataclysm is the default finisher/ Rally for Kai'Sa
, Golden Aegis is a bit more defensive since you can make use of the Barrier. It also has the advantage of Rallying the entire board instead of just Kai'Sa
. This is typically better in a Sivir
variant where you are prioritizing your other units more.
Rite of Calling
:
You can run this card in Sivir
Kai'Sa
or Akshan
Kai'Sa
and it will still draw your champions still, just not always Kai'Sa
.
Radiant Guardian
:
The premier anti-aggro card. Radiant is the only way to add lifesteal into the keyword pool. Against an aggressive deck this single card can win the matchup. Coming with Tough as well, it provides two powerful keywords for Kai'Sa
or Void Abomination.
Void Abomination
:
Your late game insurance policy! Too many of these can lead to a bricked hand, and they are only good once you've played enough powerful keywords. But boy do they hit hard! If you are looking to be better into control and removal decks, consider going up to two or even three copies (if your deck has draw or healing to go for the long game). This is an additional threat that can be played after or alongside Kai'Sa
, and late-game value matches can be blown open by playing two of these on Rounds eight and nine. This card is incredibly powerful in variants that lean into Radiant Guardian, Preservarium or Akshan
, because they ensure you will survive and draw your Abomination.
---
Countering Kai'Sa
You're still here??
Oh, you don't like Kai'Sa
and you want to beat her? Well, I've got a few recommendations!
While it's true this deck beats itself a lot, you can play a few things to give yourself extra percentage points. Here are a few decks that you can use to be more favored into Kai'Sa
.
Jhin Annie, Ziggs Sivir, and Draven Sion (with burn):
You go faster, so burn them out before you die to Kai'Sa
– you also have Stuns to control her for a round. Kai'Sa
has a pretty weak early game and lacks removal, so your swarm early game can push quite a bit of damage to set up a burn finish.
Azir Irelia:
Turns out that going wide over and over is pretty good against a deck with a bunch of one- and two-HP units. Also Defiant Dance
on Kai'Sa
is a huge tempo swing and buys you lots of time!
Katarina Yasuo:
Stuns also do pretty well at shutting Kai'Sa
out. Windswept Hillock
lines up great on 5 to counter her!
---
Matchups
---
The Mirror
Are you attacking on 5?
No?
Go Next (I'm only half joking here).
The attack token on round 5 is incredibly impactful and dictates the way you want to approach the matchup. If you are attacking on five, you want to do the best job of ensuring you are Evolved with a Challenger on board and a Kai'Sa
ready to develop. Having protection (Hourglass, Sharpsight, Ranger's Resolve) is nice but not necessary. Sometimes it is also best to hold Valor in hand and play Blinding Assault
on round five alongside Kai'Sa
to ensure the bird is not removed by opposing Challengers.
If you are attacking on evens (that's to say, you get to attack on round six), try to play in a way that removes Challenger from your opponent's board so they have to play Kai'Sa
and Blinding Assault on the same round (so they can't play Supercharge). If you are playing Concerted Strike and draw it, try to have six if not eight power on board so you can instantly remove Kai'Sa
(you will need eight power to remove her through Sharpsight or Ranger's Resolve, because Tough does double duty here).
Quicksand
is another powerful card as it completely neutralizes Icathian Rain
and returns Kai'Sa
to a 4/4 without Quick Attack. Quicksand is negated by Spellshield, though, so keep that in mind (another reason to make them play Blinding Assault
+ Kai'Sa
all on round five).
If all else fails make sure you can survive the round and be ready to crack back with your own Kai'Sa
+ Valor on six. Once they have used both attack tokens you can freely develop (sometimes it is worth passing with all your mana to force them to attack or pass).
Cataclysm
is another great way to remove Kai'Sa
when you do not have the attack token. Ranger's Resolve is also incredibly powerful as mentioned above.
---
Bard Illaoi
You are pretty favored in this matchup since they have limited interaction and it is almost all at Slow speed. Keep the Tentacle
weak by resetting it with Challengers because their only guaranteed removal is Tentacle Smash
– the Tentacle has to be a 3/3 already to threaten an Evolved Kai'Sa
.
Riptide Sermon
only does 4 damage so it cannot remove an evolved Kai'Sa
. Otherwise, keep an eye out for Make it Rain
onto Valor, and Ye Been Warned
and Hired Gun
making your Kai'Sa
Vulnerable.
Because of Vulnerability, you will probably only want to play Kai'Sa
when you have the attack token, or after your opponent has already attacked. The deck has no combat tricks other than Eye of Nagakabouros
, or the single copy of Cosmic Binding
---
TF Annie / Katarina
Accept the fact that your first Kai'Sa
is going to get removed and play accordingly. To win this matchup you are going to need multiple threats – this means multiple Kai'Sa
s or Void Abomination
s. Void Blaster is another card that can apply a surprising amount of pressure as a 6/6 Overwhelm (Kai'Sa
Akshan
)included here too)! Chip damage matters in this matchup, and you eventually run them out of value or Overwhelm them with a critical mass of threats.
---
Wrapping Up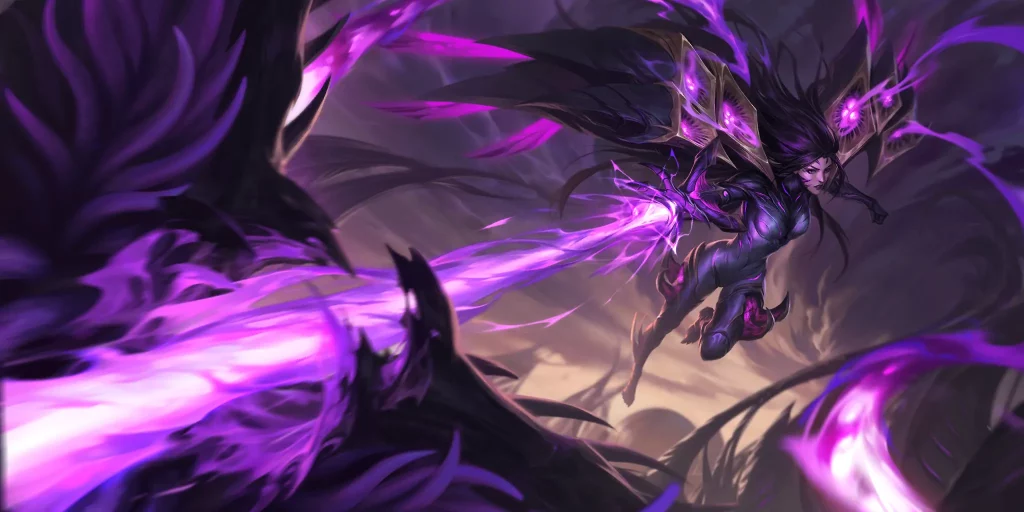 And that's about it – three decks rolled into one guide, for arguably the strongest Champion and the three best LoR decks in the game right now.
I hope you've found the above tips useful and enjoyable, and may you always draw Valor and Kai'Sa by round five!
---
---