LoR Gauntlet Decks: Rising Tides
Hey everybody! Sirturmund and Monte here, back with some Rising Tides decks and lineups, as LoR Gauntlets sail back in time to when Swain, Miss Fortune and Twisted Fate were released.
Two things to bear in mind for these Rising Tides Gauntlet decks and lineups:
First: unlike previous LoR Gauntlets (and Tournament formats), Timewinder Gauntlets are Best-of-One (rather than Best-of-Three): you do need to bring three decks, but you play just one game (choosing from one of the two decks that your foe has not banned). That gives us a lot more latitude when choosing the third of our Gauntlet decks (you could bring any two decks you like and a completely random third deck that you never intend to use, and just play the good deck that was not banned). So, for any of our suggestions, feel free to mix and match third wheels as you please.
Second: we drew a lot of inspiration from Rising Tide decks that were strong at the time, but bear in mind that some cards have changed a lot since then – Vengeance
used to cost seven mana during Rising Tides but now costs six; Swain (level 2)
didn't have Overwhelm, etc. That's bound to have an impact on this Timewinder Gauntlet meta, but we won't know for sure until we test it.
Having said that, let's jump into our recommended Rising Tides Gauntlet decks!
---
Unfriendly Neighbors
As noted, this may be the Rising Tides expansion, but Bilgewater cannot forget about their unfriendly neighbors at the Shadow Isles. This is a theme that's going to continue as we revisit these older Runeterra expansions: six-mana Vengeance
is a bit too strong.
This time around we bring back the classic Anivia
Shadow Isles powerhouse and combine it with two newcomers from Rising Tides to give us that spice we are looking for: Deep and Swain
.
Anivia Shadow Isles
Deep
Swain Elise Control
The idea here is pretty straightforward: we do really well into aggro decks and other board-heavy decks. The Gauntlet format is also beneficial, as each of these decks is strongest against a certain type of archetype. What this means is that if they ban Anivia
, for example, and you see they have two
Demacia decks left, then going for Swain over Deep might be better. Similarly, if they have double control, going for Deep is much better than going for Swain.
That's some of the quick thinking you'll have to do if you bring these decks to your Gauntlet runs: in general, Anivia does best versus pure aggro decks, and loses to Demacia-type decks (like Scouts or Bannerman). Swain Elise does well against Demacia, but won't do so well against control. Deep does well into control, but it's a bit weaker to combo-style decks, especially Ionia.
Keeping this in mind should allow you to choose the optimal deck to make your Best-of-One match successful at each step of the Gauntlet.
Of course, other Shadow Isles could be just as successful. There is Vi
+ Heimerdinger
Shadow Isles that could slot right in here. Spooky Karma
is another option, and Lux
Thresh
could be decent too. You could even experiment with Gangplank Thresh! In a slower metagame, anything is possible with six-mana vengeance.
---
I Dreamt Of Midrange
And in that dream,
Demacia was nowhere to be seen!
Swain Twisted Fate
Ashe Katarina
Gangplank Sejuani
This midrange package is interesting because it's meant to counter
Demacia – however, Rising Tides Gauntlets may end up being a meta where we don't see that many Demacia decks. Aside from Scouts, Demacia did not get a ton of new tools with Rising Tides: Bannerman or Shen Garen/Fiora might be the only other Demacia decks you see.
However, that's not enough to make us change this lineup around. All three of these decks do well versus every other midrange deck out there. The Frostbites, the removal, the very powerful champions (and even bigger top-end!) that all our decks play… all of them meld to create three very powerful Rising Tides decks that can hold their own against almost everything in the Gauntlet metagame.
The beauty of our lineup is that our weaknesses are a bit spread out. Ashe
is weak to triple aggro, but because this is not a Best-of-Three format (and instead it's just Best-of-One), if we run into triple aggro we can just play one of our two other decks and still be in a great spot. In other words, this Gauntlet format allows us to cover our weaknesses, making this lineup the perfect "just great decks" consideration.
Alternate decks for this lineup might include Demacia in one of its "Bigger Demacia" versions that can still do well versus aggro and Scouts: I'm thinking decks like Shen Garen, which can trade very efficiently versus other midrange decks.
---
Mixing It Up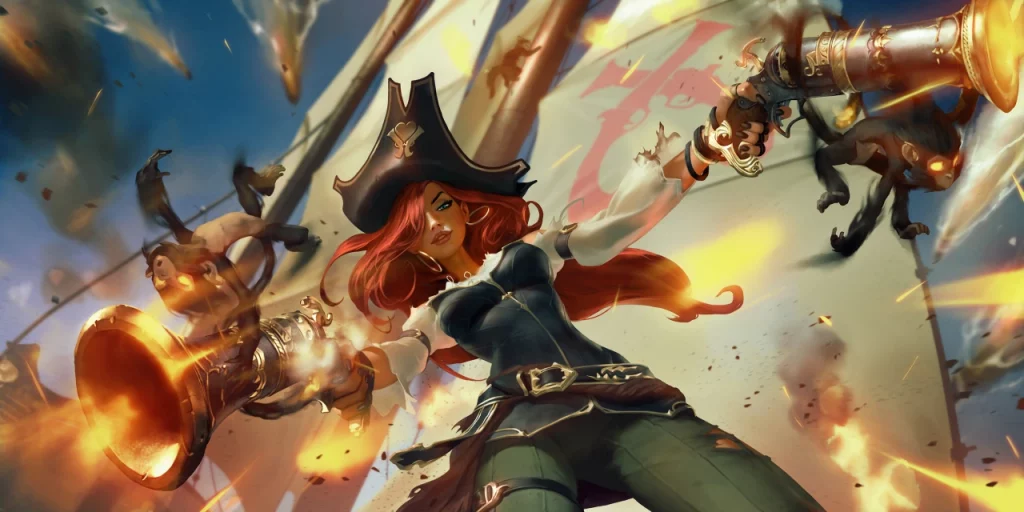 My idea behind this Rising Tide lineup is to play a little bit of everything.
They Who Endure
Scouts
Swain Twisted Fate
All these were very powerful Rising Tides decks at one point or another, and I think they should still hold some ground even through the various changes they have received since then. And playing just three good decks that have a varied matchup table allows us to tailor our pick-and-ban strategy for this Gauntlet, and become more unpredictable on what we might end up locking.
They Who Endure
gets a major buff in Rising Tides due to the addition of Blighted Caretaker
, who adds a ton of value and quickly adds up units to our graveyard. And, back in Rising Tides, there were a lot fewer answers to They Who Endure
and Atrocity
, as compared to nowadays. Still, remember: six-mana Vengeance
.
Scouts, while much weaker in Rising Tides due to not being able to go as wide as today, benefits from less removal overall for our Miss Fortune
. Scouts is a deck that will feast or famine based on drawing Miss Fortune, but Quinn
's latest buff could help her be a better carry against the less removal-heavy Rising Tides decks.
And, finally, not a lot needs to be said about Swain
Twisted Fate
. The Overwhelm buff to Swain makes it probably the best Rising Tide champion. However, his deck is considerably slower at getting to our win condition, thus the addition of some Noxian Fervor
s to help level him up quicker.
Put all three together as your LoR Gauntlet decks and your opponent will have a very hard time choosing their ban. And if you want to make them suffer even more, swap They Who Endure
for an Anivia
deck.
---
Monte's House of Horrors
Spiders, Scouts and Pirates is what I'll be playing in the Rising Tides Gauntlet this week. I'm really excited to use this opportunity to test out my abilities as a deck-builder, so you'll notice the decks below don't look like the Rising Tides originals. I will also showcase a fourth deck, Discard Aggro, in case you want more options – as we've discussed above, the Best-of-One nature of the Timewinder Gauntlets affords us a lot more leeway for constructing our lineup.
With my Scouts list, I opted to ignore Bannerman, a staple back in Rising Tides. This may seem like a wild choice, but I really believe that people did not experiment enough back then, and did not see the value in go-wide strategies.
Scouts
I think the inclusion of cards like Shellshocker
, Coral Creatures
and Playful Trickster
will allow for some unexpected plays. I'm particularly intrigued by Coral Creatures
, as Jettison
is the only bad spell in the pool (with 1:7 odds, that's to say a 14% chance) – the other spells all provide immediate and immense value. I might end up cutting down on the number of copies, but I'm eager to test this deck as-is to start.
---
The Spiders deck has also seen a bit of a facelift. With Katarina
being as strong as she is with the buffs she's received since Rising Tides, you would be crazy not to play her in this style of deck; I think that Katarina
and Mark of the Isles
will turn Spiders into a very powerful Rising Tides deck. I added one copy of Darius
because I wanted a big endgame bomb, but you may wish to just play three Katarina
s.
Spiders
If you wanted, you could probably get away with playing multiple copies of Darius
as well, but then you may want to add more draw. I actually did test this deck on the LoR ladder and managed to steal a game out from under an Aatrox's nose before retiring it. I think there's a good chance you'll want additional copies of Mark of the Isles
, or maybe even some Ravenous Flock
s, to go alongside Katarina and your Arachnoid Sentry
.
---
My Pirates deck sees the (re)addition of Double Up
. Given the nerf to Decimate
and the limited number of buff spells, I don't think there's ever been a better environment for Double to shine. It's always been one of my favorites and I've played it on the ladder in the past, so I'm really hoping to see it pop off in my Gauntlet run.
Pirates
The rest of this deck is pretty standard: we are of course playing Miss Fortune in our Scouts deck, so we've opted for a champion split between Gangplank
& Twisted Fate
here – you could probably spice this up a bit too, but I'm not sure if there's anything strictly better.
Golden Narwhal
is a card I opted to add that you may not have seen in the past. I remember people playing Lounging Lizard
and I was never a fan of Lenny, but I did play Narwhal in some other decks and was always impressed – I figured it will usually end up dealing 4 damage, and the loss of a blocker isn't a huge deal.
I chose Spiders, Pirates, and Scouts as my Rising Tides Gauntlet decks because I think they'll be fun to play, and I expect them to give me good options into pretty much everything someone could bring.
If I encounter other aggro players I can rush them down with Spiders, or play Challenger control with Scouts. If I bump into control decks, Scouts draws a ban and I've beefed up my traditional aggro decks with tools to let me get around control tools (Mark of the Isles
in Spiders, and Gangplank
in Pirates). Midrange decks might prove somewhat problematic, but we should still be able to rush them down or combo faster because of how we've built the Scouts deck.
---
As a fourth option, I've brewed a Discard Aggro list for you to try out.
Discard Aggro
Interestingly enough this is the deck I'm least confident in – I found it difficult to recall exactly what cards were included in lists back then. I think this deck should be as powerful as it was back in the Rising Tides days, though: Draven lost a point of HP, but Jinx got a great buff which should enable her to clock opponents an entire round sooner. There is basically no access to healing in Rising Tides, so all of our damage will end up sticking; anything highly aggressive and jammed with burn is therefore extremely volatile.
I'm really excited to try out this Gauntlet – Rising Tides holds a special place in my heart as it was the first time I hit Master! I never actually competed back then, so it was a fun exercise to come up with a lineup for that meta.
Good luck with your run, and we hope you've enjoyed our Rising Tides Gauntlet decks!
---
About the authors
Sirturmund is a long-time player of the game, having played LoR since beta. He has found competitive success in the past year with a couple of seasonal top cuts finishes, rank 1 ladder placements, and first spot in a Qualifier of Mastering Runeterra's Championship. Best known for being one of the very few to still bring Star Springs to tournaments, you can find Sirturmund lurking around all the social media sites absorbing anything he can about the game!
MonteXristo has been playing the game since closed beta and has consistently made it to masters every season he's been active. His accomplishments include having peaked in the top 20, taking first place in the "Streamer Sideboard Showdown" and LPP Riot Grand Prix. When he's not writing for Mastering Runeterra he keeps his card-slinging skills sharp by playing in the Runeterra Academy tournament, with his team The Wobbly Wombats! He also hosts the weekly Mastering Runeterra Squadcast on his stream every Wednesday at 10:30pm EST.
---