Welcome to a guide about Viego and his true Queen, Evelynn.
Evelynn is the Runeterra Champion released in the Forces From Beyond expansion – she didn't see much play early on, until the 3.13.0 balance patch that buffed Hate Spike
. She then found a home in Evelynn Viego, put up decent numbers ramping up towards the Seasonals tournament, and has thus far been performing quite well during all of the Awakening Season.
Into the current meta, it has a positive win rate into Pirates, Katarina Gwen, Kindred Nasus, and Plunder – and while it suffers into decks like Nami TF Ionia and Ezreal Kennen, those have been fading in popularity a little bit so this might be a good time for this deck to rise up again.
---
So, let's review some key cards in our deck!
6
6
10
18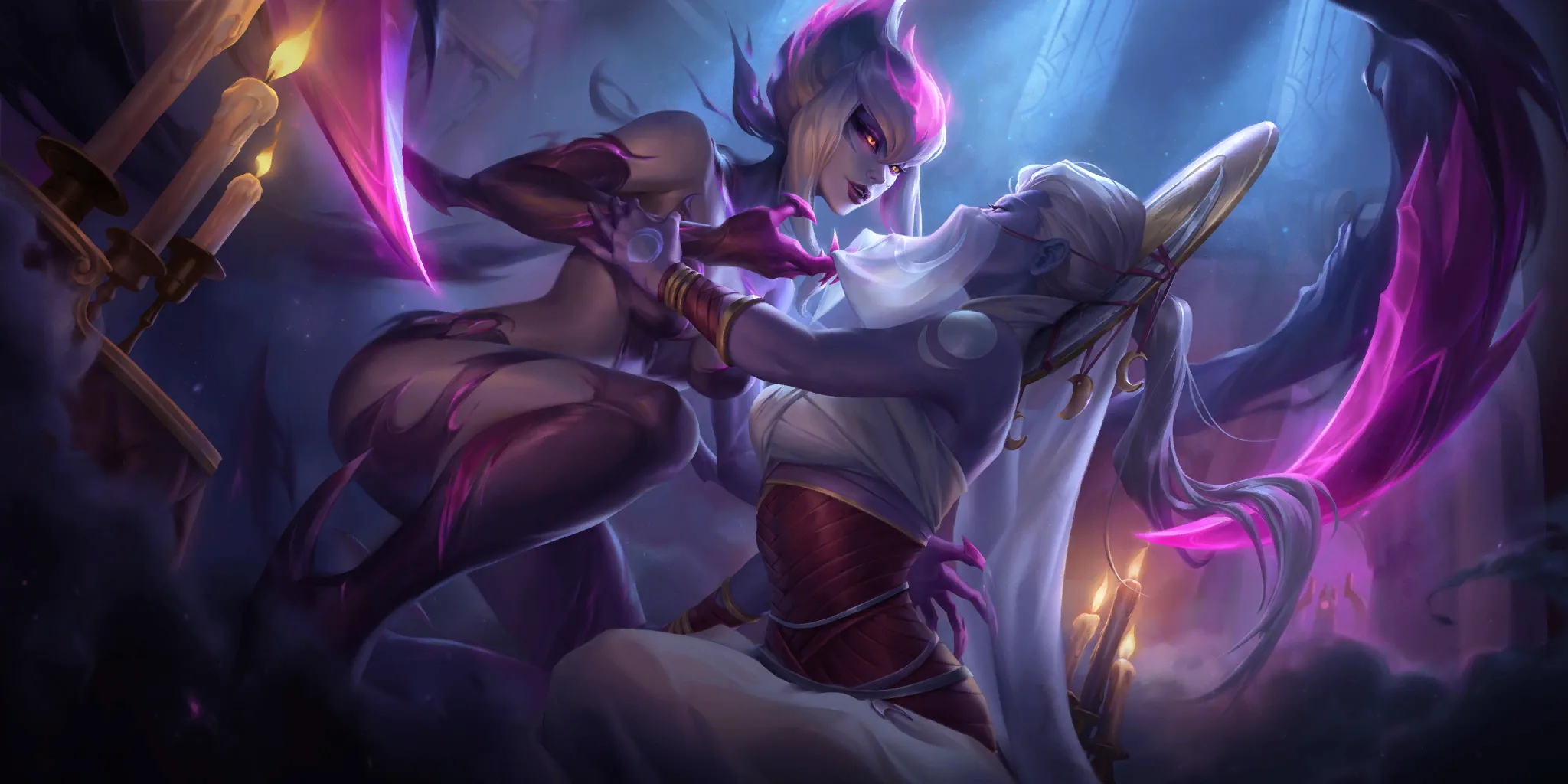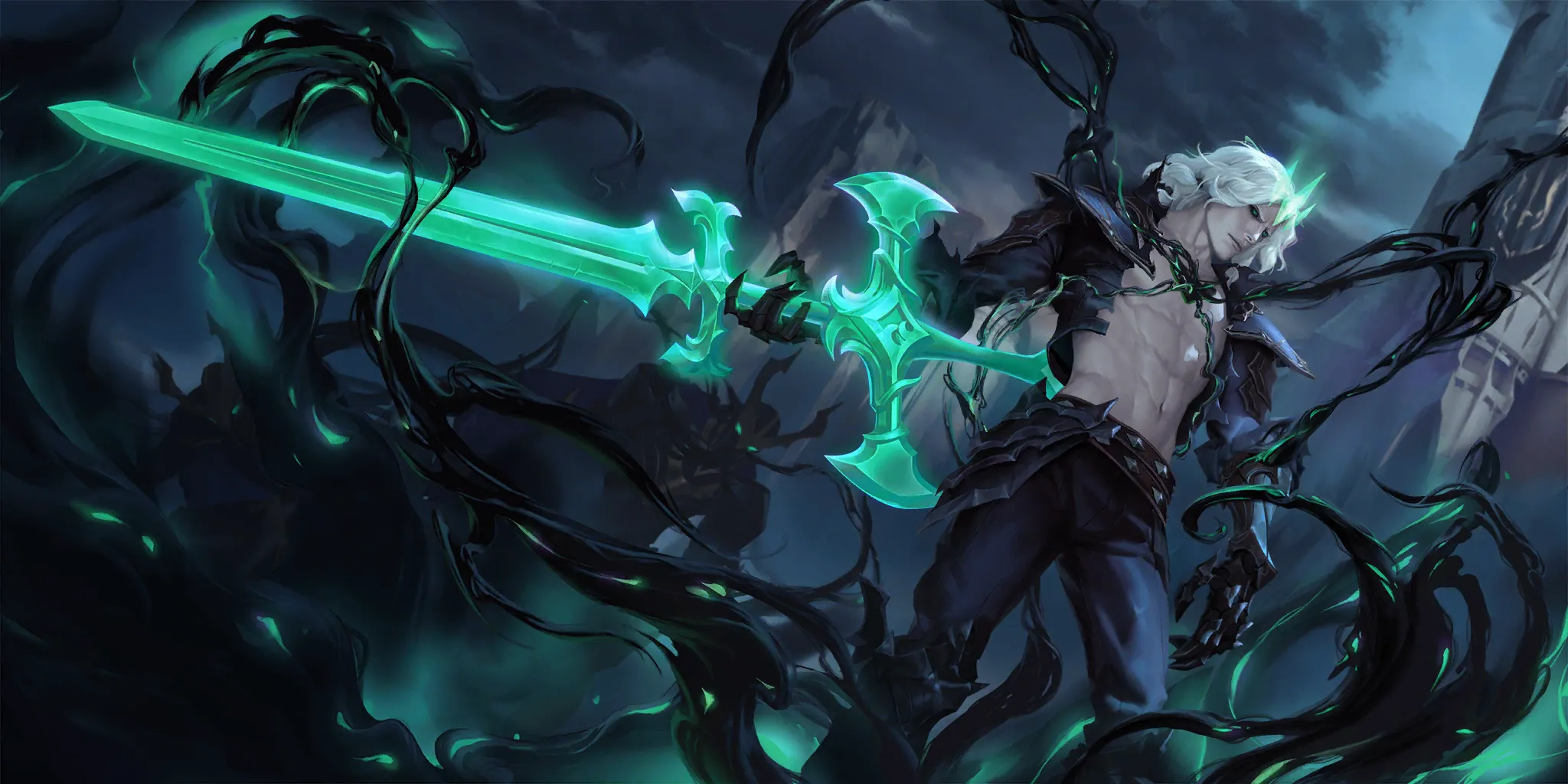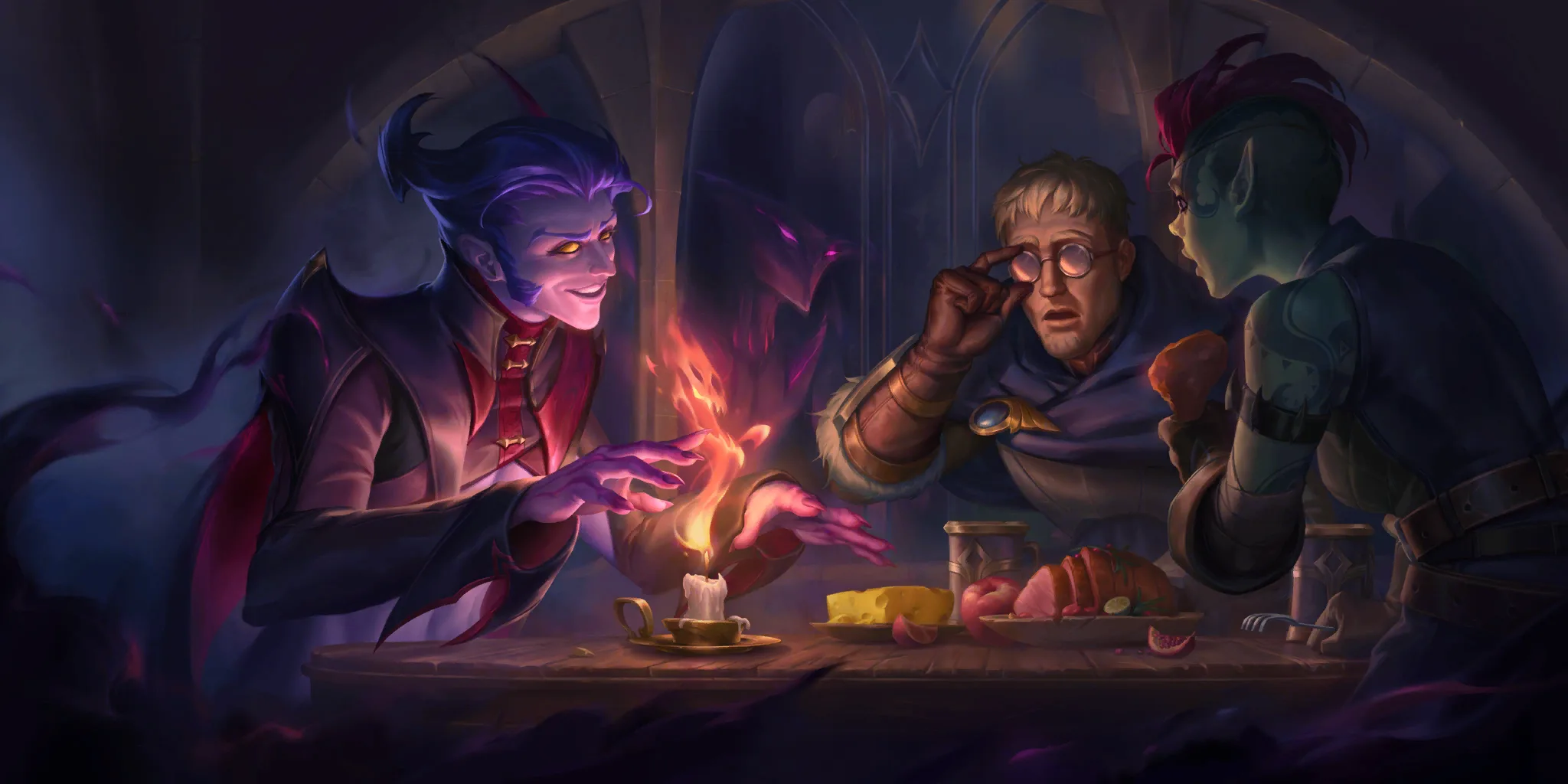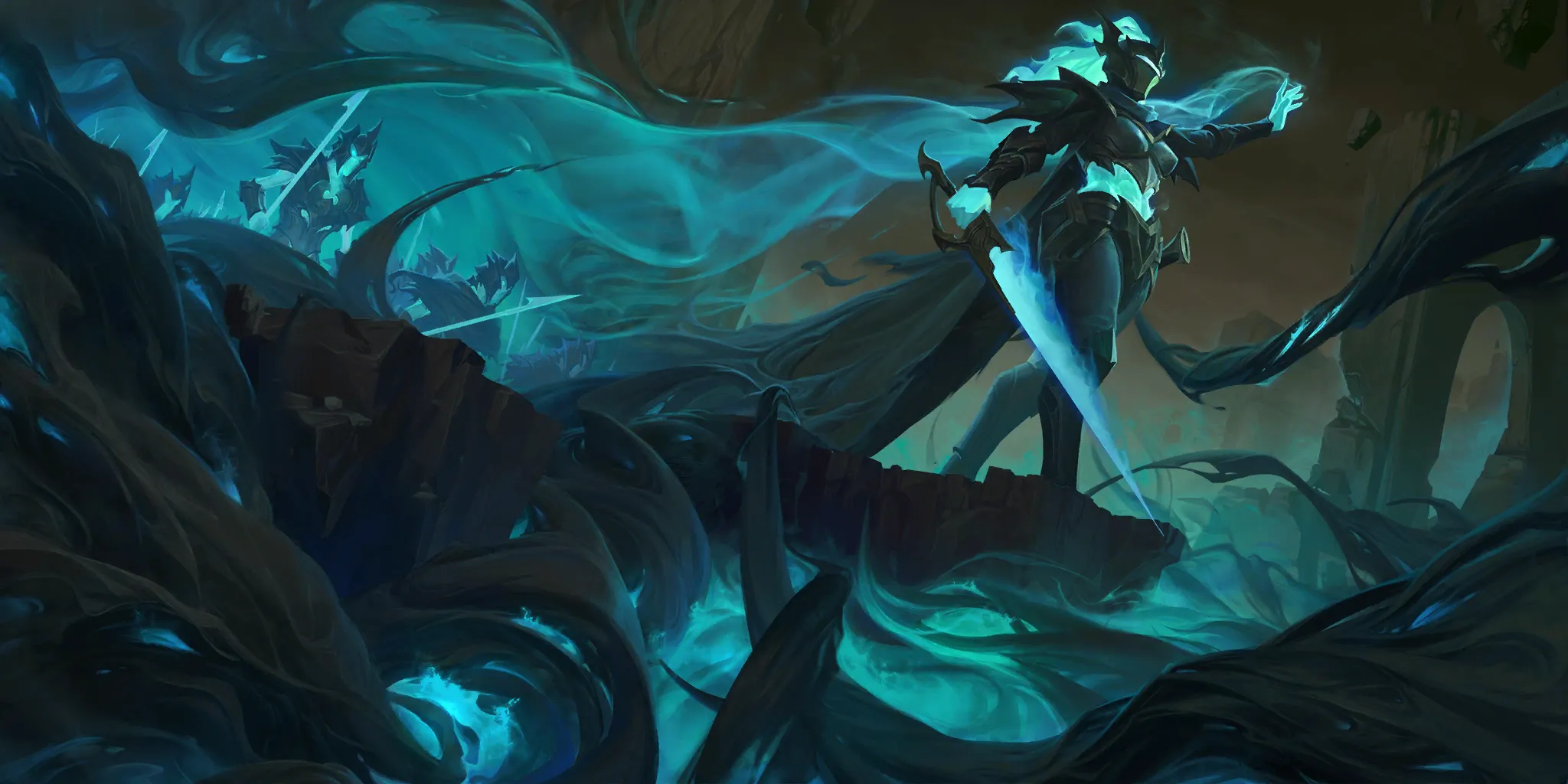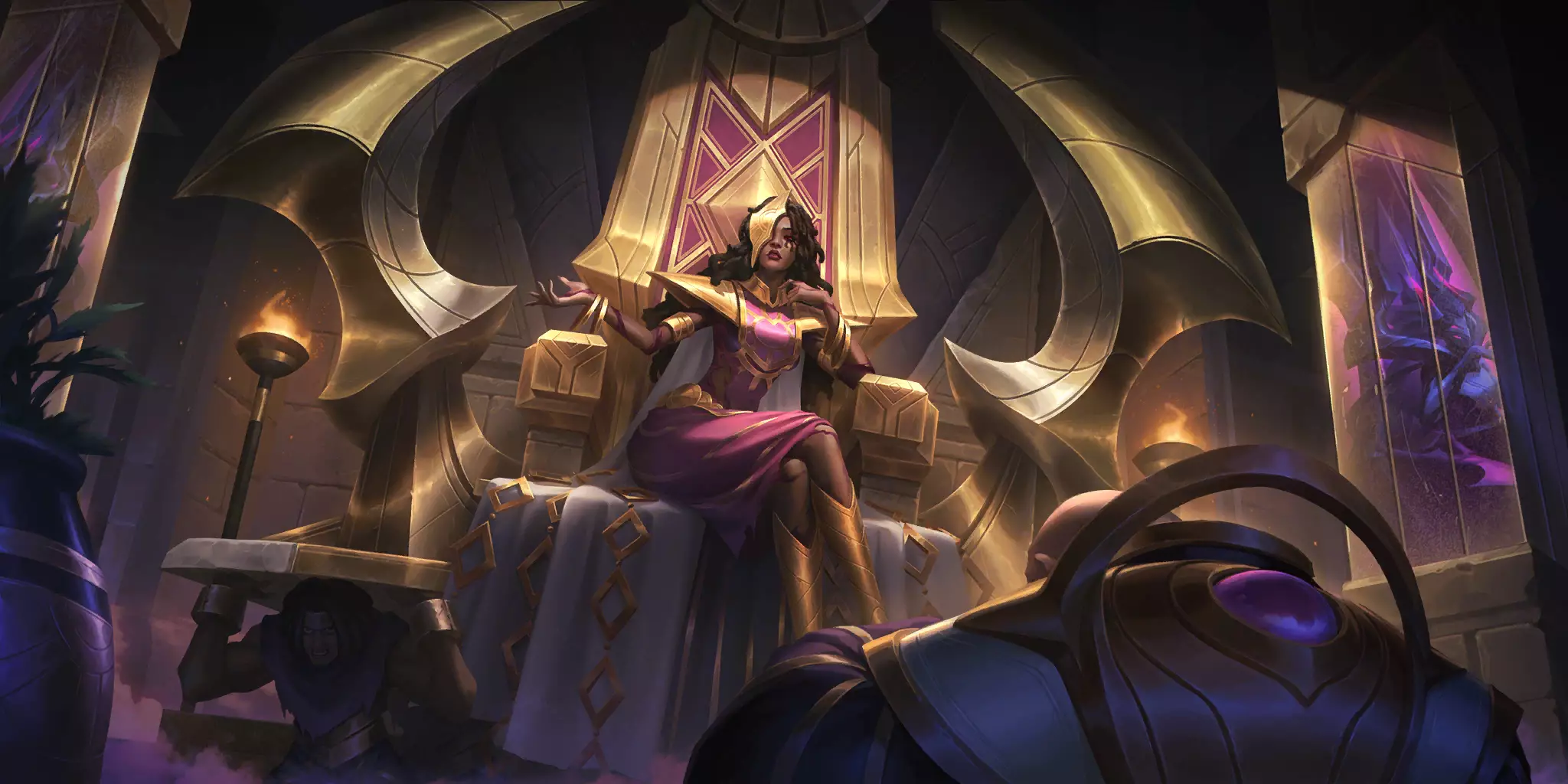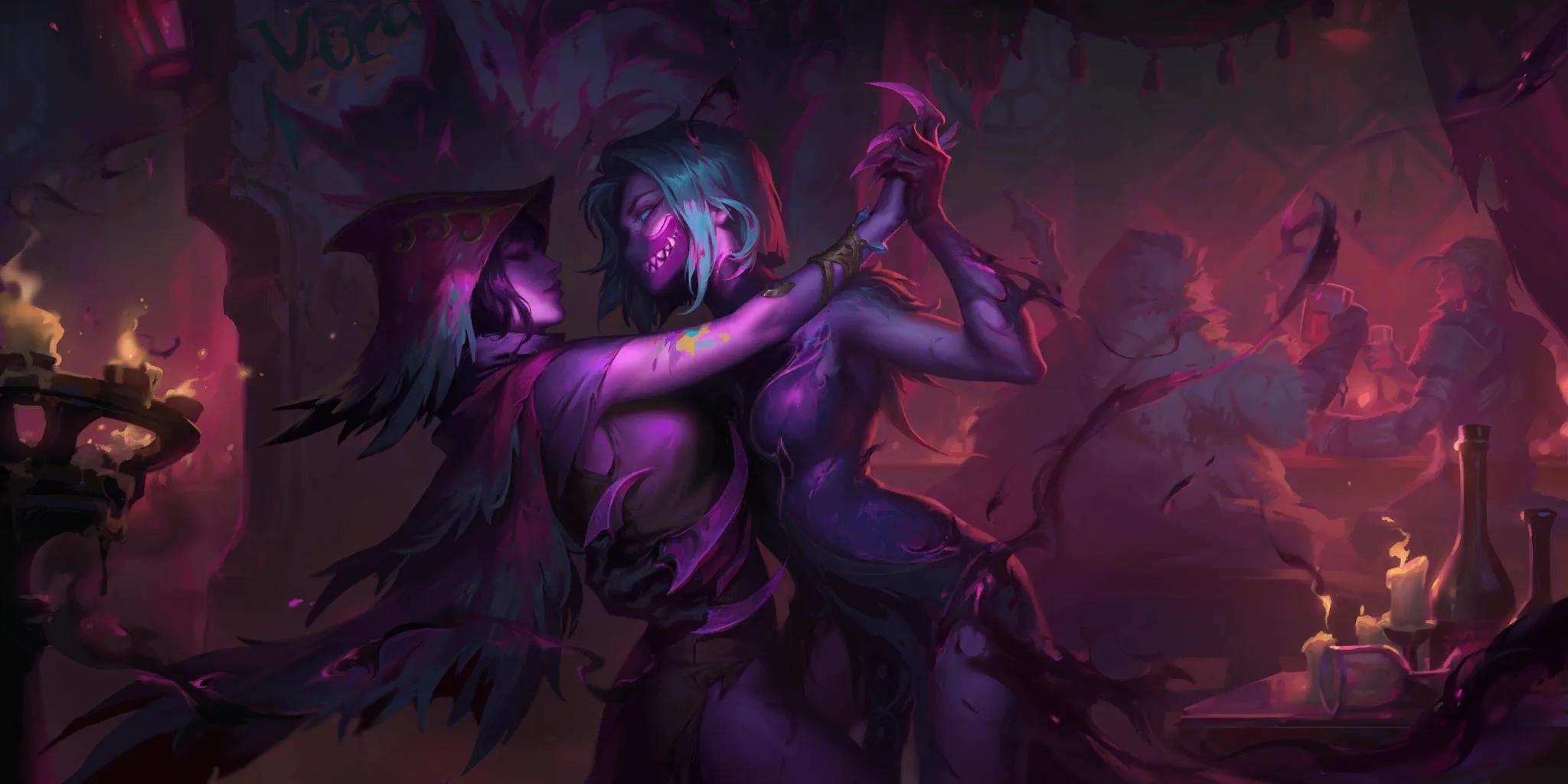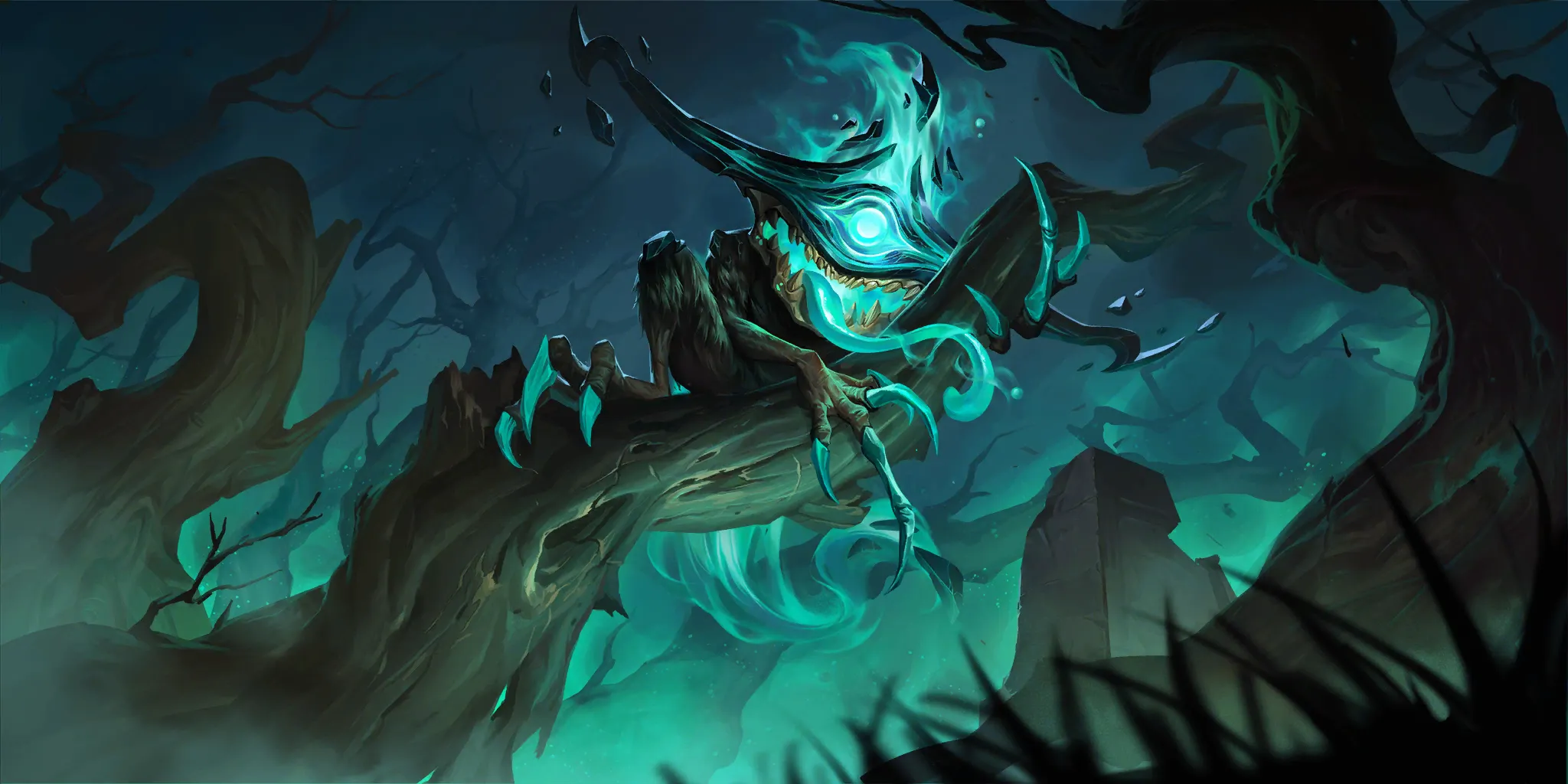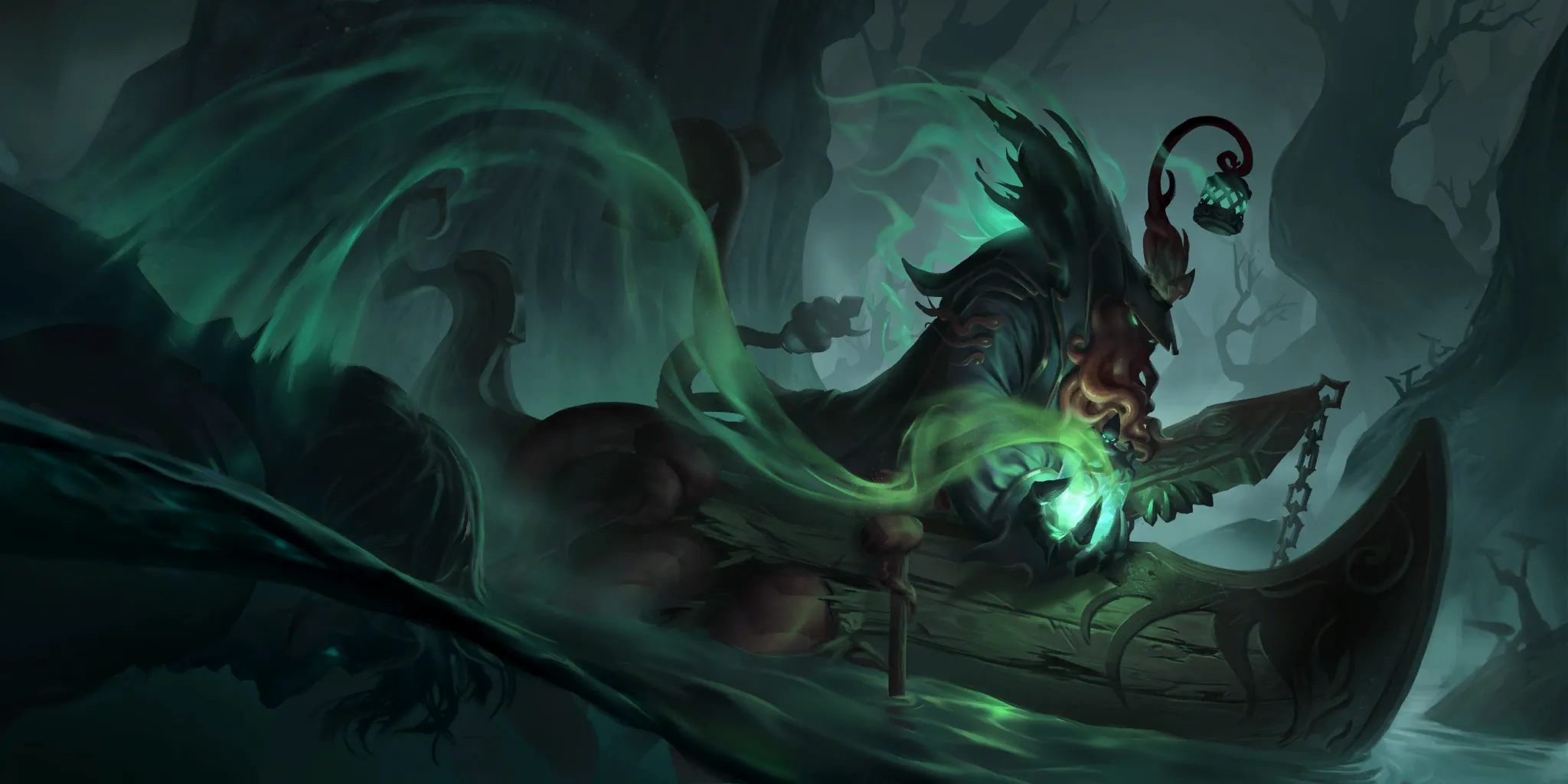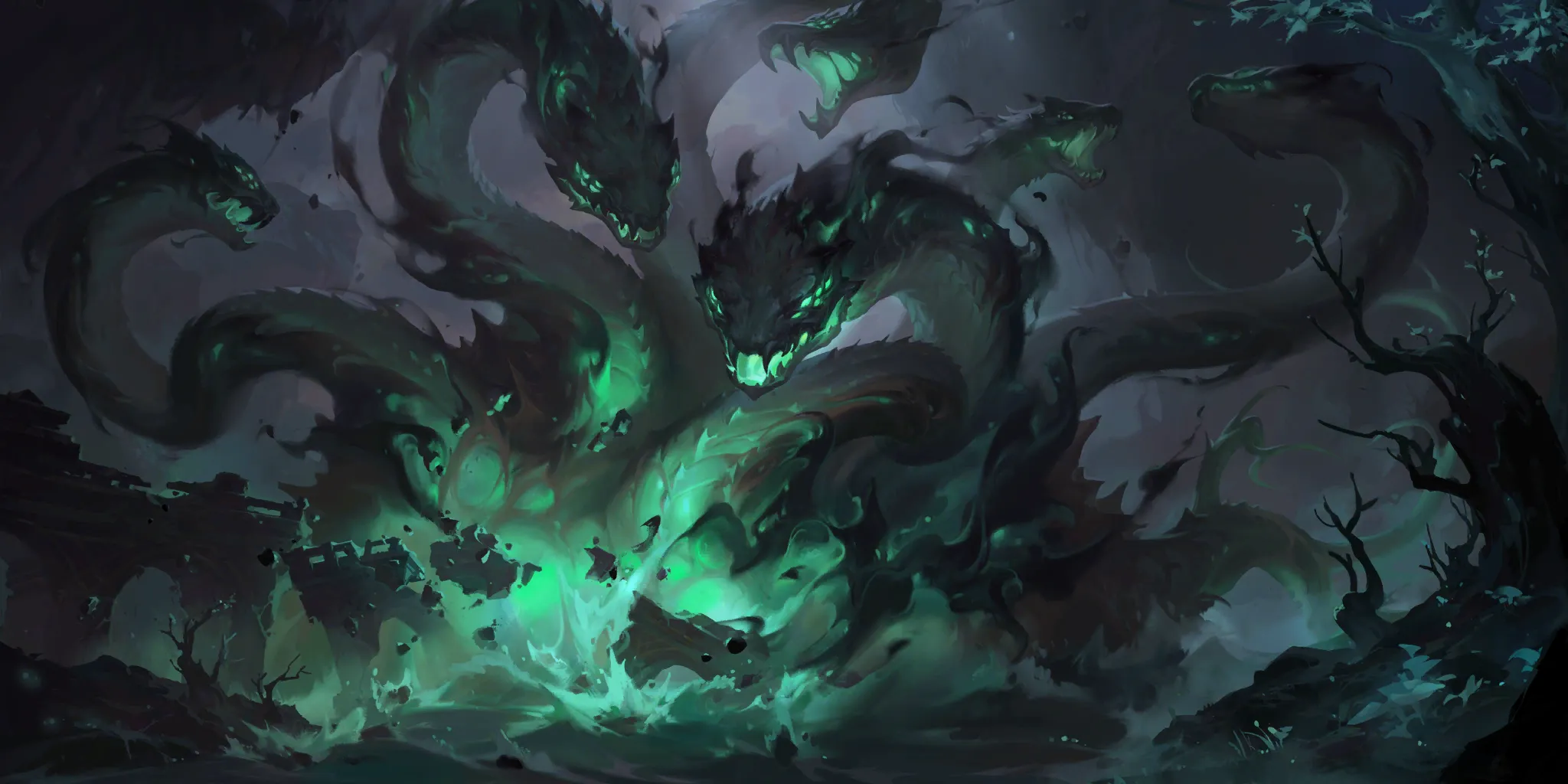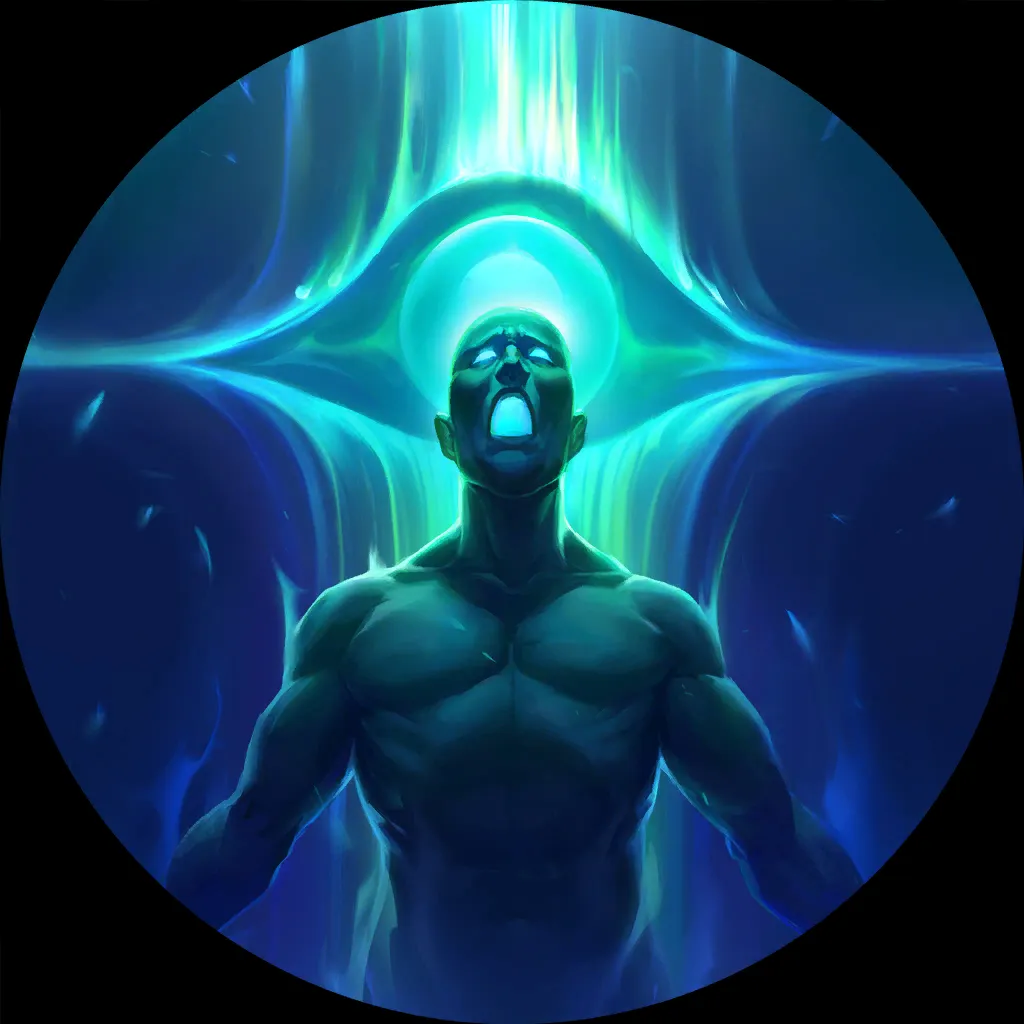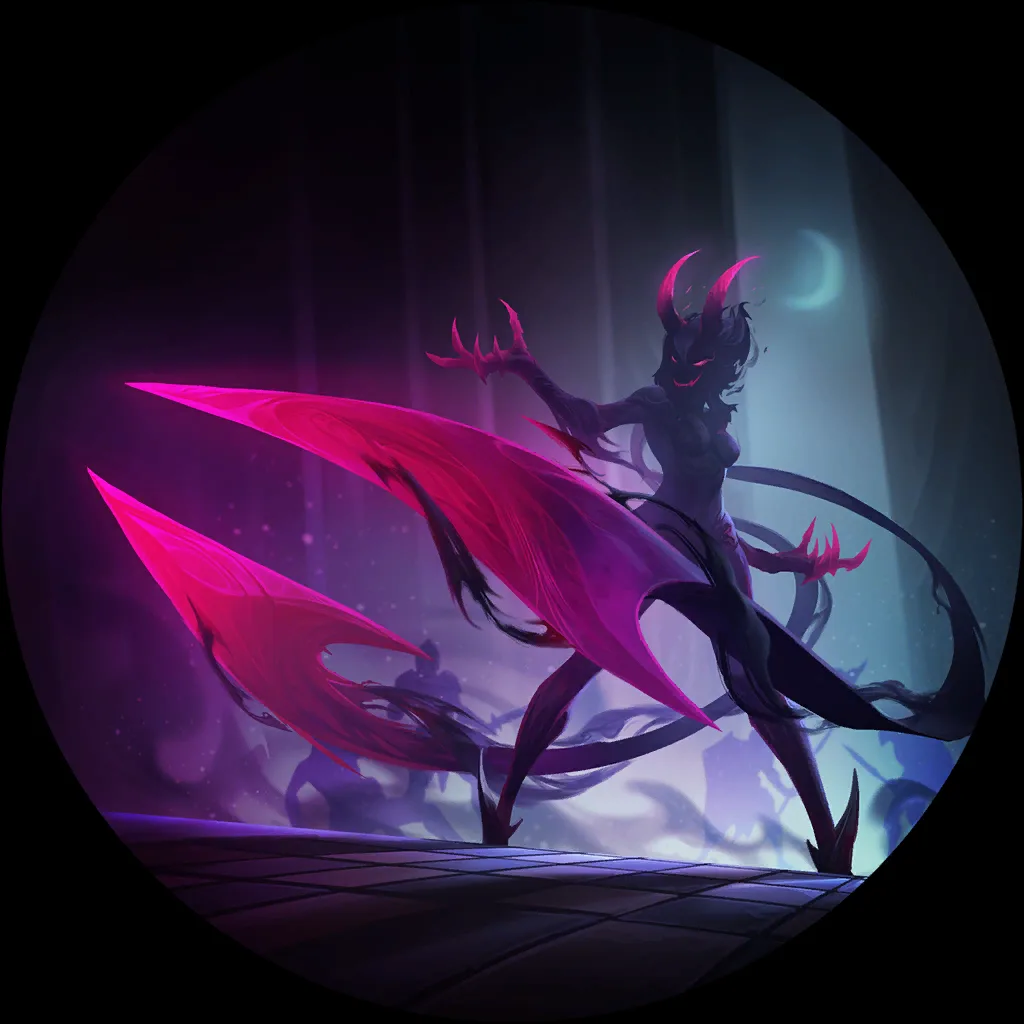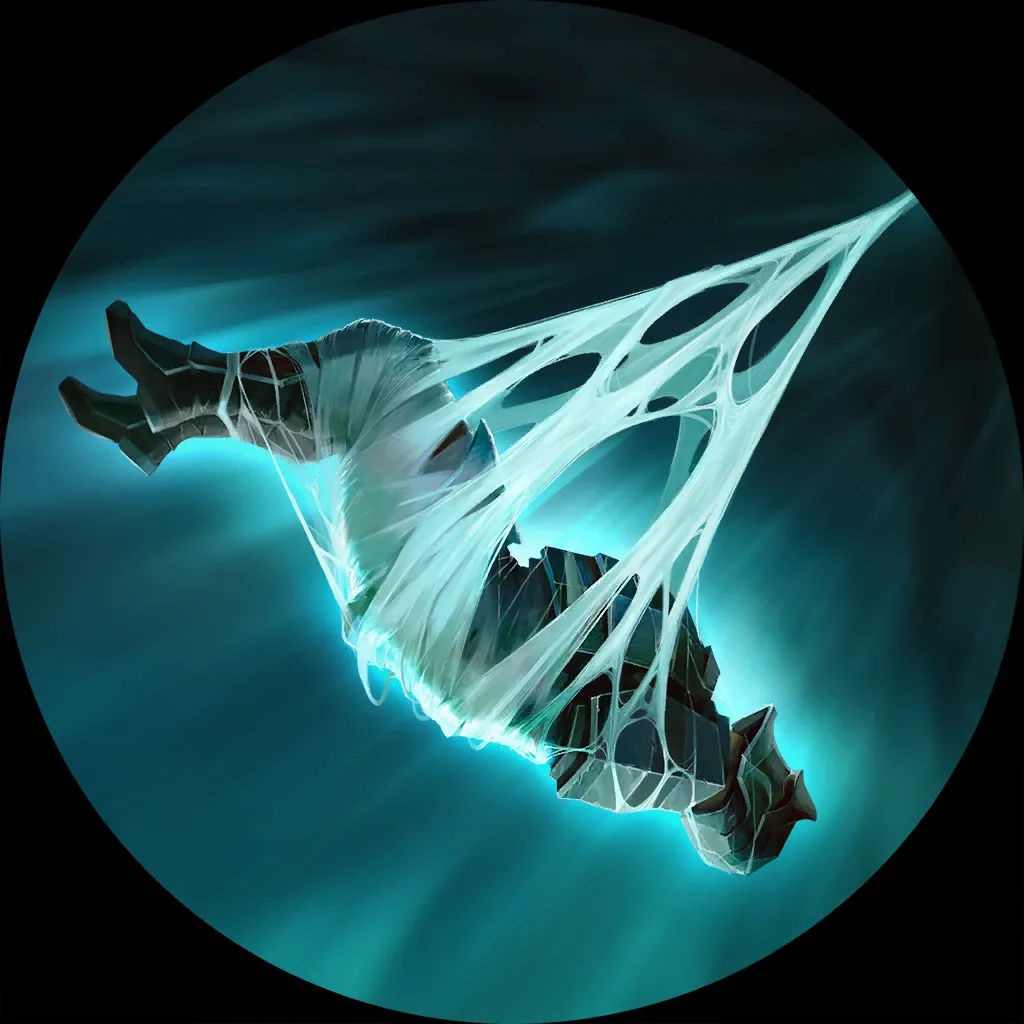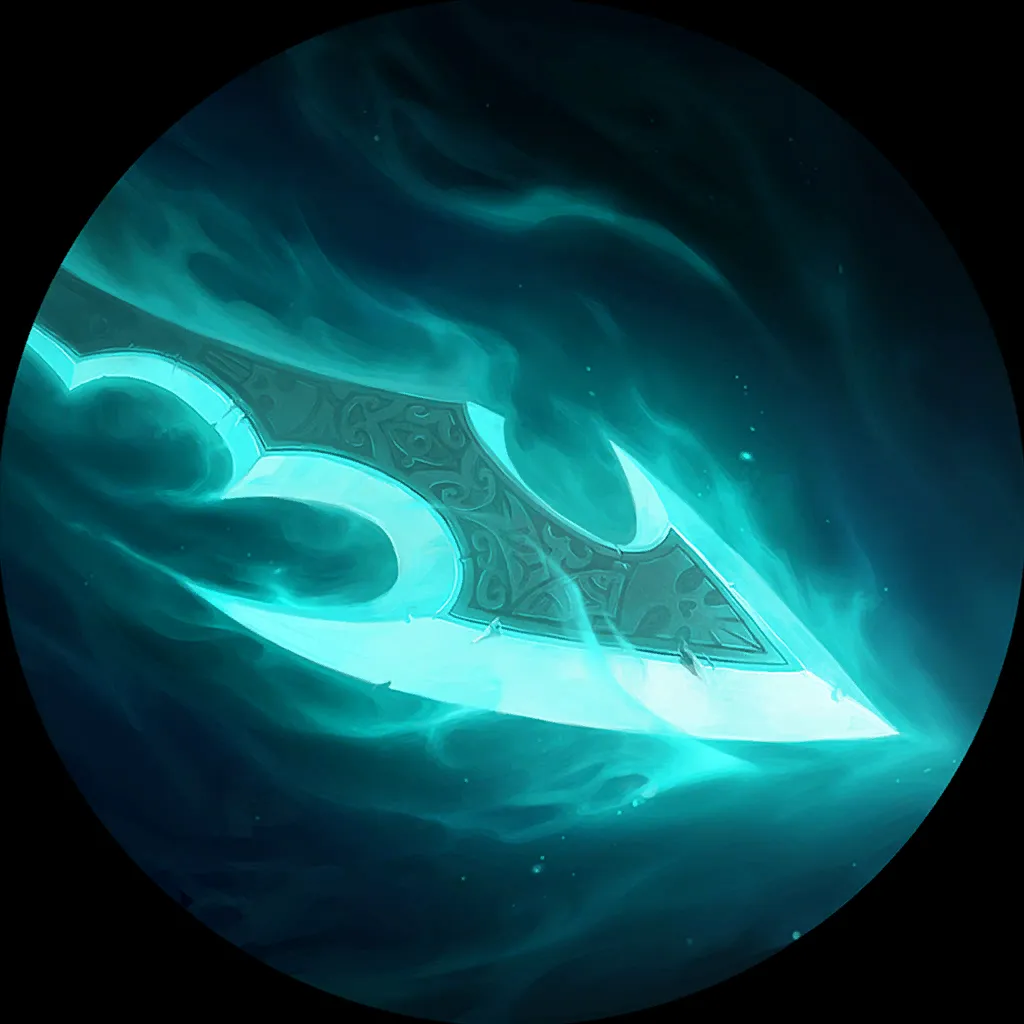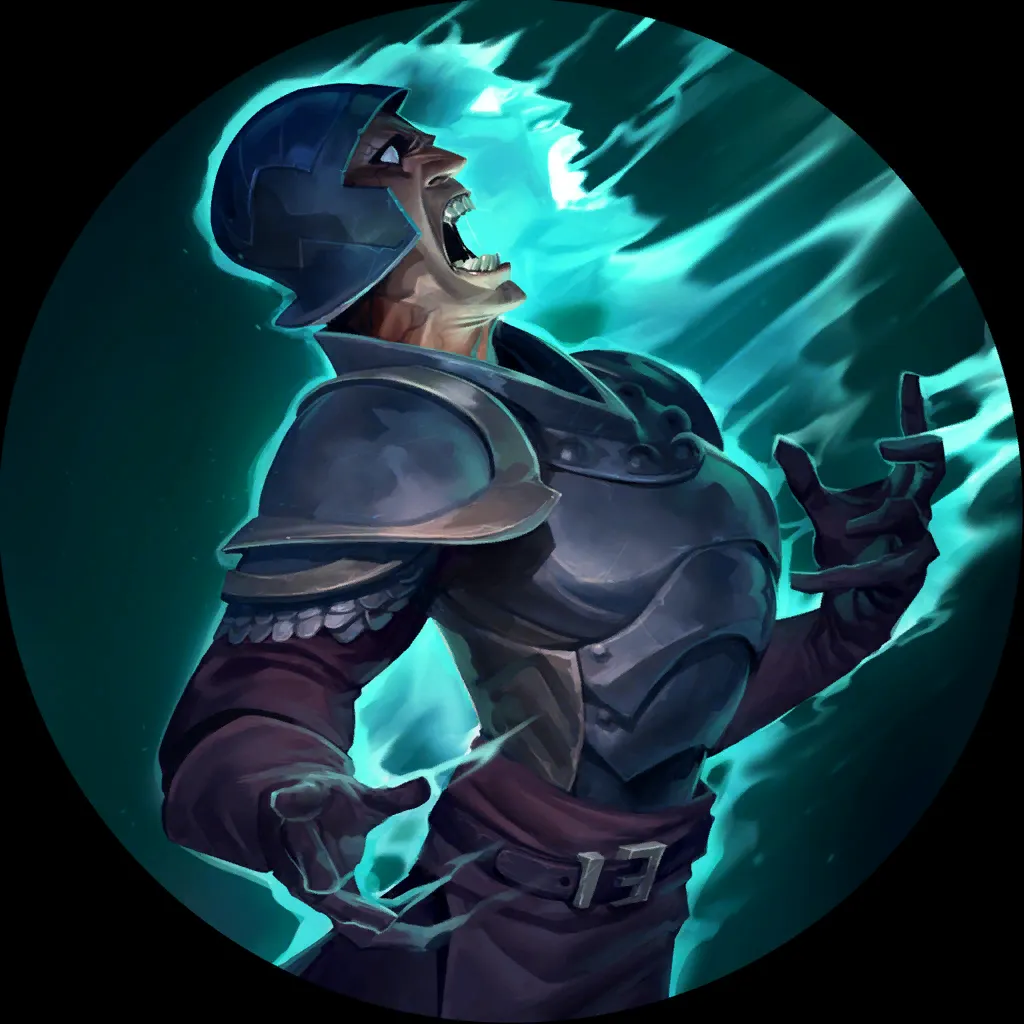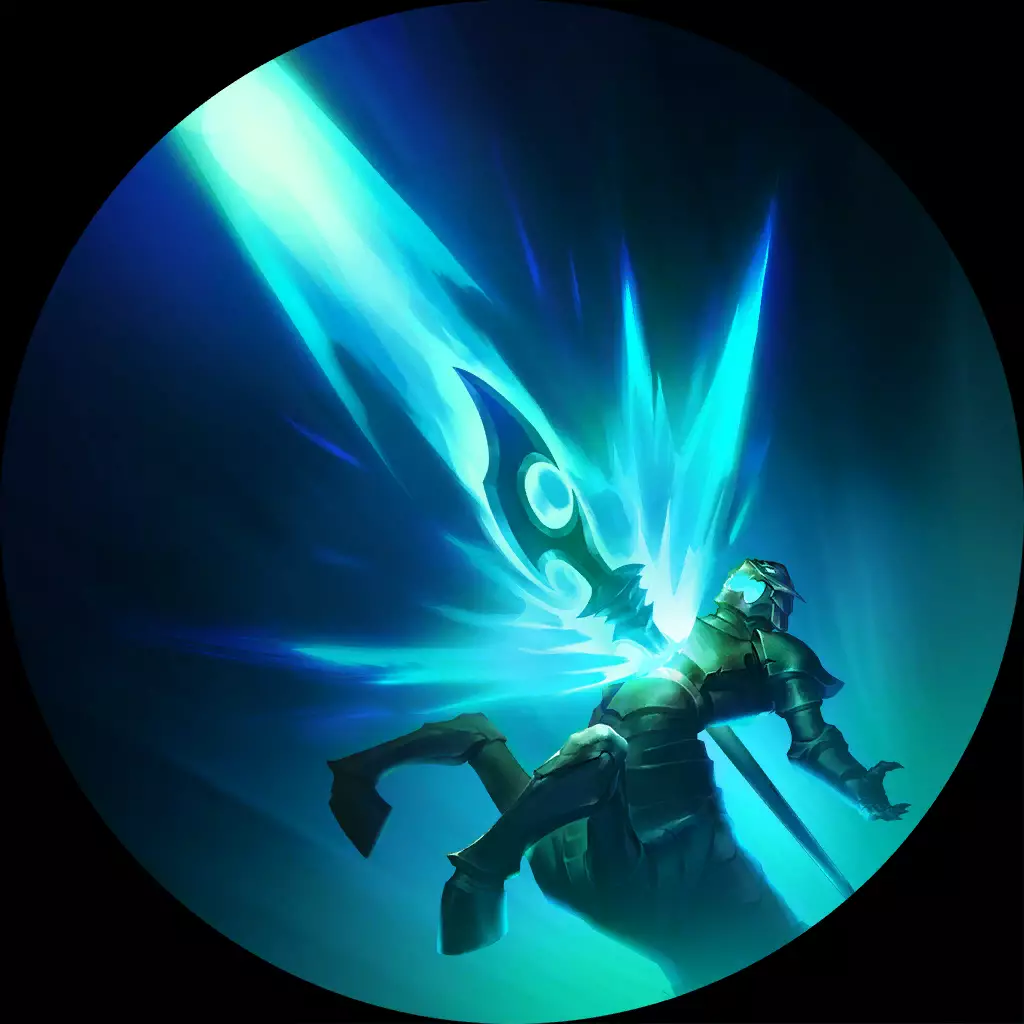 ---
Husks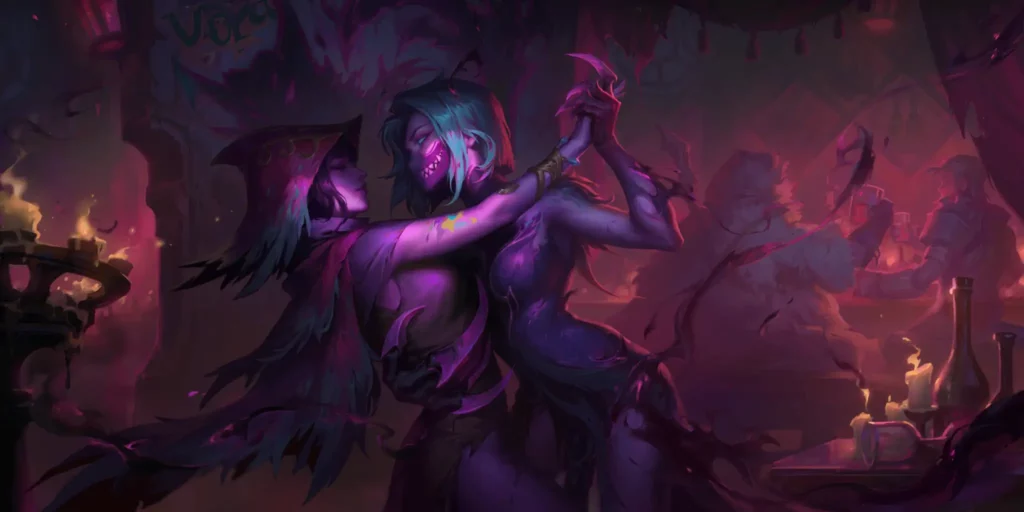 Desperate Husk
--
Noxus, Challenger
Stubborn Husk
-
Freljord, Regeneration
Scattered Husk
-
Bandle City, Impact
Breakneck Husk
-
Piltover & Zaun, Quick Attack
Haunted Husk
-
Shadow Isles, Fearsome
Warded Husk
-
Shurima, Spellshield
Enraged Husk
-
Targon, Fury
Thrashing Husk
-
Bilgewater, Overwhelm
Hardy Husk
-
Demacia, Tough
Fading Husk
-
Ionia, Elusive
Any of them can be generated randomly, including duplicates if you already have one - there are no restrictions.
There are a few reasons why Husks are great in our deck:
Evelynn needs them to level up. Quite simple, right?
The extra Health and keywords can make a unit go from "I can just hit this once to kill it, or I just need one card to kill it," to, "I need to hit it twice or I need multiple cards to remove it." If it has extra Power as well it will just make your units even more threatening.
The Keywords, my oh my, they can do some crazy things. Giving Viego or Evelynn something like Elusive or Overwhelm can make them extremely threatening. Or just giving them Spellshield or Regeneration and letting them sit on the board can cause a major problem for your opponent.
Husks' ability to kill themselves is quite useful in a deck like this. Viego, Neverglade Collector and Black Spear all make use of your units dying, and you don't need to commit another card to do so (except playing another unit).
The fact that they're generated for free from unit summons or Hate Spike gives good value when you're looking for sacrifice fodder, for cards like Glimpse Beyond or Spirit Leech .
Overall, Husks provide a solid backbone to the deck, while the rest of the heavy lifters can make good use of them and do the… heavy lifting!
Alright, let's talk about our first Champion, Evelynn
. She is one of your win conditions, as she can quickly spiral out of control if left unchecked.
Alone she doesn't do much – she can come down, create a Husk, and that's about it. But as long as you have a way to kill that Husk and level her up, like summoning a unit to 'consume' the Husk, she becomes quite strong. Evelynn (level 2)
is a 5/5 that gets the Keyword of the Husk that died for the round. The Husks's Keywords are in general good for aggression, but a few are decent for defense, too. And our Champ also stacks the Keywords of other allied Husks that died that round.
Ideally, you'd be summoning Evelynn while you have a Husk on board, so she will be granted that Husk's Keyword, summon a new Husk, and level up all in one go. Just try to keep track of which Keywords are given only for the round, and which is granted permanently.
Something about her Level 2 that you need to be aware of is, she will Transform back to her Level 1 form if fewer than six allies have died this game. If that happens, you'll have to kill an allied Husk again to level her up. The good thing, though, is that her Level 2 summons a random Husk on every round end, so you'll have one to make use of if she Transforms back to Level 1 next round.
Viego
is our other win condition – at Level 2 he can swing a game all on his own.
Viego starts as a 5/4 with Fearsome, which is okay, but can be a bit better. He will summon an Encroaching Mist
the first time an ally dies each round, and whenever an Encroaching Mist is summoned, it buffs allied Viegos and Encroaching Mists EVERYWHERE +1/+1. And since our deck is chock-full of certain cards that create units who die when an ally is summoned (*cough*Husks*cough*) we'll be generating Mists pretty often without having to trade into units, sacrificing actual useful units, or hoping our opponent kills one of our units for us.
Viego will grow to tremendous stats in no time, and having Fearsome makes him harder to block.
The neat thing is that the Mists also get buffed, and they make great blockers or attacking threats – and since they're Ephemeral, whenever they strike or when the round ends, they die and progress Viego's level up!
Invasive Hydravine
is another Fearsome threat, which generates Encroaching Mists each round start. While it doesn't benefit from the Mists themselves, generating one each round means you'll always have a giant blocker or attacker that your opponent needs to deal with.
Once Viego levels up, his ability to generate mists changes from "The first time an ally dies" to "The first time a unit dies," so this will account for enemy units as well now. And at round start, he will steal the strongest follower from your opponent's board, and kill it if it's a Champion – since a unit died, Viego will generate a Mist as well, further buffing himself and your other Mists.
Seeing Viego (level 2)
usually means that the game is over since your foe's board board will constantly be stolen – unless they find an answer soon, they just can't play any strong unit or else they'll just join Viego's side at the start of the round.
Another card that makes use of all of your dying units. Neverglade Collector
can quickly spin a game back in your favor: Draining one Health from your opponent can heal your Nexus back to a decent life against Aggro, or be that final few points of burn you'd need to close out the game. Husks and Encroaching Mists will be our main way to trigger the Collector, and with him having 5 Health (plus whatever else he may get from Husks), not many cards outside of hard removal (like for example Vengeance
)) will be able to deal with him. And any removal that our opponent spends on our Collector is removal that our Champs don't have to worry about.
These are your Husk generators.
Sultur
and Vora
are pretty simple: summon them and you summon a Husk.
Domination
does a little more: she also grants +1 Power to your one-drops, so all Husks, Encroaching Mists, and Spiderlings from Vile Feast
get a small attack boost. It mostly matters for Viego's level up and for Husks granting an extra point of attack to the unit that consumes them.
Finally, Hate Spike
is a great card overall: cheap removal and a Husk generator all in one. You have many units that you don't mind sacrificing, namely Husks or Encroaching Mists, so you can make good use of it.
Atrocity
is a great card to close out the game with. Say you have a giant Viego or Encroaching Mist, but you can't seem to get through your opponent's board… well, just send one of your big threats straight to their Nexus with this!
It also makes a great desperation play that can close out the game at times – say your opponent is about to win, and all you have left is a big Viego and Atrocity in hand… might as well just use it and try and take them down before you go!
---
LoR Deck Eve Viego: Mulligan guide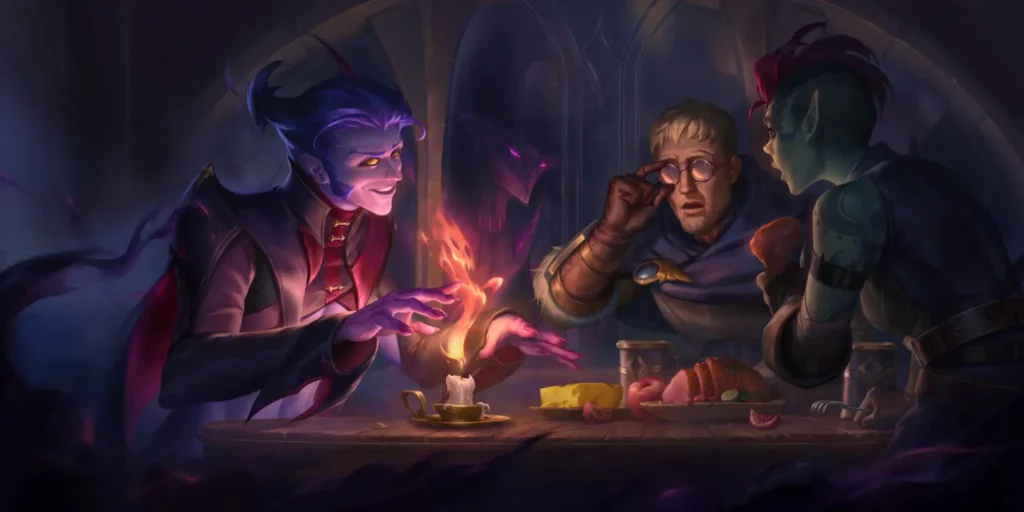 Against aggressive decks (such as Pirates, Annie Jhin, Lurk)
Look for cards like Sultur
, which is a good early blocker, and Camavoran Soldier
, who can summon an additional blocker for you. Vile Feast
is great as well to ping off one-health units like Legion Saboteur
, or generate you a blocker. If you have Sultur or Camavoran Soldier, I'd think it's okay to keep Hate Spike
in hand as well: good cheap removal and both units can generate you something to sacrifice.
---
Against Control decks (such as FTR, Heimer Jayce, Darkness)
Hard removal is gonna be a bit annoying for us, so we'll wanna look for our major threats and Husk generators, I think. Domination
I'd say is an important one since she also gives the +1 Power to one-cost units, so your Husks get a bit bigger and will make other units more threatening. Camavoran Soldier
is also good since if you play it before playing Viego, and the Mist will make Viego harder to remove with damage-based spells. I'd keep Evelynn
as well since she's an early medium-sized threat that can get some good control/damage in as well. If she levels up, she will also generate a Husk each round – you're really looking for the Warded Husk
so you can grant Spellshield to your bigger threats like Viego or Invasive Hydravine.
---
Against Combo decks (such as Gwen Kat, Kennen Ezreal, Nami TF)
You'll want to look for your own key cards, so you can sort of race them and put them in an awkward spot.
For these matchups we'll want to try and find our Husk engine (Evelynn and her Husk-generating followers) and try to get going faster than our opponent. Viego is a keep if you have Evelynn already. If you have them both, then you can afford to keep a Vengeance as well. Camavoran Soldier is also a nice keep, to get Viego out of Ravenous Flock
or Riptide Sermon
range.
If we are facing Kennen Ezreal, I'd also look for Vile Feast
or Hate Spike
s. If it's Gwen Kat, then Hate Spike
is good here too, to deny the Katarina
strike or straight up kill her. Against Nami decks I wouldn't mind keeping Neverglade Collector
if you have Evelynn in hand.
---
How can I win with my Queen and King?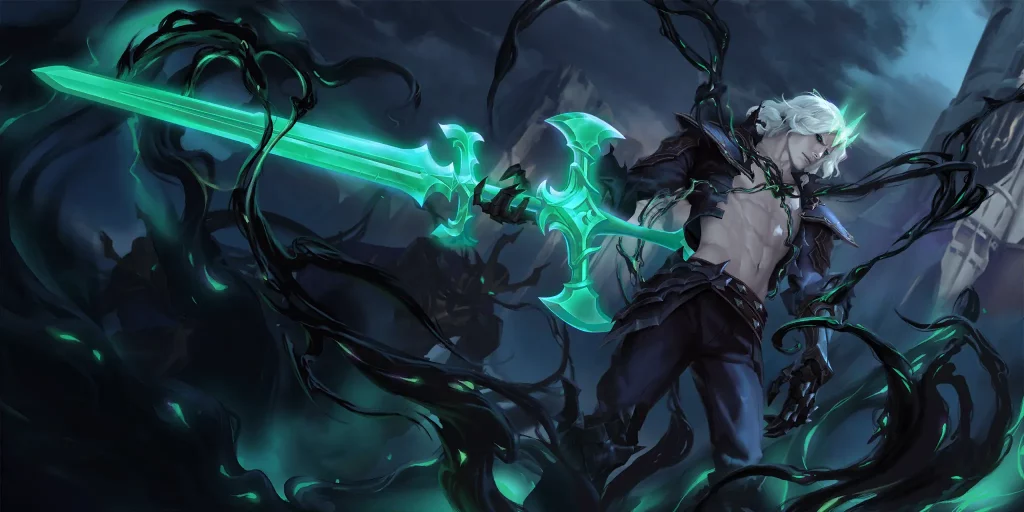 Well, simply put… you win with them!
An unchecked Evelynn or Viego on board will eventually win you the game themselves, period. You can also get a win out with Neverglade Collector or Invasive Hydravine sitting on the board for several.
Our main gameplan is to just play on curve – ideally, a Husk generator on round three and Evelynn on round four. She'll get the ball rolling and get Husks generating, and eventually your units will become decent threats, with Evelynn also becoming one since she gets the Keywords from any Husk you slay as well.
Playing Viego right after Evelynn is icing on the cake – you'll have a Viego on board with an extra keyword and +1 Health. Summoning Viego with a Husk on board will also instantly generate you an Encroaching Mist, so he'll also gain the +1/+1 buff. The same goes for Neverglade Collector: summon him while you have a Husk on board and you'll Drain 1 right away.
You've got some control cards in here to try and keep tempo, like Black Spear
, Vengeance
and Hate Spike
. Most of the time you're just sitting on them until you need to slow down your opponent enough for you to buy time for Viego and Encroaching Mists to grow, or Evelynn to get annoying.
Sometimes you can even just swarm the board with smaller units, each with an annoying keyword from Husks. Going Sultur
into Domination
, into Evelynn
, into Sultur
+ Camavoran Soldier
is the kind of stuff that isn't too uncommon in our deck.
Here's a few tricks to keep in mind:
Viego's 'Summon an Encroaching Mist' effect will activate when an Ephemeral unit dies at the end of round, but the Mist generated won't die this round (since the Ephemeral check has already happened). What this means is, if you have for example an Encroaching Mist on board, and you summon Viego, and have not used his effect yet, at the end of the round when your initial Mist dies, Viego will summon another one, and this second Mist will persist into the next round since it it was summoned after the 'Ephemeral dies at end of round' check.
Evelynn will level up or gain Keywords from you killing your Husks in any way, not only from you summoning another unit and the Husk's effect triggering. This means that if you have a Husk on board, and you want Evelynn to have that Keyword for the round or level up, you can use Glimpse Beyond, Hate Spike, or even Vile Feast on your own Husk to do so. Comes in handy when you have no units to consume the Husk and you really want your Evelynn to a Keyword like Elusive or Challenger. You can do this mid-combat too, if needed, to grant something like Fury or Overwhelm!
Don't forget Domination buffs all one-cost allies that are summoned. That includes Spiderlings or Encroaching Mists, so don't forget to factor that in if you're trying to go for lethal, or calculate leveling up Viego.
---
*HUSK BUG WARNING*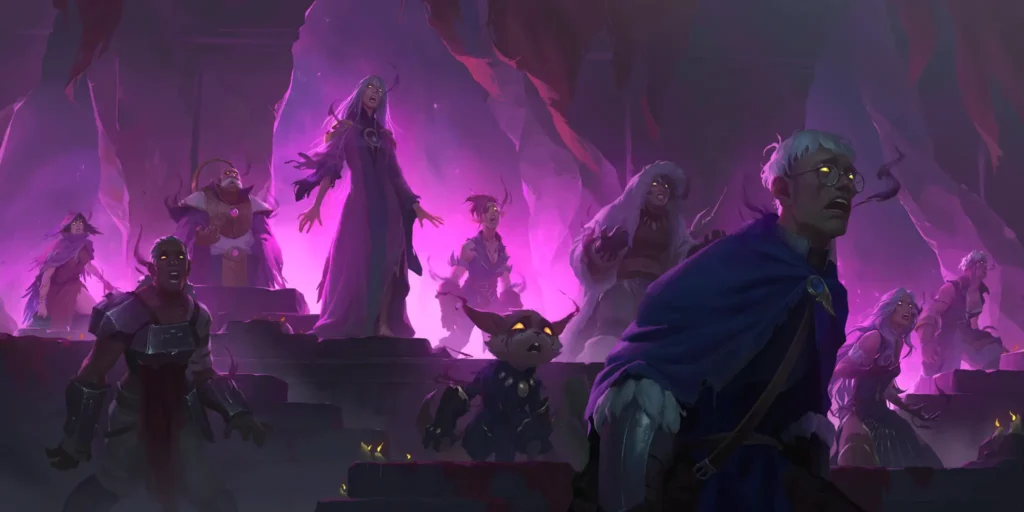 So: at the moment, Husks seem to be bugged. If you have a full board and one or more of those units are Husks, and you try to summon a unit with a play effect that doesn't kill another unit (So not Spirit Leech
, but yes to something like Oblivious Islander
) or something to do with "I've seen" (like Level 1 Evelynn), that unit will consume the Husk as normal and all that, but their effects will not activate. 
The ones that don't "see" the Husk die makes some sort of sense so I'm unsure if that's a bug, since there's a sort of "Limbo" space that units go into when effects are resolving, if they're summoned on a previously full board. Quick explanation of it here:
Frostguard Thrall
coming out from a Frozen Thrall
completing its countdown, while a Blighted Ravine
is also resolving its countdown, on a full board.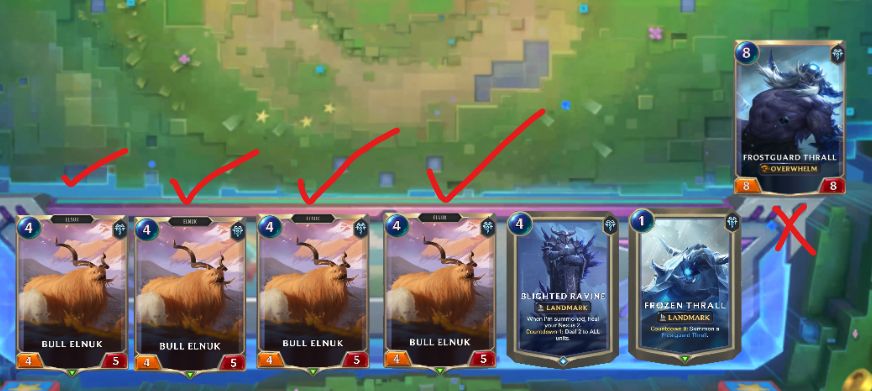 The Blighted Ravine will damage the Elnuks but not the Thrall, since it's in the limbo space waiting for effects to resolve and the landmarks to disappear before it's placed on the board. This is what it will look like afterwards.
Here's a couple of examples:
Evelynn (Level 1) vs Husks – If you play her on the full board, she will not 'see' the Husk killed and won't level up. If the board is not full when you play her, she does level up.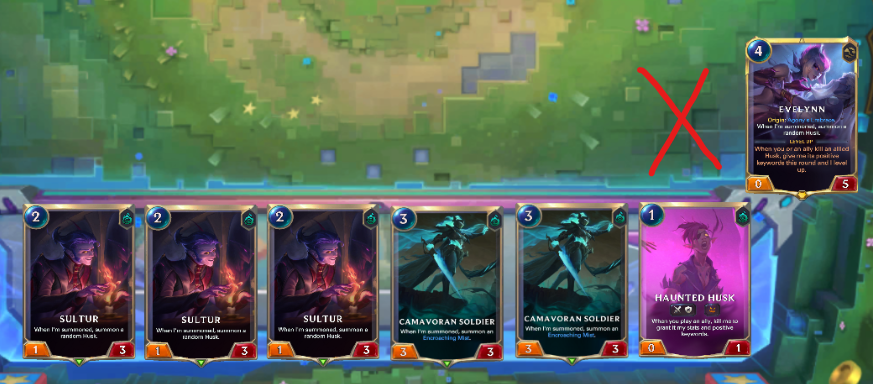 Neverglade Collector vs Husks – The same as Evelynn, Neverglade will consume the Husk, but won't Drain 1 from the enemy Nexus. If played on a board that wasn't full, it would Drain 1 from the Nexus.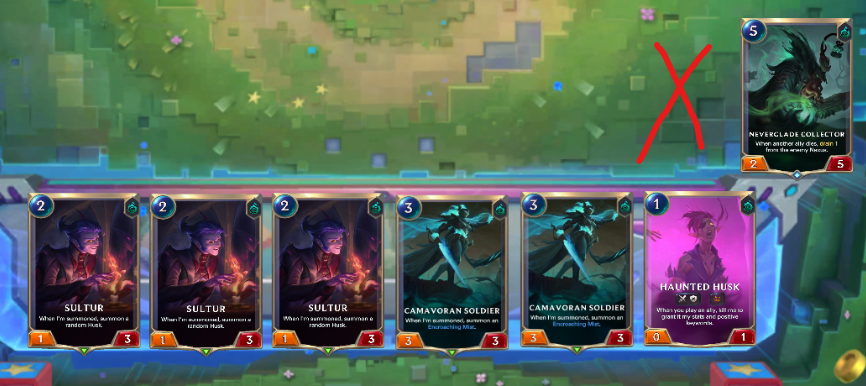 Oblivious Islander vs Husks – While this card isn't in the deck, I just wanted to demonstrate that it doesn't work. If you summon him on a full board, you can pick a card in hand for his effect, he will consume the Husk, but he won't actually end up discounting the card you chose.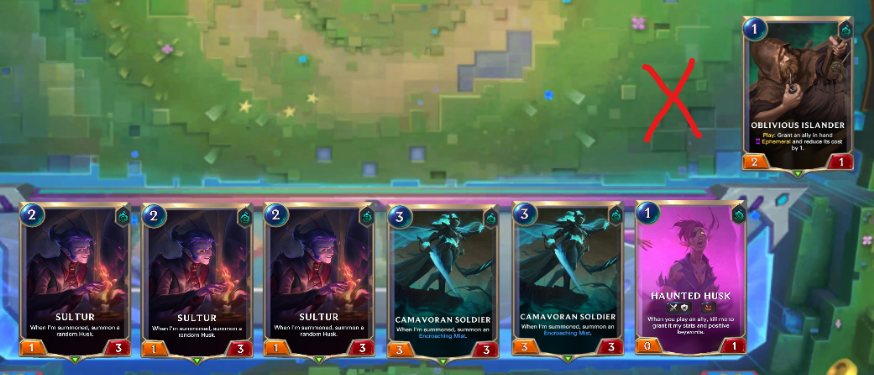 Leech vs Husks – Finally, one that works. Leech will let you select a unit for its effect, it will consume the Husk on summon, and it will kill the unit you selected and draw two cards.
Anyways, it might not come up a lot, but it does come up at times, so it's important to remember if you're going for damage with Neverglade, or trying to level up Evelynn: currently, it doesn't work on a full board.
---
LoR Deck Viego Evelynn: Matchups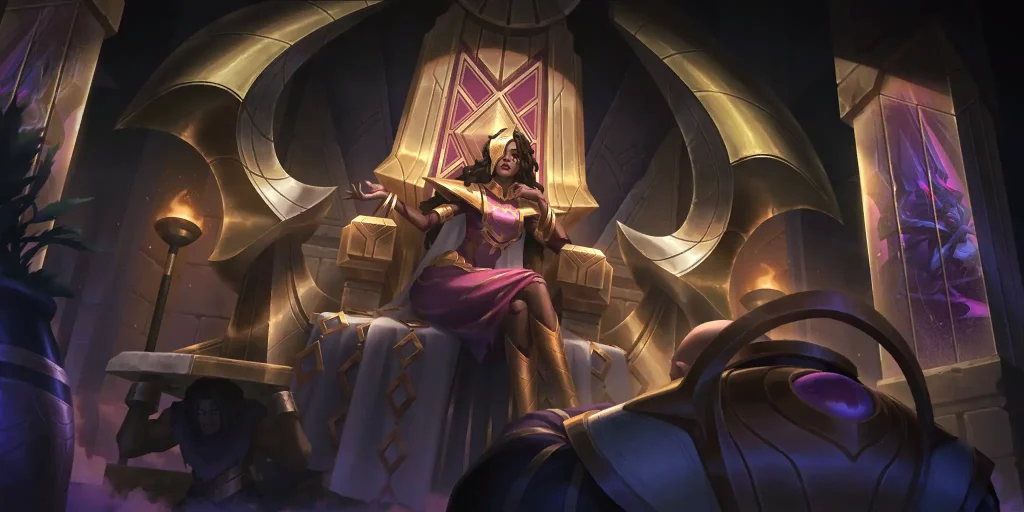 Pirates Aggro (Slightly Favored)
So, Pirates! Very annoying deck to deal with if they get their board wide enough. Thankfully, we have some good stall tools, like Camavoran Soldier
and Vile Feast
, to buy us time until we can get down the card that turns that matchup in our favor, Neverglade Collector
. So I'd look for those cards: pretty much any units that cost three or less, plus Vile Feast
and Hate Spike
. And of course Neverglade: if you find him with some of those other cards, I'd keep him as well.
I think that if you can get the Collector to stick, with a good amount of units coming down round after round, you'll be able to keep your Nexus in good health and out of range of their burn cards. And Husks do a wonderful job of making your other units ever so slightly beefier with that +1 health, usually allowing them to block multiple times.
Another way you could win, if they aren't rushing you down, is just having a nice big Evelynn or Viego. Evelynn can act as a great defensive card if you hit the right Keywords, and Viego can generate blockers each round and potentially get big enough for you to just Atrocity your King at the opponent's Nexus.
---
Heimerdinger Norra (Slightly Unfavored)
What we want here is one of our big units like Evelynn, Viego, or Invasive Hydravine. Try to find at least one of those to get them going ASAP. I'd look for one of the early Husk generators as well, like Sultur
or Vora
, and if you find them keep Hate Spike
or Black Spear
too. I wouldn't keep Domination: it's a bit too easy to remove.
Going against a deck with lots of hard removal is a bit rough. Their Minimorph
and Vengeance
are great tools to handle our big threats (that's to say Evelynn, Viego, and Invasive Hydravine). They also have a lot of pings like Pokey Stick
and Vile Feast, which if they use to remove our Husks before Evelynn can get going will make our plans quite slow.
Our hope to win is through attrition. They're not the fastest deck, and if we throw threat after threat at them, eventually they'll run out of answers for a bit, and we'll be able to start making giant Mists or summon many Husks for our units to get some good keywords. Spellshield and Tough are the key defensive ones, I think, and Challenger is great for going on the offense.
---
Plunder Gangplank Sejuani (Favored)
Against Plunder we want Sultur, Vora, Evelynn, Vile Feast, and Camavoran Soldier. If you have any two of those I'd keep a Viego or Vengeance as well, if you found them. I wouldn't keep Domination since it's a bit susceptible to getting removed easily.
This one is quite simple. You stop their Plunder progress each round if you can, by denying their attacks with good blockers or shooting off their units; then you get Evelynn or Viego down and start generating cards and forcing blocks. And you use Vengeance, or even Viego's Despair
, on their Champions if they try to play them. The only real removal they have to take down a full health Viego or Evelynn is using Sejuani to somehow take them down, or multiple spells. Riptide Sermon
can kill Viego if he hasn't been buffed at all by a Husk or Encroaching Mist, but the chances of that are slim, so try to buff your Majesty before putting him on the board.
---
Nami Twisted Fate… Ionia or Shadow Isles (Unfavored)
For these matchups we want to try and find our Husk engine (Evelynn and her Husk-generating followers) and try to get going faster than them. Viego is a keep if you have Evelynn already. If you have both Champs, then you can afford to keep a Vengeance as well.
Nami
decks in general are a bit hard for us. They usually run multiple removal spells in the form of Will of Ionia
, Homecoming
, Vengeance
or Crumble
, depending on which region pairing you're against.
On top of all that, they're pretty much an Elusive deck with units that can gain an absurd amount of stats faster than we can. Our only hope is to get the Desperate Husk so we can put Challenger on Evelynn or Viego, to deal with Nami or Fleet Admiral Shelly
. Warded Husk isn't bad as well to try and keep our Champs protected, but there's lots of ways for them to take off our Spellshield with a cheap spell, to make way for the real removal.
We can hope to get our own Evelynn/Viego engine going and try to beat them down before they can play Nami and generate a board for her to buff. Or we could also snipe Nami with Vengeance and hope that they have no answer to it.
---
Wrapping up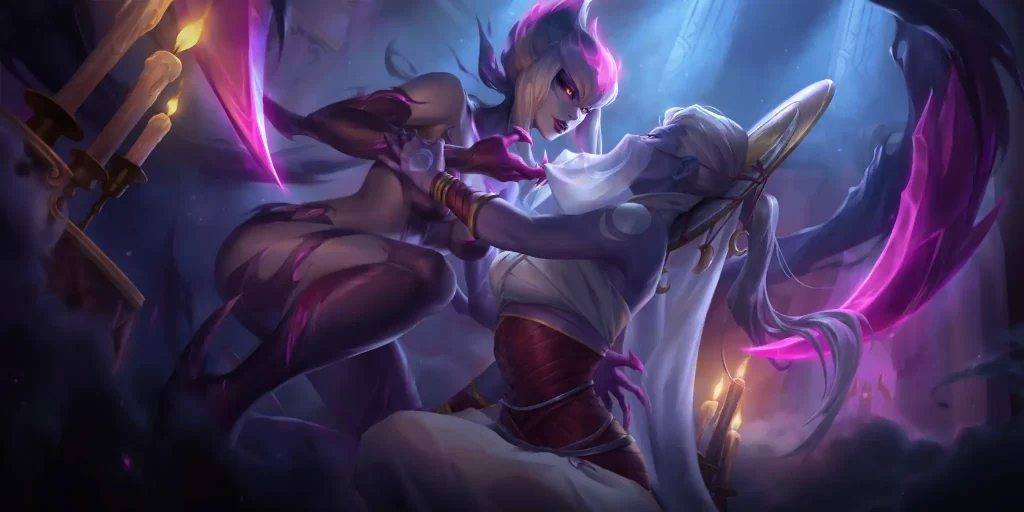 There you have it, Evelynn Viego all wrapped up!
This should get you up and running if you decide to pick up the deck. We've gone over the cards, how to play the deck, and some matchups. Just keep in mind, the Husks you get are random, and some of them can have useless Keywords, and some can blow your opponent out of the water. So there is some level of added RNG, but that's what it is in card games!
Also if you're interested in how I recreated those board simulations, you can check it out and do it yourself at my LoR Board Simulator found here at https://shadawx.github.io/LoRBoardSim/. It's great to try to discuss what an optimal play was in a certain situation or to even make puzzles (You can find some on my Youtube!)
Thanks for reading!
---
About the Author
Playing LoR since beta, consistent masters player. LoR Dreamhack Champion/Aegis Season 0 Champion(BEAU) and other high-level tournament win/top cuts. Crazy deck builder, omega cracked player. I like garlic bread.
If you'd ever like to chat, know more about the game, or would like some coaching sessions, feel free to hit me up on my socials!
Follow me on Twitter: https://twitter.com/shadawx
Join me on Twitch: https://www.twitch.tv/shadawx
Check my YouTube content here: https://www.youtube.com/channel/UCpgbie3tmI07MZJ5X5b5MYQ
Want that extra boost to get to the highest level of play? Check out my coaching with Metafy! https://metafy.gg/@shadawx
---
---