We already have a very nice weekly breakdown of meta decks, and variety is the spice of life, so why not kick some Cayene into your gameplay with some off meta decks! All the decks presented will have <1% playrate based on the info on Runeterra.ar, so likely you (and your future victims), will have no idea what to expect or what they're dealing with!
Sivir Twisted Fate - Value Town
This deck's game plan is based around controlling combat and valuing the opponent out. You use Vulnerable givers such as Merciless Hunter
, Sheriff Lariette Rose
, in sequence with Sivir
to get free kills. This activates Ruinous Path
and pumps your Baccai Reaper
s. You run Line 'Em Up
and Dreadway Deckhand
to generate Powder Keg
s that enable explosive Make it Rain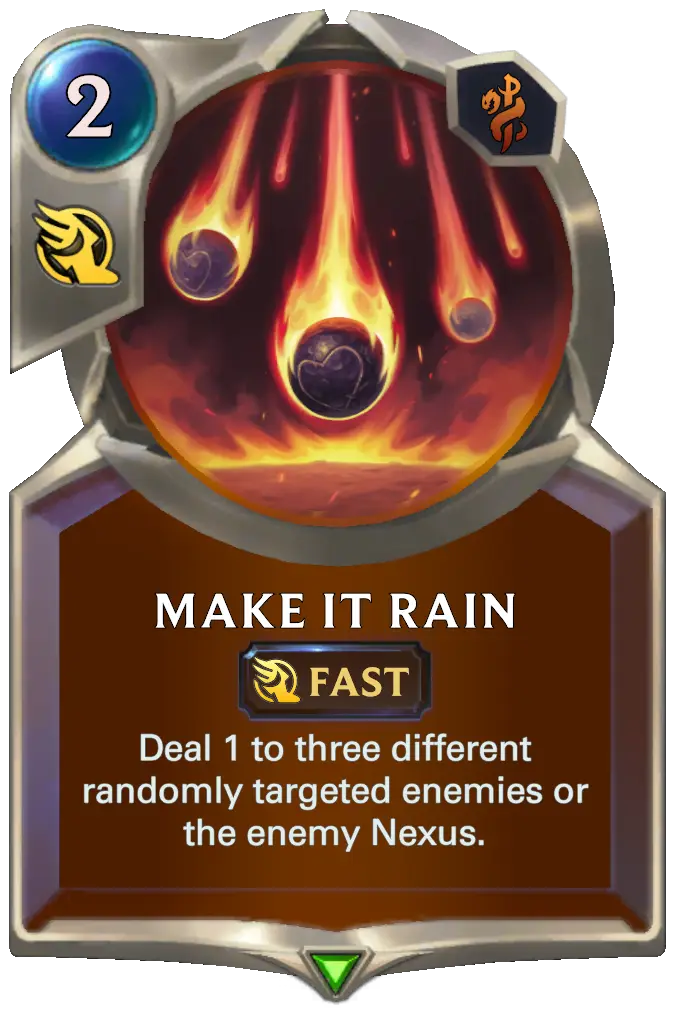 and Twisted Fate
Red Card
turns. 
Then you have a whole whack of cards that generate or draw something in addition to themselves; Treasure Seeker
, Fortune Croaker
, Marai Warden
, and Zap Sprayfin
. All of this is topped out by a full set of Ruin Runner
s that can push for big damage through vulnerable units to close them out.
Tempo and Value are the name of the game with this deck, this is sitting at a 54% winrate over the last few days!
Gnar Ziggs - Burn Em Down!
Here we have a blast from the pre-patch-past with a classic Bandle City Noxus Aggro deck. We have the suite of 1-drops in Inventive Chemist
, Legion Rearguard
, Legion Saboteur
, and Precious Pet
to get the pressure on fast. Ziggs
, Gnar
, Conchologist
, and Lecturing Yordle
generate additional burn for the enemy's face. House Spider
, Imperial Demolitionist
, and Stone Stackers
push for damage to whittle the opponent down.
End of the day it is a burn deck, so it has the full 9 of Pokey Stick
, Noxian Fervor
, and Decimate
to go face. At the end of it all you have a singular Treasured Trash
to Bandle your opponent out of the game if all else fails. Play out on curve, go for face over units, and axe the face, easy peasy!
Akshan Renekton - Power Overwhelming
Who doesn't love Double Strike and overwhelms? This deck looks to make use of Papercraft Dragon
in sequence with Renekton
, Ruin Runner
, or anything with an activated The Absolver
on them. It has some units to compliment the plan in Yordle Squire
, Conchologist
. Rock Hopper
, Exhaust
, and Merciless Hunter
allow you to better control combat.
To finish it off you have a few Desert Duel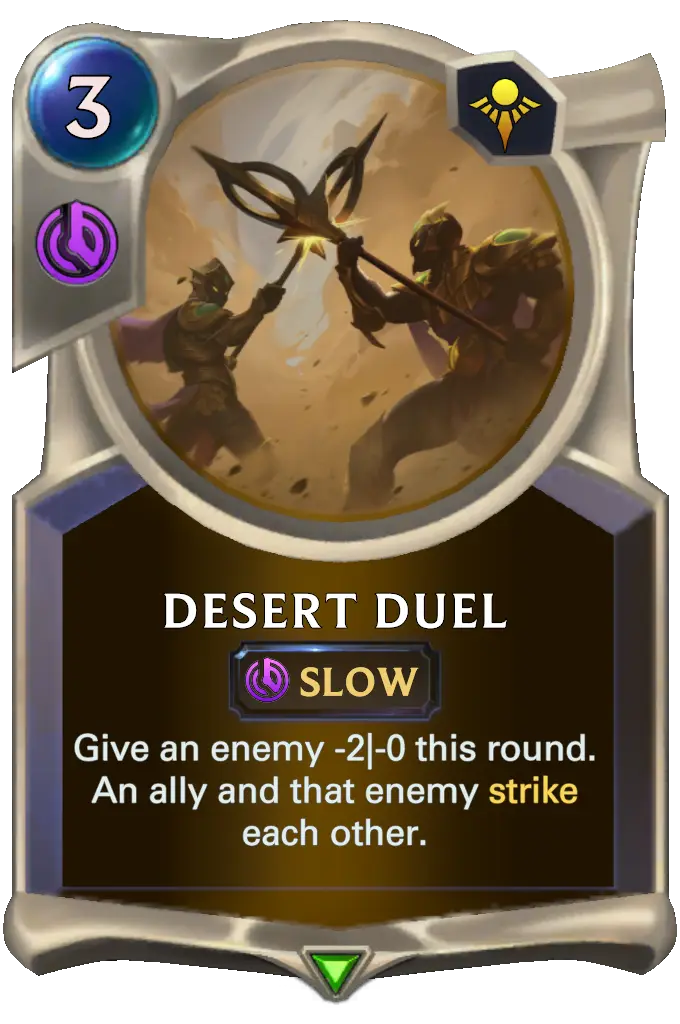 s, Shaped Stone
, and Quicksand
to keep your units alive. It's all based around building to an unstoppable monster and protecting them to hit for massive damage!
Taliyah Ziggs - The List
A mostly normal Taliyah
Ziggs
list, except it looks to make better use of the Vulnerable it grants by adding The List
into the mix. This allows for horrifying free attacks by buffed up Waste Walker
s and champions after they get a bump from Herald of the Magus
to close out games from unexpected angles. 
Aside from that spice it's the normal stuff; Rock Hopper
, Ancient Preparations
, Preservarium
, Endless Devout
, Unraveled Earth
and whatnot. The feeling of power and the great 'gotcha' style moments make this deck a blast to play with.
Champless Freljord Shadow Isles Control
What if you hate people having fun but don't have champion wildcards? This list may be up your alley then! It's a hard-control list with your normal follower suite of Avarosan Sentry
, Kindly Tavernkeeper
, It That Stares
, and She Who Wanders
, with a pair of Commander Ledros
to give you a wincon.
Then you toss in almost every good removal spell in the game. Vile Feast
, Flash Freeze
, Avalanche
, The Box
, Withering Wail
, Piercing Darkness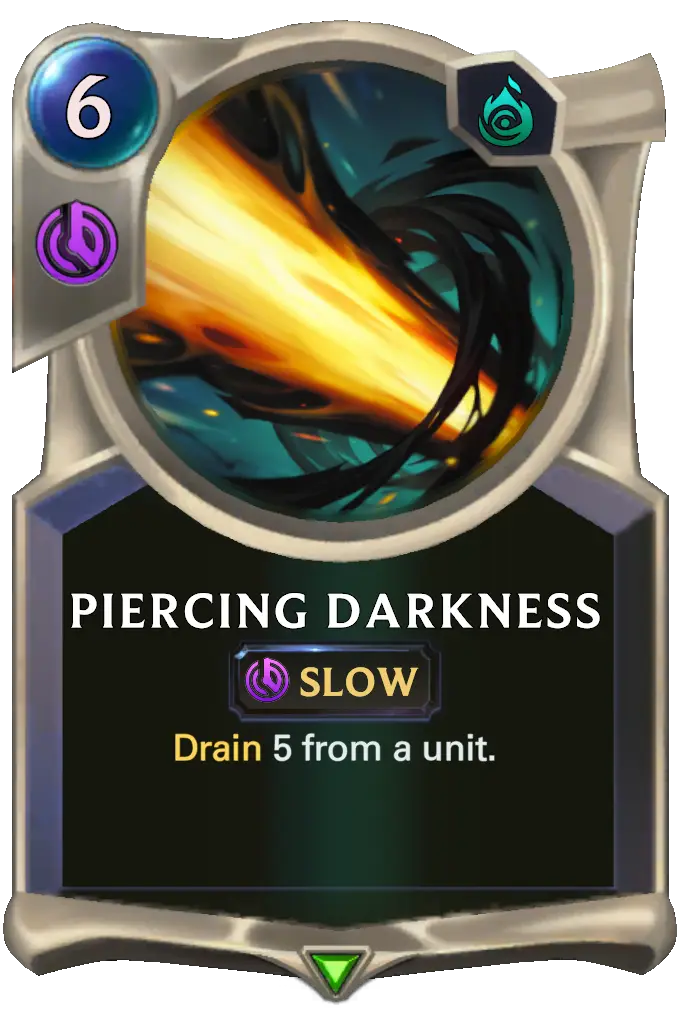 , Vengeance
, and The Ruination
to prevent your opponent from keeping ANYTHING alive. You also run a couple Catalyst of Aeons
to get to your late game faster, and get to the point where you can Ledros into Atrocity
to bonk the opponent from near full to zero)
Thanks to Runeterra.ar for the stats on these lists, and I hope they serve you well in changing things up for your ladder experience! Please consider reaching out to me if you have any feedback or recommendations in the discord or on twitter!