Welcome back, awesome people. After unfolding the story of Demacia Targon in the last Time Capsule article, it is now time to talk about an elephant in the room that is not Armored Tuskrider
but has a connection to it: Overwhelm.
As you already know, my name is Constantin "CastMin" Dumitru, caster for many community tournaments and peak Top 20 player on the EU server, known for popularizing Burn lists like Pirate Aggro utilizing Double Up
in the Rising Tides season and Funsmith
Burn.
When I am not too crazy on Burn decks, I like to delight myself with some Overwhelm from time to time, as it is about pure pressure and slapping the units with the bigger donger and stats. I got this passion from RickoRex, as I was always asking him about decks for tournaments, and you will see his name referenced quite often in this article.
Without further ado, let's get this second Time Capsule going.
Baby giant steps and Patch 1.16 
You would think this is one of the evergreen decks that was present with us since the early days of the game, back in Open Beta, but it is not the case. It was only after Rising Tides and the official release that people realized "Hey. We have a new archetype on our hands". Even after that, you would see Overwhelm tools included in other decks, as they were good cost-for-value inclusions. For example:
It was RickoRex who first realized this archetype has legs and tried playing around with it, but only after the Call of the Mountain expansion first dropped. Some of his early unrefined work looked like this:
What made it take shape and form and unified the concept was the emergence of Twisted Fate
Go Hard
or the Back Alley Poker during Cosmic Creations. I mentioned this nefarious deck in the previous article, too, as it was a powerhouse that kept Midrange decks with late-game value potential in check, as well as most forms of Aggro with small units.
But here is the catch: Overwhelm did not care about the late game that much. It was not the type of Aggro deck with pesky units either. All you have to do is drop big bomb after big bomb after big bomb and make sure it connects at least once before it gets removed.
To sweeten the deal, Avarosan Outriders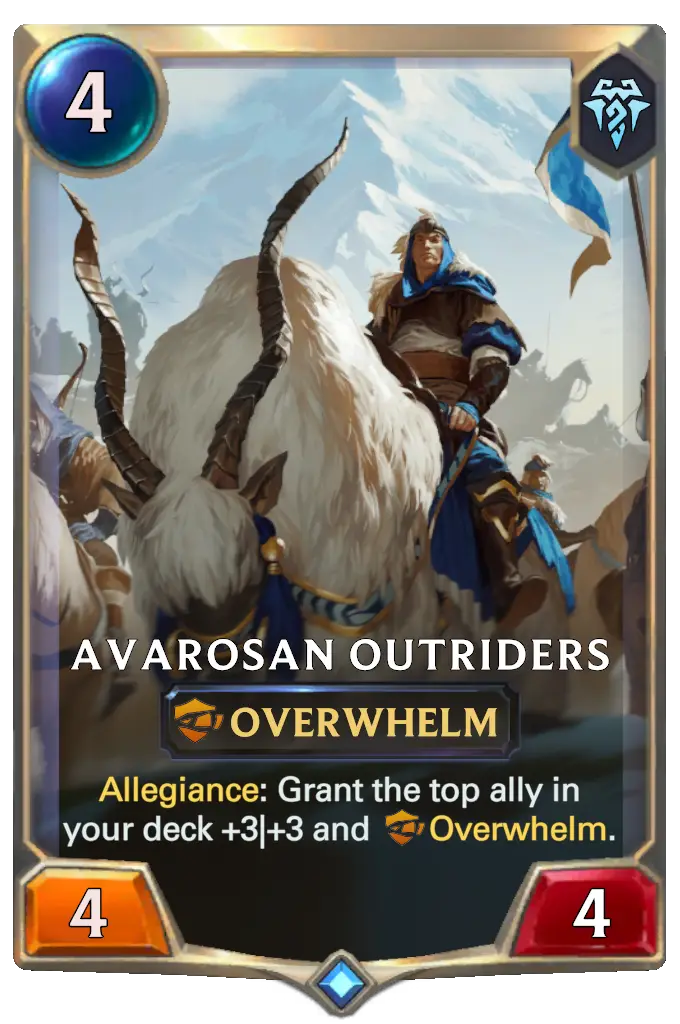 and Troll Chant
were ideal to increase the survivability of already well-stated units. Tryndamere
and Battle Fury
were great finishers, as only Vengeance
used to be the real boogie man – Frostbite effects would just deny the inevitable for one more turn.
What was more important, Sejuani
was not only great at removing threats but maximizing your damage output, as well. Why? Because you could pick the lowest HP unit and put it in front of your biggest Overwhelm unit and call it a day. That is one of the main reasons she didn't leave the deck until very recently.
With all these menaces in your deck and Ruthless Raider
to smoothen your early game, Go Hard
decks had a hard time against you.
Freljord out, Targon in (aaaand a bunch of other cards)
This stage was not meant to change the archetype, but rather provide support for creating Overwhelm line-up. As evidence, this variation appeared quickly after the first polished Overwhelm version emerged.
We are seeing two different innovators with what appears to be "conflicting" ideas.
On one hand, there is RickoRex, who is going the Zoe
Darius
route.
The deck starts to go lower on the curve because the Freljord Overwhelm support is missing, so you have to compensate with swarm tactics instead of dropping the big bombs. However, Crescent Guardian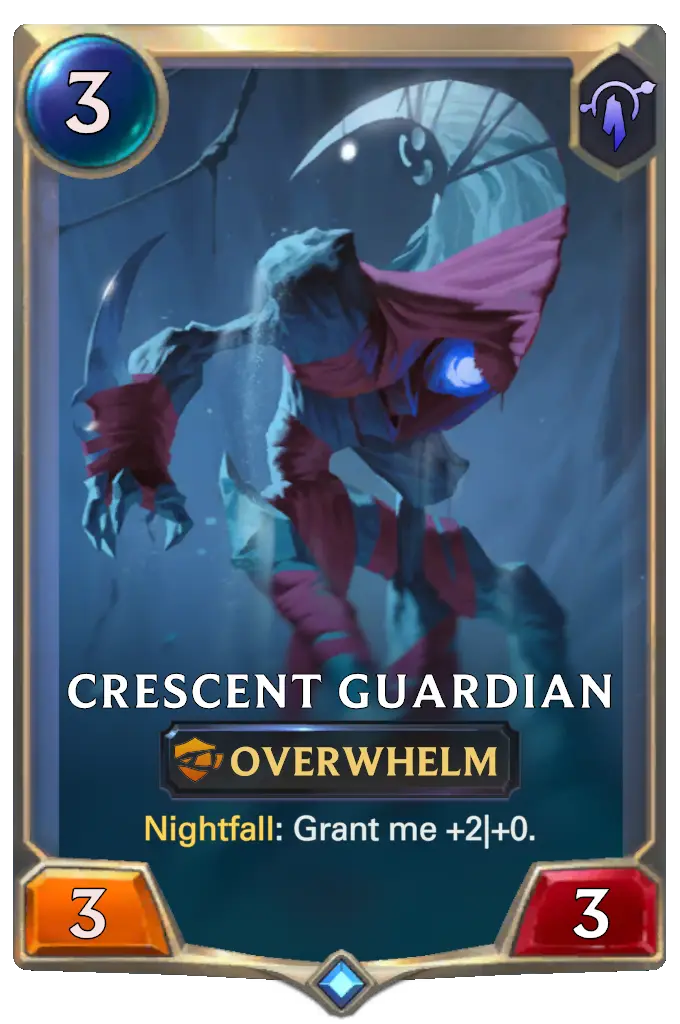 is a useful new tool the archetype can play with.

On the other hand, there is 4LW, who is going the Draven
Darius
route.
You could say this is the more RickoRex-esque version, as it doesn't give up on the Iron Ballista
while still maintaining Crescent Guardian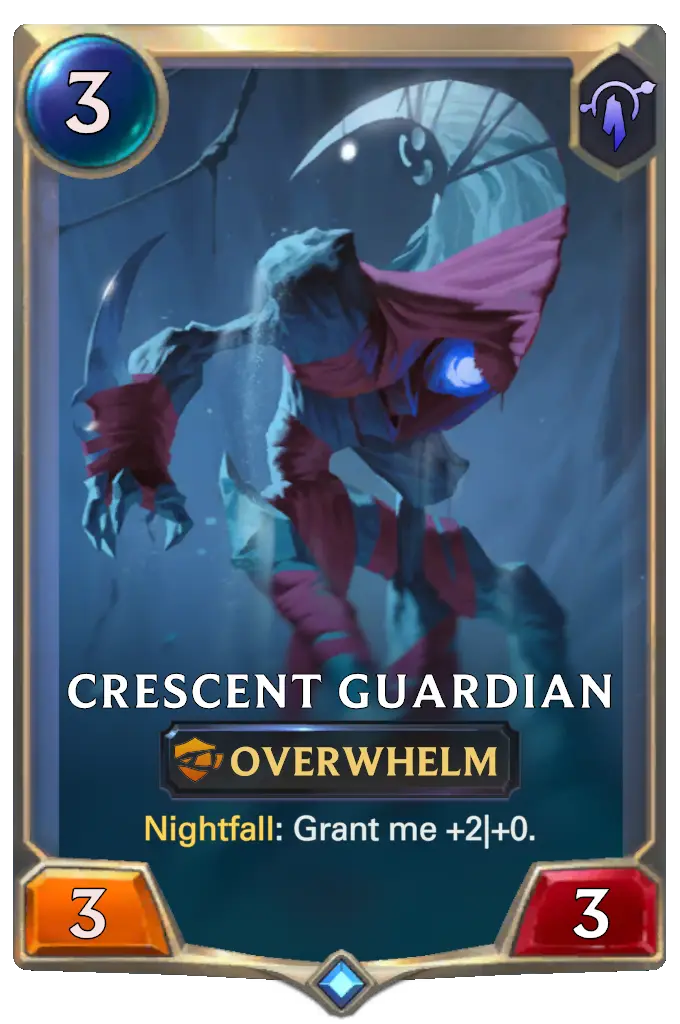 in the three-drop slot. Draven
is the biggest game-changer as a pseudo-Overwhelm unit, because he is shutting down unfavorable blocks or forcing them for your opponent to survive. And because of Pale Cascade
, which would add a bit of survivability, you could see him level from time to time.
"But why these different variants when 4LW's is the superior one?"
Because they were planning for different formats:
Ricko was focusing more on making an Overwhelm line-up viable, so he had to spread his champions thin to cover three different decks; he simply did not have enough support in other regions, as Shurima was yet to be released;
His line-up during that time used to be Riven
Draven
PnZ , Zoe
Darius
, Sejuani
Tryndamere
Shadow Isles;
4LW was focusing on getting a strong Midrange deck in shape, so it made sense for him to play the stronger and more stable variant of the deck.
Crazy Fight Night times
This is more of an "Honorable Mentions" period, where creativity was at home.
If I mentioned restrictions on building an Overwhelm line-up used to be harsh already, imagine you are Ricko and you have to build it in a two-deck region lock format like Fight Night. While the ideas weren't the most consistent, they did help him become the champion of the event once with the following two lists:
6
8
3
23
6
0
12
22
Enter Sandman a.k.a Shurima Overwhelm is doing da ting
With Shurima being released, it became easier to go tall when you had the back-up of Vulnerable attached to units like Rock Hopper
and Baccai Sandspinner
, on top of adding durable units like a 6/4 Ruin Runner
and the addition of the +3/+1 Shaped as both an offensive and survivability tool. The cherry on top was the release of the 4/3 Merciless Hunter
in the second expansion of the set.
It became even clearer why being able to pick the lowest HP units with your Overwhelm units is so important. In addition, now you could also remove the units with more HP more consistently while preserving your Overwhelm units as a permanent threat breathing down the neck of your opponent.
It had to be RickoRex one more time to the rescue of this archetype, as a new wave of Overwhelm is making some noise. This time around it is splashing Demacia as the region providing the best buffs and combat tricks – it is a shame, considering it was supposed to be the unit-centric region:
Sharpsight's efficiency as both an offensive and defensive tool has been proven for many seasons already

Prismatic Barrier is bringing even more resilience to the table for your big bombs;

Combining Cataclysm with a surviving Overwhelm unit can usually spell the end of the game for your opponent;

Golden Aegis with a Sivir on the board or a clear board on your opponent's side has a similar game-ending effect.

 
It remains to be seen if this is another RickoRex deck that can be picked up by anyone or just something the master and the master only can pilot to perfection
Closing Words
Over time, the purpose of Overwhelm decks has remained unchanged: "Me smash big unit in your face and you die!". It is just the tools that they gained to do so that have been changing.
Whatever that future may hold for it, I hope you enjoyed this article and found it useful.
Don't forget to check out my Twitter as I will keep you up to date there about my future articles and future interviews with top competitors that will also share from time to time their moments of nostalgia about their favorite decks from a specific season.
❗Don't forget to mention in the comments which archetype you would like to see a Time Capsule on for the next article❗