This year has certainly started with a bang with significant changes to the competitive format, new cards, and a balance patch that turned the meta completely upside down. With the previous patch's big dogs brought low, a number of new decks and champions have appeared to fill the void. Orrn, Ryze
, and Nocturne
have all carved out a niche in the new meta thanks to recent buffs, but none have quite had the same rocket-propelled rise to prominence as Tristana
!
Tristana
has actually found two viable new archetypes, one in Noxus and the other in Shadow Isles. While the more aggressive Noxus version is doing well with a 55% win rate, the SI variant has overshadowed it at 57%!
Though they share a majority of the same cards, the decks play out very differently. The Noxus version follows a linear aggro game plan with burn or Reveler's Feast
to close out the game, the Shadow Isles version is more of a combo deck with light control tools. Our standard game plan is to swarm the board with value from Bandle City Mayor
and push chip damage to allow us to finish the game with our enormous Tristana
and Atrocity
.
Tristana
is more than just a big body to toss at the enemy Nexus, once she has leveled she becomes an incredible value engine for us. Each multiregion unit that you summon while Tristana (level 2)
is on board will be granted +1/+0 and will gain a stack of Impact and this same effect will be applied to our favorite Bandle gunner. This damage can quickly add up and makes each of our units much more threatening.
With the number of cheap units that we run and the discounts from Bandle City Mayor
, Tristana
can regularly reach 11 Power and 4+ stacks of Impact, (eat your heart out, Albus), making her a must answer threat. Once Tristana
has surpassed the enemy Nexus' health, we can hold the threat of Atrocity
over our opponent to limit their ability to use their mana.
The control tools in our deck give us a chance to actually find our combo pieces and stay alive long enough to fling Tristana
at the enemy Nexus. Vengeance
allows us to deal with larger threats, while Group Shot
, Pokey Stick
, Hate Spike
, and Buster Shot
give us efficient answers to lower health units.
Putting all of this together, determining when you are the beatdown deck vs. following the control game plan is an important part of playing the deck well and will vary based on the board state and the opponent's deck.
I'm Tristana, and I take ladder points!
Wait, why is Tristana
meta?
There are a number of reasons, but the main ones are related to value and tempo. Tristana
comes down as an incredibly over-statted 3 mana Quick Attack unit that grows in deck and has an easy to achieve level up condition with minimal deck building cost.
She also acts as a value engine on board that continues to grow while giving and getting Impact and has enough health that she is almost impossible to remove efficiently at her cost.
No matter how the opponent answers her, playing Tristana
works in our favor.
If our opponent is forced to Vengeance
or spend multiple cards on our single 3 mana champion, this is a huge swing in our favor and makes it more difficult for them to address our other units.
If our opponent can't remove her, Tristana
will continue to pump out buffed Impact units that will be able to punch above their weight and force favorable value trades.
Deck Build and Tech Considerations
6
3
10
21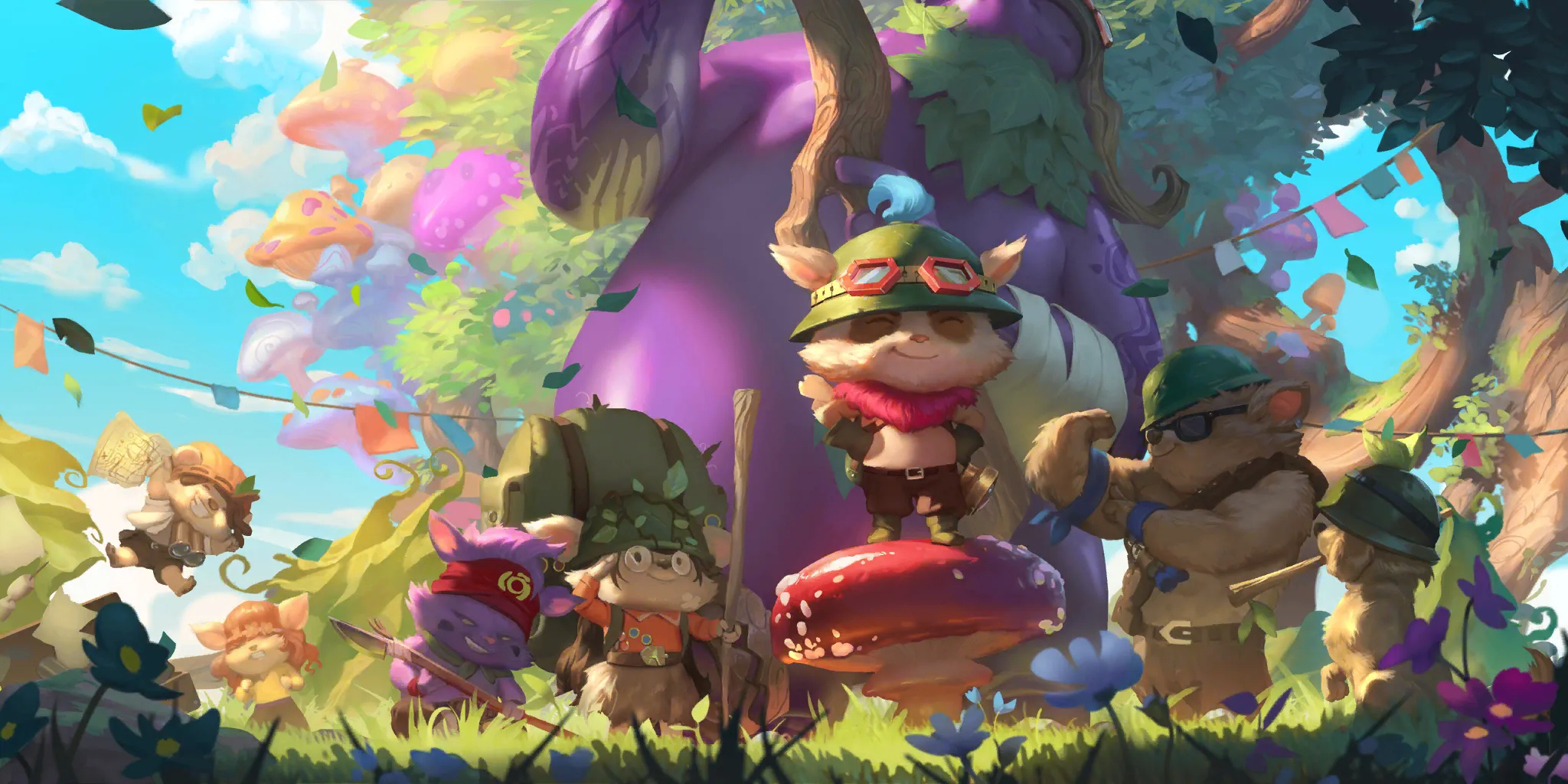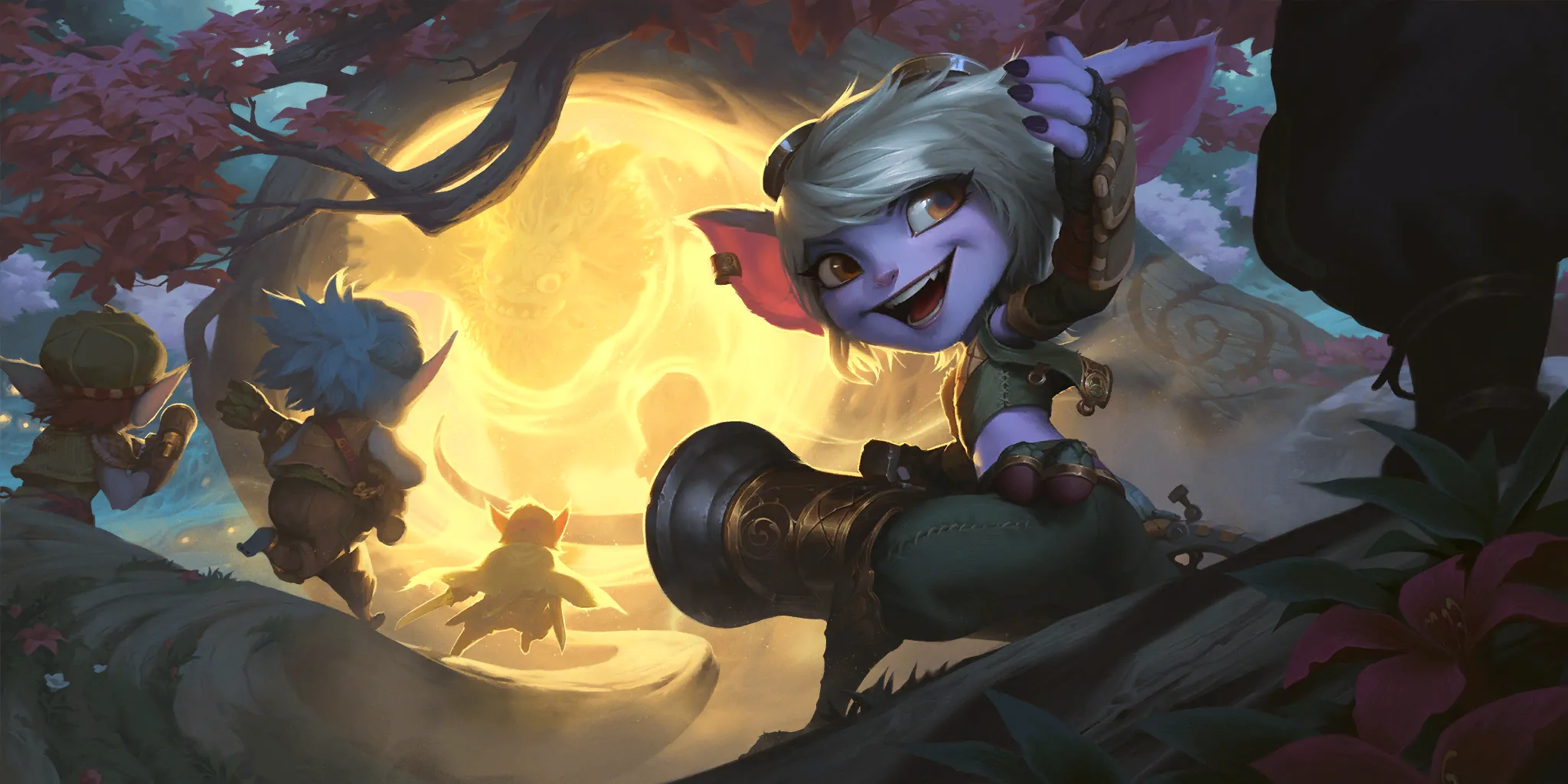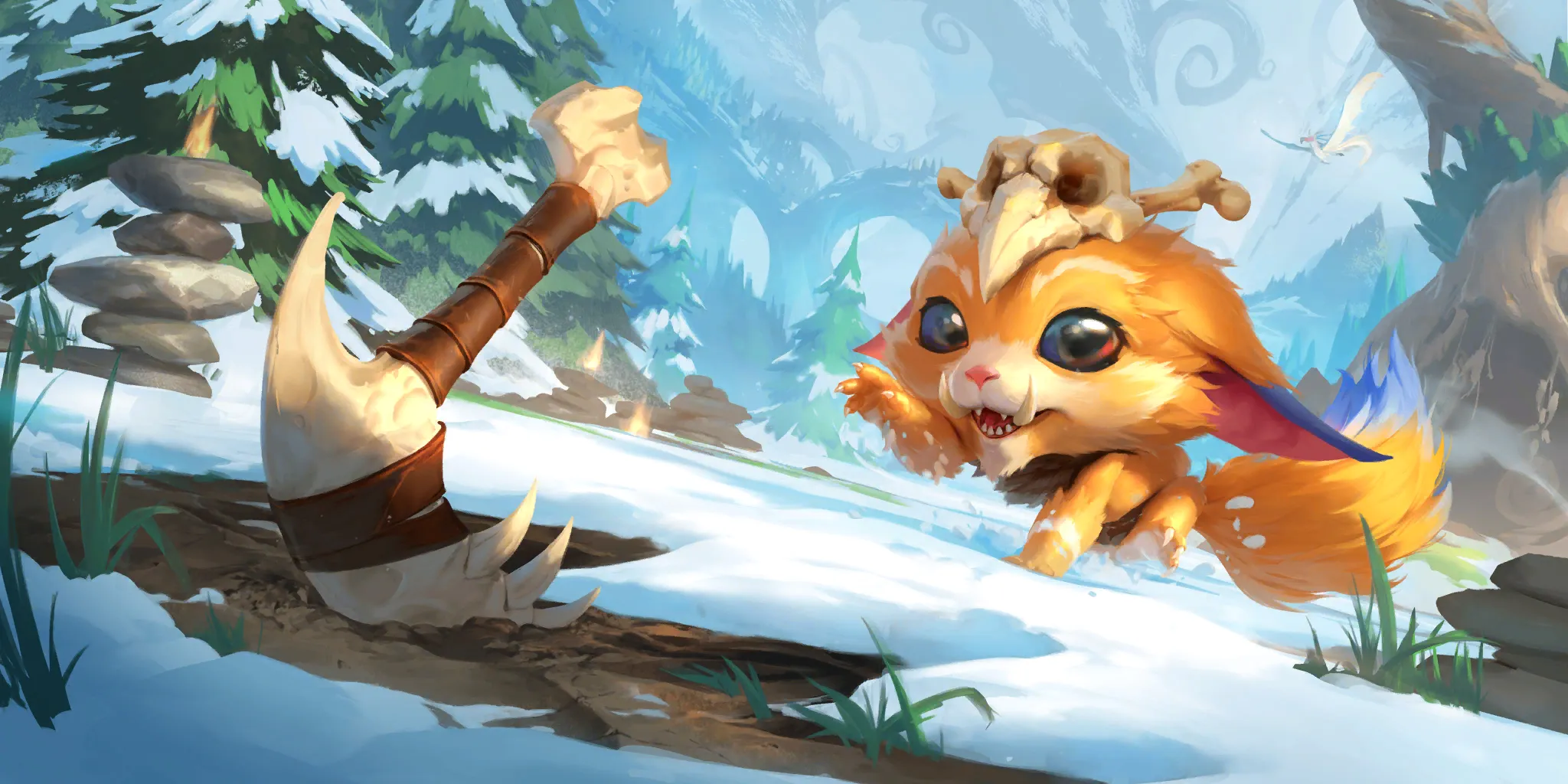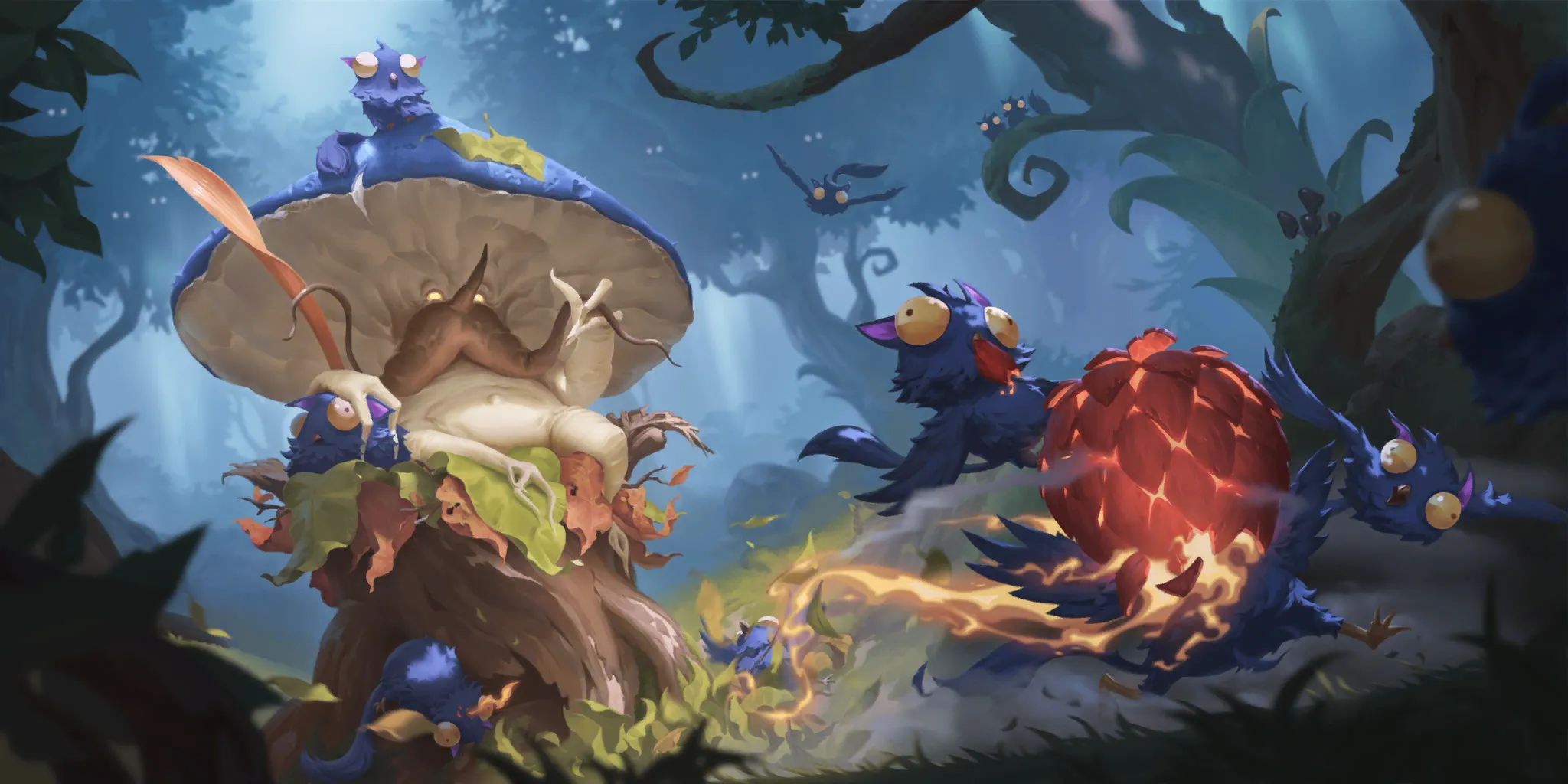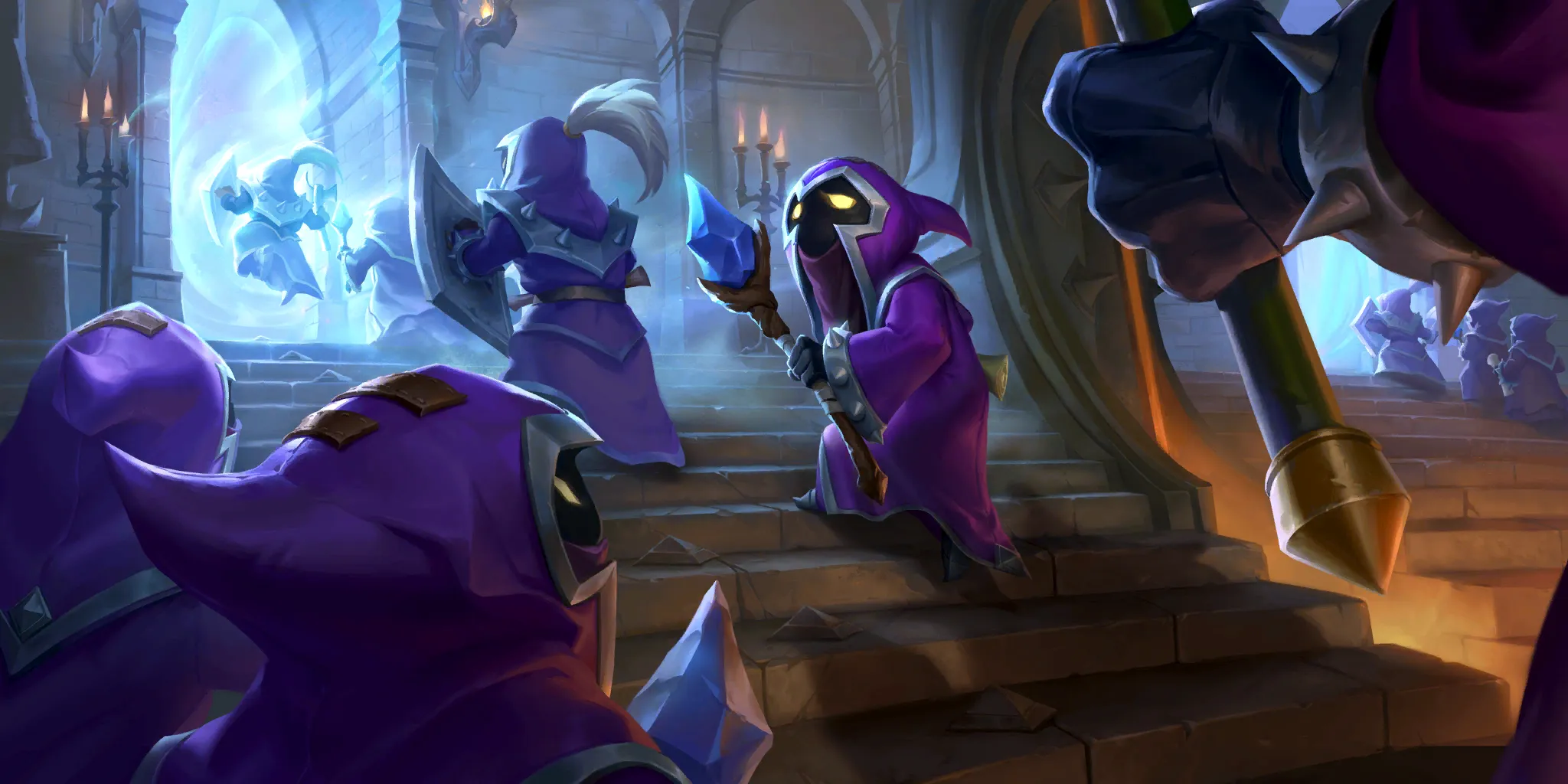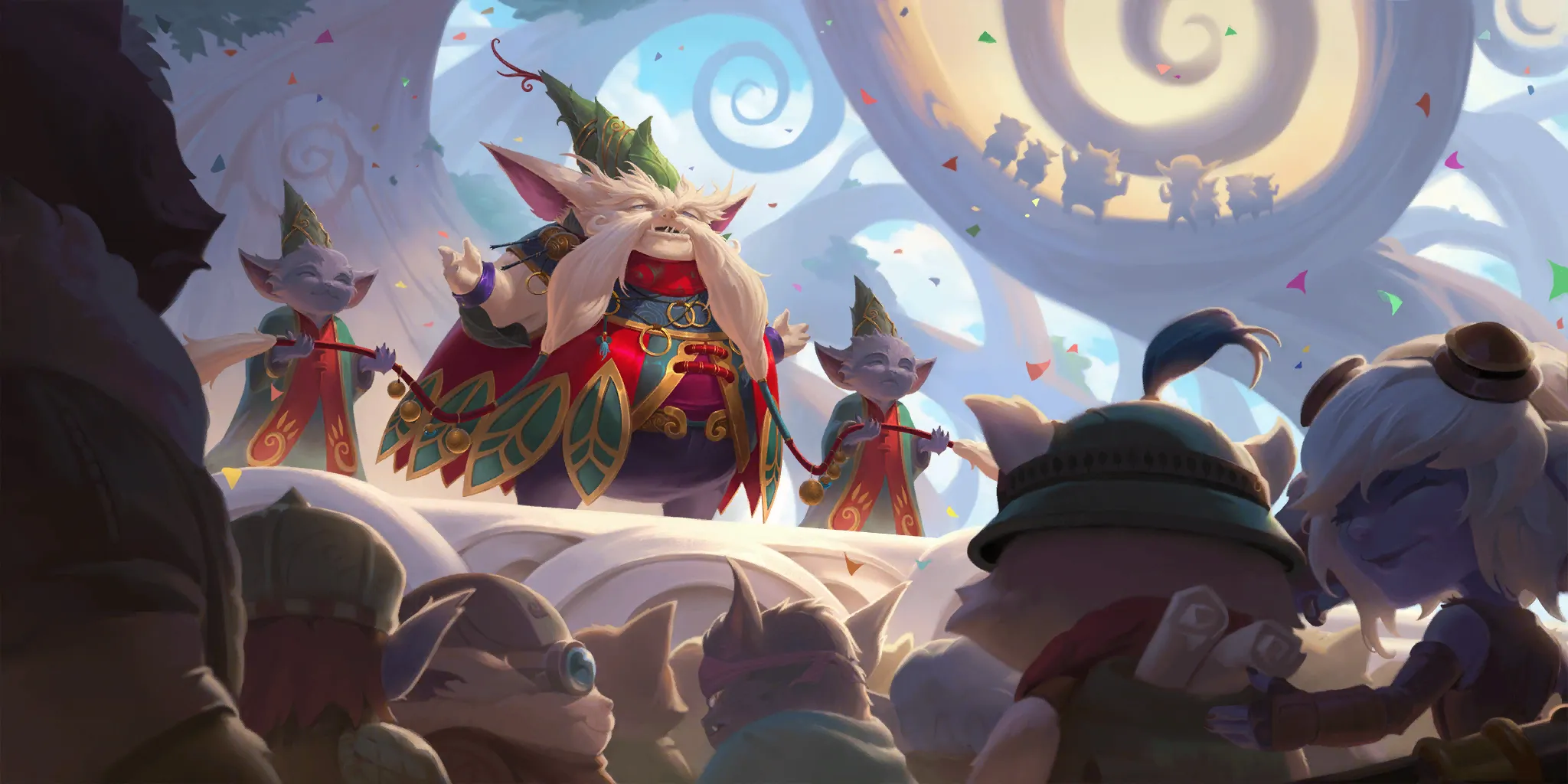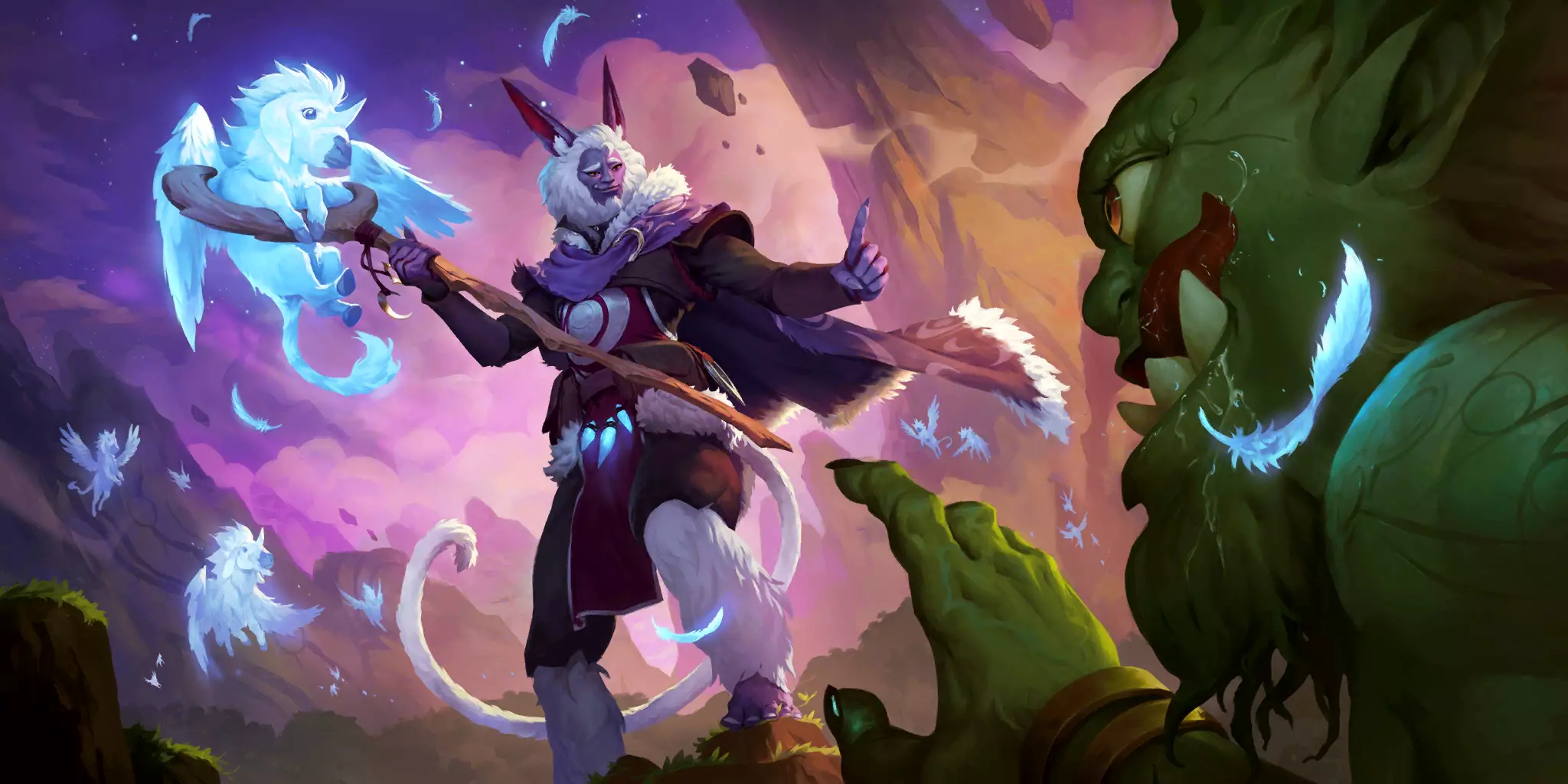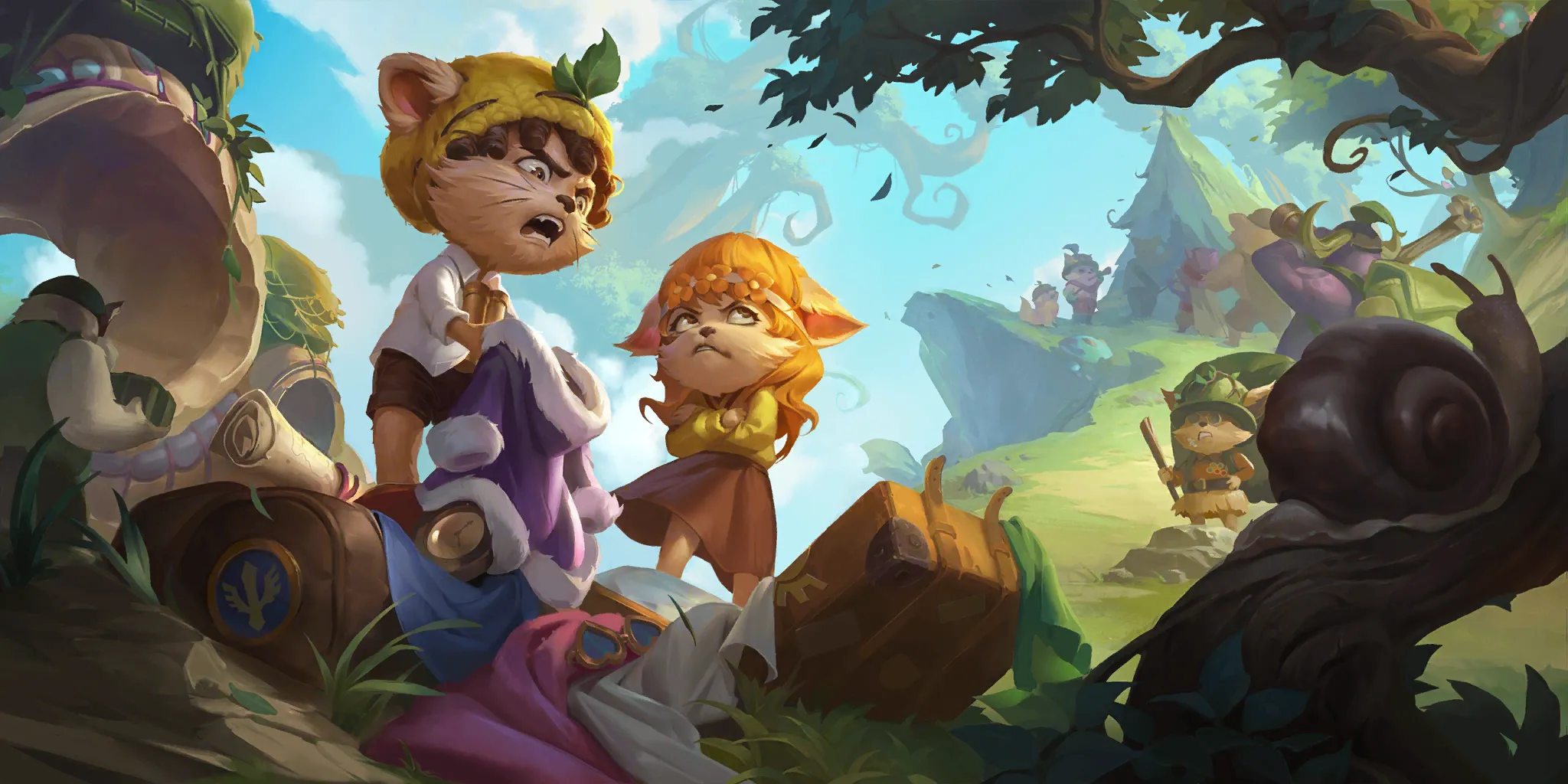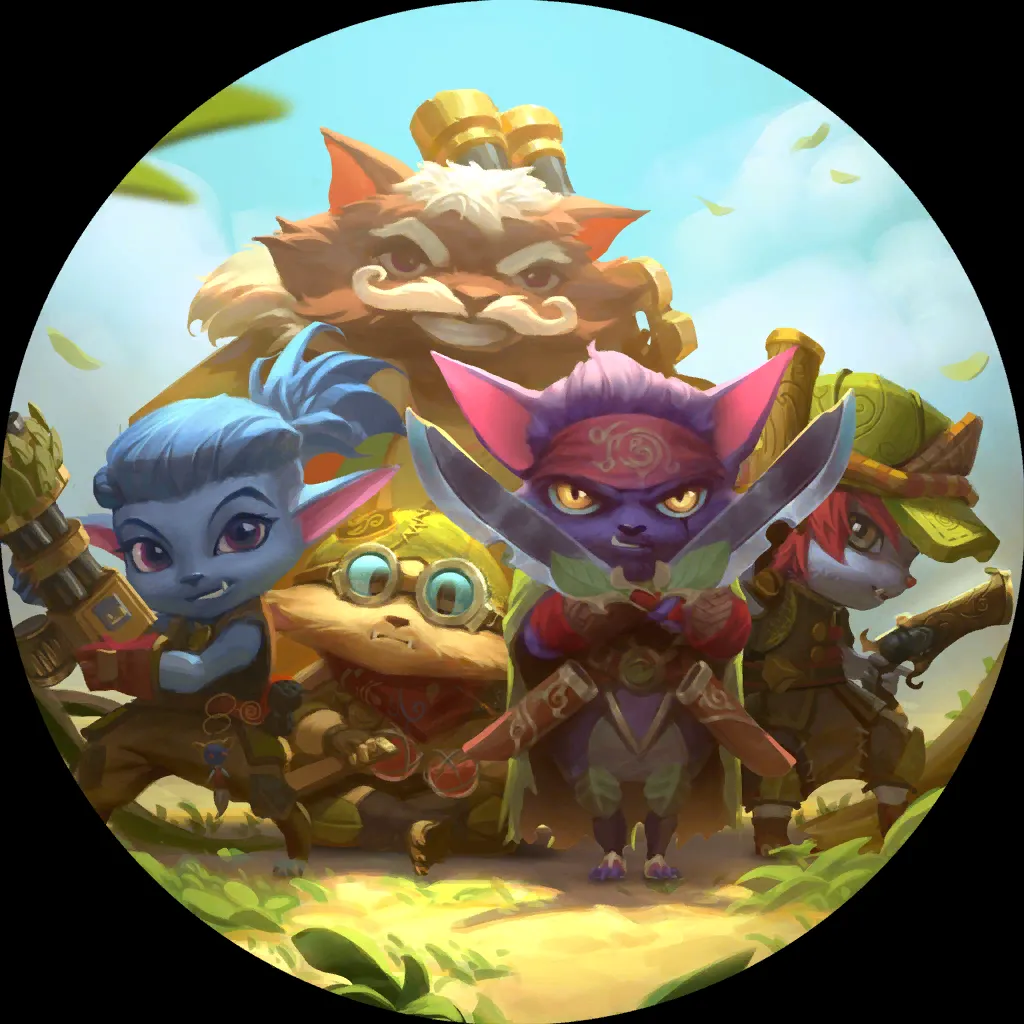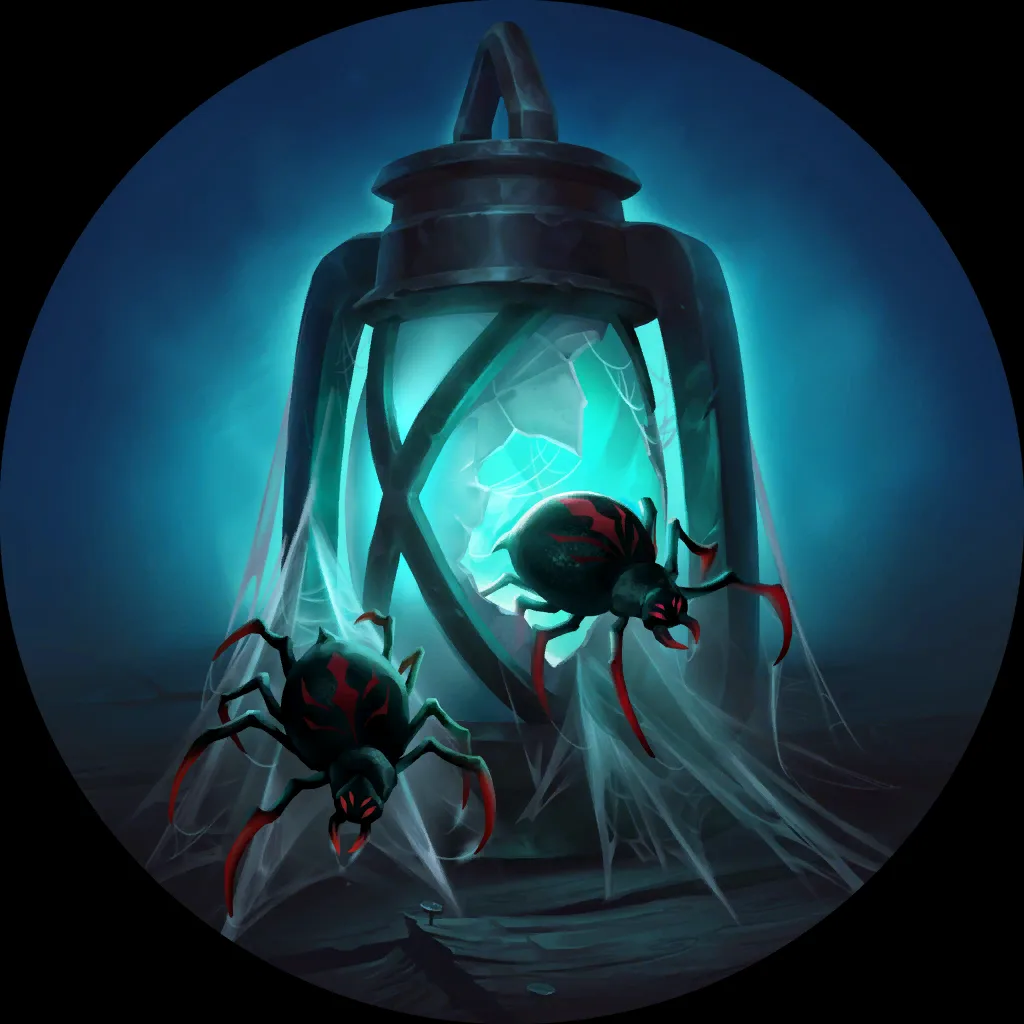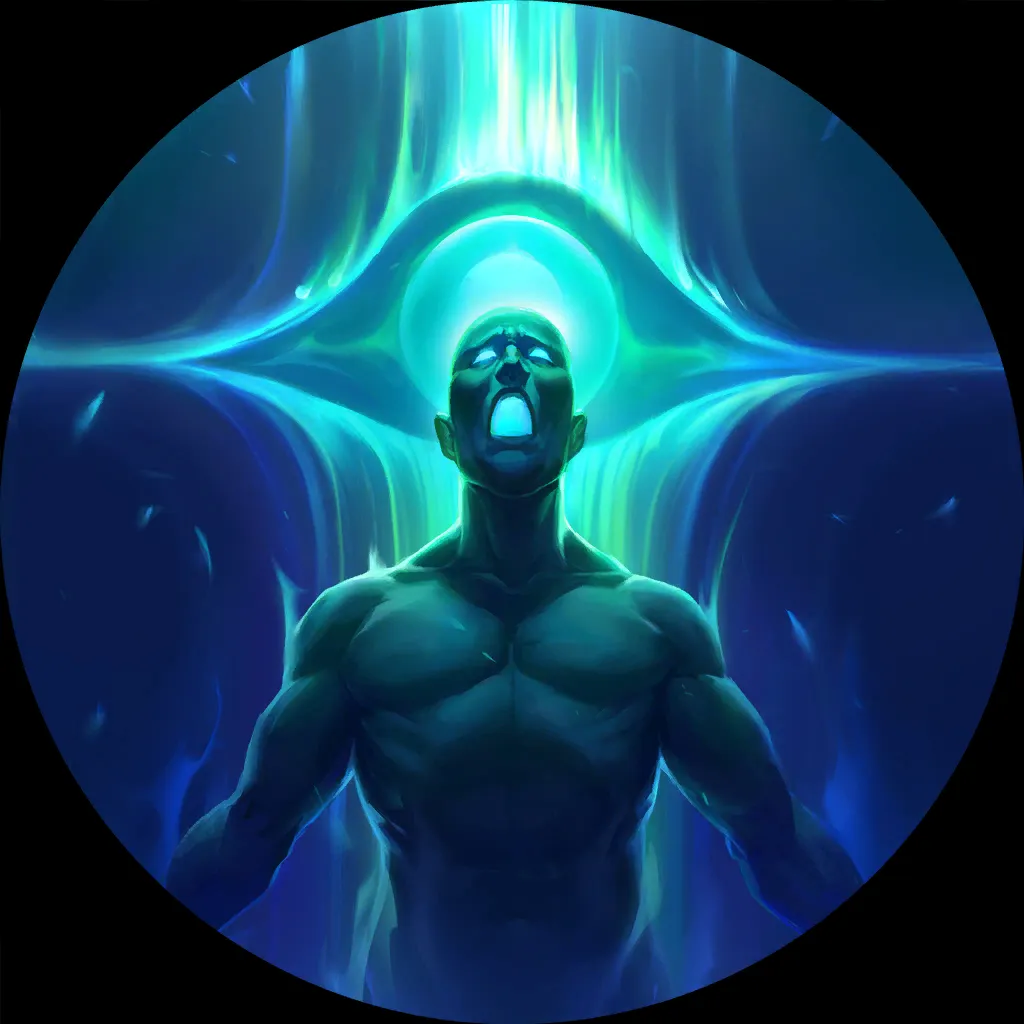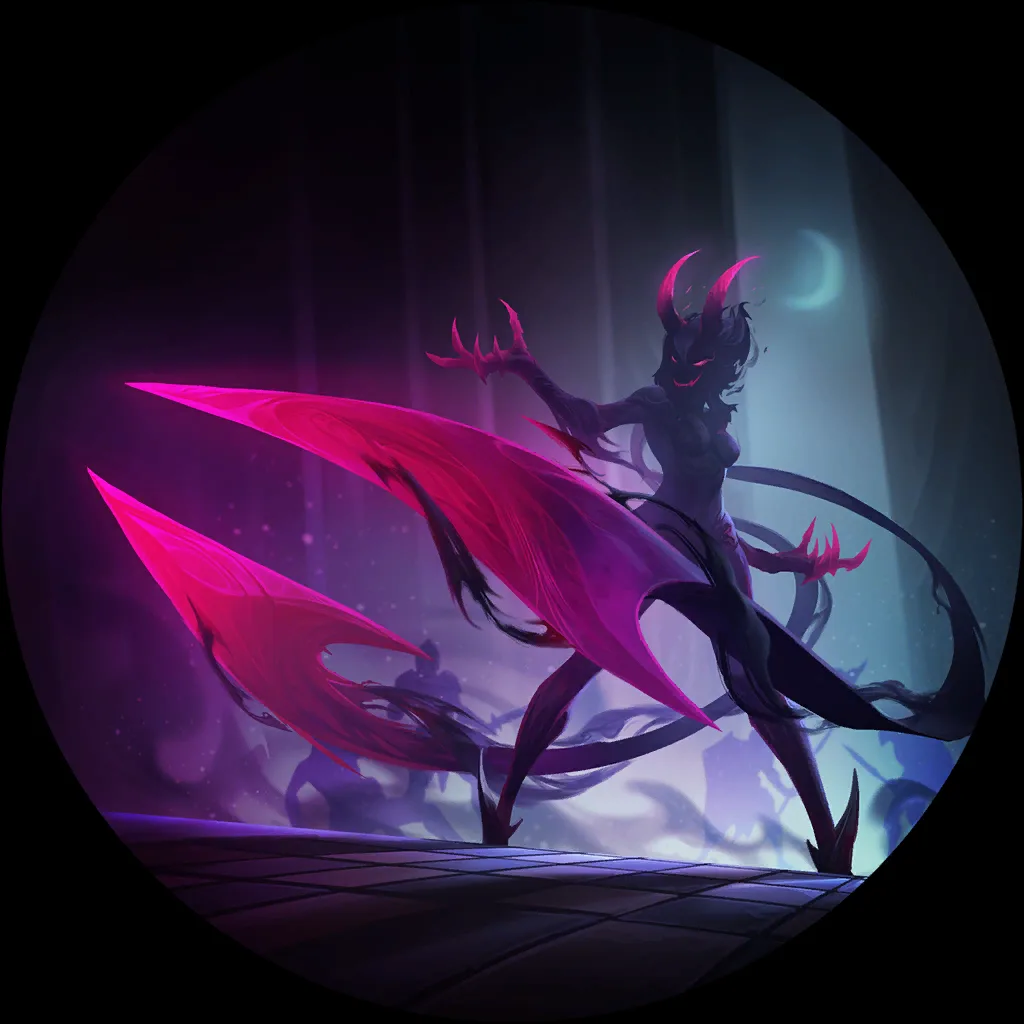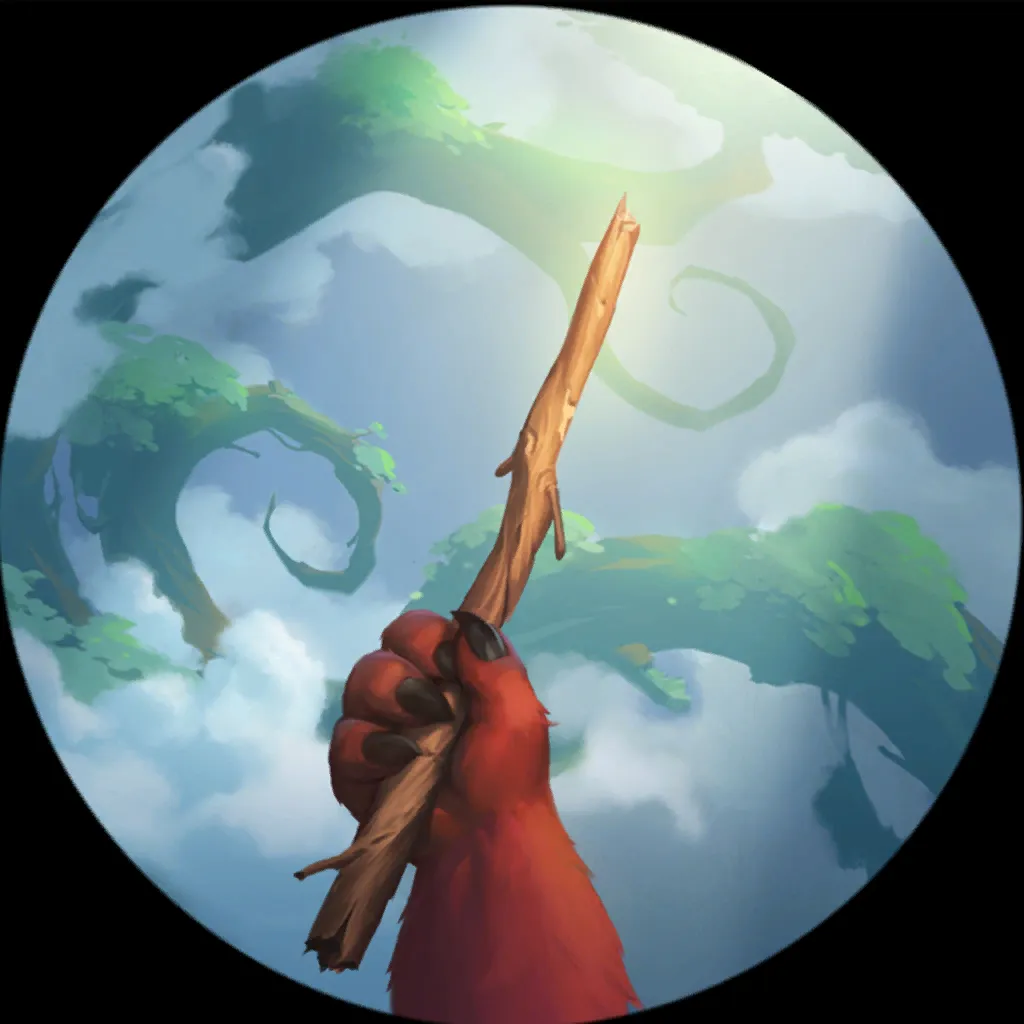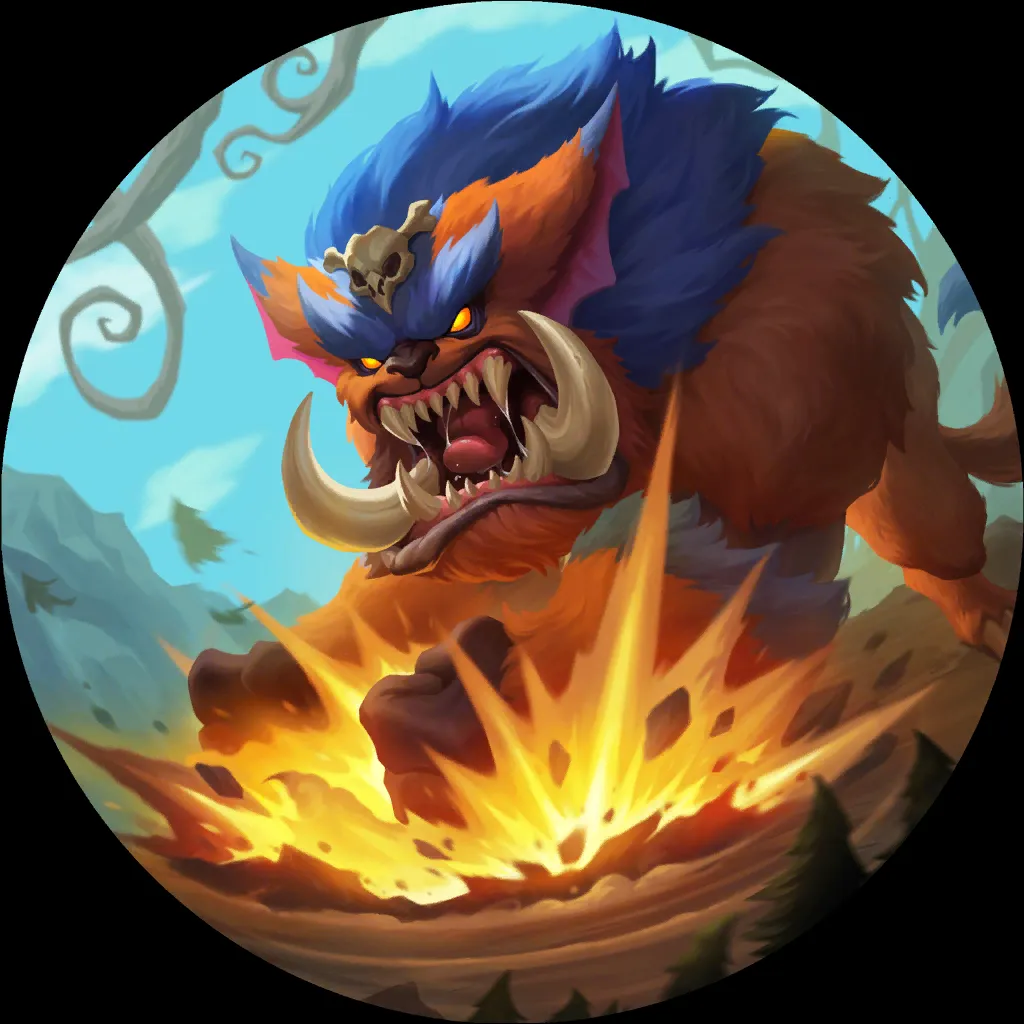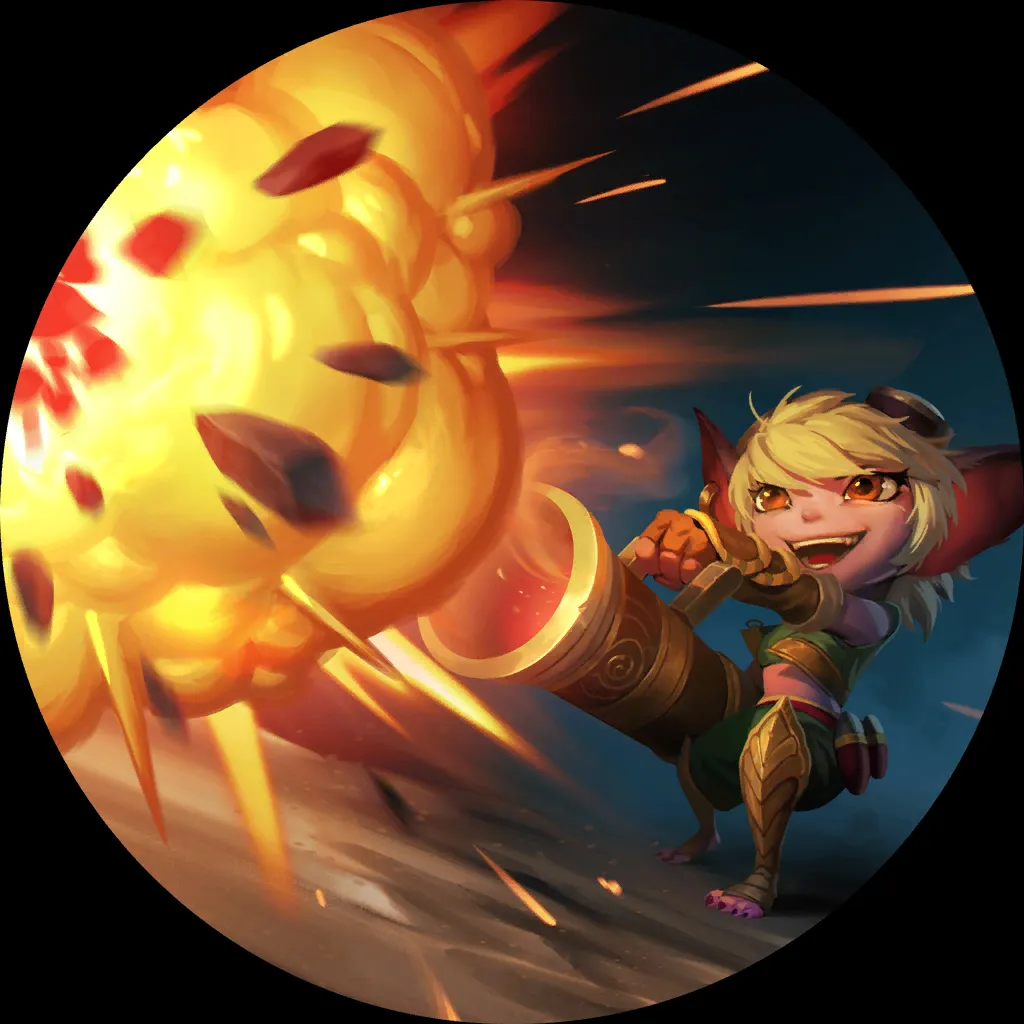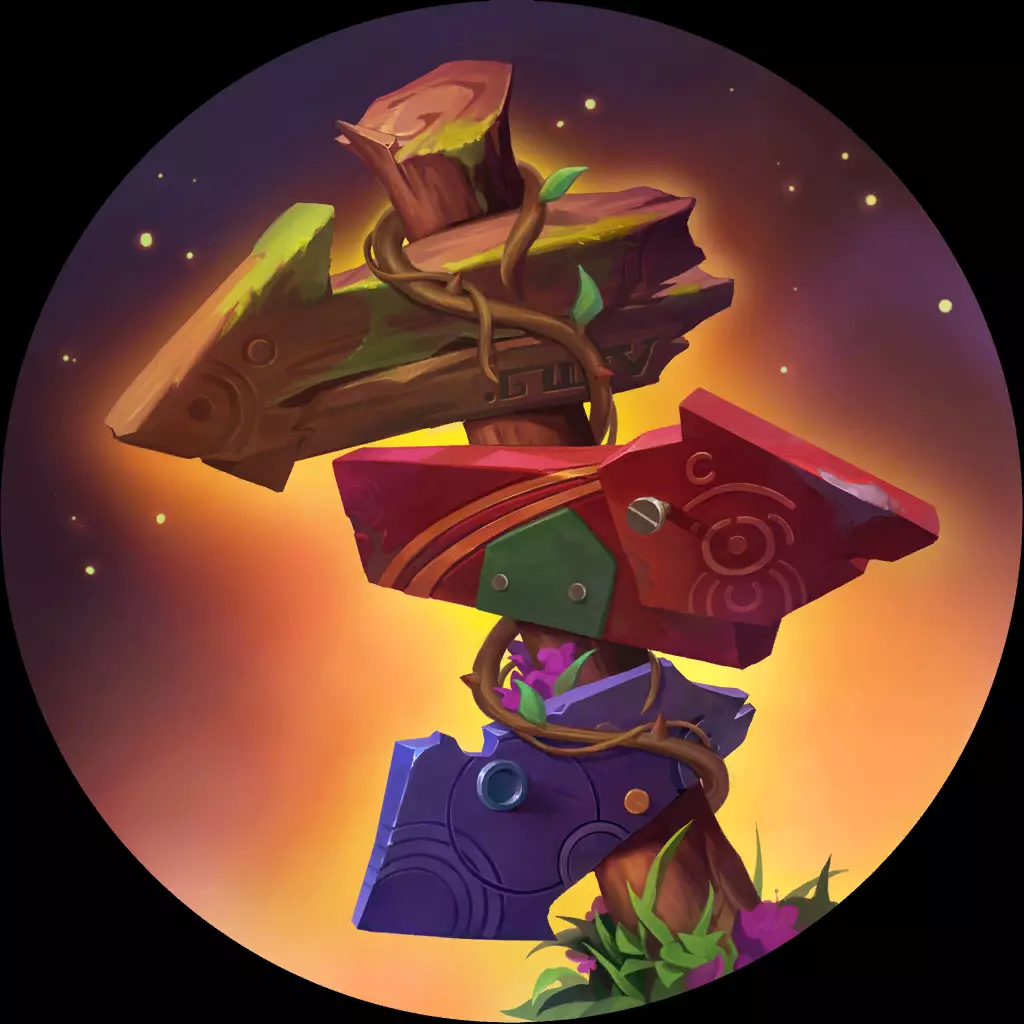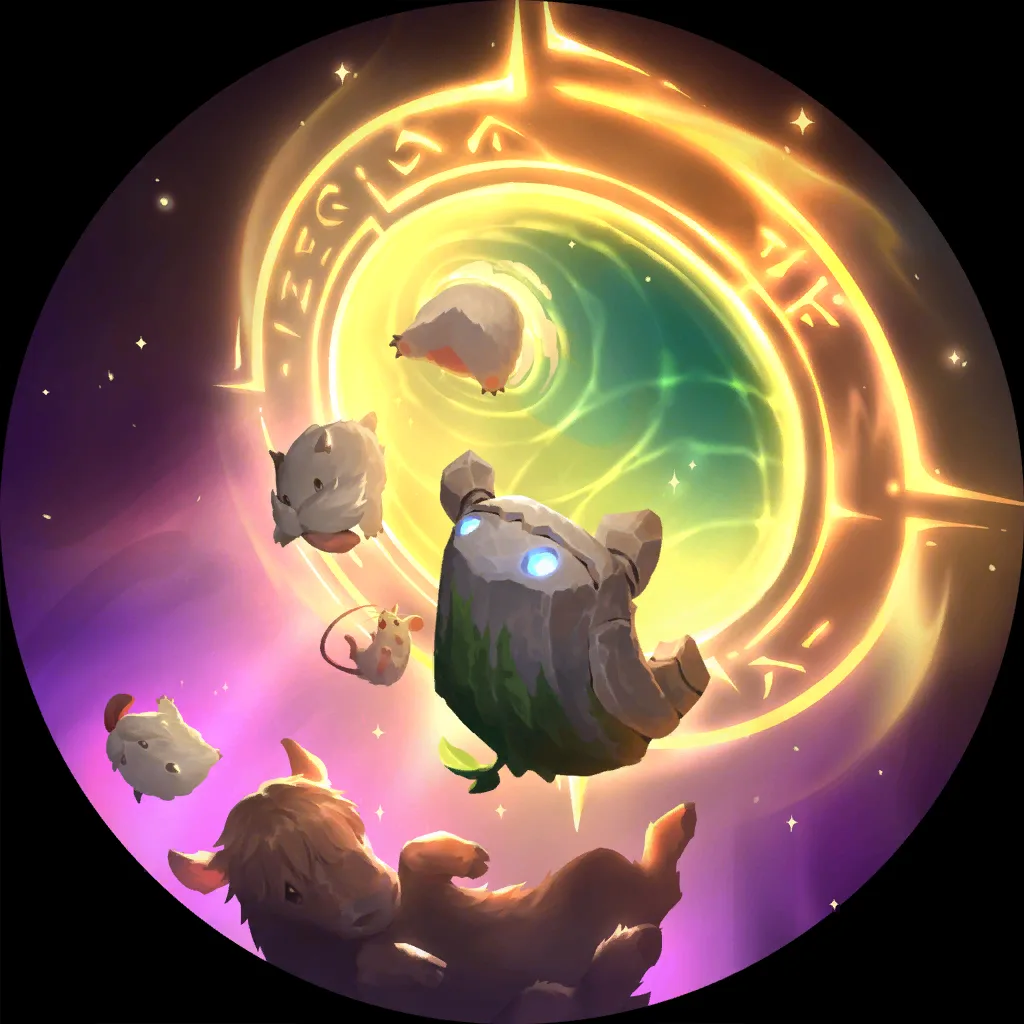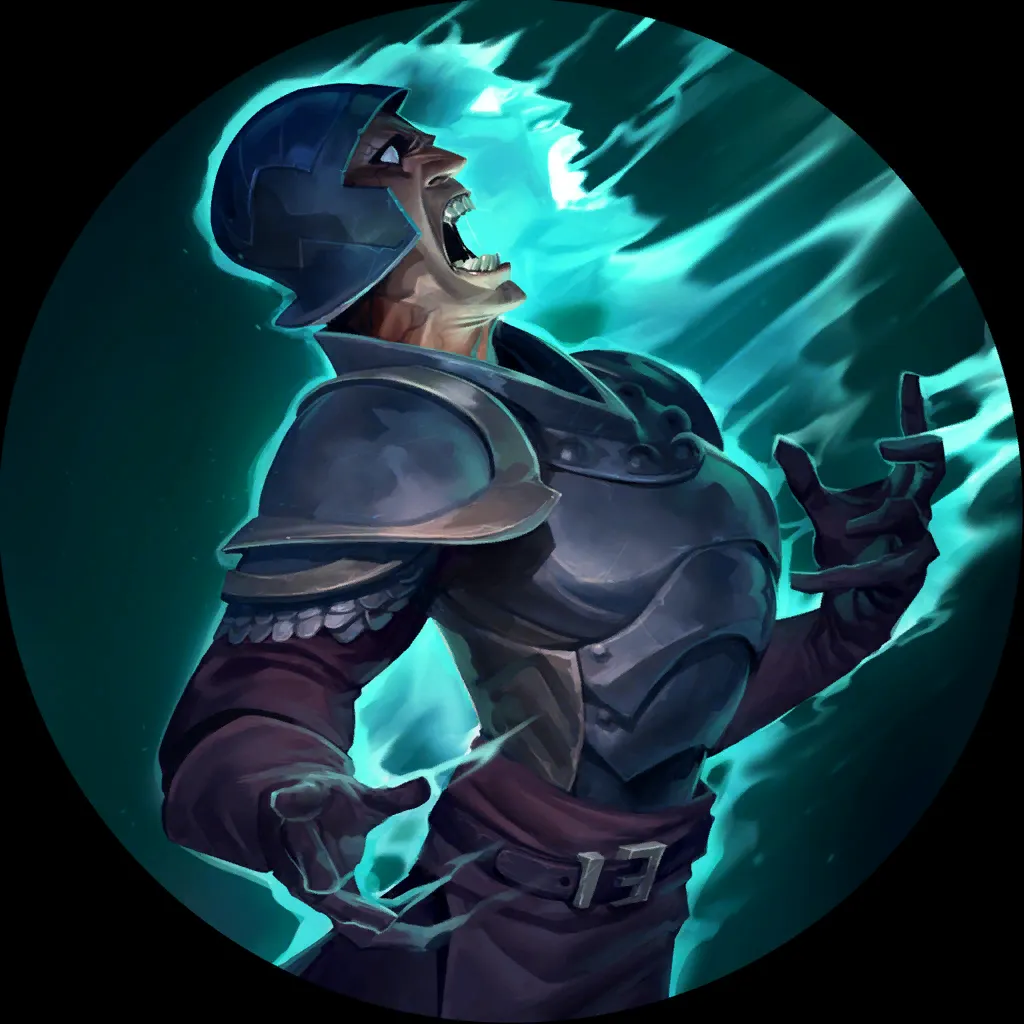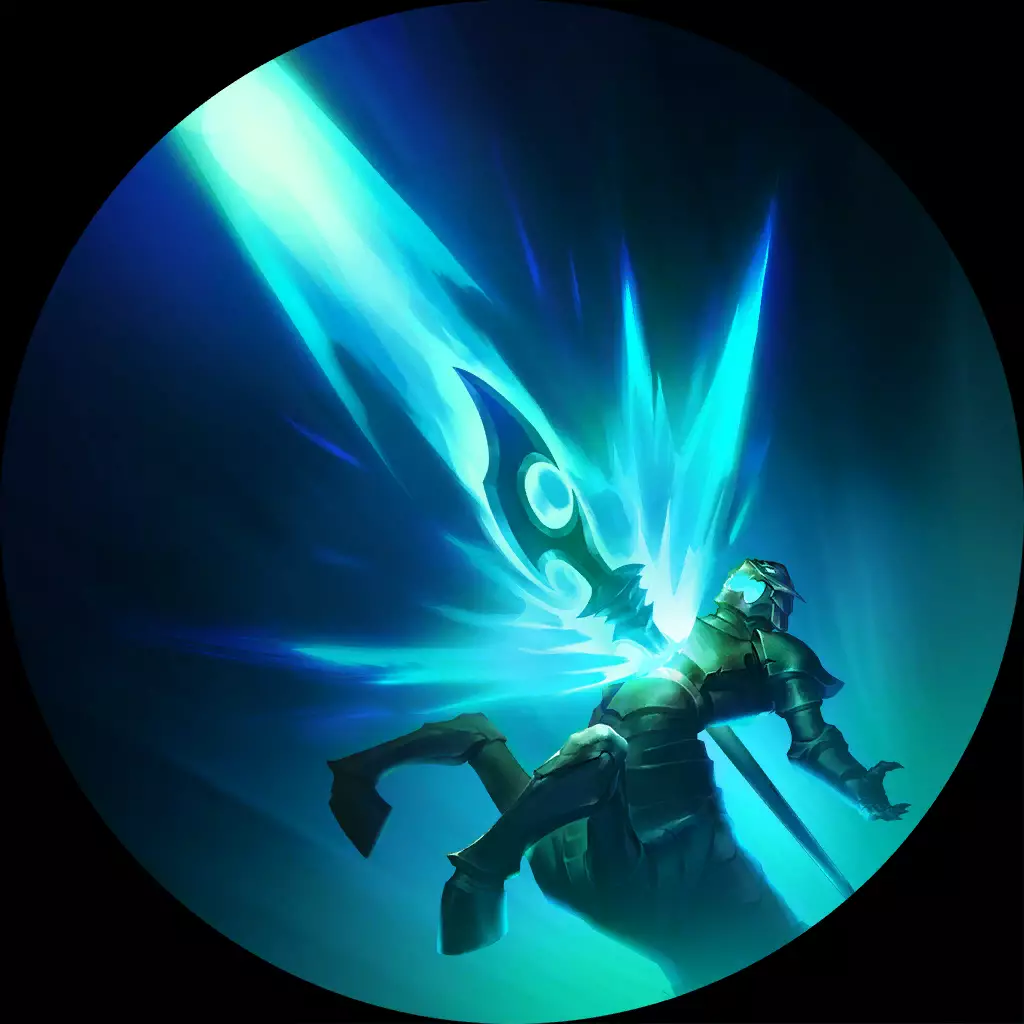 This deck does not quite appear to be solved with a fair amount of variance in current builds, but there is a common core with each version and I feel that this is best separated into the early, mid, and late game portions of the deck.
The Early Game
Our early curve consists of Teemo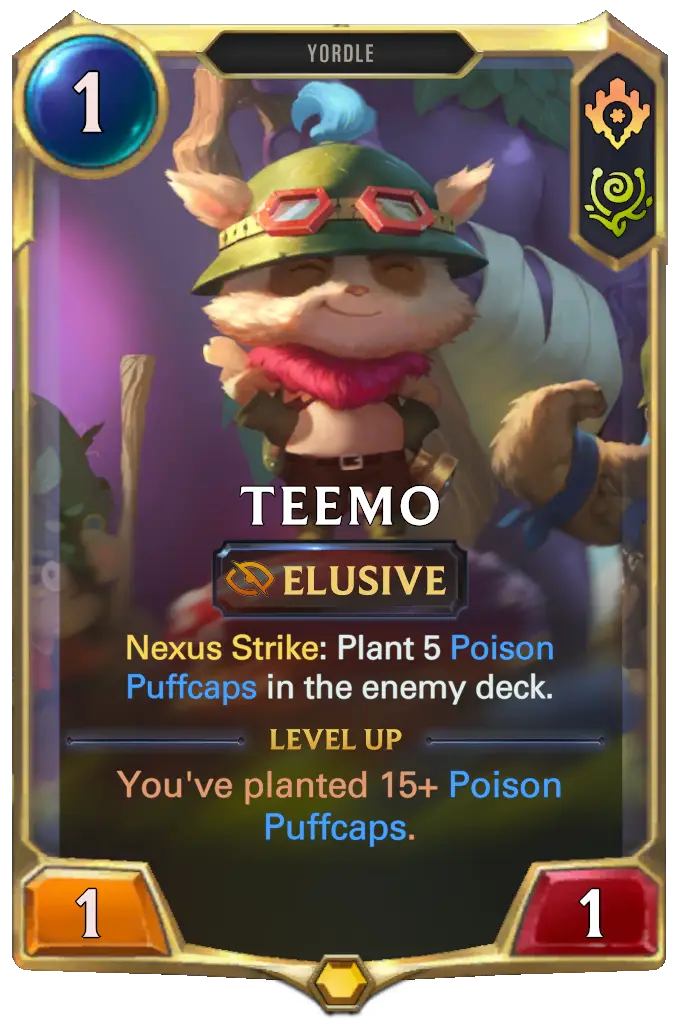 , Grandfather Fae
and his Hungry Owlcat
s, and Bandle City Mayor
.
Teemo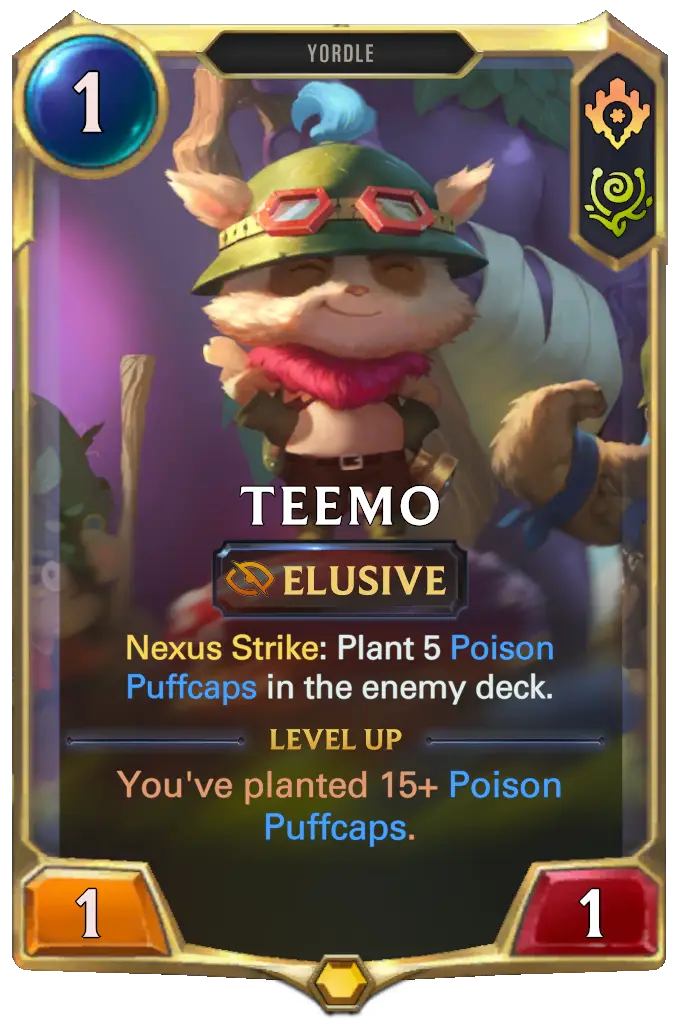 is just here because he functions as a cheap (and sometimes free!) elusive multi-region unit that can push a little extra burn damage if he connects with the enemy Nexus. He often functions as a lightning rod for early removal but there are games where I have managed to level him!
Grandfather Fae
is valuable because he progresses Tristana
's level up condition and also generates a Hungry Owlcat
in hand. He will also grant +1/+0 to any Fae unit that we summon while he is on the board.
Bandle City Mayor
also generates a multi region unit for us, but more importantly he discounts the first multi region unit that we play each round! The mayor manifests a multi region unit on play, and the choice that you make can have a huge impact on how the game goes. Bandle City Mayor
can give you additional early units to contribute to the swarm plan and leveling Tristana
, but can also help close out games with Shark Trainer
or Arena Mechacaster
.
An ideal early curve in most games is to play out Grandfather Fae
on Round 2 and follow up with Bandle City Mayor
on 3 so that we can play our Hungry Owlcat
for free. After this we can begin to drown our opponent in unit value.
If the opponent does not have easy access to removal for our Tristana
we can also look to play her out early to pump up our multi-region allies and push more damage.
If we are playing into a more aggressive deck, we can also look to flip into control mode with Group Shot
and Quietus
to answer early threats and Buster Shot
to remove problematic champions like Miss Fortune
. 
Midgame Melee
Following our early curve, we should be close to leveling Tristana
and we can really turn up the heat on our opponent.
Having Tristana (level 2)
can quickly become a headache for our opponent because she is effectively granting herself and our summoned units +2/+0 when striking the enemy Nexus, with 1 point of damage being unblockable as long as the unit strikes something.
Once she levels up, Tristana
can be difficult to remove efficiently and will have a huge Impact on our board if we can get her to stick. We can also play her before she levels as she will still grant +1/+0 to multi-region units we play, but it is important to consider what removal our opponent has at their disposal. For example, in the mirror we know that our opponent has Buster Shot
and Hate Spike
, which both deal 3 damage, so I will almost never play Tristana
unleveled.
If our opponent has given us a good Hate Spike
target, playing Tristana
into a husk can be game changing. Overwhelm, Challenger, and Elusive all make our charismatic cannoneer much more dangerous and the extra point of health can force our opponent to have hard removal to deal with her.
Keywords can be key to winning in the current meta with the sheer volume of chump blockers in the game currently thanks to Norra
and Wandering Shepherd
can give us a way to bypass the neverending sea of portaled units via Improvise.
Fishawhack
and Sandworn Amulet
are both excellent takes as most of the blockers we'll have to hurdle will be lower in power and health. If our opponent is playing a deck loaded with ping spells, health may be the priority over keywords and we need to take time to evaluate the choices we have as there is a use case for most of the weapons.                                                                                                                                                                                                                                                                                                                                                                                                                                                                                                                   Aloof Travelers
is already a very strong card in the current meta with the ability to remove top end cards from the enemy hand, give us a better read on their current hand state, and draw us a card. With Tristana
and Bandle City Mayor
along for the trip, Aloof Travelers
is even more valuable with the discount in cost and the buffs to its stats from Trist.
I have moved away from main decking Tenor of Terror
as it can brick our hand if we do not find our card generators or have the opportunity to kill a unit with a spell. It is important to note it does not specify an enemy unit and killing our own units with Glimpse Beyond
, Hate Spike
, or Atrocity
does count!
The main draw of including the vicious vibrato is his synergy with Tristana
. If active, playing Tenor of Terror
will summon two multi-region units, a 1/3 and a 3/1 with Impact, which will become a 2/3 and a 4/1 with double Impact while granting our Tristana (level 2)
+2/+0 and two additional stacks of Impact. This puts a ton of pressure on our opponent in a single action and can close out the game for us.
As we push chip damage and establish our titanic Tristana
we can start to look for Atrocity
.
Late Game
If our opponent has survived the initial yordle swarm onslaught, it's time to start looking to shoot Atrocity
at their face. The problem is that most decks that have made it this far will have answers to an open Atro throw, so we'll have to think ahead to set up multiple avenues to reach lethal.
Ideally, we will have maintained enough of a board advantage through the midgame to pressure our opponent into acting first on open swing, which will allow us to hold up Atrocity
if they tap below their answers.
Sometimes we don't need to cast or even have Atrocity
in hand, just holding their mana hostage can force them into awkward decisions when it comes to dealing with our board and make it easier for us to close out the game.
Having Puzzling Signposts
to protect our Atrocity
can make all the difference against decks with heavy removal costs or their own Deny
; we don't care that they get Vengeance
back in hand if their Nexus gets obliterated.
Although she will represent the most damage, Tristana
is not always going to be our best target for Atrocity
. A buffed up Hungry Owlcat
can be a great target if the enemy Nexus is low enough since it has Spellshield, making it much harder to interact with especially if we have Bandle deny backing us up.
"If they have it, they have it." We need to consider our relative window of time to act; sometimes we have to risk ripping it now into possible defeat versus waiting for assured defeat. Allowing our opponent to have additional mana available, draw their answers for our Atrocity
, or enact their own win condition can all be reasons to go face now instead of waiting a turn.
Tech Choices
We have a number of multi-region champions to pick from that can fit well into our gameplan in addition to Teemo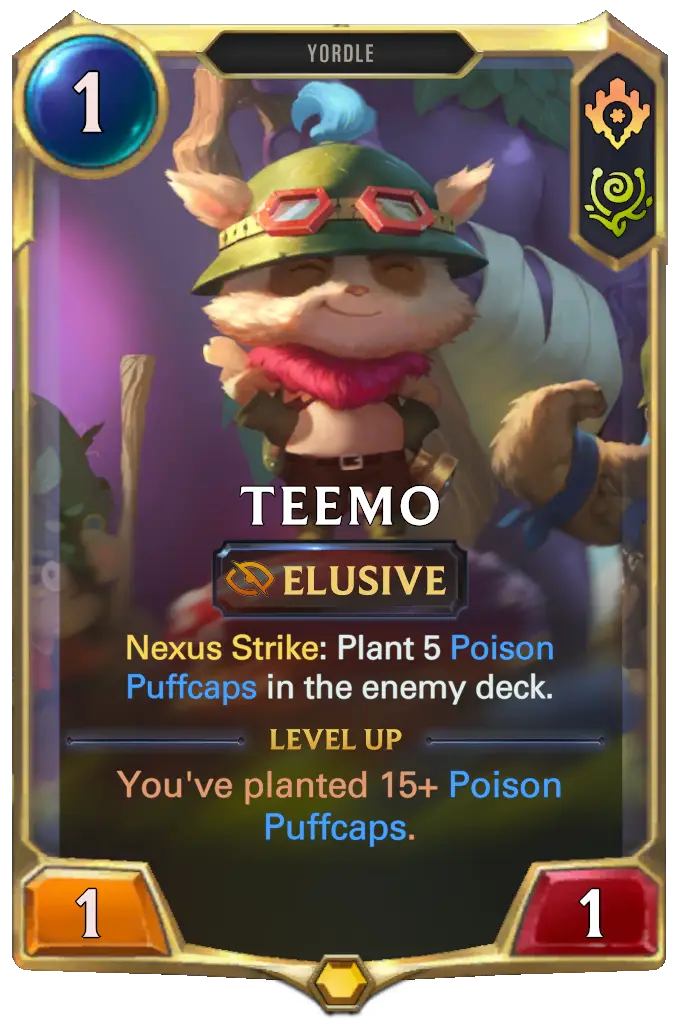 , but I think that Gnar
and Poppy
are our best options.
Gnar
synergizes well with Impact, as it guarantees his level up condition and he also generates copies of Pokey Stick
for us or makes one in hand cost 0 on strike (free damage and draw!). Gnar Level 2 has Overwhelm and grants an enemy Vulnerable, which can help us to dictate trades and push additional trades.
Poppy
works very well with our swarm strategy and will typically buff our entire board. Playing Poppy
with Tristana
on board makes it easier to ensure that ensure that our Hungry Owlcat
s don't miss out of the party.
Bandle Commando
can provide additional value by generating additional Hungry Owlcat
s, but unless the meta shifts away from early removal she's going to have trouble connecting and Grandfather Fae
provides more consistent value. She also does not count towards our Tristana
's level up condition.
We have flexibility in our spell slots with some decks opting for triple Hate Spike
and Buster Shot
, while I've gone for two copies of Portalpalooza
.
Going more removal heavy to lean into the control plan is ok, but I personally don't like the idea of having to sacrifice our board for Hate Spike
. Drawing into three copies without units that we can afford to sacrifice also feels bad.
Triple Buster Shot
can also brick as a 2 mana deal 3 is very strong, but a 4 mana deal 3 at slow speed is borderline unplayable.
I have liked having Portalpalooza
as a source of additional units with high roll potential (hitting a free Fae Lantern is pretty nice) and draw to keep from running out of gas in the mid to late game.
Mulligans
Priorities in mulligans with this deck will depend on the gameplan we need to follow.
Against aggressive decks, I'm looking for early units first and foremost. We can generate additional units and trade down until they're completely out of gas, beating them in the value game long term. If I have early units, I will often keep Buster Shot
to deal with their key units, like Miss Fortune
in pirates, Elise
or Nocturne
in fearsomes, or the enemy Tristana
in a mirror match.
Against midrange decks we go with the standard plan, Grandfather Fae
into Bandle City Mayor
with a Hungry Owlcat
. Tristana
is a strong keep to make it harder for them to effectively gain board control as our units will be able to trade up. Earnestly if we hit our curve we will just run over most midrange decks.
Control matchups can get hairy depending on the regions they're in. Norra
matches are very difficult as they can spit out chump blockers for forever and can outvalue us in the late game. Wandering Shepherd
can help us get around their infinite blockers, but the unit has to survive long enough to strike. I typically prioritize my Hungry Owlcat
generating cards to make their removal less efficient, hoping to force out multiple cards  early so that Tristana
has a safer landing zone.
Conclusions
Tristana
SI has felt very strong in both ladder and best of three formats and I have always felt like I had agency in how each match turned out. Though the meta may shift to account for her rocket-propelled ascendancy to queen of the meta, right now Tristana
is best bet if ladder domination is your goal! Thanks for reading and I hope that you enjoyed the read, see you on ladder fellow Bandle Gunners!