Hey, Wamuu here with this week's tournament tech!
A new patch just came out so there has not been a lot of tournaments to gather info from. The only tournament so far has been the Runeterra Academy Legends of Runeterra League. I will be covering the best-performing lineups from that tournament. All of the lineups in this article went 2-0 in their two Bo3 matches so they are definitely strong.
I'll go through each one, detailing their strengths and weaknesses, and noting if they are suitable for Gauntlets, Tournaments (like our very own Mastering Runeterra $5K Championship this Sunday, by the way, which is open to all players with a LoR account in the Americas shard), or both.
Without further ado, here are the lineups:
DUDU DE NUNU
Dudu de Nunu's lineup is very standard, it runs three decks that are currently very strong in the meta and do well against most things. 
Kennen Ahri and Pantheon Demacia did not get hit in this last patch so it is no surprise that they continue to dominate both the tournament and ladder meta. These two decks are just strong on their own and are good to bring together in a lineup.
The third deck for this lineup is Fizz Lulu, this is a deck that gained popularity a bit before the patch but it is an "anti-aggro aggro deck". Because Pantheon and Kennen Ahri are very strong currently, it is no surprise that there will be a lot of Aggro lineups out there trying to target them. Having an anti-aggro deck in your lineup, in this case, is always good even if it gets banned.
As stated before the strength of this lineup is that it is strong against most decks in the current meta, particularly combo and control decks. Its main weakness is fast aggro lineups that go too wide for Pantheon or force Ahri Kennen to block.
GOOD MATCHUP
We can see in this table that against control and combo lineups Dudu's lineup is very favored, especially against Lissandra Taliyah. He only needs to ban Tryndamere Trundle and he should be able to beat down on Lissandra Taliyah and get a win on Iceborn Poros even if the opponent bans Fizz Lulu.
BAD MATCHUP
Kennen Ahri is a super popular deck and almost everybody runs it in their tournament lineup. Due to this, some players bring triple aggro lineups to target it. We're using this as the case in our example; Kennen Ahri has terrible matchups into all three aggro decks and Pantheon doesn't have the best matchups either. This means the opponent just needs to ban Fizz Lulu and even if he loses against Pantheon, he's forcing Dudu to beat one of his decks with Ahri Kennen which is unlikely.
TAKEAWAY
This is the safest lineup to bring as it has a lot of raw strength, and it's even against counter matchups -- if you are good with the decks, you can pull out some unexpected wins. You only need to be careful about the triple aggro lineups targeting Ahri Kennen specifically.
I recommend this lineup both for Gauntlet and Tournaments only if you are very good with Lulu Fizz and Ahri Kennen because these decks are harder to play than they seem.
LUSERBEAM
Luserbeam's lineup is more of a comfort lineup. I would guess these are the three decks that Luserbeam is most comfortable with and they are known to be strong tournament decks because of the required skill to pilot them. You can outplay your opponent if they make any mistakes and punish them hard with any of these decks, and they are known to upset unfavorable matchups.
The Sivir Akshan and Lee Sin Zoe decks are pretty standard, but this Ahri Kennen version is pretty unique. Instead of running Shurima or Shadow Isles, it runs Noxus as its regional splash. It runs only three cards from Noxus, which are two copies of Might
and one copy of Shunpo
to help close out the games.
Unfortunately, because the patch just came out and these decks are not the most played on the ladder there is not enough data to cover matchups. If I had to guess how matchups could go, I would say it is weak against Ahri Kennen decks so you would always ban it and this lineup is probably favored into Mono Pantheon lineups. Outside of those two decks I don't think any other deck is particularly strong or weak against this lineup so it will probably come down to skill.
TAKEAWAY
This is a very skill intensive lineup and it is usually as good as the player running it. I would not recommend anyone who isn't high masters, or extremely good with all three of these decks, bring it to either tournaments or Gauntlet. 
STOLENCONCH
StolenConch's lineup is a super-smart lineup, in my opinion: targets Ahri Kennen while also countering triple aggro lineups that look to target Ahri Kennen. The lineup consists of three decks: Scargrounds, Trundle Lissandra, and Lulu Jinx.
Scargrounds is good into both aggro and Ahri Kennen because of the amount of one-damage AoE it packs. StolenConch's list runs three copies of both Death Lotus
and Ice Shard
. This makes it extremely difficult for aggro and Ahri Kennen to connect with their one health units while also buffing his units because of The Scargrounds
.
Trundle Lissandra is just a Freljord Shadow Isles control deck and those are extremely good against both aggro and Ahri Kennen, again because of the amount of one- and two-damage AoE present in the deck with cards like Vile Feast
, Withering Wail
, Avalanche
, etc…
The deck has a couple of win conditions but the main one is to play the the Watcher
and obliterate your opponent's deck. Against aggro and Ahri Kennen though you don't need to get there, if you remove enough of their units they will eventually run out of steam and you can run them over with Trundle
or leveled Lissandra
.
Finally, Lulu Jinx is an "anti-aggro aggro deck", this type of deck has recently become quite popular in tournament play because of the number of triple aggro lineups running around.
Lulu Jinx forces trades against aggro with buffed Flame Chompers!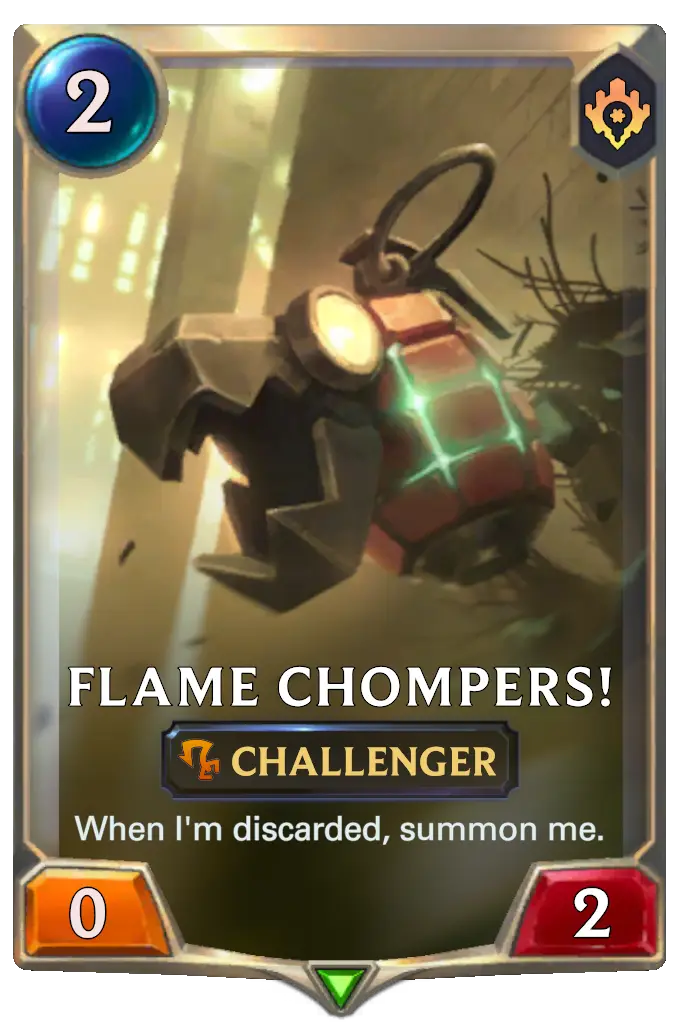 either by Lulu
, Pix!
or Suit Up!
. This helps you win the board while not taking too much damage, the primary way to win the game in aggro mirrors.
Against Ahri Kennen, Flame Chompers!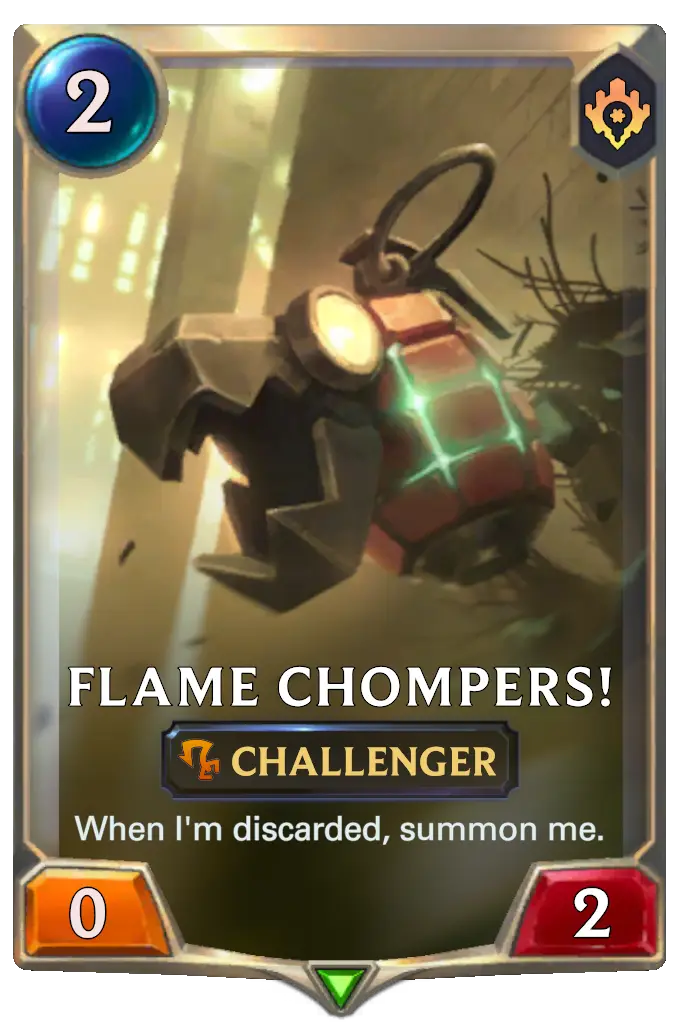 can pull important units like Ahri
and force Recalls that your opponent would have preferred to save for later, to pull off combos. Also because of the number of low-cost units and Jinx
, your opponent is forced to block a lot of your early game aggression to stay alive in the late game.
Once again, because the decks are pretty unique and we are in a new patch, there are no stats to cover matchups so I will give my opinion on what it is strong or weak against:
This lineup is made to counter both aggro lineups and lineups with Ahri Kennen, so it is favored into any of those.
As for weaknesses, this lineup struggles against Midrange decks with beefy units. Lineups with a combination of Pantheon decks, Iceborn Poros, Gangplank Sejuani, Sivir Akshan, or Dragons should be favorable into this type of lineup.
TAKEAWAY
This is a very nice anti-meta lineup as it counters two of the most popular lineups currently. If you think you are going to run into either Ahri Kennen or Aggro lineups I definitely recommend this lineup, because you will probably have an easy time against those. If you don't face those lineups though you might have a very hard time because the power level of these decks is not that good.
Overall these decks probably perform badly against most decks so you need to keep this in mind if you decide to run it.
WHATAMI
WhatAmI's lineup is basically a "protect Ahri Kennen" lineup.
Ahri Kennen's main weakness is aggro lineups because it is very hard to block and keep your health high while advancing your gameplan. WhatAmI's lineup is designed to shore this weakness.
First and foremost, the Ahri Kennen version he runs has Go Hard
in it. This is an exceptionally good card in aggro matchups because it can shut down their turn one attack and a later Go Hard
can heal your Nexus. Also, if you manage to play Pack Your Bags
, the game is basically over.
His other two decks are well-known anti-aggro decks:
Feel the Rush is a control deck that runs a lot of AoE, drains and freezes. Aggro decks cannot deal with all of these, so it is most of the time a free win against them.
Lee Sin Zoe runs the infamous Eye of the Dragon, which completely shuts down aggro decks once one or two of them hit the board. This is made easy with Gifts From Beyond, which can tutor Eye of the Dragon with Crescendum, essentially running six copies of Eye of the Dragon.
There is very little data on Feel The Rush and Lee Sin Zoe currently, so I will be giving my opinion instead of covering matchups.
Aside from being a strong lineup against aggro lineups, these decks also target Pantheon decks. Kennen Ahri can kill Pantheon decks with a wide elusive board, which Pantheon decks have no way to block outside of Sharpsight
or Strike spells that are not worth it most of the time.
Feel The Rush runs three copies of the recently-buffed Vengeance
, and also runs The Ruination
to shut down buffed units, which is Pantheon's main strategy. FTR also has two-damage removal to deal with Pantheon's smaller units. 
Finally, Lee Sin decks have lots of ways of dealing with big units in the form of stuns and silence, buying time to play Lee Sin and finish the game in a single turn.
This lineup should be favored into any lineup with a Pantheon deck in it. As for its weakness, probably some lineup targeting Lee Sin Zoe specifically can give this lineup a hard time, but Lee Sin Zoe is not currently a top deck in tournaments so it is very rare for that to happen.
TAKEAWAY
This is by far the strongest lineup in my opinion for this tournament tech article. It covers its weaknesses nicely while running very strong decks into the current meta.
If you are an old-school Feel The Rush and Lee Sin Zoe player you should run this lineup while you can because neither Feel The Rush nor Lee Sin Zoe are popular at the moment, so they probably won't be targeted.
I recommend this lineup both for Gauntlet and tournaments if you are a player that likes control/combo lineups and can pilot these decks decently.
Wamuu
Top 200 Master LoR player. I have a lot of passion for this game and love sharing my thoughts and game knowledge through deck guides and articles for competitive play.
If you would like coaching from me you can dm me in Discord at Wamuu#7531