The new patch has dropped so that means it is time once again for the Rogue Deck Doctor to start his brewing engines. We're here to take the community's ideas, strike them with lightning a time or three, and make them live, live I tell you, Muahahahahh! >:D
This week we're going to do our best for the much loved – but sadly seldom seen – community favorite Norra
. She's finally made her way back to Yuumi
and Book and has brought all of her portal-loving nonsense along with her. The question is, how do we make her random craziness as powerful as possible?
---
Beginning Building the Mecha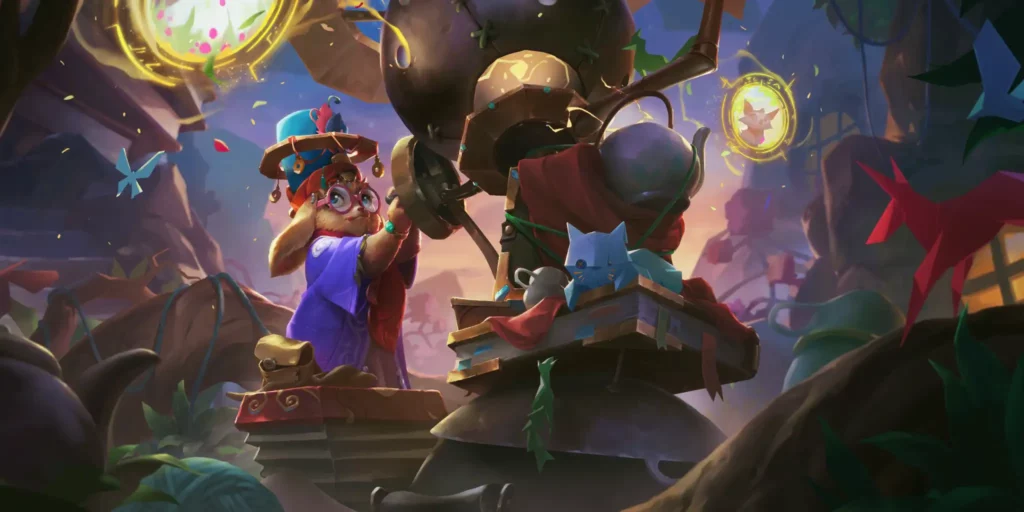 I always find it some level of cool when we have such an open-ended prompt. It falls completely upon me to showcase the power of the community's deck concept. I've got no restrictions to hide behind and claim it was always meant to be a meme deck, which is both exhilarating and terrifying.
When I start building a deck this far back from the final product, the first question I want to ask is, "What are the most unfair things this concept can do, and can we reliably achieve those?"
Legends of Runeterra has shown time and time again that the only way to become a truly top deck is to break some aspect of the system. Playing by the rules is all well and good, and can get you comfortably into Tier Two, but if you want to push against the glass ceiling, you've got to do better than that.
Three Keys to a Norra Deck
For Norra
, three key points stand out to me. The first is that she is a low-cost Champion who generates value over time. That means that, like Akshan
or Zoe
, if we can get her on the board and protect her from our opponent's interaction, then very solid things are likely to happen.
The second is that with a little bit of luck she can enable some crazy open-attacks. Filling your board from nothing before your opponent can react is a pretty solid way to win a game – although, because Mysterious Portal
s go in the top four cards, we'd have to get an awful lot of them to take advantage of that theory.
Last but not least is the Elusive keyword. This breaks a fundamental rule of the game all on its own, in that blocking is generally not allowed.
Combined, all these factors lead me to think that we want a more controlling style of deck that will love protecting our Norra
early, and that can also make good use in the late-game of both her solid keywords and the value she generates.
And what better way is there, really, to take advantage of a powerful keyword on a unit, than casually making it a 10/10? Yep, that's right: I think it's time to Feel the Portal, everyone! Norra
is auditioning for the KDA squad.
---
Proactive Protection
When people think of a control deck, in general they think of a boatload of removal spells with a smidge of top-end to get the job done. What gets overlooked a lot of the time is that, for the early game, small units that trade well can be just as good if not better than removal spells.
We're a Freljord control deck, so Blighted Ravine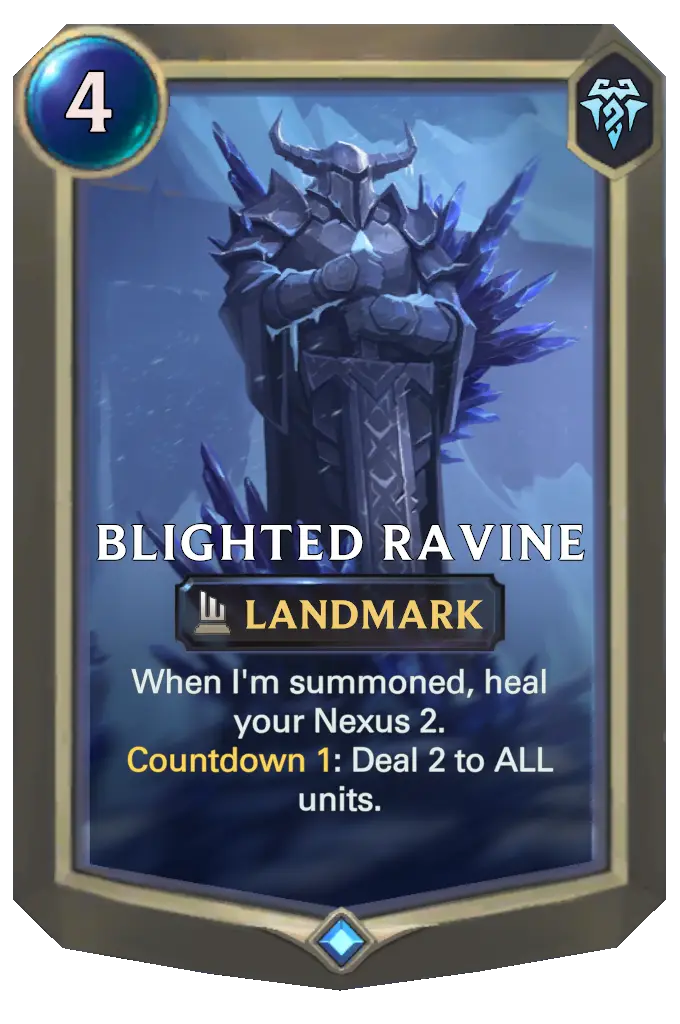 is a must, but I think just as important are Junk Construct
and Avarosan Sentry
. These are all solid units that can clog up the board against early aggression and help us make it to our powerful late game.
Speaking of making it to the late game, I think a few Catalyst of Aeons
are just the thing if we're trying to get to twelve mana. We could potentially try to fit in more ramp spells than that, but I'm a bit dubious that we'll have the unit mana to spare in this particular shell.
I would like to also make leveling up our Norra a bit more realistic, so let's add a few Bandle Commando
s and Lonely Poro
s into the mix to assist in the Created units department.
You'll of course note that all these units, including Norra
, die to our Blighted Ravine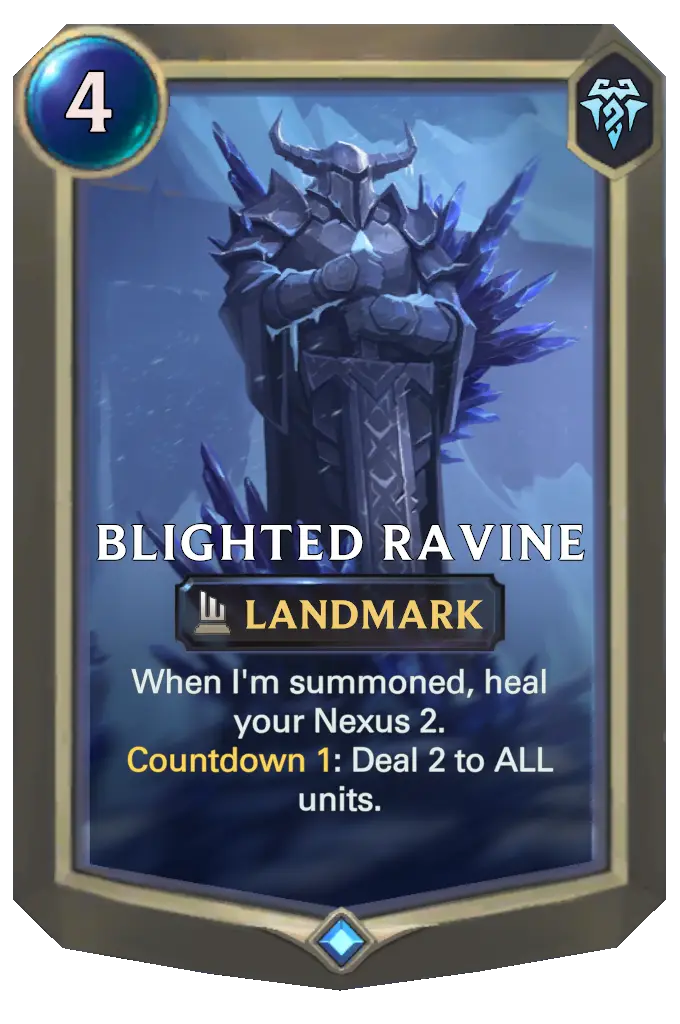 , which feels like a bit of anti-synergy. But the truth of the matter is, though, that all these tiny friends are here just to generate value and progress the game to later turns. We really don't care all that much if we need to clear our board, as long as our opponent gets swept away alongside it.
---
Controlling the Backline
While we're set up pretty well to lock down anything that attempts to get at us through combat, we're definitely still missing a step when it comes to controlling the board: larger units, or simply units that stay at home and don't engage in combat, are going to elude us… what can we add to help with that? 
We might need to add a little bit more help for it, but I suspect Buster Shot
is our friend here – the Mysterious Portal
s and poros will get it discounted reasonably quickly, and two mana for three damage is a solid rate. And for the larger targets nothing beats Minimorph
. Nice Viego
, friend!
To help Buster Shot
do its thing, as well as to occasionally proactively answer large threats before they even make it to the board, Aloof Travelers
feels like a very solid inclusion. It also takes us up to six points of card draw, which is just the thing for a deck like this.
---
What's Missing?
This brings us to the last couple cards in our deck. And this is the point where we really need to start asking the important questions about what our deck is missing. All decks will of course have different levels and priorities on each of these, but the basic checkmarks on my notepad here include the following:
A way to win.
A way to make that win consistent.
A way to consistently spend our mana in the first couple of rounds.
A way to stop our opponents from winning with attackers.
A way to stop our opponents from winning with backliners
A way to deal with our opponent developing into us before attacking.
A way to deal with an open attack.
A backup plan.
When you put Feel The Rush
into a deck, you've got a pretty solid and straightforward plan for winning the game. Although it might help a bit if I actually bothered to add a second champion for FTR to grab, huh?
Consistency here should be taken care of quite solidly by our card draw, and the fact that we don't need to find said win condition until round nine. We can spend plenty of time cycling aimlessly and still Feel The Rush
right on time.
This deck is capable of absolutely packing the board in the early game, or of just holding onto its resources and running the traditional Catalyst of Aeons
into Blighted Ravine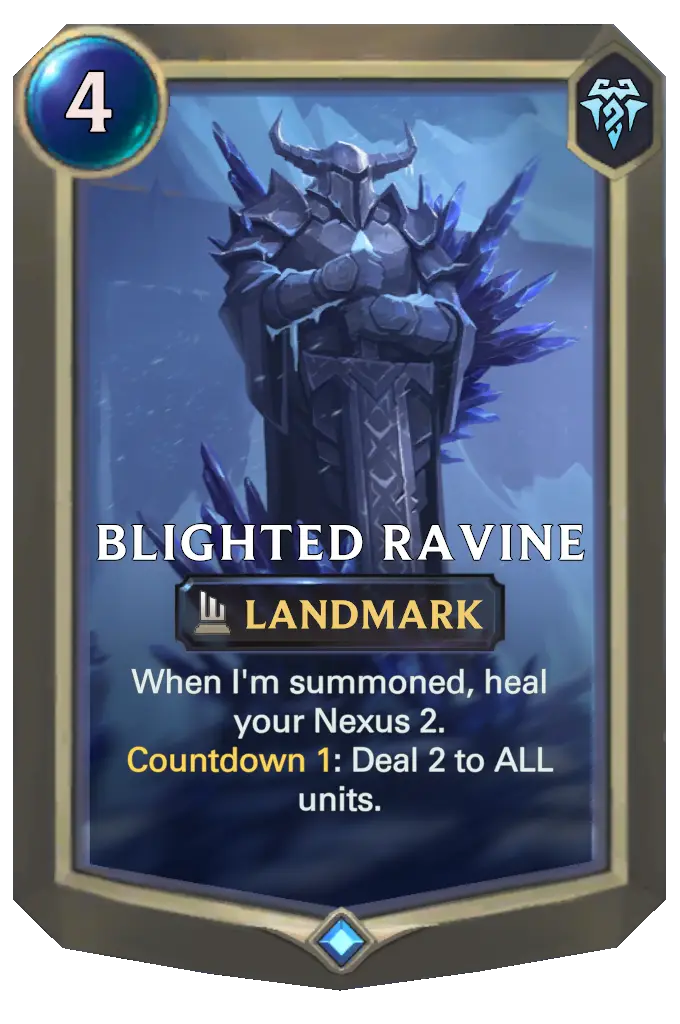 gambit. Our early game and anti-attacker plan seems pretty solid here, and we've definitely got some very good answers for backline units.
We are a bit lacking in punishments for both open-attacks and develops, though. Right now the best we've got is to match development or Minimorph
an incoming large unit, so our tactics here could definitely use some work.
Our backup plan is to simply level up Miss Norra
without needing to grow her to a 10/10, and then watch the Portals go crazy. Might be nice if we could stop her from dying to random Mystic Shot
, though.
---
Last Touches
To help our Feel The Rush
feel its power I'm going to slot in this archetype's  traditional friend, Tryndamere
. Even if our opponent can answer a giant Norra
, they'll have to answer this twice as well or be overwhelmed by the angry power.
We also can take care of two birds with one stone in the form of Troll Chant
: solid protection for our queen, as well as a way to make open-attacks look a tad less impressive for our opponent.
As far as development punishes go, I've always been a fan of good ol' Icevale Archer
. Just the threat of him will cause our opponent to have to play the game differently, which is exactly what we want.
---
Fine-tuning
At this point our Norra deck looks like this:
Forty cards we might have, but there's some serious ratioing to be done here.
Tryndamere
basically never wants to be a three-of; naturally drawing this lad is not what we're about. I'm also going to trim a Blighted Ravine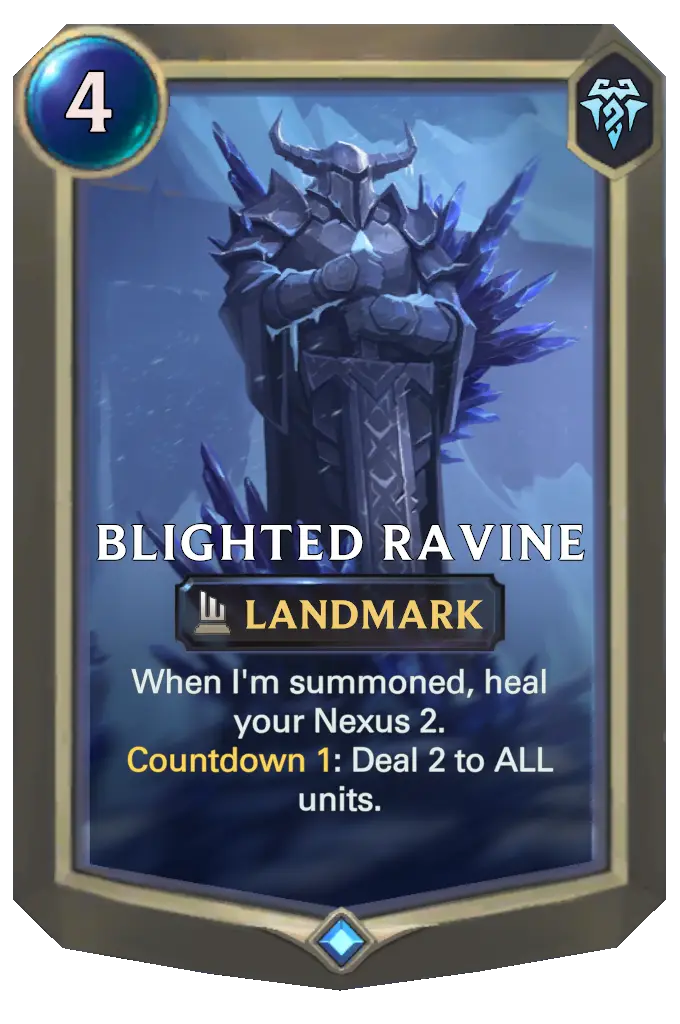 , as we will often be more interested in the threat of this card than actually using it. While Catalyst of Aeons
is quite powerful, I think we basically never want to double-draw it, so that's also going to get snipped a touch. Minimorph
is powerful but tempo negative, so I think two is a fine place for us to be. Lastly, I'll trim a Troll Chant
to help us brick just a tad less.
That leaves us five slots, as well as a Champion slot, to work with. I like a singleton Sejuani
in these kinds of decks, to act as a bigger Icevale Archer
and removal spell. We don't exactly want to pull her off from a Feel The Rush
, but if we do, she's still a large Overwhelm unit, so it's fine.
Pokey Stick
is just a solid all-around card, so I am happy to finish off basically any Bandle City creation with a few copies. And last but certainly not least I love having a variety of Frostbite spells to make my opponents' lives difficult – Harsh Winds
, Three Sisters
, get over here.
Behold, the finished creation!
6
3
6
25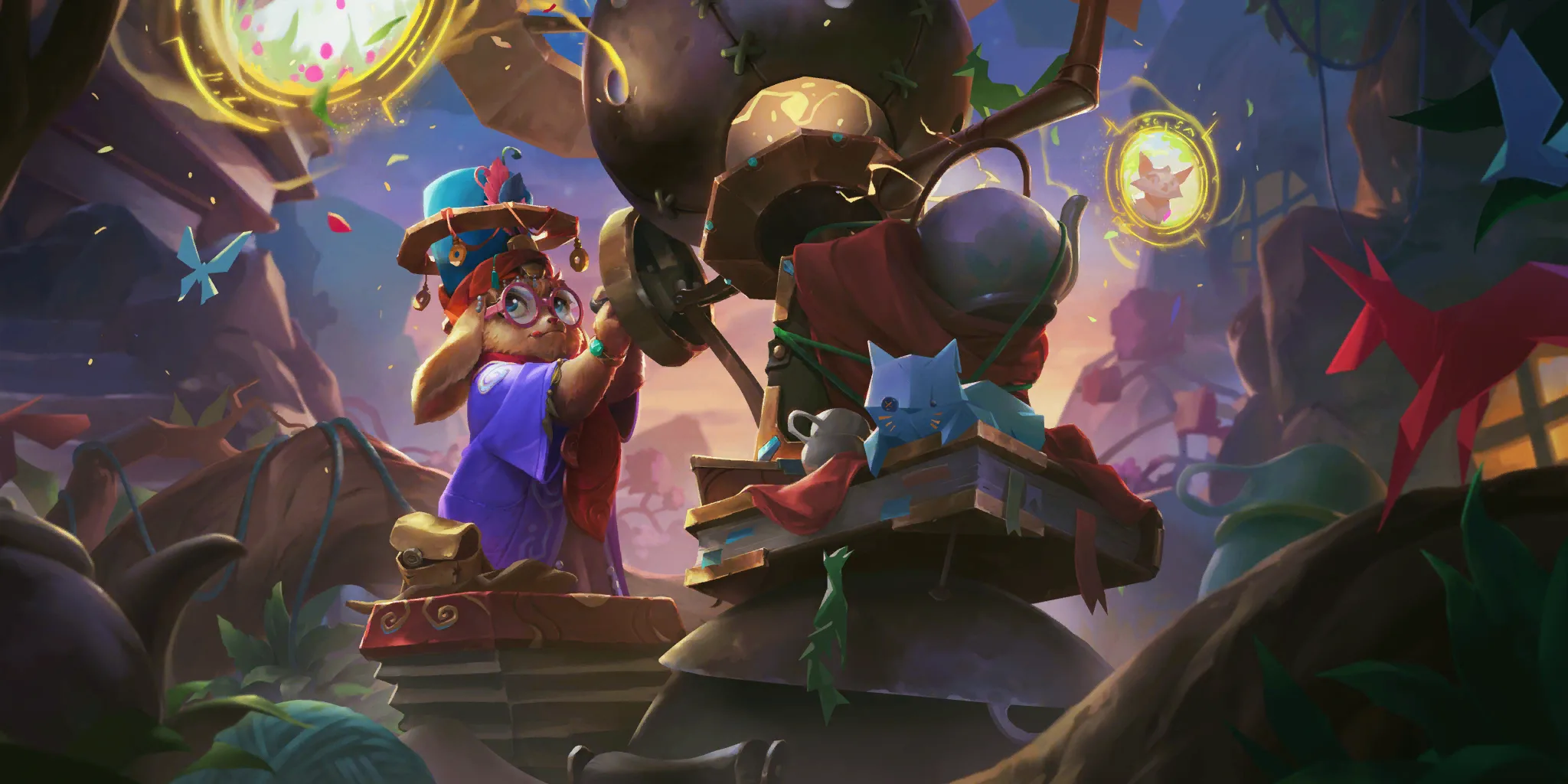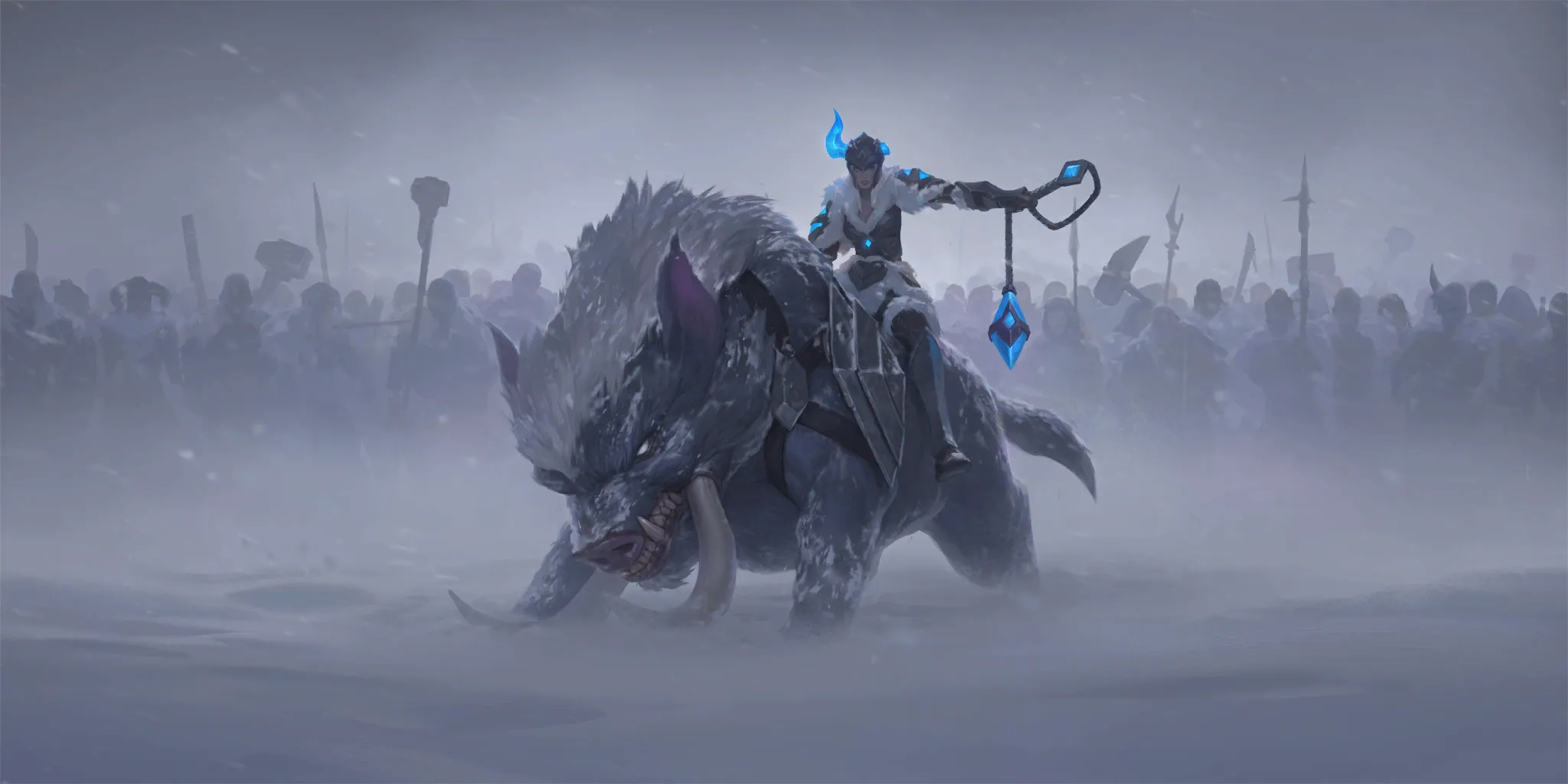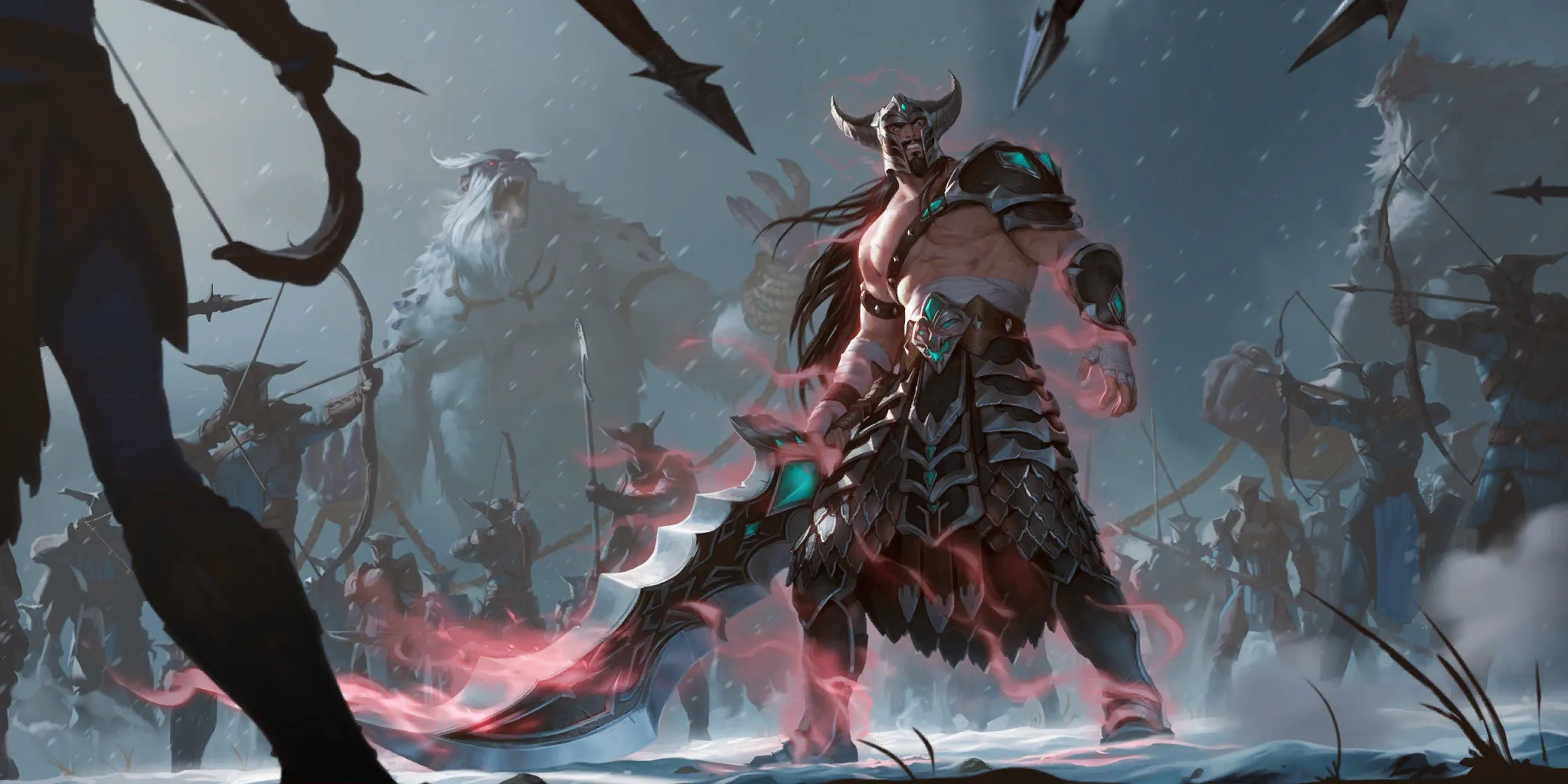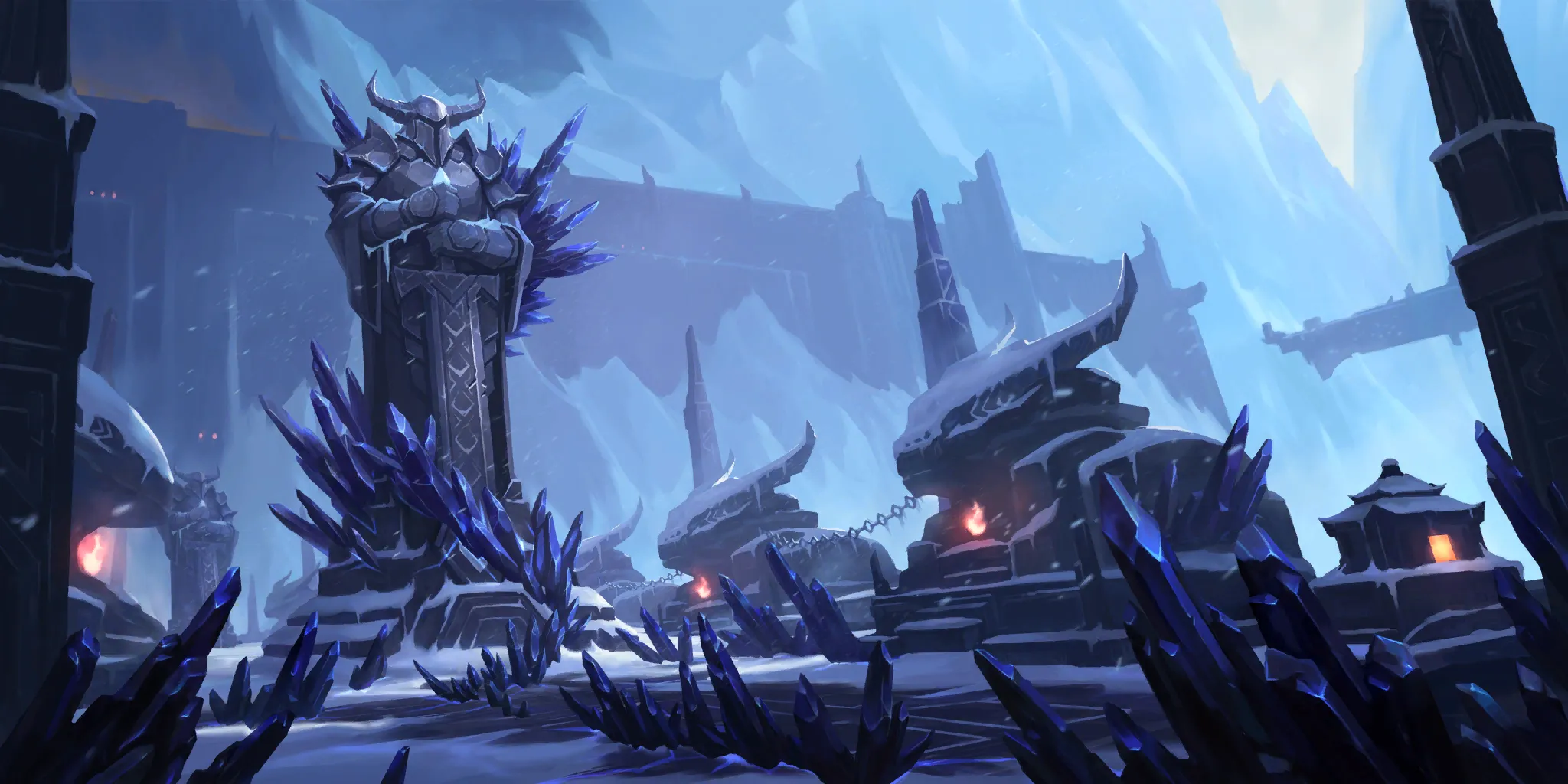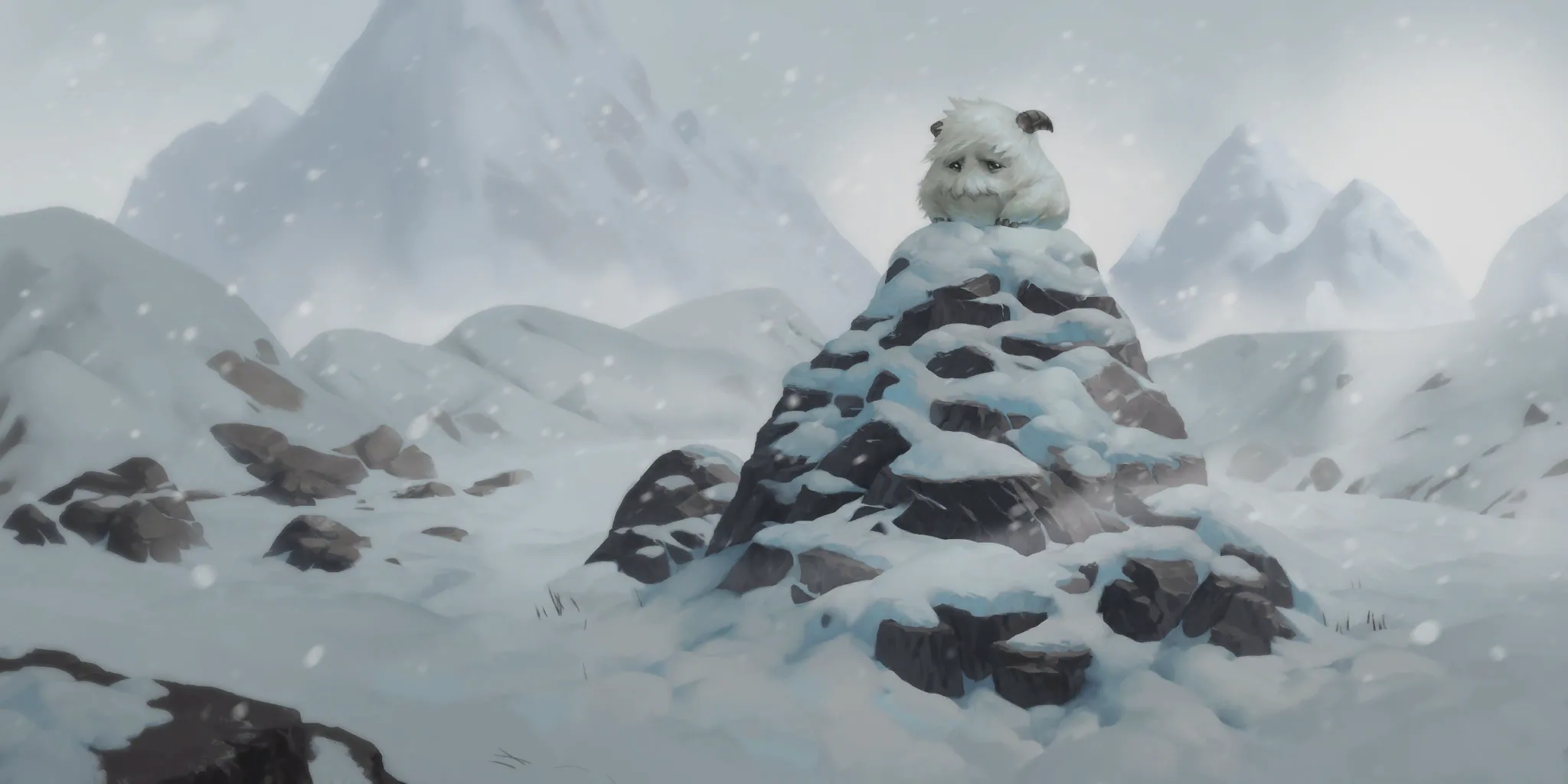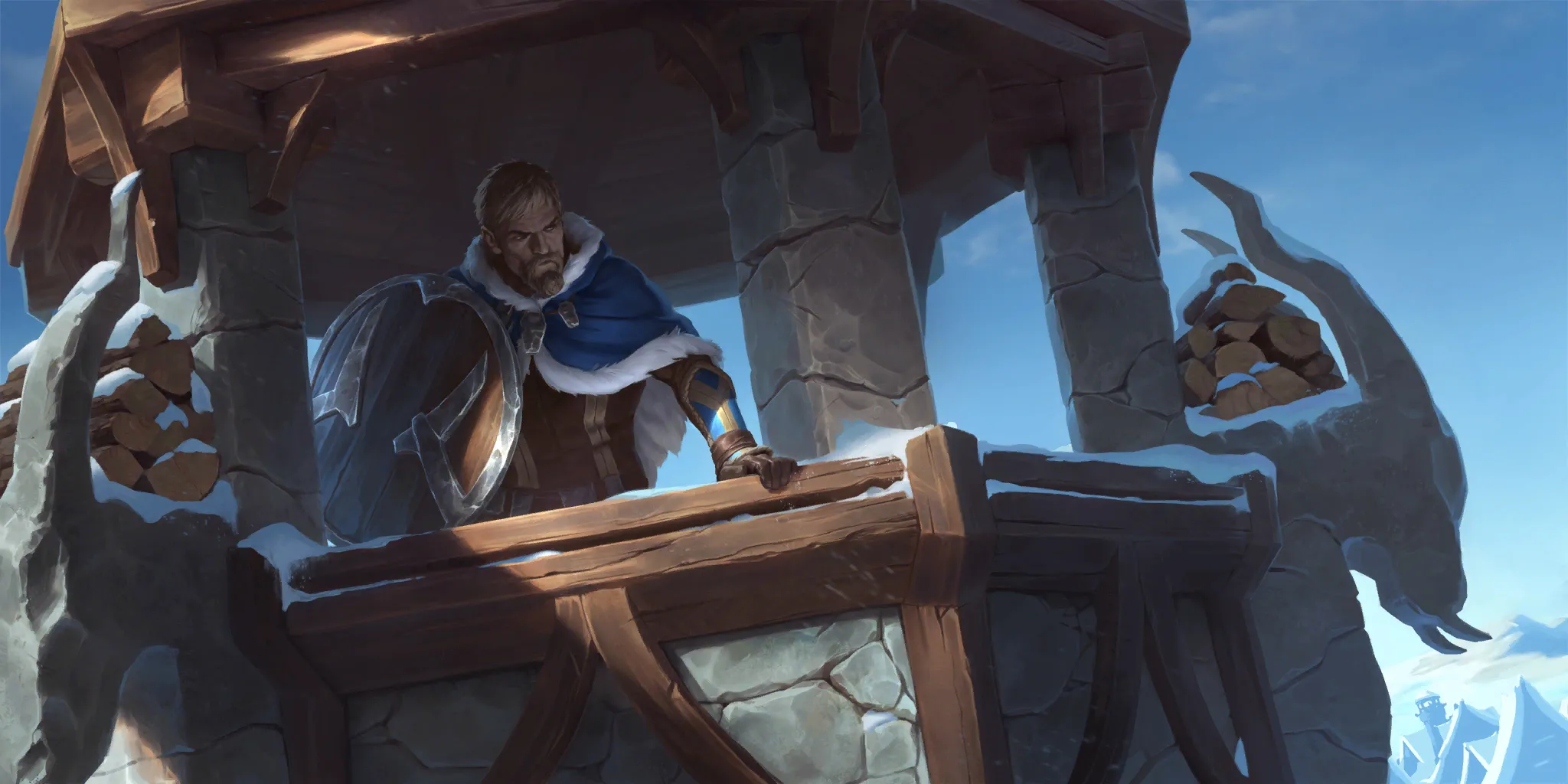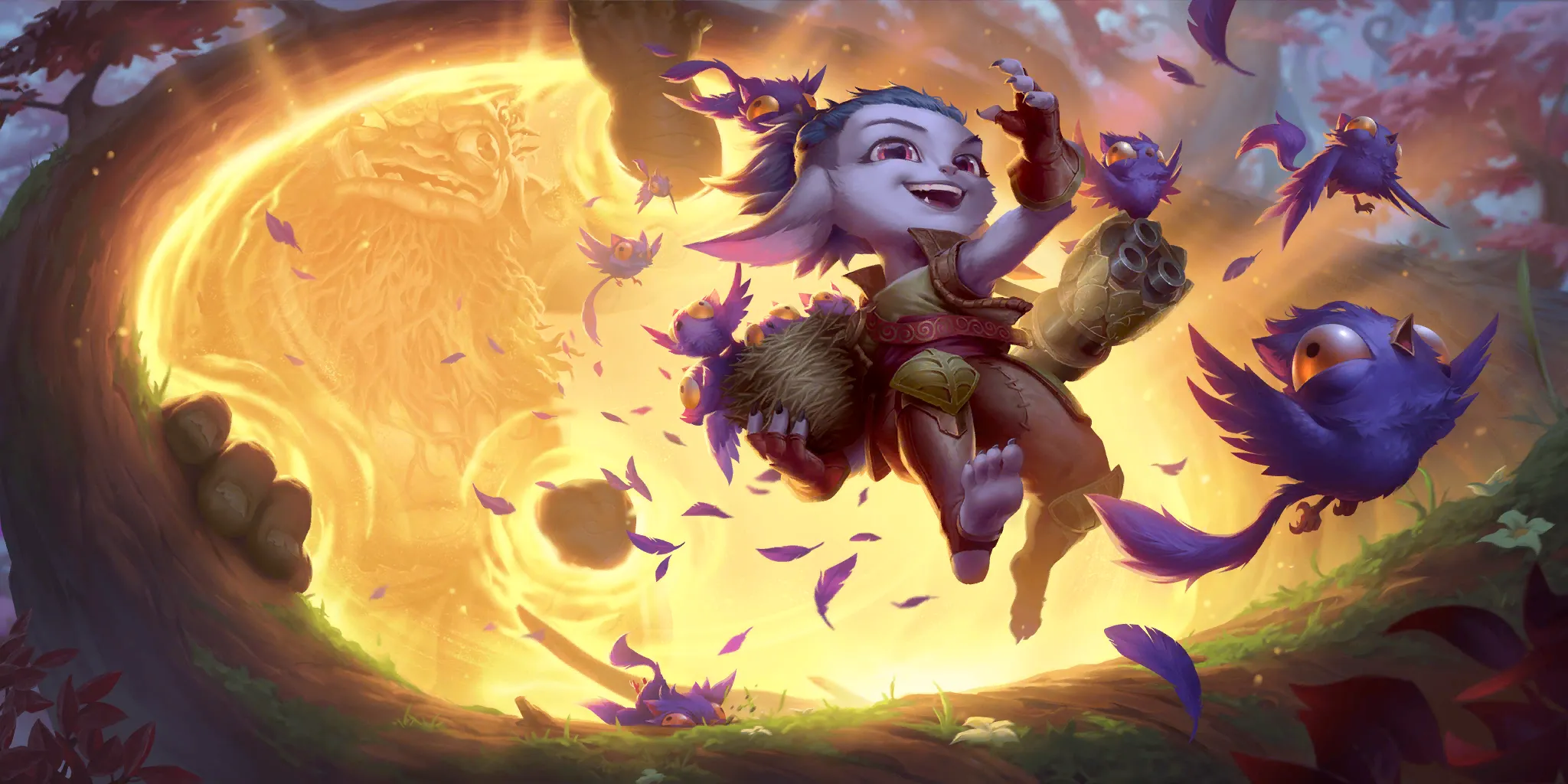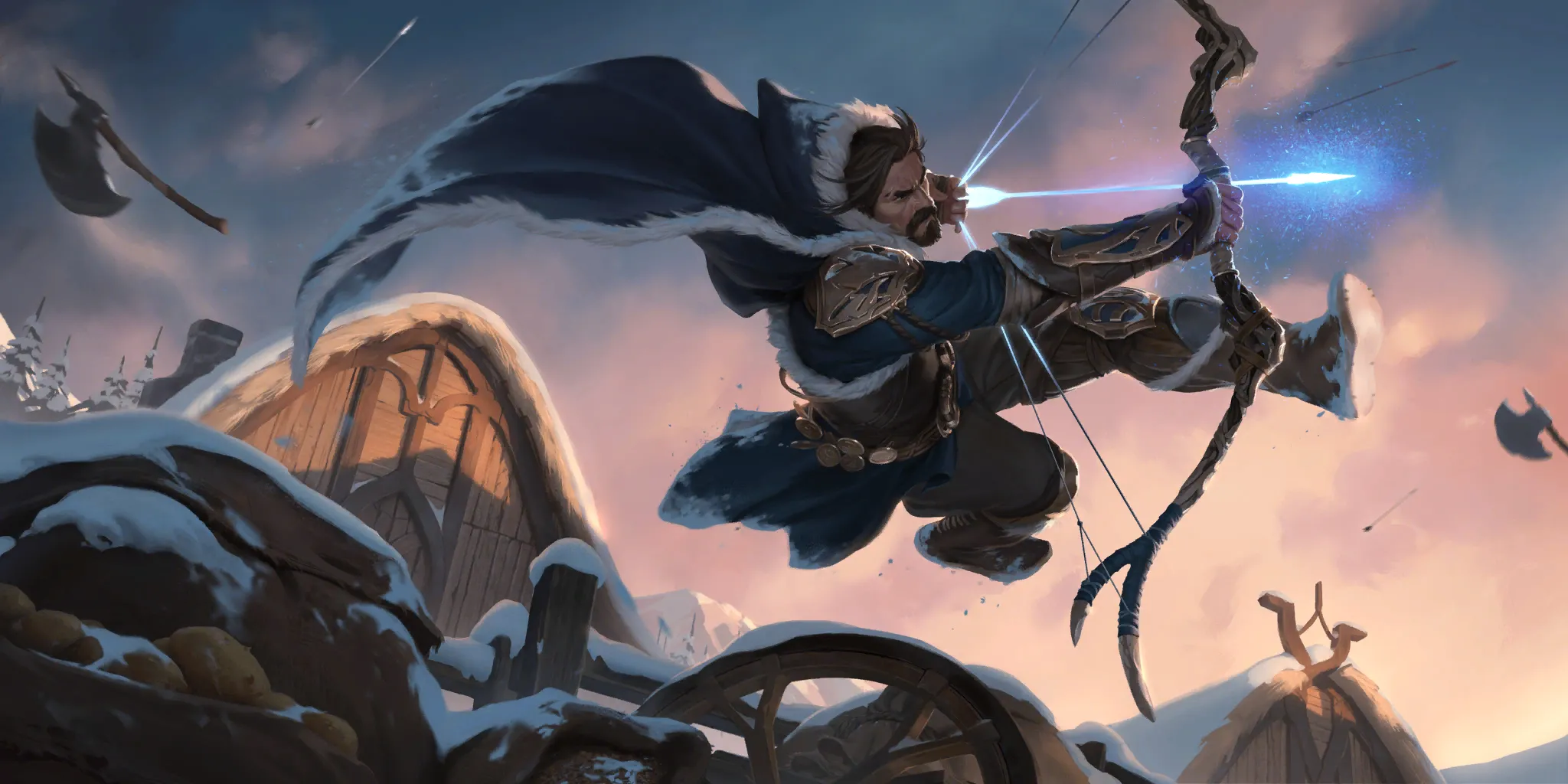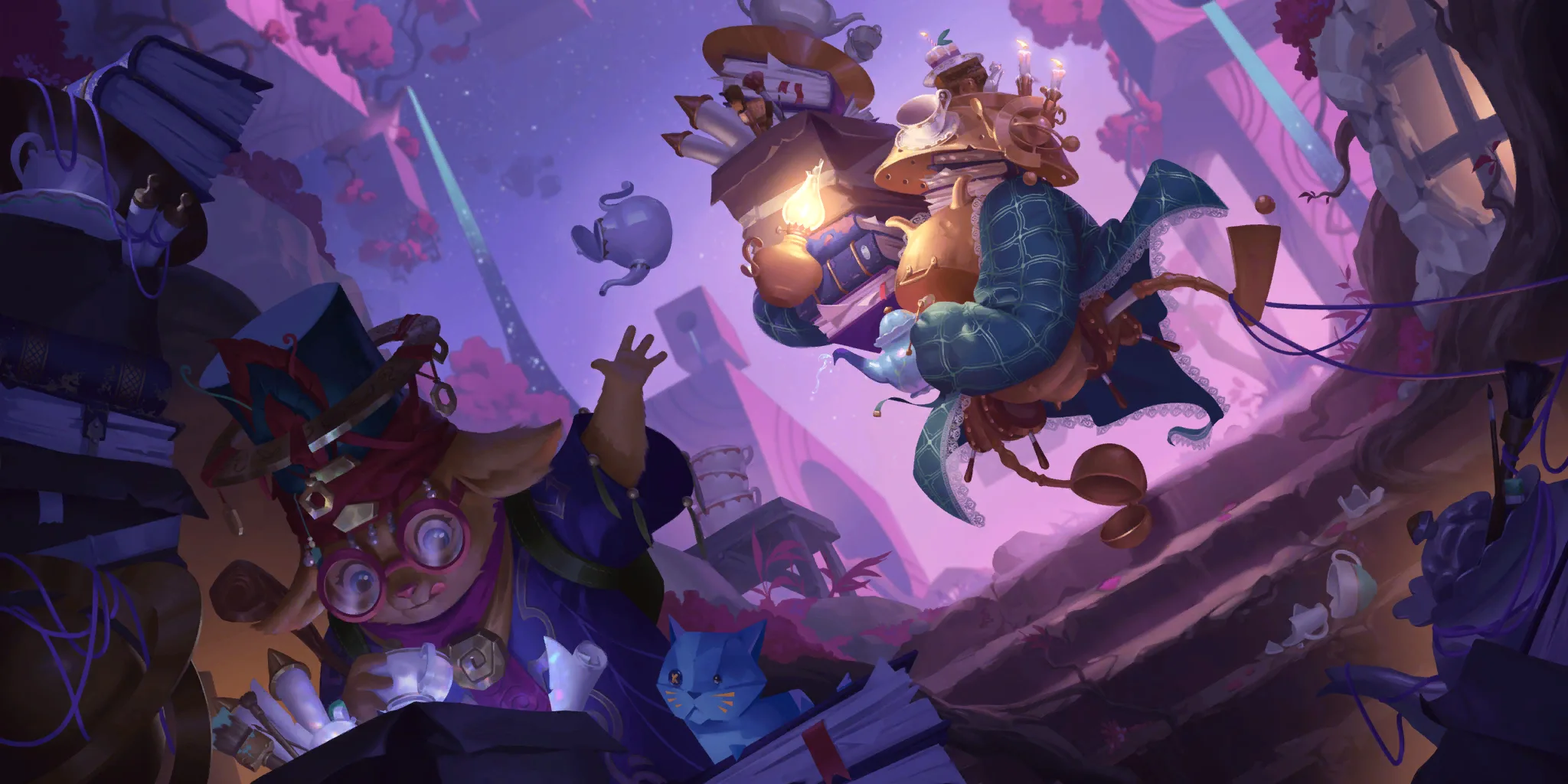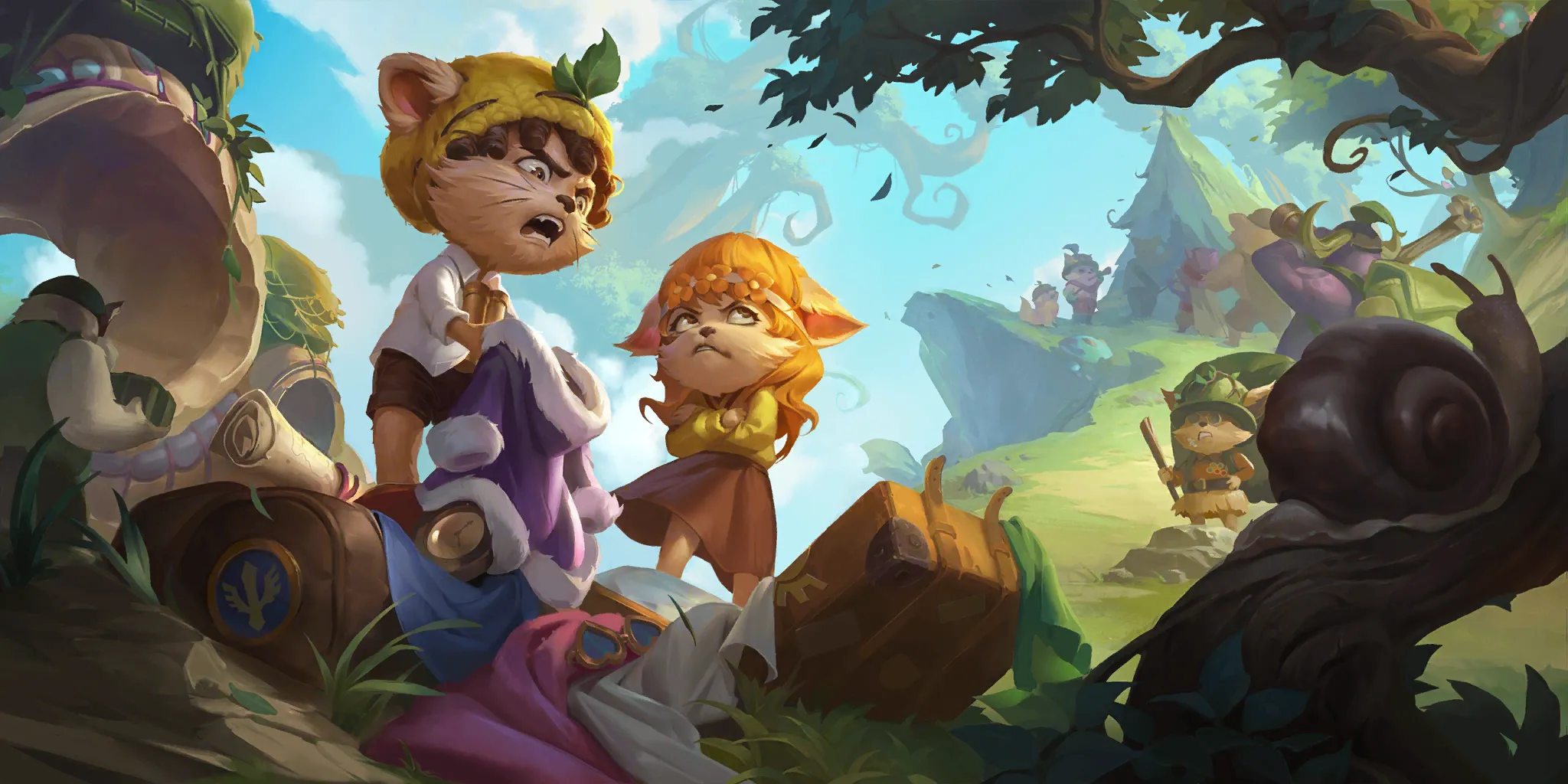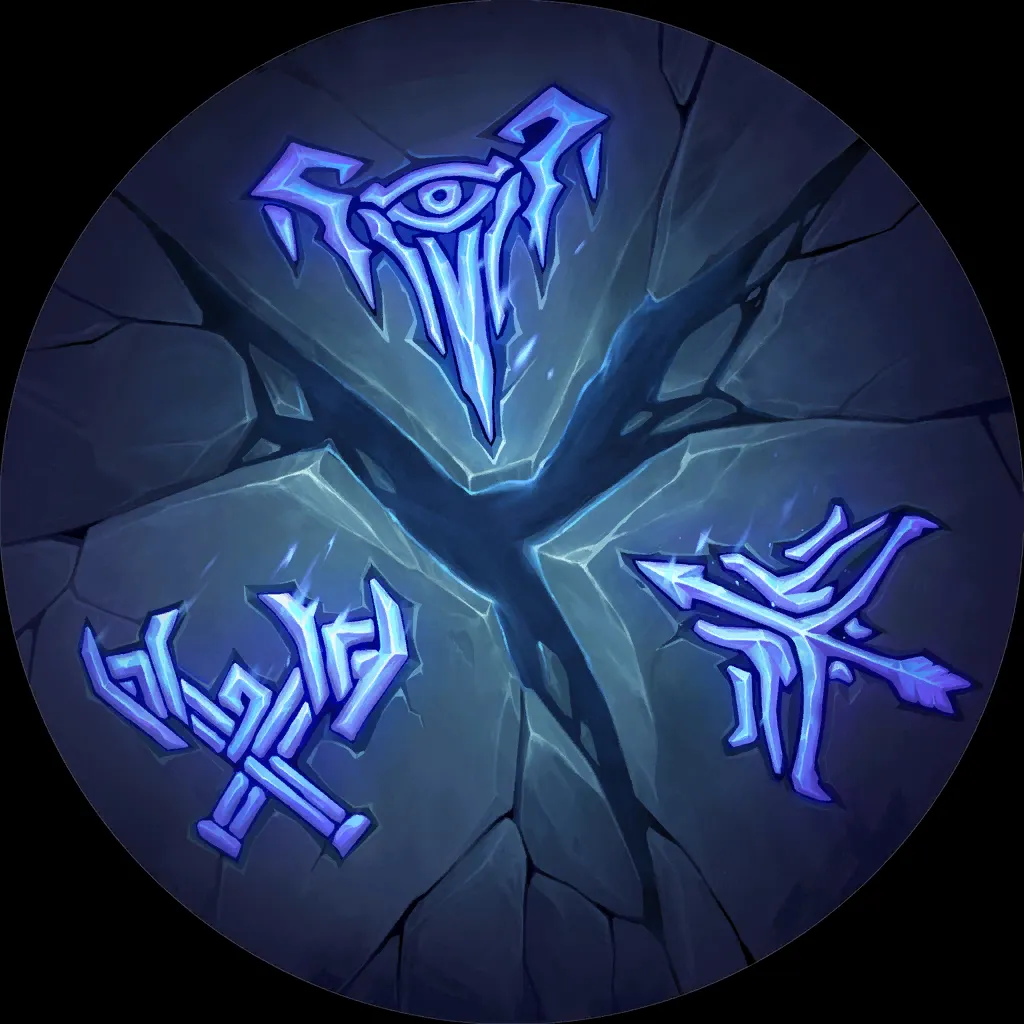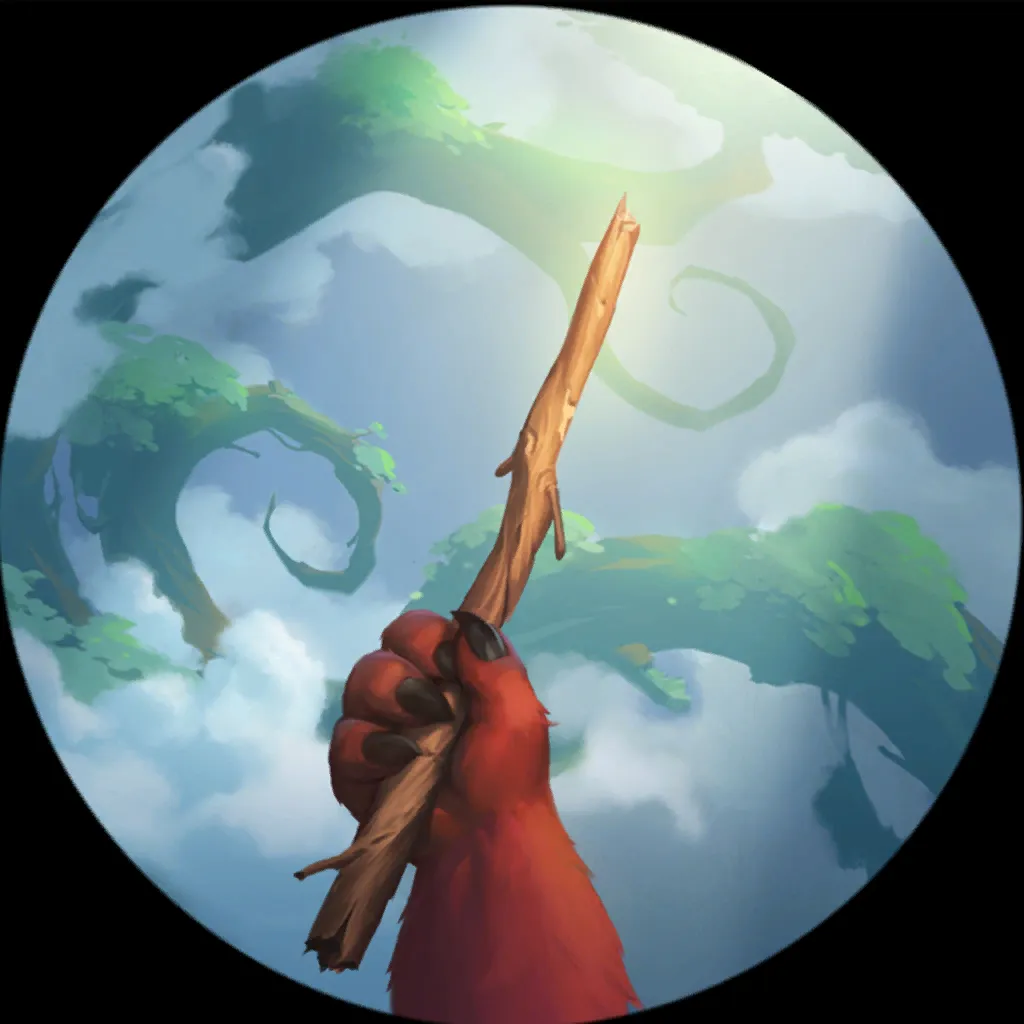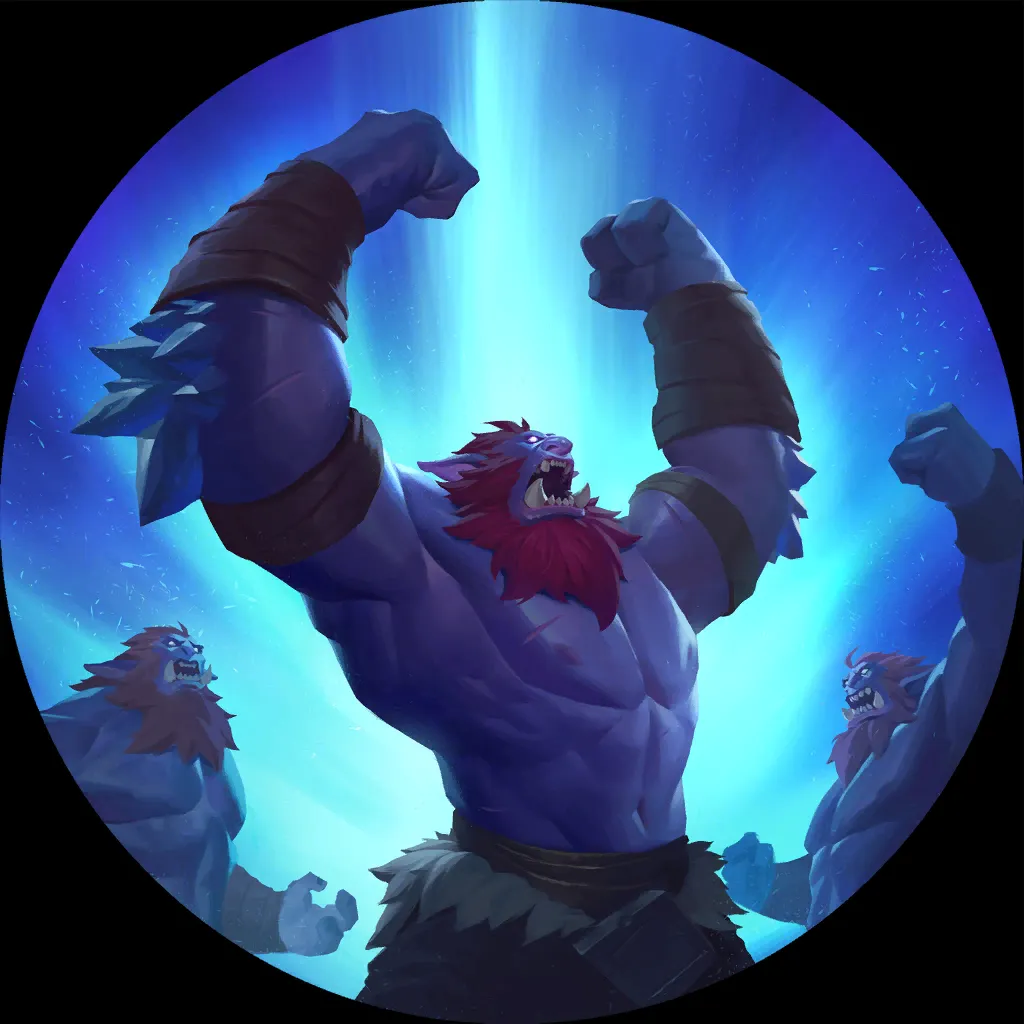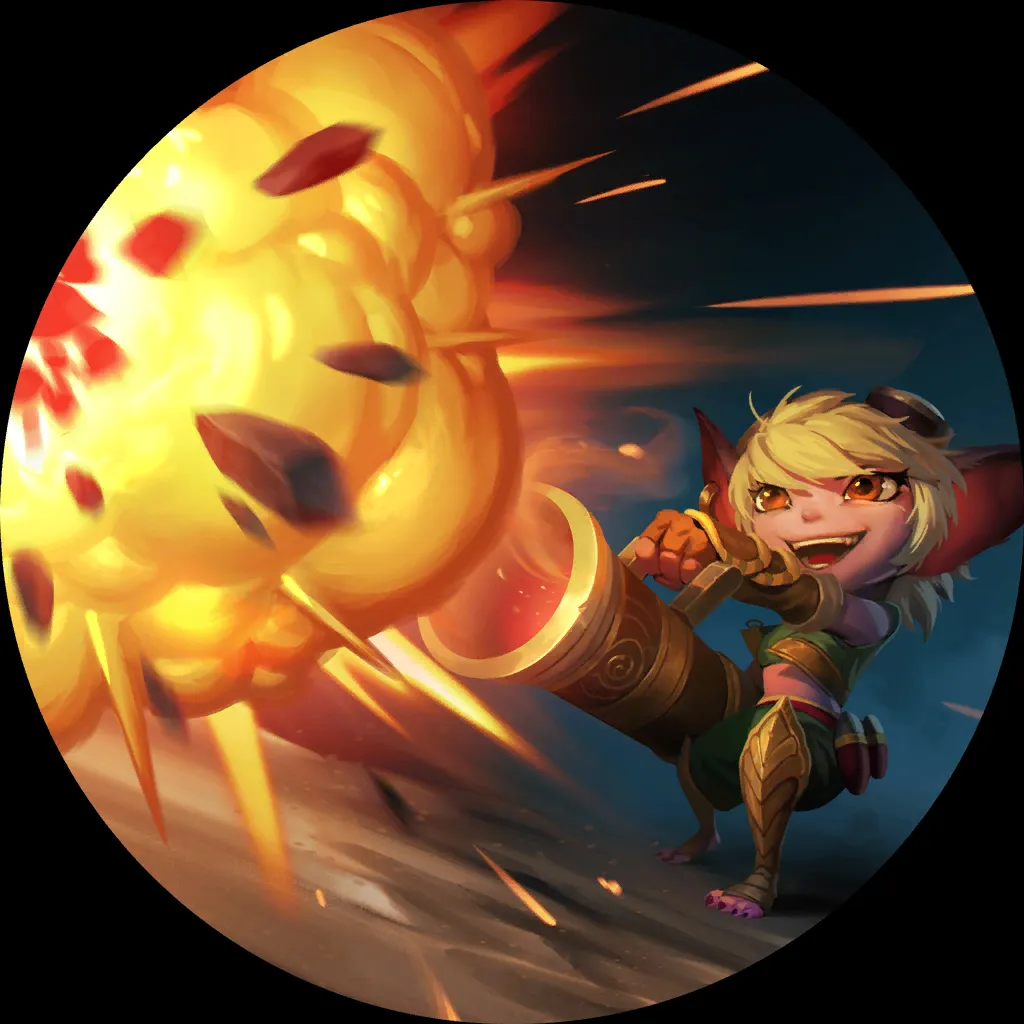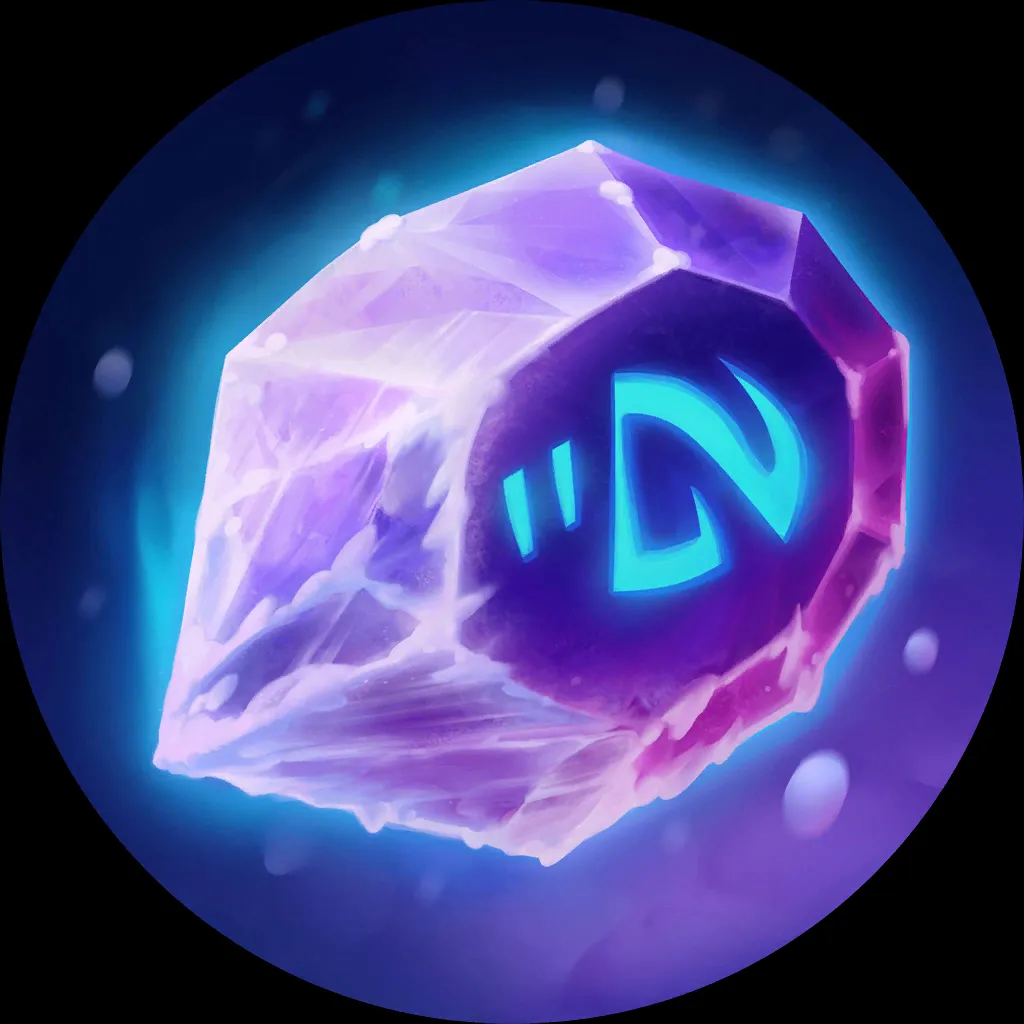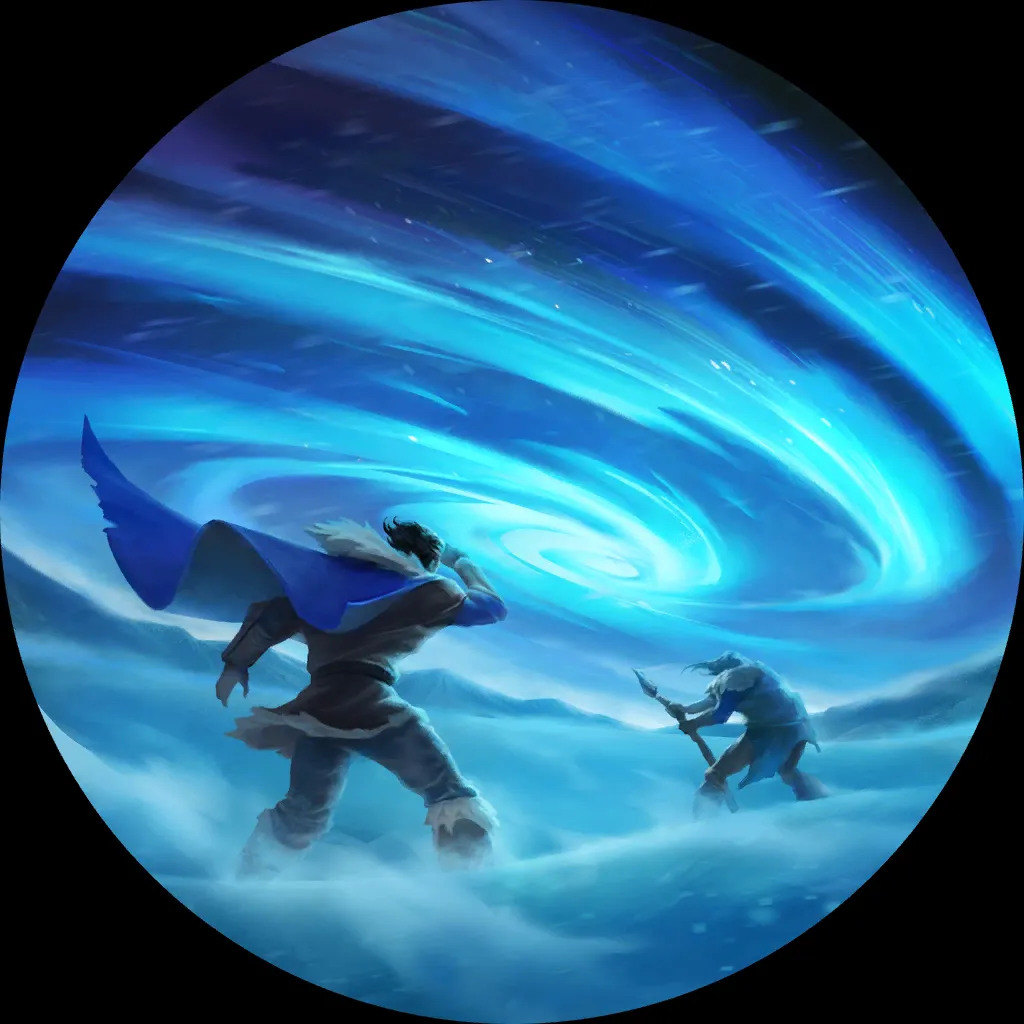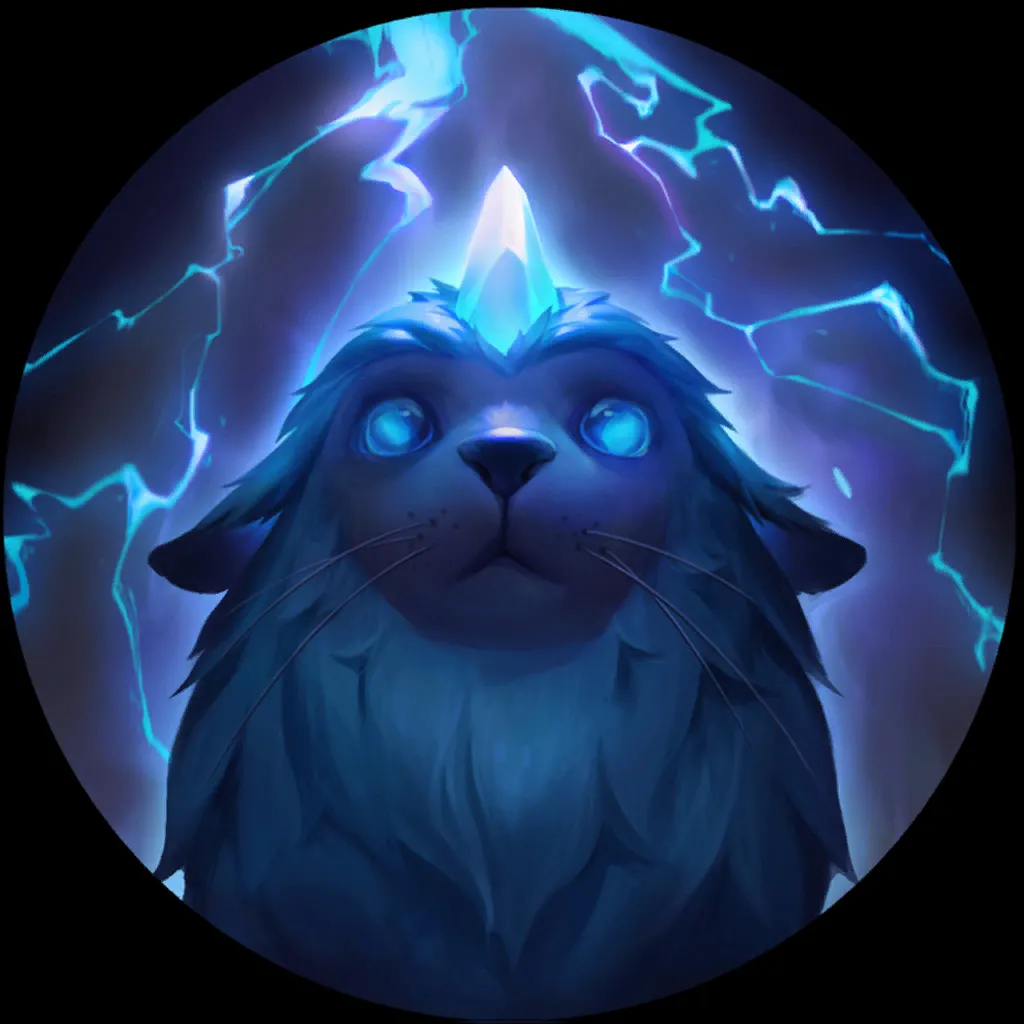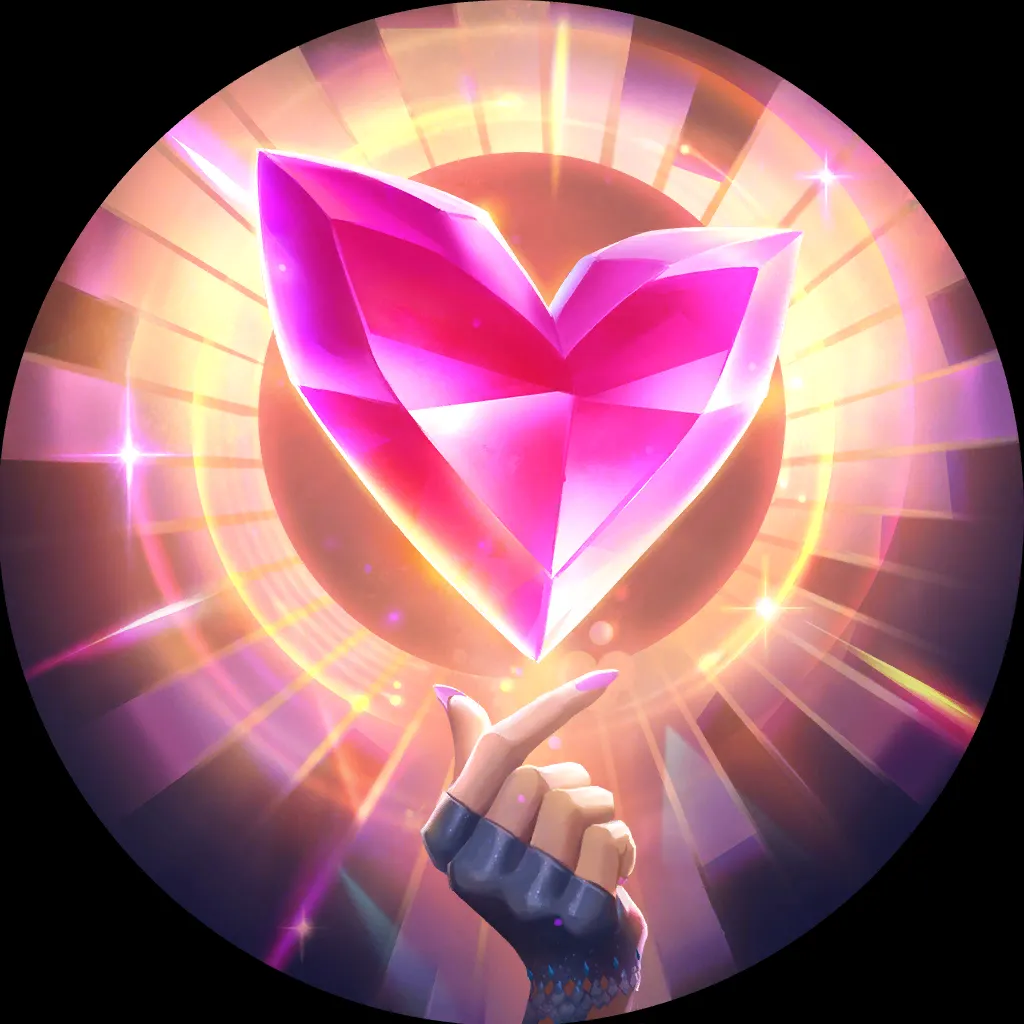 That actually looks suspiciously like a solid control deck, now, doesn't it? 
---
Final Notes
The big thing you'll want to keep in mind while piloting this particular pile is that your units simply do not matter. Even Norra
, if you play her early. Her job is to set up a few Portals, force your opponent to react, and show up again huge in the late game.
However, if your opponent doesn't have an answer ready, or if Troll Chant
can keep her safe, then be ready to switch gameplans. I love those "Look at me, I'm an aggro deck!" moments, because people simply are not ready for them. When you have a deck with multiple gameplans, always be on the lookout for excuses to jump over to the other one.
Other than that, this will play like a pretty traditional Freljord control deck. Trade down the board, draw some cards, play some answers, and wait till 10/10's show up to stomp your opponent for you.
I'm wishing you all good luck out there piloting the Portals, and I'll look forward to seeing you next time on the Rogue Deck Doctor. Muahahahahahha!
---
---