NEW PATCH ALERT! After what feels like an eternity of an Ionia meta, we're finally getting a new patch to shake things up! If you've missed it on Monday, there was a livestream on the official Legends of Runeterra Twitch channel where some Rioters (Namely Plinq and Zeronena) gave us a preview of the patch, and talked about the reasoning for some changes.
I hope they'll continue to do more events like this with the community! With some big changes on the way, we may still live in the Age of Ionia, but we do have some new decks that can try and diversify the meta… so let's take a look at some!
---
Leona Shen
One of the biggest changes was the rework to some of the Daybreak cards, especially their Champion, Leona
! She's now a five-mana Champion, has Challenger, and Leona (level 2)
's ability now reads "Give me Barrier this round" when she Daybreaks, or when you activate another one.
Another changed card that I'm running here is Sun Guardian
, who is now a 'Growing'-threat-of-sorts kinda unit. With these changes in mind, I thought the Daybreak cards would be fit for more of a control-style, board-based deck.
Being a board-based control deck, I picked Ionia and Shen
for a few reasons. First, Leona's new Barrier ability fits well with Shen and Sacred Protector
, and the amount of Barriers we can give can really help Leona to Challenge units. Sacred Protector
is a pretty decent finisher card, especially when we have a champ that can get Barrier multiple times – that way, Shen can Support another attacker. Second, Ionia has access to the best Weaponmaster (namely Ionian Hookmaster
) and Deny
, two cards that I think are very useful at the moment. Some of the Improvises Equipments that you can hit can be extremely powerful here: Fishawhack
, Upcycled Rake
or Sandworn Amulet
can exert a lot of pressure, especially with Double Attack from Sacred Protector, while The Fix-Em 5000
and Pan O' Pain
can help getting favorable trades, or with Leona challenging units.
Another changed card is Iula
who now Grants either Spellshield or Overwhelm to a unit (rather than just give until end of round), or if none are selected she will get the chosen Keyword herself. If you want to protect your key units with Spellshield, she can slap it on them; if you need more aggression, she'll grant Overwhelm to your biggest attacker to run over the opponent's units. This works really well with Double Attack as well, if you can pull that off.
---
Twisted Fate Swain
Swain
. A card out of the meta for so long, people probably forgot what he did… WELL NOT ANYMORE. Swain got a huge buff, gaining +1 Power, and OVERWHELM ON HIS LEVEL 2!??
Like, that seems crazy!?
If Swain (level 2)
strikes the Nexus, he then deals three damage to all enemies and the enemy Nexus. What this change means is that, if he attacks in his Level 2 form, and you want to prevent your entire board and Nexus from taking three damage, you need a Fearsome blocker with five Health or more, or else Swain will still hit the Nexus thanks to Overwhelm. Seems kinda crazy, yea?
Anyways, let's talk a bit about the deck: it's kind of the same as the Twisted Fate
Swain
decks of old, with a couple of touches since it's been awhile.
Heavy Metal
is a great addition to the Bilgewater arsenal, dealing two to a unit AND destroying its Equipment is a very good card. Eye of Nagakabouros
is a great draw card since it nets you a unit as well (and at Burst speed) – if you're running into mana issues, or don't need the unit, you can tweak it for Whispered Words
. Riptide Sermon
was nerfed, but I think in this deck it's still great since it deals Nexus damage and can still remove units… though it'll take some testing to see if it's still worth running. Watchful Idol
is a crazy card in Swain/Bilgewater decks, since Idol alone will take care of half of Swain's level-up condition – playing Ido on round one or two will set you on track to level up Swain on round five.
Last, we have The Leviathan
, who is normally a staple in Swain decks, but I think is still too slow for the meta (even with its cost reduction this patch), so I've only included two copies. I did add one Riptide Rex
, since the curve of Leviathan into Rex is kinda neat.
---
Gnar Sejuani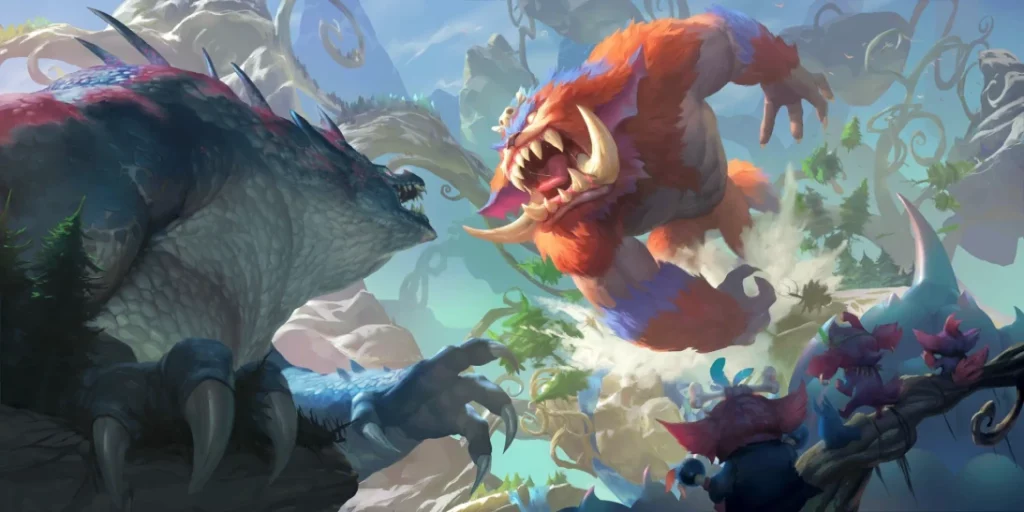 This is a deck I've always liked. It just never managed find purchase in the meta, but now I think it might be an okay time to revisit it: Sejuani
is quite good into a lot of board-based decks, and the recent buff to Mammoth Shaman
makes him quite the fine finisher, aside from relying on Sejuani, Gnar, or trying to ping them little by little with Impact or Terrordactyl
.
Mammoth Shaman is a card I think is a bit underrated. I'm not trying to say it's crazy-broken good… but it's strong. It's a card that your foe kinda needs to remove ASAP (which usually can only be accomplished with hard removal like Vengeance
) because if he gets to transform into Mammoth Rager
, he can really really get out of hand.
Once the Shaman becomes the Rager, he becomes a 7/7 Overwhelm on round end, then right away on round start he Grants himself +2/+2. So you get a 9/9 Overwhelm unit that will continue to grow each round unless it's dealt with. His base Shaman form getting buffed from four to five Health makes a world of difference, I think, making him much stickier, especially with Riptide Sermon
getting nerfed.
Otherwise, the deck is a pretty solid combination of being aggressive and sitting back and dealing little damage here and there when you can. Chief Nakotak
giving transformed cards Impact can go a long way, as well as fully healing them and giving them +1/+1. Teenydactyl
into Terrordactyl can put a lot of work as well, being a big-bodied backline unit that deals damage each turn and activates your Gnar
and Mammoth Shaman transform, as well as Sejuani (level 2)
's effect.
---
Spooky Scary Spiders, aka Elise Nocturne
Just because the big bad Decimate
got nerfed, it isn't going to stop me from building these kinds of decks!
Here we have Spider aggro, but leaning a bit more on the Fearsome side of things. With Nocturne
now buffed to include Fearsome units (instead of only Nightfall units) in his level-up condition, he can flip quite nicely in a deck like this. Traditionally, Spider aggro was just mono-Elise, maaaybe toss in a Gwen
here and there, but with Nocturne's buff, he can find a home in a deck like this. With a lot of early-game Fearsome units like Precious Pet
and Stygian Onlooker
to level him up, he can become a big threat – and with Nocturne (level 2)
reducing your opponent's board by -1/0 each time you summon a unit, your Fearsome attackers should have no problem getting right through.
An important card I've included is Harrowing Return
, which I added to cater more to the Fearsome side of things. It will revive the strongest Follower which has died this game and give the opponent's board -1/0… and with the way I built it, Frenzied Skitterer
is our strongest follower, which means it'll always come back and reduce your opponent's board by another -1/0!
On top of all that, if you did have a Nocturne (level 2)
on board, THAT'S ANOTHER -1/0 TO YOUR OPPONENT'S BOARD (see where I'm going with this?) , which means your opponent would've needed a 6+ Power unit on the board to still be able to block your Fearsome units. Harrowing Return + Skitterer is also neat to slow down an opponent's big attack if they give you a chance to cast it, so it does have some defensive uses as well.
Note: Stygian Onlooker
attacking does not count as two triggers for Nocturne's level-up progression, just one (even though the Onlooker is both a Nightfall and Fearsome unit).
---
Wrapping up
Cool! Wow! Spooky! Some new decks to try out for the new patch!
There were some other cards that were buffed as well which I'd still need some time to look at to find their home, like Fiora
. She's been out for so long, and with her change she may be coming back to the meta with a vengeance? Who knows, we'll have to see; but for now just enjoy the climb, enjoy the patch, and good luck!
Thanks for reading! =)
---
About the Author
Playing LoR since beta, consistent masters player. LoR Dreamhack Champion/Aegis Season 0 Champion (BEAU) and other high-level tournament win/top cuts. Crazy deck builder, omega cracked player. I like garlic bread.
If you'd ever like to chat, know more about the game, or would like some coaching sessions, feel free to hit me up on my socials!
Follow me on Twitter: https://twitter.com/shadawx
Join me on Twitch: https://www.twitch.tv/shadawx
Check my YouTube content here: https://www.youtube.com/channel/UCpgbie3tmI07MZJ5X5b5MYQ
Want that extra boost to get to the highest level of play? Check out my coaching with Metafy! https://metafy.gg/@shadawx
---