Sand as Far as the Eye can See
Thralls and Viego have become a very stable core to build your lineup around this season.
For this lineup, we opted to play Shuriman Viego over the Noxus version because we feel it's a bit more consistent. Thralls is the current meta queen and the deck makes the format work around it – right now you either ban Thralls or try to beat it, and this lineup is trying to beat it.
Thralls
Viego Shurima
Scouts
Stolen from Runeterra Tennis Academy's B1tter, this lineup sacrifices a few percentage points into Thralls by bringing Scouts.
Odd for a lineup that is looking to beat Thralls right?
That's because this lineup isn't looking to beat Thralls specifically, but rather Thralls lineups with counter-Thralls decks slotted in. Scouts has an excellent matchup into both Aphelios PnZ and Fizz Riven, two of the best Thralls counters at the moment.
Against similar big-stuff lineups, you may actually want to ban Thralls to save yourself an awful mirror, though Viego Noxus might take priority if they're paired together – Viego Noxus can be problematic for both Scouts and your own Thralls. Stats have the Viego "mirror" as 50/50 but I personally believe it's slightly Noxus-favored.
Other good bans include Sun Disc, Pantheon, Illaoi, and Viego Shurima.
Other decks you could slot into the last option are Fizz Riven – another good matchup into Thralls and it beats Jayce Heimer, something else this lineup is good at.
You could also play Sun Disc for the same reasons, or you could try an Illaoi deck here as well but I think you're losing into Viego Nox a bit too hard if you attempt that.
---
Can't Die If You Kill 'em First
This is an oddly aggressive lineup considering it's playing a Viego deck, but it's one that should be quite powerful in the current meta.
All three decks sport a positive matchup into Thralls, making this the premiere lineup if you're trying to target them. All credits for this lineup go to Cephalopod and his team Beau who brought this lineup to AE playoffs this week.
Fizz Riven
Viego Noxus
Aphelios Viktor
As I've already mentioned, this lineup is looking to absolutely crush Thralls. All three decks have a good matchup into the deck and into its counters, like Sun Disc and Viegos of all colors.
This is an incredibly strong lineup that has a good shot into the vast majority of the current field. However, you may struggle slightly into Jayce Heimer, as it does well into Aphelios and Viego, or be forced into banning a Demacia deck like Pantheon or Illaoi because they beat Fizz Riven.
Good bans for this lineup include Bard Galio, Jayce Heimer, Tri-Beam, Ahri Bard, and potentially even Pantheon or Illaoi depending on what the rest of your opponent's lineup looks like.
Alternate decks you could look to include in this lineup are Sun Disc, Annie Jhin, Viego Shurima (over Viego Nox), Pantheon, or Illaoi. All of these decks have one thing in common: they beat Thralls.
---
Monte Plays What He Wants
It's not a lineup article without my own monstrosity making an appearance. This week I'm feeling a bit spicy so we have a lineup that's playing some more uncommon decks but still targeting Thralls.
Drisoth Pile - Worldwalker Edition
Azir Irelia
Fizz Riven
This lineup isn't the most serious and I'm not yet sure of Nami TF's matchups – therefore, I'm not certain this is 100% cohesive but it's what I would be playing in any tournament this week.
I really like the new SI Nami pile that Drisoth made because it has a lot of different angles to win from. It also has a lot of options – like Shadow Isles Tellstones
and Tentacle Smash
– to help you deal with problematic units.
Both TF and Nami are threats that demand removal, and if left unchecked they will ruin your opponent's day.
Our other two decks, Irelia Azir,and Fizz Riven, boast excellent matchups into Thralls and you should have no trouble chewing through their eight-eight Overwhelm units. Other good matchups for this lineup include Jayce Heimerdinger, Viego of all colors, and Deep.
However, our lineup is not without its weaknesses. Tri-beam should prove problematic for both Irelia and Nami. Demacia like Pantheon
or Illaoi
will also prove troublesome for Fizz Riven and maybe Nami.
Your ban strategy should then be to deal with the biggest problem in your opponent's lineup. Take out the Tri-beam if it makes sense, otherwise remove the Demacian deck. If there's no Demacia or Tri-beam, you'll want to remove anything overly aggressive as all three of our decks may struggle to stabilize the midgame against them.
Alternate decks you could include in this lineup are just about anything you'd like. I'd advise you to try to keep to the theme of beating Thralls but this is a relatively flexible lineup – swapping out Fizz Riven for something better into Demacia will let you shift your soft target.
It all depends on what field you expect and what you want to be best into.
---
An Unexpected Team Up
Thralls continue to be the most popular deck, and while the sound strategy is to target the best deck, we also have to be mindful of the rest of the field. This unexpected team up of very different decks tries to beat Thralls plus two other rising decks in the meta.
Pantheon Yuumi
Annie Jhin
Azir Irelia
These decks can all put a lot of pressure onto your opponent, just in very different ways.
Pantheon
Yuumi
relies on two or three units going really tall and finishing with Overwhelm. Annie
Jhin
combines the power of aggro burn with stuns, leading to some big tempo swings when timing the stuns correctly. Azir
Irelia
continuously pushes damages through multiple attacks every turn and Sand Soldier
s' chip damage adding up.
How do these very different decks come together under a single lineup?
First, they all do well into Thralls, giving you great odds of winning the matchup versus the most popular deck around.
Second, they all do well versus Sun Disc, Pantheon Yuumi (sans the mirror) and Zed Bard Elusives, three decks that are quickly rising in popularity. Our three decks being great against decks that are usually played in different lineups means that we have good odds of hitting at least one of them and targeting the deck during the match.
Of course all lineups have their weaknesses, and for us it comes in the terms of Noxus, whether it is triple Noxus aggro or Noxus midrange control.
A triple aggro lineup will do very well into both our Pantheon and Azir decks, making them our number one concern. Luckily, triple aggro is very rare these days due to other decks in the field.
Noxus midrange, on the other hand, has enough tools to stop Pantheon in his tracks.
Alternate decks in this lineup open you up to being more vulnerable to some of the decks we are targeting. Aphelios Vi Zoe, for example, is a good alternative if you want to commit more into beating Sun Disc and Bard Zed, but will be worse into Thralls.
---
Sirturmund's Pick: Hot Off The Presses
In my opinion, Aphelios Zoe Vi is the best tournament deck in the current meta. Once you ban Thralls, the deck has a great matchup table across the board.
This lineup is trying to figure out the two other decks that can be paired with it for success, and it just so happens that it is two decks that just bursted into the meta this week.
Aphelios Zoe Vi
Katarina Ziggs Annie
Ahri Bard
If you have never seen these Katarina Ziggs Annie or Ahri Bard decks, then I don't blame you. These decks have come out of nowhere this week, with Katarina Ziggs Annie posting the best ladder winrate a couple of times this week and Ahri Bard making some splashes in Aegis Esports playoffs.
What makes these decks so good is their matchup tables, and combining that with the great matchup table of Aphelios Vi Zoe, you end up with a lineup that can realistically take on most of the meta.
To start with, ALL three of our decks are favorable into Viego Deserter and Sun Disc, already letting you target some of the most popular tournament decks.
Two of the three decks are favorable into Annie Jhin, Zed Bard, Pantheon Yuumi, TF Annie, Azir Irelia and Trundle Timelines.
And then we have even matchups against Deep, Fizz Riven, Heimer Jayce, Ezreal Caitlyn, Elise Annie and other Vi Aphelios Decks.
See how ridiculous those match up tables are? I listed almost every meta deck up there and we are at the very least even across the board versus those decks. It is almost guaranteed that you'll always run into at least one of the above decks, meaning you will never feel like you lost the match right away from the moment you see your opponent's lineup.
This lineup gives you a fighting chance against EVERYTHING.
… well, almost everything.
There were two glaring omissions from that match up table: Thralls and Galio Bard.
Surprisingly, both of these decks do well against all three of ours. So when it comes to ban strategy, I would put all my focus on those two first. Otherwise you can just ban decks like Elise Annie or Heimer Jayce, which do have good matchups versus our Ziggs Annie Katarina deck even if our two other decks are even against them.
Alternate decks?
You want alternate decks too, even after seeing how juicy those match up tables look?!!
Fine. If you insist, you could theoretically swap in Pirate Aggro or Draven Sion for any of the three decks. It would just shift your numbers in certain matchups one way or the other, but should still give clear focus on beating Sun Disc, Legion Deserter or Pantheon Yuumi while always banning Thralls.
---
True Ice
For the more competitive players planning to participate in community tournaments this week, a deck to keep an eye on is Aphelios Zoe Vi.
With a great match up table into most of the meta, the deck is sure to be picked up by more and more top players. As such, I want to get ahead of the curve and give you a potential lineup to hard-counter it.
Thralls
Anivia Shadow Isles
Trundle Gnar Timelines
This might be the first time you ever see Anivia
in these lineup recommendations but there might be some potential with her as an anti-Aphelios Zoe Vi option. The idea is that with the AoE from our Freljord decks – whether it's through Blighted Ravine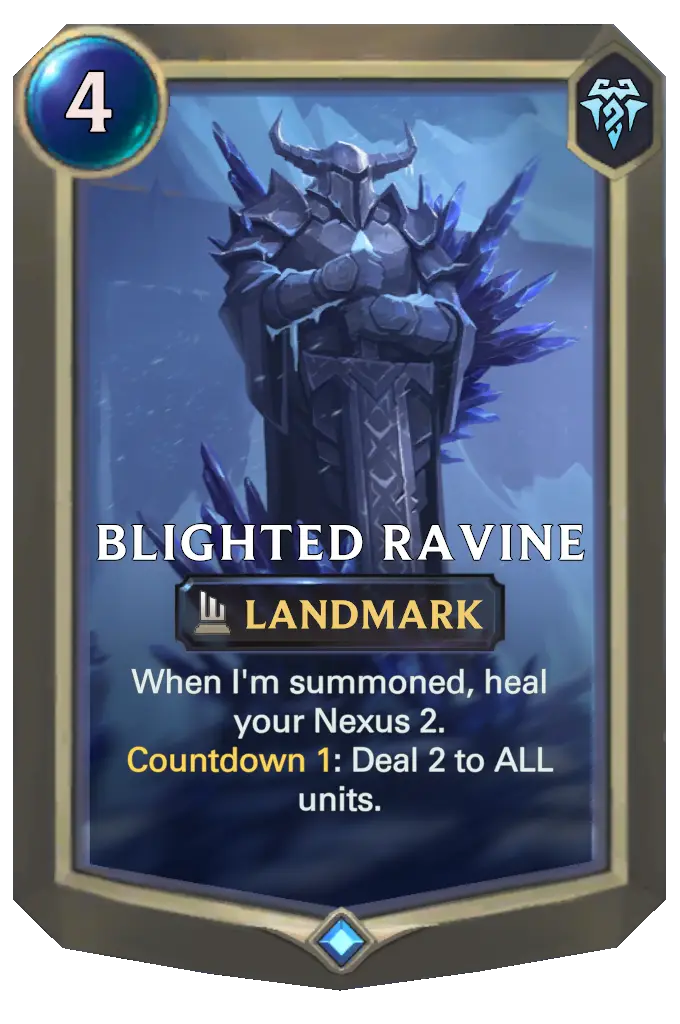 or Buried in Ice
– we are able to keep their board relatively small to decrease the effectiveness of The Winding Light
.
The question then becomes, is targeting Aphelios Vi Zoe worth tanking your matchup spread against the rest of the field?
Usually the answer is no, as you cannot guarantee you will face Aphelios Vi Zoe every single time. As such I can only but give the fair warning that the success of this lineup lies more heavily than usual on the luck of matchmaking or bracket pairing.
Our decks will struggle against many meta staples, such as Sun Disc, Pantheon Yuumi and Thralls. Ideally those become our target bans and our opponent is playing at least one deck that we can try and 2-0.
We don't mind seeing aggro decks or other board-centric decks for example, as our AoE should allow us to control them. We just have to try and play for our combo pieces and go from there.
If you want to consider an alternate deck for this lineup, I would stick with the concept of Freljord as one of your regions and playing AoE such as Blighted Ravine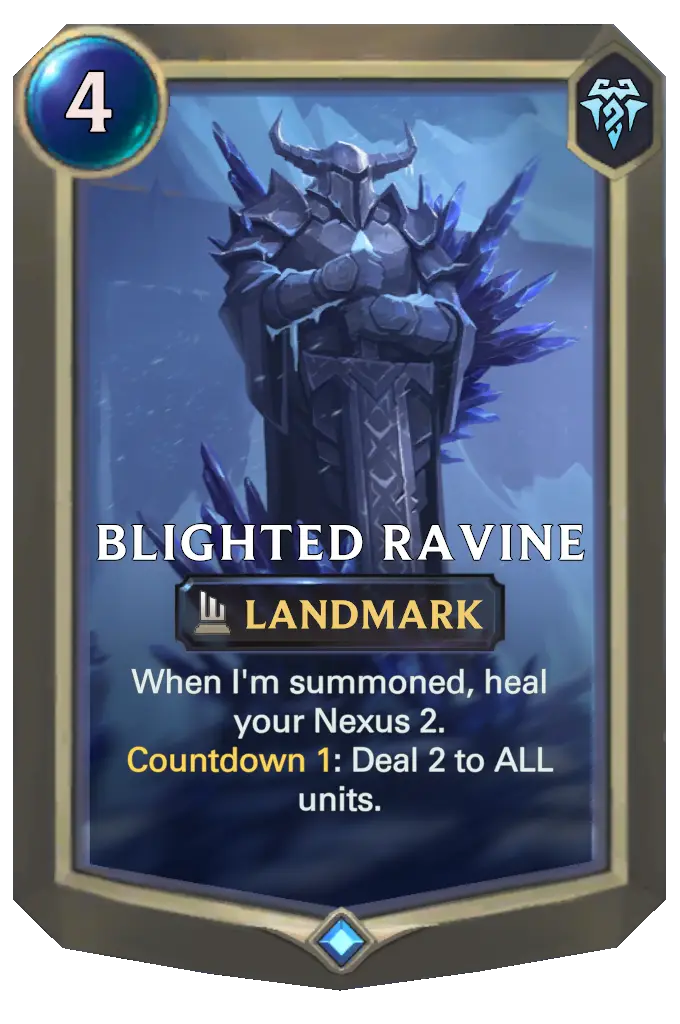 , Avalanche
or Buried in Ice
. Some forms of Noxus Freljord might be worth considering.
---
About the authors
Sirturmund is a long-time player of the game, having played LoR since beta. He has found competitive success in the past year with a couple of seasonal top cuts finishes, rank 1 ladder placements, and first spot in a Qualifier of Mastering Runeterra's Championship. Best known for being one of the very few to still bring Star Springs to tournaments, you can find Sirturmund lurking around all the social media sites absorbing anything he can about the game!
MonteXristo has been playing the game since closed beta and has consistently made it to masters every season he's been active. His accomplishments include having peaked in the top 20, taking first place in the "Streamer Sideboard Showdown" and LPP Riot Grand Prix. When he's not writing for Mastering Runeterra he keeps his card-slinging skills sharp by playing in the Runeterra Academy tournament, with his team The Wobbly Wombats!
---
---