$500 GGtoor x MasteringRuneterra Cup #9:
---
Sirturmund & Monte's Recommended LoR Gauntlet & Tournament Decks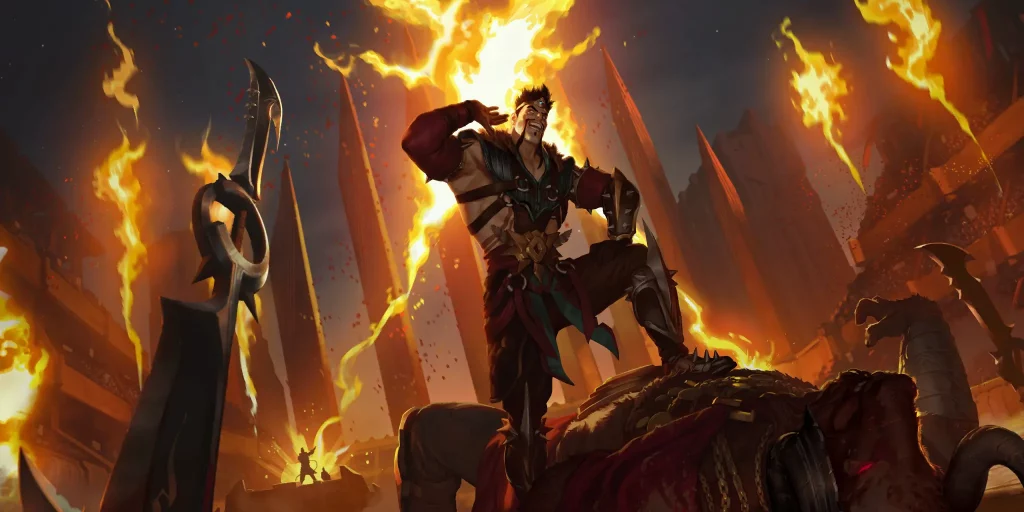 ---
Back To Shadow Isles
The newest patch did something that a lot of folks have been asking for: slowed down the game. With a slower game we can return to a triple SI control lineup, like it was always meant to be.
Heimerdinger Jayce SI
Darkness
Feel The Rush
Darkness has quickly become the most popular deck of the patch, and for good reason. The buff to Twisted Catalyzer
and general slower meta puts the deck in a very good position to thrive. So, what can we pair with Darkness for our traditional triple SI lineup? Well, Heimer Jayce Shadows is an obvious one – and according to our data-crunching article earlier today, it's doing very well early in the patch. And Feel The Rush, which is also doing great by current numbers, finishes the lineup as a classic way to just make your opponent suffer.
What our decks do well is beating aggressive archetypes – everything from pure aggro like Elise Spiders and Jhin Annie, to less traditional aggro like Nightfall or Lulu Bandle. Our access to Vile Feast
plus other forms of healing and AoE disruption tools allows us to stabilize against these aggressive strategies.
Additionally, one thing that is low-key great about our builds is their access to Vengeance
, which allows us to beat foes that rely on a single unit – such as Udyr
decks – and steal wins from some Kai'Sa decks every now and then… although I still recommend banning those more often than not.
As a triple-control lineup, we do open up ourselves to a lot of anti-control lineups. Some of our biggest counters are Shurima decks and Rally decks. With Shurima, whether it's Azir Irelia or Sun Disc, they can hide their units behind landmarks and swing with some nasty open attacks. Against Rally decks, and specifically Scouts, the problem is that they can outvalue us and then Rally to close out games. I would therefore prioritize my bans as followed:
Sun Disc > Ziggs Taliyah > Azir Irelia > Scouts > Kai'Sa.
If you're looking for alternate decks to play, control is actually pretty wide open at the moment: Anivia SI is a good consideration over Feel The Rush if you're seeing a lot of Ionia, while Gwen Aphelios Invoke or Deep are both a bit off-meta, but could also do well as a replacement for any of these decks. We can also go for some more obscure options such as Thresh Asol or Nasus Zilean, if you're comfortable with off-meta picks.
The Premier Control Counter
Darkness has become the most popular deck after patch came out, and as such we expect a lot of control lineups to show up.
You know what beats control and Darkness specifically? Shurima decks.
Kai'Sa Akshan
Sun Disc
Ziggs Taliyah
And hey, guess what? Kai'Sa is not dead.
The Akshan Kai'Sa decklist above was piloted by xXWhatAmIXx from the MasteringRuneterra pro team all the way to rank 1 in the Americas server. The way the deck works has certainly changed, going for a slower gameplan with Void Abomination
, but that gameplan actually ends up working really well. Some of its best matchups end up being versus control, so in looking for the best pairing for this version of Kai'Sa, I settled for Shurima decks.
Sun Disc and Ziggs Taliyah are two decks you might not have seen for a while, so if you don't remember, let me remind you: they absolutely destroy control. The landmarks (and correctly timing when they count down to zero) allows you to set up some really good open attacks, while access to Rite of Negation
lets you deny their big spells and protect your own units. Overall, Shurima is probably the best anti-control region in the game.
Our main targets will be Darkness, but anything from Feel The Rush to Heimer Jayce we are very happy to see. And even when we don't find any control archetypes, our decks have such strong mid-game power that we can beat other midrange decks such as Scouts and Ashe LeBlanc.
Our biggest weakness is aggro. But guess what? Aggro should be the least popular archetype this week, due to the popularity of Darkness. Meaning we have a much higher chance of dodging them in tournaments and Last Chance Gauntlet. However, if you do get unlucky, my priority would be to ban Miss Fortune TF Pirates, then Annie Jhin, and then everything else.
Alternate decks for this lineup are all of the Shurima flavors: Viego Shurima or Zilean Xerath, for example, are good alternates. We can go a little bit crazier with Ekko Zilean, but I believe that deck fits better in our next lineup recommendation.
Rally Me Timbers
Let me now give you an alternate way to beat control if you don't like playing Shurima, or are fearful of the landmark bricks. Rally has traditionally always beaten control, and this continues to be the case with these three rally based decks.
Kai'Sa Akshan
Scouts
Ekko Zilean
Once again we see Akshan Kai'Sa, and for good reason. She's probably still one of the best decks of the meta, especially with this pairing of Akshan allowing us to play a more rally based and late game approach. This allows us to beat control more consistently even if they manage to remove our Kai'Sa.
To round out the rest of the lineup we pair it up with two other Rally decks. Scouts has been performing really well in the early patch stats, and part of the reason it's the lack of Bard or other tall-unit decks (discounting Kai'Sa herself). This allows Scouts to flourish and feast on control. Ekko Zilean is a bit less of a traditional rally deck but still does the same job, while having access to Rite of Negation
to make control's life even more miserable - it can struggle a bit in the Darkness matchup but you can work around the turns where Darkness is mana-pinched to come out ahead, the latest versions are mostly on Vengeance over Minimorph which also improves the matchup.
Our main target continues to be Darkness, with Feel The Rush as a very close second – be mindful, though, that we don't do as well into Heimer Jayce as with the Shurima anti-control lineup seen before, but we do well enough against the rest of the control field.
We also do okay versus aggro, surprisingly. Ekko Zilean and Scouts are both favored versus most aggro lists, with Kai'Sa being the deck that can get hard-countered. However, xXWhatAmIXx's list plays enough early units and Radiant Guardian
to allow us to survive a potential triple-aggro counter.
Our main ban target will be other Kai'Sa decks, as they can abuse the matchup versus Scouts. Other tall-unit decks like Lux Illaoi or Udyr decks could also be problematic due to our lack of removal tools against their key units.
An alternate deck for this lineup that could potentially fit just as well as Ekko Zilean is Poppy Taric. I'm personally torn between the two, but went for Ekko Zilean due to the Rite of Negation
s.
Monte's Lineup
Well, friends, it's a new meta so you know what time it is – comfort time. These are three of my favorite decks, and the ones which I've put hundreds of hours into.
My level of comfort with them makes this lineup an ideal pick for me whenever I'm uncertain about what I might be able to expect in a tournament. I will likely be on this lineup, or some variation of it, for this weekend's Mastering Runeterra x GGTOOR Tournament!
Nightfall
Ekko
Pirates
The reason to bring an aggressive lineup like this is to prey upon the anti-control lineups. The funny thing about this lineup in particular is that I personally feel somewhat okay even playing into control with it.
The latest iteration of Pirates has so much burn that you can often get there even through some healing, I'm incredibly comfortable on Nightfall, and Ekko just straight up beats most control decks (just not Darkness). This lineup isn't for everyone, though – if you've not put any time into Ekko Zilean or Nightfall, you're going to struggle. Instead, consider bringing the three decks you're most comfortable on, and take a look at their matchup tables to be sure they're not too conflicting, then slap them together and call it a day.
My ban strategy with this lineup is to remove Kai'Sa from the field. Barring that, I'll probably ban Feel The Rush as I expect the typical control lineup (as seen above) to be forced into an Ekko Zilean ban.
As I touched on already, this is my comfort pick right now. Should you wish to play something else, then I say power to ya', put it together and get some reps in against Darkness and Kai'sa so you're ready for the big day!
Pure Aggro
This lineup is for everyone out there who likes to SMOrc. Face is the place for these decks: they're looking to shove early damage through a wide board before transitioning to a burn finisher using cards like Decimate
.
Pirates
Jhin Annie
Gwen Elise Kat
Like with Monte's Lineup before, our goal here is to target the anti-control players. Decks like Azir Irelia and Sun Disc (excellent control busters) are incredibly weak to burn aggro strategies like this one, and all three of our decks are looking to capitalize on this weakness in various ways.
Jhin Annie has plenty of tools to remove blockers from the board (of which there are already few). Pirates can quickly go very wide by taking advantage of powerful tempo cards like Riptide Sermon
, which also happens to be burn. Spiders looks to abuse the combination of Fearsome and Challenger, and the addition of Gwen to this archetype gives it a little bit more staying power into the later stages of the game.
Your ban strategy, as always with these hyper-aggressive lineups, will be to remove the deck with the most healing – this is likely going to be Feel the Rush most often. If you've encountered someone on a Demacian lineup, Scouts is often going to be your best ban. You'll also struggle into decks like Ekko Zilean, so be wary of that if you happen to cross its path.
Wildcard - PILOT BEWARE
As the title says, this lineup is a bit of a wildcard one. Sirturmund and I sat down to brainstorm this week's article and we decided that it'd be cool to include this lineup because it's both outside the box and looking to BEAT Kai'Sa. This lineup hasn't been thoroughly tested, nor are there many stats to back it up (the patch is still quite fresh), but we've heard from trusted sources that these decks will perform.
Kennen Ez
Yasuo Katarina
This is the only lineup we were able to come up with that may have a decent shot at beating Kai'sa. I have played a bit of Gwen Sejuani myself for last week's Meta Voyage article, and not only is the deck strong, but it's also surprisingly efficient at getting Sejuani leveled and ready to lock down the board. Kennen Ezreal is a deck that has popped up to beat Kai'Sa even before the nerfs – during the Squadcast, fellow MaRu squad member (and seasonal champion) Prodigy has pointed out several times how there are a few players in Masters playing KennEz solely to beat Kai'Sa. And Yasuo Katarina has plenty of ways to stop Kai'Sa from connecting with your Nexus, all the while applying pressure and putting Kai'Sa on the backfoot.
Bans, bans, bans, what DO we want to ban with this lineup? To be quite frank, I'm not sure. Kai'Sa is often going to be paired with more Shurima, which may prove to be troublesome – particularly something like Azir Irelia. Other decks that may prove to be problematic is anything that can run you down, such as Pirates, Nightfall, Spiders. If you're unsure of what to take out of the equation, stick with your gut and remove the matchup you're least comfortable with.
You could try playing Azir Irelia in one of the slots – with both it and Kai'Sa getting hit by nerfs they should be about equally affected, leaving Azirelia as the one with the head-to-head edge.
---
About the authors
Sirturmund is a long-time player of the game, having played LoR since beta. He has found competitive success in the past year with a couple of seasonal top cuts finishes, rank 1 ladder placements, and first spot in a Qualifier of Mastering Runeterra's Championship. Best known for being one of the very few to still bring Star Springs to tournaments, you can find Sirturmund lurking around all the social media sites absorbing anything he can about the game!
MonteXristo has been playing the game since closed beta and has consistently made it to masters every season he's been active. His accomplishments include having peaked in the top 20, taking first place in the "Streamer Sideboard Showdown" and LPP Riot Grand Prix. When he's not writing for Mastering Runeterra he keeps his card-slinging skills sharp by playing in the Runeterra Academy tournament, with his team The Wobbly Wombats!
---
---