A famous treasure hunter enters the Blind Dragon bar.
"Give me one of your best. One that really knocks me over."
The bartender leaps into the air and kicks Akshan in the face.
"Gotcha. This one's on the roundhouse!"
6
6
16
12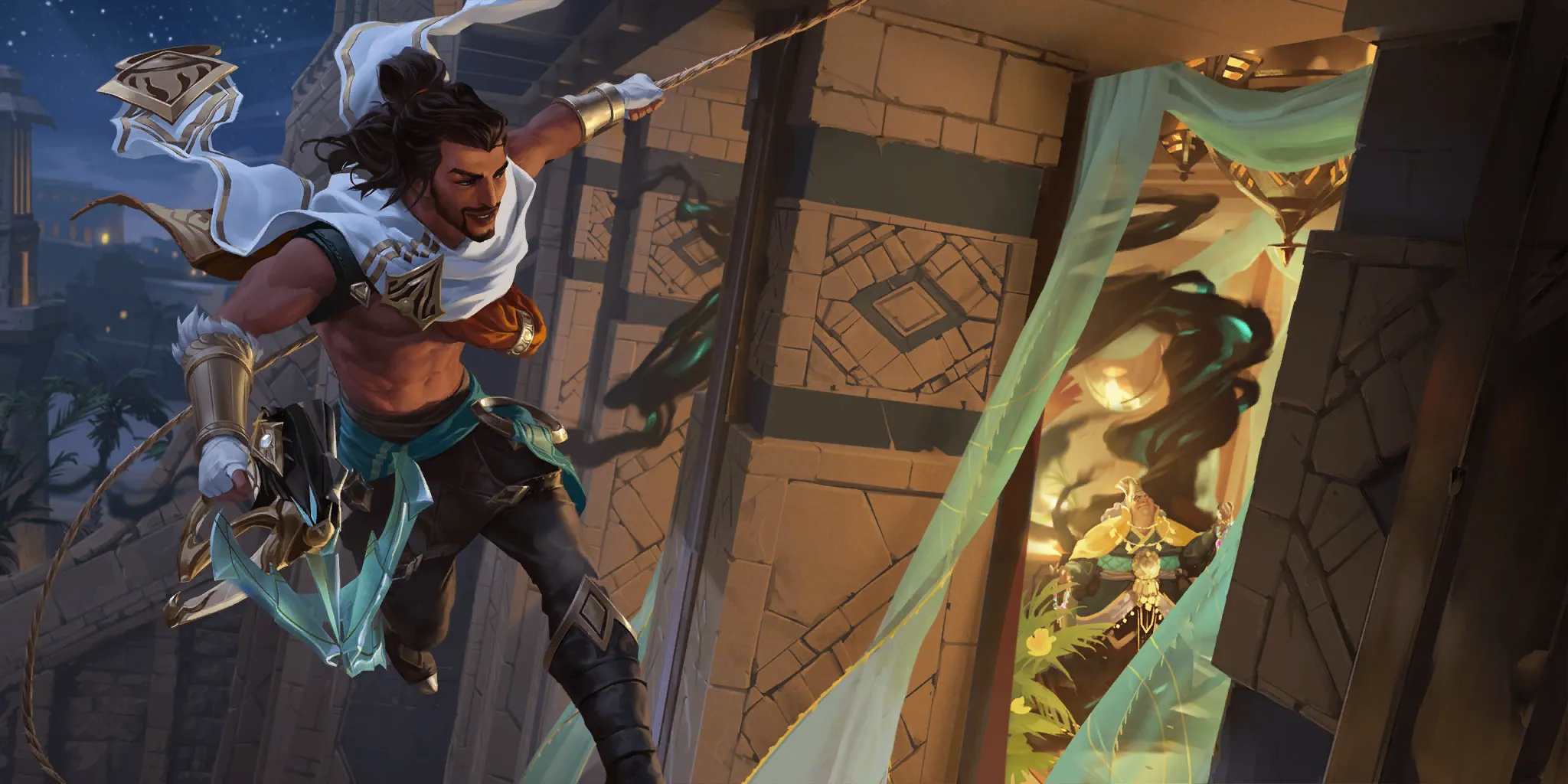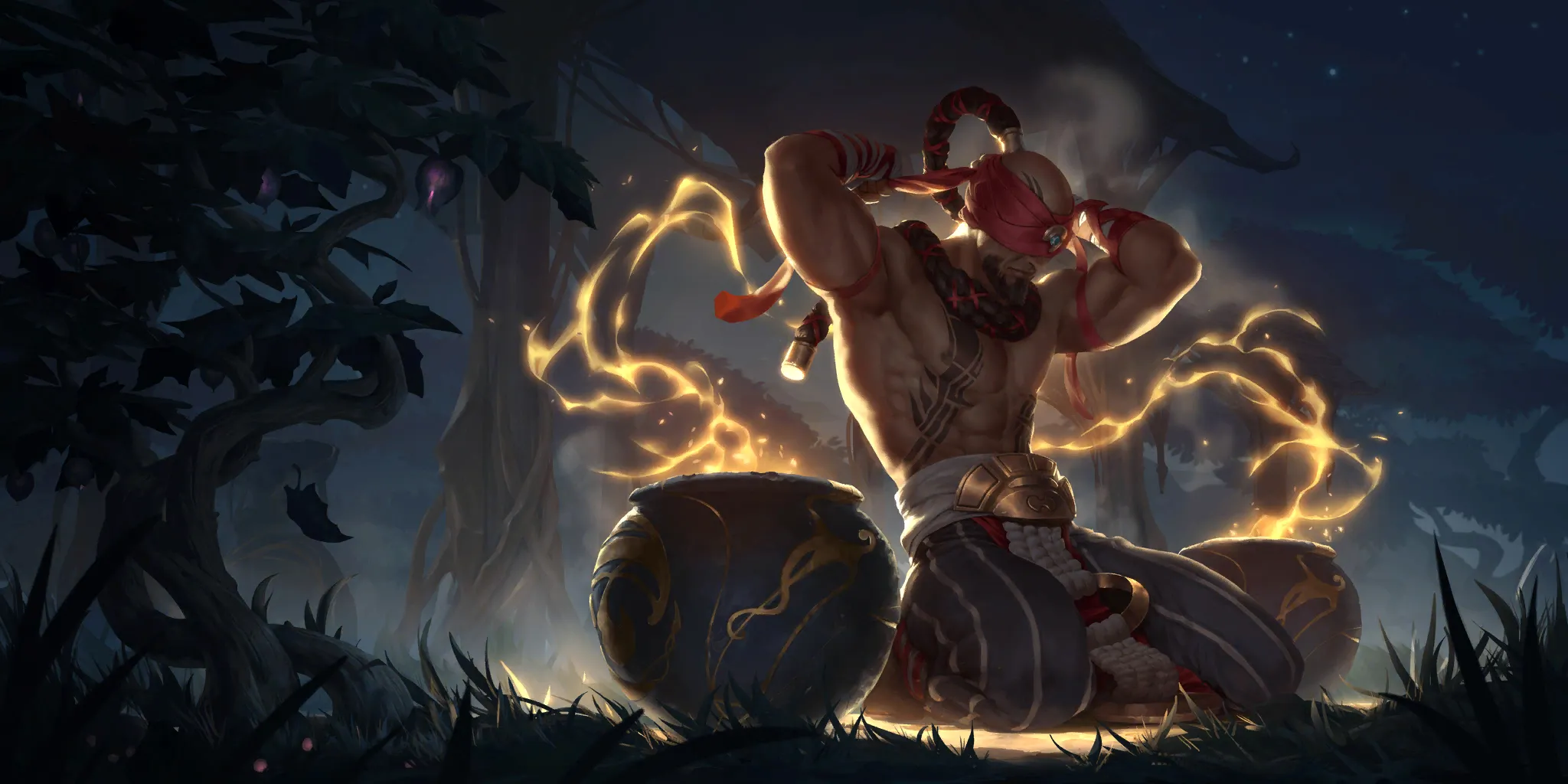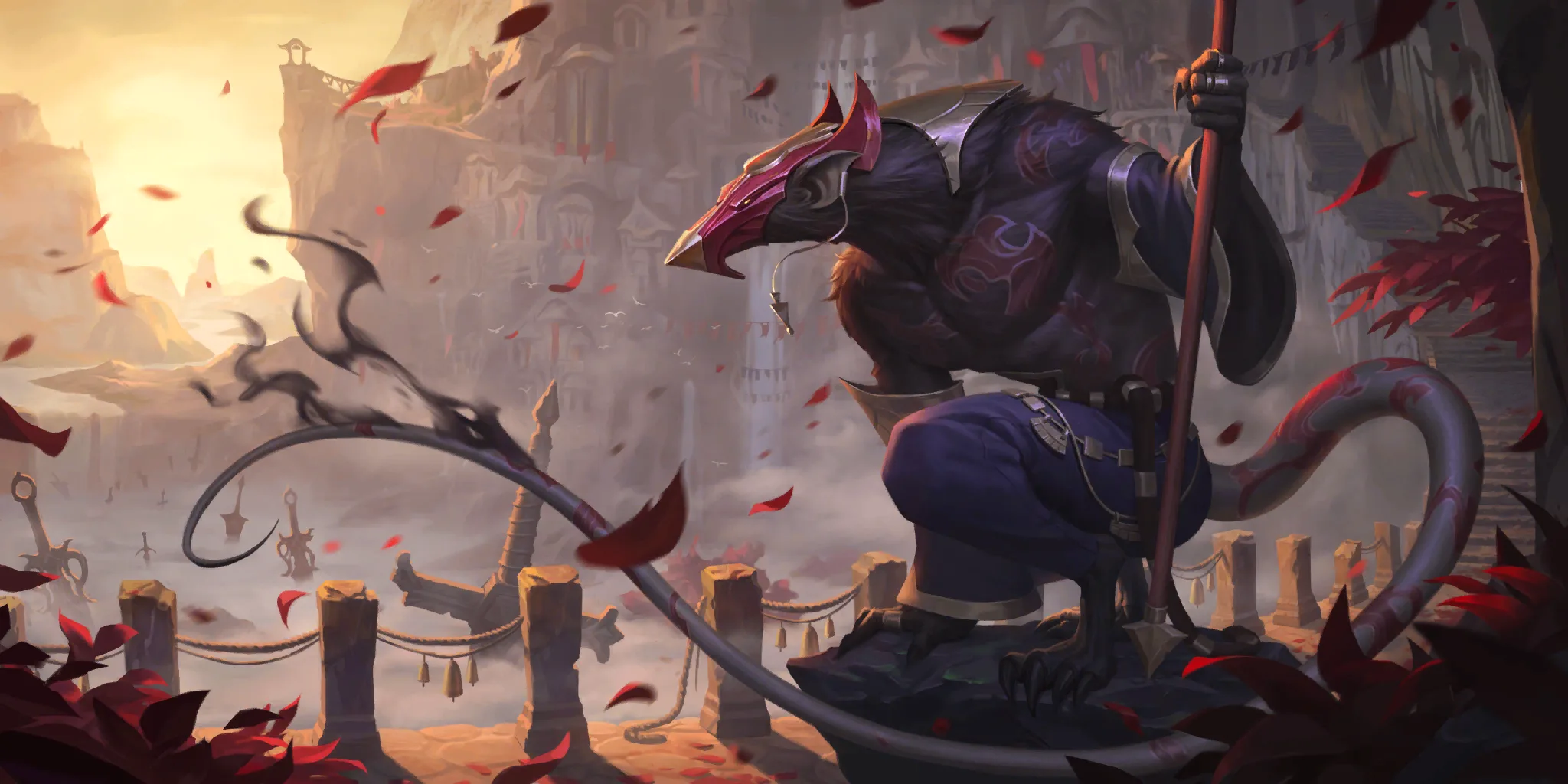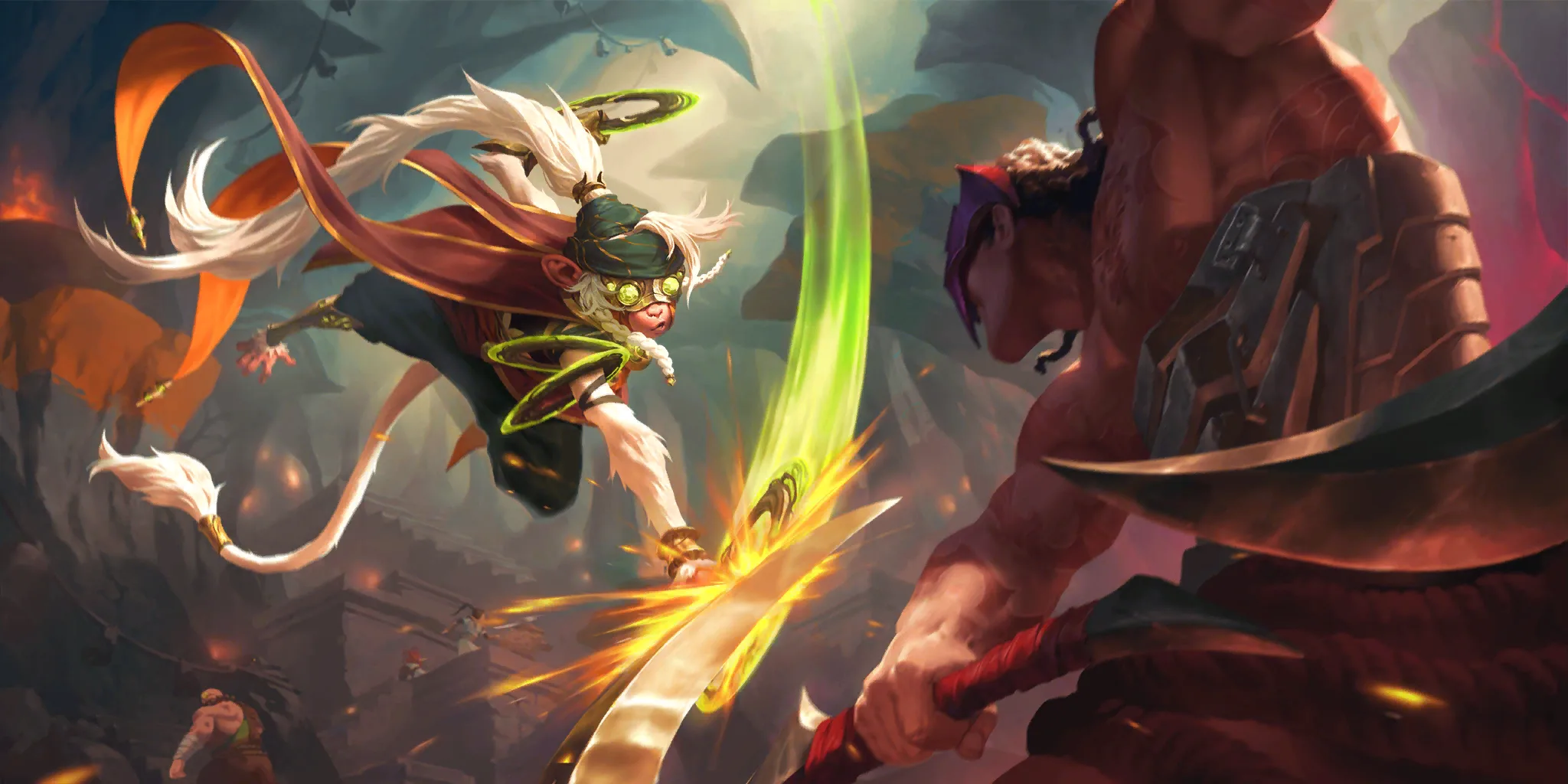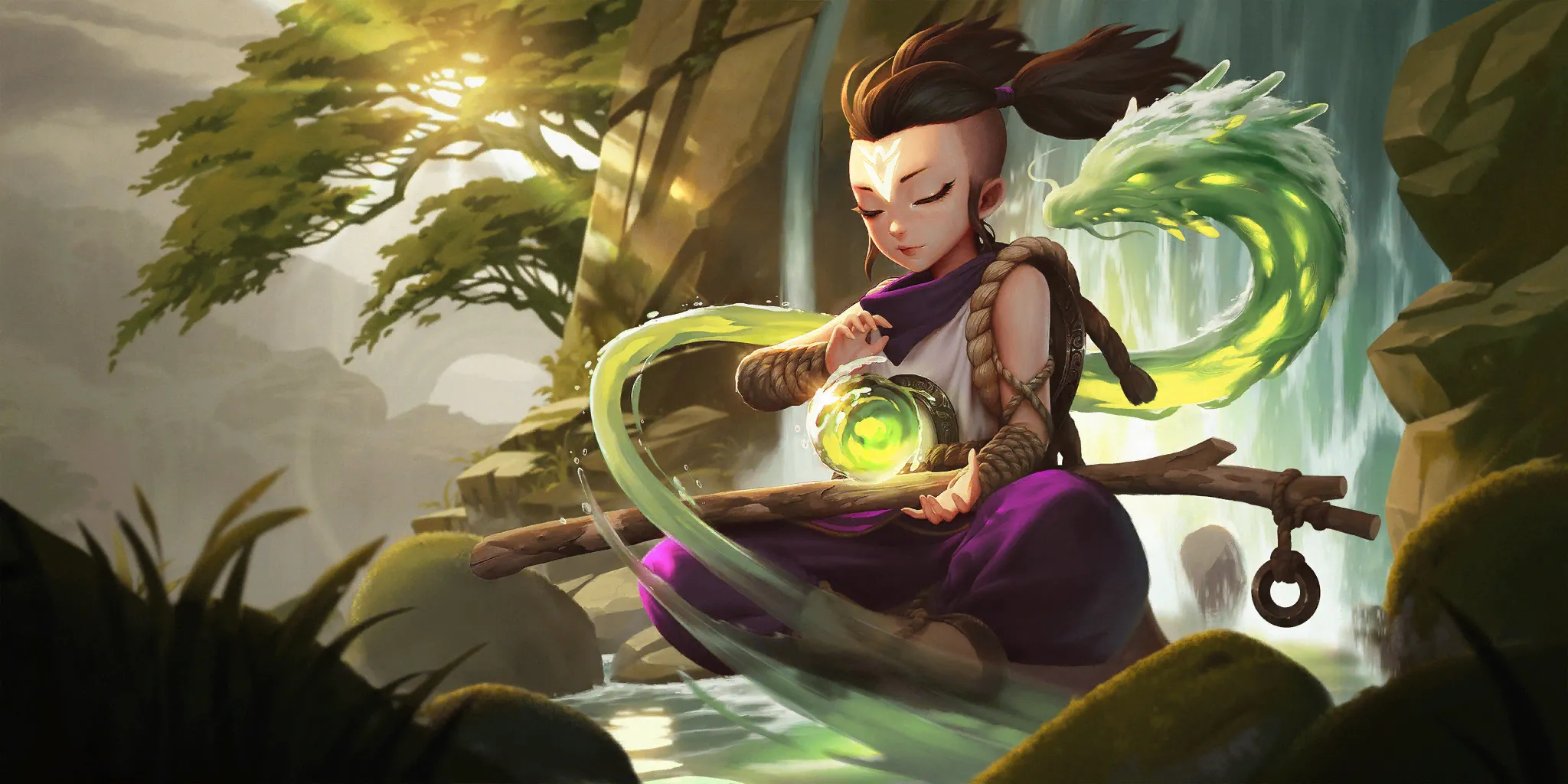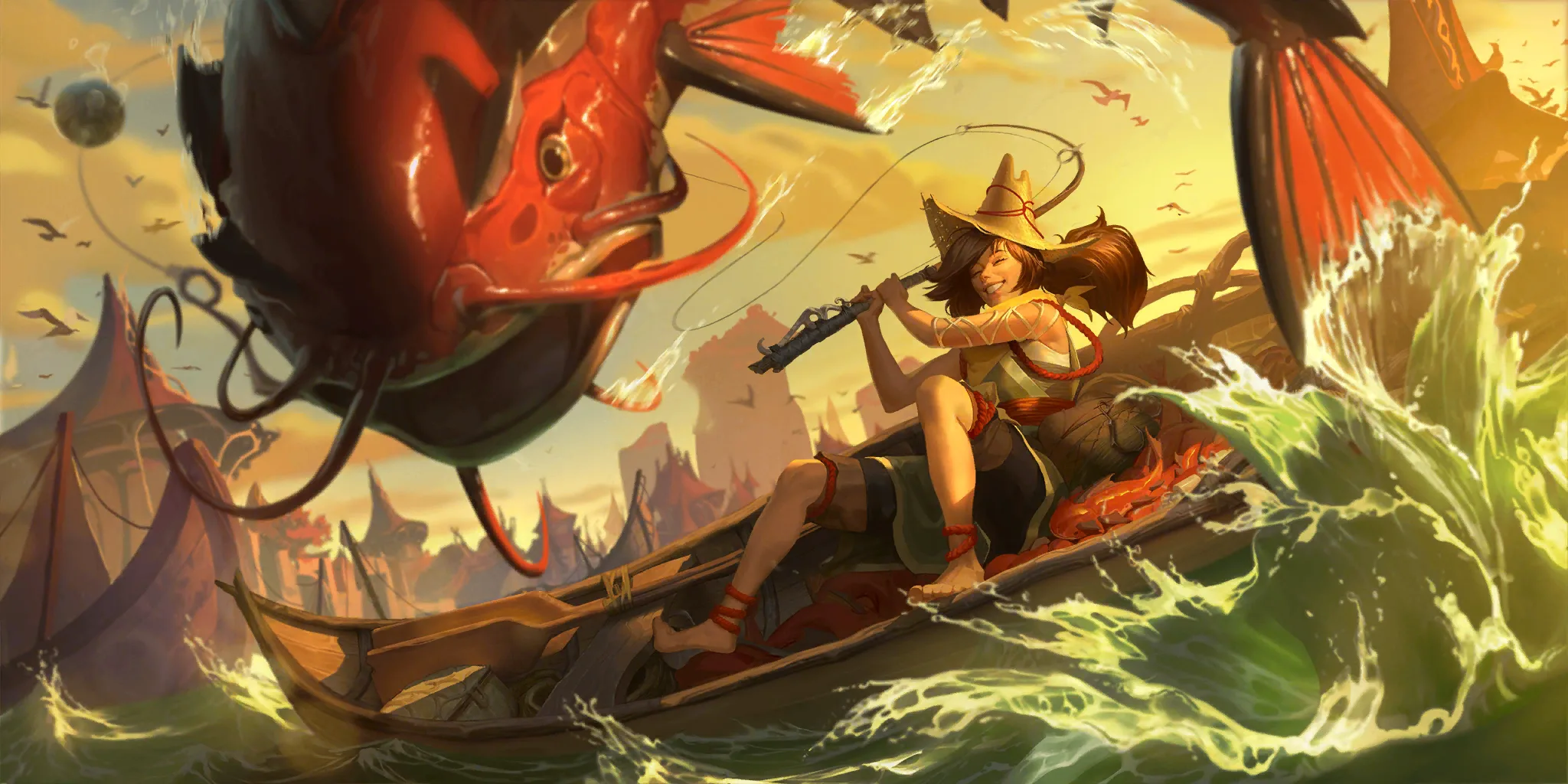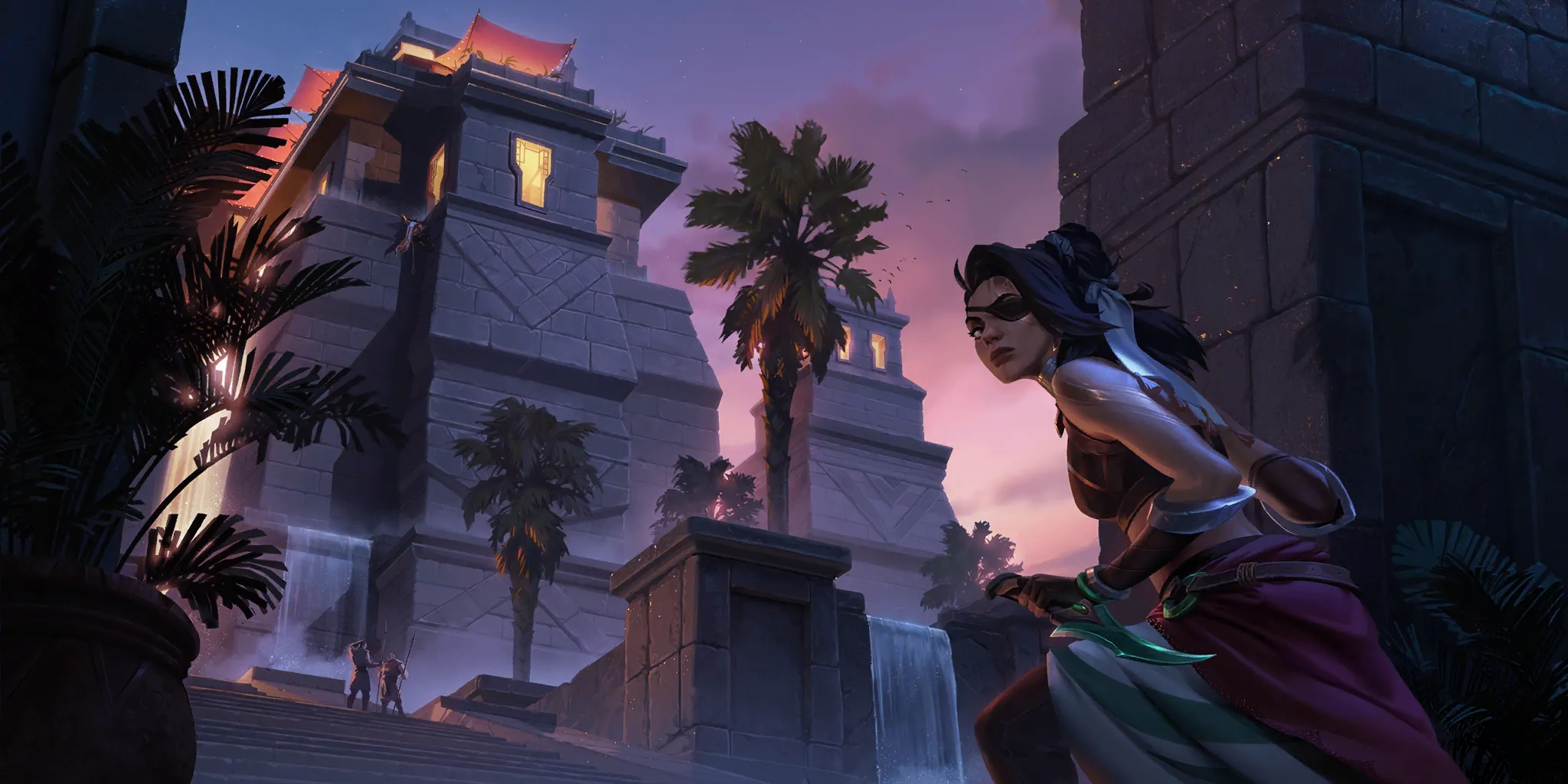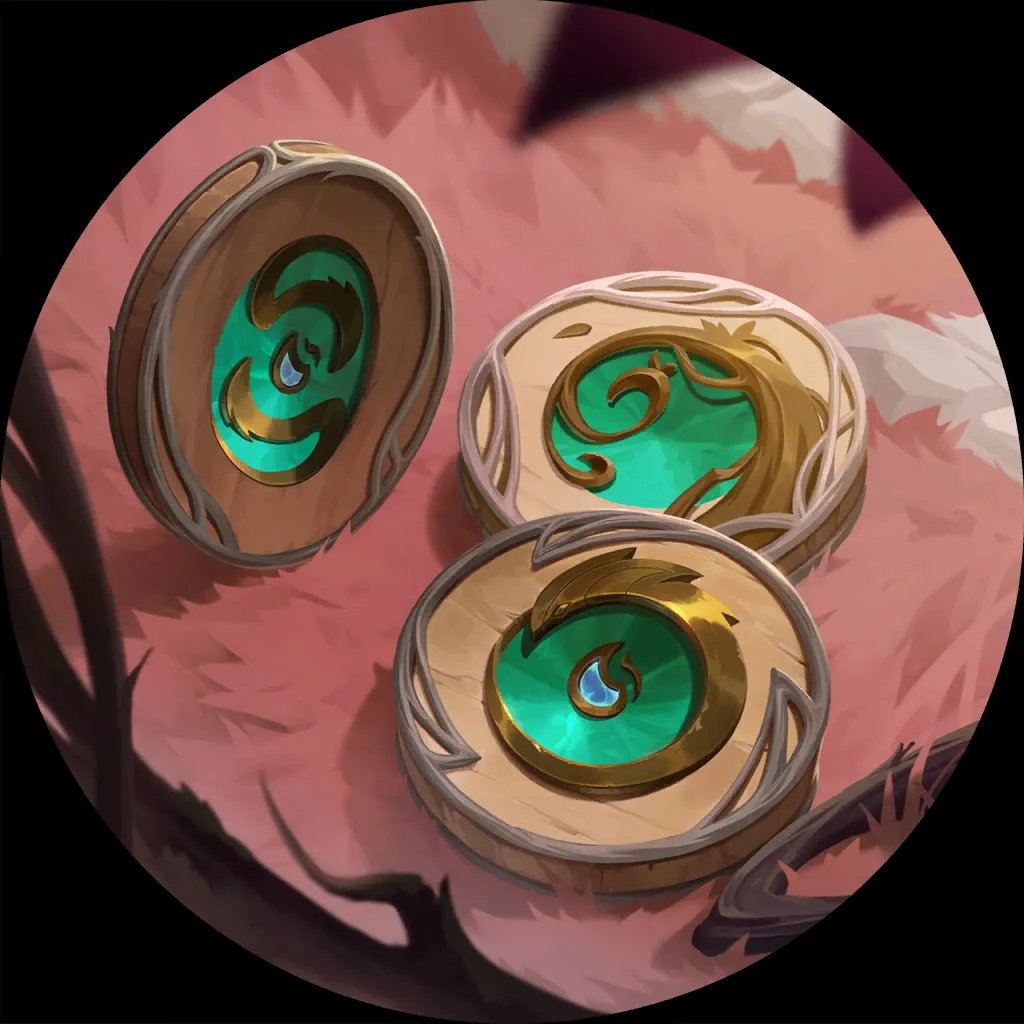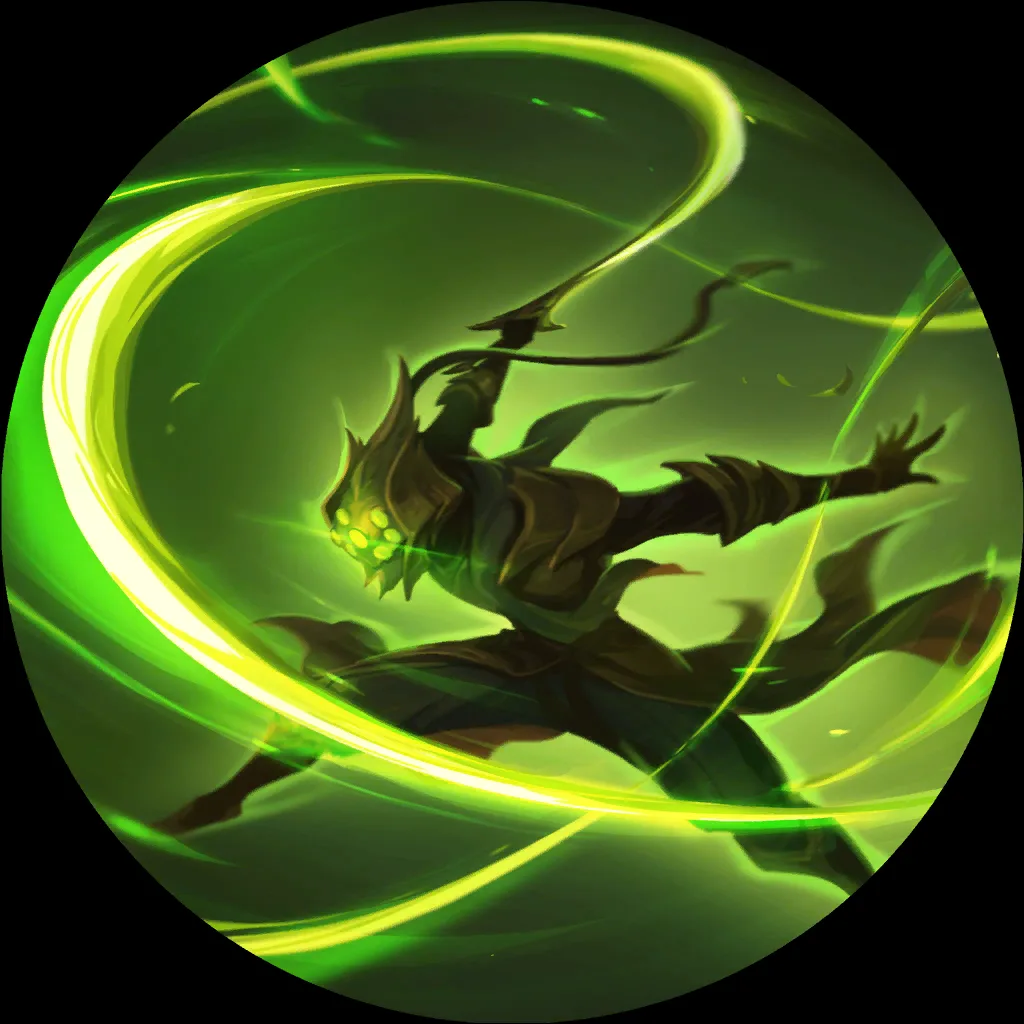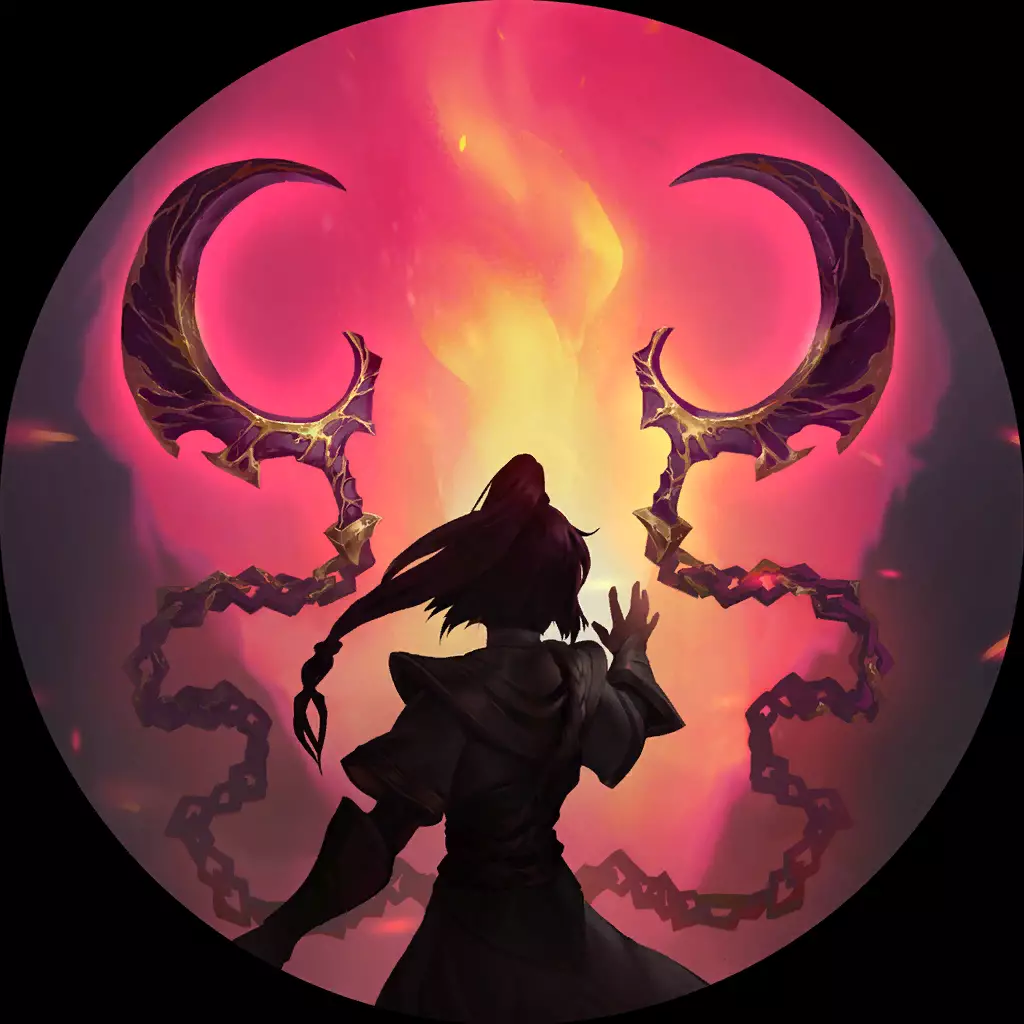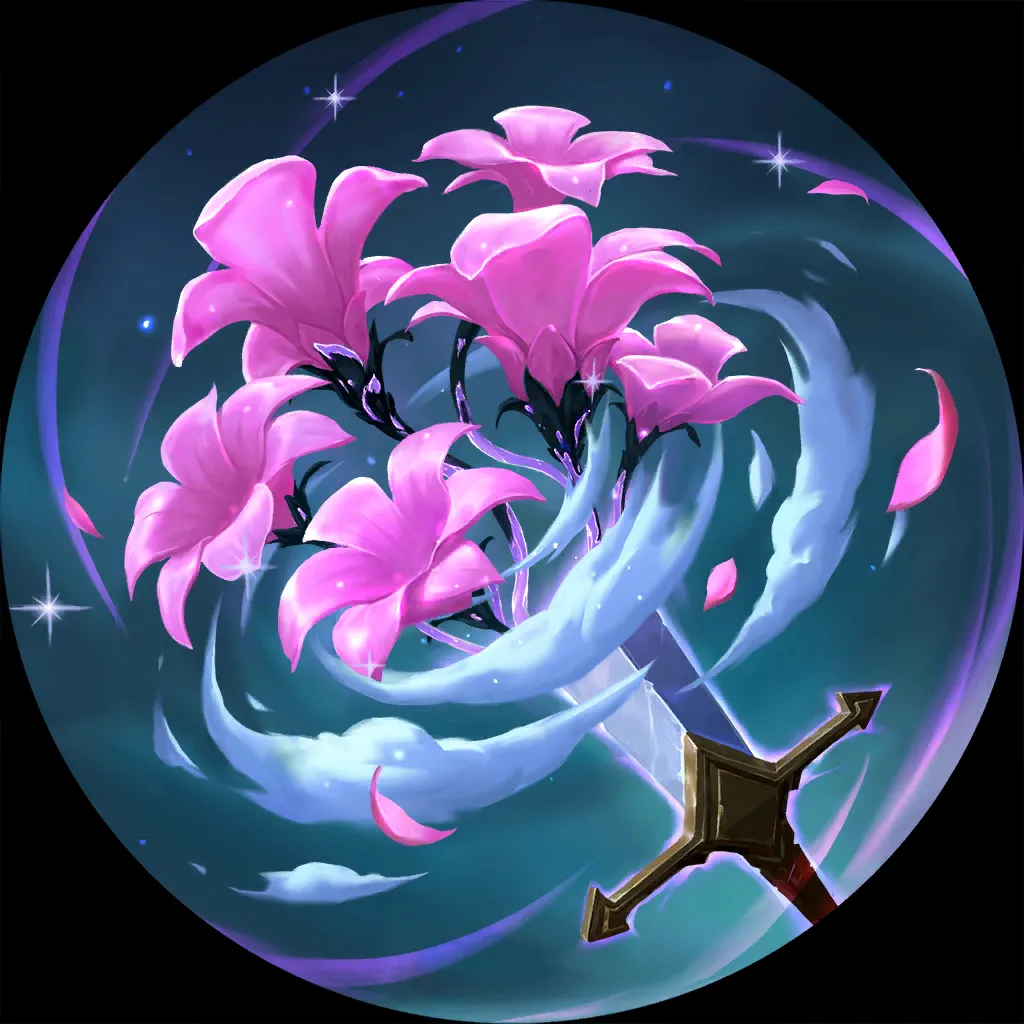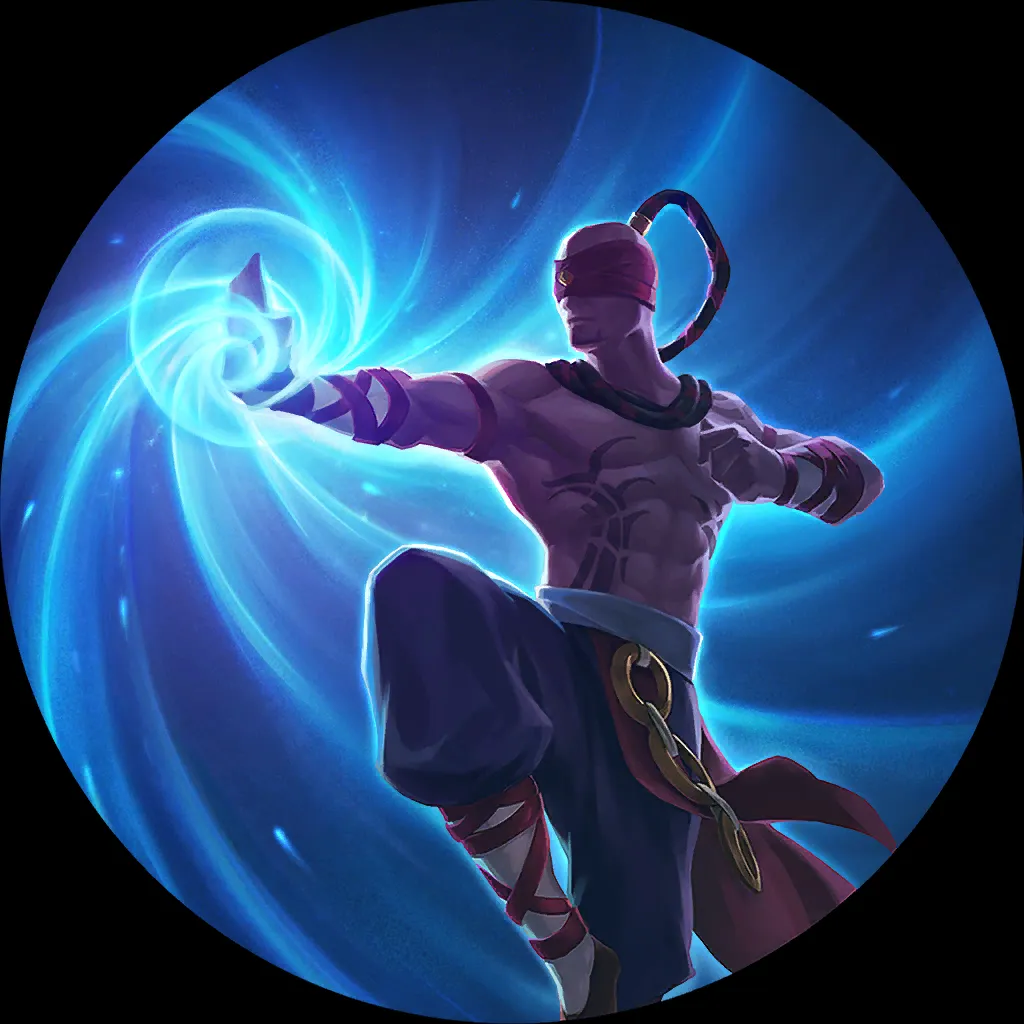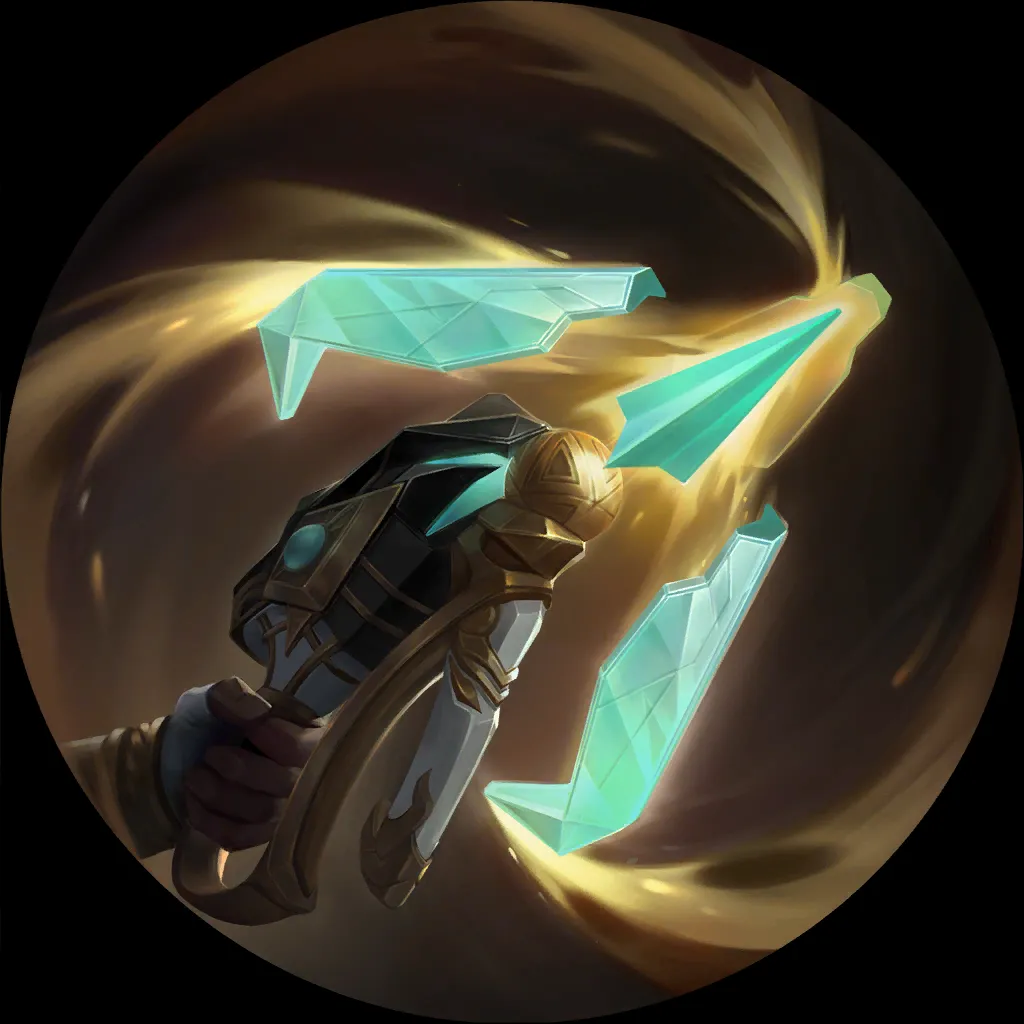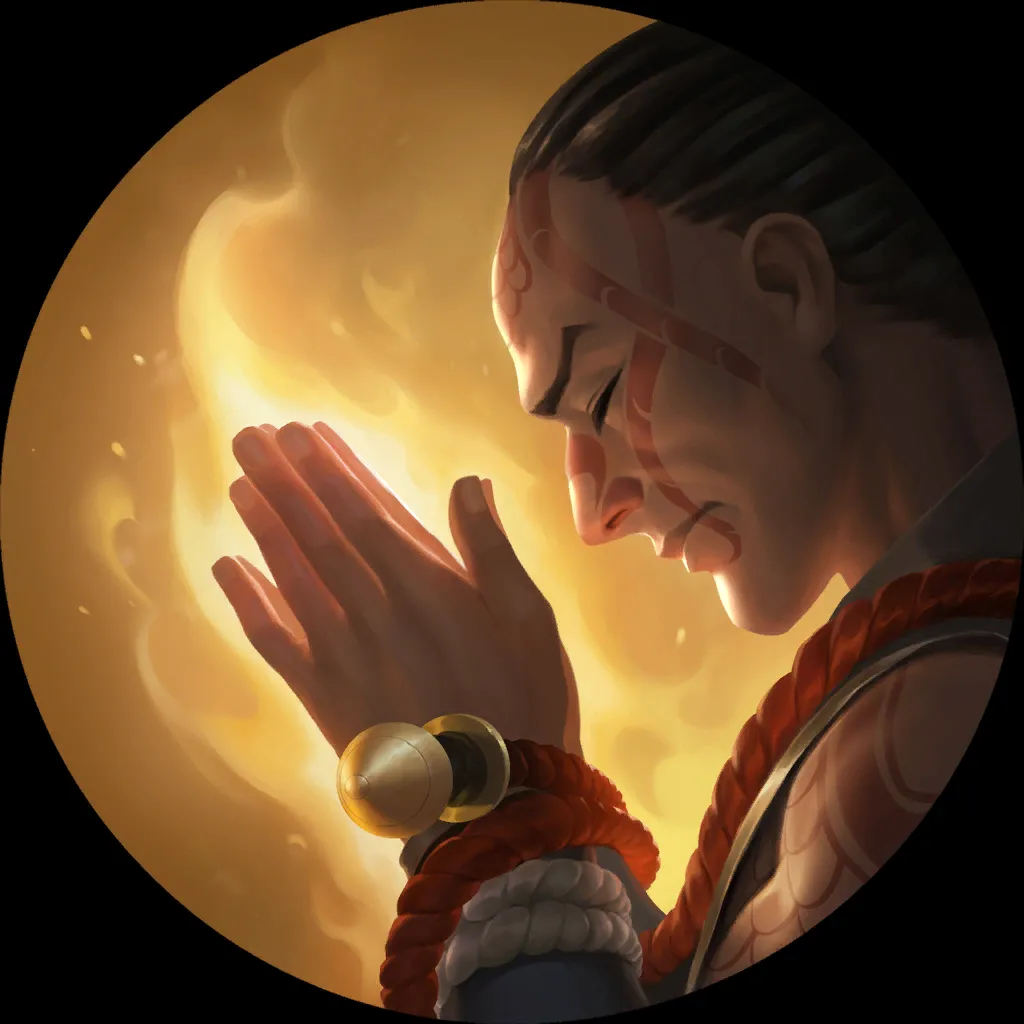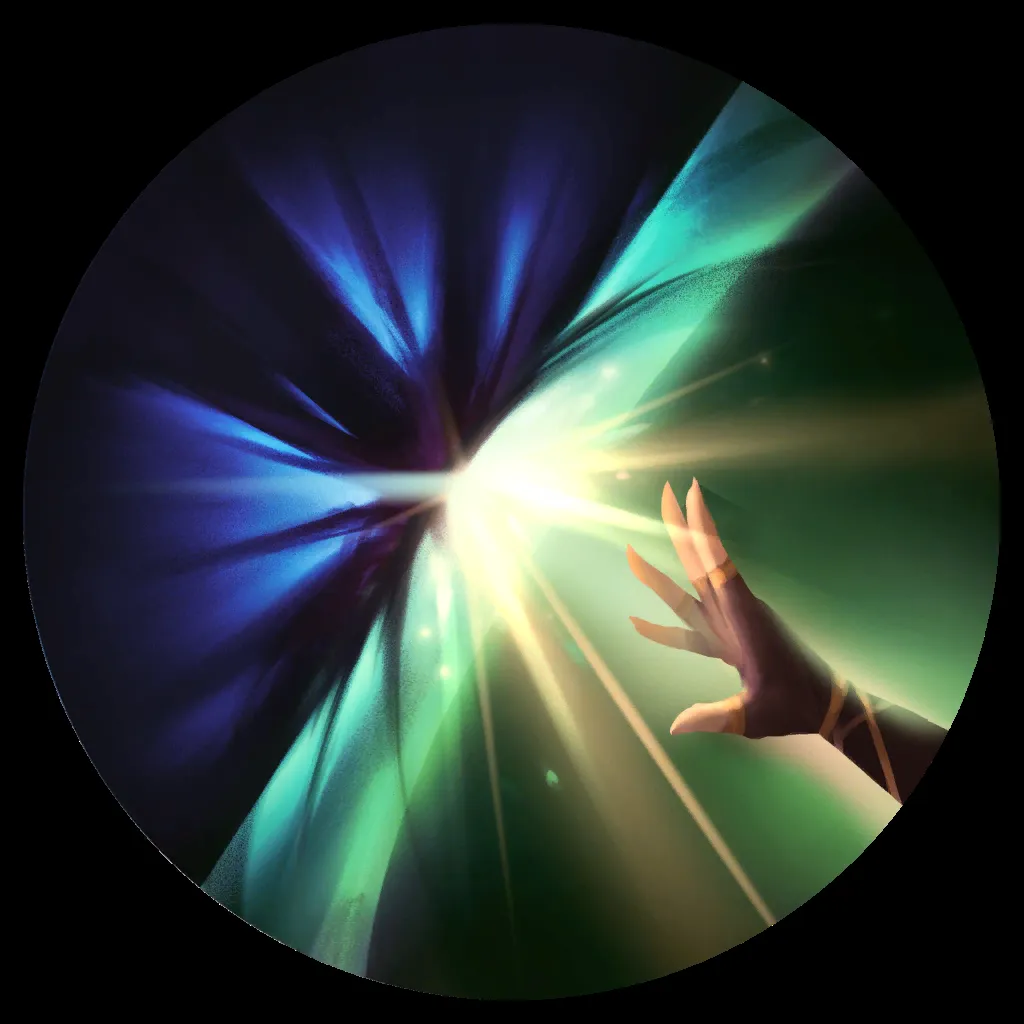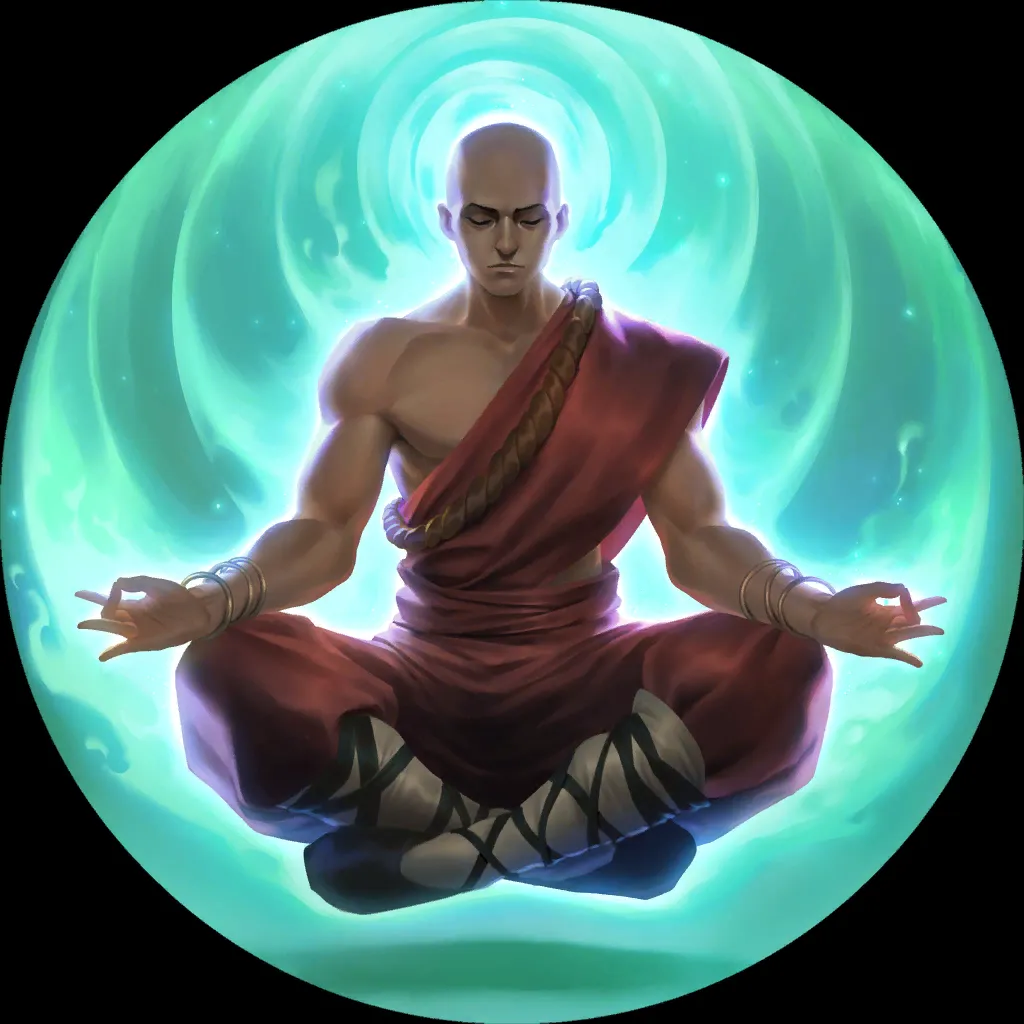 ---
Counting To Twenty – A Lee Sin Akshan Overview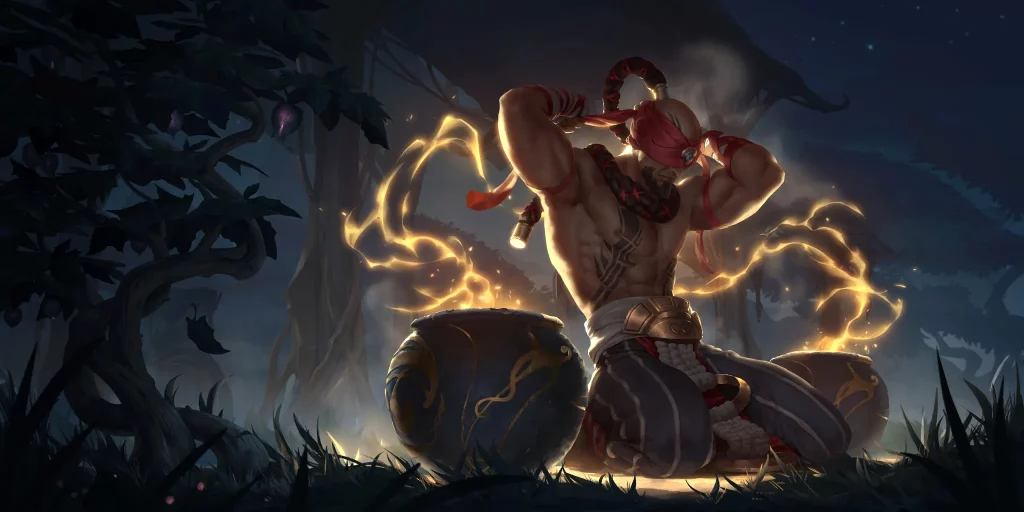 Akshan Lee is the textbook definition of a combo deck. The archetype aims to delay the game just long enough to set up a powerful combination of cards that wins the game in a single round.
In Akshan Lee, this combination of cards consists of Lee Sin
, The Absolver
, and Shield of the Sentinels
. Together, they allow Lee Sin (level 2)
to Dragon's Rage
the enemy blocker and Nexus for ten damage, and then normally attack the Nexus for ten damage again — last time I checked, 10+10=20, so that's a one-turn kill!
Let's go over the list card-by-card to get a better understanding.
---
Best LoR Deck: Lee Sin Akshan – Card Breakdown
As mentioned above, we run Lee Sin
and The Absolver
for our one-turn kill (or rather, one-round kill, as a certain editor would sneer=). Of course, we don't need Shield of the Sentinels
to get Lee to ten Power, here are alternative ways:
All of them come with the benefit of activating Flow while costing us a single card, making Eye of the Dragon
and Deep Meditation
a natural inclusion.
In return, Sonic Wave
becomes even better by combining it with a Dragonling
. This is a sort of chicken-or-egg situation. Can we include Sonic Wave
because of Eye of the Dragon
, or Eye of the Dragon
because of Sonic Wave
?
Ionian Hookmaster
is the other way to get Lee to ten Power. The weapon she Improvises also has the benefit of giving us a keyword — preferably Overwhelm with Fishawhack
.
The other premium weapon choice is Upcycled Rake
. It allows us to threaten lethal without committing The Absolver
, but be aware – it provides the least amount of stats outright. Only pick it if you have enough time to play Upcycled Rake
on a champion later, and don't need the front-up power.
---
Champs of Choice: Akshan and Lee Sin
Now that I got you invested in Akshan Lee with the fun and rewarding OTK combo, let's talk about the real MVP of this deck — Akshan
.
Anyone that tells you Akshan Lee is a Lee Sin
deck is lying. This archetype is all about Akshan
and his landmarks.
Remember how we talked about activating Flow with a single spell? Well, if said spell also targets allies, we advance Warlord's Palace
and Warlord's Hoard
twice.
Recall how Sonic Wave
was only playable because of Dragonling
s? Turns out Akshan
is just as good of a target.
And equipping Akshan
with Upcycled Rake
is straight up unfair, allowing us to strike twice with him.
This means that we turbo-level Akshan
to find Lee Sin
or The Absolver
with Relic of Power
(from Warlord's Palace
). It also means that we quickly get to cast Shield of the Sentinels
(from Warlord's Hoard
), protecting Lee Sin
from the likes of Minimorph
and Homecoming
.
Sure, Lee delivers the final kick, but did he really win us the game? Or was it Akshan
, tying Lee's bandages, and physically putting Lee's fist into the enemy's face?
That's why we even run two copies of Vekauran Vagabond
in the deck – Akshan
's landmarks are integral to our game plan.
This also answers the question you had ever since we talked about Flow:
"But Leer-sama, if we activate Flow so easily, why don't we run Master Yi
?"
We simply don't have space for him. Akshan is not replaceable in this archetype, so Lee would have to make room for him – but Master Yi is slower and less powerful than Lee in this list. What we need is a champion that can end games the same round they come down. On the contrary, Master Yi
needs extra protection and resources that we don't want to invest. Monk beats Master here.
---
Going with the Flow
With this interlude out of the way, let's look at our second Flow card in the deck – Deep Meditation
. With all the cheap spells we pack, we are in danger of running out of cards. While Relic of Power
is great at locating a specific finisher piece, Deep Med is amazing for refilling our hand.
Another way to cycle our hand is Vastayan Disciple
. When it strikes the Nexus, it transforms into Shimon Wind
. And it goes "SWOOOOOOOOOSH". Do I need to say more?
Jokes aside, Vastayan Disciple
helps us activate Flow and see more cards from our deck. Which is nice because we really want to see Lee Sin
at some point.
And against aggro matchups like Pirates or Nasus Thresh, it can serve as a blocker and trade with a Legion Saboteur
or Spirit Leech
. While Vastayan Disciple
is not the game-changer that Momentous Choice
is in our deck, he is as flexible as any other card in our list and a nice-to-have.
Just like Vastayan Disciple
can be a great anti-aggro blocker, we run Ionian Tellstones
and Concussive Palm
to buy us more time to find and set up our combo pieces.
Concussive Palm
is one of the most efficient anti-aggro cards in the game, stunning a unit while providing a 3|2 Fearsome blocker. It is effectively a two-for-one tempo play.
More than 80% of the time, Homecoming
will be the spell we pick from Ionian Tellstones
. It allows us to "shadow block" one attacker while recalling another. It can also serve as a disruption tool to prevent Poppy
from attacking, or save us from Atrocity
.
Ionian Tellstones
into Health Potion
can be a cheap way to activate Flow for Eye of the Dragon
or heal for cheap.
The last thing we're missing now is a way to protect our blind monk when he goes for the lethal roundhouse kick.
Nopeify!
and Deny
should be no surprise for you. Akshan Lee is an Ionia deck that needs protection, so of course we run those cards. The ratio between Deny
and Nopeify!
is a meta call, and currently Nopeify!
stocks are high – we can stop Glimpse Beyond
, Noxian Fervor
, and Concurrent Timelines
.
That being said, do not run more than four copies of these interruption spells. Akshan Lee is an aggressive combo deck that wants to cycle their cards, not collect them in hand and stay reactive.
---
Tips and Kicks Tricks
You can cast Concussive Palm
on the blocker of your The Absolver
target (which is not Lee Sin (level 2)
) to push lethal damage.
Lee Sin
's Dragon's Rage
counts toward Flow activation since it is a skill.
Health Potion
from Ionian Tellstones
can cheaply advance Warlord's Palace
and Warlord's Hoard
. This might sound wasteful, but sometimes all you need is that one extra tick on Akshan
's landmark to cast Shield of the Sentinels
and set up lethal. Trust me, it happens.
Playing Equipment advances Akshan
's landmarks. If you have two Weapons, you can cycle them on one unit to tick down the landmark without using card resources. Of course, don't be a dummy – only do this if you have enough mana and tempo to survive.
---
Tech Choices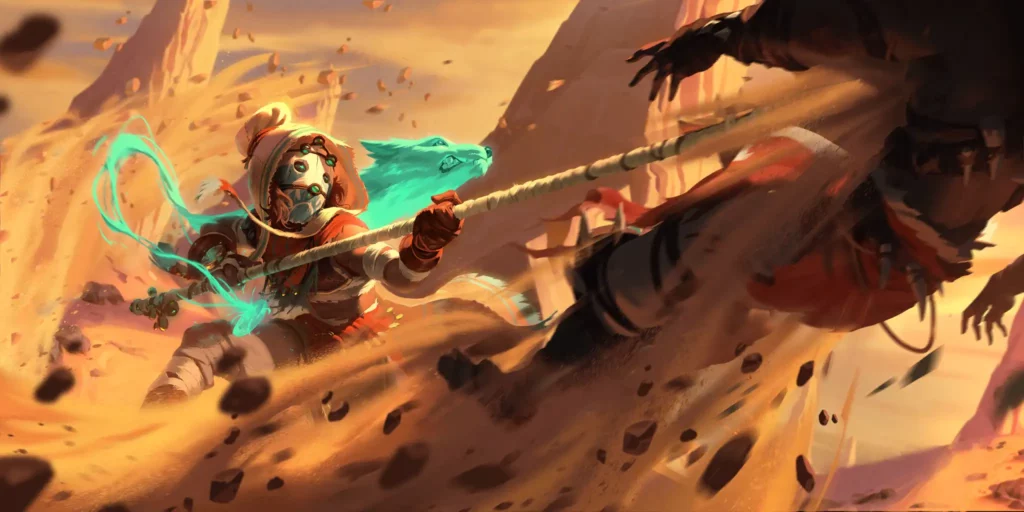 Early on, a lot of lists ran Fireth, Reaper of the Sands
, just like the #1-ranked EMEA player at that time. The problem with Fireth, I think, is that she is only good in a combination with very specific cards.
For example, she's an amazing target for Rite of Calling
, also providing our called champion with a weapon. Or she works well with Sonic Wave
and Entrancing Lure
for efficient trading.
But if we don't have these cards (which is even more likely due to the fact that we want to cycle Sonic Wave
and Entrancing Lure
ASAP), Fireth is an underwhelming draw. That's why I don't like to play her after some tests.
Still, if you want to go for a more aggressive list that is better at locating champions and advancing Akshan
, at the price of being less reactive, this is the list that World Champion Alanzq has been piloting in recent days:
6
6
12
16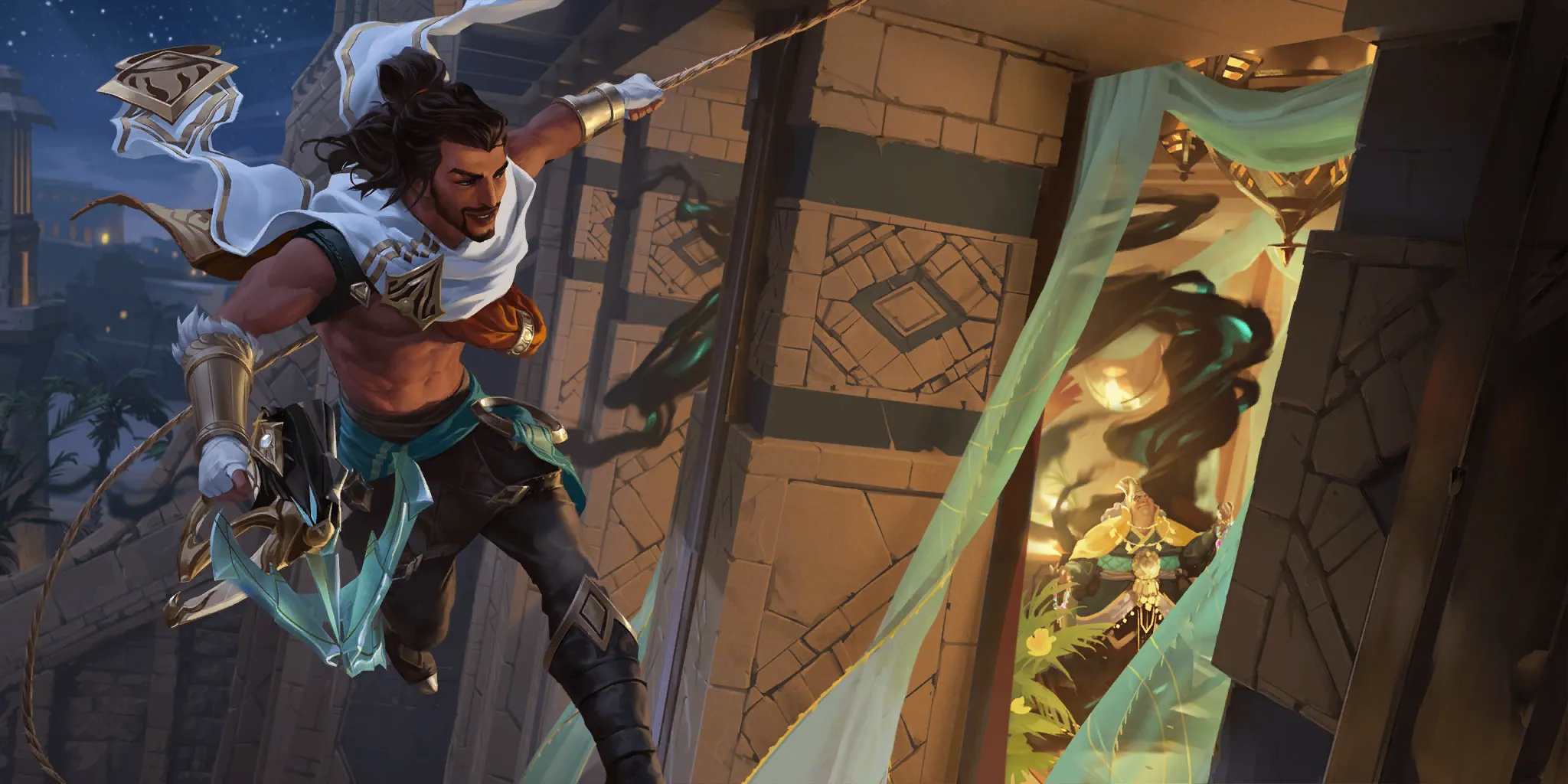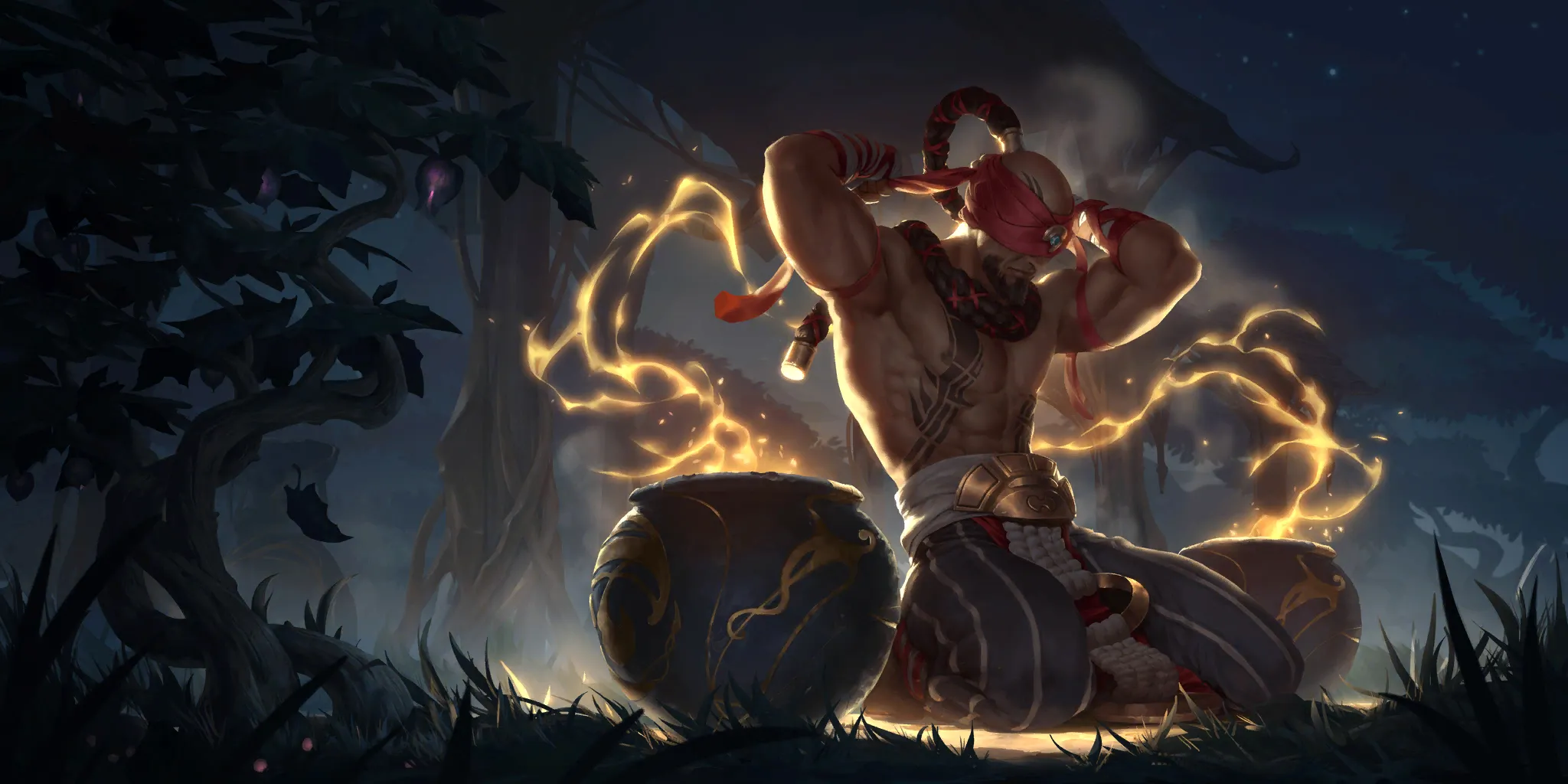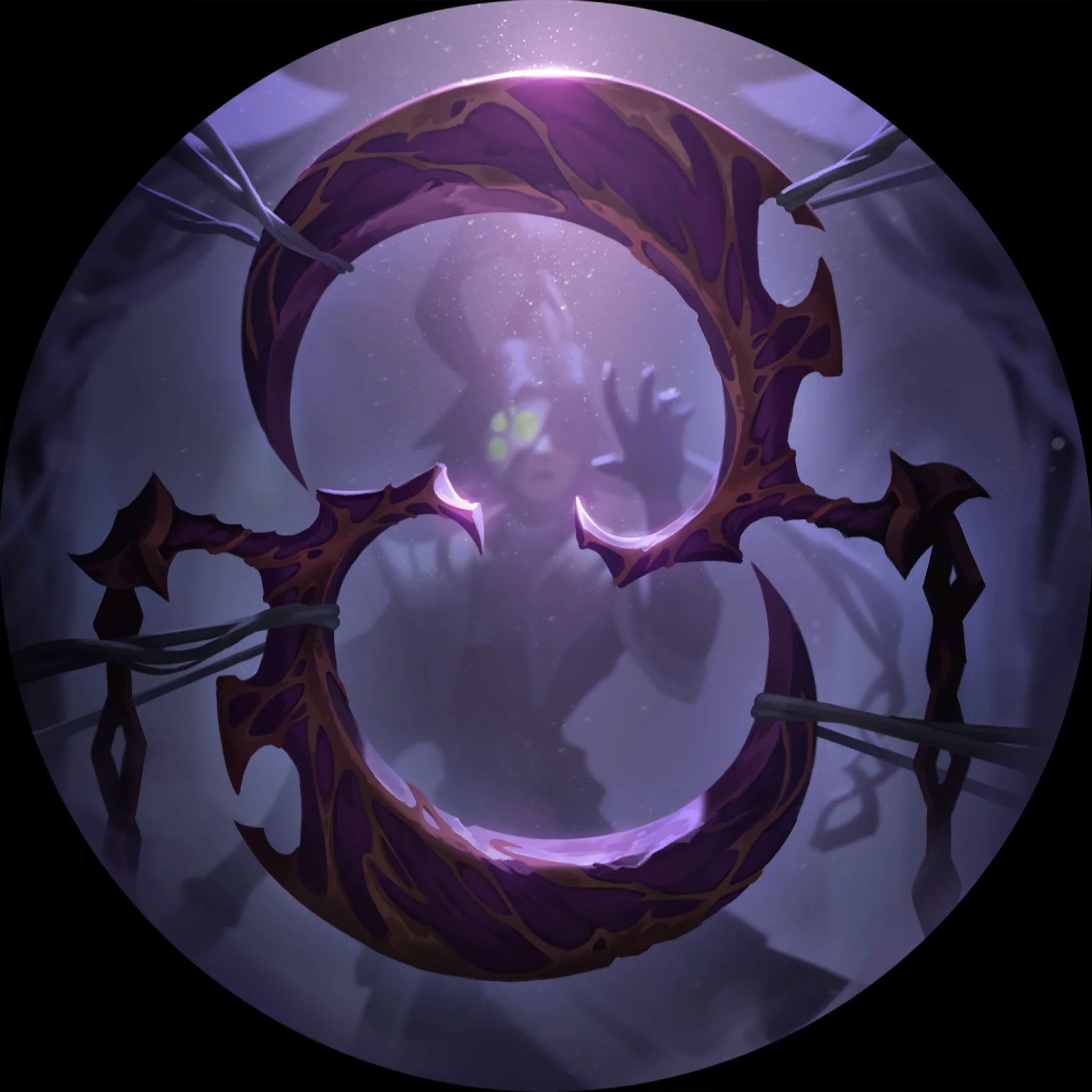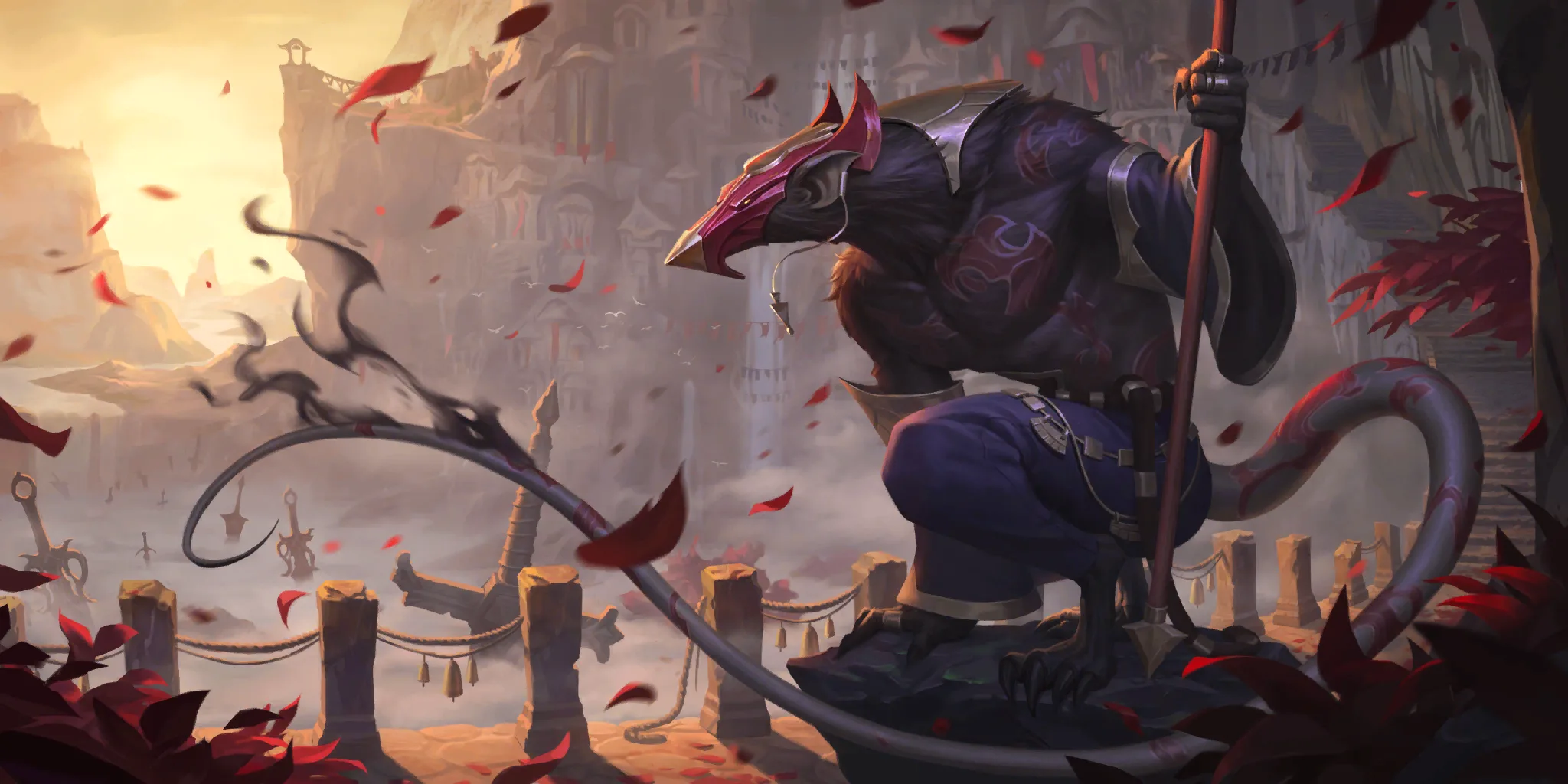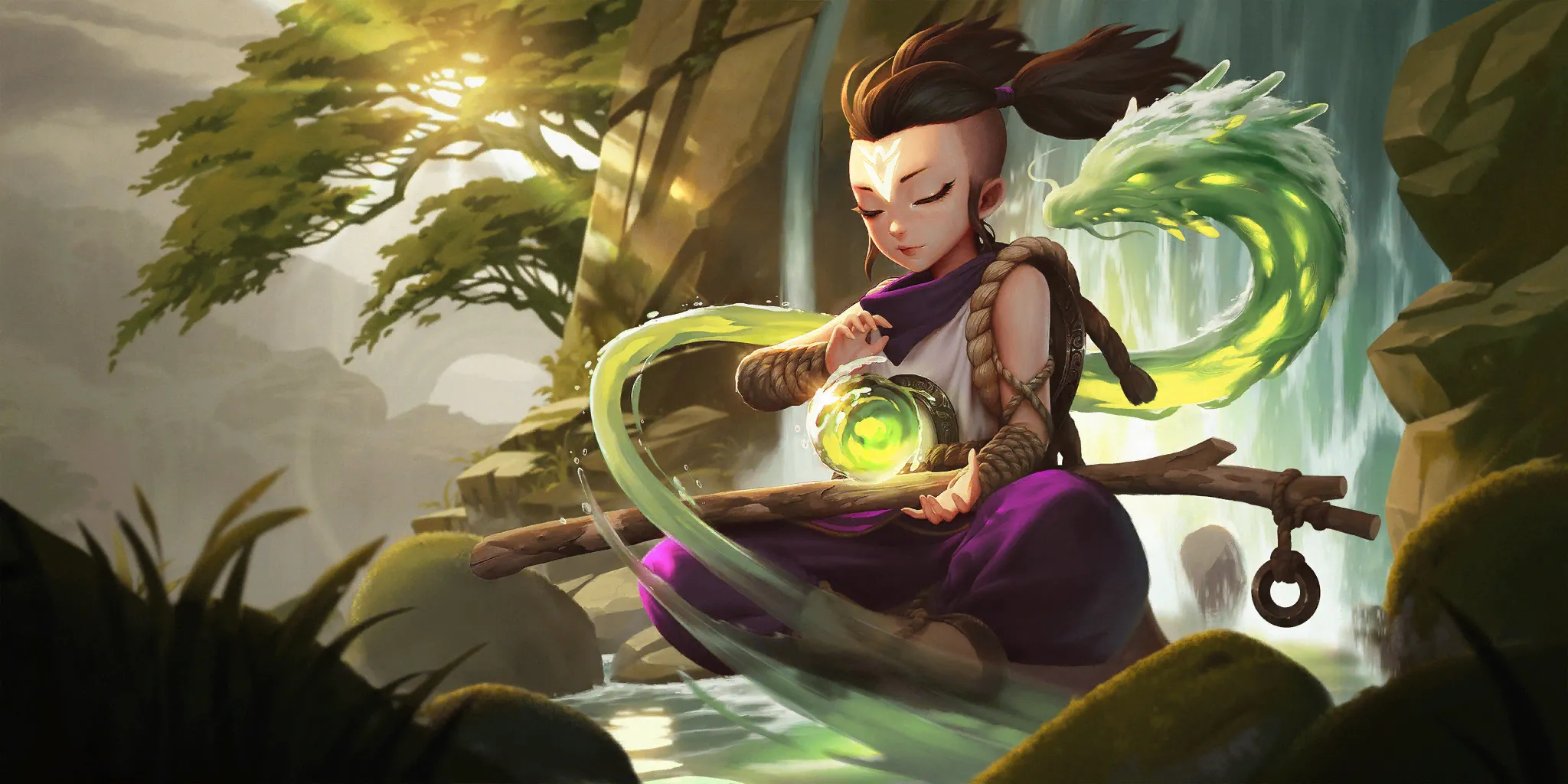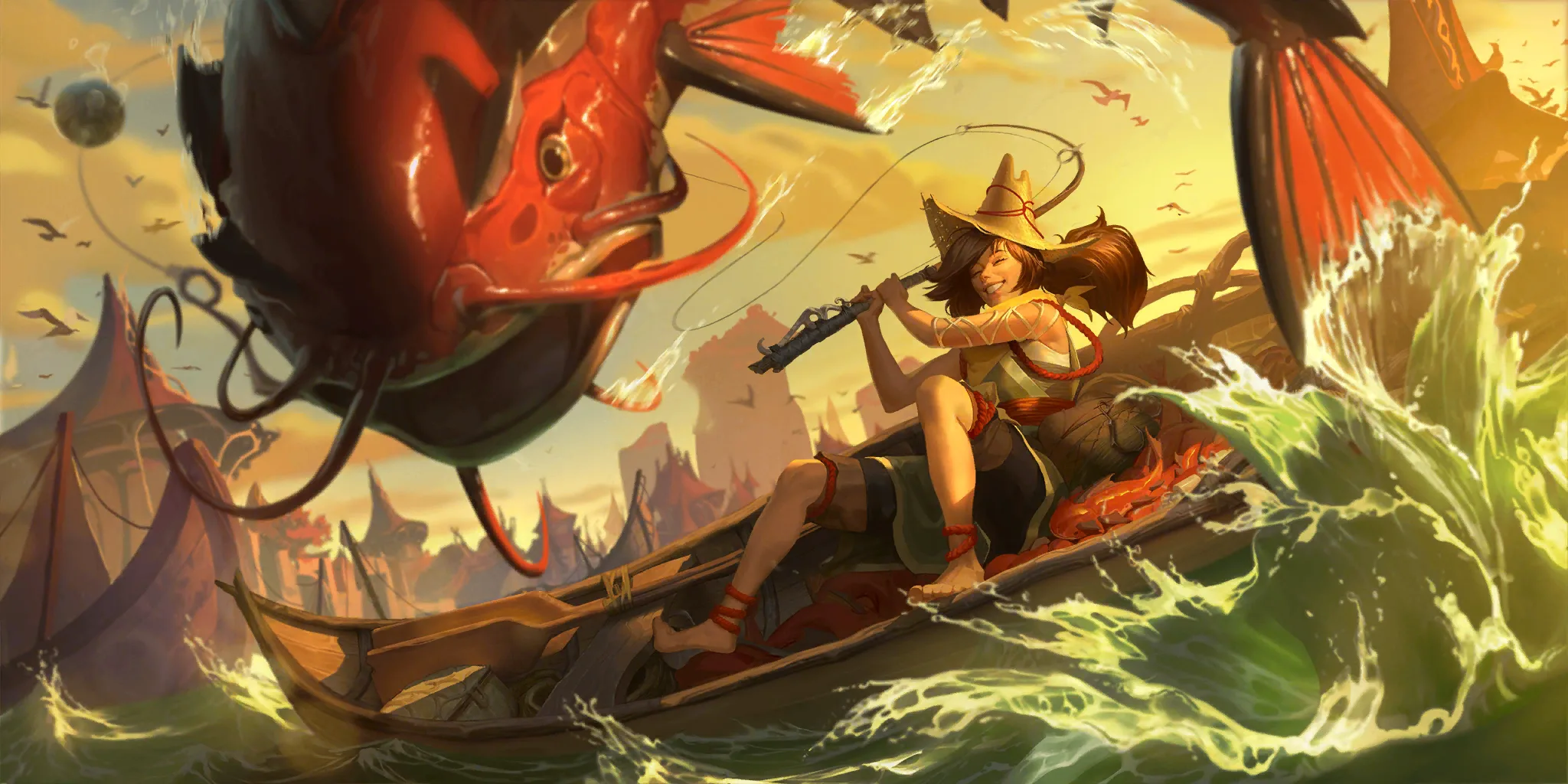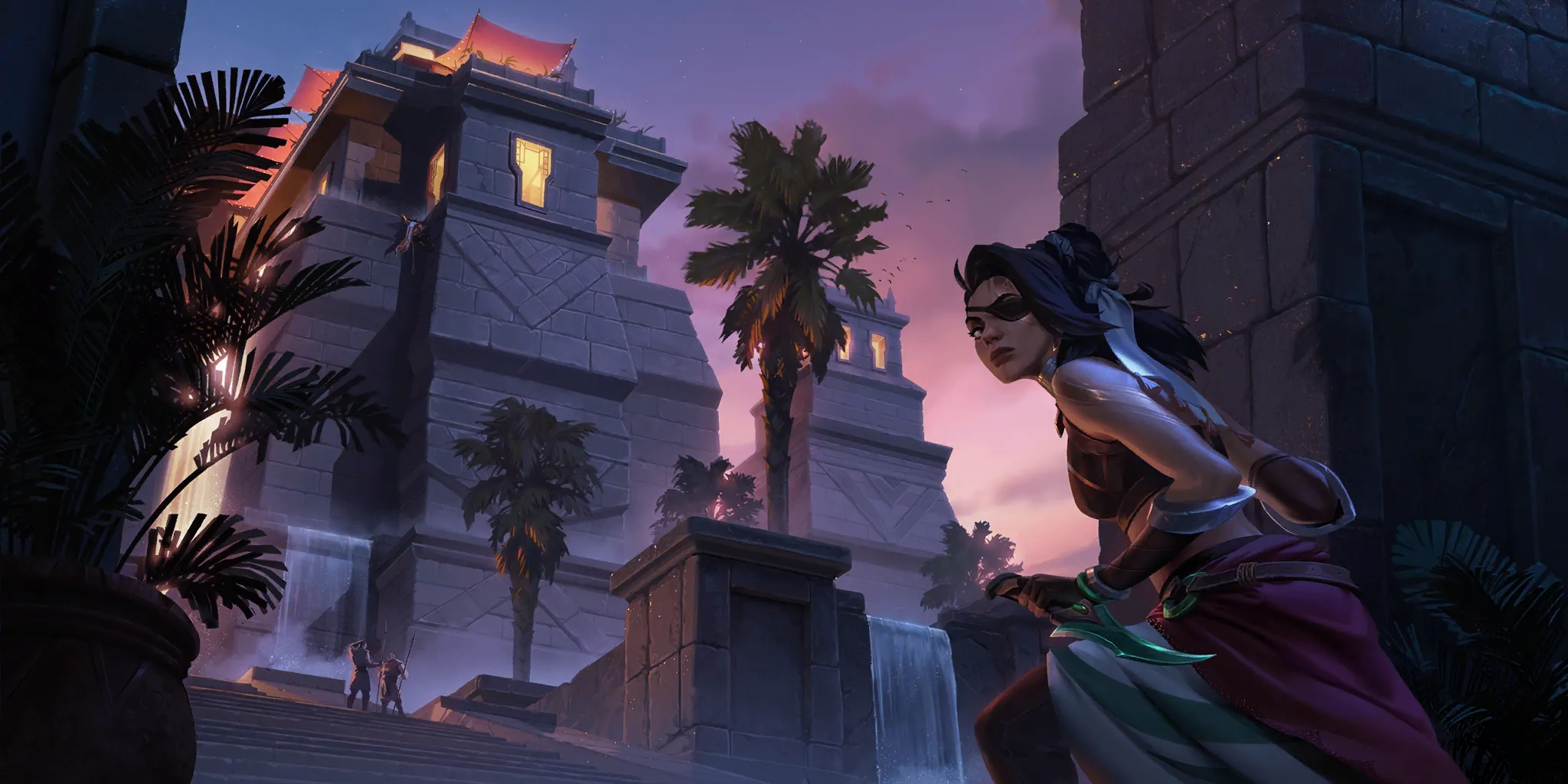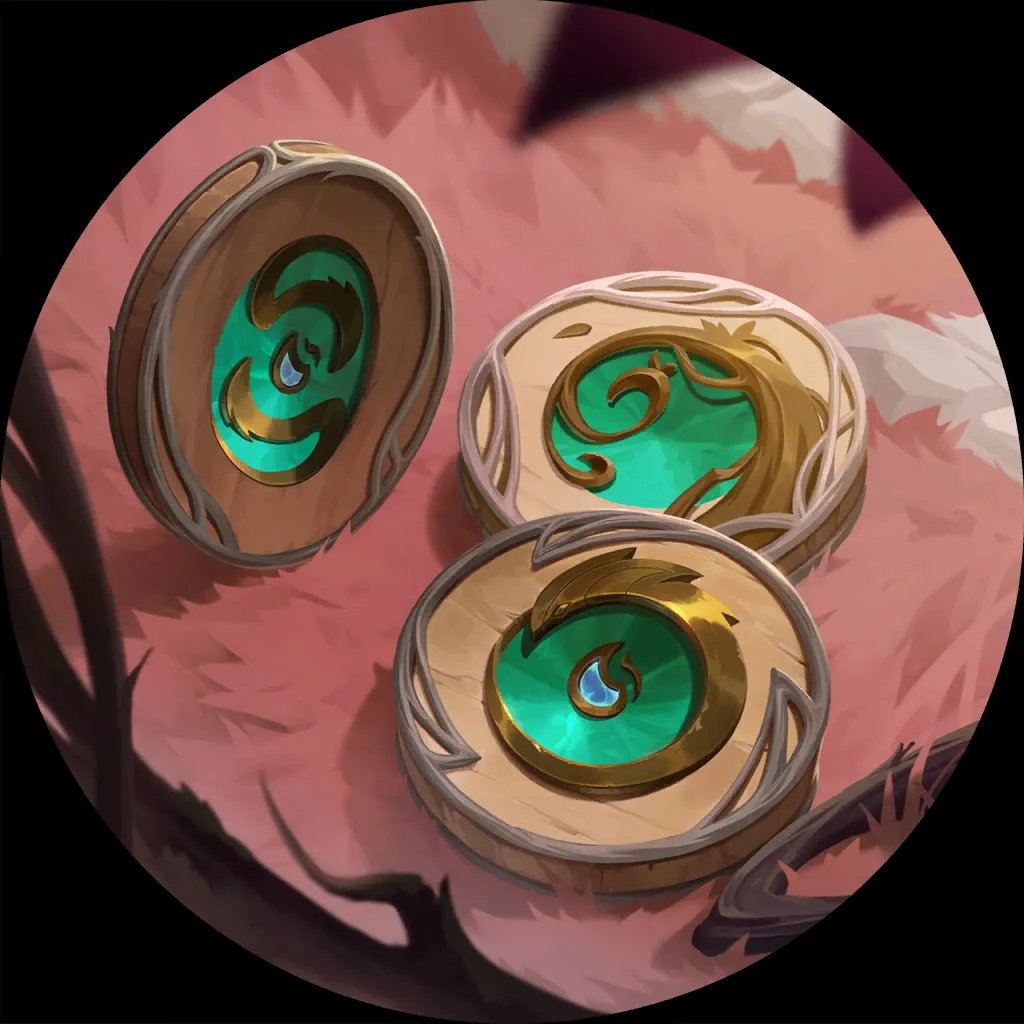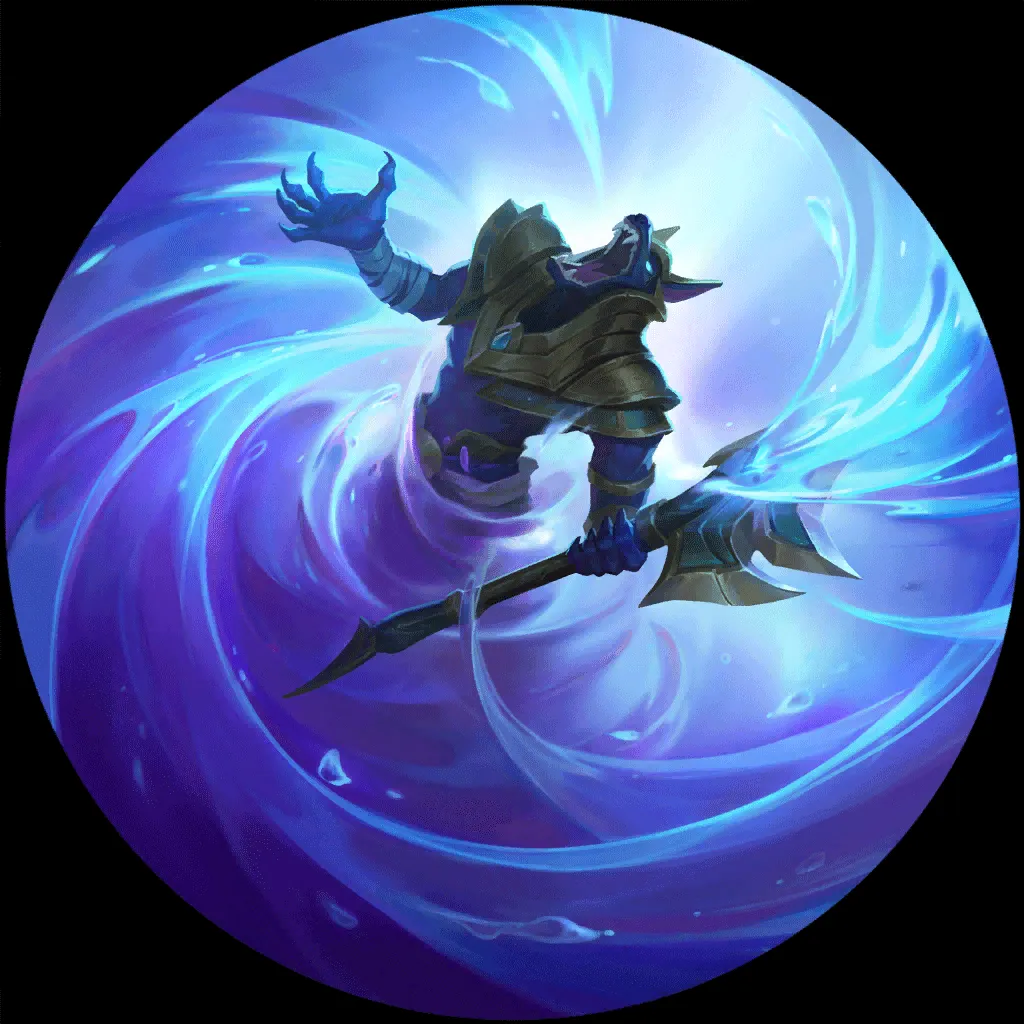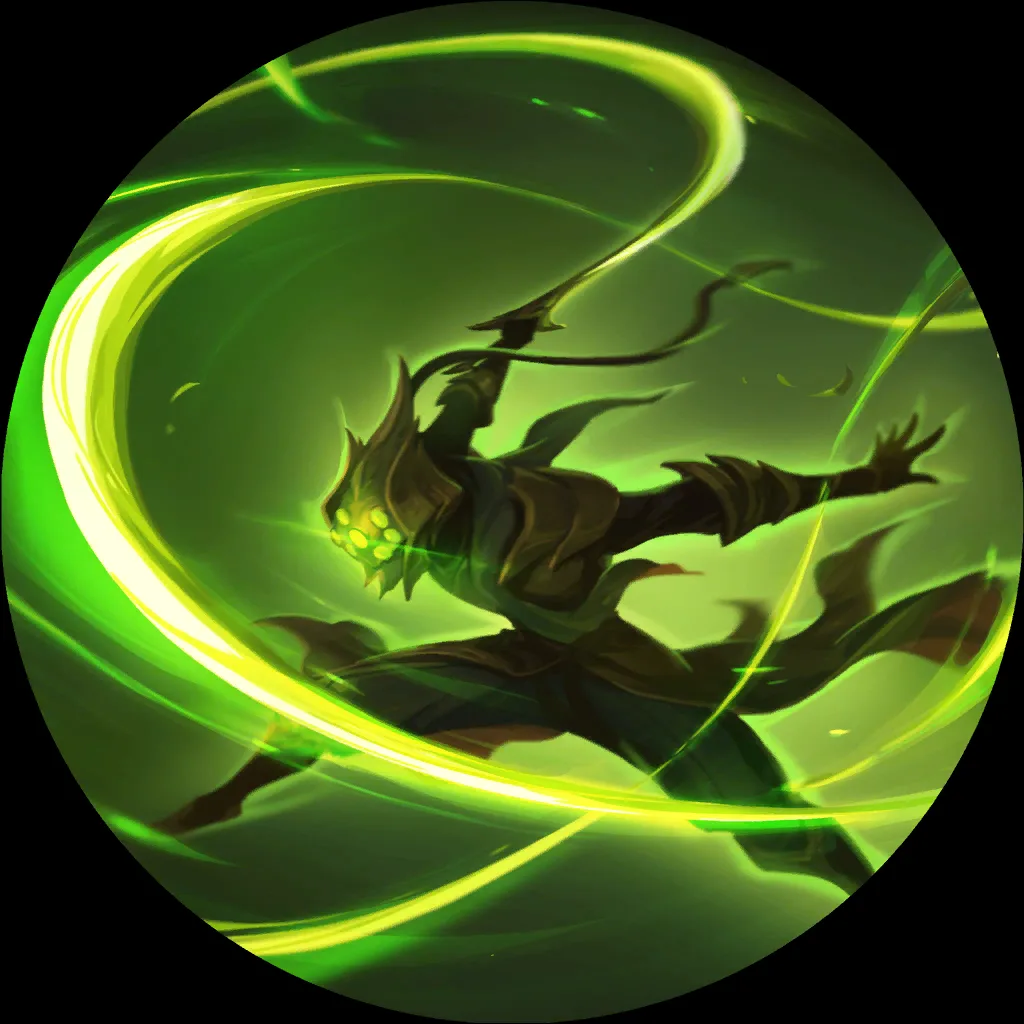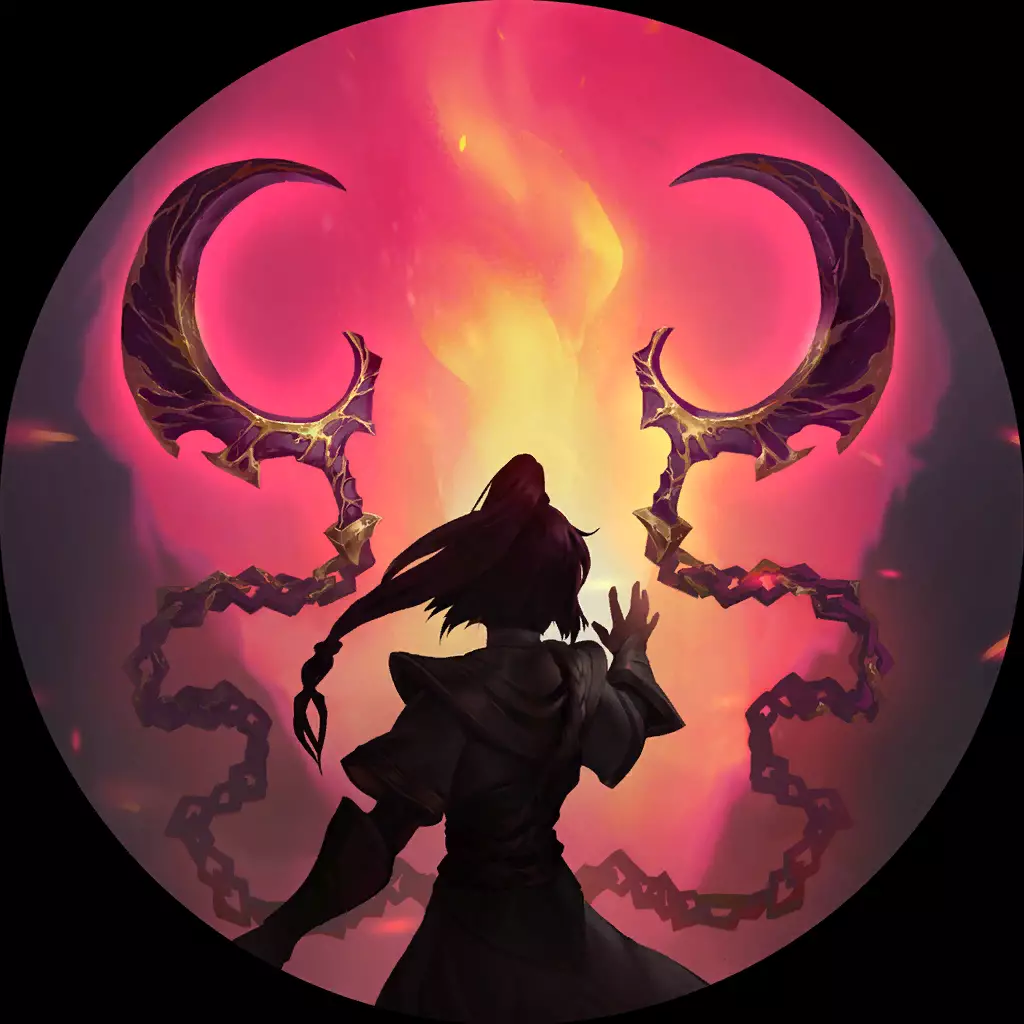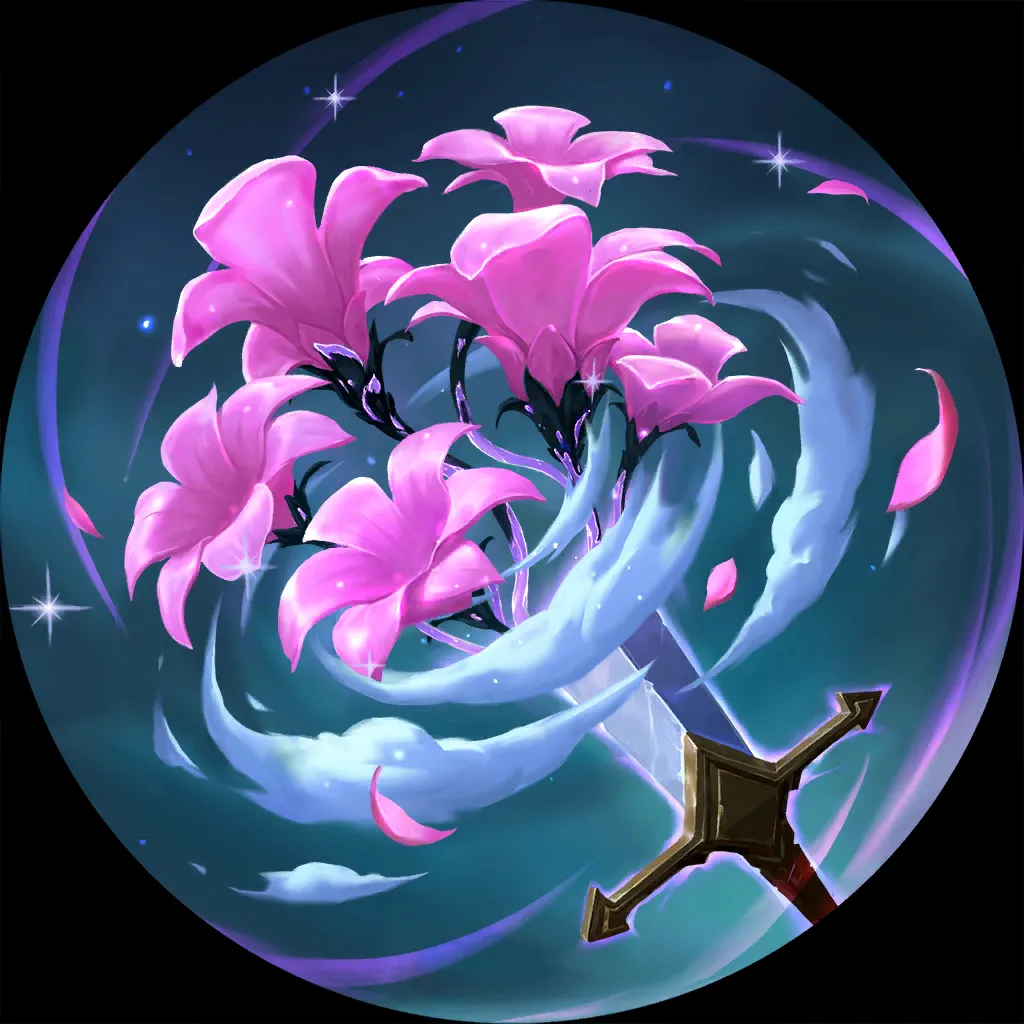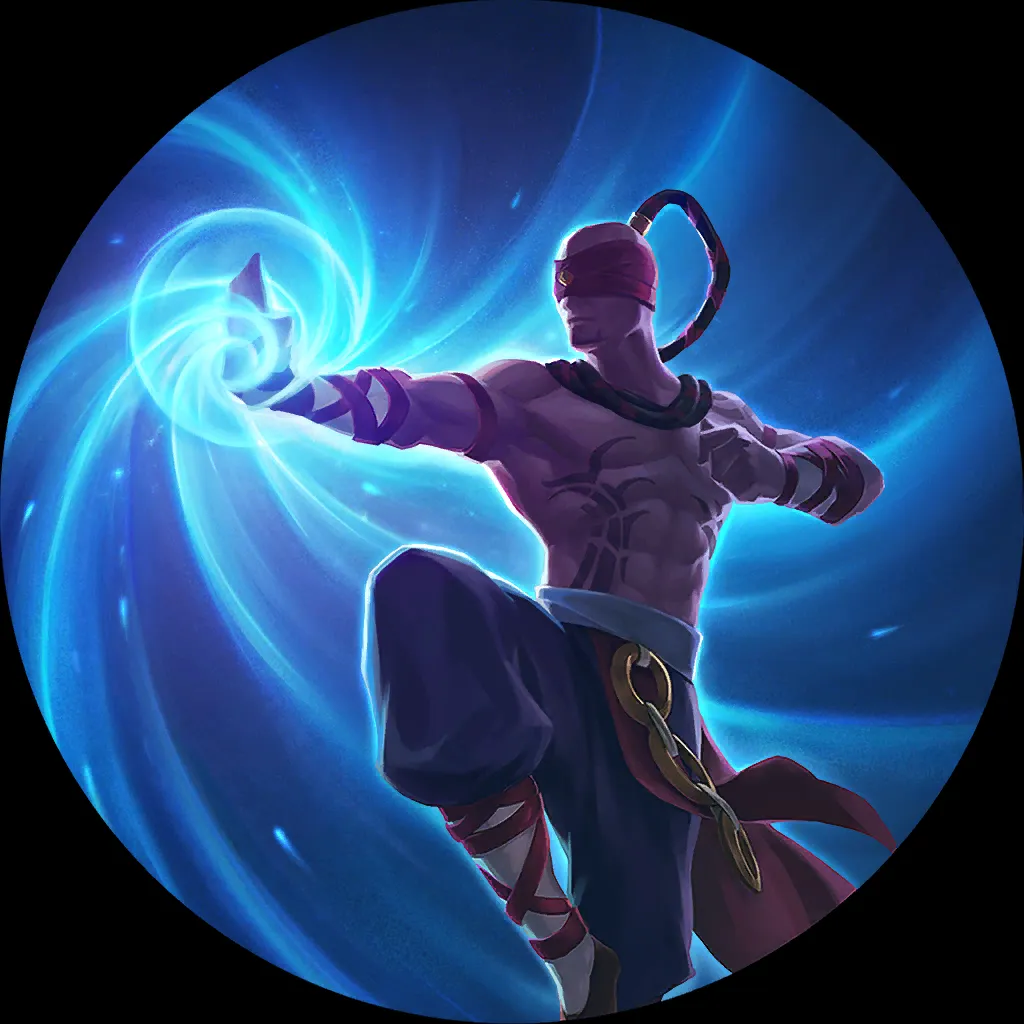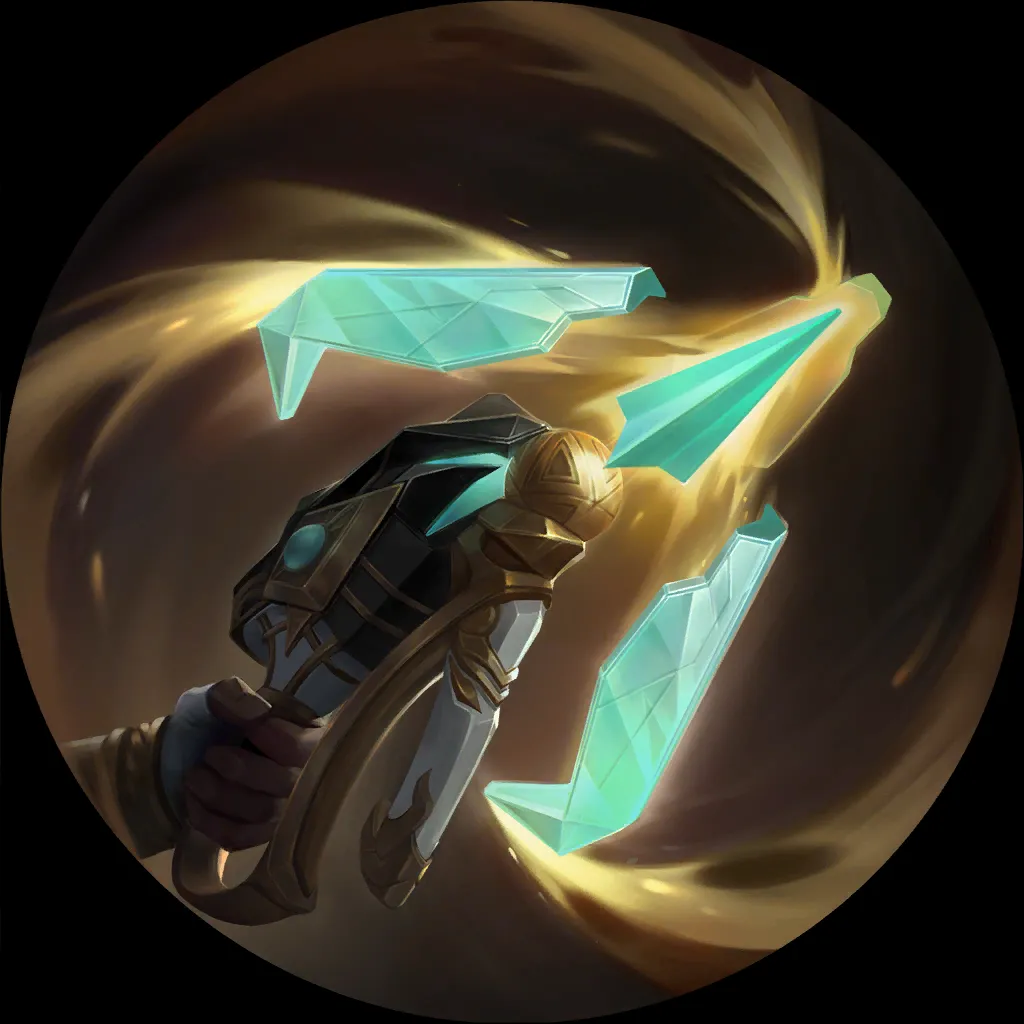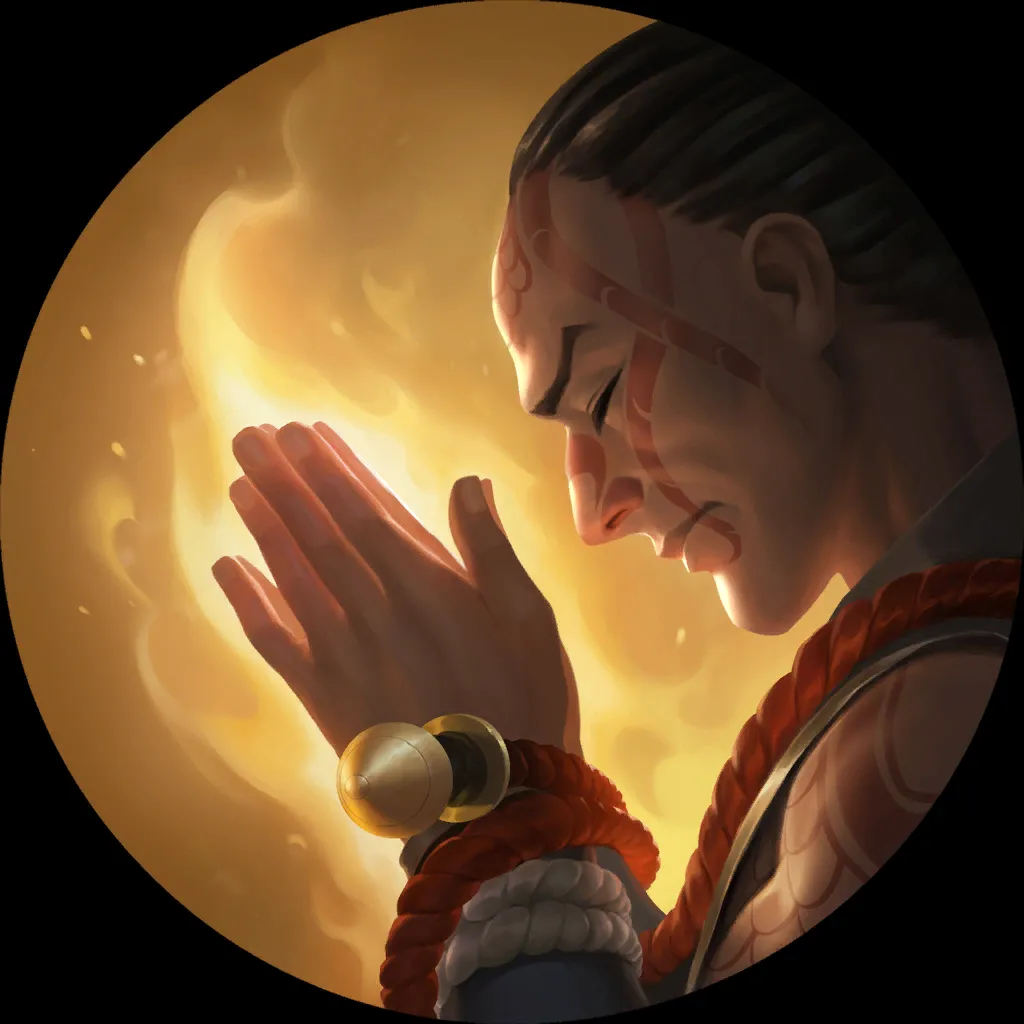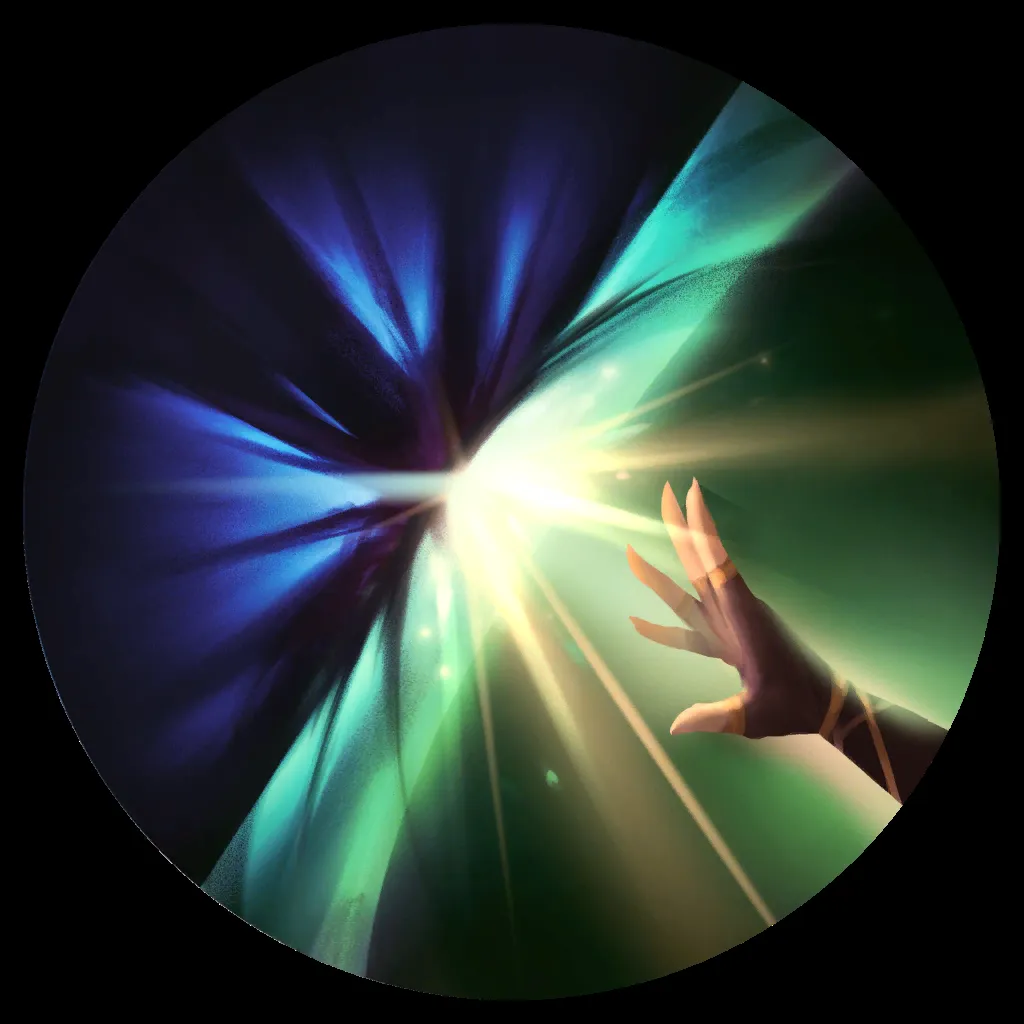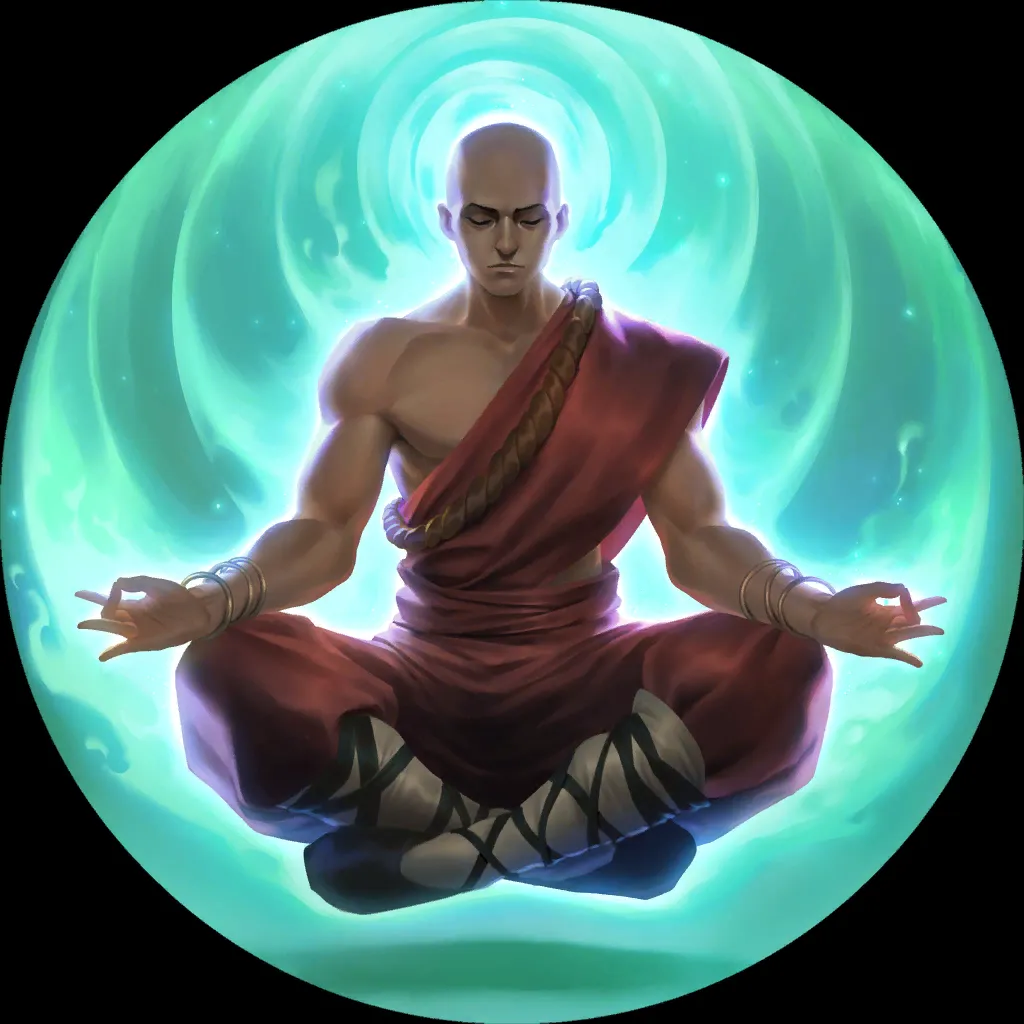 With this list, we run three Forsaken Baccai
, as well as three The Darkin Bloodletters
that summon a Darkinthrall
, as targets for our two Rite of Calling
. Another upside of Bloodletters is that we can much easier cycle weapons on a unit to advance Akshan
's landmarks.
Once we are ready, we can also play Xolaani
as an additional Overwhelm threat to end the game. And even when she dies, Xolaani
returns to hand as Bloodletters and continues to provide value.
That being said, we run fewer answers like Ionian Tellstones
and Concussive Palm
, making us more vulnerable against decks like Katarina Gwen where we rely on disrupting enemy units.
---
Other tech choices include Entrancing Lure
, Will of Ionia
, and Shuriman Tellstones
.
Even with The Darkin Bloodletters
, Entrancing Lure
oftentimes felt like an awkward draw. If we don't have the right weapon on the right target (Akshan), it is a dead card in hand. And even if we draw a card with Lure, it still doesn't activate Flow. Sonic Wave
simply does more on its own.
When you want to run more than three copies of Sonic Wave
, you can run Shuriman Tellstones
into Ruthless Predator
. Why not run a copy of Ruthless Predator
instead? Because we don't activate Flow then, silly!
Will of Ionia
is at max a one-of. Sometimes, recalling an enemy unit like Nasus
, without having to worry about the targeted ally of Homecoming
getting removed, is nice. But overall, we want to have the flexibility of Ionian Tellstones
, so never replace this card fully!
---
LoR Deck Akshan Lee Sin: Mulligan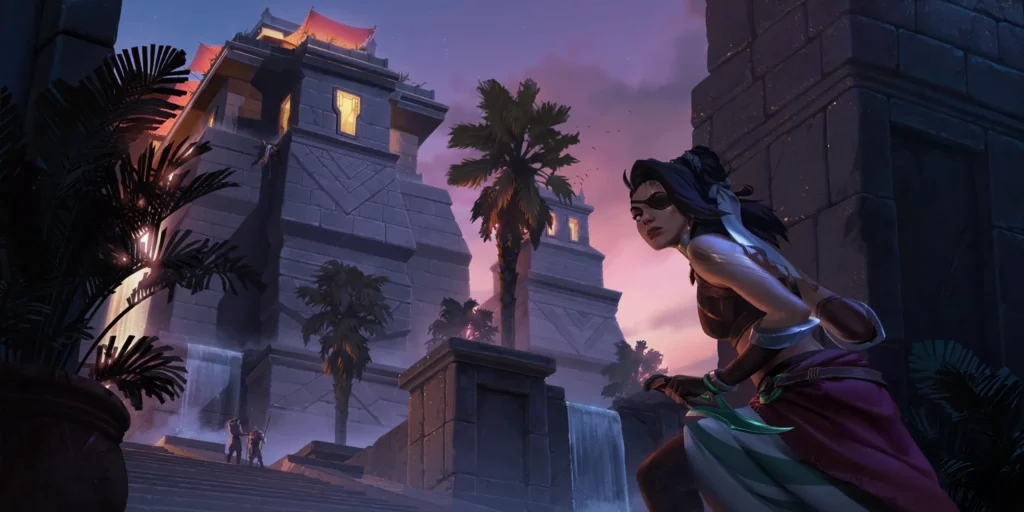 Some general mulligan advice:
90% of the time, I kick my whole hand if I don't see Akshan
or Vekauran Vagabond
. In reverse, I never kick the first Akshan
or Vekauran Vagabond
I see.
The 10% of times I keep a card without seeing Akshan
/Vagabond is when that card tremendously improves our winning chances, e.g. Eye of the Dragon
versus Pirates or Ionian Hookmaster
versus Ezreal Kennen.
Once we see Akshan
and other cards, we can think about keeping spells. Momentous Choice
is a good keep with Akshan
to protect him, or threaten to kill a three-Health blocker for Akshan
.
Sonic Wave
is our best spell, keep it when you see Akshan
or Eye of the Dragon
.
---
LoR Deck Akshan Lee Sin: Matchups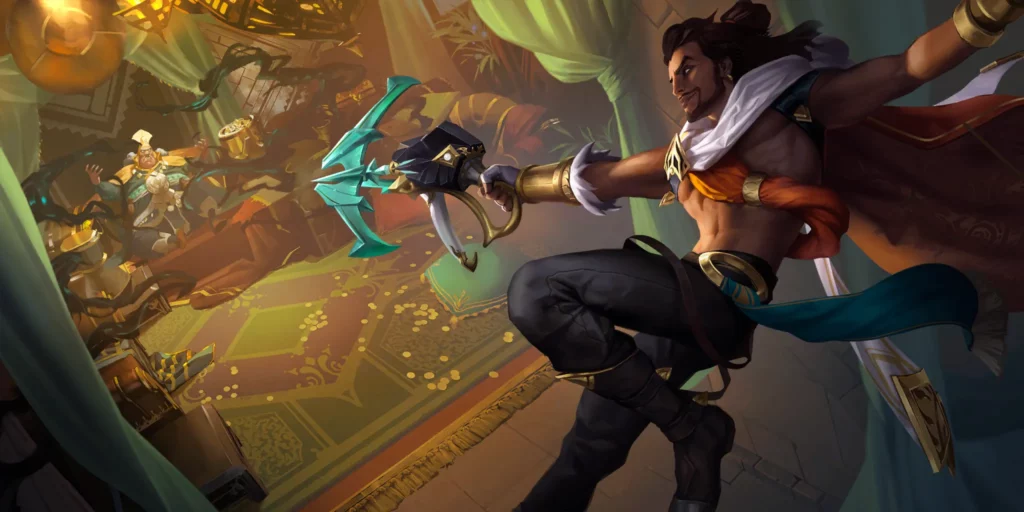 Ezreal Kennen – unfavored (25% winrate)
Mulligan: Akshan
/Vekauran Vagabond
, Ionian Hookmaster
,
Do not keep Lee Sin
in the mulligan, he's a liability that easily gets answered by Concussive Palm
and Homecoming
. If you happen to draw him anyways, play him early as a removal/pressure tool rather than for the OTK.
Ionian Hookmaster
is key to apply pressure early on. Especially if we can find Fishawhack
– we can then push Nexus damage when they Recall their blocker. Upcycled Rake
on Akshan
is another wincon.
Nopeify!
can stop Kennen's Lightning Rush
and hence the extra copy of Kennen
for Kinkou Wayfinder
---
Pirates – slightly unfavored (45% winrate)
Mulligan: Akshan
/Vekauran Vagabond
, Eye of the Dragon
While they are an aggro deck, try to out-race them with Akshan
. If they give you easy Eye of the Dragon
activations by developing/attacking before we cast spells, this matchup is very winnable.
Once they have six mana available keep Deny
mana open to counter Riptide Sermon
. Nopeify!
can stop Noxian Fervor
, especially after they play Zap Sprayfin
to fetch one.
Do not be afraid to take damage, you can Deny
their burn later. Casting The Absolver
on a Dragonling
will protect your Lifersteal unit from getting shadow-blocked with Noxian Fervor
.
---
Timelines – favored (65% winrate)
Mulligan: Akshan
/Vekauran Vagabond
, then Eye of the Dragon
Although Lee Sin
would be a solid keep in this matchup, I had to learn that he oftentimes gets discarded by Aloof Travelers
. Don't keep Lee in the mulligan.
Once we see Akshan/Vagabond, Eye of the Dragon
is an amazing unit because our opponent can't deal well with chump-blockers until round eight when they level Trundle
.
In this matchup, we're mostly on the defensive against their insane tempo plays, until we OTK them with Lee Sin
. Apart from Three Sisters
into Flash Freeze
, they don't have a way to prevent Lee's spin to win, and a well-timed Shield of the Sentinels
can prevent that as well.
---
Akshan Lee – Mirror Match (favored, after reading this guide)
Mulligan: Akshan
/Vekauran Vagabond
Akshan
is the key to winning the mirror. If one player draws Akshan
and the other doesn't, the game is over. Level Akshan
ASAP to get Warlord's Hoard
and protect your champs with Shield of the Sentinels
.
Akshan Lee lacks cheap spells to pop Spellshield, so once you get Spellshield on Lee and have Deny
mana up, they won't be able to prevent the OTK.
One sneaky way to prevent the OTK, though, is to only have Spellshield units on the board. This way, the opposing Lee Sin
has to challenge a Spellshield unit that blocks Dragon's Rage
. Keep this in mind when setting up your own OTK, and keep one non-champion enemy unit on board if possible.
---
Mulligan: Akshan
/Vekauran Vagabond
, then Lee Sin
, Ionian Hookmaster
Nami TF Ionia can't deal well with Lee Sin
since they lack hard removal such as Vengeance
. The only way they can interact with him is through Homecoming
, so don't fret to play Lee early as a control tool.
Since we can't stop all of their Elusive units, we are the aggressor (aka the beatdown) in this matchup. Try to push damage early with Akshan/Hookmaster and race them down.
Be aware of nasty lethal combos like two Elusives + Nami + Deny for your Stuns/Recalls. Always keep enough mana open on defensive turns.
---
Mulligan: Akshan
/Vekauran Vagabond
, Eye of the Dragon
, Concussive Palm
Concussive Palm
can stun Gwen
or Katarina
while providing a blocker. Shadow blocking Katarina
with Homecoming
prevents her from leveling while also Recalling a different enemy for tempo.
Katarina Gwen can't deal with your Overwhelm damage well, but it's difficult to get there for Akshan Lee. If it's later than round six, don't attack before you have lethal or they have tapped out of Eternal Dancers
mana.
---
Wrapping Up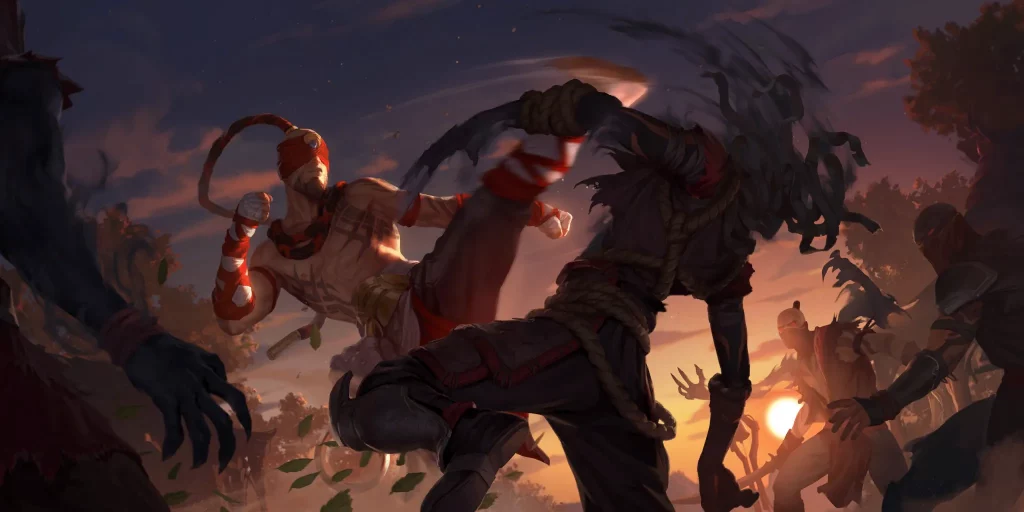 "That sure kicked like a mule," says the treasure hunter, massaging his chin.
"Why, you smell like a mule yourself, stranger," says the blind bartender.
"That was a compliment, my short-tempered friend."
"Oh. Then mine was, ah…"
"A compliment to mules, I'm sure," smiles the hunter.
"Mules do kick hard…" nods the barkeep. "You do take kicks like a champ, stranger." He smiles faintly. "Another round?"
The hunter smiles too. "Yeah." He slaps a gold coin on the counter. "Not on the house this time, though!"
---
---