Hello everyone, it's Card Gamer, this time with a deck guide for Aatrox
Kayn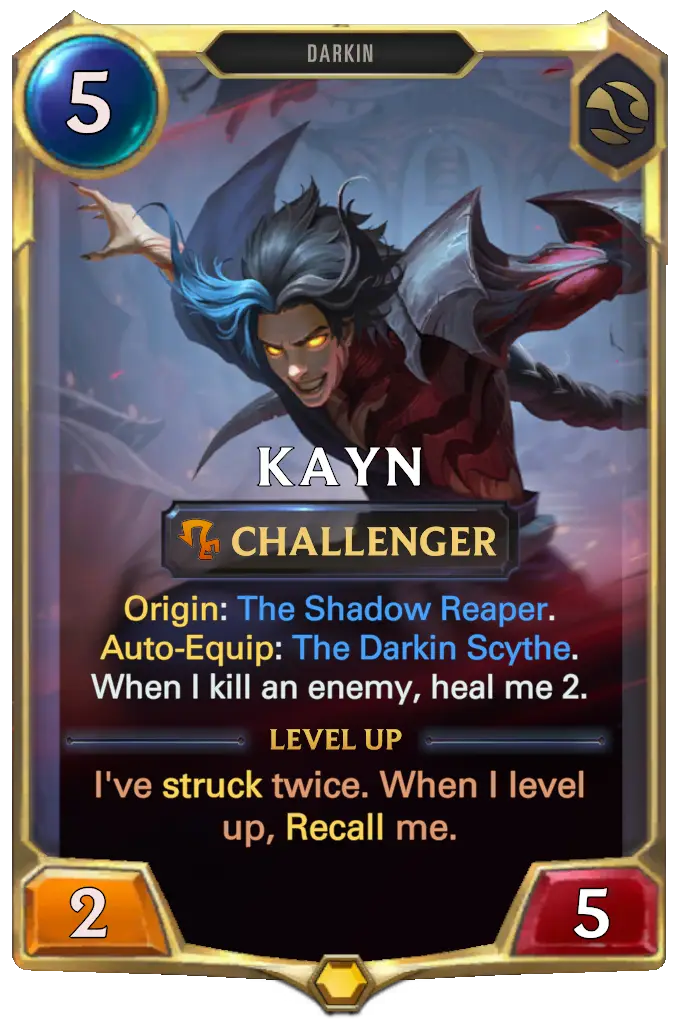 .
The Cultist version of Aatrox isn't quite as strong as its Demacian counterpart; however, Kayn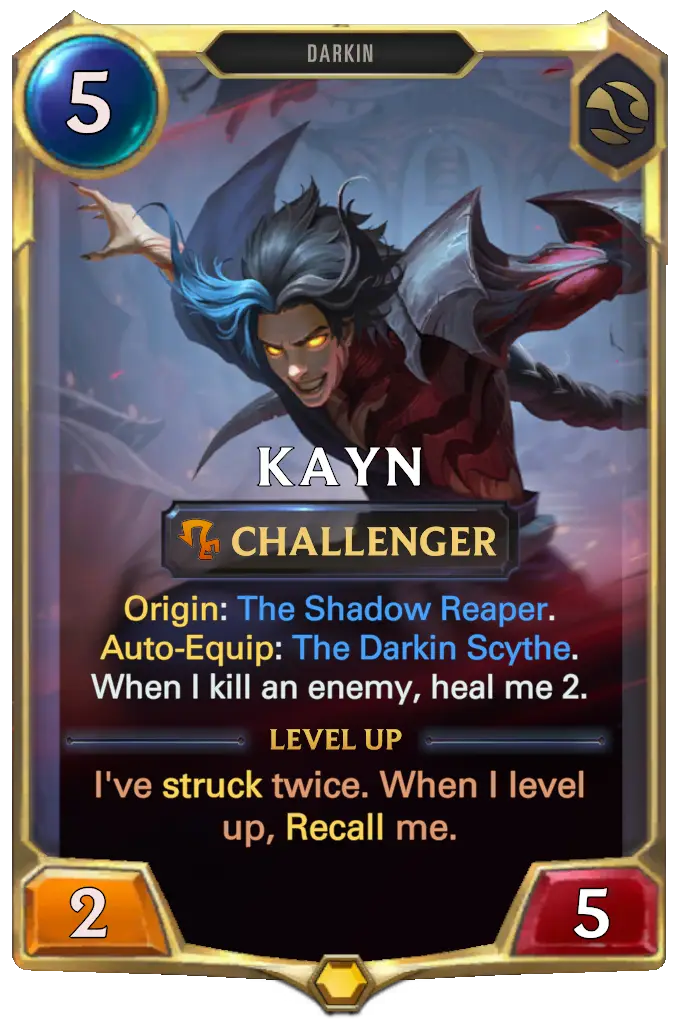 and his followers provide more consistency and a more powerful late game. Cards like The Unforgiving Cold
and The Expanse's Protection
can help a lot against some of the matchups that are difficult for Vayne
Aatrox by stalling a round, or by protecting Aatrox
from a key piece of enemy interaction.
---
Best LoR Decks: Aatrox Kayn – Card Breakdown
6
10
11
13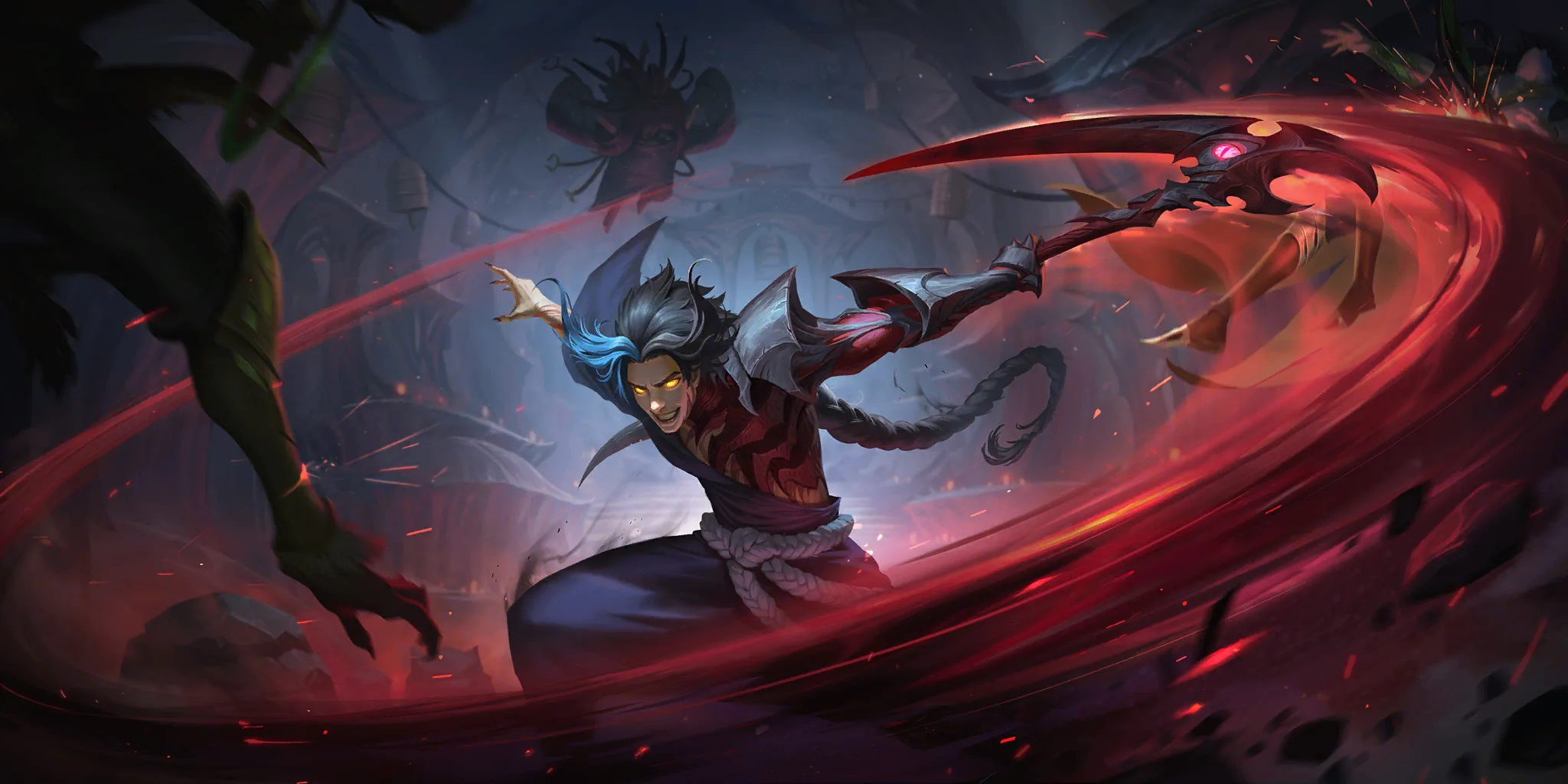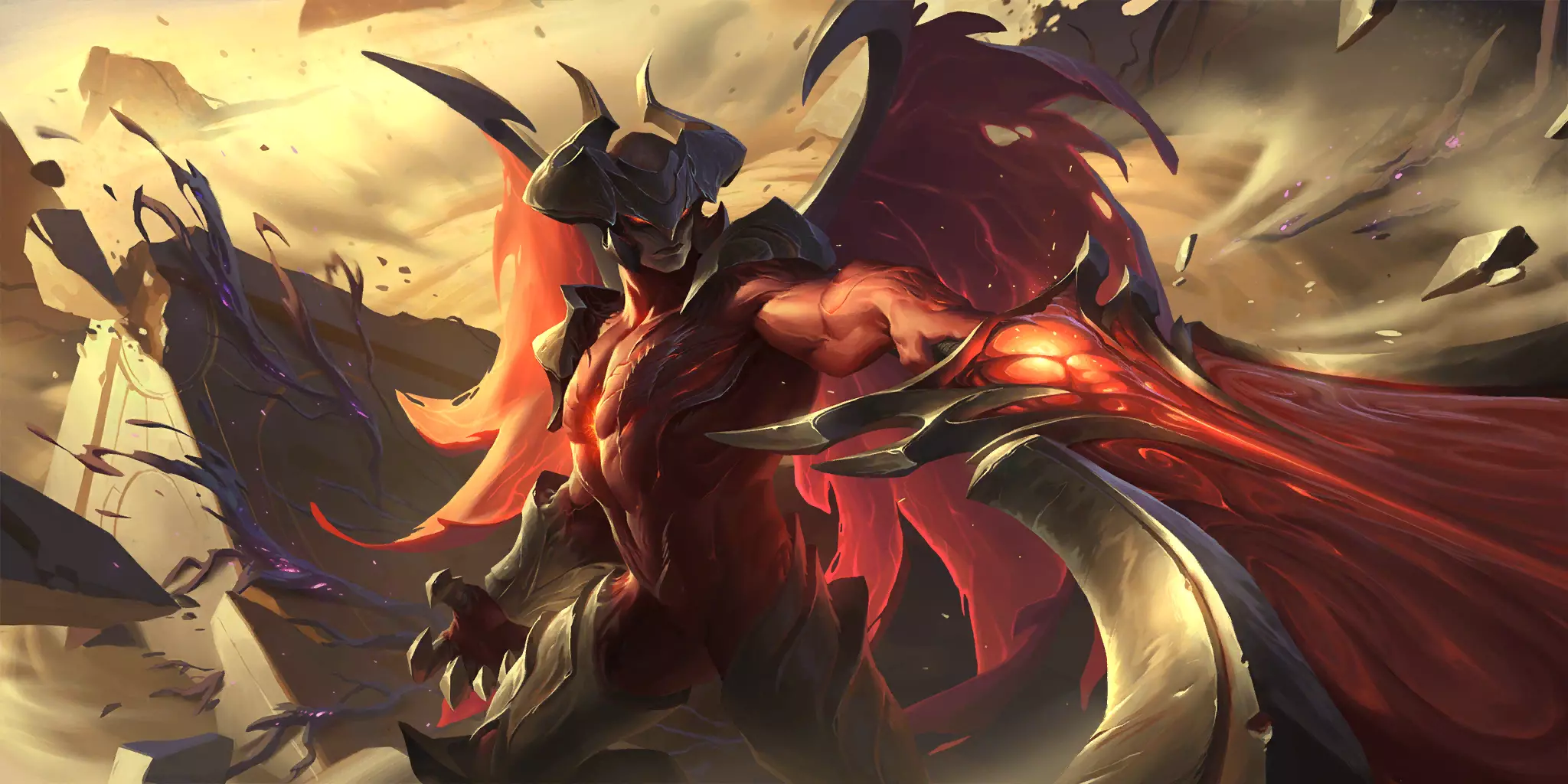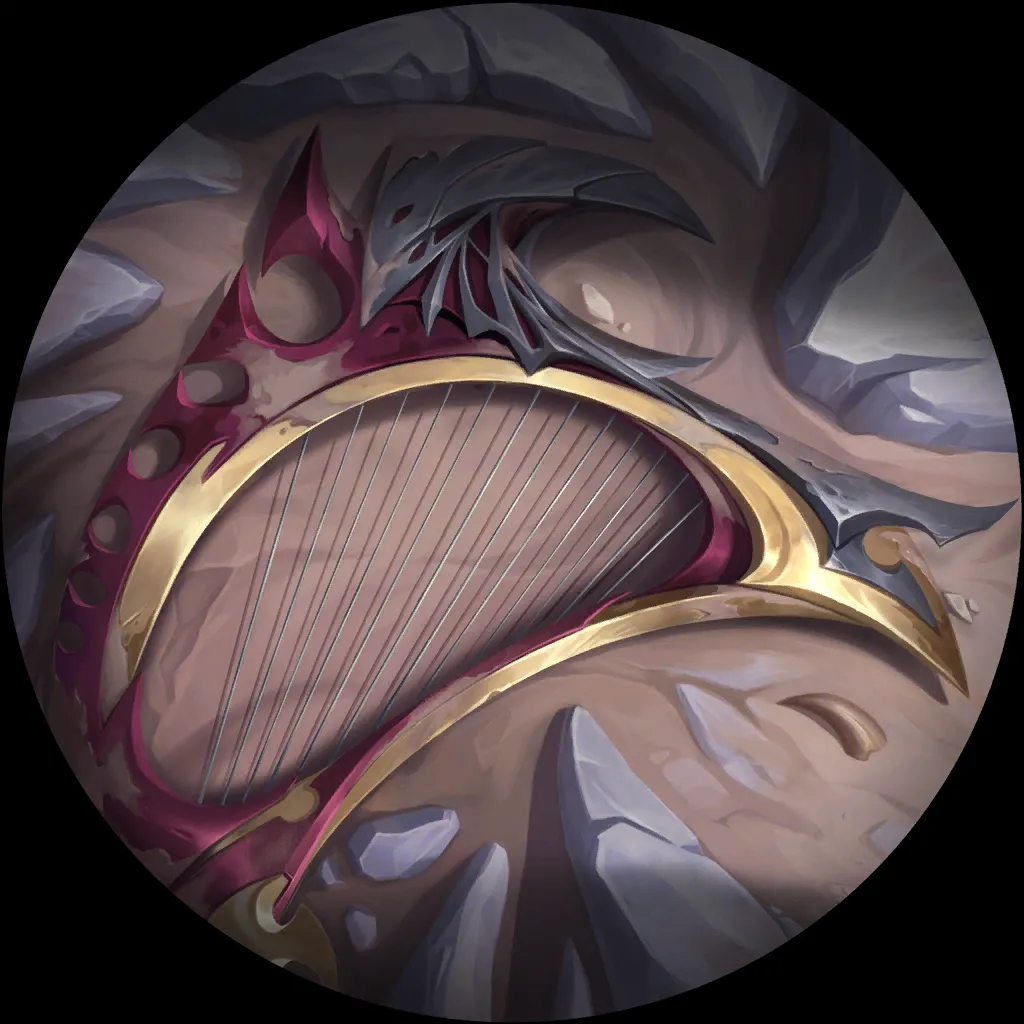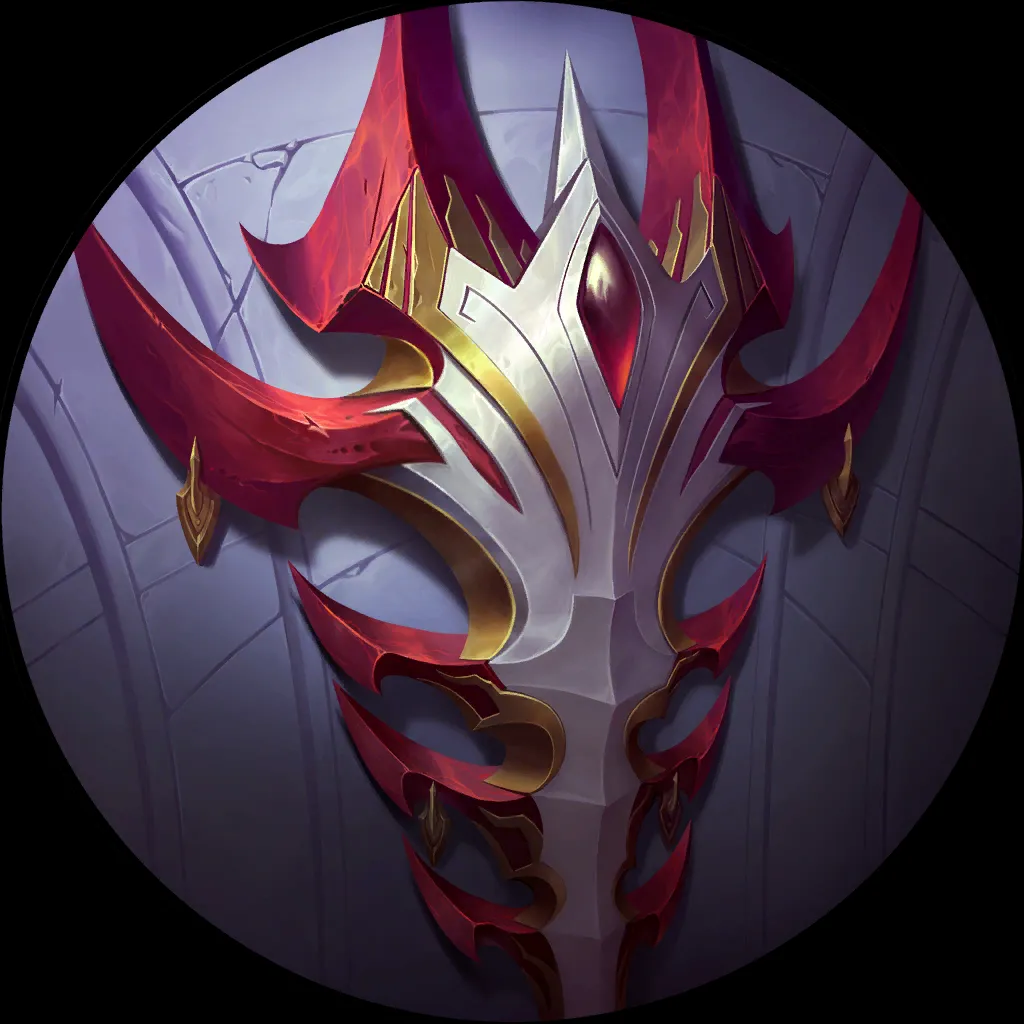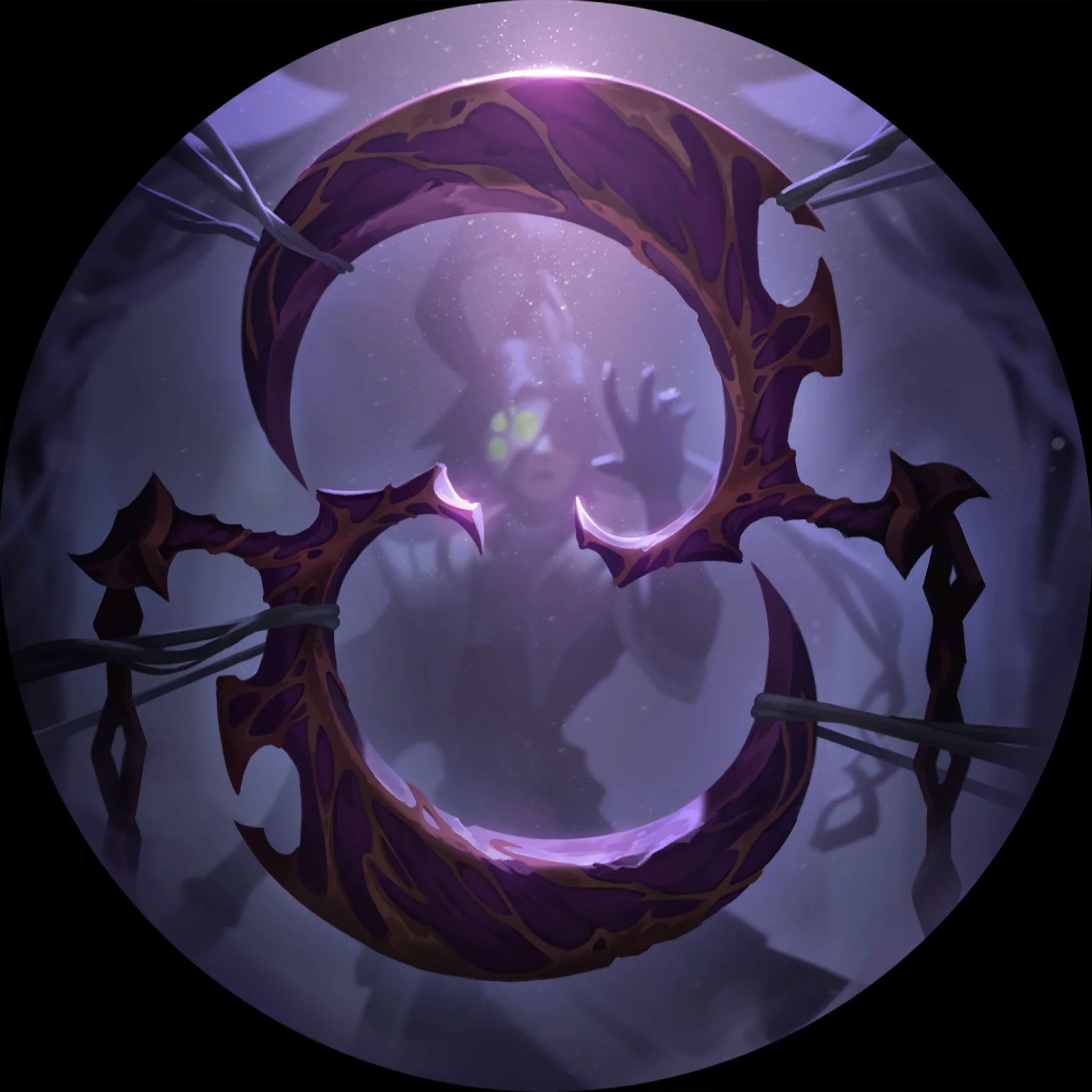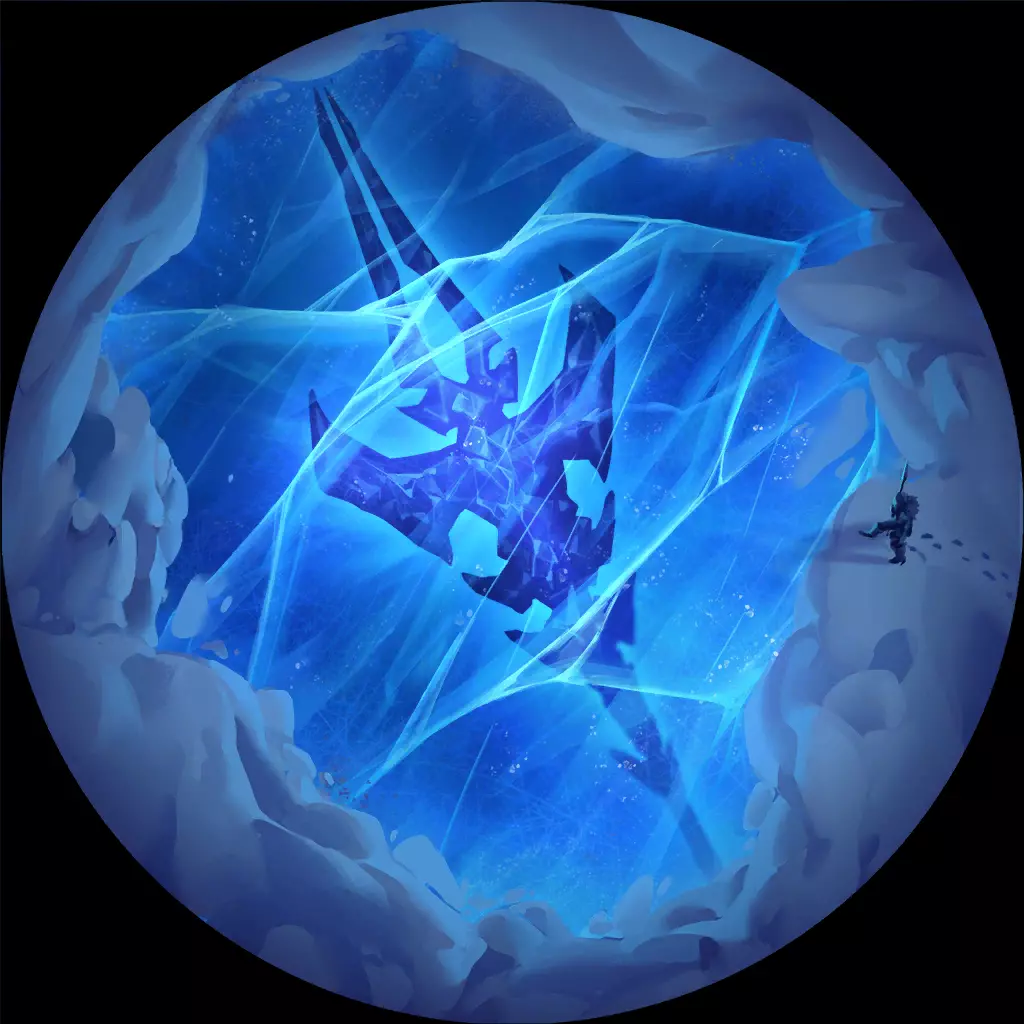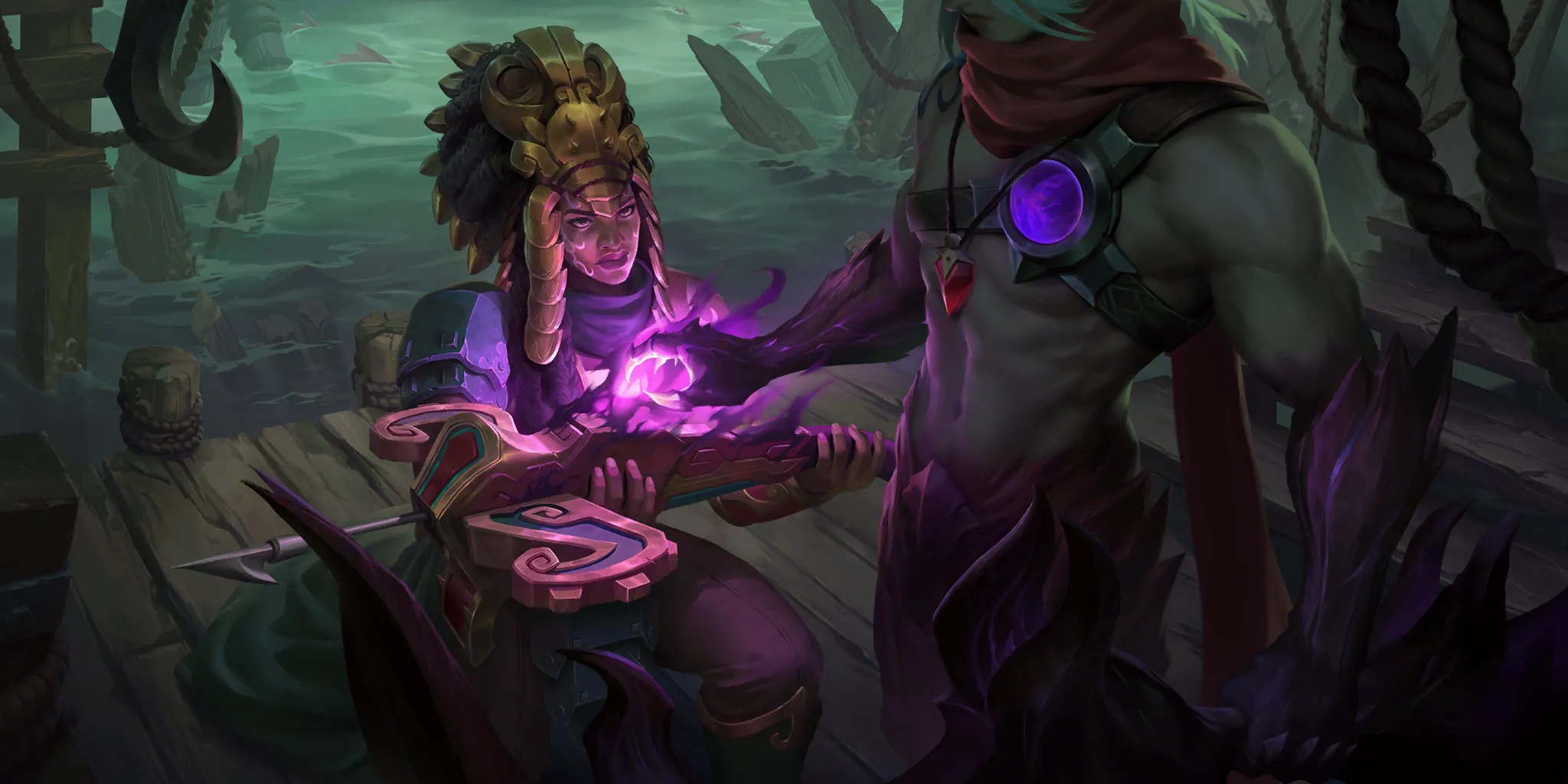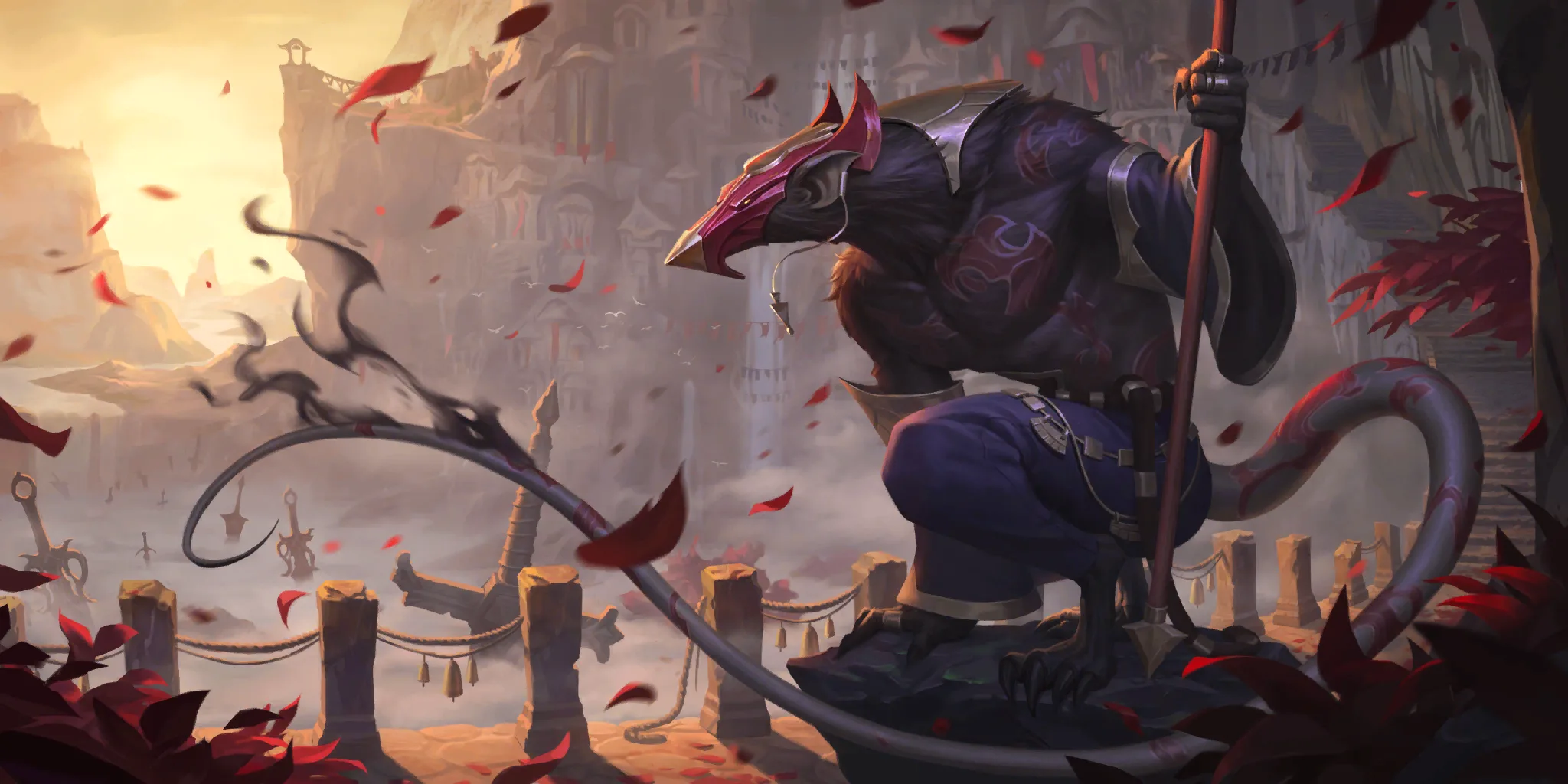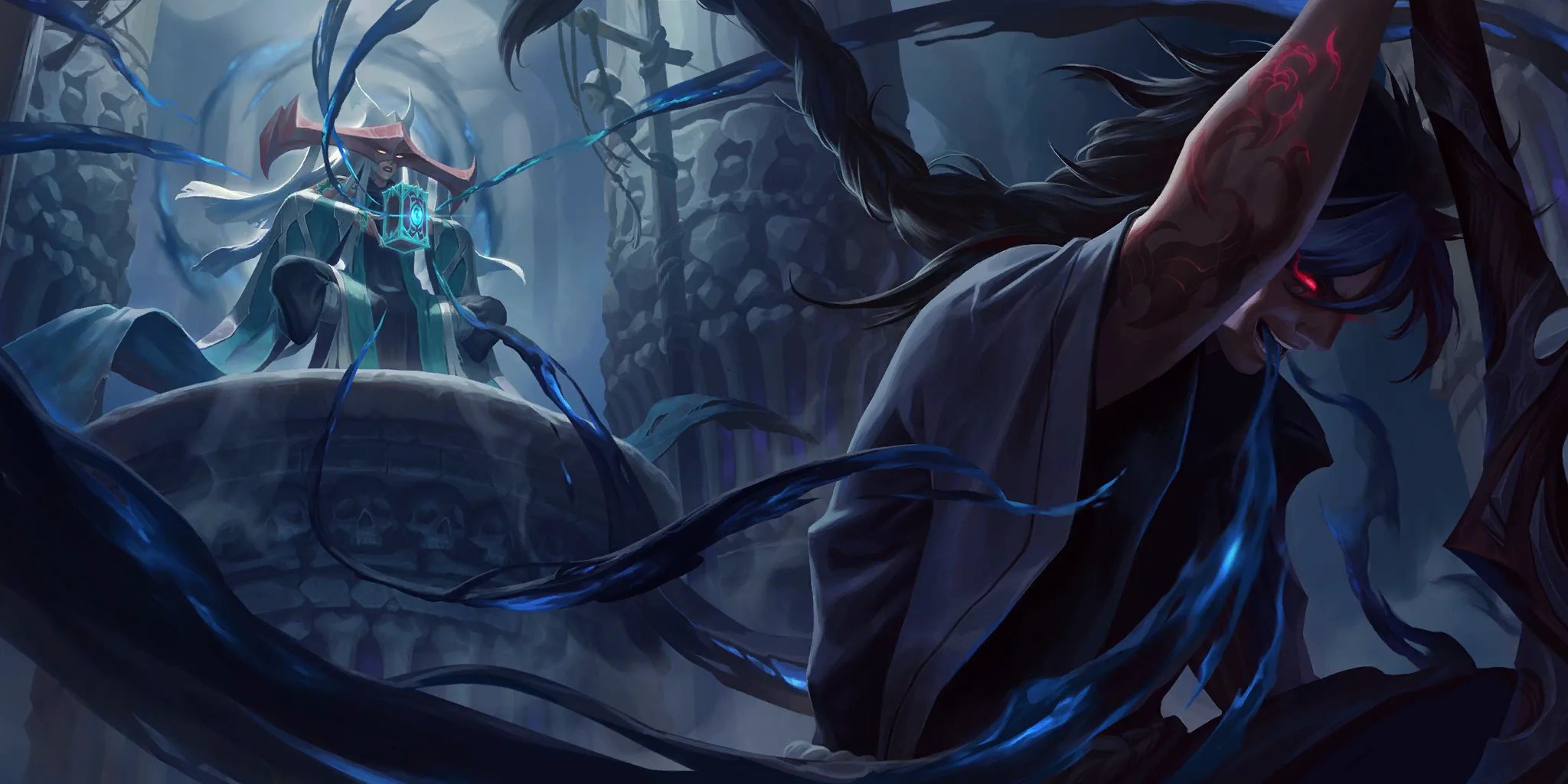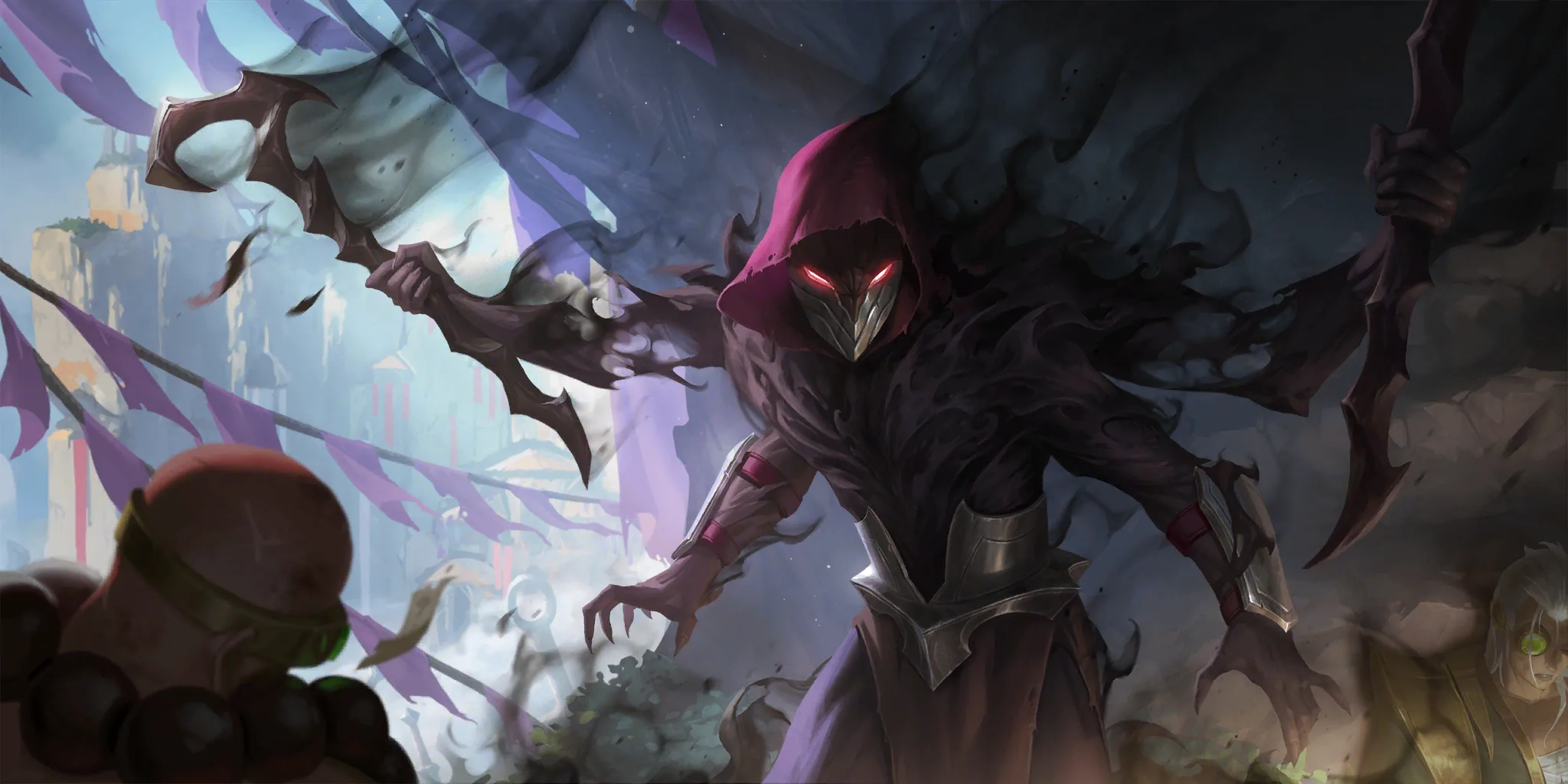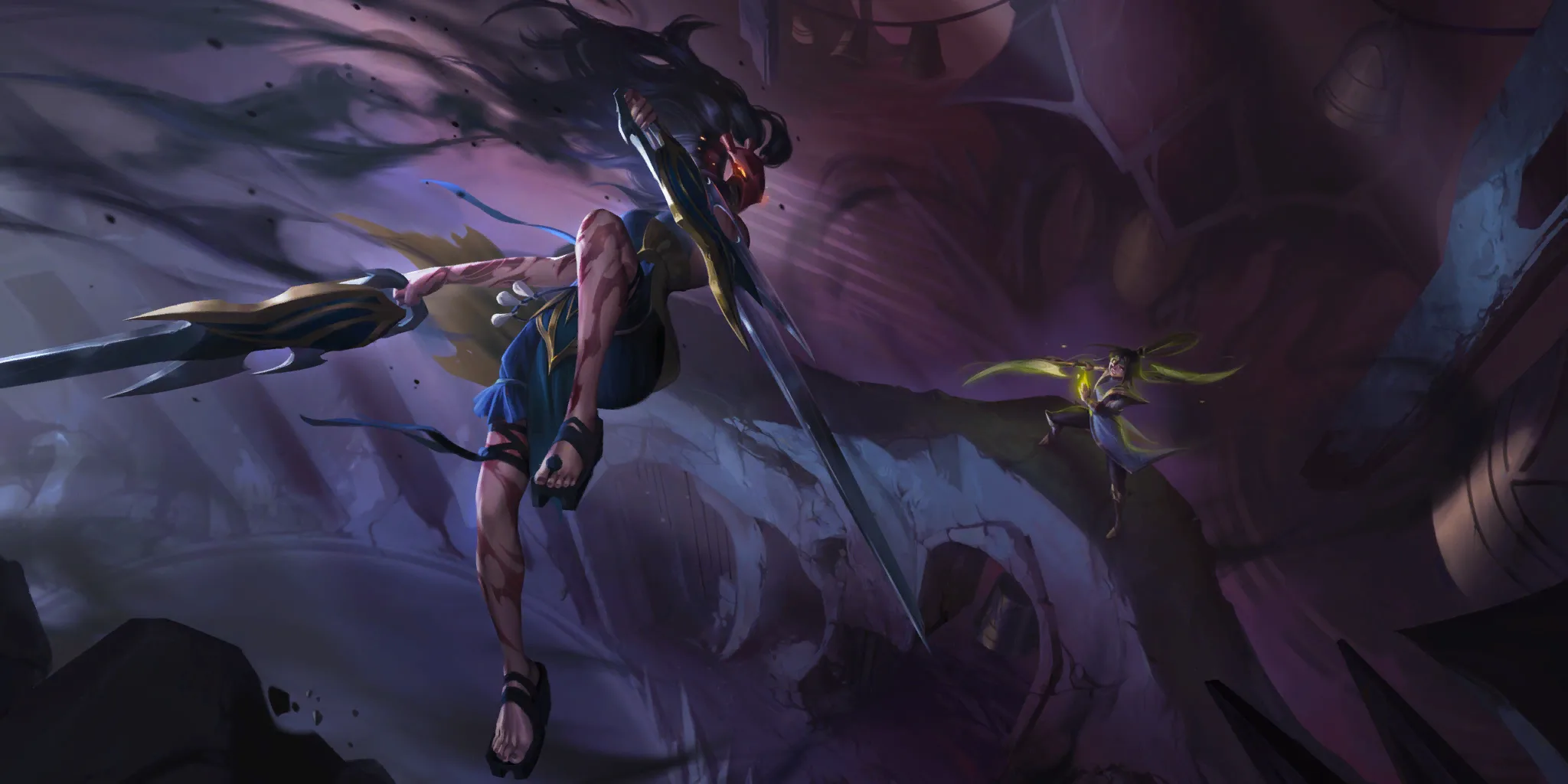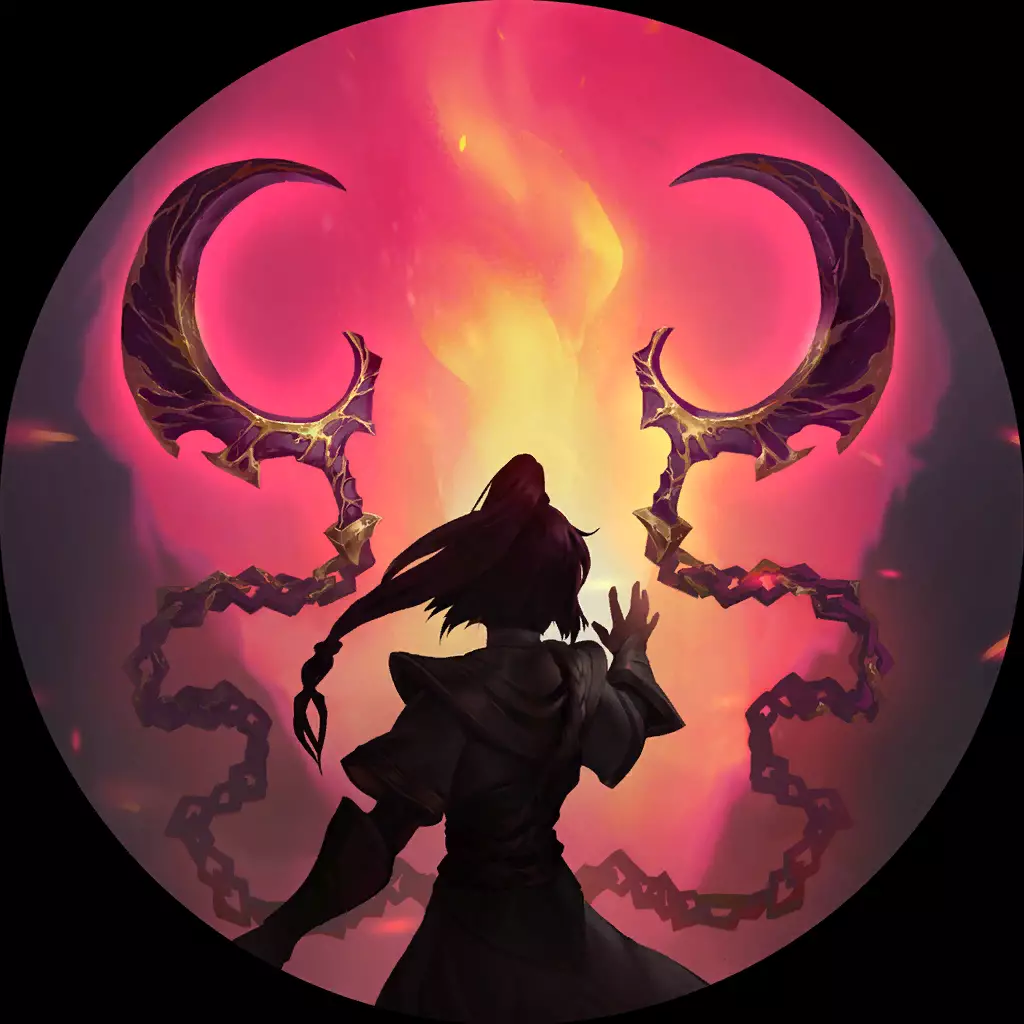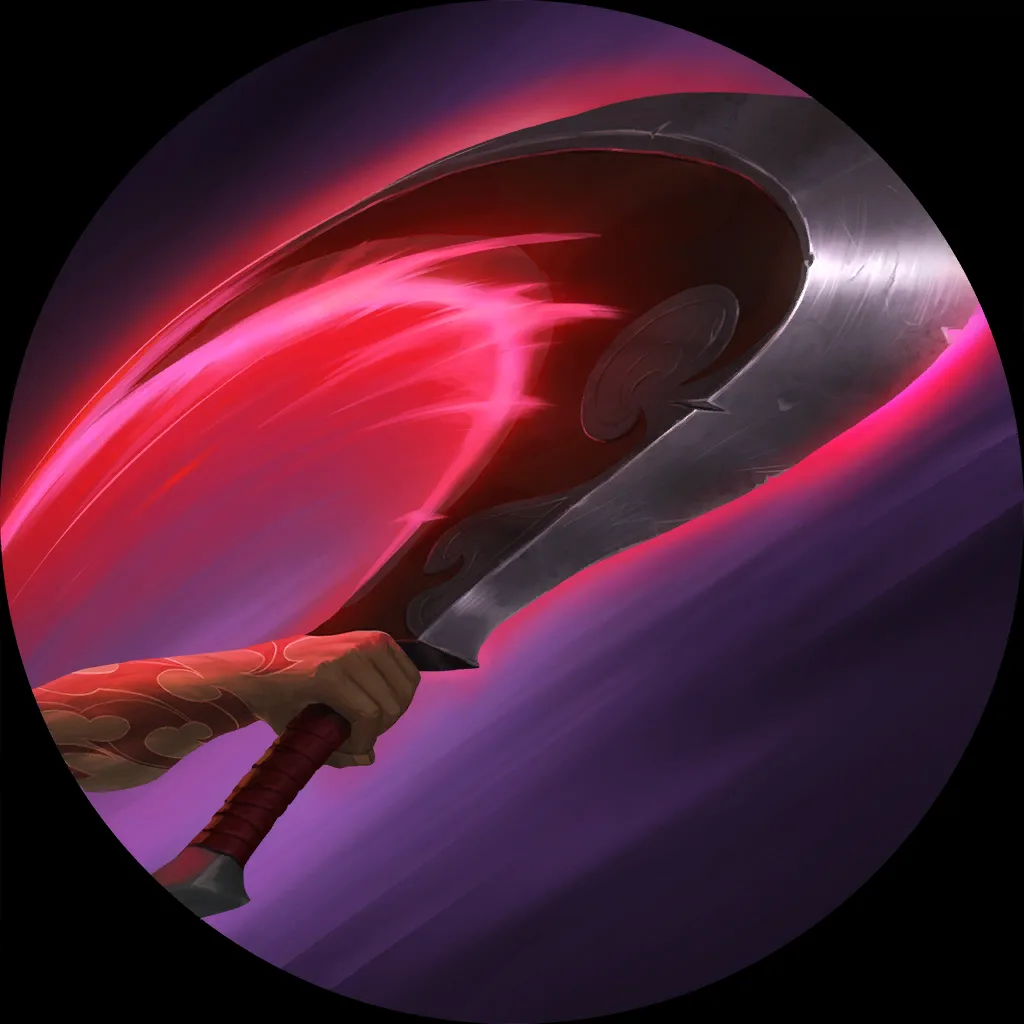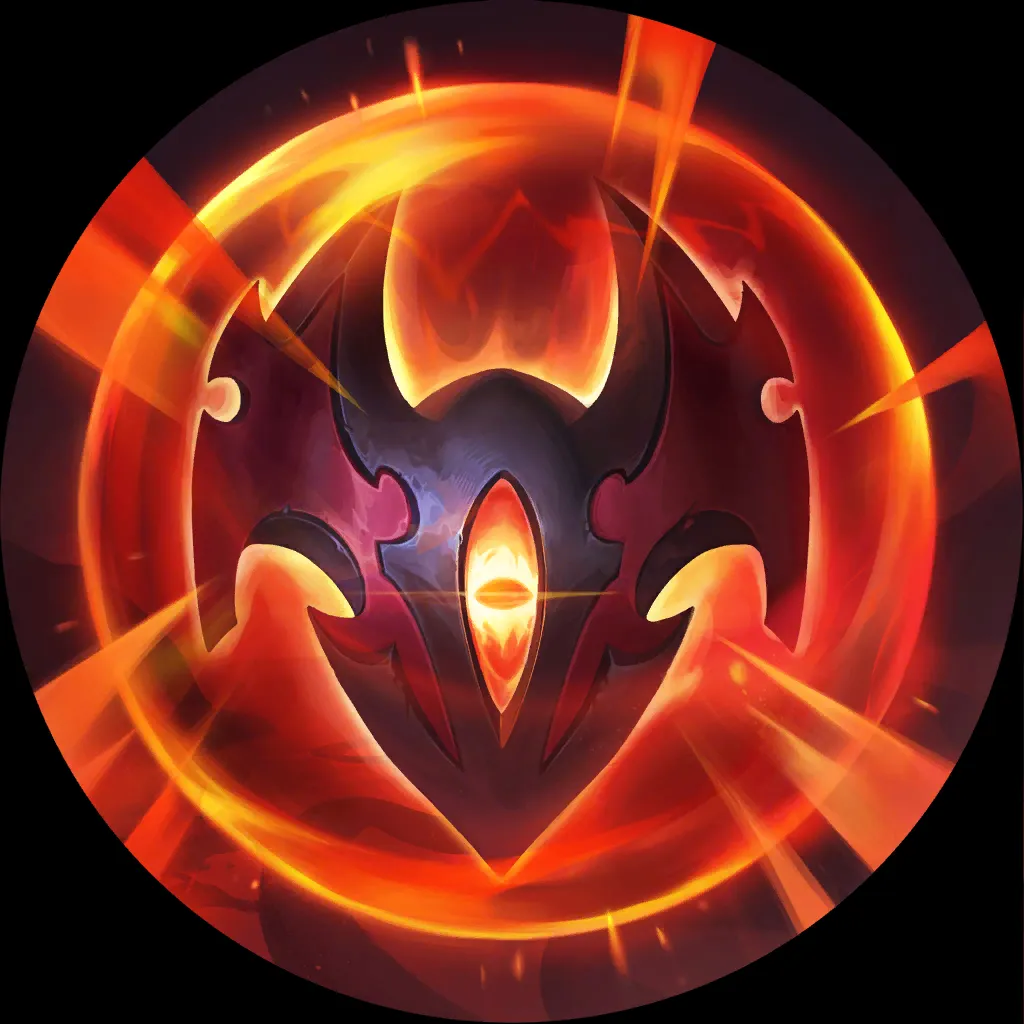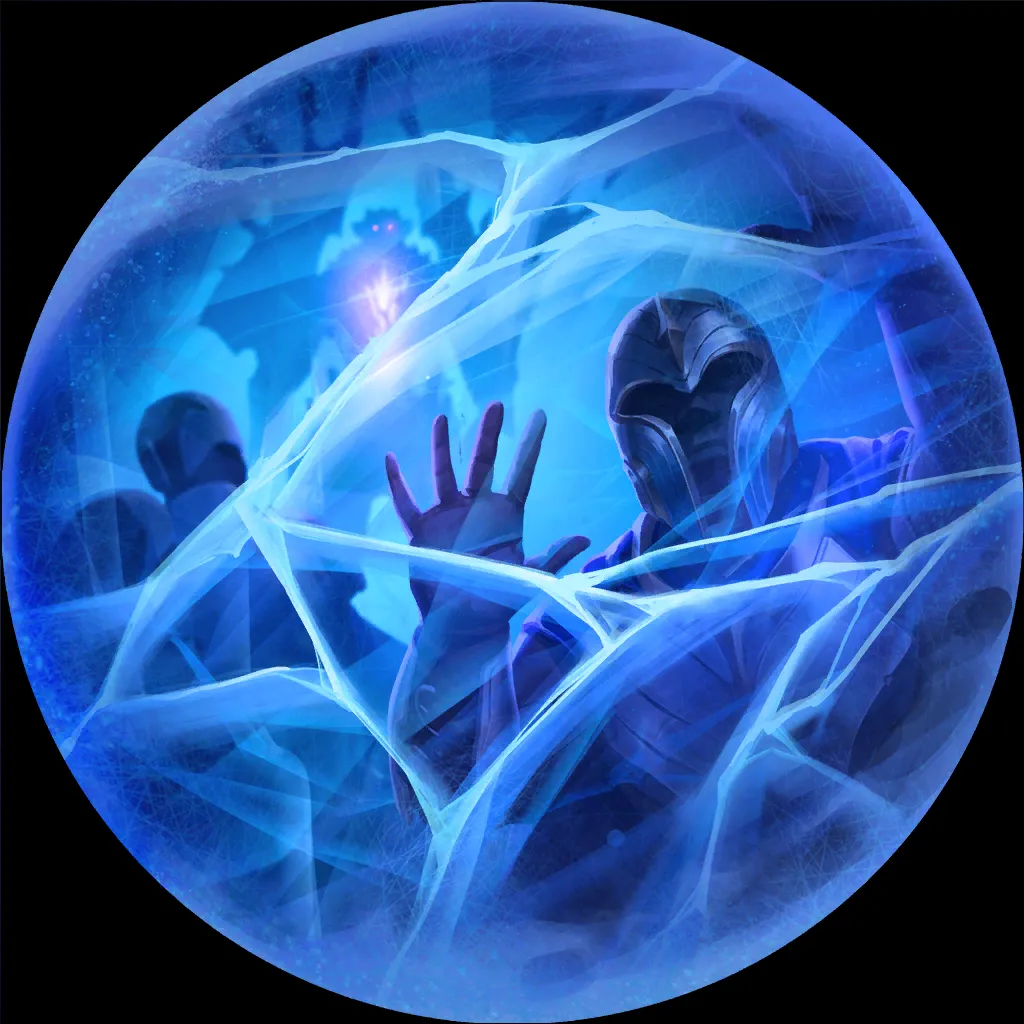 This is my preferred version of Cultist Aatrox
. The only cards I would consider adding to this list are one copy of The Darkin Fan
, a third Shadowblade Fanatic
, or one Heedless Resurrection
. After the Blooming Cultist
nerf, I think it is the inferior three-drop.
If you played any games on this patch, you know how absurd Aatrox
is: he draws himself, heals for two on play and strike, creates a win condition, creates recurring value, can revive himself, lets you swarm with Darkin units, and is a well-stated Regenerating unit that eventually becomes a 10/10 Overwhelm.
World Ender
is extremely powerful in this deck – even more than in Aatrox Vayne decks. Since we have slightly higher-quality units than Demacia Aatrox, as well as access to more cards, we tend to have even more threatening World Enders, or the ability to get more value from Aatrox's level-two discount.
Aatrox's Origin deck-building constraint is that you can only include Darkin in your deck. Which is fine, because Darkin weapons are some of the best cards in the game, and synergize insanely well with Aatrox
and World Ender
.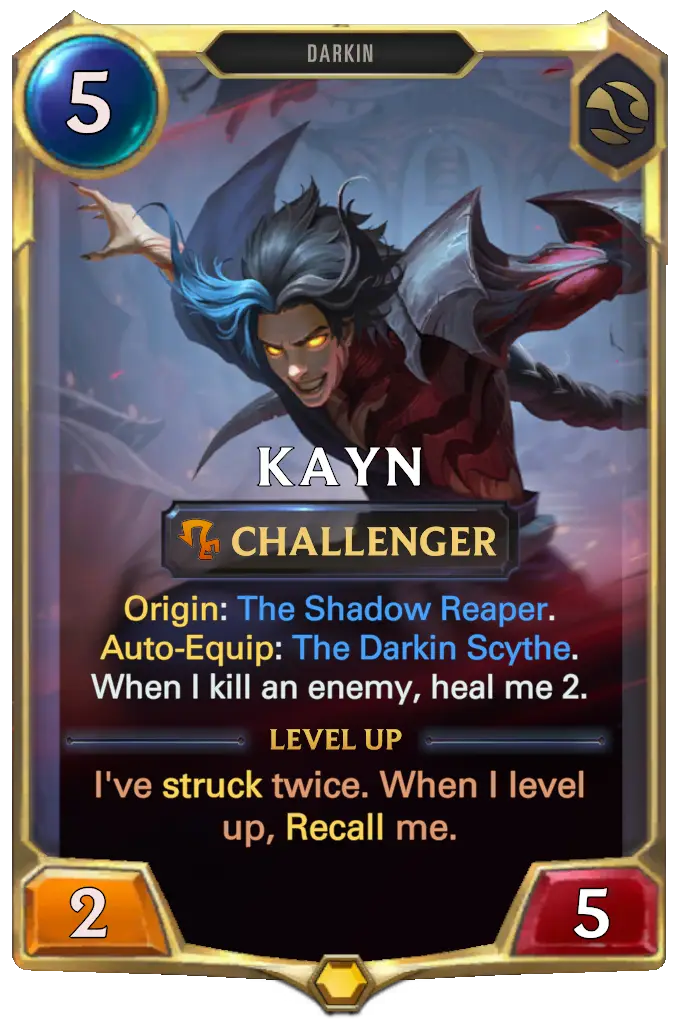 Kayn's Origin, The Shadow Reaper
, gives us access to Cultist cards as well as having Kayn draw himself if you summon three other Cultist units. Cultist followers and spells are very high-quality, board-based options. They also provide nearly every tool you could get from Demacia (with the exception of Challenger and Rally) as well as a few additional, extremely powerful effects that can't be found in Demacia, like Predict and Frostbite.
Kayn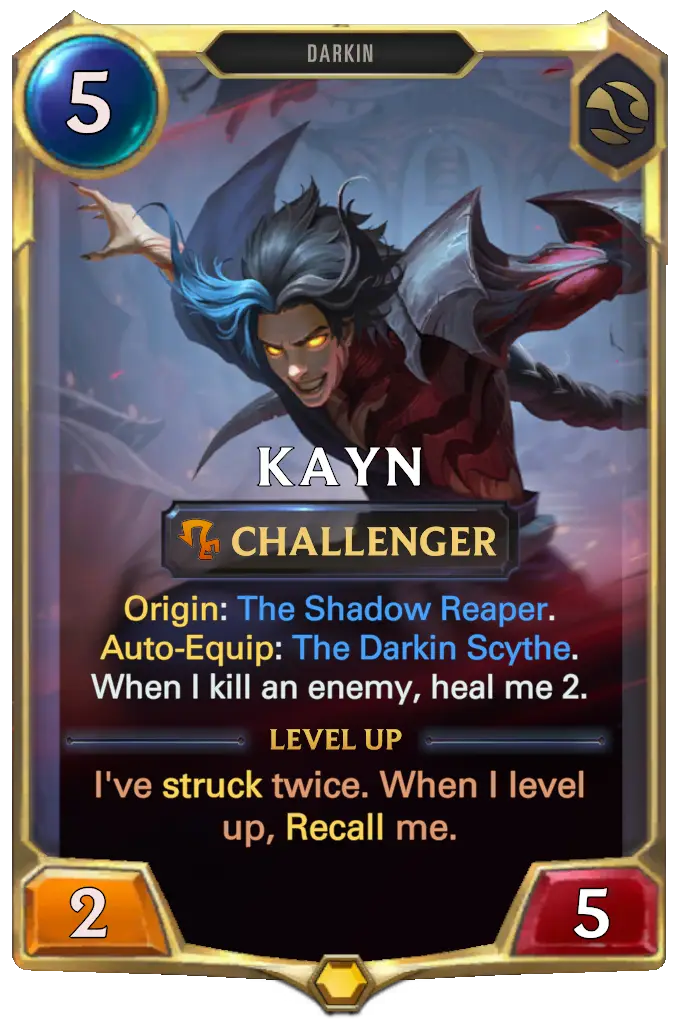 is a very interesting card in an Aatrox Kayn deck due to how versatile he is. Sometimes he is the main winner – Rhaast
, and even The Shadow Assassin on occasion, can be extremely difficult for some decks to deal with, and are often less of an investment to play towards compared to World Ender
. And sometimes he is just a guy with Challenger: it's important to think about whether you want to spend rounds five, six, and seven setting up a Kayn flip, or an Aatrox flip.
It's also important to note that Kayn is a Darkin that has Darkin Equipment. This means that, when you cast World Ender
, if there's one of your units (including Kayn) on the board with Kayn's weapon on it, said unit will transform into Rhaast. It also means that Kayn will count as a Darkin towards drawing Aatrox
.
In board-based matchups, the Harp is your premium Equipment. These decks are tight on interaction outside of combat – most of our units will be essentially unkillable when attacking with a Harp in this meta, unless the opponent invests additional, costly resources. This is especially punishing when combined with Keeper of the Box
or Ranger-Knight Defector
.
One Styraatu
attack in the late game will do a lot to refuel your hand, and the mana discount can lead to huge blowouts too.
Aegis is our premium Equipment against any removal-heavy deck. The Tough keyword is extremely difficult for them to deal with, allowing our units to apply pressure and discount World Ender
.
Joraal
is also free when Aatrox (level 2)
is in play. That's kinda good!
The Spear is good in that it increases our units' survivability; however, it isn't as effective as The Darkin Aegis
, so it is a one-of in our deck. The upside with Scout is very powerful, and the card is necessary to help us reach the equipment density Aatrox
wants to play with.
Anaakca
herself is quite powerful too. She can be a bit high-rolly, but even when hitting a one-drop her value isn't bad.
Bloodletters are the only Equipment that doesn't increase our units' survivability, but it's a cheap weapon and creates more units, so it is still worth including to help Aatrox
reach the equipment density he wants.
Xolaani
is a great tool for actually ending the game. And the Darkinthrall
s are quite useful for pressuring while you keep discounting World Ender
. They also synergize very well with Aatrox's Assimilate when he levels up.
Also note that the Darkinthralls are Cultist units – they will help us draw Kayn!
Predict is a very powerful mechanic. Predict cards are usually weak because the other text on the card is not on rate for the mana, but that is definitely not the case for Forsaken Baccai
: a 2/1 that can become a 3/2 for one mana is very powerful. And Predict is invaluable for smoothing up our curves.
One-drop density is important for our Aatrox Kayn deck: we need units to equip. A one-mana 2/2 with upside of chip damage is solid.
Keeper of the Box
has a mediocre statline at 2/2, but two very powerful Keywords in Fearsome and Lifesteal. This makes it a great inclusion in our deck. Synergizes quite well with Equipment, and the stabilization from the Lifesteal can be crucial.
I think Shadowblade Fanatic
is better than Caitlyn
!
A 3/3 Quick Attack for three mana is a champion statline. This guy also makes a Shadow Fiend
if you have already Equipped a unit this game, and these Fiends are very powerful units in order to present powerful attacks or punish opposing developments.
This card is very good. A 4/3 with Tough and Scout (if you Equipped a unit in this game) is absurdly powerful for four mana. It will tax multiple cards, key removal, and can even get World Ender
progress in the process. The fact you can play Ranger-Knight Defector
, equip it, and hold up Momentous Choice
as protection while attacking on round four is borderline unfair.
When Momentous Choice
is activated, it is one of the best combat tricks in the game. Due to the equipment density our Aatrox Kayn deck has, this spell is almost always activated by the time you need it. Additionally, Momentous Choice is a crucial card to keep your key threats alive against enemy interaction.
Expanse is a similar card to Momentous Choice. SpellShield, however, is a much more niche effect than generic stat buffs, and Expanse is also slightly more expensive – that's why it's a two-of.
Strike spells are good in board-based decks like Aatrox Kayn – and a one-sided strike spell is extremely powerful and can lead to huge blowouts.
After the hotfix nerf, The Unforgiving Cold
became much clunkier of a card. However, this is a very powerful effect for this type of deck, and will bail you out of a lot of different spots. I think at least one copy is correct, but I prefer two.
---
Aatrox Kayn – General Gameplan
Aatrox
Kayn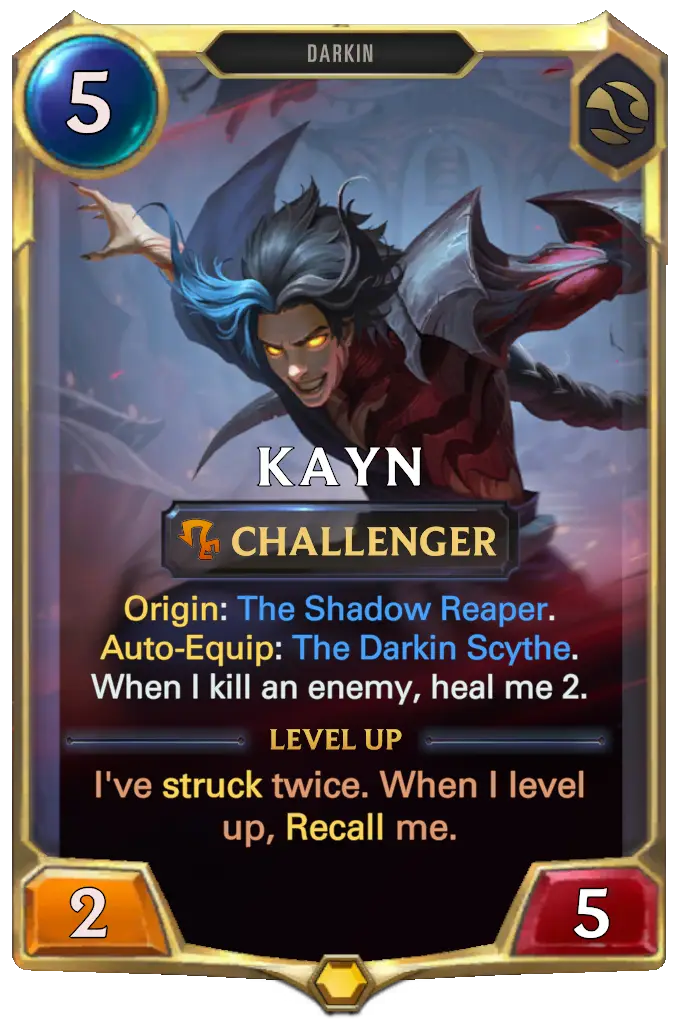 wants to win the game by creating incremental board leads through well-stated units with powerful Darkin Equipment, and Combat tricks as backup. Converting this lead into a win is usually done through the likes of Aatrox
and World Ender
; however, sometimes we can do so through our powerful followers and a Rhaast
.
When trying to decide my gameplan as Cultist Aatrox there are two questions I ask myself.
Who is the beatdown?
Is this a Kayn or an Aatrox matchup?
Generally, by answering the first question, we are able to easily determine which champion we want to play towards. In most games where we are the aggressor, or when both decks are operating at a similar pace, we want to play for Aatrox. And when we are the reactive player we usually want to play for Kayn, as Rhaast is very effective at shutting down aggressive strategies.
However, this won't always be the case. Obviously, some hand- and game-states won't allow you to play for Kayn as the defender even when you want to, but there will also be matchups where you are the defender and it is correct to play for Aatrox instead of Kayn. A good example of this against Plunder decks: as Aatrox you win this matchup by leveling up Aatrox and having an unkillable 10/10 to outlast the Sejuani
Freezes. Even though the onus is on the opponent to end the game, we need Aatrox to be able to stabilize this game, not Kayn.
Sometimes it can be the opposite, as well. For example, against the Feel the Rush / Trundle Tryndamere deck it can be very important to use Kayn as a threat in order to tax their key interaction like Vengeance
or Buried in Ice
. If you can get the opponent to spend these spells on something other than Aatrox, you can threaten to cast Aatrox's World Ender to actually end the game.
So, now that we have an idea of what champion to play towards …
---
Who is the Beatdown?
The age-old question in card games: Who is the beatdown?
For Aatrox Kayn, the answer is generally defined along the lines of the opponent's ability to interact with World Ender
. If the opponent wants to surrender when you play World Ender, the opponent is most likely the beatdown. If the opponent is ready to play into your World Ender, then you are most likely the beatdown.
It's important to remember that the player who is the beatdown is almost always in a state of flux – even in some of the most well-defined matchups you can think of, like let's say Trundle Tryndamere against Draven Jinx. For most of the game, Discard Aggro is the beatdown: they need to end the game because there is no answer to a 10/10 Tryndamere
shot with a 10/10 Trundle
chaser. However, at a certain point, Trundle Tryndamere needs to win the game: they will have to become the proactive player who is spending their mana to try and achieve victory.
Midrange and board-based decks, like Aatrox, are decks that will be constantly role-changing due to how versatile their options can be. There are many different threats and pieces of interaction at your disposal, allowing pilots the option to play at many different speeds depending on what's most effective for the matchup or game-state. This is especially apparent when facing other Aatrox decks.
---
Being the Defender
In most matchups you will be the reactive player, like when facing Jinx
, Gwen Katarina, and Lurk. Aatrox
and World Ender
provide huge late-game power, which most decks just can't contend with, and the healing that Rhaast
and Aatrox provide makes it even more difficult for aggressive decks to try and grind with Aatrox. Even when the World Ender is slow, Aatrox can still heal lots.
As the defender, your standard game plan is to make sure you take good trades and stay healthy until you get one of your healing engines online – namely, Rhaast
or Aatrox
– and then focus on maintaining parity with the opponent; it will be extremely difficult for them to win past that point. And if that isn't enough to secure victory, you will eventually play World Ender and then the game will end.
Kayn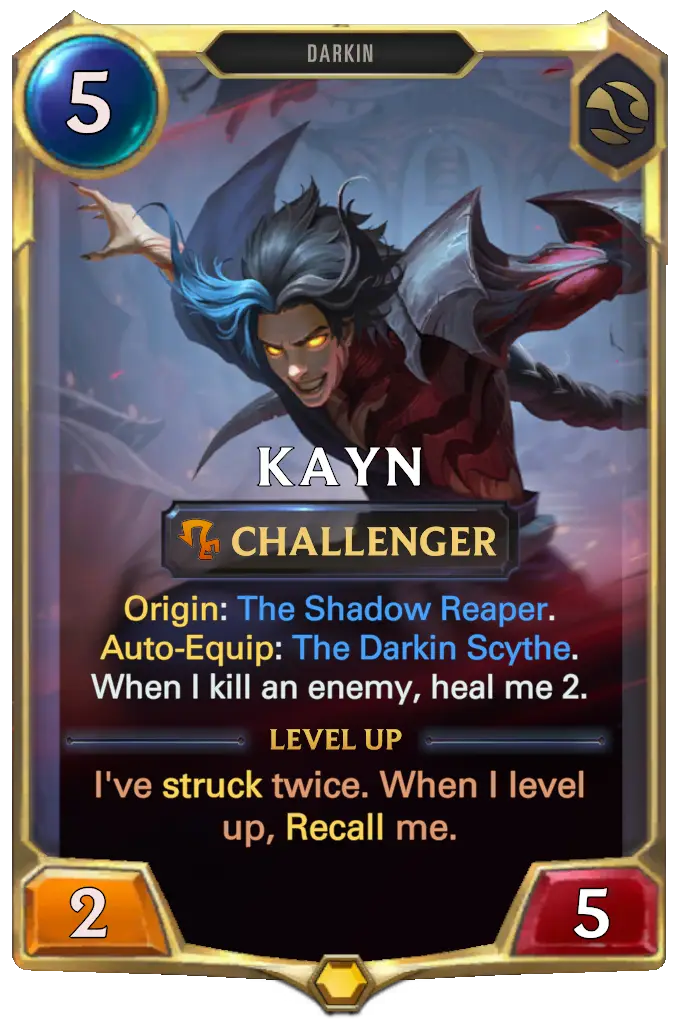 is usually better than Aatrox in this matchup, as he will remove multiple units while becoming Rhaast and thus help you maintain parity and interact with key threats. Against aggressive decks, it's not uncommon for Aatrox to come down and heal for four, but remove no units. When playing for Rhaast, Kayn can be a development punishment in round five, as he will get a good trade and level-up progress. You can then use round six to get two Kayn strikes through Kayn's Shadowstep
and the attack token.
It's important to remember that winning the game is a good way to defend yourself. If you have the opportunity to play towards World Ender or have a good opportunity to play Aatrox as the defender, you should probably take it. Kayn is just generally a very safe way to stabilize the game.
---
Being the Aggressor
There are a handful of matchups where you are the aggressor. This is mainly against decks like Trundle Tryndamere, and Seraphine Bar decks.
As the aggressor it is your duty to apply as much pressure as possible to either end the game or disrupt the opposing game plan. You want to try to use your followers and Kayn to pressure the opponents key interaction and mana while progressing your World Ender.
Ideally, this will either result in your opponent dying to the efficient pressure of your Cultist swarm, or them having to spend key interaction and lots of mana to survive, delaying their game plan and allowing an opening for Aatrox and World Ender to win the game.
The Darkin Bloodletters
, The Darkin Aegis
, Ranger-Knight Defector
, and Shadowblade Fanatic
are the best cards in these matchups. The one-drops are also very good here. These cards are often difficult to remove for their mana cost, and will allow you to start attacking and progressing your World Ender
while forcing resources and advancing the win condition you plan to pivot to.
---
Tips, Tricks, and Other Intricacies
Count Your World Ender Discount
It's not difficult – every time a Darkin or Equipped unit strikes, the cost reduces by one. You just have to remember to do it. Always knowing how much your World Ender
costs is crucial for planning your rounds and properly executing a World Ender game plan.
---
Double Champs Good?
Oftentimes predicting into, or even keeping a Champion in hand is very strong even though we are guaranteed to draw another. This is due to the fact that our Champions' spells are strike spells – these strikes are not only interaction, but can also give us access to healing, which can be extremely important.
---
Understanding Assimilate
Assimilate Transforms all followers with Darkin Equipment into the equipment's Darkin form, with a copy of the equipment still on it. Since this is a Transform effect, it means that buffs and keywords that have been granted to units will stay on the units.
For example, when a Ranger-Knight Defector
Assimilates, it will become a Darkin with Scout (because Scout is granted, not innate). Or when a Darkinthrall
Assimilates, it will become a real Darkin with a +2/+2 buff but will lose Can't Block, as the +2/+2 was granted and the Can't Block is innate.
Assimilate will also instantly turn a level-one Kayn into Rhaast
(Kayn's Darkin form), or any other unit with The Darkin Scythe
will Transform into Rhaast.
---
Managing Kayn's Recall
When Kayn levels up naturally, he will recall himself so you can decide if you want to play him as Rhaast
or The Shadow Assassin
. Depending on the board state this can be very powerful… or very problematic.
Using Kayn as a ghost blocker to essentially deal with two units in combat (by blocking one, while striking another via a spell and returning to hand when leveled up) is very powerful. Likewise, using Furious Wielder
to level Kayn and dodge key interaction pieces like Hexbliterator
or Buried in Ice
can also be extremely powerful.
However, sometimes the recall is problematic. If Kayn is about to level up and you want to use Kayn's Shadowstep
to remove a unit, it's often going to be problematic that Kayn removes himself from the board, not allowing you to maintain parity with the opponent's developments.
---
Don't just slam Rhaast
People play Rhaast too much. Especially in an Aatrox Kayn deck, Rhaast is often much better than the Shadow Assassin – yet 'often' is not the same as 'always': as an Elusive blocker, The Shadow Assassin
can be extremely relevant. Additionally, the Shadow Assassin applies a much faster clocker if your goal is just to kill the opponent as quickly as possible.
---
Consider the Action Economy
The action economy can be extremely important for our Aatrox deck. This can go both ways in terms of restricting possible actions from the opponent, as well as giving them more actions.
Since Equipment is unit-speed and uses spell mana, you have a lot of liberty to decide when you want to use the action to equip – always consider the best timing. Actions also often matter in the World Ender
round as well.
---
Aatrox Kayn – General Mulligan Advice
In most Aatrox Kayn games I am looking for the relevant Equipment and early units that are efficient against the deck I'm facing, with units having a higher priority. I want my hand to facilitate strong early plays that are relevant to the matchup, in order to establish board control and start discounting the World Ender
.
By nature of prioritizing units, we will naturally draw into Kayn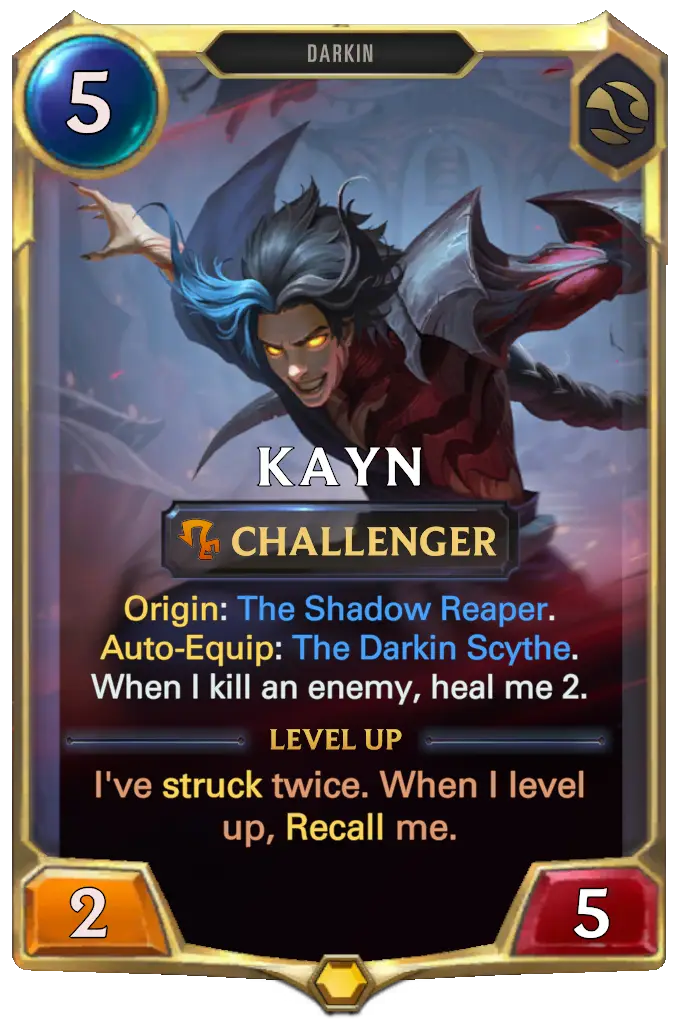 – and, remember, he is a Darkin, therefore counts for drawing Aatrox, so between Kayn and one other Equipment, we should also be able to easily draw Aatrox
.
In almost every matchup I want a one-drop: generally Forsaken Baccai
is better due to Predict, but a Buhru Cultist
will often do. I want a unit to ensure that I can get on board early, as well as guarantee that I have something to equip early on if I want to play towards Aatrox.
Keeper of the Box
and additional one-drops are good against aggressive decks where the healing and trading matters. Against slower decks and board-based decks, high-quality units such as Shadowblade Fanatic
and Ranger-Knight Defector
are very powerful as they are difficult to remove efficiently through blocking or spells.
Against removal-heavy decks, The Darkin Bloodletters
and The Darkin Aegis
are the best Equipment. Bloodletters leave behind an additional unit, which is very taxing on removal-focused decks, while the Tough keyword from Aegis is also very difficult for these decks to handle.
Against board-based decks The Darkin Harp
, The Darkin Aegis, and The Darkin Spear
are the best Equipment. Harp is nearly impossible to block, and the extra survivability from the other Equipment is very useful in combat. Against aggressive decks we just want a Spear or Aegis to increase our units survivability and guarantee we draw an Aatrox.
If our hand already has the necessary units and Equipment for the matchup, I will often consider keeping a Champion or a spell. Having a second Champ is useful if the first is removed, or for access to the spell – additionally, the protection and interaction spells can be extremely powerful and often game-winning if played in the correct spot.
---
Aatrox Kayn – Specific Matchup Advice
Key Cards: Momentous Choice
, Baccai Reaper
, Shadowblade Fanatic
, Ranger-Knight Defector
, Aatrox
, The Darkin Harp
, The Darkin Aegis
, Furious Wielder
and The Expanse's Protection
.
This matchup is fundamentally about who has the better World Ender. If the game is stable until World Ender
, and both players cast World Ender at the same time, we are usually ahead.
The issue is that Aatrox Vayne has a couple of tools that are extremely tempo-efficient for getting ahead on board and World Ender progress. This is primarily through the combo of Blinding Assault
and Harp or Fish Fight
. All of your spells can be effective ways of countering this interaction, though, if timed well.
Sometimes the game will accelerate a lot if one player can't answer a Ranger-Knight with a Harp, as it will eat the opposing board or deal twelve damage on round four or five.
Further reading: For the other side of this matchup, check World Ending Birds with Weapons – An Aatrox Vayne Quinn Deck Guide.
---
World-Ending Mirrors (Even)
Key Cards: Momentous Choice
, Baccai Reaper
, Shadowblade Fanatic
, Ranger-Knight Defector
, Aatrox
, The Darkin Harp
, The Darkin Aegis
, The Unforgiving Cold
and Furious Wielder
This matchup is fundamentally about who has the better World Ender
. If you are going to have the better World Ender you can chill out and take the game at your own pace. If you are behind, you need to end the game quickly, or find a way to make your World Ender better.
Much like in the Demacia matchup, spells can be extremely useful tools to get ahead on board/World Ender progress.
---
Key Cards: Baccai Reaper
, Buhru Cultist
, Keeper of the Box
, Aatrox
, The Darkin Aegis
, and Kayn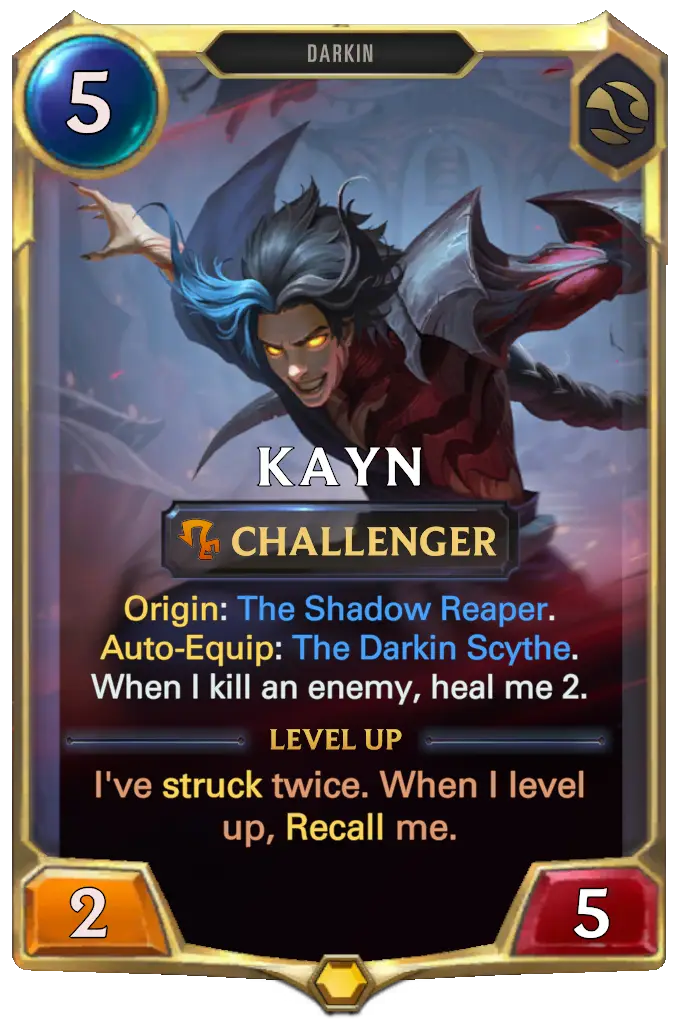 This matchup is all about outlasting their aggression and then eventually ending the game. You want to make sure you have early units to block, and that you can eventually play Champions on curve to heal a lot as it is very taxing for Draven Jinx to effectively deal with your Champions.
The opponent has to win through going wide and racing by dragging key units with Flame Chompers!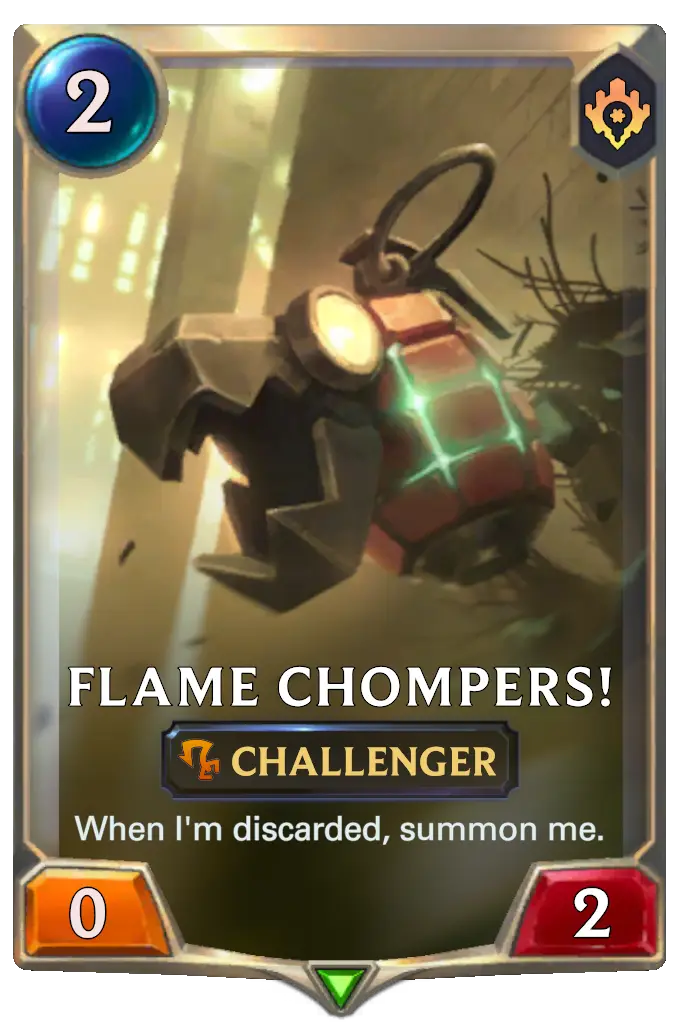 .
Further reading: for the other side of this matchup, check Return of the Queen – A Refresher on Draven Jinx Discard Aggro.
---
Key Cards: Baccai Reaper
, Buhru Cultist
, Keeper of the Box
, Aatrox
, The Darkin Aegis
, Kayn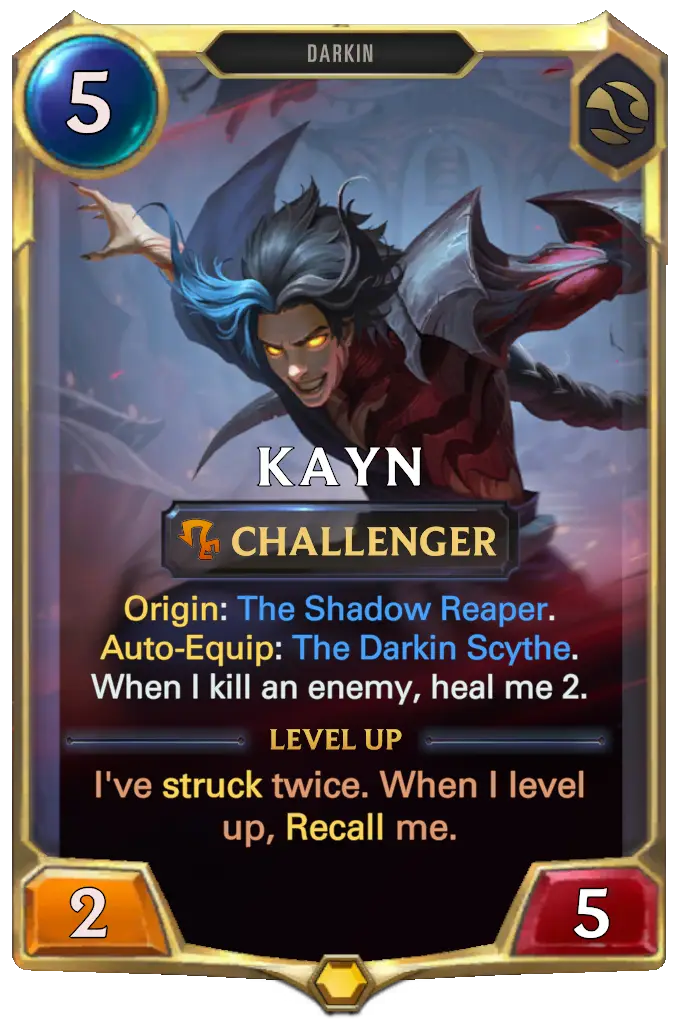 , Furious Wielder
, and The Unforgiving Cold
This matchup is about stabilizing against their early aggression, then quickly transitioning into a World Ender
to end the game before The Harrowing
. If there aren't many Fallen Reckoner
s or Risen Reckoner
s in the death pool, sometimes you can grind out The Harrowing
; however, you don't want to be in this spot and should try to close games as quickly and safely as possible.
Further reading: for the other side of this matchup, check Hallowed Attacks and Harrowing Combos – A Katarina Gwen Deck Guide.
---
Key Cards: Baccai Reaper
, Buhru Cultist
, Shadowblade Fanatic
, Ranger-Knight Defector
, Aatrox
, The Darkin Bloodletters
, and The Darkin Aegis
The Ezreal Seraphine matchup is about applying as much pressure as possible so the opponent isn't allowed to spend their resources on their own gameplan. Bandle Bar can often have a hard time playing control forever, especially if you keep equipping your well-statted units with Bloodletters or Aegis: eventually, they will need to transition to a combo game plan.
You want to punish them for trying to make this transition. Or just run them up of cards for trying to play a purely control game plan against you.
Further reading: for the other side of this matchup, check Setting the Bar – A Bandle City Ezreal Seraphine Deck Guide.
---
Key Cards: Baccai Reaper
, Buhru Cultist
, Keeper of the Box
, Aatrox
, The Darkin Aegis
, and Kayn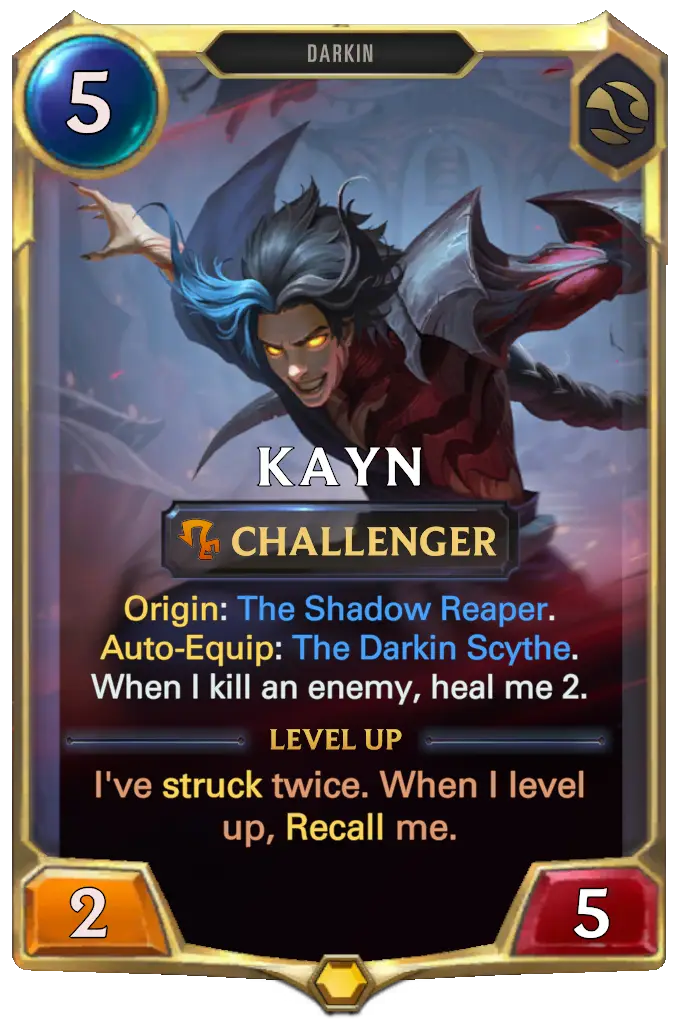 Lulu Jinx is fairly similar to the Draven Jinx matchup. You need to weather their early aggression and get to a point where you can use your Champions to stabilize. They win through swarming you and using Flame Chompers!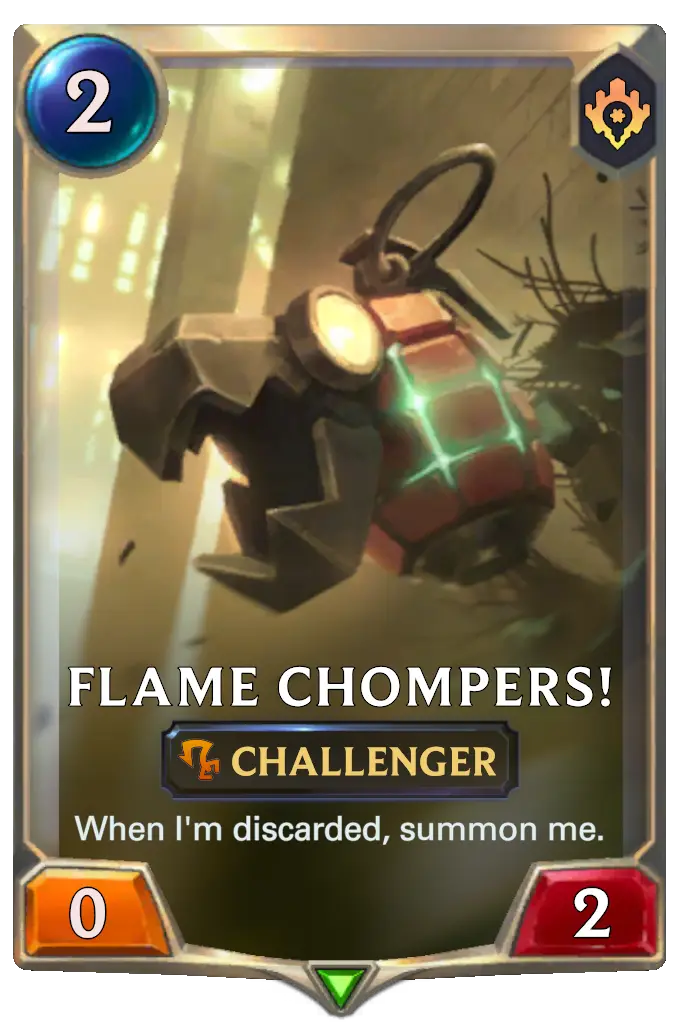 on key units.
Further reading: for the other side of this matchup, check Lulu and Rockets – A Jinx Lulu Deck Guide.
---
Key Cards: Baccai Reaper
, Buhru Cultist
, Shadowblade Fanatic
, Ranger-Knight Defector
, Aatrox
, The Darkin Bloodletters
, The Darkin Aegis
, The Expanse's Protection
and The Unforgiving Cold
.
This matchup can be difficult because Trundle Tryndamere ramps very quickly and then plays big units that are hard for us to match without Aatrox and World Ender
. Then, if you ever play World Ender, they will respond with Buried in Ice
and then end the game.
To win this matchup, you need to apply enough pressure so they either die, or are forced to use a Buried in Ice on a non-Aatrox board. If you do this, you can use Aatrox to contest their late game. Additionally, The Expanse's Protection on Aatrox can sometimes be an acceptable answer to Buried in Ice if you have a strong enough hand to refill your board after the Buried in Ice
plus It That Stares
combo and still win the  game.
Further reading: for the other side of this matchup, check Fear Their Return: A Tryndamere Trundle Deck Guide.
---
Closing Thoughts
I hope you found this deck guide useful!
I think Aatrox
Kayn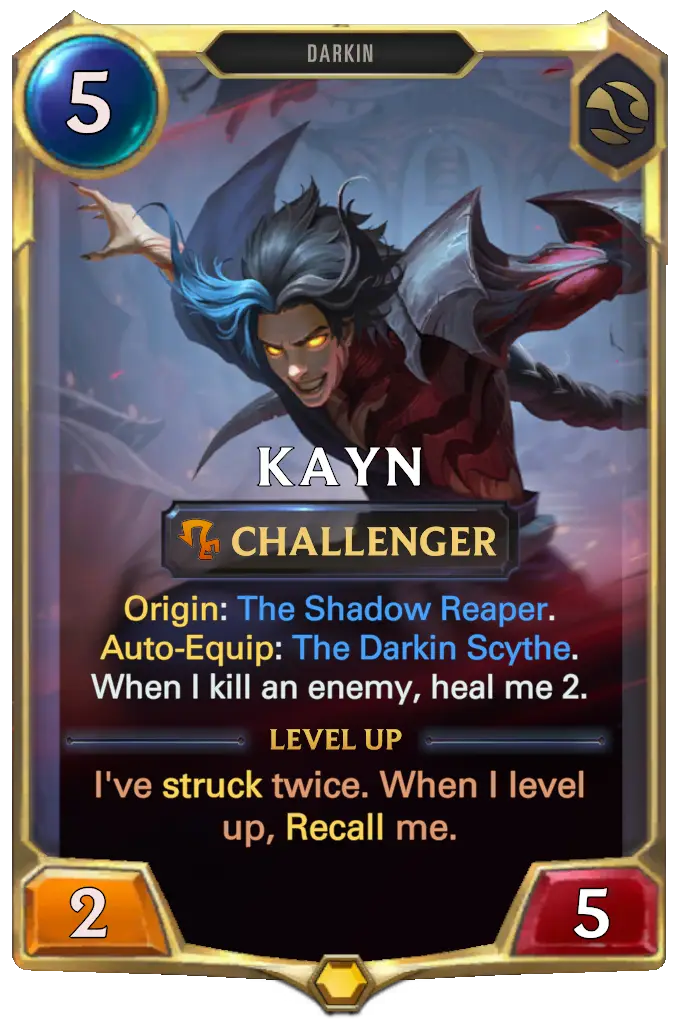 is one of the best LoR decks, being overshadowed by just how insanely dominant Aatrox Vayne decks are. Cultist Aatrox, however, does have the advantage of being extremely consistent and having a bit better matchups into decks aiming to counter Aatrox Demacia, making Aatrox Kayn a solid choice in the current LoR meta.
If you like board-based decks, are tired of bricking with Aatrox Demacia but still want easy LP, or just want to reject Regions and embrace the Darkin side, I think Cultist Aatrox is a great deck to add to your arsenal.
If you have any questions or suggestions, feel free to reach out over Twitter or Discord (Card Gamer #6777).
---
---