Best Legends of Runeterra Decks – Lulu on the Loose
As of early Friday, these are the best Legends of Runeterra decks and archetypes, according to Balco and Mastering Runeterra's Meta Tier List:
Jinx Lulu keeps its upwards trend, and while Katarina Gwen, Kayn Vayne and Teemo Zoe are cementing themselves as the strongest decks when you factor both win and play rate, Jinx Lulu looks like it may flip the meta on its head.
It's been a good week for Jinx overall, by the way, with Draven Jinx making a bit of a return, and Ekko Jinx till going strong.
One thing to note, though, is the sharp decrease in the amount of games tracked (which may be due to the popularity of the Timewinder/Foundations Gauntlets) – seven days ago, Balco's sample size was around 87,200 games, while now it's about 65,100, that's to say roughly a 25% decrease. This in turn means, for the decks we'll showcase today, that decks which show a similar amount of games played compared with last week have actually increased in play rate (that's to say: if a deck shows 600 games played today, and had 600 games last week, then it has actually increased its % in the meta).
---
Technical note – About overall archetypes and specific decklists, and what we mean by "best LoR decks"
Balco's chart above (like most data sites, including MaRu's Meta Tier List) and articles like Leer's Monday Meta Report sort Legends of Runeterra meta decks by archetype ("archetype" being the aggregate of decks with a specific champion combination) – that's also how matchup tables are shown in pretty much all data sites.
In this article, we'll sort these Legends of Runeterra decks by the best specific decklist for each archetype – since in each archetype some decks fare better than others (and sometimes the difference is quite noticeable), we'll broadly group the best LoR decks in four arbitrary categories, by amount of games played in the last three days in the data samples we check:
Juggernauts: LoR decks with more than 2100 games – these are the best tried-and-true, top meta decks in Legends of Runeterra.
Heavyweights: LoR decks with between 2100 and 900 games played – other excellent choices, with large enough samples to confidently say, "Yeah, this works."
Punching Up: LoR decks with between 900 and 400 games played – we're entering the Land of Small Sample Sizes here, on top of the meta being up in the air, but as far as numbers go, these decks can put up one hell of a fight.
YMMV: decks with less than 400 games in the last three days – risky stuff, but here's where you usually find the spice!
For this article, in all cases we'll look at decks in Platinum and above, and in the last three days, unless stated otherwise – and when talking about LoR decks in general, or best Legends of Runeterra decks in particular, we'll always be referring to specific lists (while reserving "archetype" to denominate the aggregate of all decks with a particular champion pair). As a rule of thumb, decks with a winrate (WR) above 52% catch our eye, above 53% are eye-widening, and anything with a WR over 55% is exceptional.
On the other hand, do notice that when talking about matchup tables, it's always about archetypes – in other words, we'll recommend which are the best Legend of Runeterra decks (ie. specific decklist) you can choose to face the most popular archetypes (since you'll find all versions in the LoR ladder).
Last but not least: all stats and recommendations above are for choosing the best LoR deck for the Legends of Runeterra Ladder environment – the Best-of-Three format (found in Tournaments and Gauntlets) is a very different kettle of fish!
Sources: Balco, Legna, Mastering Runeterra Meta Tier List.
If you have any feedback on how these decks could be showcased differently, do let me know! =)
---
Juggernauts – Best Legends of Runeterra Meta Decks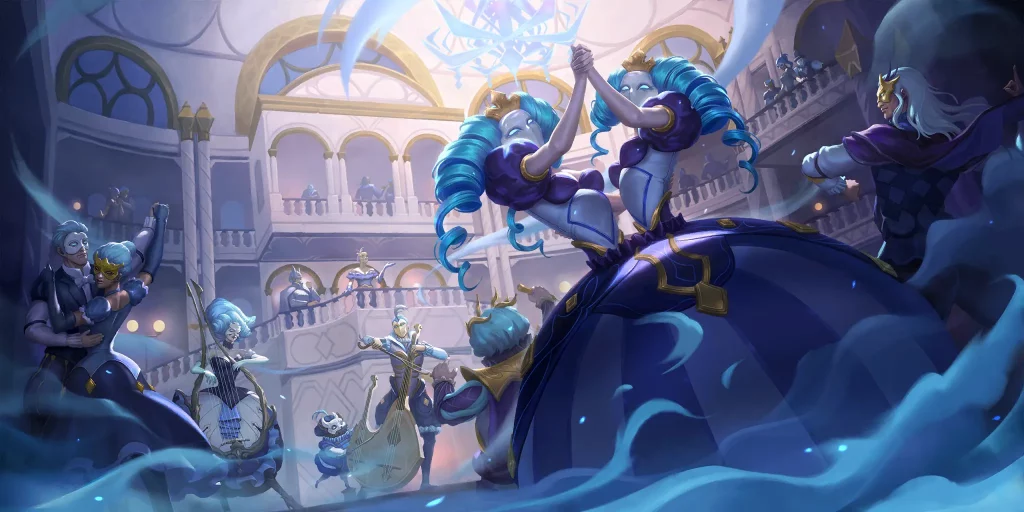 Here we showcase LoR decks with more than 2100 games and good-to-great WR – by current numbers, these are the best meta decks in Legends of Runeterra.
Given the decrease of games played this week, and the diversity of the meta, we will find a single deck in this category today.
---
Alright, we don't usually slap a "best deck for sure" label, but when a specific deck has the highest WR and play rate, by ample margin, compared to everything else with a big enough sample size, then:
Red Gwen gained massive traction last week on ladder, an cleanly cleanly translated such traction to Runeterra's Regional Worlds Qualifiers last weekend, in which Kat Gwen dominated the Top 16. Today, the best Katarina Gwen deck punches above 57% in the LoR ladder, and in spite of the general decrease in the amount of games tracked, it grew from 2100 games last Tuesday to a whopping 2900 games today.
And its matchup spread is amazing: except for a bit of a problem with Jinx brews (with either Draven, Ekko or Lulu), and Gangplank Sejuani, Red Gwen is even or favored against all popular decks. If you're looking to climb with the best tool for the job, then this is it!
Further reading: Scissorsbox's Hallowed Attacks and Harrowing Combos – A Katarina Gwen Deck Guide.
---
Heavyweights – Strong LoR Meta Decks
These LoR decks have between 900 and 2100 games played in the last three days – solid picks for climbing the Runeterra ladder.
While some decks (Kayn Vayne) have improved its play rate (in turn highlighting how good they are, as we are about to see in detail), the overall decrease in games tracked has pushed many decks out of the Heavyweight category, and we'll only showcase two such decks today.
---
Kayn Vayne keeps gaining traction, and (just like Red Gwen) Kayn Vayne's best deck managed to increase its play rate (in spite of the roughly 25% decrease in overall games tracked), punching above 56% in more than 1700 games. No card changed since last Tuesday, either, so although Kayn Vayne jumped from out of nowhere, the deck seems fairly solved.
Slightly the underdog to Kat Gwen and Teemo Zoe, and the clear underdog against the waning Annie TF, Kayn Vayne has improved its odds against Jhinnie (now it's a roughly even matchup), while having the upper hand against Taliyah Ziggs, Gangplank Sejuani, and several Shadow Isles decks (like Feel the Rush, Viktor Seraphine, and Veigar Norra).
Further reading: PakiInPyjamas Kayn and Vayne Bring the Pain – A LoR Deck Guide.
---
Everybody's favorite (or most hated) one-mana Champs have kept their play rate (they've dropped from 2,200 to around 1,600 games played, which is exactly a 25% decrease and therefore matching the overall trend), while actually increasing their WR, which is now close to 57%. In other words: when compared to last Tuesday, Zoe and Teemo have dropped from Juggernauts to Heavyweights only because the overall sample size it's smaller – they are as much of a powerhouse as they were a week ago.
Unlike Red Gwen, though, and as noted in Leer's Monday Meta Report yesterday and our previous articles, Teemo Zoe is a bit of a "bully" deck in the sense that, when looking at matchups against other popular decks, Teemo Zoe is not too impressive (it beats Taliyah Ziggs and Kayn Vayne, but loses to Annie TF, Jhinnie, Feel the Rush and Kat Gwen) – it's mostly against unrefined or weaker brews where our pesky, Elusive champs get most of their edge, brutally murdering anything that is not top-tier (for example, they have a stupid 87% WR against Sun Disc).
Having said that, and unless you're running into a lot of the strongest decks in your pocket meta, Teemo Zoe is one of the best tools for the climbing job!
Further reading: Leer's Trickster Never Loses – A Teemo Zoe Elusives LoR Deck Guide.
---
Other Considerations
Annie TF has cooled off, and from being one of this patch's heavy-hitters it has become a modest, 50%-WR deck – still very popular, and definitely playable, but far from the best of the best. For tips and tricks, you may want to check Dr Chekhov's Annie TF Deck Guide.
Veigar Norra, although also very popular, struggles to reach the 48% WR mark, so we won't recommend it today.
---
Punching Up – Runeterra Decks Doing Great
Runeterra decks with between 400 and 900 games in the last three days – while some may be just a fluke, more often than not should end up being on the strong side of things.
---
⭐Rising Star: Lonesome Trundle Timelines
Concurrent Timelines
keeps gaining play rate, and proves it was no fluke last Tuesday: still at 53% today, across 650+ games.
Dies a lot versus Teemo Zoe, though.
---
Annie Jhinn has again returned to a comfortable 53% WR (down from an amazing 56% last Tuesday) and still at around 600 games (which, considering the overall decrease in games tracked, means it has improved its play rate).
Kat Gwen is bad news, and Tryndamere Trundle is very bad news – Teemo Zoe is a walk in the park, though, and Taliyah Ziggs is easy pickings.
Further reading: Yangzera's Annie goes to Stack School – A Jhin Annie Aggro Guide.
---
Gangplank Sejuani keeps pushing upwards – one of the few decks with more games played today (over 600, up from 500 last Tuesday) and with improved performance (over 56%, up from 55%), Plunder is looking like it could break a few things before the next Expansion arrives.
In particular, Gangplank Sejuani is one of the very few Kat Gwen counters, and is also very strong into Trundle Tryndamere, Taliyah Ziggs and Draven Jinx – it does get wrecked by Teemo Zoe and Kayn Vayne, though, so Plunder's momentum may hit a speedbump there.
Further reading: PakiInPyjamas Plunder, Now with Tentacles – A Gangplank Sejuani LoR Deck Guide.
---
⭐Rising Star – Viktor Aphelios, ft. Zoe
While its WR is nothing to write epic poems about (a good, yet not great, 52%), Viktor Aphelios is, like Plunder, another deck that swims against the current and gains in play rate (almost 600 games today, up from 400) while also improving in performance a bit (from 51% to 52%) – definitely looking like not-a-fluke.
Seems to be favored into Kat Gwen, underdog to Kayn Vayne, and even versus Teemo Zoe.
---
"Rock Solid" aptly describes the Landmark duo: same WR than last week (53%), level play rate compared to last Tuesday. It also did great at the Regional Worlds Qualifiers.
They have managed to even the odds against Red Gwen (it's a roughly even confrontation now), but remain clear underdogs to Teemo Zoe and Kayn Vayne.
Further Reading: Leer's Taliyah Ziggs Deck Guide.
---
Tryndamere Trundle, aka Feel The Rush
Tryndamere Trundle goes back to basics (the list showcased last Tuesday, although the most played today, is not doing too well) and maintains a solid 53% in about 500 games.
Red Gwen and Vayne Kayne are problematic, and Plunder has emerged as another thorn in its side, but on the other hand Feel The Rush
crushes Teemo Zoe, and has good to great odds against other popular options like Annie TF, Veigar Norra and Jhinnie.
---
🏀On the Rebound: Elise Norra
After a stellar opening in the first few days post-patch (when it clearly looked like one of the best Norra decks, and among the strongest decks in Runeterra overall), Elise Norra dropped last week below the 50%-WR mark – yet it seems to be on the rebound as of late, now punching at almost 53% in about 400 games.
---
Doubling its play rate from three days ago, everybody's favorite rocketeer and axe spinner put up a great 54% WR and show they are not out of the race just yet! And, with a few tweaks, this venerable archetype is also a good fit for the recently arrived Foundations Timewinder Gauntlets.
In particular, Draven Jinx seems like it can go toe-to-toe with Kat Gwen and Kayn Vayne, while outpacing Teemo Zoe – Feel the Rush, on the other hand… let's just say that you better don't run into Feel the Rush.
Further reading: Card Gamer's Return of the Queen – A Refresher on Draven Jinx Discard Aggro.
---
⭐Rising Star – Jinx Lulu
Another Jinx brew on the steady rise, the best Jinx Lulu deck shoots to a mind-boggling 58% WR across 400, and as seen on Balco's chart at the top of this article, it also sports the highest WR among meta archetypes (that's to say, archetypes with play rate above 1%).
Compared to last Tuesday, the best list has dropped one Byrd, The Bellringer
and one Purpleberry Shake
to add extra copies of Rummage
and Sneezy Biggledust!
.
Favored against both Red Gwen and Teemo Zoe, and appears to have turned the tables on Kayn Vayne (it's favored for Lulu Jinx now) – poor odds against Feel the Rush and Annie TF.
---
Not Recommended: Rumble Sion, Viktor Seraphine Shadows
After a great showing last Tuesday, Rumble Sion seems to have been a fluke (sadly; there's not such a thing as too many decks with Mecha-Yordles, of course).
Viktor Seraphine continues to show a sizable play rate, but can't get above 48% with its most popular deck.
Your Mileage May Vary – Fringe LoR Decks
Runeterra decks with less than 400 games played in the last few days – with the overall decrease in the amount of games tracked, today we find a lot of tried-and-true decks in this category, along with a few decks that, after being pushed to the sides last week, are on a strong rebound.
---
Ekko Jinx Shurima
Now clearly overshadowed by Draven and Lulu in the "Let's Help Jinx Chuck Rockets" department, Ekko Jinx is still a good option if predictions and Time Tricks are your jam – 53% WR in close to 400 games.
---
Quinn Vayne was the second most-played deck at Runterra's Regional Worlds Qualifiers, yet on the LoR ladder it's no longer a common sight – yet, as far as performance goes, it's still a great choice for climbing: punches above 55%, and it beats Feel the Rush and Taliyah Ziggs while being even against Kat Gwen, Teemo Zoe and Kayn Vayne.
Further reading: Scissorsbox's On Harps and Harpies – A Vayne Quinn LoR Deck Guide.
---
Privateers is another brew that has lost its "shiny new toy" shine and is dropping in popularity, even though it has been (for all of this patch) a great climbing tool: silly 58% WR now!
Further reading: for the other side of this matchup, check PakiInPyjamas' By Her Guns Shall Noxus Rise – A Miss Fortune Swain LoR Deck Guide.
---
Pantheon Varus remains a playable, if fringe, choice, sitting at 52% in about 300 games. Leer covers the deck in detail in his They Can Stall Their Fate, but Cannot Deny It — A Varus Pantheon LoR Deck Guide.
---
🏀On the Rebound: Leona Diana
The Twilight lovers dominated the ladder in the week before the latest balance patch, and were very strong in the early post-patch days – they then dropped well below the 50%-WR mark, but either shifts in the meta or die-hard pilots are giving them a hand in resurfacing, and they currently perform above 54% in about 250 games in the last three days.
---
Annie Gwen is another of the many old archetypes that resurfaced with this patch's buffs, only to later be pushed to the sides, and now clawing its way back.
Further reading: Nihilist's Ravenous Regrets — an Annie Gwen Deck Guide.
---
And for our last deck showcased today, yet another deck that illustrates an interesting trend today, of old decks that started out strong post-patch, then dwindled, and are now showing signs that they may yet again return – in Elise Gwen's case, with a crazy 60% WR across 200 games.
Further reading: Scissorsbox's Spider-Gwen: an Elise Gwen Deck Guide.
Note: Thanks to KhristianKid for catching a mistake here (deck code for Leona Diana rather than Elise Gwen)
---
Wrapping Up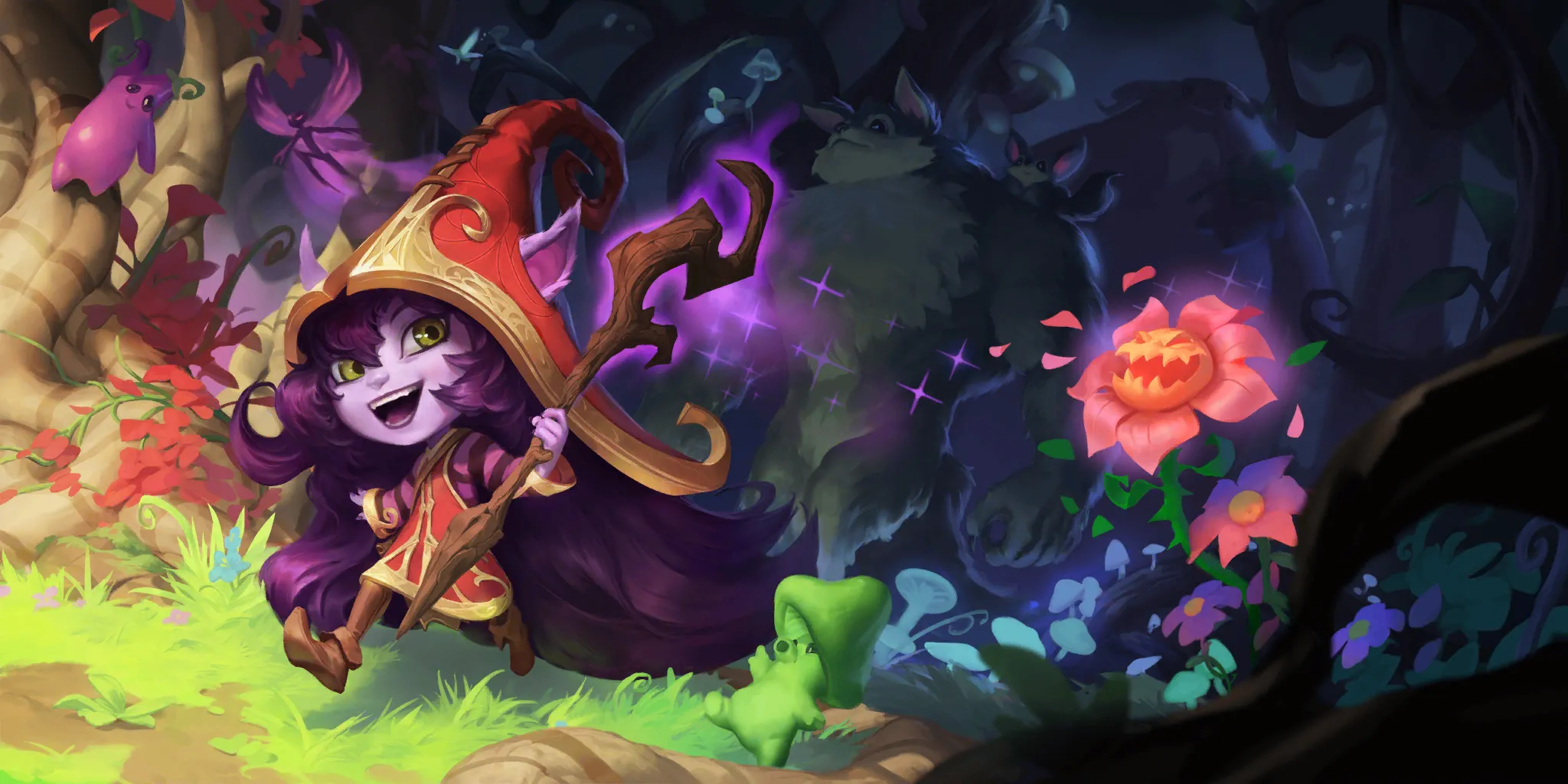 Katarina Gwen, Kayn Vayne and Teemo Zoe are cementing themselves as the strongest decks in the current patch cycle, with Red Gwen thus far looking like a cut above the rest given its amazing matchup spread – if you are looking for a speedy climb in what remains of this patch, those three are the safest bets right now, but as we've seen there's no lack of spicy options if you want to pilot something a bit less common.
Hope you have enjoyed today's selection, and good luck out there! =)
---
Any questions or comments, or more data you may need, feel free to:
Poke me on Twitter (assuming it still exists, by the time you read this...): https://twitter.com/HerkoKerghans,
Stop for a chat on the LoR Poetry Discord (we talk a fair bit about decks and data, too! =): https://discord.gg/VNN5NmGhXY,
Or find more writings on substack: https://riwan.substack.com/
---
---