Best Legends of Runeterra Decks – Kat's Out of the Bag
As of early Tuesday, these are the best Legends of Runeterra decks and archetypes, according to Balco and Mastering Runeterra's Meta Tier List:
Red Gwen is back at the top of the WR charts, and as shown in the deck breakdown from what competitors brought to the Regional Worlds Qualifiers, it may be the dominant deck in what remains of Domination.
On the other hand, though, our meta keeps furnishing us with novel ideas, as we'll see in detail today – from a brand new take on Discard (with Mecha-Yordles!), to yet another old staple making a comeback in spite of its nerf: Concurrent Timelines
.
---
Technical note – About overall archetypes and specific decklists, and what we mean by "LoR best decks"
Balco's chart above (like most data sites, including MaRu's Meta Tier List) and articles like Leer's Monday Meta Report sort Legends of Runeterra meta decks by archetype ("archetype" being the aggregate of decks with a specific champion combination) – that's also how matchup tables are shown in pretty much all data sites.
In this article, we'll sort these Legends of Runeterra decks by the best specific decklist for each archetype – since in each archetype some decks fare better than others (and sometimes the difference is quite noticeable), we'll broadly group the best LoR decks in four arbitrary categories, by amount of games played in the last three days in the data samples we check:
Juggernauts: LoR decks with more than 2100 games – these are the best tried-and-true, top meta decks in Legends of Runeterra.
Heavyweights: LoR decks with between 2100 and 900 games played – other excellent choices, with large enough samples to confidently say, "Yeah, this works."
Punching Up: LoR decks with between 900 and 400 games played – we're entering the Land of Small Sample Sizes here, on top of the meta being up in the air, but as far as numbers go, these decks can put up one hell of a fight.
YMMV: decks with less than 400 games in the last three days – risky stuff, but here's where you usually find the spice!
For this article, in all cases we'll look at decks in Platinum and above, and in the last three days, unless stated otherwise – and when talking about LoR decks in general, or best Legends of Runeterra decks in particular, we'll always be referring to specific lists (while reserving "archetype" to denominate the aggregate of all decks with a particular champion pair). As a rule of thumb, decks with a winrate (WR) above 52% catch our eye, above 53% are eye-widening, and anything with a WR over 55% is exceptional.
On the other hand, do notice that when talking about matchup tables, it's always about archetypes – in other words, we'll recommend which are the best Legend of Runeterra decks (ie. specific decklist) you can choose to face the most popular archetypes (since you'll find all versions in the LoR ladder).
Last but not least: all stats and recommendations above are for choosing the best LoR deck for the Legends of Runeterra Ladder environment – the Best-of-Three format (found in Tournaments and Gauntlets) is a very different kettle of fish!
Sources: Balco, Legna, Mastering Runeterra Meta Tier List.
If you have any feedback on how these decks could be showcased differently, do let me know! =)
---
Juggernauts – Best Legends of Runeterra Meta Decks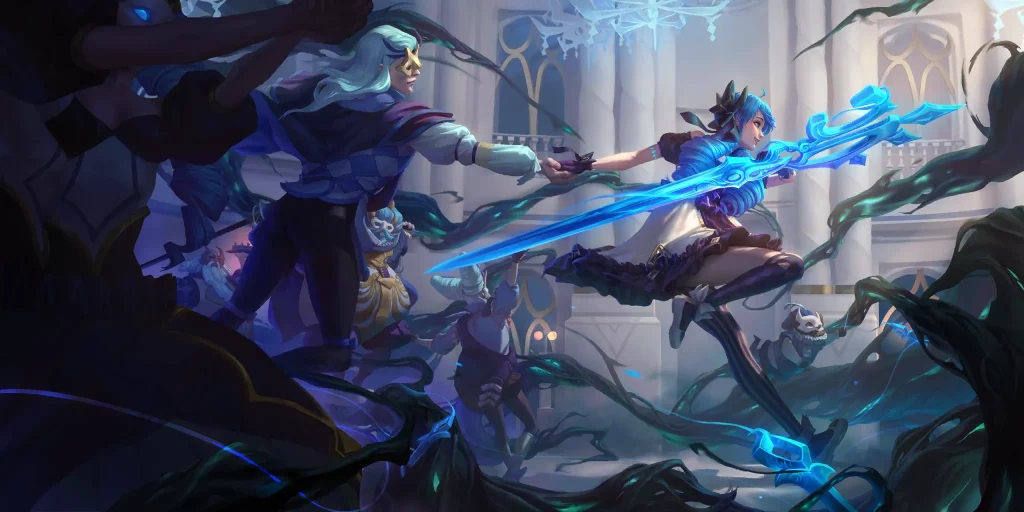 Here we showcase LoR decks with more than 2100 games and good-to-great WR – by current numbers, these are the best meta decks in Legends of Runeterra.
---
Red Gwen may be breathing down their neck, but everybody's favorite (or most despised; there's a notable lack of lukewarm positions when it comes to these two) Elusive one-mana Champions still have the most popular, top-performing deck: exact same list as last Friday, pulling a 55%+ WR in around 2200 games.
As noted in Leer's Monday Meta Report yesterday, Teemo Zoe has quite a lot of strong counters among other top dogs, with particularly poor odds against Annie Jhin, Annie TF, and Tryndamere Trundle – it's mostly against unrefined or weak decks that these pesky Elusives get most of their edge, but it's a big enough edge to make Teemo Zoe one of the best decks for climbing the LoR ladder.
Further reading: Leer's Trickster Never Loses – A Teemo Zoe Elusives LoR Deck Guide.
---
🔥🔥Blazing Hot! – Katarina Gwen. ft Elise
We saw Red Gwen making waves on the ladder last Friday… but those were tiny compared with the Tsunami that struck the Regional Worlds Qualifiers last weekend: out of 192 competitors (64 per shard), 75 of them brought Katarina Gwen to the fray – and it shows up in half the Top 16 lineups.
This crimson Tsunami storms the ladder right now: Katarina Gwen is murdering foes left and right, with a bewildering near-60% WR in close to 2100 games, and from okay to great odds against everything that is not Aphelios Seraphine.
In short: if you're looking to climb, this looks like the best bet until the new Expansion arrives in two weeks!
Further reading: Scissorsbox's Hallowed Attacks and Harrowing Combos – A Katarina Gwen Deck Guide.
---
Heavyweights – Strong LoR Meta Decks
These LoR decks have between 900 and 2100 games played in the last three days – solid picks for climbing the Runeterra ladder.
---
Still with a very solid 52%+ deck, Annie TF has mellowed into a strong-yet-clearly-not-strongest option (it had a great performance on the Worlds Qualifiers, though, but unlike Red Gwen such success doesn't seem to translate to ladder).
The same version seen last Friday is the best Annie TF deck on ladder today; one of the strongest counters for Teemo Zoe, it's also very good against Vayne Kayne, and outside Tryndamere Trundle doesn't have too many bad matchups against other popular decks.
Further Reading: Dr Chekhov's Annie TF Deck Guide.
---
⭐Rising Star: Rumble Sion Mecha-Yordles
And now, for something completely different! Old-timers may want to check this build before assuming they've already seen it in metas past: this is a very different take on Discard, and nothing to do with variations of Rumble/Draven/Sion we've seen months ago.
Coming out of nowhere (probably the brainchild of some high-profile pilot, given how nearly everybody is on the exact same list -- most likely Snnuy, from what I've been told), Rumble Sion sits at a comfy 52%+ WR in about 1,300 games. Thus far, seems to have a really rough time against Teemo Zoe and Taliyah Ziggs, around 50:50 odds versus Red Gwen and Kayne Vayne, and very favored against Shadow Isles brews such as Tryndamere Trundle, Heimer Jayce and Seraphine Viktor. All in all, an interesting choice if you want to try a heavy-hitting, brand-new brew!
---
Kayn Vayne
Kayn Vayne proves to be no fluke – with just slight tweaks from last week (exact same Follower distribution, slightly different spell list), the best best Kayn Vayne deck pretty much mirrors last Friday's stats: 55% WR across nearly 1,200 games. It was also a very popular choice during the Regional Worlds Qualifiers (32 competitors brought it to the fight), although only one Kayn Vayne lineup made it to Top 16.
Annie decks (Jhinnie and Annie TF) are a bit of a problem, whereas Taliyah Ziggs, Jinx Ekko and Gangplank Sejuani are very favored – otherwise, Kayne Vayne appears like quite a "fair" deck, with odds for most matchups inside the 45/55 range.
---
Punching Up – Runeterra Decks Doing Great
Runeterra decks with between 400 and 900 games in the last three days – while some may be just a fluke, more often than not should end up being on the strong side of things.
---
🧊Cooling Off – Tryndamere Trundle, aka Feel The Rush
Tryndamere Trundle has mutated a bit – the onslaught of aggressive decks forced it to add a few more early-game followers, and has also included an Atrocity
for extra reach. In spite of tweaks and techs, play rate has dropped to around 800 games (down from 1,400 played last Friday), with WR cooling off to a very solid 53% WR, down from an excellent 55%.
Still a great choice for ladder, but the ascension of Red Gwen is really bad news, Taliyah Ziggs remains a headache, and another very strong counter has (re)surfaced, as we'll see further below: Trundle Timelines.
---
Also maintaining a rock-solid 53% WR, Taliyah Ziggs' best deck's play rate has kept dropping (now with around 800 games played, when it was at 3,000 last week) – it had a very good showing at the Regional Worlds Qualifiers, though, with 32 competitors including Taliyah Ziggs in their lineups, and three of them making the Top 16 cut.
The top of the field is turning rather rough for Taliyah Ziggs, though: awful odds against Teemo Zoe, quite the underdog against both Kat Gwen and Vayne Kayne, and Tryndamere Trundle as the landmark duo's only easy prey.
Further Reading: Leer's Taliyah Ziggs Deck Guide.
---
Ekko Jinx Shurima
Same build as last Friday, and still going solid: punches at 52% across 700+ games. Ekko Jinx is the only strong option if you want to climb with Ekko, but if you're looking for Jinx choices then Lulu Jinx, which we'll talk about in a bit, is probably the best Jinx deck right now.
---
Annie Jhinn is enjoying quite the rebound in performance: from a comfortable 53% WR last week, now it punches well above 56% across 700 games – probably helped by great matchups into Teemo Zoe, Kayne Vayne and Taliyah Ziggs, while two of its strongest counters (Jinx Ekko and Heimer Jayce) are on the downswing.
Further reading: Yangzera's Annie goes to Stack School – A Jhin Annie Aggro Guide.
---
Quinn Vayne was the second most played deck at the World Qualifiers (showing up in 43 lineups, and 3 making to Top 16), but both performance and popularity have dropped in the LoR ladder: like most other decks showcased in this section, it still sticks to a very solid 53% WR, but is now one among many strong decks, rather than the cream of the crop it was last week, or before the balance patch.
With even odds against Teemo Zoe and Kayne Vayne, great odds against Tryndamere Trundle and Taliyah Ziggs, and a bit of a struggle against Kat Gwen and Annie TF, Quinn Vayne is still a solid ladder choice – its best days, though, seem to be in the past.
Further reading: Scissorsbox's On Harps and Harpies – A Vayne Quinn LoR Deck Guide
---
⭐Rising Star: Lonesome Trundle Timelines
Now, for a bit of a surprise: news of Concurrent Timelines
' death (after its mid-Awakening nerf, which increased its cost to two mana) may have been premature, and the Troll King is back with his Transformers franchise. Do note the addition of Domination cards in his arsenal, though, Fanclub President
among them (a Seraphine Trundle Timelines deck made it to Top 16 in Worlds, but hasn't made waves on ladder – yet).
Current results are very promising – Trundle Timelines punches above 53% across 600+ games, with a somewhat polarizing matchup spread against the Top Dogs: awful odds against Teemo Zoe, Annie Jhin and Kat Gwen, but great odds against Tryndamere Trundle and Annie TF.
---
⭐Rising Star – Jinx Lulu
Yet again doubling its play rate (showing nearly 600 games today, up from around 300 last Friday) and striking above 56%, the best Jinx Lulu deck is also the most promising Jinx blend right now, with other version (Ekko Jinx, Draven Jinx and Jinx Freljord) on the downswing.
Favored against both Red Gwen and Teemo Zoe, its weak spot appears to be Kayn Vayne.
---
Gangplank Sejuani joins the illustrious list of old meta staples that, with Seraphine and Vayne nerfed, find the field ripe for making a return, with a great 55% WR in around 500 games.
Further reading: PakiInPyjamas Plunder, Now with Tentacles – A Gangplank Sejuani LoR Deck Guide.
---
Not Recommended: Viktor Seraphine Shadows and Leona Diana
The field has turned aggressive for these two
Shadow Isles archetypes; although they had good to great numbers last week, their most popular lists have dropped below the 50%-WR mark and we can't currently recommend them.
---
Your Mileage May Vary – Fringe LoR Decks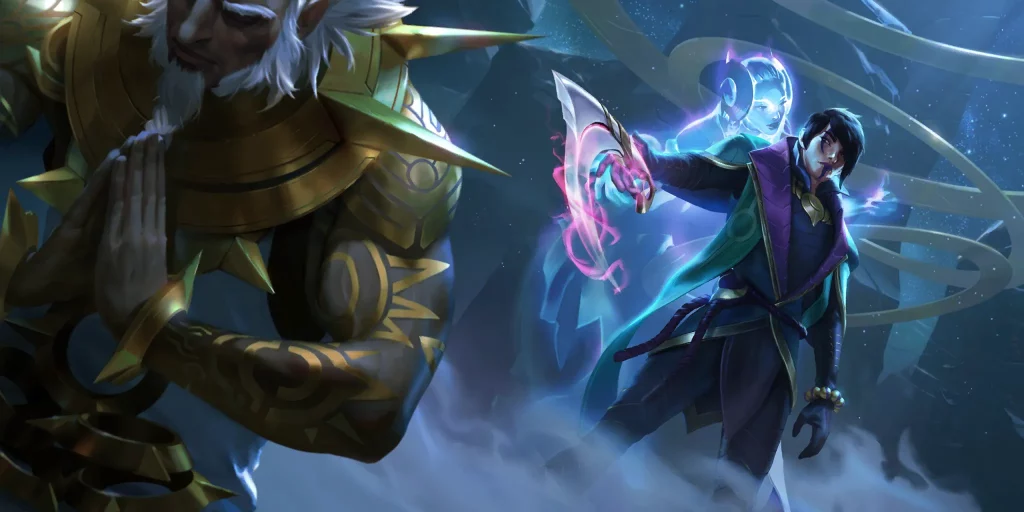 Runeterra decks with less than 400 games played in the last few days – today we see quite a few tried-and-true decks being pushed to the fringes.
---
Viktor Aphelios, ft. Zoe
Taking a break from his Seraphine tours, Viktor rejoins Aphelios (a champion pair that did quite the work several metas ago, although their current iteration is quite different from back then, and much closer to Seraphine brews). Encouraging early results, punching above 51% in nearly 400 games.
---
Pantheon Varus remains a solid, if fringe, choice; quite playable (52%+ in close to 350 games), but with disastrous odds against Teemo Zoe and Jhinnie. Leer covers the deck in detail in his They Can Stall Their Fate, but Cannot Deny It — A Varus Pantheon LoR Deck Guide.
---
Akshan Varus
Akshan Varus has dropped sharply in play rate, but (as it's not rarely the case when only die-hard pilots stick with a deck) has seen its WR improve to well above 53%. A fairly solid matchup spread, with only Jhinnie showing truly poor odds.
---
With a similar trend to Akshan Varus, Rumble Vayne's WR rebounds to a great 55%+ now that it has been pushed to the fringes.
Further reading: Card Gamer's Tumble on the Rumble – A Vayne Rumble LoR Deck Guide.