LoR Best Decks from Patch 3.19.0
As of early Friday, these are the best Legends of Runeterra decks and archetypes, according to Balco and Mastering Runeterra Meta Tier List:
The 3.19.0 balance patch has hit the Runeterra meta quite hard, and a lot has changed since last Friday – as we saw on yesterday's first, early glimpse at the strongest decks, Seraphine has (thus far) been shoved out of the charts, and Vayne has become a strong, yet not ever-present Champ; Miss Fortune Swain also remains among the Top Dogs in spite of Swain's nerf.
Most of the best LoR decks from last Friday that were spared from the nerf hammer (Teemo Zoe, Leona Diana, Annie Jhin) have leaped forward, while a few new (or rejuvenated) decks have clawed their way up: Draven Jinx, Elise Norra, and a handful of other less-played brews, as we'll detail below.
Let's jump into the numbers! =)
---
Technical note – About overall archetypes and specific decklists, and what we mean by "LoR best decks"
Balco's chart above (like most data sites, including MaRu's Meta Tier List) and articles like Leer's Monday Meta Report sort Legends of Runeterra meta decks by archetype ("archetype" being the aggregate of decks with a specific champion combination) – that's also how matchup tables are shown in pretty much all data sites.
In this article, we'll sort these Legends of Runeterra decks by the best specific decklist for each archetype – since in each archetype some decks fare better than others (and sometimes the difference is quite noticeable), we'll broadly group the best LoR decks in three arbitrary categories, by amount of games played in the data samples we check:
Heavyweights: LoR decks with between 2100 and 900 games played – other excellent choices, with large enough samples to confidently say, "Yeah, this works."
Punching Up: LoR decks with between 900 and 300 games played – we're entering the Land of Small Sample Sizes here, on top of the meta being up in the air, but as far as numbers go, these decks can put up one hell of a fight.
YMMV: decks with between 300 and 150 games – risky stuff, but here's where you usually find the spice!
For this article, in all cases we'll look at decks in Platinum and above, unless stated otherwise – and when talking about decks in general, or best Legends of Runeterra decks in particular, we'll always be referring to specific lists (while reserving "archetype" to denominate the aggregate of all decks with a particular champion pair). As a rule of thumb, decks with a winrate (WR) above 52% catch our eye, above 53% are eye-widening, and anything with a WR over 55% is exceptional.
On the other hand, do notice that when talking about matchup tables, it's always about archetypes – in other words, we'll recommend which are the best Legend of Runeterra decks (ie. specific decklist) you can choose to face the most popular archetypes (since you'll find all versions in the LoR ladder).
Last but not least: all stats and recommendations above are for choosing the best LoR deck for the Legends of Runeterra Ladder environment – the Best-of-Three format (found in Tournaments and Gauntlets) is a very different kettle of fish!
Sources: Balco, Legna, Mastering Runeterra Meta Tier List.
If you have any feedback on how these decks could be showcased differently, do let me know! =)
---
Heavyweights – Strong LoR Meta Decks
These LoR decks have around 900-1000 games since the patch landed (around 40 hours ago) – a bit too early to tell, but these decks are likely the real deal!
---
As noted in past articles, Annie Jhin has become the closest thing to a constant that we have among LoR decks: patches come and go, Jhinnie remains the same. Some pilots are experimenting (with great results) by switching Decimate
for Sigil of Malice
, but by and large the most popular list is the exact same as it has been since Jhinnie was "solved" soon after they reached Runeterra.
Annie Jhin's performance is exceptional right now, stomping on the current field with an amazing 56% WR in more than 1,000 games – although, as we'll see with many decks today, numbers are inflated by how brutally bullet buff and blazing brat bash Taliyah
Bilgewater (a very popular yet quite awful blend, that is generously donating LPs left, right and center).
Jhinnie also has good odds against Teemo Zoe, Rumble Vayne and especially Pantheon Varus – but has serious problems with Draven Jinx and Katarina Gwen, while also being underdog to Heimer Norra and Quinn Vayne.
---
Bandle Teemo Zoe
These pesky, tiny Champions were one of the hottest trends last Friday, and haven't lost momentum with the patch. The best Teemo Zoe deck has morphed a bit, ditching Byrd, The Bellringer
to add two Kelp Maidens
and one copy of Sunblessed Vigor
, and currently smacks above 60% in 1,000+ games (while the list showcased last week still packs a huge punch, performing only a couple of points below).
The matchup spread is very, very good, with two notable exceptions: Draven Jinx, and Jhinnie – the rest of the field is favored (and usually very favored: odds against Taliyah
Bilgewater are over 80%, which by CCG parameter is "auto-win").
---
Elise Norra
Jumping right out of nowhere to center stage, Elise Norra starts this patch with a 56%+ punch in over 1K games, keeping the momentum we saw yesterday – while too early to tell, these numbers suggest this is not a fluke.
It has a handful of quite awful matchups (odds in the 33% range) against Teemo Zoe, Quinn Vayne and Pantheon Varus, but is even against Draven Jinx, and has a good edge on Jhinnie and Heimer Norra.
---
Heimer Norra
Trailing behind the Elise version, the best Heimer Norra deck punches at 53% in around 1,000 games, offering a different take on the Norra
Shadow Isles pairing.
Heimer Norra is in an interesting position, being the only popular deck that loses to Taliyah
Bilgewater – and, since Taliyah has thus far shown awful results, it's reasonable to suspect that Heimer Norra's performance will improve once Taliyah packs her bags and leaves.
Against the rest of the field, Heimer Norra looks like a showstopper against Jhinnie, Draven Jinx, and Rumble Vayne, while very weak to Teemo Zoe and Elise Norra.
---
Quinn Vayne, ft. Fiora
The nerf hammer has thus far hit Vayne just right: while most of her other decks have been pushed below the 50% WR threshold, two of her pairings (the other being Rumble Vayne) remain as strong options.
In Quinn Vayne's case, without having changed a single card from last Friday, they now strike above 56% in around 950 games. They have also become quite the fair deck, with most popular matchups in the 45/55% range – the exception being (as with nearly every deck we'll see today) how they brutally smash Taliyah
Bilgewater.
---
The (not Recommended) LP Donor: Taliyah Bilgewater
As noted in several of the previous matchup breakdowns, Taliyah
Bilgewater is arguably the most impactful deck in the meta right now… on grounds of being both the most popular archetype, and truly atrocious when confronting nearly every of the other popular decks – Taliyah's odds are around 25% when facing the likes of Draven Jinx, Jhinnie or Rumble Vayne, and fall even lower against Teemo Zoe.
Pilots will (hopefully) take the hint soon (or perhaps some Master Brewer will come up with a brilliant twist; current numbers strongly suggest that to be a tad unlikely), and the shift should be great news to the single strong deck that actually loses to Taliyah right now: Heimer Norra.
(Also, on "Oh, how the mighty have fallen" news: the only other deck that Taliyah happens to obliterate is… Seraphine Ezreal =).
---
Punching Up – Runeterra Decks Doing Great
Runeterra decks with between 300 and 900 games since the patch landed – some of these decks may end up being just a fluke, but more often than not should end up being on the strong side of things.
---
Draven Jinx
The rocketeer of the hour, and her mustached axe-twirling partner in Discard! =)
The most fun deck in the whole of LoR's history, and as of now the second most popular archetype overall, Draven Jinx is seeing quite a bit of experimentation: it's what in these articles we usually label a "scattered" archetype, meaning that there are lots of different lists with similar play rate and WR (that's to say, as opposed to more "solved" archetypes like Annie Jhin, in which the huge majority of pilots play with the exact same forty cards). Or, in other words, an archetype for which it's still not clear what the optimal build is, since there are several lists all doing great…
… in turn usually meaning that we'll see an uptick in performance if/when pilots finally find the best Jinx Draven deck.
Current splits are whether to go for the "traditional" approach (with Legion Rearguard
as the other one-drop besides Zaunite Urchin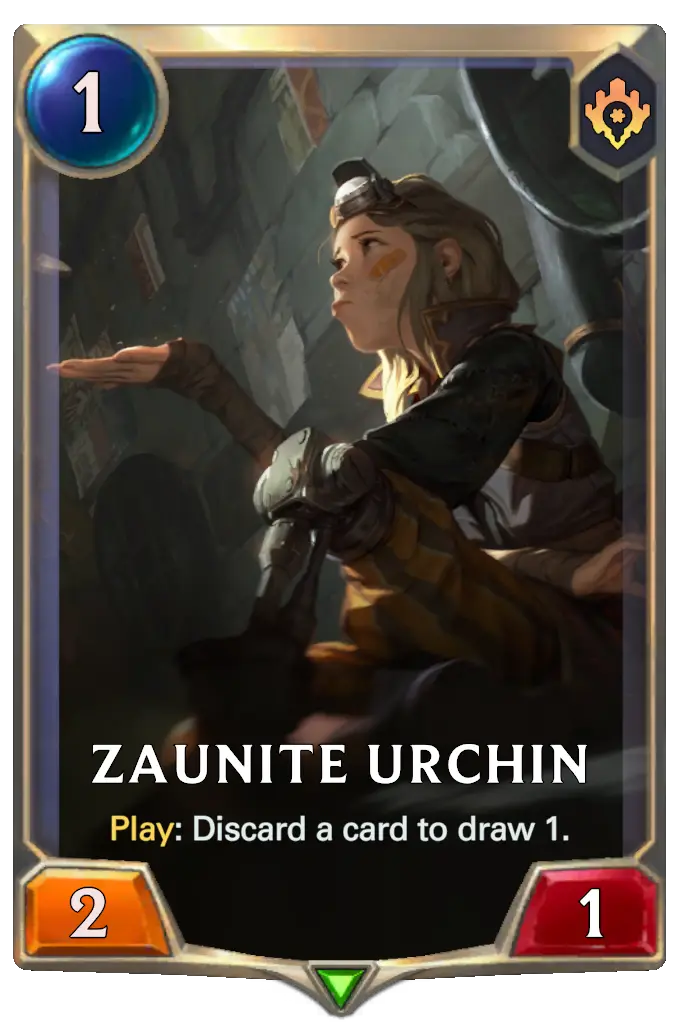 , and Crowd Favorite
as the heavy-hitter), or going for Sion's followers such as Reborn Grenadier
, Fallen Rider
and Noble Rebel
– and some lists mixing both approaches, as seen in the current best deck showcased below.
Draven Jinx's matchup spread looks excellent: a bit of a struggle against Heimer Norra and Leona Diana, a slight disadvantage against Miss Fortune Swain and Quinn Vayne, and good-to-great odds against Jhinnie, Teemo Zoe, Pantheon Varus, Katarina Gwen and Rumble Vayne.
---
Recoiling from the brunt of Tumble
's nerf, Rumble Vayne's performance has dipped to around 52% in 600+ games played, and is now underdog to Jhinnie, Teemo Zoe, Draven Jinx, and Heimer Norra – it's still, by the numbers, a very playable deck, but with this matchup spread, its future does not look too rosy. Rumble Vayne's best deck hasn't changed a single card since last Friday, though, so perhaps pilots will find the needed tweaks to improve its rather rough odds against other top decks.
Further reading: Card Gamer's Tumble on the Rumble – A Vayne Rumble LoR Deck Guide.
---
Leona Diana
The Twilight lovers' best deck hasn't changed a single card since last week, either, but in their case it is for good reason: they are smacking foes left and right, and are currently one of the highest-WR decks out there, punching above 57% in about 600 games.
They remain serious underdogs to Teemo Zoe, but consistently beat Quinn Vayne, Draven Jinx and Jhinnie, and have a tiny edge on Heimer Norra. And, interestingly, they are only moderately favored against Taliyah
Bilgewater (that's to say, they don't just brutally murder her, like most Top Dogs do – they just beat her gently), which means that Leona Diana's performance, unlike most Top Dogs, is not overly bloated by Taliyah's generosity.
---
Pantheon Varus
Pantheon Varus has kept the upward thrust it found last week – the same list from last Friday still performs at a great 54%, and experiments with a few more spells are also doing very well.
As noted yesterday, though, matchups are a bit of a red flag: Pantheon Varus loses badly to Draven Jinx, Jhinnie and Teemo Zoe, while also having poor odds against Zed Hecarim, and from among the Top Dogs only beating Rumble Vayne and Heimer Norra consistently.
Further reading: Leer's They Can Stall Their Fate, but Cannot Deny It — A Varus Pantheon LoR Deck Guide.
---
Akshan Varus
It's interesting to see Akshan Varus doing well (nearly 54% right now, in about 500 games), considering it never quite took off during the previous patch cycle – even though it looked quite promising when Domination landed – and, adding to that, Akshan has just been nerfed.
Matchups also suggest it may be an early post-patch fluke, since Akshan Varus loses badly to Draven Jinx, Teemo Zoe, and Jhinnie – it does appear to be a solid Quinn Vayne counter, though.
---
Privateers, aka Miss Fortune Swain
Still one of the most punchy decks out there (as they were in the first half of Domination), and still smashing above 56% – and with a great matchup spread: except Heimer Norra and Leona Diana, Privateers are even or favored against all other popular decks right now.
Further reading: PakiInPyjamas' By Her Guns Shall Noxus Rise – A Miss Fortune Swain LoR Deck Guide
---
Now ditching Opulent Foyer
and taking Elise
back, the tough ladies trio seems back in full force: WR 56%, although the sample size is a bit on the low end (around 300 games).
Seems solid against Jhinnie, while weak into Teemo Zoe and Draven Jinx.
---
Zed Hecarim
With the exact same list as last Friday, Zecarim has kept a solid 53% punch. Its matchup spread is not too good, though: it beats Rumble Vayne, but loses to pretty much all other top decks, with particularly horrible odds against Jhinnie.
---
Aphelios Seraphine, ft. Zoe
The best Seraphine
deck still standing right now (and the same can be said about Back Alley Bar
), Seraphelios manages a modest 51% WR in about 300 games.
(By the way: there may be a chance that Viktor Seraphine Shadows, also packing Back Alley Bar, is still alive, but sample size is too small to say for sure today.)
---
Not Quite There: Ornn Jax, Zed Vayne, Kindred Evelynn, Jinx Lulu (BC)
All of the above have seen quite a bit of play (between 400-600 games with their most popular decks), but thus far struggle in the 47%-49% WR band – they may require some tweaks, or the field to change a bit, for them to shine.
Seraphine Ezreal Noxus looks like a dumpster fire right now.
---
Your Mileage May Vary – Fringe LoR Decks
Runeterra decks with less than 300 games played in the last few days – promising, but with samples being smalls, flukes and duds are sure to abound. On the other hand, if you're looking for the next best thing, it tends to show up here first! =)
---
Ekko Jinx Shurima
Time-tricking rockets? Shure! =)
While there's no Discard synergy here, the best Ekko Jinx deck punches above 52% in around 250 games. Voice of the Risen
seems crucial (a similar, yet Voice-less, version, is doing poorly).
---
Ravenbloom Ezreal Annie, ft. Katarina
Departing quite a bit from the Ezreal Annie deck that enjoyed some popularity some months ago (until, a bit later, Annie TF became the go-to Ravenbloom Conservatory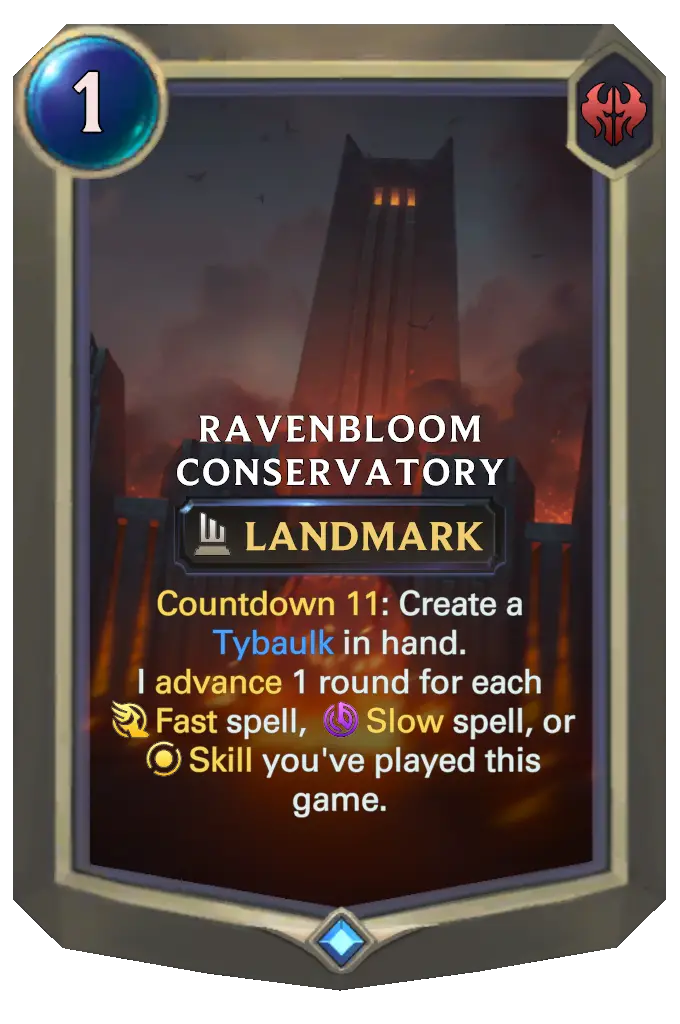 deck), this spell-heavy list is working quite well, and provides Ezreal
with a home now that Seraphine's show's over.
---
Spider-Gwen saw quite the uptick by last Friday (in fact briefly becoming the best Gwen deck, right before the patch landed) – it's enjoying moderate success now, with an okay 52% in around 200 games. It seems very good into Jhinnie and Teemo Zoe, while bad into Draven Jinx.
Further reading: Scissorsbox's Spider-Gwen: an Elise Gwen Deck Guide
---
Veigar Norra
Veigar Norra had too small of a sample size to make the cut yesterday, but clearly makes it today, punching well above 56% across 150 games.
---
Kindred Norra Go Hard
The portaling Yordle seems everywhere today! =)
Always strolling around
Shadow Isles, though, this time with Kindred
(probably lured by Kindred's new Spirit Blossom skin?) and the Go Hard
package.
---
Heimer Jayce
Professor and Student have found The Darkin Harp
lying around (and have probably heard the amount of work the Harp puts in Quinn Vayne) – they've also added Quietus
into the mix, and seem ready to jump back into the fray!
---
Swain Norra
Did I mention that the portapaloozing Yordle seems to have wandered into every other deck today? =)
Swain Norra made quite a splash in its heyday, although only briefly – in a very small 100-game sample, seems ready to go splashy again!
---
Wrapping Up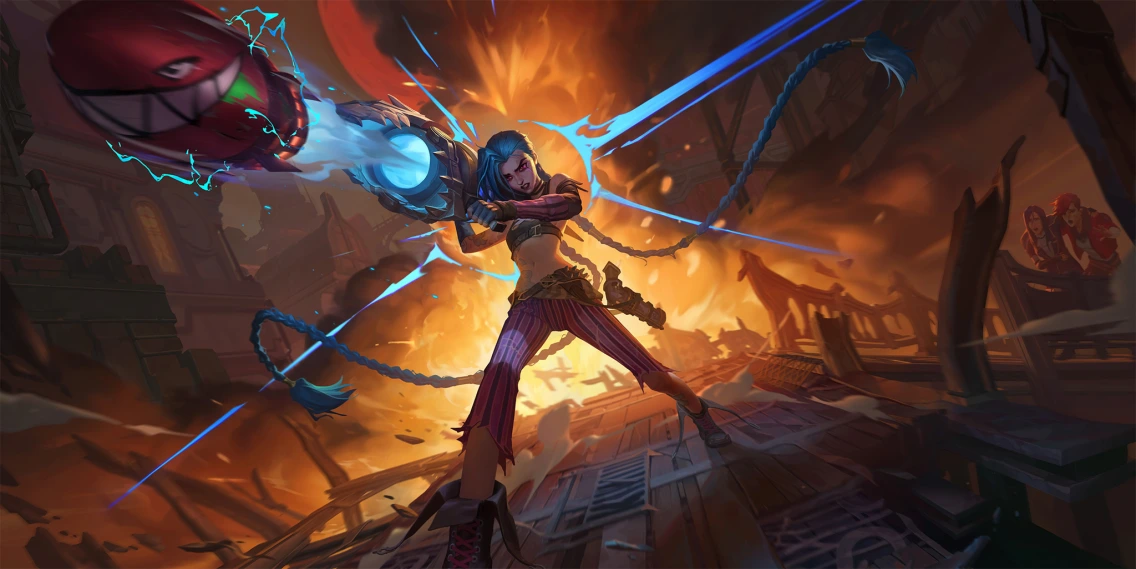 Thus far, the balance patch seems to have struck just right: although Seraphine fans seemingly having no strong deck right now (although jury's still out with Seraphine Viktor), Vayne appears to have been toned down perfectly, and decks both new and old are cropping up now that the meta is free from the Seraphine-Vayne hold.
The Worlds Qualifiers are just around the corner, too, so while Competitors may keep their best tech under wraps until then, there's on the other hand a really high incentive to find said tech.
Hope you have enjoyed today's selection, and good luck out there! =)
---
Any questions or comments, or more data you may need, feel free to:
Poke me on Twitter: https://twitter.com/HerkoKerghans,
Stop for a chat on the LoR Poetry Discord (we talk a fair bit about decks and data, too! =): https://discord.gg/VNN5NmGhXY,
Or find more writings on substack: https://riwan.substack.com/
---
---