Best Legends of Runeterra Decks – Age of the Reluctant Tyrant
As of early Friday, these are the top six most popular LoR decks according to Legna, and Mastering Runeterra Meta Tier List:
---
Best LoR Decks: Table of Contents
(You can click on any subsection to jump directly to it! =)
Juggernauts – Decks with 2,100+ games played in the last three days.
Heavyweights – Decks with between 900 and 1,200 games played.
Punching Up – Decks with between 450 and 900 games played.
Your Mileage May Vary – Decks with less than 450 games played in the last three days.
Technical Note – Overall archetypes versus specific decks.
---
Overall LoR Ladder Trends
Not much has changed since last Tuesday, or Friday last week. While not too exciting from the point of view novelty, it's rather puzzling that the Top Dogs (and Aatrox Vayne Quinn in particular) are not increasing in play rate – and AVQ has, in fact, shrunk a little bit (above all when we factor in the almost identical Quinn-less version, which by now is just a fringe option).
For some reason, Aatrox Vayne Quinn has become a reluctant tyrant: when looking at LoR stats, AVQ is undoubtedly one of the most dominant decks this year (some argue perhaps the most dominant Legends of Runeterra deck ever, if we remove the urgently-hotfixed decks from the comparison), yet pilots don't seem overly eager to exploit such edge… even though, just two weeks ago, those very same pilots had no qualms in jumping onto the Ziggs Acolytes and Aatrox Kayn trains (which had to be nerfed because, just like AVQ, they were punching way above the 55% WR mark… yet, unlike AVQ, they were both at, or near, the 15% play-rate threshold, and raising).
This reluctant, tender tyrant in turn leads to quite the varied meta: while little has changed at the top, there are today roughly two dozen strong LoR decks with which to climb. Only one of them (Rumble Vayne) can be said to be a strong Aatrox Quinn Vayne counter (while still being strong against the rest of the field), and just four (Katarina Gwen, Draven Jinx, Trundle Tryndamere, and the returned Twisted Fate Swain) can go toe-to-toe with the tyrant while also beating the majority of the competition – yet, given AVQ's reticence to swell in play rate, even those decks willing to pay the "tyrant tax" of being serious underdogs to AVQ can thrive, as long as they can crush the remaining competition. Which is exactly why Seraphine Ezreal remains as the other Juggernaut in the Legends of Runeterra ladder: it dies (horribly) to AVQ, but can beat much of what's left.
---
Technical Note – About overall archetypes and specific decks, and what we mean by "LoR best decks"
Most data sites (including MaRu's Meta Tier List) and articles like Leer's Runeterra Decks Report sort LoR meta decks by archetype ("Archetype" being the aggregate of all decks in LoR with a specific champion combination) – that's also how matchup tables are shown in pretty much all data sites.
In this article, we'll sort these Legends of Runeterra decks by the best specific decklist for each archetype. And, whenever we talk about LoR decks in general, or best Legends of Runeterra decks in particular, we'll always be referring to specific lists (while reserving "archetype" to denominate the aggregate of all decks with a particular champion pair).
And, since in each archetype some decks fare better than others (and sometimes the difference is quite noticeable), we'll broadly group the best LoR decks in four arbitrary categories, by the amount of games played in the data samples we check:
Juggernauts: LoR decks with more than 2100 games – these are the best tried-and-true, top meta decks in Legends of Runeterra at the time of writing.
Heavyweights: LoR decks with between 2100 and 900 games played – other excellent choices, with large enough samples to confidently say, "Yeah, this works."
Punching Up: LoR decks with between 900 and 400 games played – we're entering the Land of Small Sample Sizes here, but as far as numbers go, these decks can put up one hell of a fight into the current LoR meta.
YMMV: decks with less than 450 games in the last three days – fringe, risky stuff, but here's where you usually find the spice!
As a rule of thumb, LoR decks with a win rate (WR) above 52% catch our eye; above 53% are eye-widening, and anything with a WR over 55% is exceptional.
Last but not least, all stats are from the LoR ladder. If you're looking for Tournament lineups, you may want to check Sirturmund's latest LoR Tournament Decks article. And if Gauntlets are your jam, check Sirturmund's & Monte's LoR Gauntlet Decks: Rising Tides! article for a dozen decks and lineups you can use there.
Sources: Legna, Mastering Runeterra Meta Tier List, MaRu LoR stats.
---
Juggernauts – Best Legends of Runeterra Decks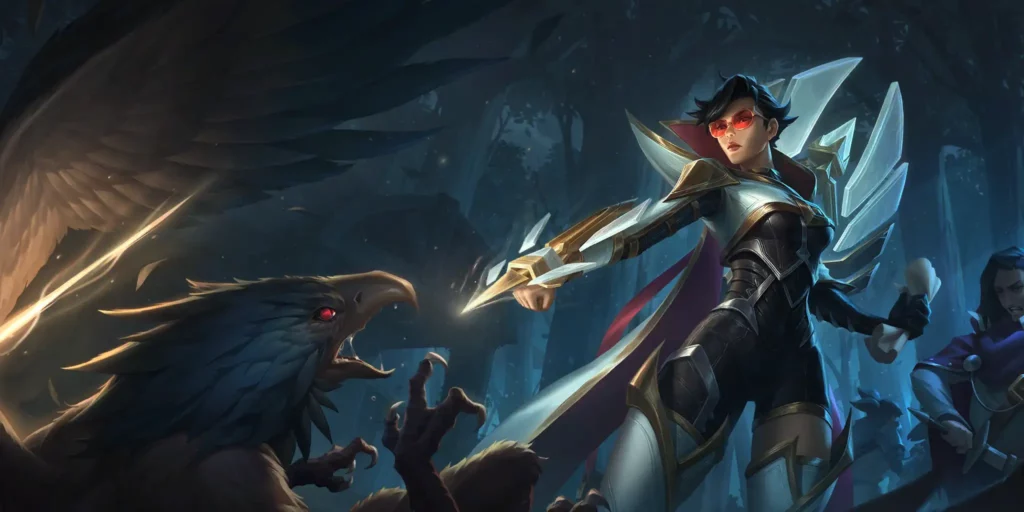 Here we showcase LoR decks with more than 2100 games in the last three days, and good-to-great WR. Best of the best, tried-and-true tools for climbing the Runeterra ladder!
---
Behold, our reluctant tyrant! Three days after the hotfix, Aatrox Vayne Quinn had a WR indicating it was the next hot trend, and as such its overall playrate had increased to 9%. Unsurprisingly for such a powerhouse, its overall play rate grew to 11% two days later – and such growth would of course be larger if we were to include the nearly identical Quinn-less version into the mix.
Yet by the end of the following week, AVQ's play rate had returned to around 9%, the same as last Tuesday, and where it remains until now (and, again, the trend is even sharper if you consider the Quinn-less version, that has by now become a very fringe option).
It's hard to puzzle why… by the time of the hotfix, Ziggs Acolytes was nearing the 15% play-rate threshold, with Aatrox Kayn trailing close (and both mounting) – in others words, it's not like LoR pilots are unwilling to exploit and edge when they see it. And when you consider factors such as available resources to craft a deck, or favorite champion, the jump from Aatrox Kayn (which folks played in droves, and are still playing) to Aatrox Vayne variants doesn't seem large enough to explain AVQ's reluctance to simply take over the meta (like, say, Azirelia did back in its heyday).
But, at any rate, and for whatever reason:
Our meta tyrant exhibits two novelties today.
First, with nearly 4,000 games under its belt in the last three days, the best Aatrox Quinn Vayne deck has also become the most-played specific deck list, surpassing Bandle Bar.
And second, reluctant it may be, but this tyrant is not complacent: AVQ's best deck has mutated, replacing Ranger-Knight Defector
by Zealous Ranger-Knight
, and trimming Cataclysm
and Sharpsight
to make room for extra copies of The Darkin Spear
and The Darkin Lodestone
. These changes have increased AVQ's WR from a superb 58% to an okay-now-this-is-just-silly 60%+.
Current LoR stats mostly cement what we already known about its matchups (Aatrox Vayne Quinn can only be reliably defeated by Rumble Vayne; Katarina Gwen is a roughly even matchup; the Darkin tide drowns Bandle Bar, Hecarim Zed, Jhinnie, and Jinx Lulu), but with two interesting new trends: the tyrant has turned the tables against Lurkers (it's now a favored matchup for AVQ), and Swain Twisted Fate has re-emerged both as a solid deck overall, and one that has a slight edge on the ladder King.
And if you happen to want to pilot the best deck, but part of you refuses to grab whatever is at the top of the food chain right now?
Three words for you, then: Fiora Vayne Aatrox.
Similar followers and Equipment, several tweaks for spells, and perhaps the biggest change: turning the Quinn variant on its head, here the lone champ is Aatrox – and Fiora, with three copies, is the one leading the charge.
Further reading: World Ending Birds with Weapons – An Aatrox Vayne Quinn Deck Guide.
---
The price to run a Bar in Runeterra is steep, yet it's still a profitable venture: Ezreal Seraphine gets absolutely trashed by Aatrox variants (and above Aatrox Vayne Quinn), but it's more than willing to pay the "tyrant tax" to enjoy quite the bountiful quarry among the rest of the field.
With about 3,500 games played in the last three days, and punching above 53%, Bandle Bar preys upon Katarina Gwen, Irelia Gwen, Hecarim Zed and Draven Jinx, also having an edge on go-wide decks like Pirates and Elise Gwen, and consistently beating Swain TF (and bloody murdering mostly anything that's not a top-notch, refined brew) – on the other hand, Lulu Jinx is a bit of an uphill struggle, and Trundle Tryndamere is a tough matchup for Ezreal Seraphine decks.
Further reading: Setting the Bar – A Bandle City Ezreal Seraphine Deck Guide.
---
Heavyweights – Strong LoR Meta Decks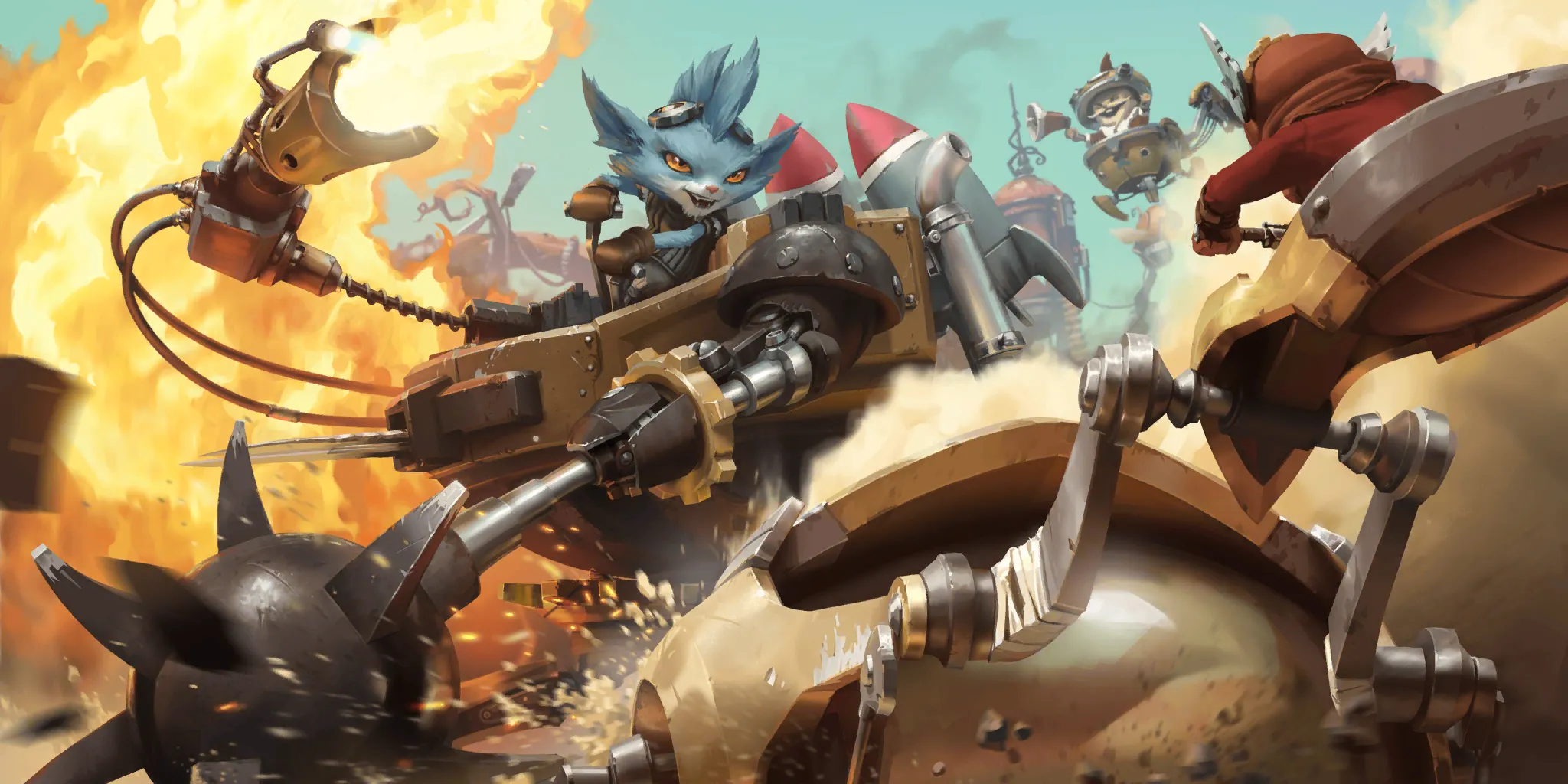 These LoR decks have between 900 and 2100 games since the World Ender expansion landed – solid picks for climbing the Legends of Runeterra ladder!
---
Having carved a nice slice in the LoR meta for itself, the best Rumble Vayne deck has stabilized at the 54% WR mark (a bit below its impressive 56% punch last Tuesday), with a steady 1,900 games played in the last three days.
If you want to hit the twin goals of climbing while toppling tyrants, then this is the best LoR deck for you: odds against AVQ are nearly 60:40 for Rumble Vayne, and it's also favored against Aatrox Kayn, Plunder, Irelia Gwen and the ascending Trundle Tryndamere.
Do note that, for the privilege of ruining Aatrox's day, everybody's favorite Tumblin' Yordle has to pay the price of having quite a few bad matchups himself: Bandle Bar, Kat Gwen, Jinx decks, Annie Jhin and now Swain TF all have an edge on Rumble Vayne.
Further reading: Tumble on the Rumble – A Vayne Rumble LoR Deck Guide
---
Crimson Katarina Gwen
The best Katarina Gwen deck has mellowed a bit, its WR now at 55% (down from a crazy 59% three days ago), keeping its play rate roughly the same (around 1,800 games).
Crimson Gwen is not too afraid of the reluctant tyrant, but Bandle Bar is a pretty bad matchup, with Jinx Lulu, Pirates, and the ascending Swain TF also being fairly rough – Kat Gwen's edge comes from "hunting the hunter" (it reliably beats Rumble Vayne), farming Hecarim Zed, murdering Jhinnie, and overall stomping over unrefined brews.
Further reading: Hallowed Attacks and Harrowing Combos – A Katarina Gwen Deck Guide.
---
⭐Rising Star: Swain Twisted Fate
Well, look who's back! Not content with terrorizing the Rising Tides Gauntlet, Swain TF has risen as both a very solid ladder option (punching above 53% in around 1,400 games in the last three days – when it had less than 100 games played last Tuesday!), and a deck that can go 50/50 against the ruling tyrant.
It appears to have a bit of a weak spot against Bandle Bar and Aatrox Kayn, seems well-positioned versus Katarina Gwen and Rumble Vayne, and thus far has been murdering Hecarim Zed, Plunder and Lurkers most brutally.
---
Pyke Rek'Sai, aka Lurkers
Lurkers are hanging in there, showing an okay 51%+ WR in about 1,300 games – but their edge against Aatrox Vayne Quinn, which was one of Lurkers' main advantages, seems gone in the last three days (actually becoming favored for the tyrant). Since Lurkers also lose to most other top dogs, we'll see if they can keep a hold of their slice of the LoR meta.
---
Aatrox Kayn
Aatrox Kayn puts up a decent fight, punching above 52% in more than 1,000 games with its most popular version – although data suggests that switching Blooming Cultist
for Shadowblade Fanatic
is a good idea. Overall, Aatrox Kayn beats Bandle Bar, is even versus Crimson Gwen, and loses to the tyrant and Rumble Vayne.
---
Aatrox Kindred, ft. Elise
Like last Tuesday, the most successful Aatrox Kindred deck adds Elise to the mix – WR has been stable at 52%, across 1,000 games (up from 700). It loses to both Juggernauts (AVQ and Bandle Bar) while also being weak to the tyrant hunter (Rumble Vayne), and is roughly even versus Katarina Gwen. In other words: good (and arguably the only…) choice if you're looking for a Kindred deck, but maybe not the best if you're looking for bringers of Armageddon.
---
Other Considerations
Fizz Yuumi is still popular, but has not lived up to its promise from last week – at 49% WR, may be a deck that you want to check if you like the champs and a spell-heavy approach, but is not something we can recommend.
Ryze Seraphine Viktor is still the best Ryze deck out there – yet very, very far from being a good deck.
Hecarim Zed has deflated quite a bit – if you're nevertheless considering taking it for a spin, you may want to check our recent Ephemeral Onslaught – A Zed Hecarim Deck Guide.
---
Punching Up – Runeterra Decks Doing Great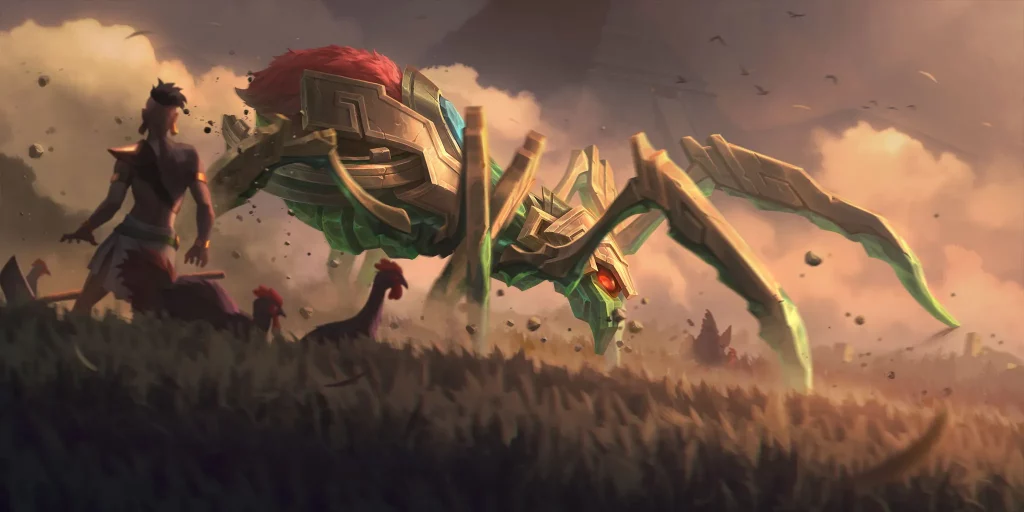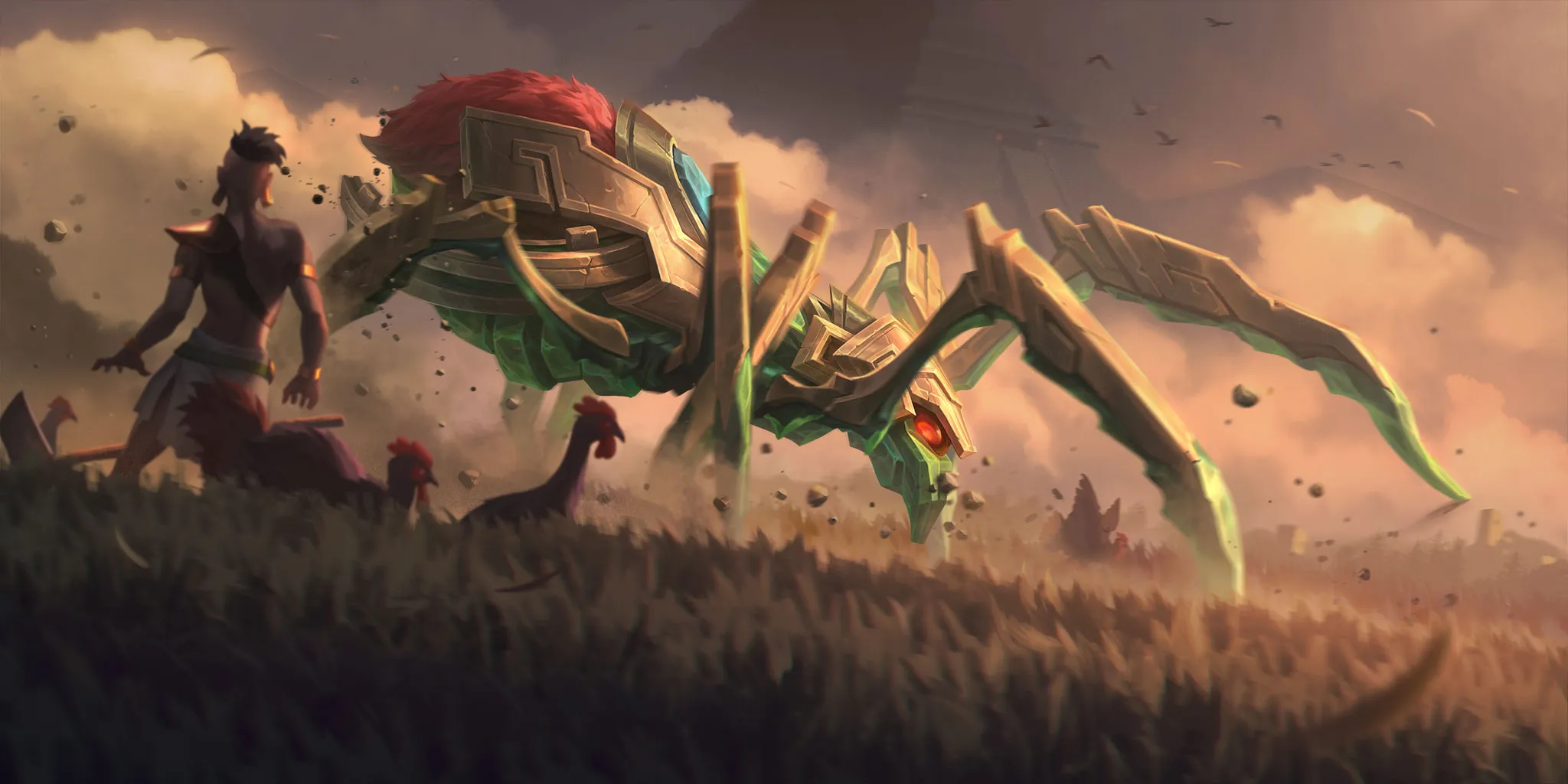 Runeterra decks with between 450 and 900 games in the last three days – we're sailing into small data samples, yet all decks here have quite a few games under their belts, and most of them are well-worn, tried-and-true archetypes.
---
Miss Fortune Twisted Fate, aka Pirates
Cooling off quite a bit (which is to be expected from a deck that last Tuesday was punching above 60%...), good ol' Pirates are very happy with their new toys and are smacking their way up the ladder with a 54% WR. They lose pretty badly to Aatrox & friends, but they are only slightly disfavored versus Bandle Bar, beat Kat Gwen, and brutally demolish Rumble Vayne, Feel the Rush, Lurkers and Hecarim Zed.
---
⭐Rising Star: Trundle Tryndamere, aka Feel the Rush
One of today's hottest trends is also one of the more puzzling: for two weeks now, the best Trundle Tryndameare deck has ditched Blighted Ravine
to go all-in on Avalanche
s – the departure from this archetype's staple landmark has thus far paid off, and today we see it smack at 55% in more than 800 games.
Greedier versions with a single copy of Avalanche
have thus far not done too well – but, as of late, a version with triple Vengeance and returning to Blighted Ravine (and no Avalanches) is the hottest trend inside the archetype, although still a very fringe option.
With the caveat that matchup data is sketchy when different builds diverge, Feel the Rush thus far crushes Bandle Bar, can hold its own versus Aatrox's Vayne variants while beating Kayn versions, and crumbles against Kat Gwen, Rumble Vayne, Lurkers and Pirates.
---
🔥Hot! – Elise Gwen
Switching Boisterous Host
for Stygian Onlooker
, Elise Gwen manages the impressive feat of being the highest-WR deck we'll showcase today (well over a silly 60%), across a respectable 800-game sample – and has been producing similarly impressive performances for two weeks in a row now.
Elise Gwen is the poster child of those decks happy to pay the "Juggernaut tax" (it loses to both Bandle Bar and AVQ) in order to farm most of the remaining field.
---
Gwen Irelia, ft. Zed
This archetype is in quite a flux – two days ago the best Gwen Irelia version was the Zed-less one, but today we see such variants struggle at a 50% WR while Zed's version reaches a bit above 51%.
All versions seem underdogs to the current Juggernauts and Rumble Vayne, while having no great matchup to farm among the top dogs – in other words, a playable new deck, but still not out of "We'll see if it has what it takes" territory just yet.
---
As experienced pilots have noted, Jinx Lulu's main drawback is how awful predictably awful the Aatrox matchups feel (and it's not just a feeling: by current LoR stats, it's indeed one of the most lopsided matchups among meta decks, dropping to 35% odds for Jinx Lulu).
By cold, hard numbers, it's still a profitable tax to pay the tyrant, given that Jinx Lulu's spread is otherwise very good (pummels Kat Gwen and Rumble Vayne, beats Bandle Bar, makes Hecarim Zed look like a sad joke and Jhinnie like just plain sad, and the list of targets goes on and on), yet Jinx Lulu's play rate shrinks once again in spite of its amazing WR.
Further reading: Lulu and Rockets – A Jinx Lulu LoR Deck Guide
---
Folks: you can't change an immutable object. Cut the crap with the Sigil of Malice
shenanigans – you're hurting yourself. And your win rate. And my prrrecioussss data, polluting it with bad builds. If there's one thing in LoR that is carved in stone, that's Jhinnie's build. Trust the stone: it's punching above 55%, while soiling it with Sigil drops it to 50% or below.
(Like, if you really feel the need to turn your back on the stone's teachings, then try this Crimson Jhinnie version with The Witness on top – very fringe stuff, so be warned!)
Further reading: Annie goes to Stack School – A Jhin Annie Aggro Guide.
---
Your Mileage May Vary – Fringe LoR Decks
Legends of Runeterra decks with less than 450 games played in the last three days – very little data, so these may range from total flukes… to, World Ender willing, the next big thing.
---
Purrsuit Seraphelios, ft. Viktor
Back Alley Bar
meets Purrsuit of Perfection
(a card that Ezreal Seraphine is not too fond of) and moves to
Targon from
Bandle City. Several versions exist, all below 50%... save the one showcased below, which punches at 56% in about 440 games. Hard to say if fluke or real thing, given how small the sample is and how bad the rest of the archetype performs, but those are very promising numbers.
---
Crimson Draven Jinx, aka Discard Aggro
By dropping Reveler's Feast
while keeping Crimson Pigeon
, Draven Jinx's best deck mutates to a cross between the latest builds and the more old-school takes, punching above 54% in about 300 games.
A bit like Jinx Lulu, Draven Jinx's main problem is an awful matchup against one of the Juggernauts (Bandle Bar in this case), but Discard is not afraid of AVQ, and has excellent matchups against other top dogs.
Further reading: Return of the Queen – A Refresher on Draven Jinx Discard Aggro
---
Garen Jarvan IV
Well… let's hope we're not jinxing it, but showing good results two weeks in a row is a solid sign that this may not be a fluke: the competitive Elites deck may have finally been found!
Which, let's be honest, is LoR's equivalent of bragging about having solved cold fusion, but numbers are numbers: with a revamped spell list, and some tweaks to its followers (including a single King Jarvan III
) the best Garen Jarvan deck again manages to strike above 54% in close to 300 games.
---
Braum Kayle Zoe
Introduced by 4LW in his Countering the Meta article last week, Braum Kayle Zoe cools off to 51% in about 250 games, still allowing Kayle to mock Ryze about how awful a champ he is.
---
Diana Nocturne, aka Nightfall
Another deck that showed promise last week, and now still hangs in there even if a bit crestfallen. With a 52% WR in about 200+ games Nightfall should certainly be a punchy deck in experienced hands, although it may not be the best choice if it's the first time you meet the archetype.
---
Elise Trundle
Another champion pairing from among 4LW's picks to countering the current LoR meta, Elise Trundle takes the
Shadow Isles
Freljord pairing in a bit of a different direction of what Feel the Rush decks generally do – including the use of Spirits Unleashed
, and a Battle Fury
top-end.
---
Norra Swain
Turns out that Swain TF is not the only of the Grand General's archetypes making a comeback: while a lot more of a fringe option, Norra Swain is picking up steam with a 54% WR across 200 games played (which, just saying, is a lot more of what Swain TF had last Tuesday!).
---
First Rule of Bone Club
For our fringiest option today, we'll showcase a deck that has a recurring tendency of making a bit of a splash, then disappearing. Today we see Bard Gnar Sejuani making things bigger (and, as everybody knows, bigger things gooder!) and packing one hell of punch.