Best Legends of Runeterra Decks
As of early Tuesday, these are the seven most popular LoR decks according to Legna, and Mastering Runeterra Meta Tier List: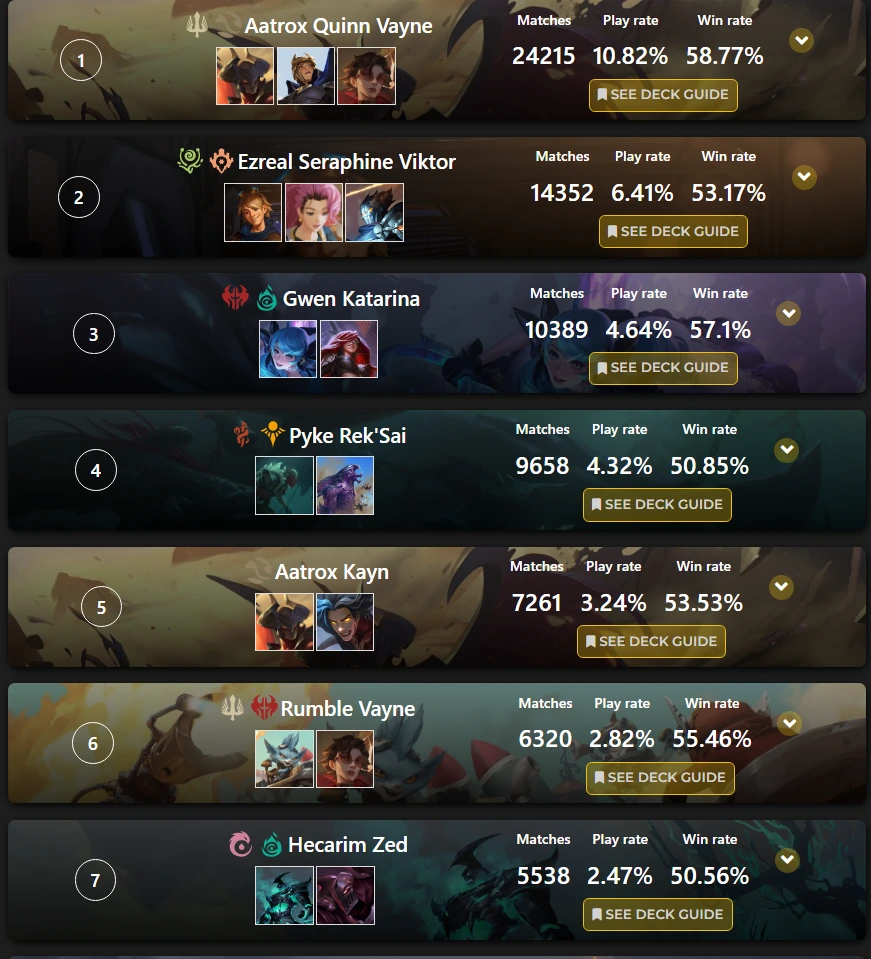 ---
Best LoR Decks: Table of Contents
(You can click on any subsection to jump directly to it!)
Juggernauts – Decks with 2,100+ games played in the last three days.
Heavyweights – Decks with between 900 and 1,200 games played.
Punching Up – Decks with between 450 and 900 games played.
Your Mileage May Vary – Decks with less than 450 games played in the last three days.
Technical Note – Overall archetypes versus specific decks.
---
Overall LoR Ladder Trends
As last Friday, Aatrox Vayne Quinn remains a bit of a reluctant tyrant: one of the most dominant decks we've seen in a long time, yet for some reason pilots don't seem eager to jump onto it, and as such AVQ has hovered at around a 10% playrate.
There are some interesting news when scratching under the surface, though:
Lurkers has become, in spite of its just-okay WR, one of the most popular archetypes, and the second most-played decks,
Out of nowhere, Frozen Darius has emerged as an extremely powerful archetype, and with good odds against both AVQ and Bandle Bar,
As noted by Leer yesterday in his Runeterra Decks Report, aggressive decks are having a field day even when they lose to AVQ.
---
Juggernauts – Best Legends of Runeterra Decks
Here we showcase LoR decks with more than 2100 games in the last three days, and good-to-great WR. Best of the best, tried-and-true tools for climbing the Runeterra ladder!
---
If you want to climb and care for nothing else, Aatrox Vayne Quinn is the choice. End of the story! =)
Its best deck remains unchanged from last Friday, smashing at 59% WR in more than 5,500 games.
There is some interesting news in the matchup department, though: Frozen Darius and Fizz Gwen join Rumble Vayne in the very narrow category of decks that can beat the ladder tyrant, while also being good enough to consistently vanquish the rest of the field.
Further reading: World Ending Birds with Weapons – An Aatrox Vayne Quinn Deck Guide.
---
⭐Rising Star: Pyke Rek'Sai, aka Lurkers
Even with their not-too-amazing WR (just 51%+ WR), Lurkers have accrued a whopping 4,000 games (up from just 1,300 last Friday) and have become second most-played specific decklist in the LoR Ladder.
They have a bit of a weak spot in Katarina Gwen, and die horribly when facing Jinx (be it Draven Jinx, or Lulu Jinx) – but they are only slightly disfavored against most top dogs (Aatrox Vayne, Bandle Bar, Rumble Vayne and Frozen Darius tend to be losing matchups, but not by much) and have enough of a leg up against weaker decks to once again be a ladder powerhouse.
---
Seraphine Ezreal loses even a bit more of its edge this week, with its most popular version dropping to 51% WR in about 2,900 games played in the last three days (down from 53% across 3,500 games last Friday).
On top of the truly atrocious Aatrox Vayne Quinn matchup, Bandle Bar now has to face the re-emerged Trundle Tryndamere, and the ascendant Frozen Darius Overwhelm – odds against the rest of the field tend to be good, though (in fact, Bandle Bar is second only to Aatrox Vayne in the number of good matchups it has).
Further reading: Setting the Bar – A Bandle City Ezreal Seraphine Deck Guide.
---
⭐Rising Star: Frozen Darius
Now, this is a success story!
Frozen Darius was not a thing last Friday (as in, less than 50 games on record), yet has launched the year in big fashion, smashing above 56% in close to 2,600 games in the last three days, and here's the best part: it beats both Aatrox Vayne Quinn, and Bandle Bar! (And Rumble Vayne and Trundle Tryndamere, too).
Willed into existence by the Aspect of Overwhelm himself, Frozen Darius' weak spots seem to be Kat Gwen, Hecarim Zed, and possibly go-wide aggro like Pirates and Draven Jinx.
---
Heavyweights – Strong LoR Meta Decks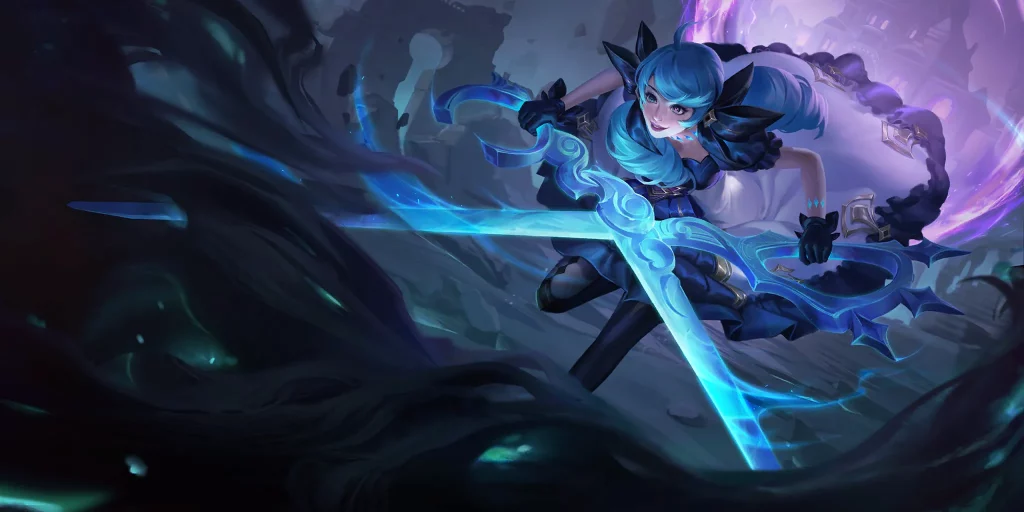 These LoR decks have between 900 and 2100 games since the World Ender expansion landed – solid picks for climbing the Legends of Runeterra ladder!
---
Crimson Katarina Gwen
Up they go again: with the turn of the year, the best Katarina Gwen deck has sharpened its blades and once again strikes at 59%, although it has shrunk a bit in play rate and sits at around 1,400 games. Note that the most popular version does not run Mark of the Isles
(and goes for triple Ravenous Flock
instead), but the showcase version performs noticeably better.
One of the few decks that are not afraid of Aatrox Vayne Quinn, Crimson Gwen is quite happy with the latest news: both Lurkers and Frozen Darius are very good matchups (with odds close to 60% for Kat Gwen).
Further reading: Hallowed Attacks and Harrowing Combos – A Katarina Gwen Deck Guide.
---
These two haven't lost their upwards momentum: now with close to 1,400 games on record in the last three days (up from 800 last week), the best Trundle Tryndamere deck punches at 55% and, best of all: is showing a slight edge against Aatrox Vayne, while demolishing Bandle Bar.
It loses rather badly to Red Gwen, though, and two of today's hottest trends (namely Lurkers and Frozen Darius) are a bit of an uphill struggle while Hecarim Zed is horrible – still, as one of the few decks with an edge on the broken tyrant, Feel the Rush is a deck you may want to keep an eye on!
Further reading: for the other side of this matchup, check Fear Their Return: A Tryndamere Trundle Deck Guide.
---
Gwen Irelia
Zed is a bit of a Schrödinger Champ in this deck: half of the time the best Gwen Irelia deck will include it, and half of the time it won't. Today the latter happens to be true – this particular build also ditches Shark Chariot
to make room for Eternal Dancers
and Deny
.
Odds against most Top Dogs tend to be on the losing side, but overall Gwen Irelia has shown it's no fluke: a comfy 52%+ WR in the last three days with the showcased build, across more than 1,200 games.
---
Time to adapt! While as an overall archetype Rumble Vayne is deflating a bit, its best deck has refined itself and currently punches at an amazing 58% WR in around 1,100 games.
Ionian Hookmaster
is gone (only Reckoners and the Reforge package remain), there's an extra Darkin Aegis, and spells now include Catch!
and extra strikes.
Note: thanks to S7Law for noting a typo: we had originally published an old R-V list.
Rumble Vayne is one of your best bets against Aatrox Vayne, and also beats Kat Gwen while not losing too badly against Bandle Bar. Against the new kids in town, Rumble Vayne has a slight edge on Lurkers, while being quite the underdog to Frozen Darius.
Further reading: Tumble on the Rumble – A Vayne Rumble LoR Deck Guide
---
🔥Hot! – Elise Gwen
Don't sleep on Elise Gwen, folks!
It has little to do with Katarina Gwen, by the way, even if they share regions and one champ – this is as aggressive and go-wide as it gets, and it keeps kicking butts and taking names, like it has been for two weeks now, at an amazing 59% WR.
---
Punching Up – Runeterra Decks Doing Great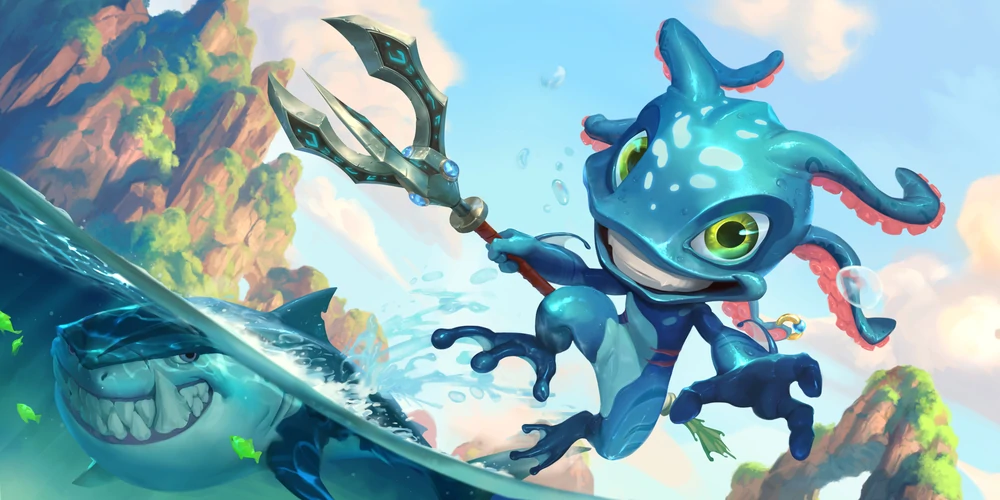 Runeterra decks with between 450 and 900 games in the last three days – we're sailing into small data samples, yet all decks here have quite a few games under their belts, and most of them are well-worn, tried-and-true archetypes.
---
Hecarim Zed
After a rough ending of 2022, Hecarim and his Ephemeral army have welcomed the new year with a smashing 54% WR in about 800 games, and with other similar versions also doing well – this is another deck that is very happy to see Frozen Darius gain play rate.
Further reading: for the other side of this matchup, check Ephemeral Onslaught – A Zed Hecarim Deck Guide.
---
Yo ho, yo ho, let's punch above 60%!
While weak to Aatrox and not too happy with Bandle Bar, Pirates find themselves with no shortage of prey for their go-wide-and-punch-face game plan: Lurkers, Red Gwen, Rumble Vayne, Trundle Tryndamere and above all Hecarim Zed all get mowed down by Miss Fortune and her merry bunch of misfits.
---
Suffering from one of the worst Aatrox matchups out there, and a slight underdog to Bandle Bar, Jinx Lulu nevertheless is (and has been during all of World Ender) one of the best-positioned decks, with great odds into everything from Kat Gwen to Lurkers, and from Rumble Vayne to Hecarim Zed.
Further reading: Lulu and Rockets – A Jinx Lulu LoR Deck Guide
---
Nothing new to see here: same build, same 55% performance. As tried-and-true as you can get in Runeterra – just don't bump into Aatrox Vayne (although Aatrox Kayn is favored!).
Further reading: Annie goes to Stack School – A Jhin Annie Aggro Guide.
---
⭐Rising Star: Fizz Gwen
The Red Pups have been at it again, and concocted this Gwen Fizz deck that is looking quite hot. Several versions exist, with slight tweaks to the followers and spell ratios; the most popular seems also the best thus far, smacking at 55% in about 500 games. It's definitely solid versus the broken tyrant, while equally matched against both Red Gwen and Bandle Bar.
---
Crimson Draven Jinx, aka Discard Aggro
Oh boy, has the Queen turned things around! =)
After a couple of somewhat rough weeks post-hotfix, and after a few tweaks to its best build, Draven Jinx is looking scary: one of the highest WR today (nearly 60%) across 500+ games, helped in part by how brutally Jinx and Draven bludgeon Lurkers, Rumble Vayne, Gwen Irelia and Hecarim Zed. And Aatrox Vayne is not too bad (even if slightly disfavored) – Draven Jinx's main weaknesses are Aatrox Kayn and Bandle Bar.
Further reading: Return of the Queen – A Refresher on Draven Jinx Discard Aggro
---
Garen Jarvan IV
Alright, it's official: Elites are a thing! Their WR has deflated a bit (now at 52%+, when it used to be at around 55%), but with nearly 500 games in the last three days this is no longer a fringe concept: this Garen Jarvan deck works. Not ideal against the broken tyrant or Bandle Bar, but can beat Kat Gwen.
---
Aatrox Kayn
It has certainly seen better days, but Aatrox Kayn still packs a punch. It's also one of the yet-unsolved archetypes, with lots of different versions that switch week to week.
Further reading: Reject Regions Embrace Darkin – An Aatrox Kayn Deck Guide.
---
Your Mileage May Vary – Fringe LoR Decks
Legends of Runeterra decks with less than 450 games played in the last three days – very little data, so these may range from total flukes… to, World Ender willing, the next big thing.
---
Purrsuit Seraphelios, ft. Viktor
While still a bit of a fringe option, mixing Back Alley Bar
, Purrsuit of Perfection
and
Targon is progressively looking like a real-deal: similar performance to last week (WR at about 55% in close to 400 games) so there certainly seems to be something here.