LoR Best Decks – Masters, Monks and Generals
With 40 hours of data from Patch 3.16, these are the best LoR decks and Archetypes right now, according to Balco and Mastering Runeterra Meta Tier List: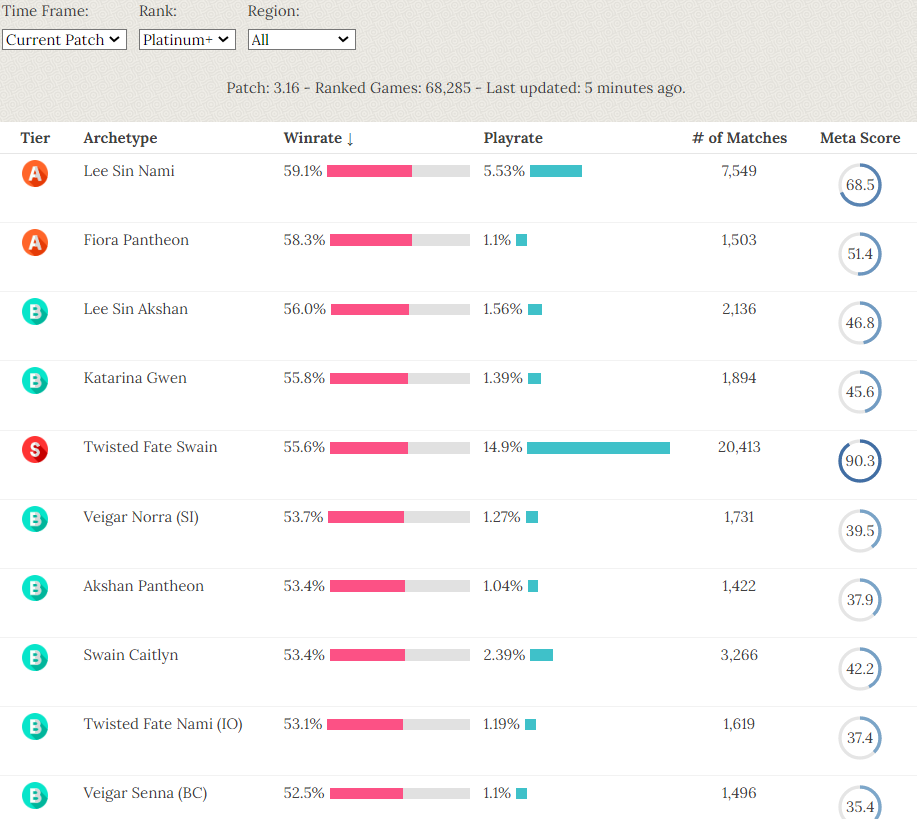 Following the trends we saw yesterday, Twisted Fate Swain has taken over the ladder by popularity, while "Does it beat Lee Sin Nami?" is the acid test for new decks (spoiler: it's a very corrosive test), Fiora Pantheon looks like a very real deal…
… and, not shown above, but a very hot, new trend: non-Copium Master Yi! =)
---
Technical note – About archetypes and decklists, and what we mean by "LoR best decks"
Balco's chart above, like most data sites (including MaRu's Meta Tier List) and many of our articles (like Leer's LoR Meta Decks Report last Monday) sorts LoR decks by archetype ("archetype" being the aggregate of decks with a specific champion combination) – that's also how matchup tables are shown in pretty much all data sites.
In this article, we'll sort decks by the best specific decklist for each archetype – since in each archetype some decks fare better than others (and sometimes the difference is quite noticeable), we'll broadly group the best LoR decks in four arbitrary categories, by amount of games played in the last three days in the data samples we check:
Juggernauts: decks with more than 2100 games – these are the best tried-and-true decks for the climbing job.
Heavyweights: between 2100 and 900 games played – other excellent choices, with large enough samples to confidently say, "Yeah, this works."
Punching Up: between 900 and 300 games – we're entering the Land of Small Sample Sizes here, on top of the meta being up in the air, but as far as numbers go, these decks can put up one hell of a fight.
YMMV: between 300 and 150 games – risky stuff, but here's where you usually find the spice!
For this article, in all cases we'll look at decklists in Platinum and above, and in the last three days, unless stated otherwise – and when talking about decks in general, or best LoR decks in particular, we'll always be referring to specific lists (while reserving "archetype" to denominate the aggregate of all decks with a particular champion pair). As a rule of thumb, decks with a winrate (WR) above 52% catch our eye, above 53% are eye-widening, and anything over 55% is exceptional.
On the other hand, do notice that when talking about matchup tables, it's always about archetypes – in other words, we'll recommend which are the best Legend of Runeterra decks (ie. specific decklist) you can choose to face the most popular archetypes (since you'll find all versions in the LoR ladder).
Last but not least: all stats and recommendations above are for choosing the best LoR deck for the Legends of Runeterra Ladder environment – if you are in need of weapons of choice for the Best-of-Three format, be sure to check Sirturmund's & Monte's recommended Tournament & Gauntlet Decks and Lineups (which they usually update every Thursday).
Sources: Balco, Legna, Mastering Runeterra Meta Tier List.
If you have any feedback on how these decks could be showcased differently, do let me know! =)
---
Juggernauts – Best LoR Meta Decks
Here we showcase decks with more than 2100 games and good-to-great WR – the Patch having just landed, we'll find a single such Leviathan today, which is an impressive feat considering we usually look at 72 hours (instead the today's 40 hours window) for the 2100-game threshold.
---
Twisted Fate Swain
When pilots love you, they do love you! Most popular archetype by a Noxian mile, and the only Juggernaut we'll find this early in the Patch – the below list smacks at 54%+ with nearly 4,000 games played. There are several variations, too; if you are in the mood for experimenting, this heavier-on-spells Twisted Fate Swain deck punches well above 56% in nearly 1,700 games.
Are we witnessing the dawn of the Age of Noxus?
Not if the Blind Monk has something to say about it: both Lee Sin Nami and Lee Sin Akshan are fairly bad matchups for TF Swain; other weak spots include Norra blends, Fiora Pantheon and Timelines. On the other hand, our Twisted Daddy crushes Plunder, Taric Poppy, Lurkers, and most other new decks.
---
Heavyweights – Strong LoR Meta Decks
These LoR decks have between 900 and 2100 games since the Patch landed – do keep the "too early to tell" caveat in mind, but these decks will most likely work well until the next Expansion arrives.
---
Lee Sin Nami, ft. Twisted Fate
When Daddy's not looking, Twisted Fate is double-dipping and playing for the other team – and boy oh boy is this a kick-ass team. After sneaking past Riot's radar and dodging the nerf hammer, Lee Sin Nami's numbers leave little doubt who is this Meta's apex predator: a well-refined lists, punching at a silly 58%+, and during a time (close to Seasonals) in which top pilots are incentivized to perform rather than investigate new blends.
And a lucky deck, to boot: its only menace in sight, Taric Poppy, is having a hard time against the current field (being weak to several of the fresh new faces) – the rest of the opposition, Lee Sin Nami just steamrolls.
---
Swain Caitlyn
Well, if Twisted Fate is having a Ionian fling, nobody can really fault Daddy for spending some time with Piltover's finest. And it's turning out to be quite the relationship, rekindling the Tri-beam Improbulator
Tempo archetype to an impressive 53%+ WR in close to 1,300 games – and with tons of different builds all doing well, the usual hallmark of a deck being refined and improved.
They die (horribly) to Lee Sin Nami and Lee Sin Akshan, but seem to handily handle Norra Heimer, Plunder and Darkness, while ruthlessly smashing Taric Poppy.
---
Nope, not copium this time.
A Master Yi deck.
With a whopping 54%+ win rate.
Across nearly 1000 games.
Yes, we're not yet two days into the patch so nothing is carved in stone, but: this creation from Master Brewer 4LW works. And, yes, it dies to Lee Sin Nami. Nothing in LoR is perfect, but that's how it is!
---
Punching Up – Runeterra Decks Doing Great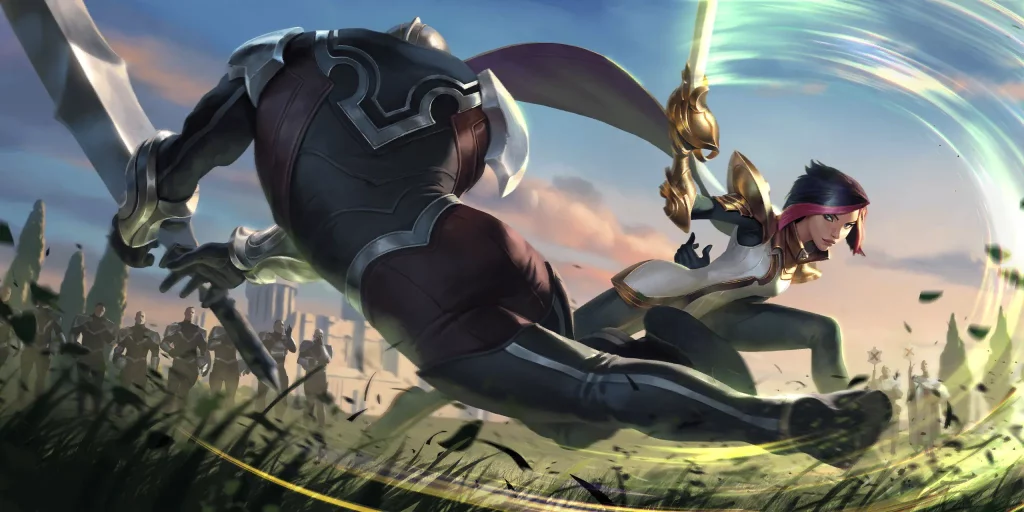 Runeterra decks with between 300 and 900 games played since the patch landed – promising, but still a bit too early to tell.
---
Akshan Pantheon
Everybody's favorite Fated bodybuilder has found a bunch of new pals, but his gym bro from last patch still packs a punch – Akshan Pantheon easily lifts above 54% in 650+ reps, in part helped by having a small edge on TF Swain.
It's yet another deck that dies to Lee Nami while beating Taric Poppy, though, so these two champs are fated to support the status quo.
---
Fiora Pantheon
When the smug hook-hurling Rogue skips leg day, though, Pantheon has quite the alternative training partner – and boy does Fiora pull her weight around: 56%+, in more than 600 games, and actually not too afraid of Lee Nami (only a bit). A brew brought to us by Raphterra, that is getting traction fast.
---
Leona Aurelion Sol
A deck trying to find its footing, after an early strong start yesterday – mostly dragged down by builds including Zoe (data says: don't), but with the best version reaching a very solid 53%.
Joins the scores of decks beating Taric Poppy while crumbling to Lee Nami, but until the archetype as a whole gets rid of the bad versions, matchups are hard to parse.
---
The original Nami Ionia deck, and quite the Ladder force until Lee Nami took over – currently performing at a decent 52% in 500+ games, but unless you need Lee Sin in a different deck for your Tournament lineup, there seems to be no reason in the current meta to opt for this version.
---
The One Not Afraid of Lee Sin Nami, aka Taric Poppy
As noted above, Taric Poppy is arguably the best Lee Nami counter, but it's in a very rough spot in this meta: it loses fairly badly against TF Swain (itself the most popular deck by a mile), and is also the underdog against some of the other fresh, new faces (such as Leona Asol and Swain Caitlyn).
Still, its best list (the second most popular) punches at 54% in 500+ games – early card data suggests Ranger's Resolve
and Guiding Touch
are crucial, and two copies of The Darkin Lodestone
are also putting a lot of work.
---
Kalista Nocturne, ft. Katarina
While Elise Nocturne has lost a ton of steam today (to the point that we won't recommend a list for them), Kalista Nocturne is picking up the Fearsome slack, and adding Kat to the mix. Performance is fairly solid (52%), and by early data it would seem it can go toe-to-toe with Lee Sin Nami.
---
Everyone Comes to Vik's
Karma and Viktor keep running their Back Alley Bar
with a fairly solid success – almost the exact same list as last patch, with a pretty solid 52% WR in close to 400 games. And if you'd like to try a Bar-less, Burn-more version, check Yangzera's Karma Viktor Deck Guide.
---
Taric Fiora
A trend seen yesterday that keeps gaining steam: Fiora pretty much taking over Poppy's spot in Taric Poppy, with some tweaks in the Spells column for added protection, Strikes and Rallies. Similarly to Taric Poppy, Taric Fiora looks very solid versus Lee Nami while weak against TF Swain.
---
Your Mileage May Vary – Fringe LoR Decks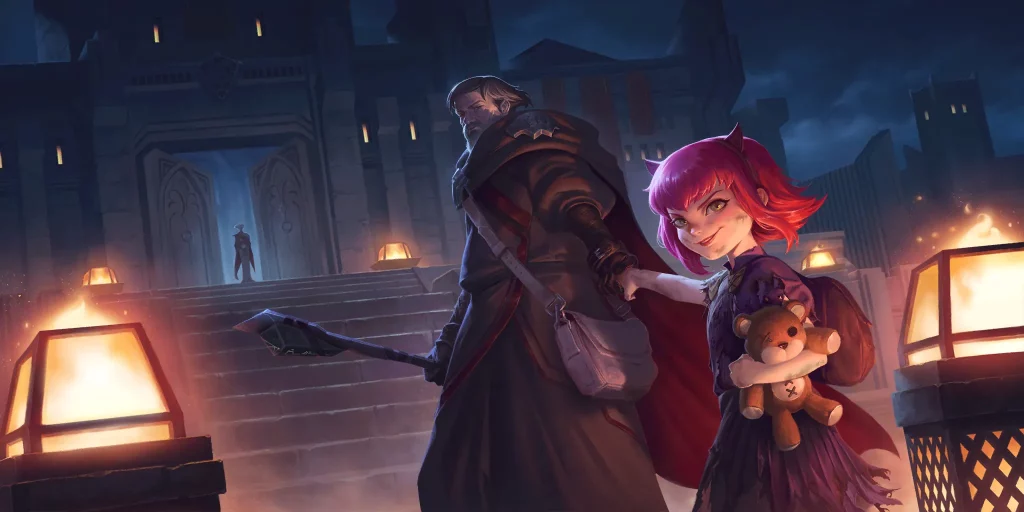 Runeterra decks with less than 300 games played in the last few days – promising, but too little data to say for sure how they currently fare.
---
Bandle Teemo Swain
Grand General and Puffy Scout have rekindled their old partnership – nothing ladder-breaking thus far, but doing fairly well!
---
Miss Daddy?
Now turned Noxian Corsairs, Pirates have commandeered the Leviathan into their fleet – and find no need for expensive Decimate
s to punch at a brutal 57%!
---
Bandle Annie Swain
Now this is a fresh take – Annie and Swain go to
Bandle City, to add puffacaps and pokey sticks to their arsenal of pings. Their best deck reaches 53% in 200+ games, with other versions punching at similar rates.
---
Kat Gwen, ft. Elise
Pushed to the fringes, and recovering from nerfs to Hate Spike
and The Harrowing
, these three tough ladies can still put up a fight.
---
Annie Jhin
Another former Juggernaut unceremoniously pushed away from center stage, Annie Jhin is pushing numbers that may hint at a comeback: WR over 57% across almost 200 games, and a great matchup into Lee Sin Nami.
---
A very scattered archetype (several lists with similar playrate) yet overall doing very, very well.