(OPEN APAC) $1000 USD – ZOTAC CUP Clash of Cards – Legends of Runeterra
June 11 @ 8:00 am

-

5:00 pm

Free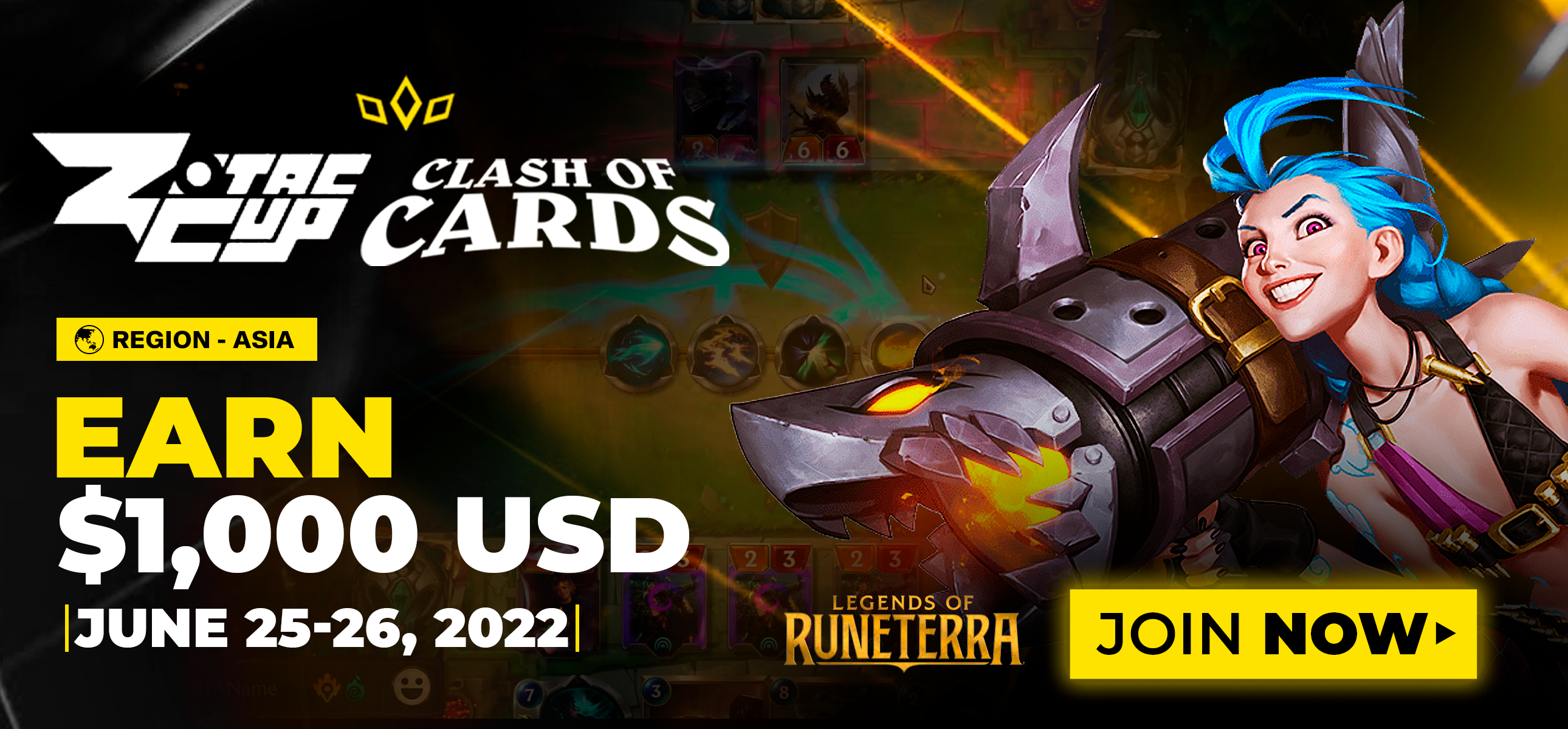 ---
Welcome to the ZOTAC CUP Clash of Cards event! To celebrate the arrival of Summer, this month we're hosting two MAJOR tournaments for our Card Game Community in Asia. Players are invited to sign up for one or both events to earn their share of the BIG PRIZE POOL!
Sign up now!
GL HF
---
All players are recommended to join our Discord.
In case of a match issue, call an admin by pressing the Report Match Issue button.
---
Tournament Format :
Bracket Style : Ladder > Single Elimination
Ladder Stage

Match Style: Best of 1, 1 Ban
Ladder Duration: 3 hours

Players must queue for matches on the tournament page and play at least 10 games to be eligible for ranking.
Top 32 Players and any other players tied at 32 will move into the next stage

Single Elimination Stage

Match Style : Conquest, Best of 3, 1 Ban
Match Check-In: 10 minutes

Participants that miss the check-in timer due to a technical issue must contact an Admin directly through the Match Chat or Discord within 5 minutes after receiving a loss. After this additional 5 minutes grace period, the match will not be reset even if an Admin is contacted.

Conquest : Players must win with both decks in order to win the Match. After winning with one of the decks, the same deck cannot be used for the current Match.
Deck Restrictions : Players must bring 3 (three) different decks without duplicate Champions, without duplicate Region Combinations, and no more than a single deck without Champions.
Examples: Deck 1 - Draven/Taric, Deck 2 - Soraka/TK, Deck 3 Lux/Aurelion.
Ban/Picks made ingame
---
Additional Rules :
Participants will have only 10 minutes to setup their match. If a player doesn't join the game within this time, that player may be disqualified. If your opponent doesn't show up or doesn't start the match in under these 10 minutes, please contact tournament admins by clicking the Report Match Issue button.
If it is apparent that any manipulations of in-game software is occurring, that team will be banned permanently from any future Zotac events, and any/all information we have regarding this will be forwarded to Riot Games. Battlefy will also be notified for future events. If a team is caught abusing glitches, bugs, etc., to gain an advantage, they will be auto-disqualified.
Both Match Chat and Discord chat usage must be made with proper respect to the other players and Tournament Administration. This includes but is not limited to: good manners and sportsmanship and respect to tournament admins and rules.
Tournament admin decisions are final regarding disputes.
---
Earn up to 15 points for every ZOTAC CUP tournament you play in! Earn 1 point just for registering in a tournament, and if you win at least 1 match, you receive another 14 points!
Are you the best of the best? Place in the Top 3 and earn additional points:
1st - 11 points
2nd - 6 points
3rd - 3 points
Cash Prizes:
Play for a chance to win your share of $1000 USD!
1st place: $450
2nd place: $250
3rd place: $150
4th place: $50
5th to 8th place: $25
Requires 8 checked in teams for prizing. Prizing is paid via PayPal, usually within 14 business days. Players underage without a PayPal account are authorized to provide the PayPal account of a parent/guardian to receive prizing.
(필독) 상금 수령을 위한 페이팔 가입 방법
How to register PayPal
---
឵឵
Check-in start: 60 minutes before time on details tab
Check-in end: at time shown on details tab
Bracket seeding: at time shown on details tab
Tournament is played out in 1 day
Participants will play each match as soon as they have an opponent
(time shown on details tab will be in your local time zone if you are logged in to Battlefy and have set your timezone https://battlefy.com/settings)