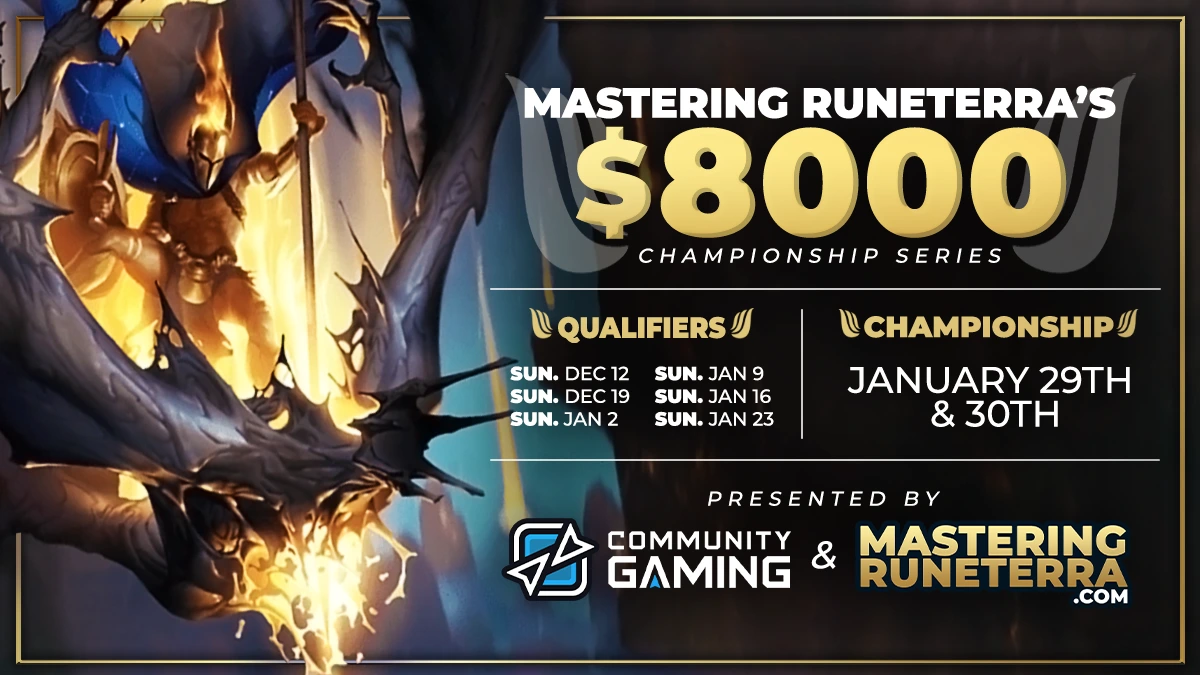 Mastering Runeterra has partnered with CommunityGaming.IO and received support from Riot Games to bring you this $8,000 tournament series. We want to help foster the Legends of Runeterra community that we love so much and this is a huge step forward that we hope you will all enjoy!
$5,000 Championship
When: January 29th & 30th
Prizes:
1st: 2,000 USD + Championship Trophy
2nd: 1,000 USD
3-4th: 500 USD
5-8th: 250 USD
Entry: Free. Invite Only.
Who: 64 Players. The top 4 players from each of six qualifier weekends. Plus the top 40 Championship Points earners from all six combined events. 
Format: Riot Lock
Day 1: players will play double elimination down to 8.
Day 2: top 8 players will play single elimination
Shard: America's
Coverage: Twitch.tv/swimstrim
Championship Qualifiers
There will be six qualifier tournaments. The top 4 players from each qualify for the $5,000 Championship weekend. The tournaments cap at 512 players so be sure to sign up soon to secure your spot. You can change your decks after you register up until the tournament start time.
 When
#1 Sunday December, 12th 9:00 AM PST 
#2 Sunday December, 19th 9:00 AM PST
#3 Sunday January, 2nd 9:00 AM PST
#4 Sunday January, 9th 9:00 AM PST
#5 Sunday January, 16th 9:00 AM PST
#6 Sunday January, 23rd 9:00 AM PST
Reach out in the Mastering Runeterra Discord #Help Channel with any questions and we will be happy to help you!
There will be additional in game prizing coming as well, so keep an eye out for that announcement.
Good luck to everyone! We hope that you have a lot of fun competing for your share of the largest ever grassroots prize pool!
FAQ
Report your match in #results preferably with a screenshot
You can start your next match as soon as your opponent is ready
The bracket will be viewable on the Community Gaming Tournament page after the tournament starts.
Tournament payouts will be paid out within one week of the tournament end date via Paypal. If you make To 8 please send your Paypal information to JasonFleurant#8404
Reach out to [email protected] with any questions.
Decklists are public after the start of the tournament. You can register for the tournament and change your decks afterwards by changing your registration information.
Your submitted Decks should look like the one below:
https://masteringruneterra.com/deck/CIBQCAICBQCAEAQDAUDASBADBEESGM6XAECACAQCBAAQGAQUAECAEFACAMERWVICAEBQSYACAEBAEMI
For the first round if your opponent has not shown up 10 minutes after the tournament begins please contact us in #help. After the first round you are expected to play your rounds in a timely fashion.
The event can be played with America's Shard accounts only.
The $5000 Championship will be held on January 29th and 30th. 
The top 40 Championship point earners after all six qualifiers, plus any additional spots from players making multiple top 4's will qualify for the Championship. Below is the Championship Points leader board, it's updated manually so be sure to double check your points.